My Traeger Smoked Potato Salad features two different types of baby potatoes that we coated with oil and smoked right on the pellet grill! Then it gets mixed with hard-boiled eggs, tangy sour cream and mayo-based sauce, and all of the bacon, chives, and cheddar cheese you can handle.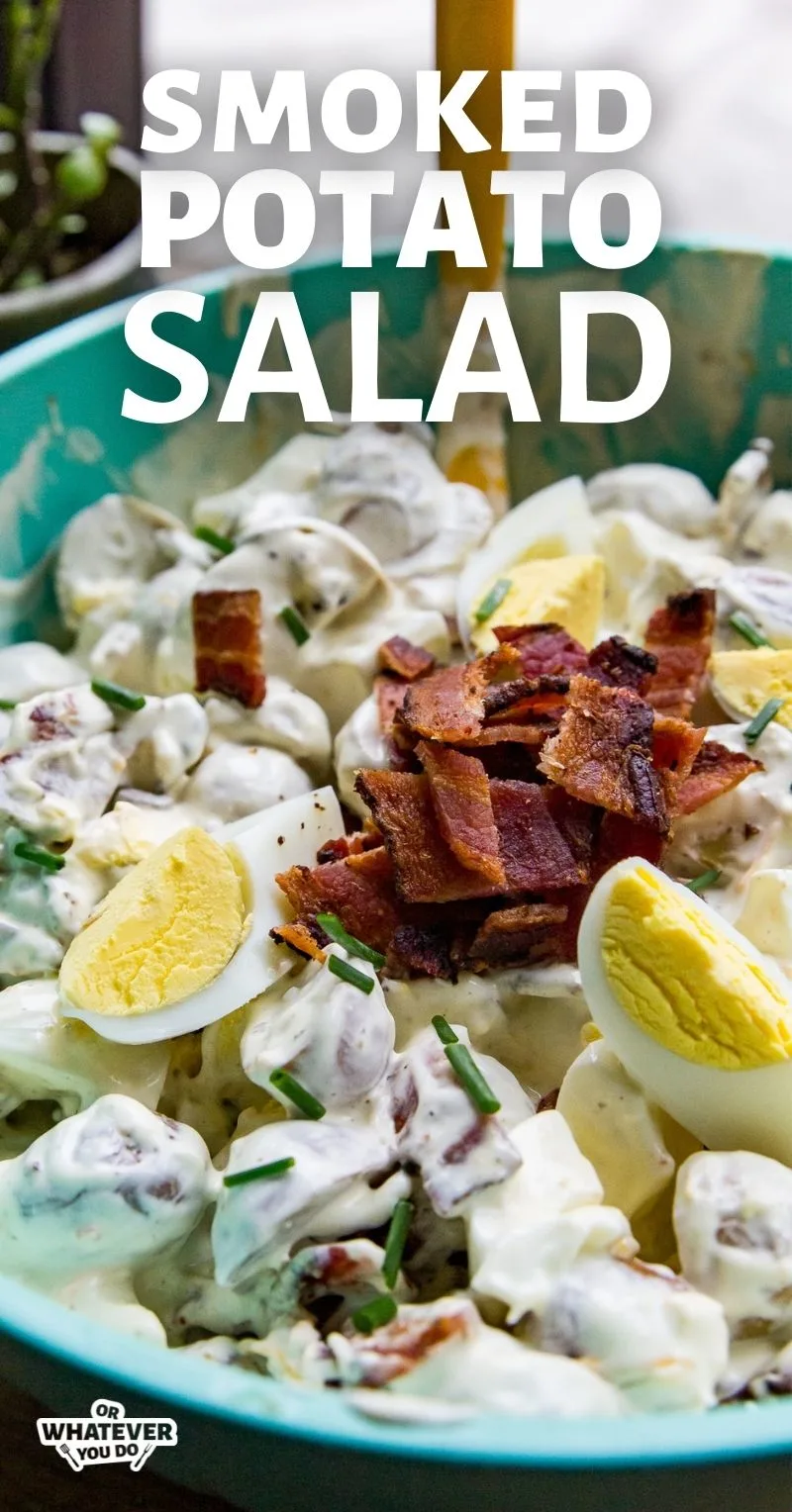 Smoked Potato Salad
A classic deli-style potato salad gets the Traeger treatment! What you wind up with gives definitely lets you know it was cooked over a live wood fire, but this isn't a dish that's drenched in heavy smoke flavor, at all.
Plus, bacon.
You can crank up the smoke flavor really easily by double-smoking the bacon (try my no-flip bacon method, you'll freak), and by smoking the hard-boiled eggs (or make a double-batch of smoked deviled eggs an use 6 for a good cause) if you want to kick it up a notch or two. Feel free to experiment!
Get all of my Easy Traeger Recipes here!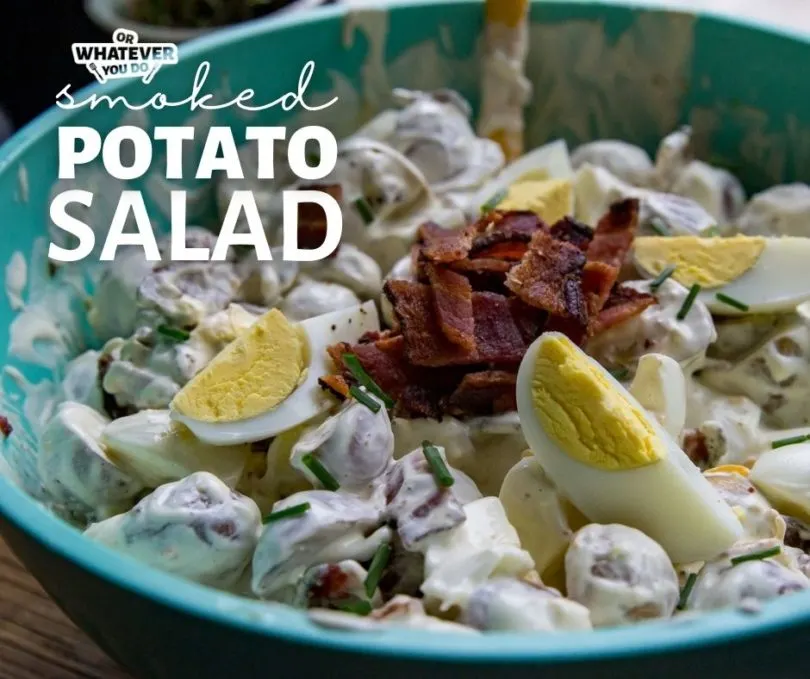 PNW Traeger 4th of July Party
My version of potato salad, like America, was born on the 4th of July.
My family and I were invited by Julie from Girl Meets Grill to her Traeger-tastic 4th of July party at her house on the shore of the Puget Sound! Turns out we had been practically neighbors for years before we moved up on the Olympic Peninsula in 2020. Even after the move, she's just a hop, skip, and a jump away and I'm so glad we finally connected!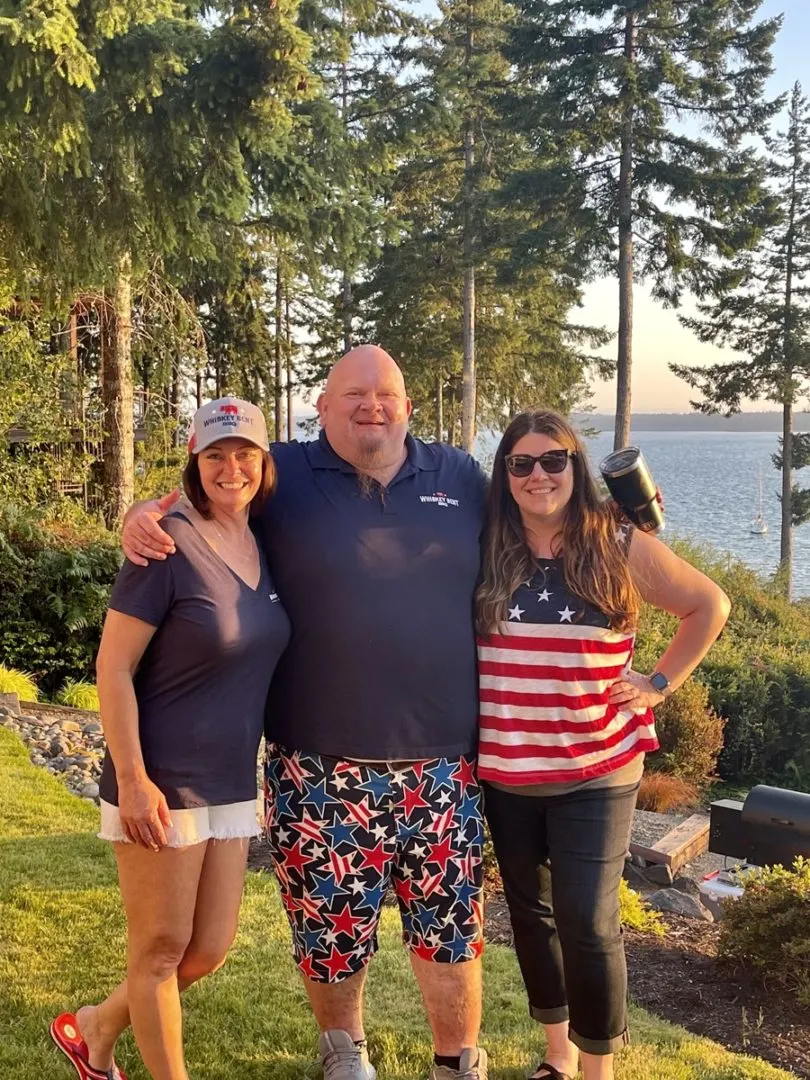 Julie was gathering together all of the PNW Traeger fanatics because Chad Ward, the Director of Marketing for Traeger Grills and founder/owner/face of WhiskeyBentBBQsupply.com, and also Julie's BFF, was coming to town to celebrate Independence Day, Puget Sound style.
So, how good is a cookout that is filled with Traeger-obsessed backyard and professional grill-masters that are throwing down their best?
IN.CREDIBLE.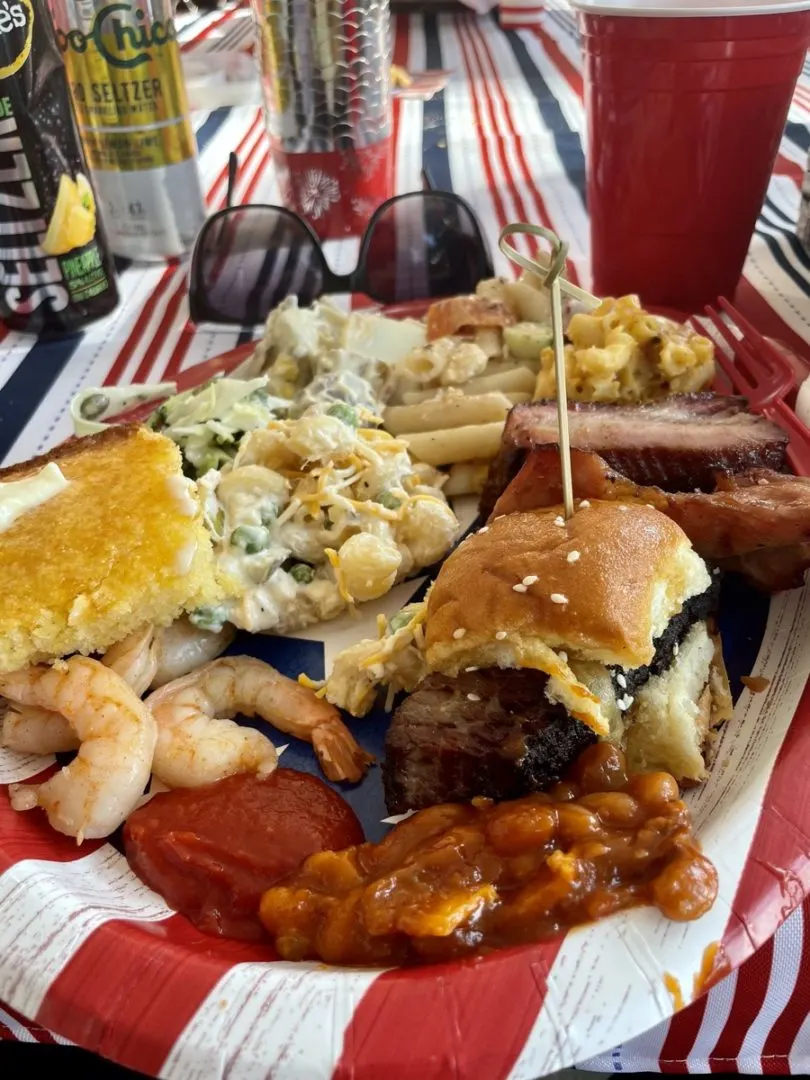 There were ribs, Snake River Farms Gold Wagyu Brisket Sliders, Smoked Shrimp Cocktail, some teriyaki-ish pineapple chicken thighs I definitely need to try and bribe someone for the recipe, smoked bacon mac and cheese, and a WHOLE HOG.
Not to mention the Traeger cookies, crab dip, buffalo chicken dip, the best cornbread EVER, jalapeno poppers, pasta salads for daysssssss, and probably a bunch of things I'm forgetting but were equally amazing.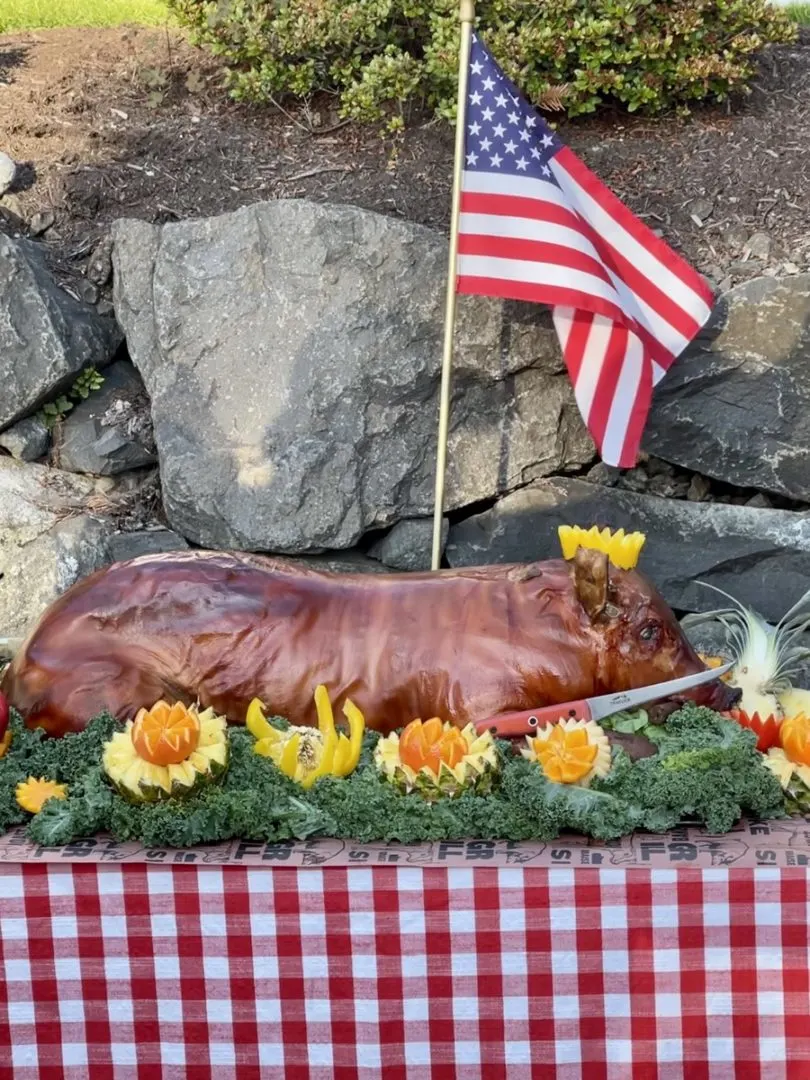 What does it look like when you bring out a whole hog for a barbecue full of Instagrammers?
Dang good photos, that's what. And here's what happens behind the scenes. 😉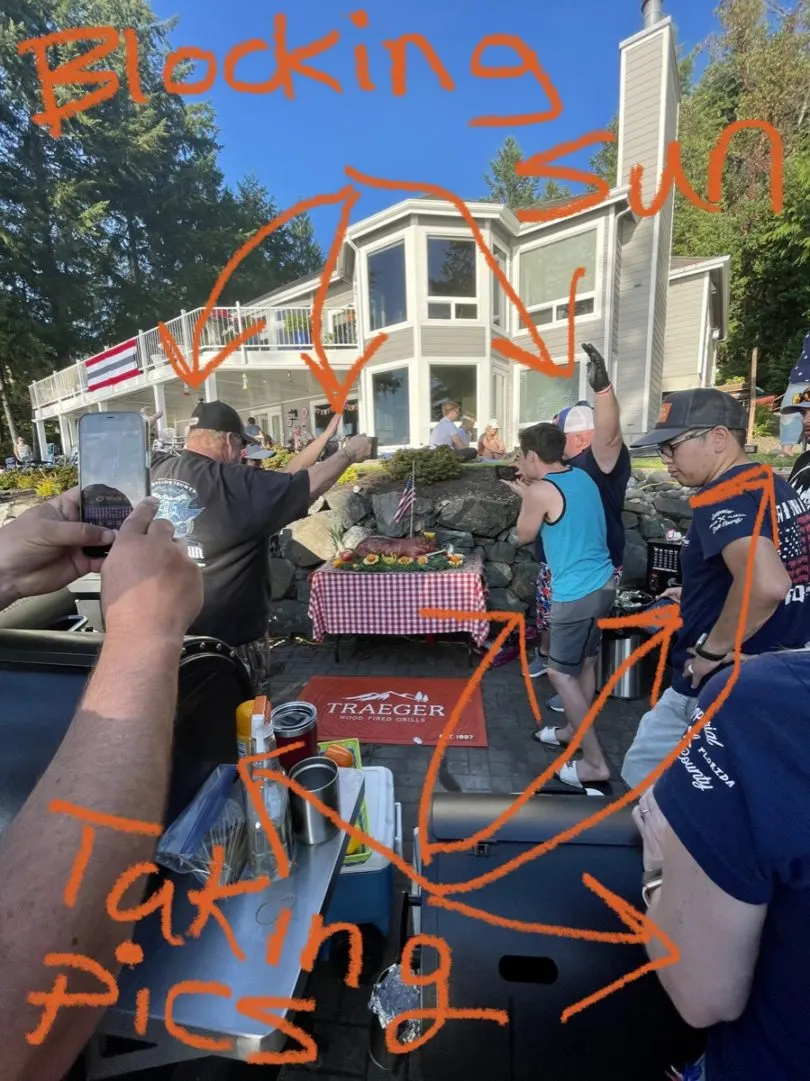 Traeger Must-Follows on the gram
Follow me on Instagram!
Smoked Loaded Potato Salad shopping list
Wondering if you have to hit the store? Here's the list of items you'll need to make this recipe. For specific amounts, please refer to the printable recipe card at the bottom of the post.
baby potatoes
olive oil
flakey salt
thick-cut bacon
eggs
onion (optional)
celery (optional)
cheddar cheese
fresh chives or green onions
Sauce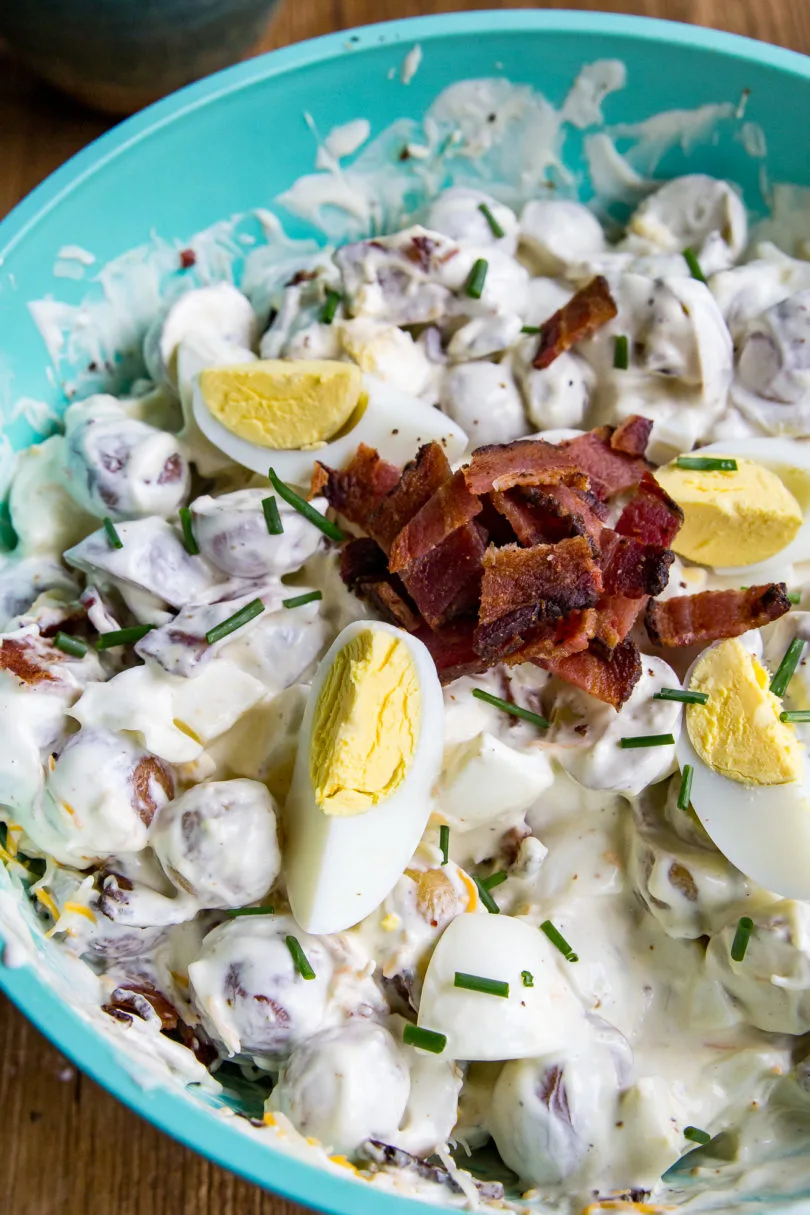 How to make Smoked Potato Salad
This is just the overview so you can see what you're actually getting into here. When you are cooking, you'll want to use the full recipe at the bottom of the page.
Oil and Smoke
The potatoes, that is. Do it. For about 2 hours or until they are easily pierced with a fork. You can also smoke your hard-boiled eggs now too if you're into that sort of thing. I'd only go for 30-45 minutes here for those.
Chill the taters
Don't skip this. They need to be all-the-way cold. Once they are, cut them into halves or quarters, depending on how big the original potatoes were. My potatoes were itty bitty, so we just cut these in half.
Mix up the sauce
The mayo, mustard, seasonings, and chopped-up eggs go into your big bowl at this point, where you give them a good stir. It is okay if the yolk incorporates into the sauce. That is what gives most potato salads their signature yellow-ish hue.
Stir and Chill
The sauce and potatoes, that is. Then put them in the fridge for 4-6 hours. Overnight is fine too.
Finishing touches
Right before serving, mix in the chopped bacon, chives, and cheese. Serve cold!
Get my easy Side Dish recipes!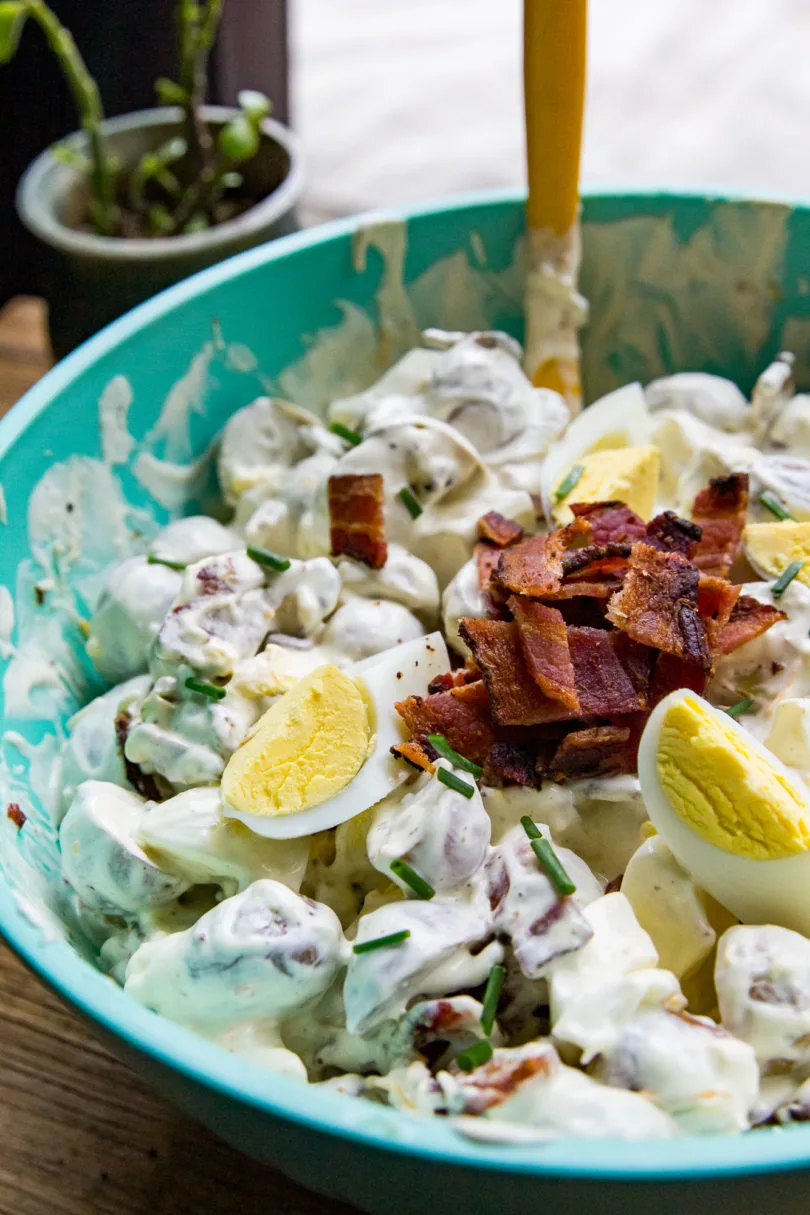 You need more great bbq sides in your life
Need some more fantastic recipes to take to your next cookout? Try one of these!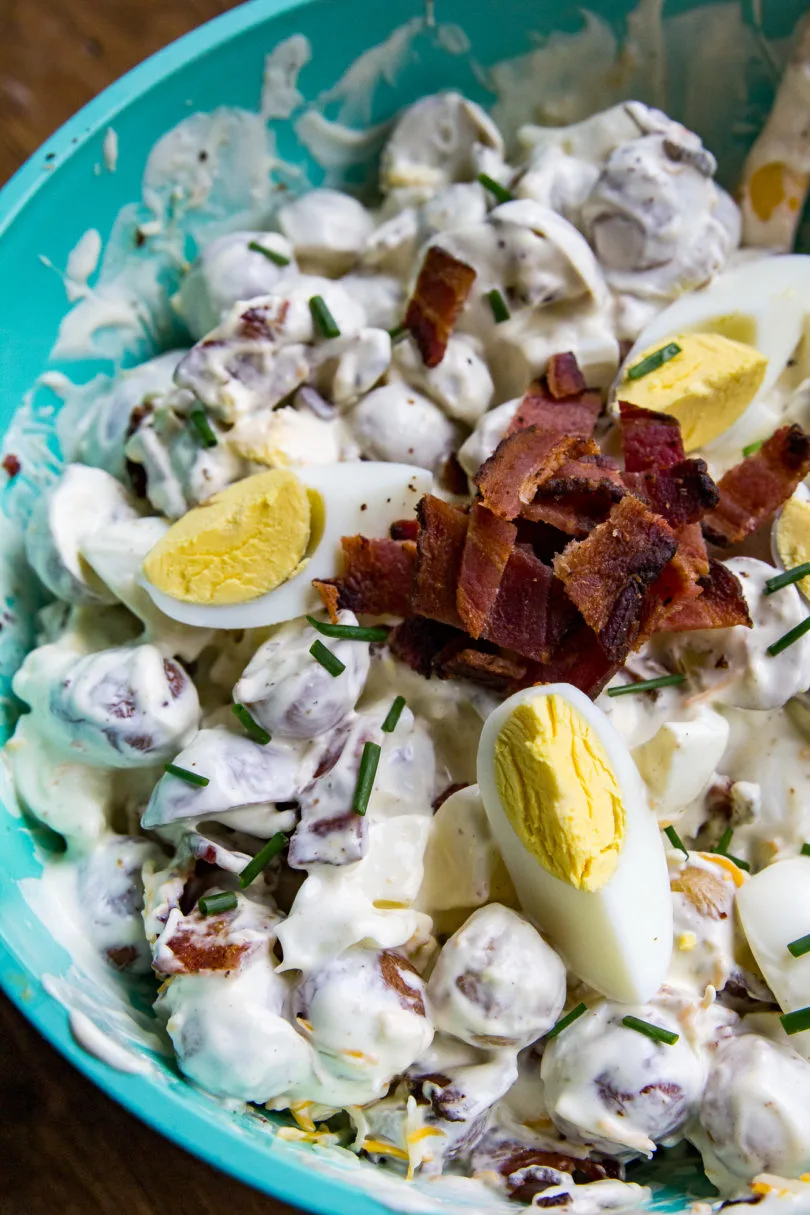 Smoked Potato Salad FAQ
Do you have to use baby potatoes?
Nope! I did, but if you want to use normal-sized potatoes, you do you. Just aim for bite-sized pieces.
How do you store leftover Traeger potato salad?
Covered, in the fridge, and not for more than about 3 days! Also, watch those food handling rules (especially with mayo-based salads) and make sure if they'll be out longer than 2 hours to keep them in a bowl of ice and monitor temps!
Can you freeze potato salad?
"Can" and "should" are very different things. This one, for me, falls on the NO THANK YOU end of the scale. Potato salad is meant to be eaten fresh!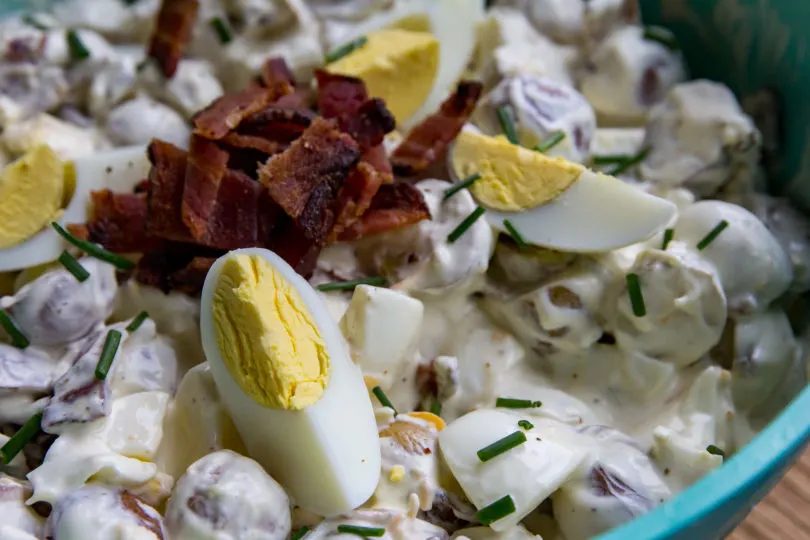 More recipes to love!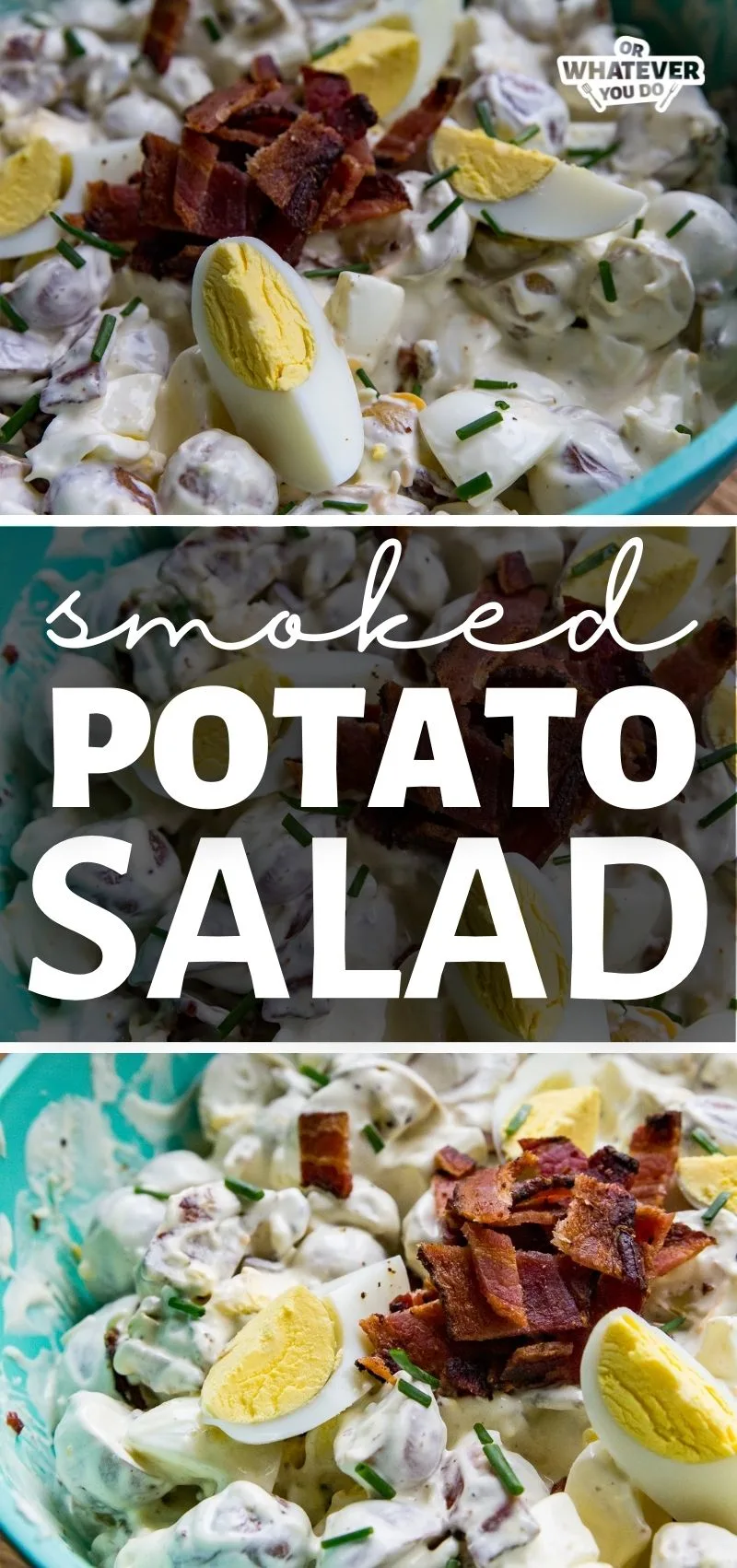 Yield: 12 servings
Smoked Baby Potato Salad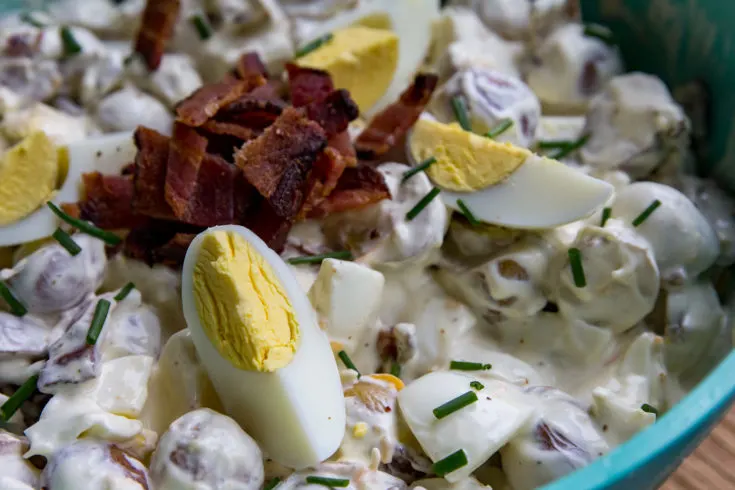 This simple potato salad takes smoked baby potatoes and combines them with hard-boiled eggs (smoke 'em, if you've got 'em) and a tangy potato salad sauce featuring mayo, mustard, seasonings, and apple cider vinegar.
Total Time
2 hours
15 minutes
Ingredients
2 pounds baby potatoes
1/3 cup olive oil
1 teaspoon flakey salt
1/2 pound thick-cut bacon, cooked and rough chopped
6 hard-boiled eggs
1/2 cup diced onion (optional)
1/2 cup diced celery (optional)
1 1/2 cups shredded cheddar cheese
1/4 cup chives, finely chopped
Sauce
2 cups mayo (I used Duke's)
2 tablespoons dijon mustard (I used a Craft Beef Dijon)
1/2 cup sour cream (do not sub low-fat)
3 tablespoons apple cider vinegar
1/2 teaspoon onion powder
1 teaspoon OWYD Everything Rub (optional)
1/2 teaspoon celery salt
Instructions
Preheat your grill to 220°, following the manufacturer's instructions.
Place the baby potatoes on a grill-safe baking sheet and drizzle with oil. Shake the sheet around a bit to make the potatoes roll around and coat themselves in oil.
Sprinkle the flakey salt over the potatoes, evenly, and place on the grill. (Place your peeled hard-boiled eggs on the grill at this time also, if you'll be smoking them. Smoke these for 30-45 minutes before removing.)
Smoke the potatoes at 220° for 2 hours, giving the pan a good shake to toss them around a bit every 30 minutes. Remove from the grill when the potatoes are easily pierced with a fork. Depending on the size of your potatoes, this could be under 2 hours.
Put the potatoes in the fridge until they are chilled all the way through. (I like to leave them overnight.)
Cut up the potatoes into halves or quarters, depending on how small they are. You're aiming for bite-sized chunks.
Chop up the hard-boiled eggs, and mix together along with all of the sauce ingredients. Add in your celery and chopped onion at this time too, if you are using them. Gently toss with the cut-up cold potatoes until they are all covered in sauce.
Refrigerate for at least 4-6 hours, or overnight.
Immediately before serving, stir in the chopped-up bacon, shredded cheddar cheese, and chives.
Recommended Products
As an Amazon Associate and member of other affiliate programs, I earn from qualifying purchases.
Nutrition Information:
Yield:
12
Serving Size:
1
Amount Per Serving:
Calories:

332
Total Fat:

22g
Saturated Fat:

8g
Trans Fat:

0g
Unsaturated Fat:

13g
Cholesterol:

132mg
Sodium:

684mg
Carbohydrates:

19g
Fiber:

2g
Sugar:

2g
Protein:

15g
Nutrition data provided here is only an estimate.