Veal Parmesan is a classic dish consisting of a breaded veal cutlet that's fried until it is golden brown, and then baked with a fresh marinara sauce, parmesan and mozzarella cheese, and served with pasta.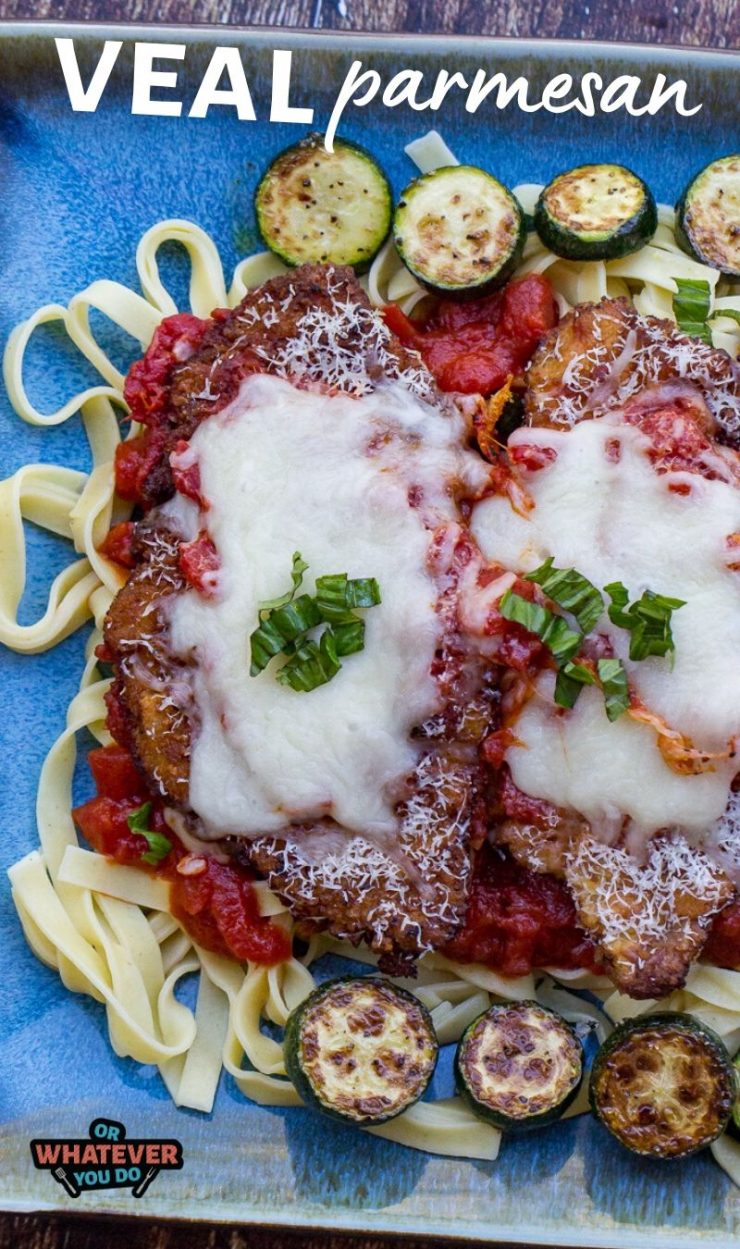 Veal Parmesan Recipe
Veal Parmesan is one of those dishes that I'd always heard about, but also just kind of thought it was old-fashioned and only for eating in fancy restaurants. Like, beef wellington, creme brulee, or seafood pasta.
It turns out, this is an easy meal to make at home, and totally worth the time (which isn't even that significant).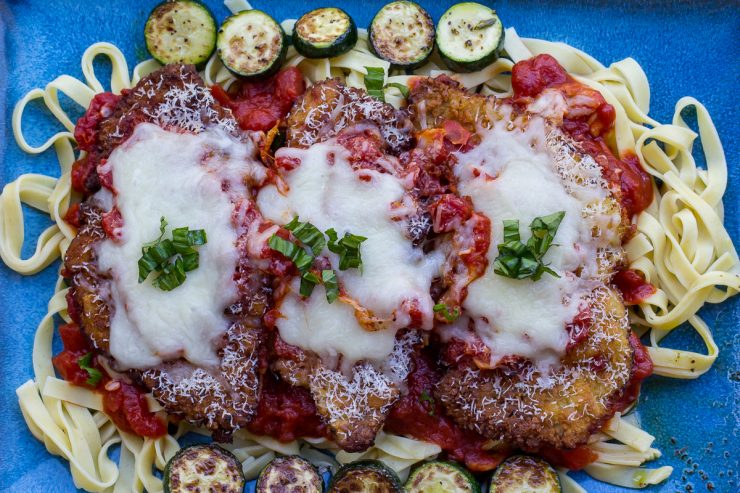 What is veal?
If you've never had veal, that's probably a good thing and you probably grew up in the 80's. Back then, it had quite a bad rap. Veal wasn't always the most ethically sound choice when it came to meat, as the previous methods for raising veal were really cruel and involved trapping young male dairy calves in pens so small that they couldn't move, and fattening them up with milk until they were ready for slaughter.
Not the ideal life for an animal.
Nowadays, veal calves are mostly raised in group pens where they have free movement, and comparatively, live a life that is much better than that of your average beef cow. (They don't have their tails docked or horns removed, they aren't given antibiotics regularly or unless they need them, they are typically raised on family farms and not in major factory farms, etc.)
If buying your veal from an ethical source is important to you, do your research first. The American Veal Association has worked with their member farmers to ensure that they are all transitioned over to the group pen model of raising veal, which is better for the animals and definitely better for my conscience.
The veal industry is very much a part of the dairy industry as a whole, as dairy cows need to have one calf a year in order for them to keep producing milk.
The female calves are then used to replenish the milking herd, but the male calves aren't all needed for breeding on the milk farm. The dairy industry is so big that the excess male calves can't even be sold off to other farms for breeding stock, and so the veal industry was born.
Not only that, but it turns out it is also pretty delicious too.
Rather have chicken? Try my Chicken Parm recipe here!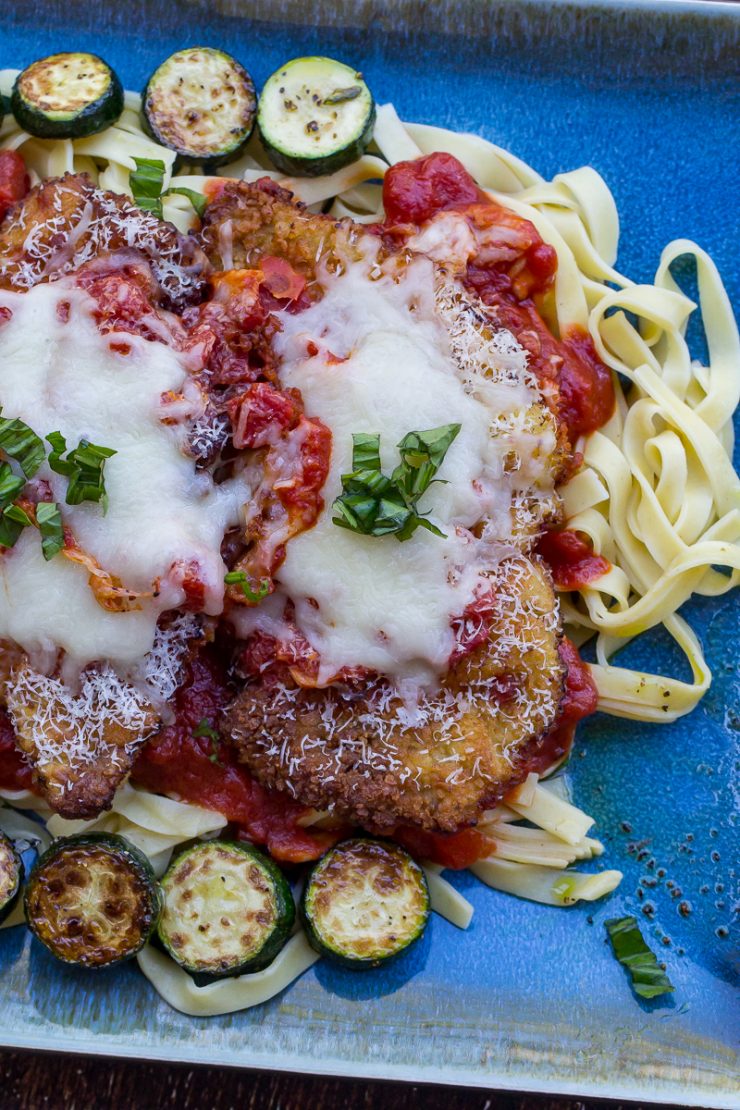 What does veal taste like?
Veal tastes like beef, only it is moister and more tender, even when it is cooked beyond medium-rare. It has low fat and high protein, and one of the most popular uses for this versatile meat is in Veal Parmesan.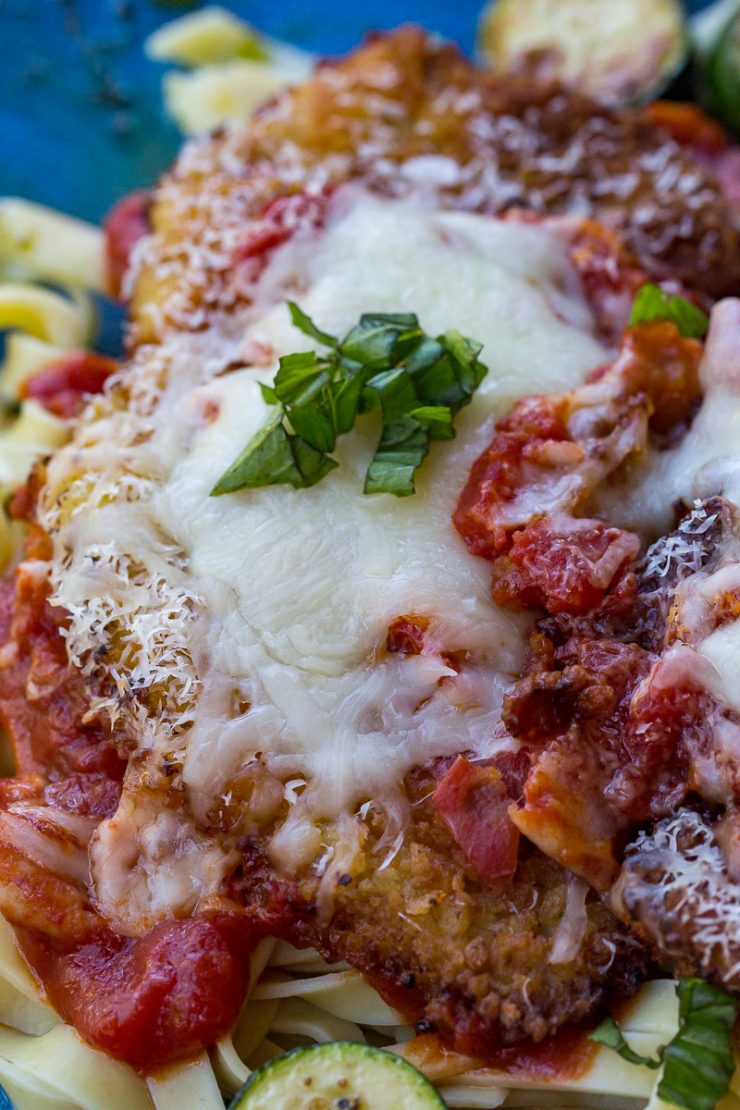 What kind of bread crumbs should you use for Veal Parmesan?
Regular bread crumbs work really well for this dish. If you don't have any laying around, you could also sub in panko but it does impact the texture a bit.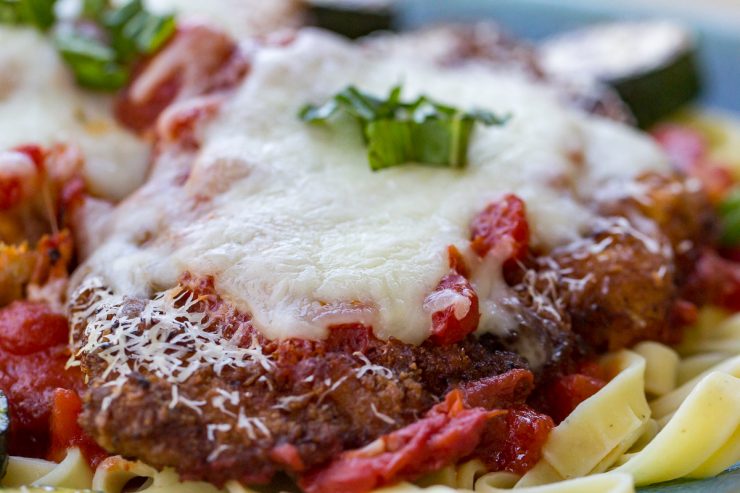 How do you store leftover veal parmesan?
Veal parmesan is a tricky dish as you have something fried and crunch pre-mixed with a sauce. Sauce is a crunchy crust's worst enemy, as far as maintaining the texture is concerned, but the key here will really be to store the excess sauce separately from the meat if there is some leftover.
If you are making a LOT of this specifically for the purpose of leftovers, I'd hold off on the final bake and keep the sauce completely separate from the fried veal cutlets until you are ready to eat.
You can store this covered in the fridge for a few days, or in the freezer well-wrapped for a few weeks to a month.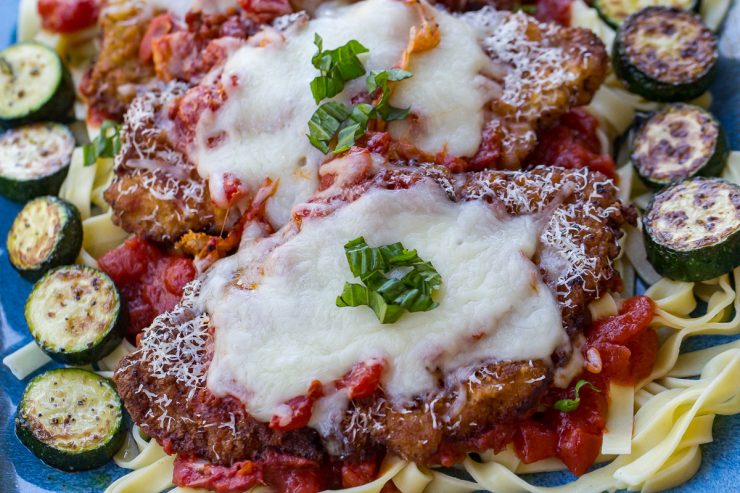 How do you reheat leftover veal parmesan?
Reheat veal parmesan from the fridge in the oven on about 325°.
Reheat frozen veal parmesan by first allowing the veal to defrost in the fridge overnight for the best results. If you can't wait, throw it in the oven at 275 until it is thawed and then crank up the heat to 325 for the rest of the cook time.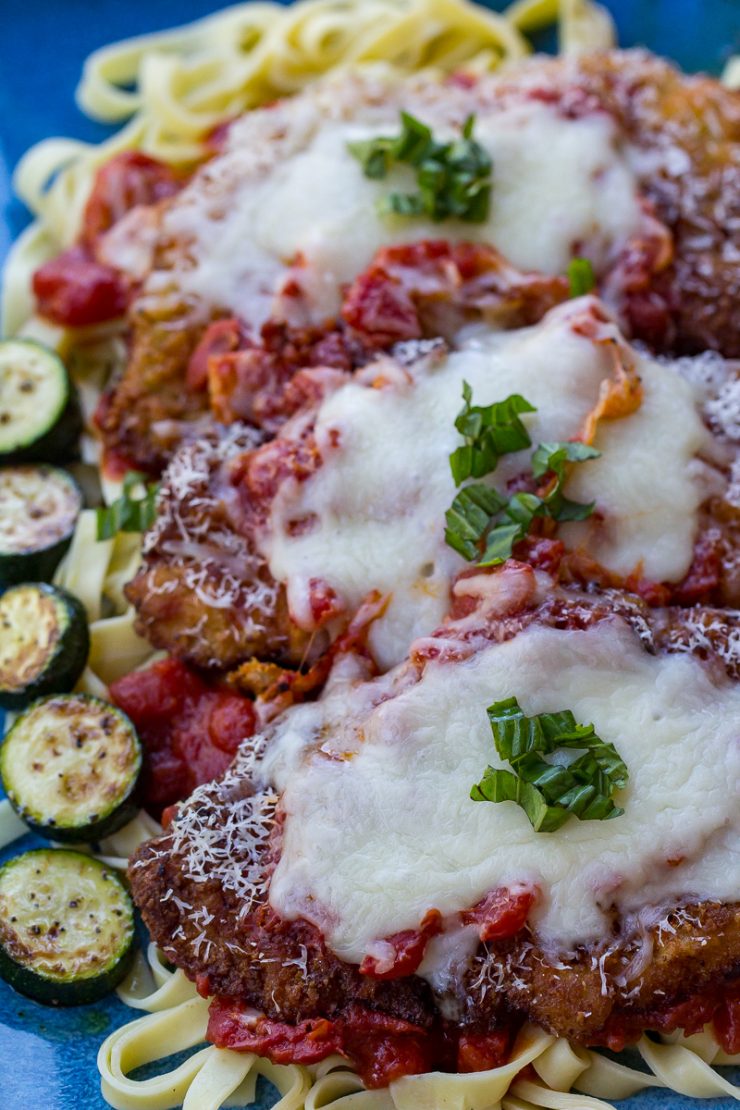 What should you serve with homemade veal parmesan?
I recommend serving your veal parmesan with noodles. Cooked spaghetti or linguine is perfect.
For sides, serve up a crisp Caesar salad, garlic bread, and sauteed or grilled zucchini.
Featured Reader Reviews!
The Girl Can Cook recently made this veal parmesan and shared it on her Instagram!
Tag @orwhateveryoudo and hashtag #owydrecipe #owydcooks to be featured here on the site!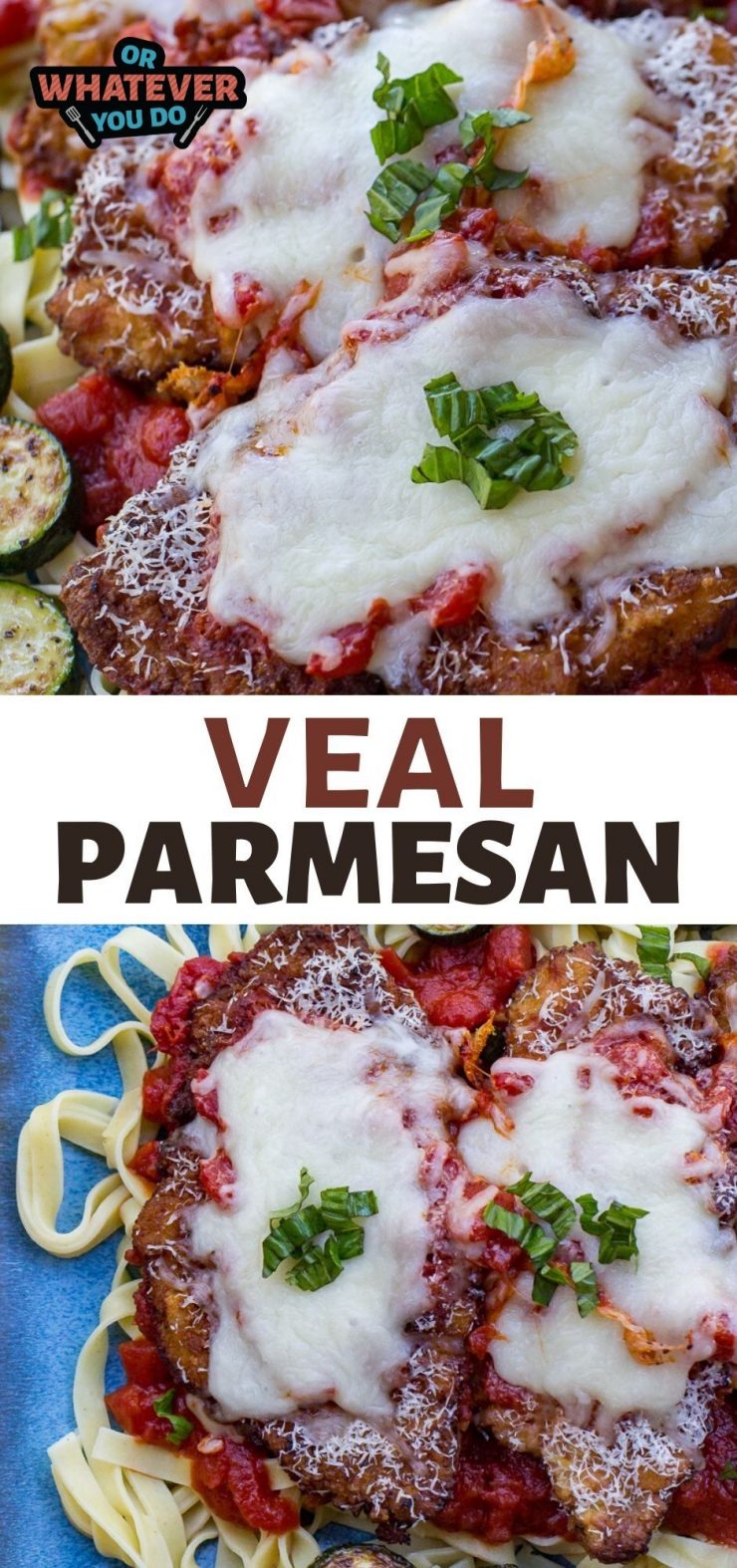 Yield: 6 servings
Veal Parmesan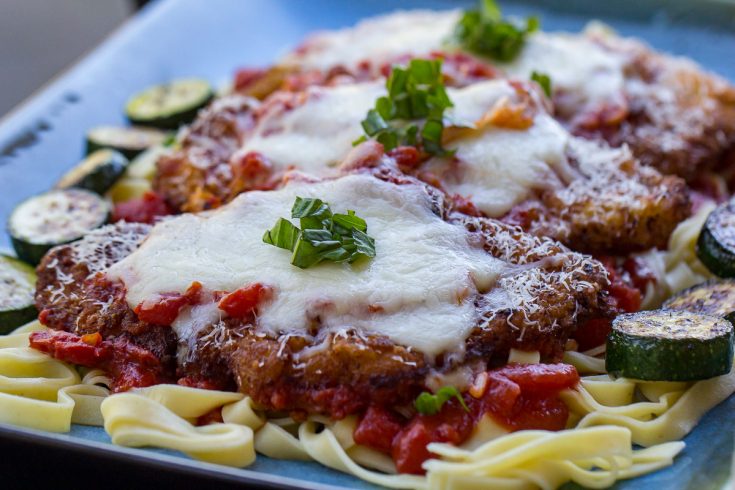 Classic Veal Parmesan is an easy and impressive dish to make at home! Simple ingredients, big flavor.
Total Time
1 hour
5 minutes
Ingredients
Sauce
1 - 14 ounce can tomato sauce
1 - 14 ounce can diced tomatoes
4 peeled garlic cloves
1/2 teaspoon salt
2 tablespoons olive oil
Meat
1 pound veal cutlets
3 eggs
2/3 cup flour
1 cup bread crumbs
1/2 teaspoon salt
1/4 teaspoon granulated garlic
Toppings
2 tablespoons shredded parmesan
1/2 cup shredded mozzarella
1 tablespoon chopped fresh basil
Instructions
Place all of the sauce ingredients into a saucepan, and simmer over medium-low heat while your veal is being breaded and cooked.
Pound the cutlets into a uniform thickness of about 1/2 inch thick.
Place the eggs in a bowl and whisk until the whites and yolks are incorporated.
Place the flour in another bowl and set aside.
In a third bowl, place the bread crumbs, garlic, and salt.
Turn your oven to 350°, and preheat about 1 inch of oil in a large non-stick high-sided skillet, and while it is heating bread your cutlets.
Bread your cutlets by first dredging in flour, then dunking in the beaten eggs, and follow that up by a dip in the breadcrumbs.
Once the oil is hot, place some of the cutlets inside and fry on both sides until they are golden brown.
When they are done, drain on a plate covered with paper towels and finish cooking the rest of the cutlets.
Place some sauce into the bottom of a 9x13 inch pan, and then put the fried veal cutlets on top. Top with the parmesan and mozzarella cheese, and bake at 350° for about 15 minutes.
Remove and serve with hot pasta, if desired!
Nutrition Information:
Yield:
6
Serving Size:
1
Amount Per Serving:
Calories:

478
Total Fat:

18g
Saturated Fat:

5g
Trans Fat:

0g
Unsaturated Fat:

11g
Cholesterol:

170mg
Sodium:

1225mg
Carbohydrates:

54g
Fiber:

5g
Sugar:

7g
Protein:

25g
Nutrition data provided here is only an estimate.