My Cobia Recipe with Mango Salsa is a Caribbean-inspired seafood dish that's full of fresh, bright flavors and is one of our favorite ways to eat fish.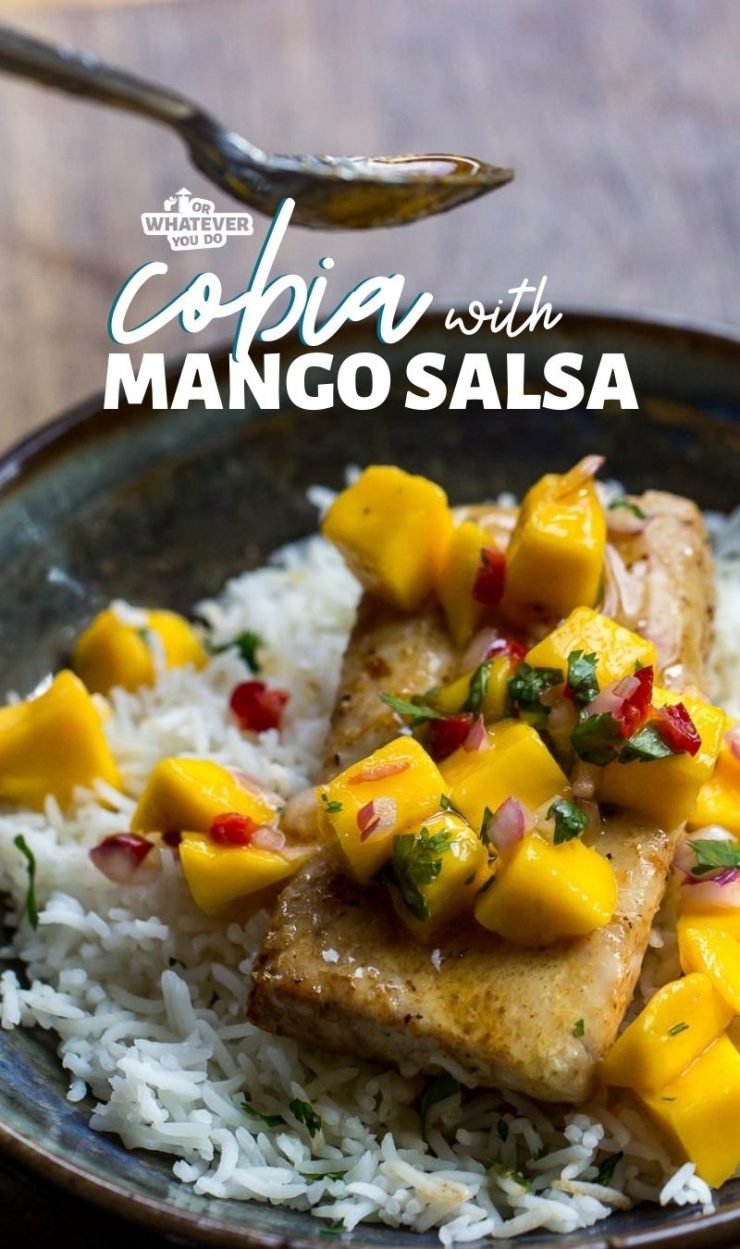 Cobia with Mango Salsa Recipe
Cobia is a white fish popular on the Southeast coast of the US and all the way down to the Bahamas and into the gulf. A white fish with a clean and almost buttery flavor, cobia has a nice texture too when cooked.
It actually goes by many names, so you may have heard it called ling, bonito, butterfish, black salmon, black king, yew, and kingfish – to name a few.
It feeds mostly on the bottom close to shore, but it doesn't have that fishy muddy flavor found in some bottom feeders. Cobia loves to eat crabs, mollusks, and squid, so they eat some of the sweeter treats dwelling there.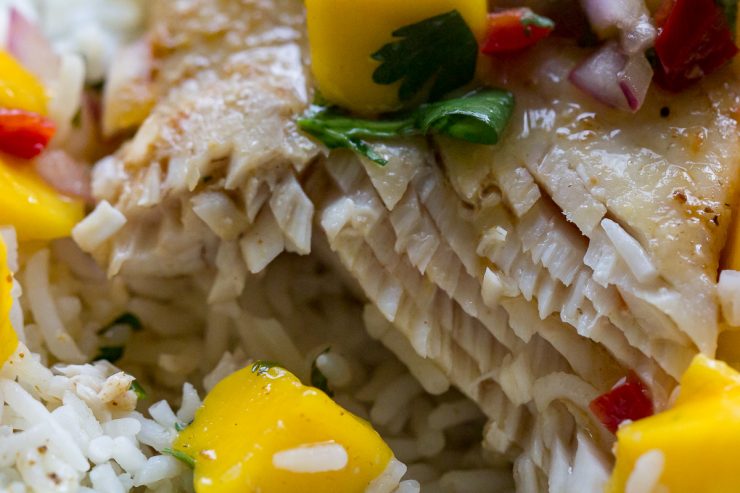 Easy grilled cobia
Cooking cobia is fast and easy. White meat fish cooks in minutes, and you need to be careful not to overcook it.
The salsa is very easy to make too. Make the mango salsa ahead of time, preferably by a few hours, so you can chill it in the fridge and let the flavors come together.
The salsa has a very fresh and clean taste with a bit of heat that perfectly complements the rich buttery flavor of the cobia.
Get my easy Side Dish recipes!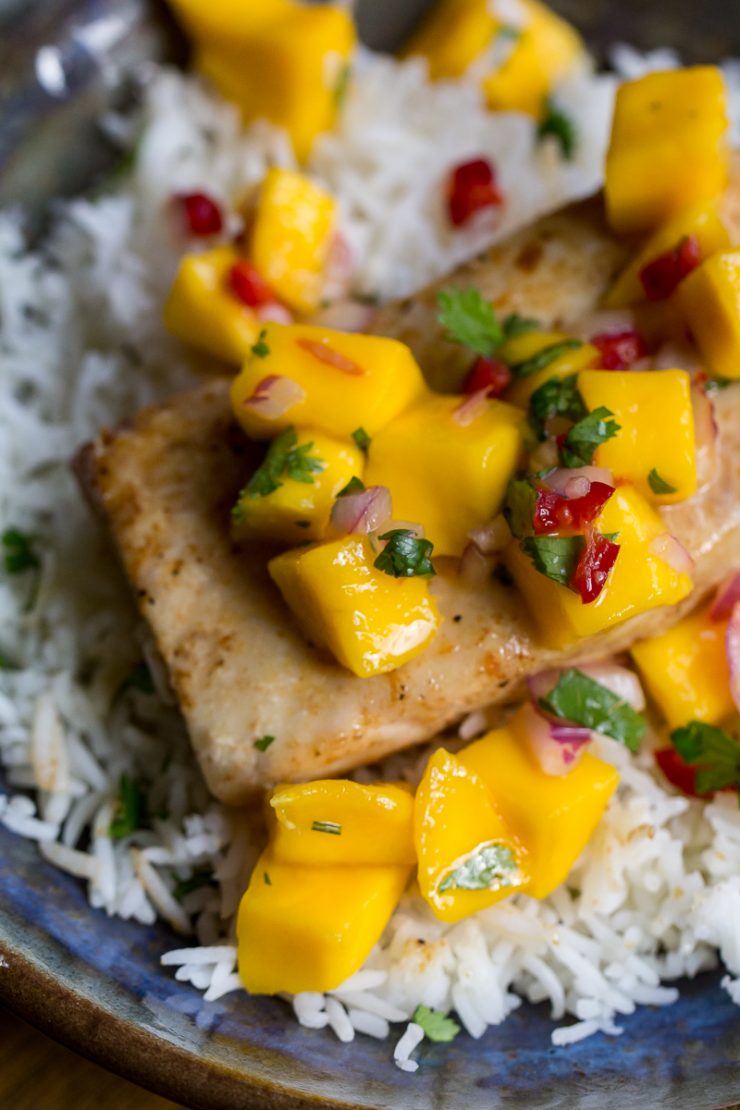 How to tell if your fish is fresh
Getting very fresh fish is the key to making this dish all it can be.
If you can't get fresh cobia, you might be able to find frozen cuts in specialty markets like Asian or Hispanic grocery stores. It will usually be labeled as "bonito" from what I have seen, but it is known by so many names. You may have to ask.
Seek out fresh cobia if possible. If you are on the West coast it may be tougher to find. However, you should be able to find the Pacific Northwest ling cod instead. It isn't quite the same as the East coast's cobia, but it will do as an alternate just fine. In fact, any white fish will work here, really.
If you find fresh cobia, make sure that it is nice and shiny and not dry-looking. Give it the sniff test. If it smells fishy, then something else will be on the menu instead. If it smells nice and clean then you are in luck.
Follow me on Instagram!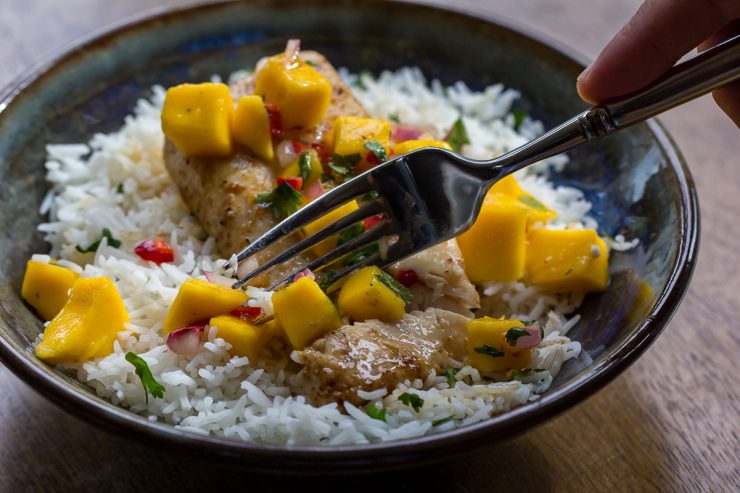 How to cook cobia
Cobia cooks very quickly if you do it correctly. Make sure to start with a very hot pan or oven. Lightly oil the fish and the pan. Make sure to heat the pan first.
The cobia is going to cook very quickly. Depending on the filet, you are looking at anywhere from 3 to 7 minutes tops. Keep an eye on the color. The fish will be slightly translucent and change to opaque white quickly.
Once you remove the fish from the heat, it will continue to cook from residual heat so you can err on the side of medium without going to well done. It is a popular fish for sushi too, so as long as it has been handled appropriately you could eat this fish rare.
Cook it, but don't overcook it. The texture will be silky and the taste butter, and that is what makes it go so well with the mango salsa.
Get all of my easy dessert recipes here!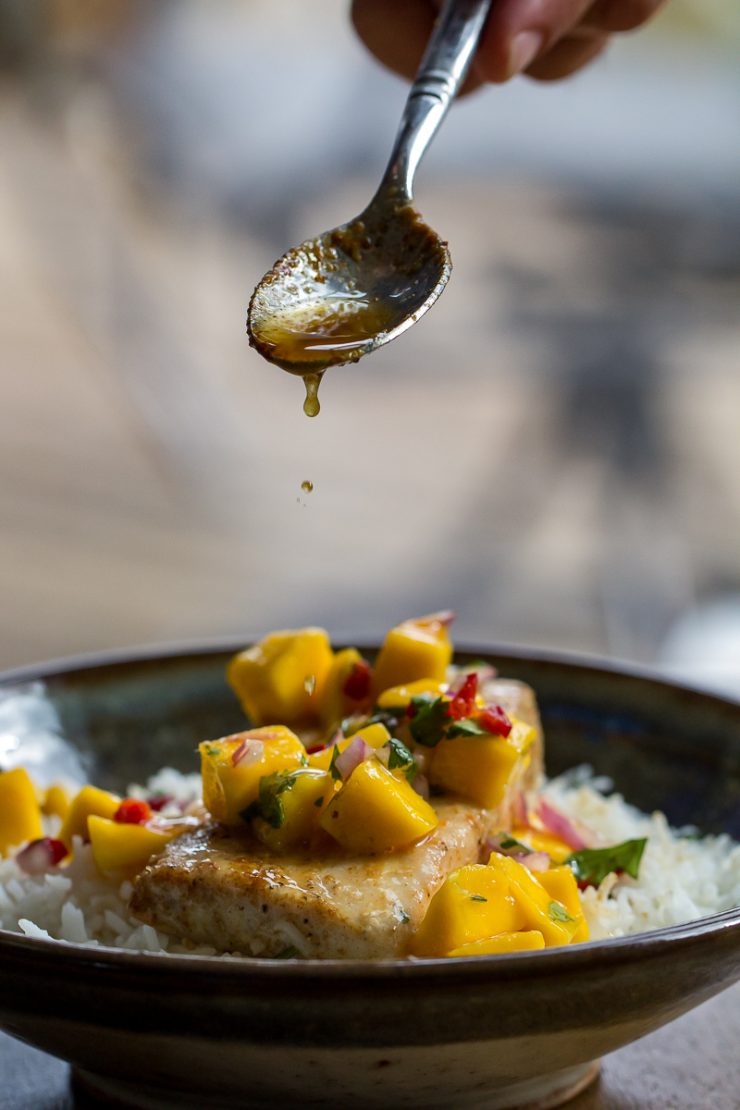 How to make mango salsa
You can go with fresh mangos or use frozen chunks. Mangos are a very juicy stone fruit and cutting them sometimes feels like you are cutting more stone than fruit. I get it. If you don't want to deal with the exercise of cutting your own chunks up, then use the frozen chunks instead.
Those are easy to make into salsa sized chunks while they are still frozen and when they thaw add plenty of juice to the salsa as well as mango flesh.
If you want to cut up your own fresh mango, then peel it first. The seed stone is oblong, wide, and sort of flat rather than round. Cut the mango flesh away in slices from the flat sides of the stone first. Then do the short width sides next.
From there you can easily dice up the mango into small salsa-sized cubes.
The other ingredients get chopped up as you would use in any typical tomato pico de gallo type of salsa.
Onions, jalapenos, cilantro, and lime juice are all you need, along with a pinch of salt and cayenne pepper. The sweetness of the mango will balance out the cayenne so it is neither too spicy nor too sweet.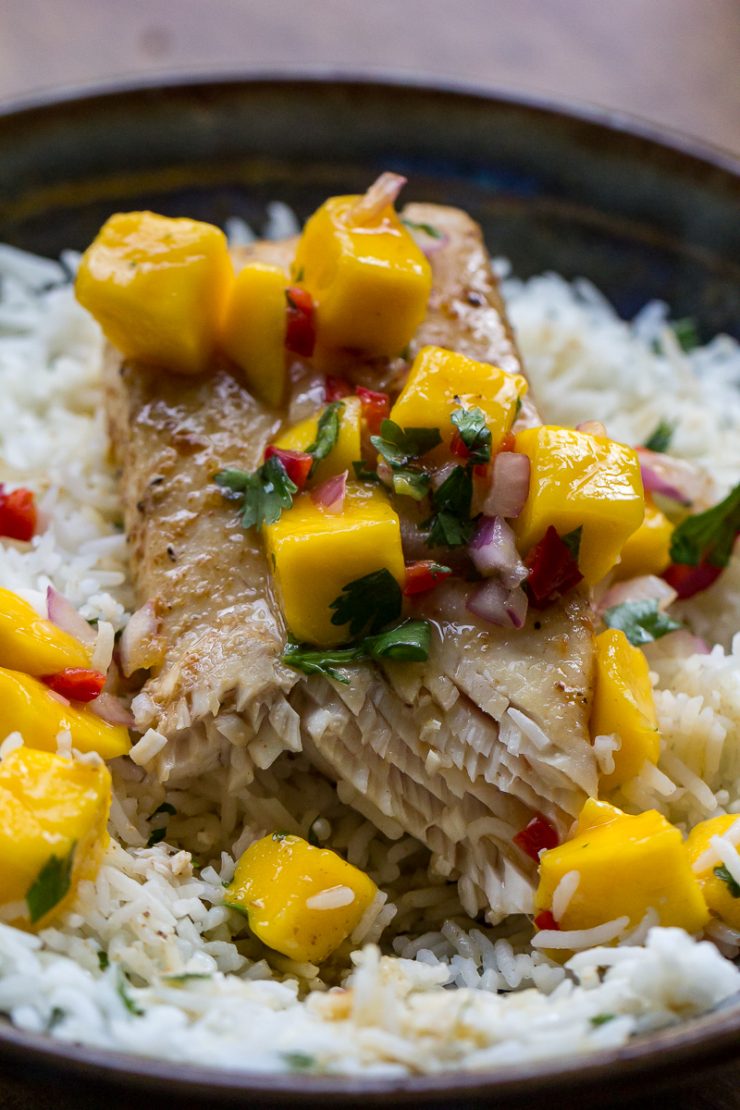 More salsa recipes to check out
Salsas come in many forms and work with so many types of dishes, from chips to chicken, fish to steak, and so much more. It always helps to have some more recipes up your sleeve when it comes to salsa handy.
Fire-roasted salsa adds a touch of smoke where there is fire.
Green style salsa verde works wonderfully with chicken, fish, and pork, as well as veggies too.
Blender salsa is just like the kind served in your favorite Mexican restaurants.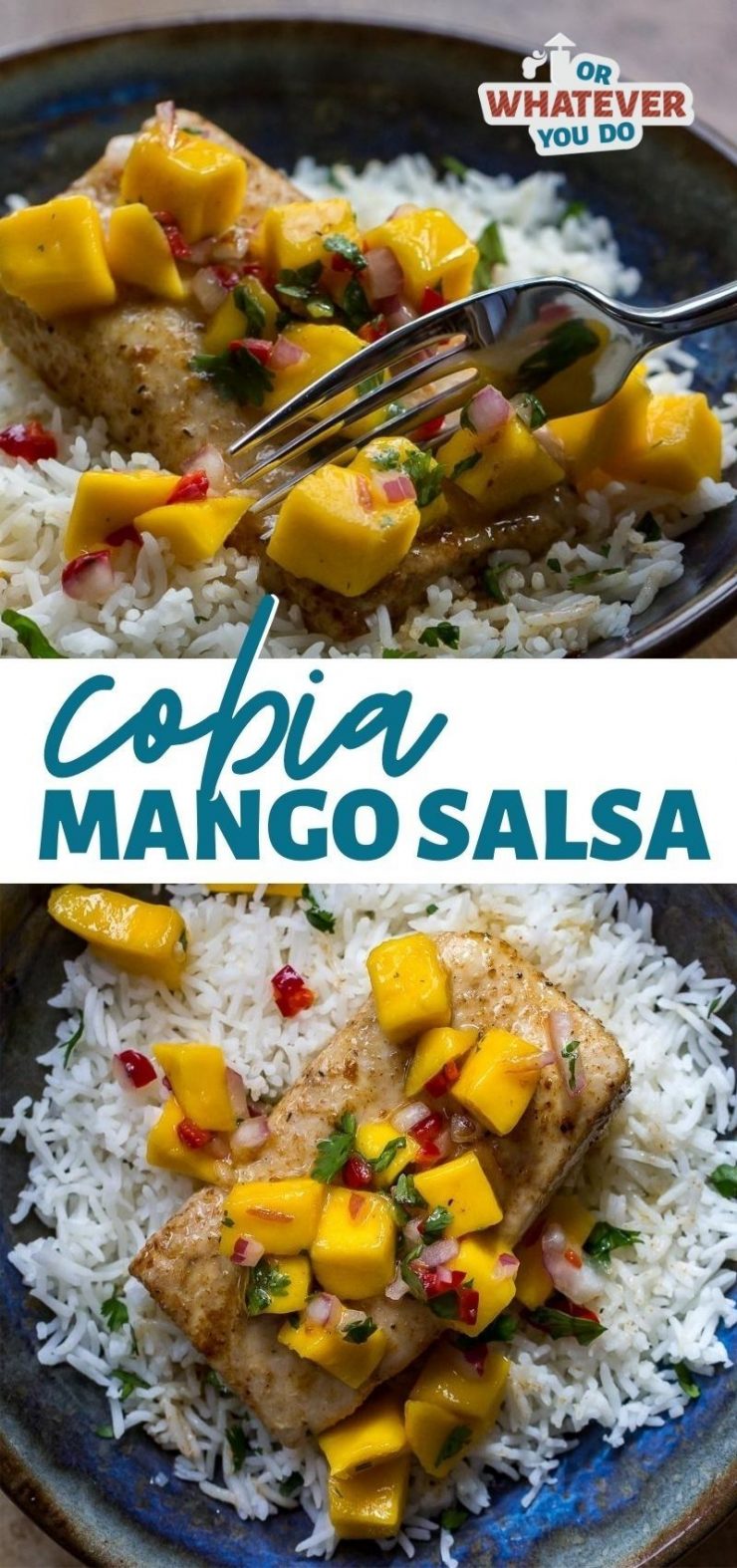 Yield: 4 servings
Cobia with Mango Salsa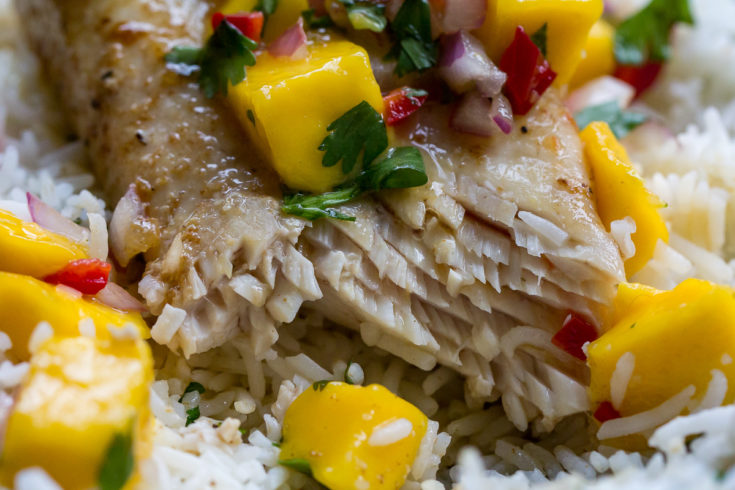 Fresh cobia is pan-seared and poached in butter before being topped with a bright mango salsa and served over rice.
Ingredients
Mango salsa
2 cups diced mango
1 small diced jalapeño pepper (red, if you can find one!)
3 tablespoons diced red onion
1 tablespoon chopped cilantro
1/4 teaspoon salt
Fish
4 - 4 ounce filets fish
6 tablespoons butter
1/2 teaspoon salt
1/4 teaspoon black pepper
1/2 teaspoon granulated garlic
1/2 teaspoon onion powder
1 tablespoon lime juice
Instructions
Place all of the salsa ingredients in a bowl, cover, and place in the fridge for 2 hours prior to serving, for best results. It'll still be delicious if you serve it right away, but we like to give it some time for the flavors to meld.
Place a non-stick pan over medium heat and put the butter into the pan. Season the fish with the salt, black pepper, and garlic and onion powder.
Place the fish into the pan and let cook for 2-3 minutes. Spoon the melted butter in the pan over the top of the fish as it is cooking. Flip once, and continue spooning the hot butter over the top of the fish for another 2-3 minutes. Squeeze the lime juice over the fish during the last minute of cooking.
Once the fish is done cooking, it'll flake easily with a fork.
Serve with heaps of mango salsa on top.
Recommended Products
As an Amazon Associate and member of other affiliate programs, I earn from qualifying purchases.
Nutrition Information:
Yield:
4
Serving Size:
1
Amount Per Serving:
Calories:

569
Total Fat:

38g
Saturated Fat:

19g
Trans Fat:

1g
Unsaturated Fat:

15g
Cholesterol:

180mg
Sodium:

620mg
Carbohydrates:

15g
Fiber:

2g
Sugar:

12g
Protein:

42g
Nutrition data provided here is only an estimate.
Enter our latest giveaways here!