Traeger Smoked Garlic is super simple and it is one of those things you can toss on the Traeger whenever you fire it up and keep a head of this in the fridge.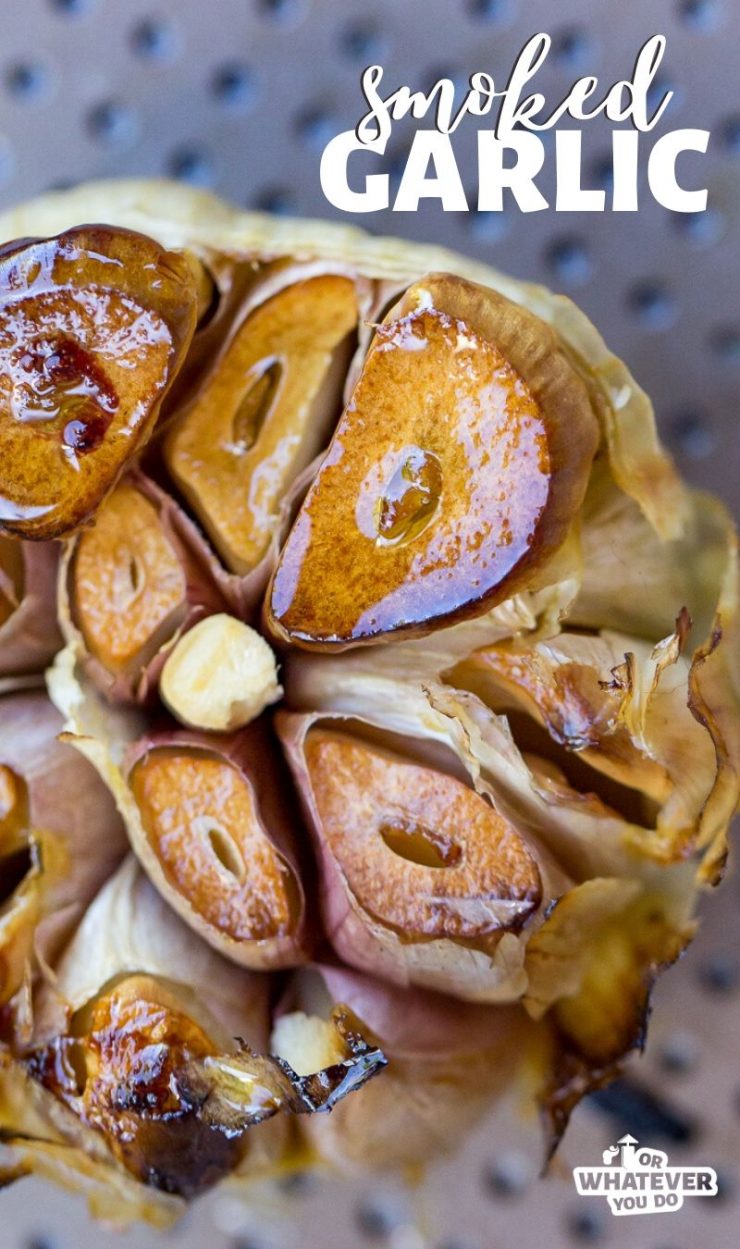 Traeger Smoked Garlic
A whole clove of garlic is slow roasted and smoked, then you easily spoon or squeeze out the result. It comes out like a delicious garlic paste which is super easy to spread over toasted slices of baguette or mix into whatever you like.
If you have never slow roasted a whole garlic bunch before then you are in for a treat! Even better smoked on the Traeger, you can use this to spread on meats like pork or chicken, or serve it as an appetizer.
Essentially, the garlic cooks in its own casing. You cut the top off so it is easy to push or squeeze out the garlic. All you need is a bit of olive oil to drizzle over, but also keep a bit of the olive oil aside to put the garlic into at the end. Whisk it together briefly with a fork and you end up with an amazing garlic and olive oil spread.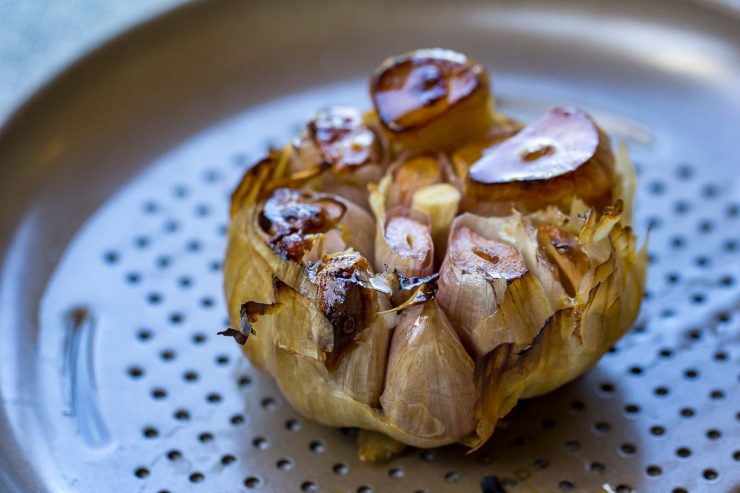 How to smoke garlic on your Traeger grill
If you have roasted garlic before, then chances are you wrapped it in foil then set it in the oven. When doing it on the Traeger, be sure to leave the top of the foil open. That way you can make sure to get more smoke infused into the garlic.
Or just skip the foil, like we did.
If you don't have a Traeger, you can use any pellet smoker. If you don't have a pellet grill a regular grill works fine too. You just don't want to set the garlic over direct heat or else it might burn, and there isn't a lot that is worse than burnt garlic!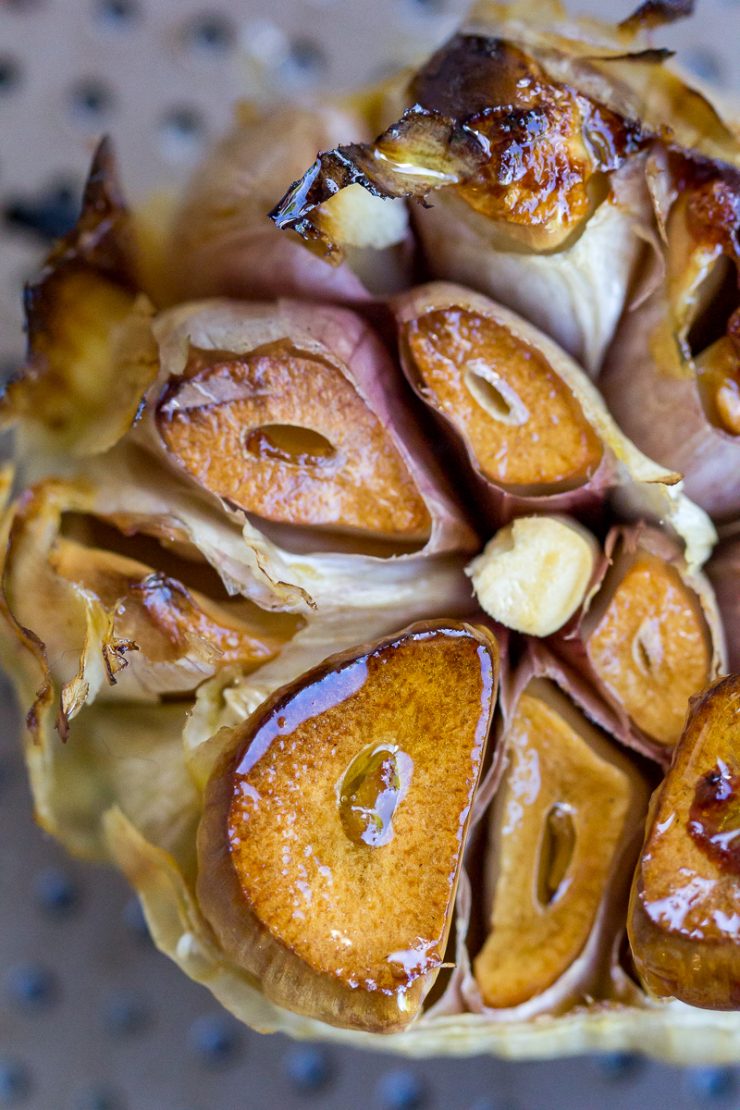 The best type of garlic for smoked roast garlic spread
Pictured here in this post, you'll mostly just see the run-of-the-mill garlic that you can find in any US grocery store. It is cheap, widely available, and what we use most of the time when we make smoked garlic.
However, if you can find it, then those huge cloves of elephant garlic are pretty incredible. Funny enough, elephant garlic is actually closer to a leek than actual garlic, but as the name suggests they are often used interchangeably.
Taken raw, elephant garlic does have a much milder flavor than typical garlic cloves. However, smoking and roasting it will concentrate the garlic flavor more too. If you are a garlic lover, it is still going to be very that garlic flavor you know and love.
Elephant garlic tends to be sort of seasonal, so it can be hit or miss whether you find it in the grocery store or not. You will know you found it if you see a garlic bunch that looks like garlic on steroids.
In fact, it looks so big you might mistake it for shallot or even an onion.
However, if you can't find it, then just make sure to find the biggest head of garlic you can find. You just might need to roast and smoke a few extra to squeeze out the same amount.
Check out our OWYD shop!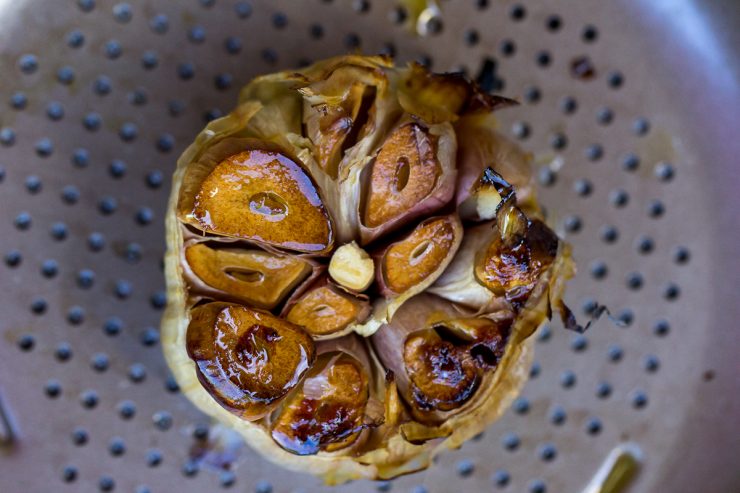 Cutting the top off for smoking garlic
Be careful cutting garlic! The slippery skins and unusual shape of the bulb make it semi-challenging to cut. Having a very sharp knife helps. Most serious cuts happen with dull blades because you have to use a lot more force to get the job done, and force=accidents.
Hold the garlic firmly. If the knife is having trouble slicing through the tough skin then use another knife, try one with a serrated edge.
You want to cut the narrower end of the garlic off so that just the tops of the individual cloves inside are exposed.
Place the head of garlic on a small grill-safe baking sheet and drizzle with the olive oil and you're all set!
This soup would be great with Bread Sticks!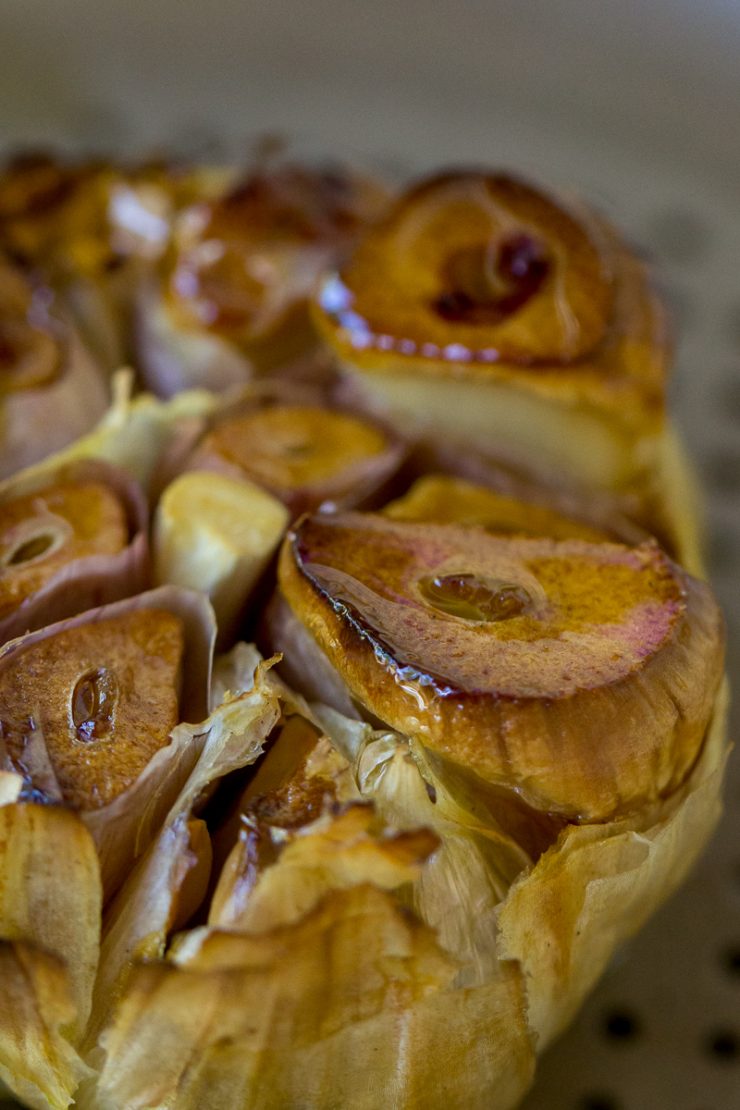 How can you use smoked garlic?
You can spread smoked garlic on just about everything. Heck, I would even consider using it as toothpaste if I didn't have to worry about having garlic-breath.
Try it on some Cornbread Muffins. Or perhaps add it in with Italian Bread with Cheese. I also think it would serve well with Buffalo Chicken Flatbread as well.
It would work amazingly well on some Traeger Grilled Chicken Breast too!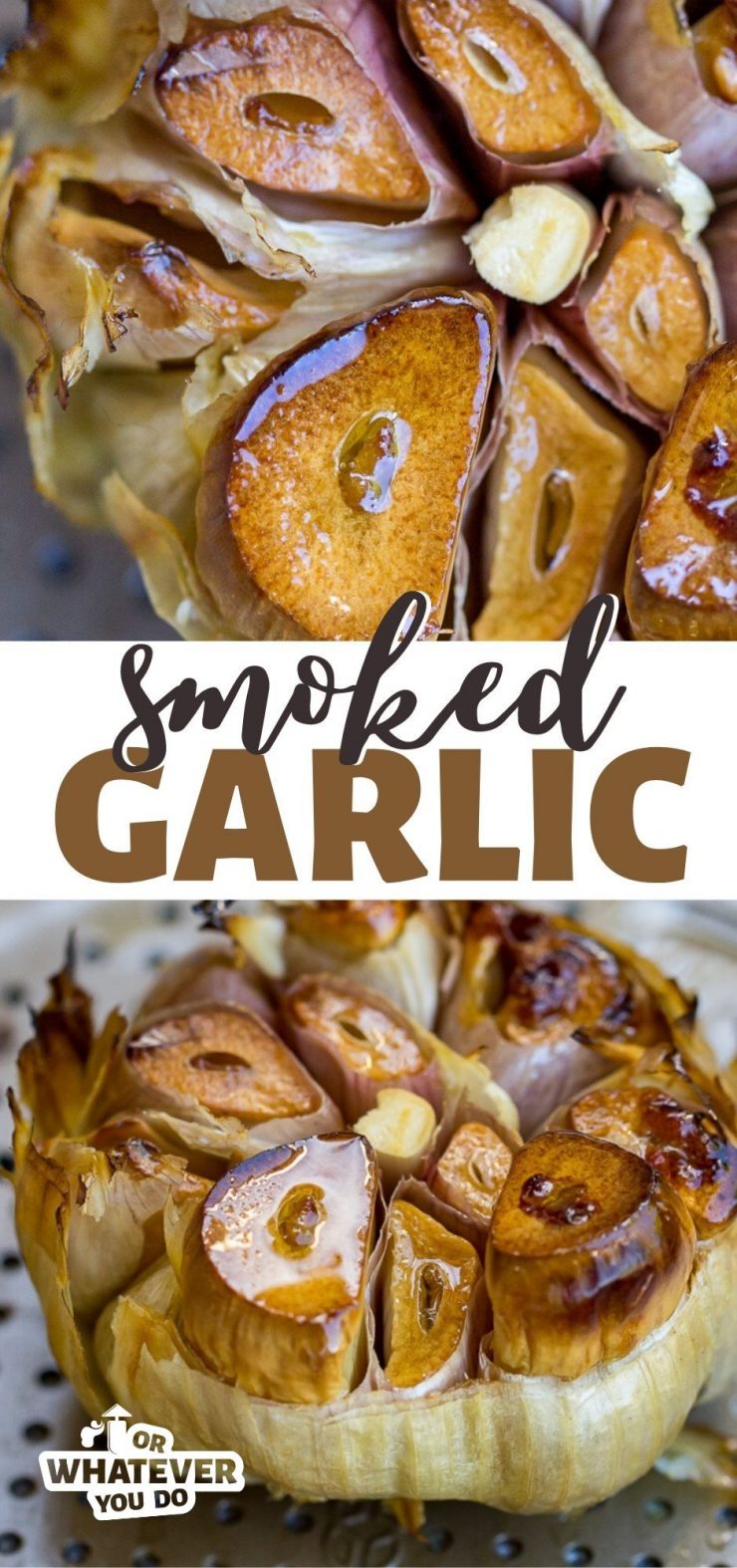 Yield: 12 servings
Traeger Smoked Garlic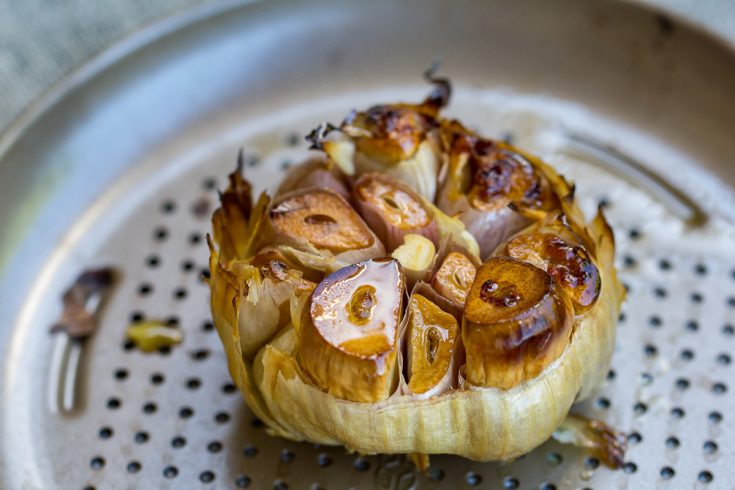 This simple roasted garlic is cooked on the Traeger pellet grill for one of the best and easiest kitchen staples you never knew you needed in your life.
Ingredients
1 large head garlic
1/8 cup olive oil
Instructions
Cut the top off of the garlic head, place onto a grill-safe surface, and drizzle with olive oil.
Preheat your grill to 225° according to factory instructions, and place the garlic inside.
Cook for about 45 minutes, or until the garlic is golden brown and soft.
Remove, use, and store any leftovers in the fridge.
Recommended Products
As an Amazon Associate and member of other affiliate programs, I earn from qualifying purchases.
Nutrition Information:
Yield:
12
Serving Size:
1
Amount Per Serving:
Calories:

19
Total Fat:

2g
Saturated Fat:

0g
Trans Fat:

0g
Unsaturated Fat:

2g
Cholesterol:

0mg
Sodium:

0mg
Carbohydrates:

0g
Fiber:

0g
Sugar:

0g
Protein:

0g
Nutrition data provided here is only an estimate.