Blueberry Buttermilk Pancakes Mmmmmmm! Who doesn't love blueberries and pancakes, and put them together, WOW. Simple yet fantastic breakfast that is a diner classic.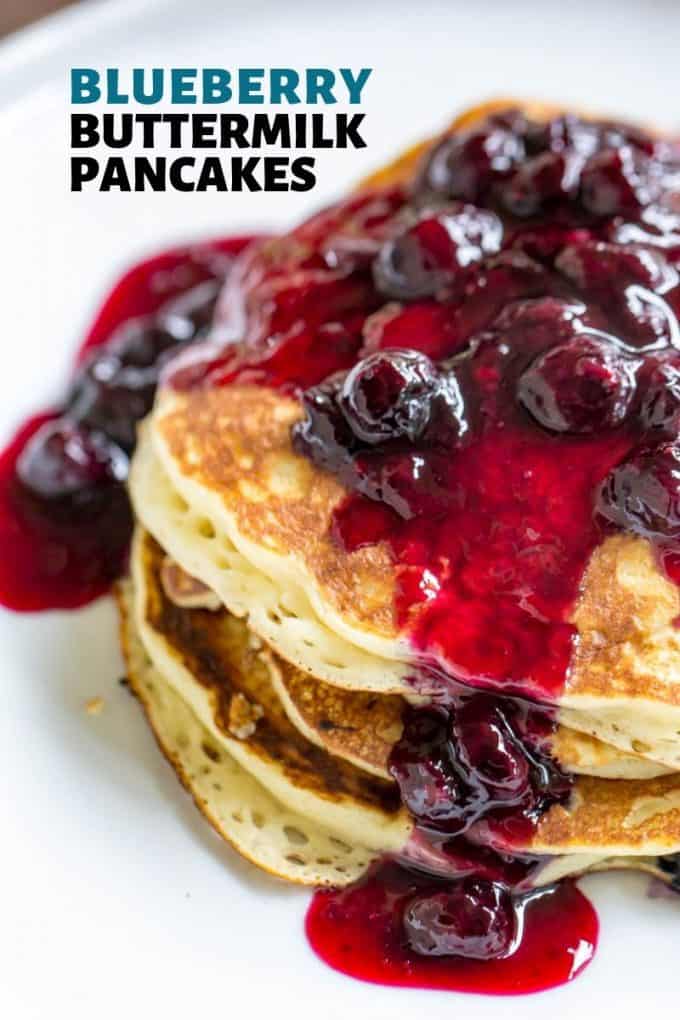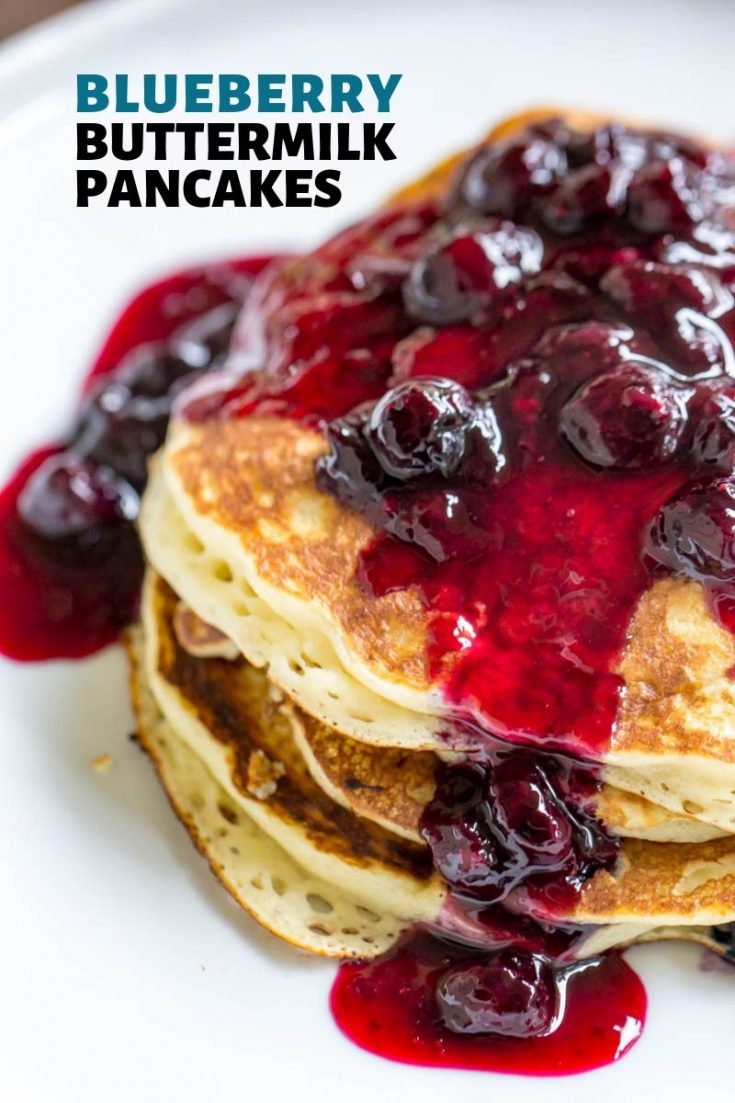 Blueberry Buttermilk Pancakes
For these delicious Blueberry Buttermilk Pancakes, I start with my Buttermilk Pancakes, add gads of fresh blueberries and top them off with my Blueberry Syrup. This blueberry syrup has all real ingredients. It is simple to make, and super flavorful.
Fresh blueberries are the best, but not the only option. If you live where blueberries are plentiful and you pick them in season you can freeze them and use them later.
You can blueberries from the produce section at your local grocery store or from the frozen foods section. If you are not fortunate enough to have your own blueberry plants or a local farm where you can pick your own, you can always look at your local Farmers Market when they are in season.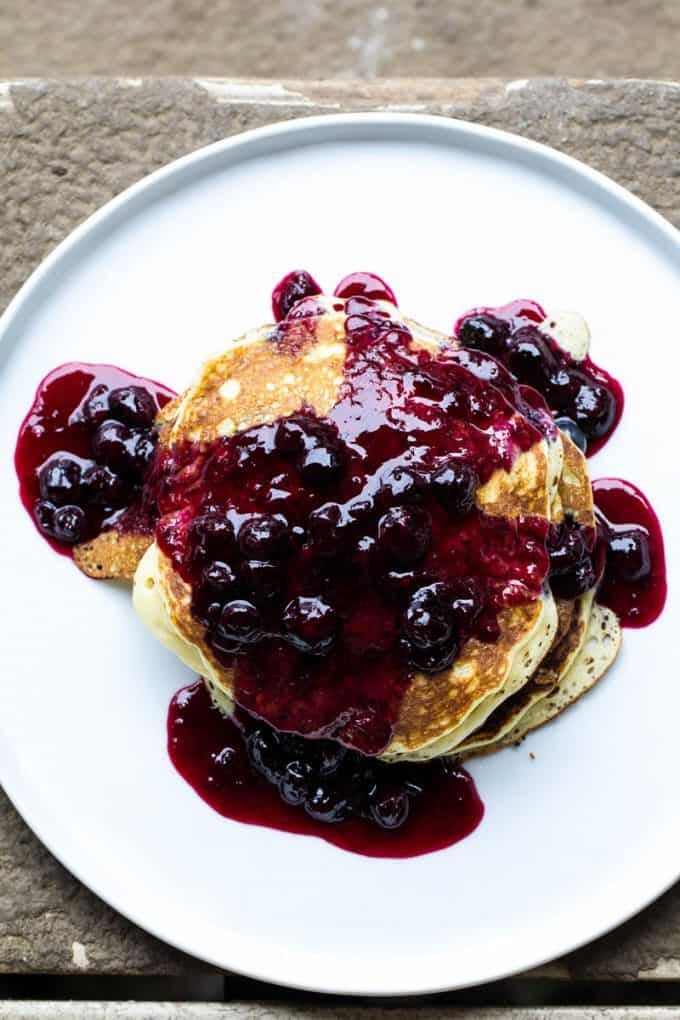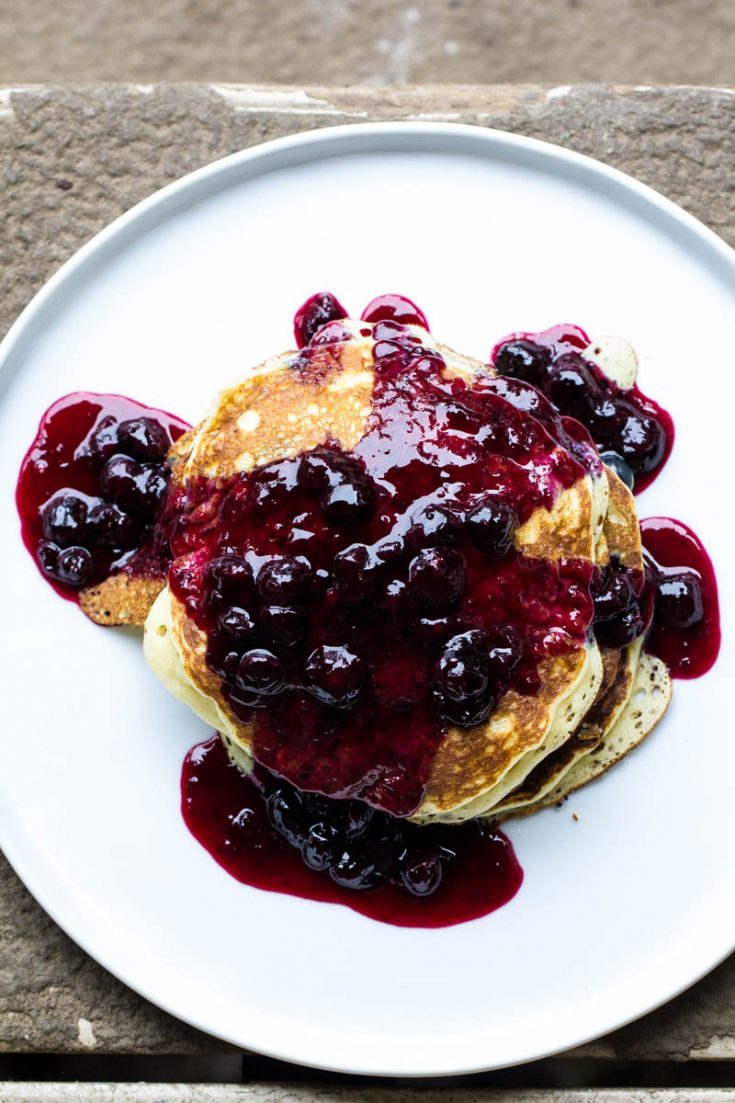 How about some Homemade Dry Pancake Mix for your pantry?
Should I get farm eggs or store eggs?
Farm fresh eggs are the best, for this or any recipe, or to eat on their own. They are more nutrient dense and darker in color because of what the chickens are fed on smaller, local farms. On the smaller farms, they are usually more selective about what they feed their chickens.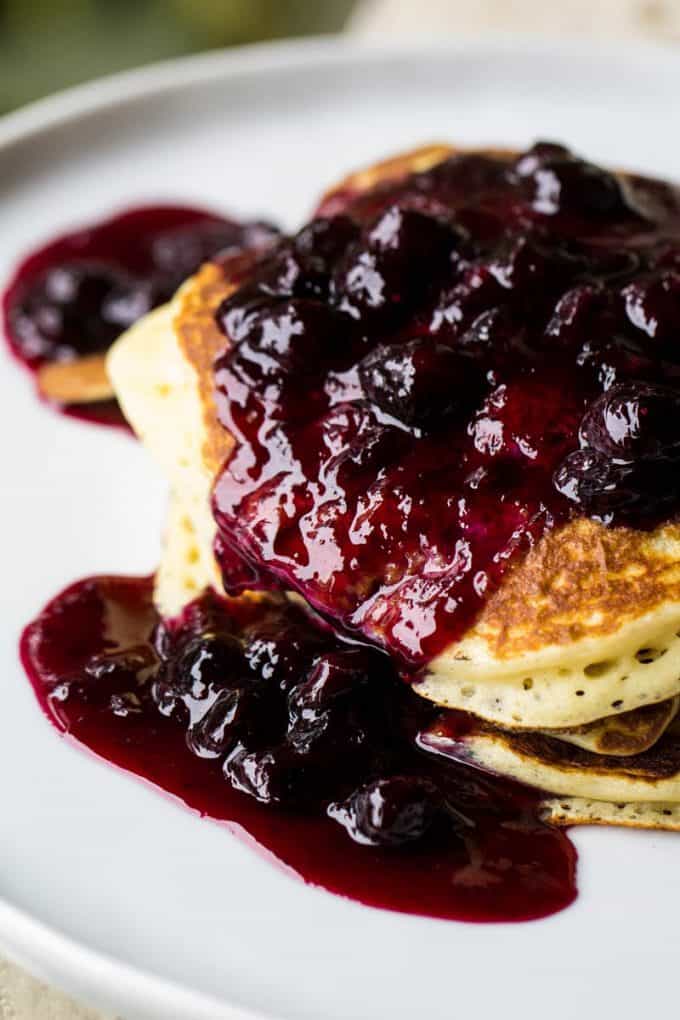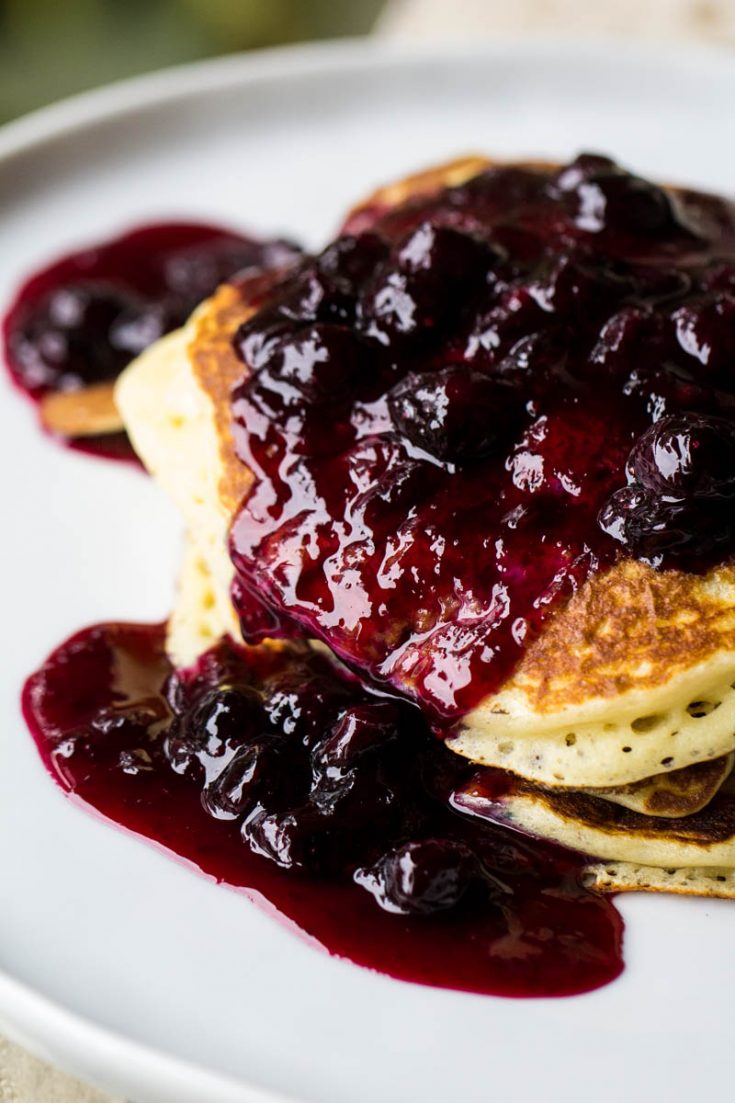 Can I make my own buttermilk with milk and vinegar or lemon juice?
Homemade buttermilk is much thinner in consistency than real buttermilk, and it drastically affects the consistency of the batter. So for this recipe, use store-bought buttermilk.
Make my Traeger Banana Bread too!
Delicious Homemade Blueberry Buttermilk Pancakes
Pancakes aren't just for breakfast. They can be for any meal, and make a great Sunday brunch. I even love them for dinner!
You'll want to make extra because these easy pancakes freeze well, so make a large batch and freeze between wax-paper sheets and then reheat in the microwave for a quick weekday breakfast!
I would hold off on the syrup until you are ready to eat them. The syrup also freezes well, so you just have to plan ahead and defrost it before you pop your pancakes in the microwave.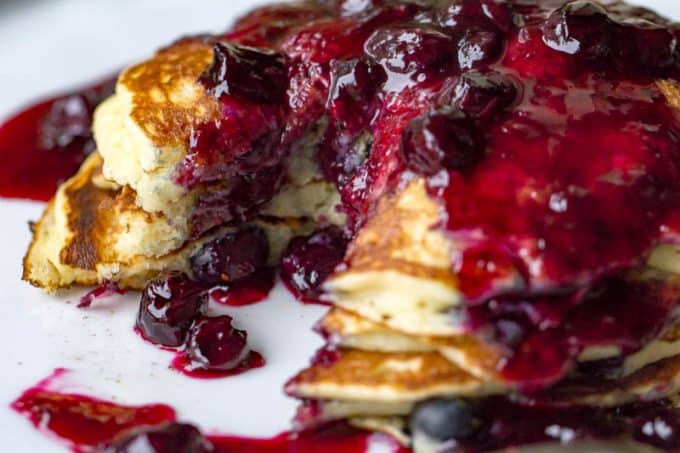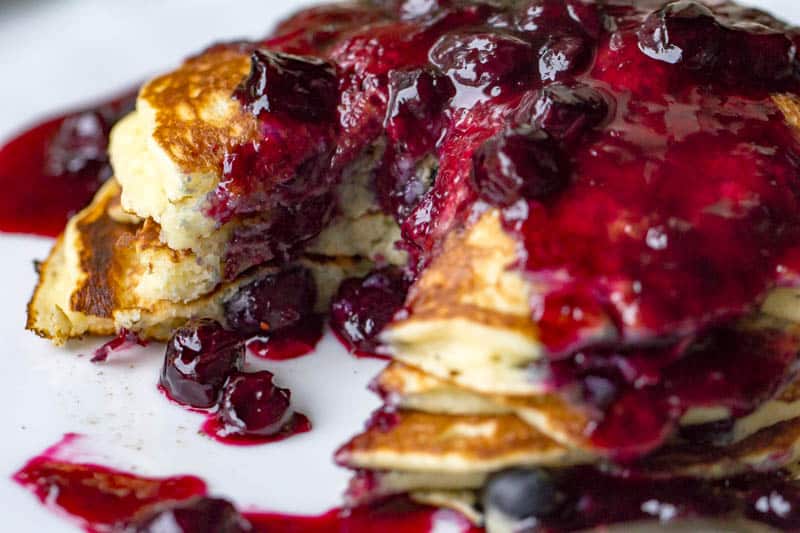 This Blackstone Bacon Cheese Omelet would be perfect on the side!
What else can I serve with Scratch Buttermilk Pancakes?
These Blueberry Buttermilk Pancakes would go well with any breakfast meat especially Traeger Bacon, Traeger Smoked Ham, or sausage links (gotta have links with pancakes).
Scramble up some of those farm fresh eggs that you have on hand. You could even make up some Smoked Salmon Scrambled Eggs!
I would cut up some fruit, it's almost summer, so I'm thinking strawberries, blackberries, and some melon.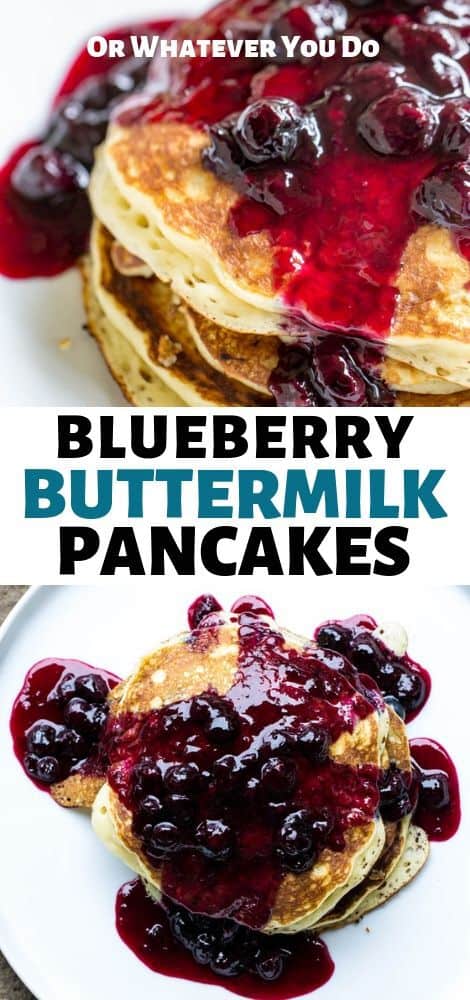 Yield: 6 servings
Blueberry Buttermilk Pancakes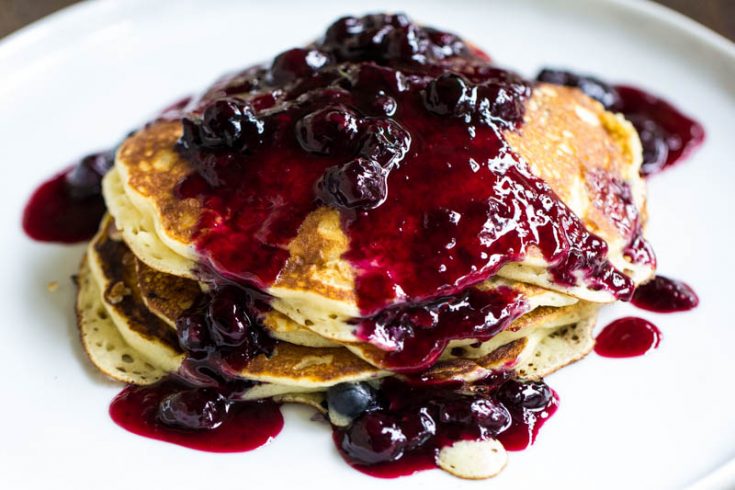 Homemade blueberry buttermilk pancakes feature fresh blueberry sauce and made-from-scratch buttermilk pancake mix. Make these! You need them!
Ingredients
Blueberry Syrup
1-pint blueberries – washed and stemmed
1/2 cup water
1/2 cup sugar
1 teaspoon vanilla
juice of 1 lemon
1 teaspoon corn starch
1 tablespoon cold water
Pancakes
5 eggs
1 1/2 cups milk
1/2 cup butter, melted
5 cups buttermilk
1 TBSP vanilla
5 cups flour
5 tsp baking powder
5 tsp baking soda
1/4 cup sugar
1-2 cups fresh blueberries
Instructions
Combine all of the ingredients for the sauce except for the cornstarch and cold water. Heat over medium-low heat and bring to a simmer. Turn the heat to low, and let simmer for 15-20 minutes while you mix up the pancakes.
Combine all of the pancake ingredients together in a bowl except for the fresh berries, and stir.
Preheat a non-stick pan over medium heat. Give it a light spray of cooking spray or a swipe of butter if you need to.
Ladle a small amount of batter into the pan, place some blueberries on top, and let cook for 2-3 minutes, or until the bottom is browned.
Carefully flip with a spatula, and let the other side cook.
Continue cooking until all of the pancakes are done.
To finish the blueberry sauce, mix the cold water and cornstarch into a slurry, and stir into the blueberry sauce.
Pour the blueberry sauce over the pancakes and serve hot.
Nutrition Information:
Yield:
12
Serving Size:
1
Amount Per Serving:
Calories:

854
Total Fat:

24g
Saturated Fat:

13g
Trans Fat:

1g
Unsaturated Fat:

9g
Cholesterol:

209mg
Sodium:

2060mg
Carbohydrates:

134g
Fiber:

5g
Sugar:

46g
Protein:

26g