Traeger No-Flip Bacon is a bacon-lover's dream! Keep the smell and the mess out of your house and make the easiest big batch of bacon that you've ever had.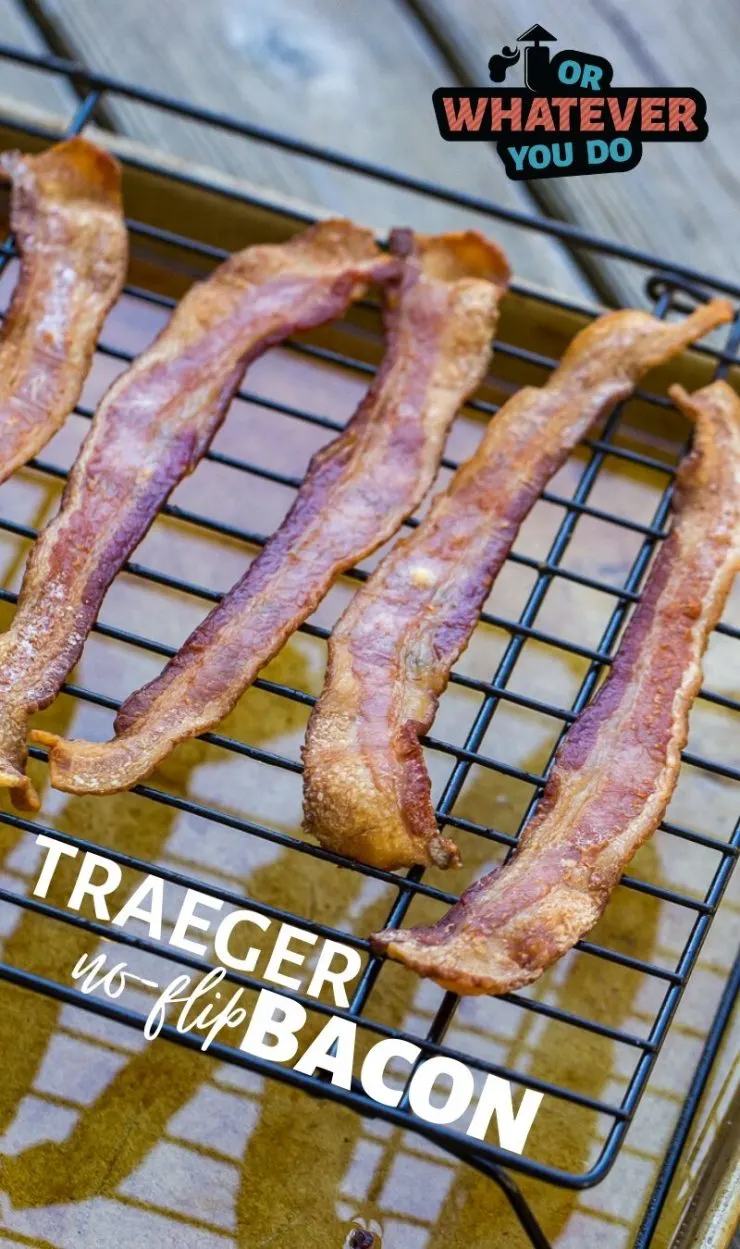 Traeger No-Flip Bacon
Yes, Traeger No-flip bacon means never having to flip bacon again. Just don't flip out. Because yes, cooking bacon on a pellet grill allows you to cook perfectly crispy bacon. It lets the fat drip away so the bacon isn't greasy too.
You can collect the bacon grease below and use it for other recipes or discard it if that's your thing.
If you don't have a rack, you can also make our original Traeger Bacon too that is cooked right on the parchment paper.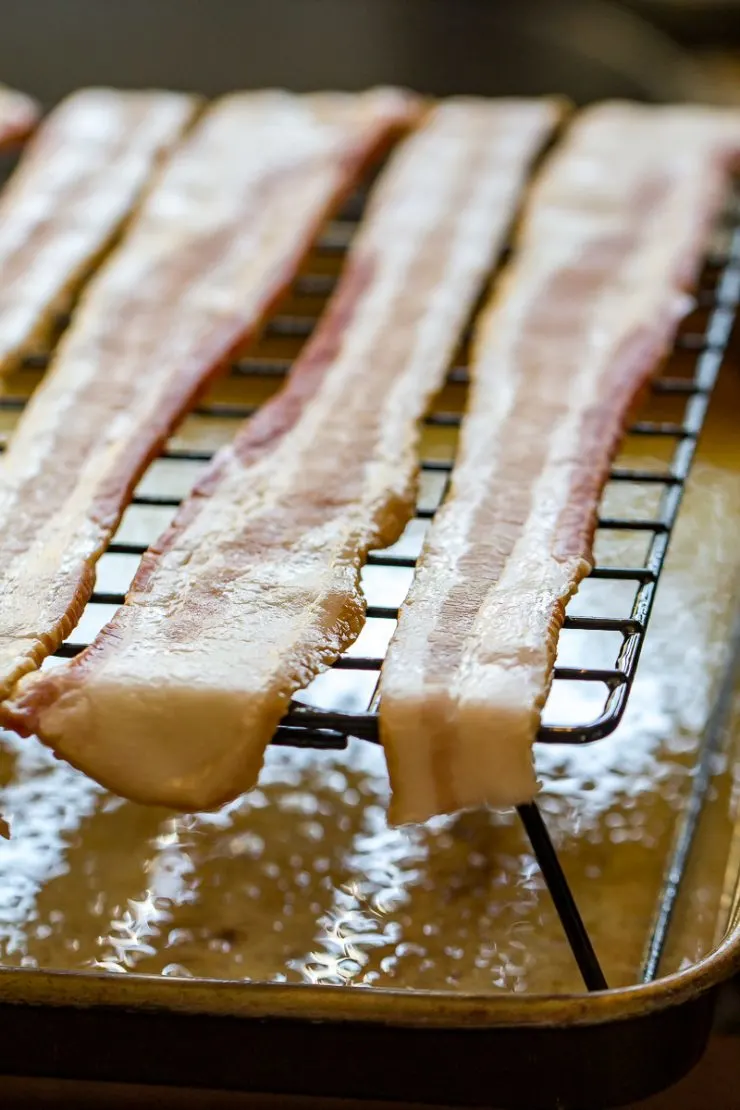 The Best Grilled No-Flip Bacon
A Traeger grill makes all sorts of grilling come easily, but with no-flip bacon, you are actually using your pellet grill to bake the bacon quickly at a relatively high temperature. The grill adds a bit more smoke to the bacon too, which is always welcome, and having it on a rack allows for the bacon to cook evenly.
If you don't have a pellet grill you can use whatever grill you have handy. I just like the Traeger because it is so convenient to use. It heats quickly and cleans easily. There's nothing like just turning on a switch and being ready to rock.
You can even use the oven if you don't want to break out the grill or if the weather is not conducive to grilling outside.
The trick is to rack the strips of bacon above a roasting pan. Elevated above the pan, the bacon sizzles as its fats drip off into the pan.
Use this No-Flip Bacon to make one of my ULTIMATE BLTs!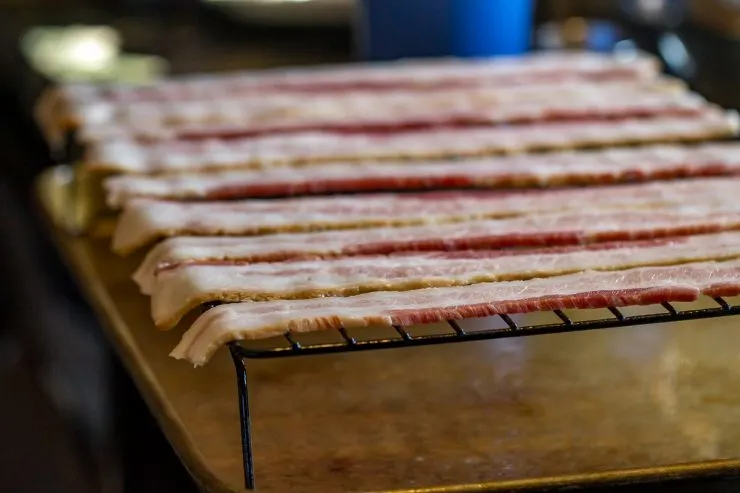 What kind of bacon is best for grilled bacon?
Personally, I like to make thick-cut bacon on the grill, but you can use this method on any sort of bacon that you have handy.
There are a few types of bacon, and all of them are worthy.
Slab bacon – This is the bacon cut at the butcher counter. If it is already cut, then usually it is a little thick – but if you don't like your bacon that thick, then just ask the butcher for a thinner cut. They will do it to your preference. Slab bacon comes in smoked and unsmoked cuts so make sure you ask for whichever you prefer.
Turkey bacon – Turkey bacon is processed from the breast meat of turkeys. It is a lower fat style of bacon but often is higher in sodium. So there is obviously a trade-off to consider. It cooks very quickly too.
Canadian bacon – Canadian bacon is bacon that is already fully cured, cooked, smoked, and cut into round thin slices. It comes from the back so it is less fatty and resembles ham slices.
Pancetta is a style of bacon that is salt-cured but not smoked like most bacon. Unlike "American style" bacon, pancetta can actually be eaten as is or cooked to crisp it up.
English-Style bacon – English style bacon is like the bridge between Canadian and American style bacon. It comes from the back loin like Canadian but includes some of the belly fat like American style. It is sometimes referred to as back bacon.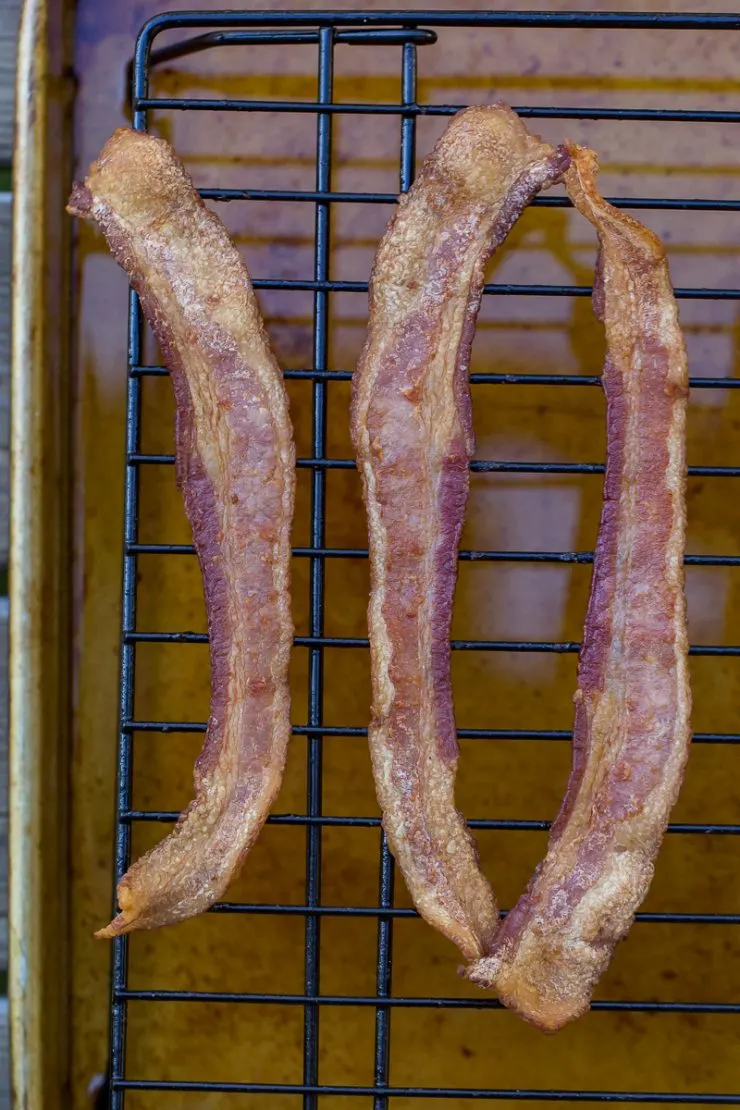 No-Flip Bacon Stores Easily
The great thing about no flip-style bacon is how easily you can store it and either warm it or just eat it as-is later. So go ahead and make a bit extra if you like. With no flip Traeger baked bacon, the bacon doesn't cool with a bunch of extra grease on it.
All you need to do is wrap the strips in paper towels and store them in a plastic bag. You can also chop it down and store it conveniently as bacon bits. They will keep in the fridge that way for a week or so, or in the freezer for months.
You will love our Traeger Bacon Asparagus Frittata too!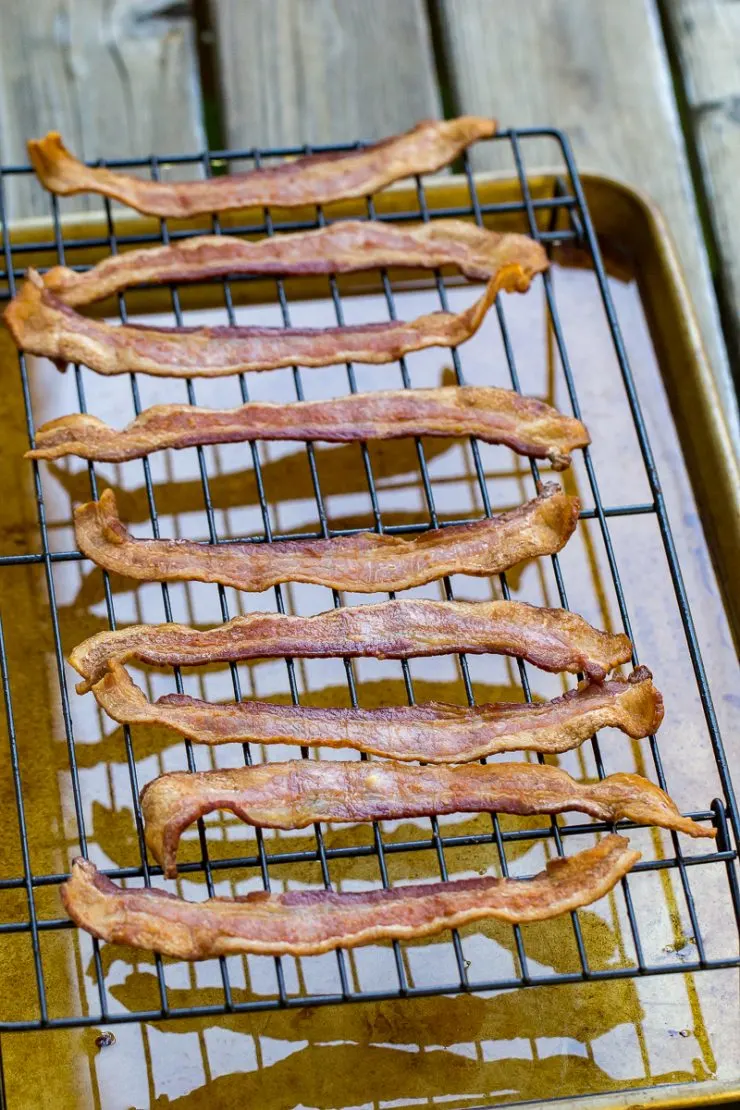 Some More Bacon Inspired Recipes
As the saying goes, "everything goes better with bacon". If you want some more ways to take advantage of your Traeger no flip bacon, then here are a few suggestions: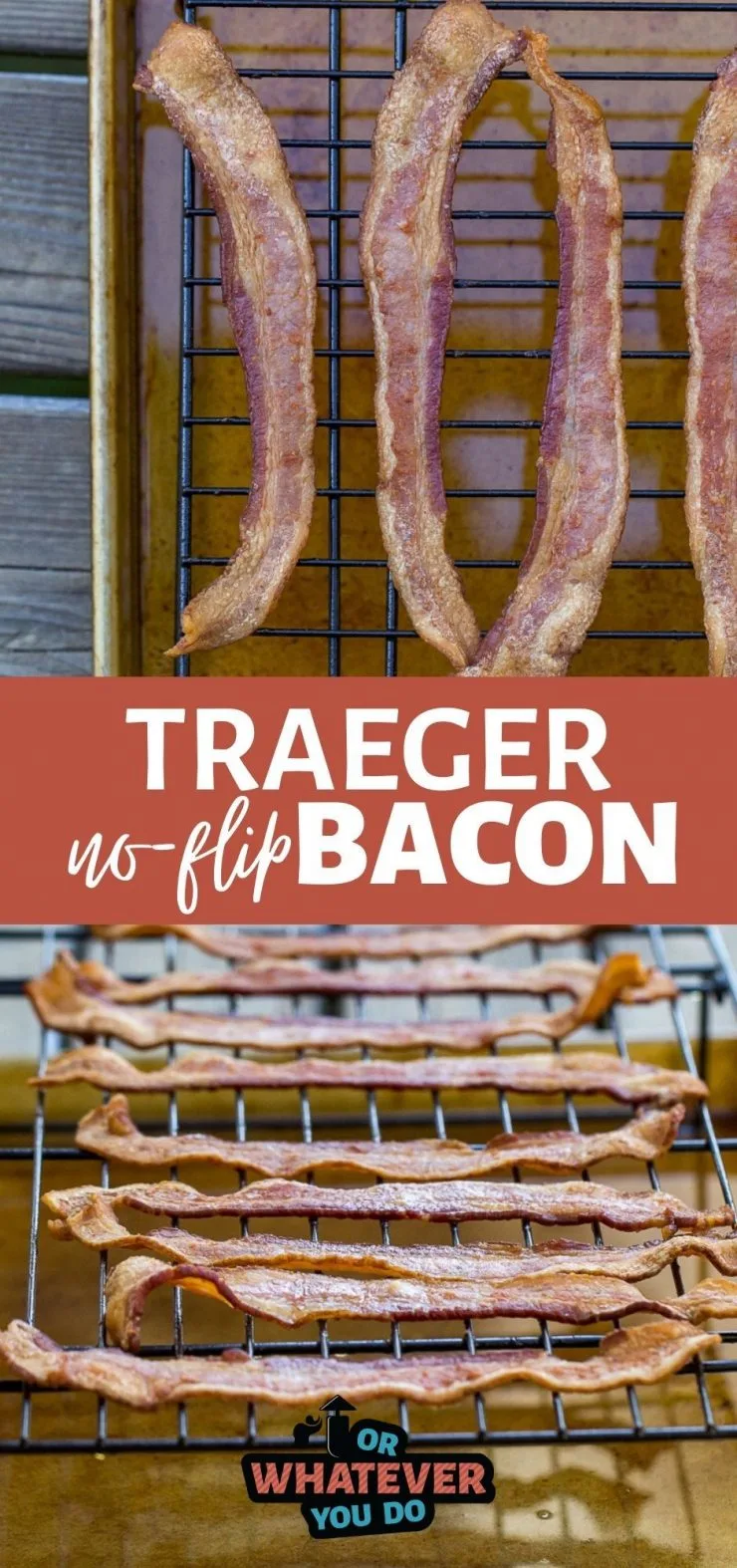 Yield: 6 servings
Traeger No-Flip Grilled Bacon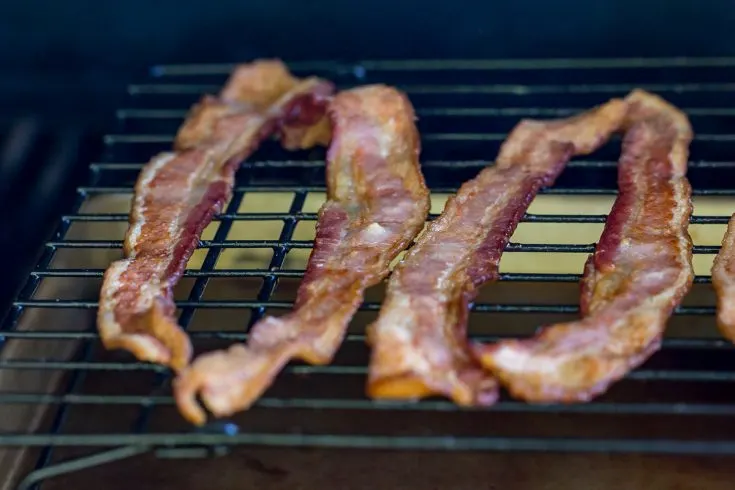 Traeger Grilled No-Flip Bacon is one of the easiest bacon recipes ever, and also one that produces my favorite kind of bacon. Crisp, but still chewy. You can cook it to whatever texture you want though, and this method still works!
Instructions
Preheat your Traeger Grill according to manufacturer directions to 375 degrees.
Line a large baking sheet with parchment paper, and place a rack on top that's been sprayed with cooking spray. Layer the thick-cut bacon on the rack in a single layer.
Bake on the Traeger at 375 for 20-30 minutes, or until it is as crispy as you'd like. You may have to turn the pan if your grill has hot spots, but you shouldn't have to flip it at all.
Make sure you pull it a bit before it is all the way to your liking, there will be some carryover cooking that happens after it comes off the grill.
Notes
If you don't use thick cut bacon, make sure to adjust your cook time accordingly!
Baked bacon firms up a bit after it comes off the grill and cools a bit. It is easy(ish) to overcook if you are trying to get it to the exact perfect doneness ON the grill itself. Pull it a minute or two earlier than you think you should. You can always cook it a little more, but all you've got is bacon bits if it goes a couple minutes too long. (not that there's anything wrong with bacon bits.)
Recommended Products
As an Amazon Associate and member of other affiliate programs, I earn from qualifying purchases.
Nutrition Information:
Yield:
6
Serving Size:
1
Amount Per Serving:
Calories:

354
Total Fat:

27g
Saturated Fat:

9g
Trans Fat:

0g
Unsaturated Fat:

16g
Cholesterol:

75mg
Sodium:

1273mg
Carbohydrates:

1g
Fiber:

0g
Sugar:

0g
Protein:

26g
Nutrition data provided here is only an estimate.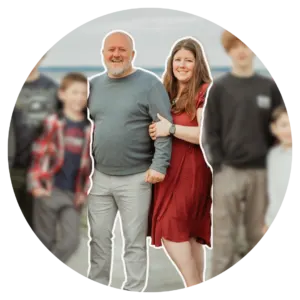 Nicole Johnson, a self-taught expert in grilling and outdoor cooking, launched Or Whatever You Do in 2010. Her blog, renowned for its comprehensive and creative outdoor cooking recipes, has garnered a vast audience of millions. Nicole's hands-on experience and passion for grilling shine through her work. Her husband, Jeremiah Johnson, also plays a pivotal role in recipe development, adding his culinary flair to the mix. Together, they form a dynamic duo, offering a rich and varied outdoor cooking experience to their followers.