Steak and Potato Pie is the ultimate fall comfort food. You're going to love this amazing use of leftover steaks or roast beef.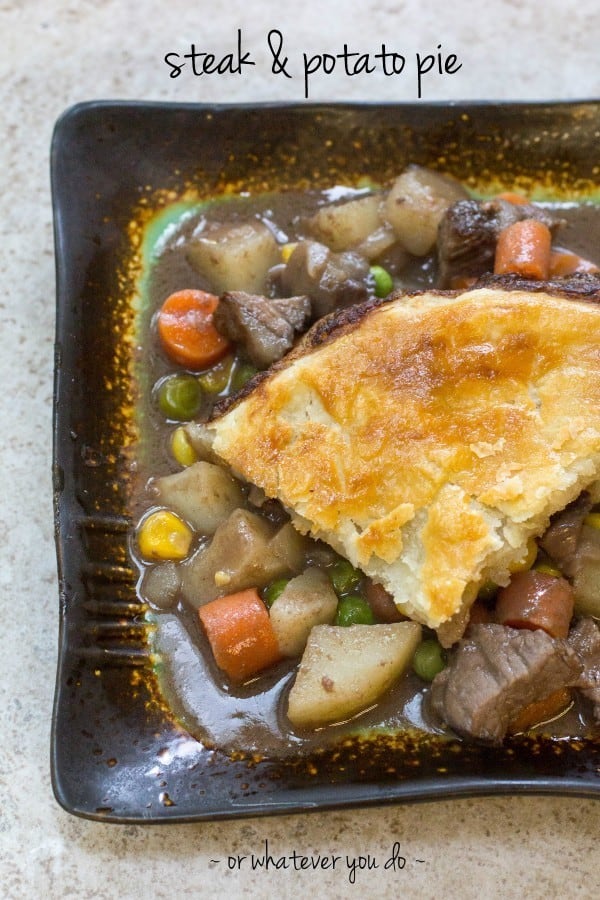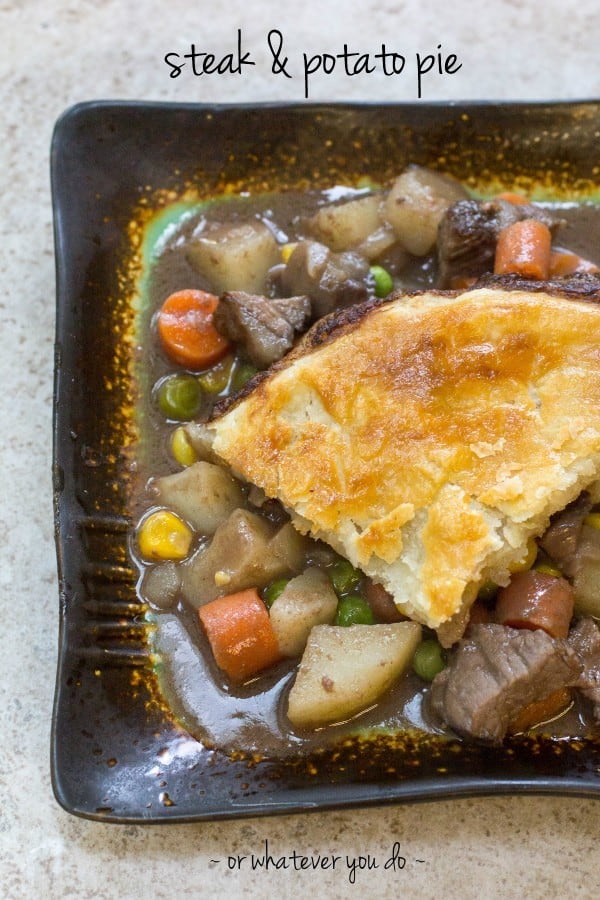 Steak and Potato Pie
Last Saturday we made steaks for the family, and I ended up with 5 extra. HOW this could ever happen in this house, I have NO idea. These kids can eat insane amounts of food. Like, multiple costco trips a WEEK levels of food. My oldest isn't even a teenager yet, so I can only imagine how this will be when I have FOUR teenage boys in the house at once. I'm scared. No joke.
Originally I was going to make beef stroganoff with the leftovers, but I was missing mushrooms. That's a pretty necessary ingredient for stroganoff in my world, so I needed an alternative.
I am SO GLAD that we were out of mushrooms! This steak and potato pie was so incredible. I finally figured out my pie crust, which has plagued me for years, and things just seemed to come together. I love it when that happens.
You could use leftover steak or roast beef for this. Either would be great. Whichever you choose, dice it into bite-sized pieces and set it aside.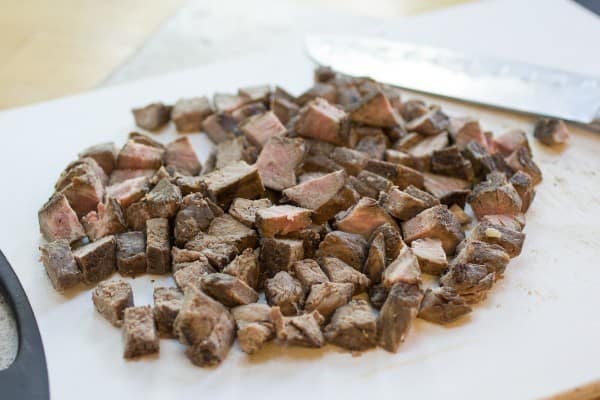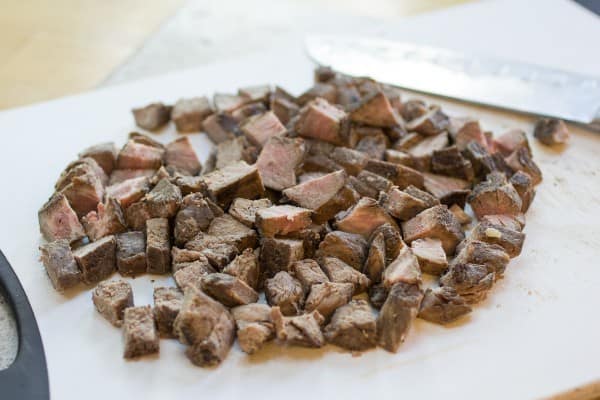 You will also need to dice up some red potatoes, season them well, and then roast them for about 20 minutes in a 350 degree oven. Pre-cooking the potatoes allows for a shorter final cook time, and ensures all the filling ingredients will be done at the same time. You can also stick them in the microwave for 3-5 minutes if you don't want to use the oven.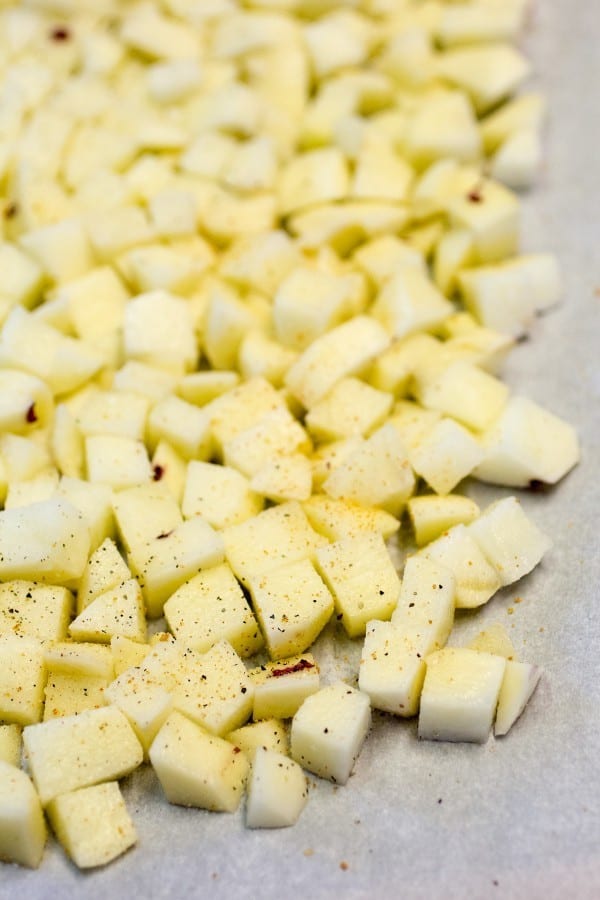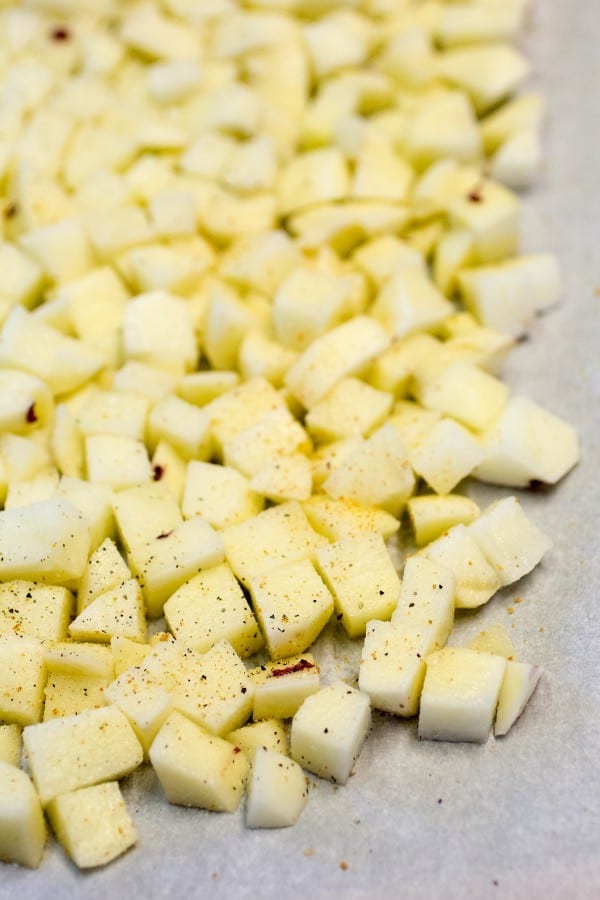 If you made a roast with gravy and the rest of the fixings, use the gravy! Otherwise, beef stock does very well. This steak and potato pie is super versatile and flexible.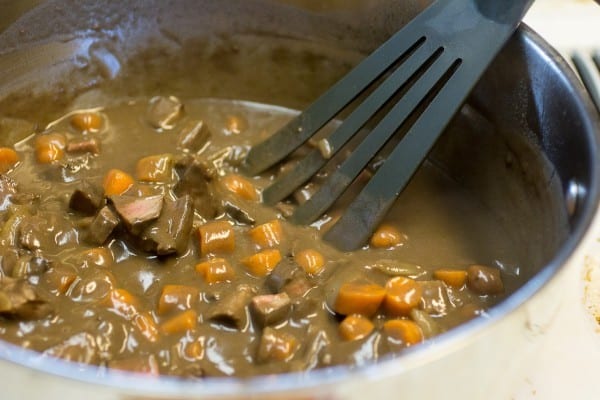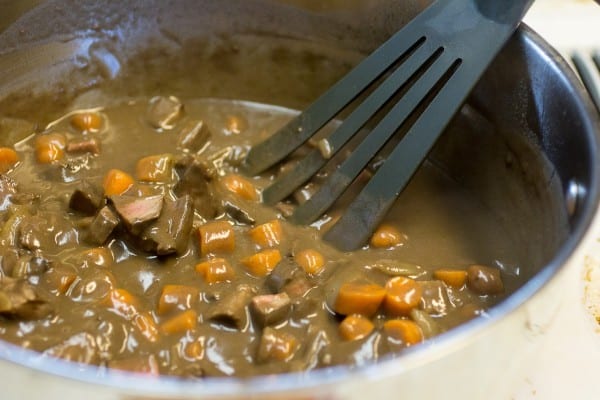 Use whatever vegetables that you have around. Fresh, frozen, leftover, any which way will do. Mine happened to be frozen. Mix those into the gravy, add your roasted potatoes, and spoon into a prepared baking dish.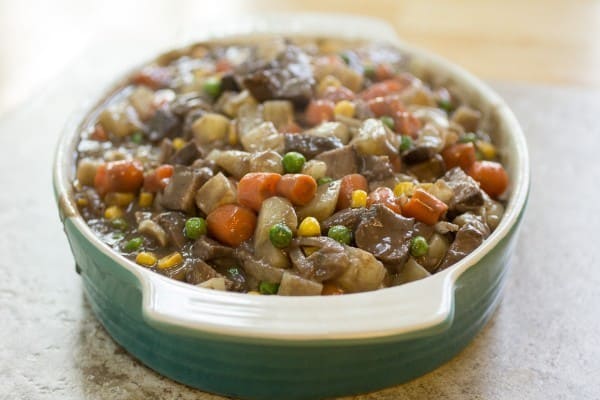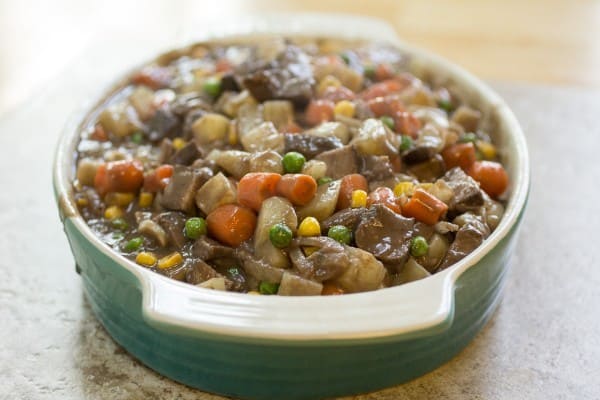 Next roll out your pie crust between two sheets of parchment, and put it on top of the crust.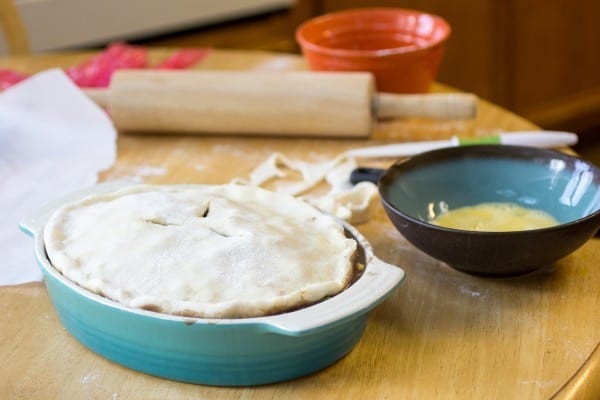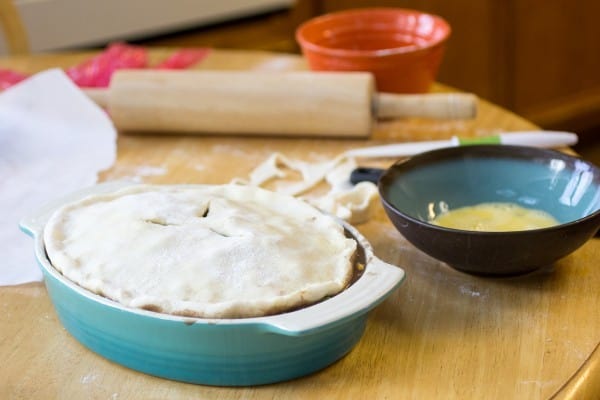 Brush it with an egg wash, and bake for about 40 minutes.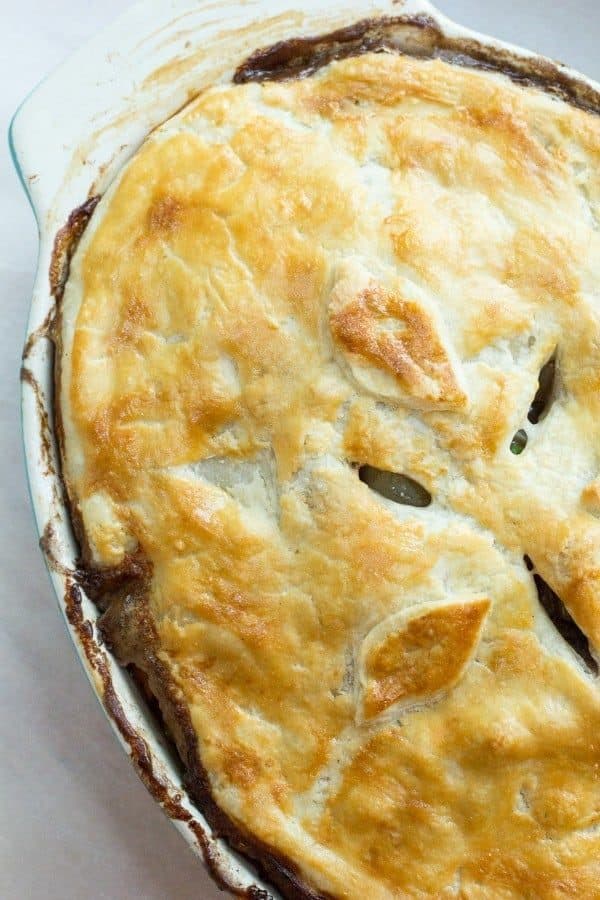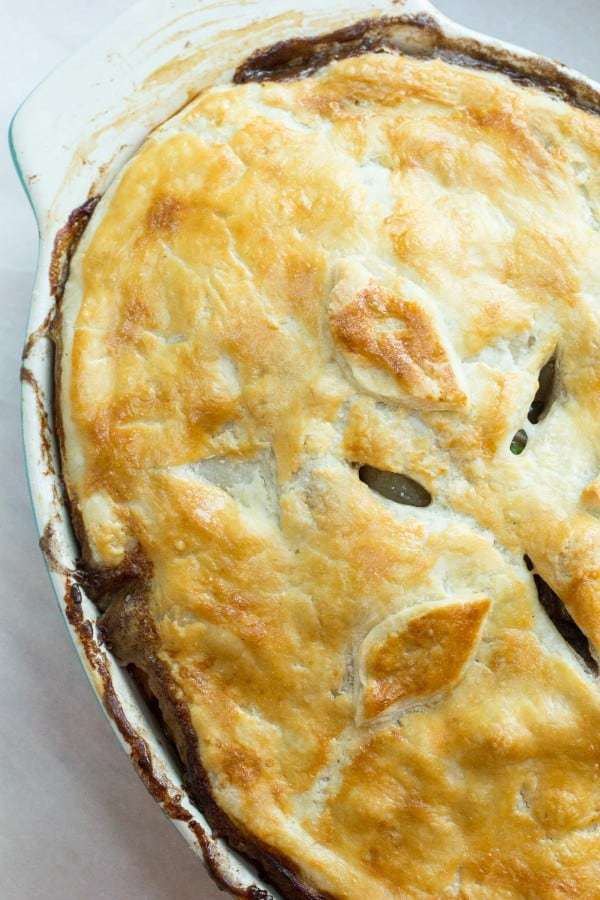 Serve with a big fresh crunchy salad.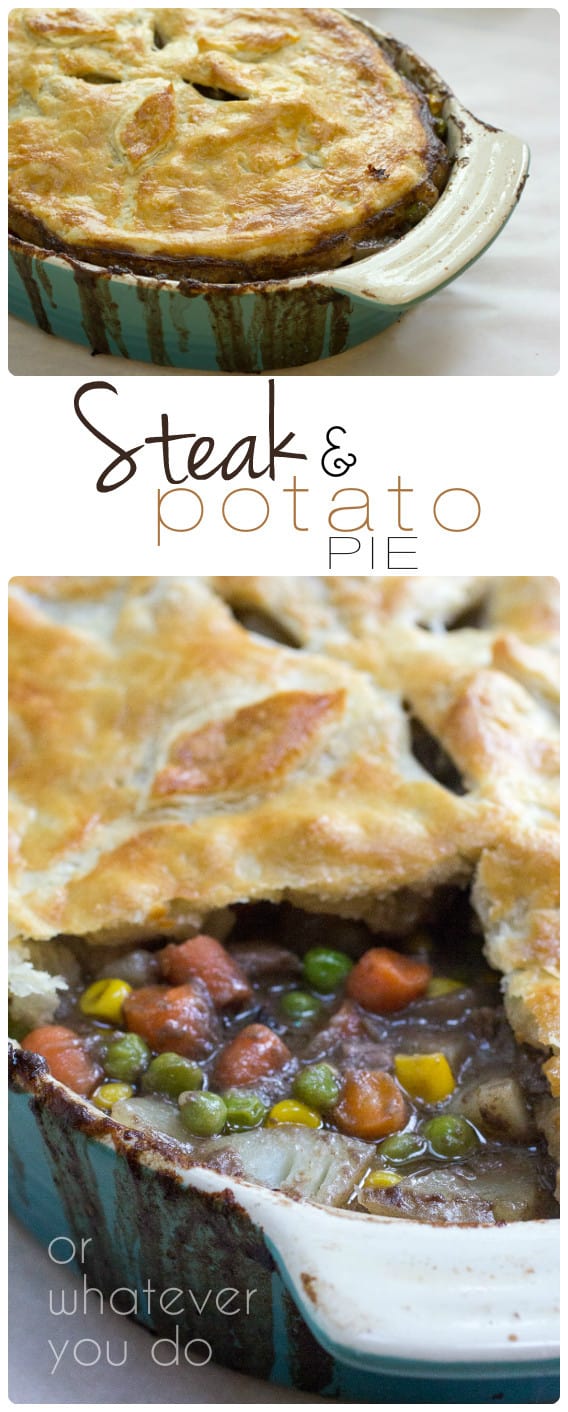 Need some more dinner ideas?
Beef and Bean Skillet Taco Rice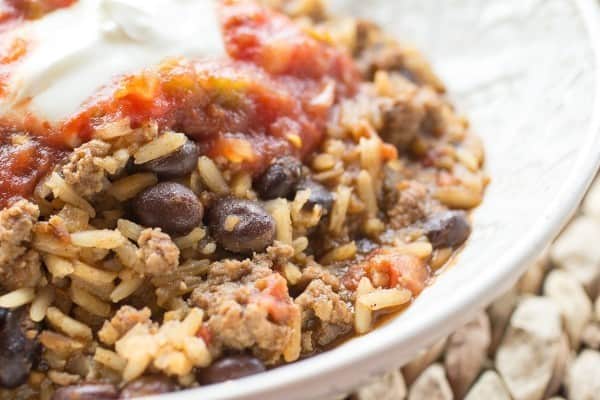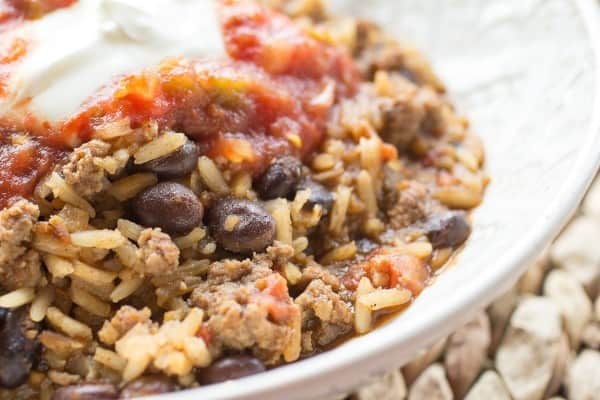 Chicken Alfredo Rigatoni Casserole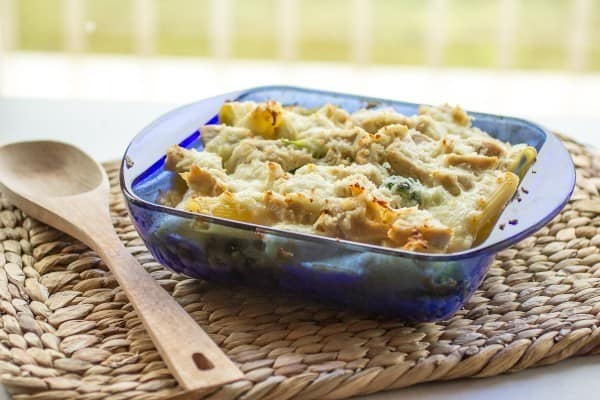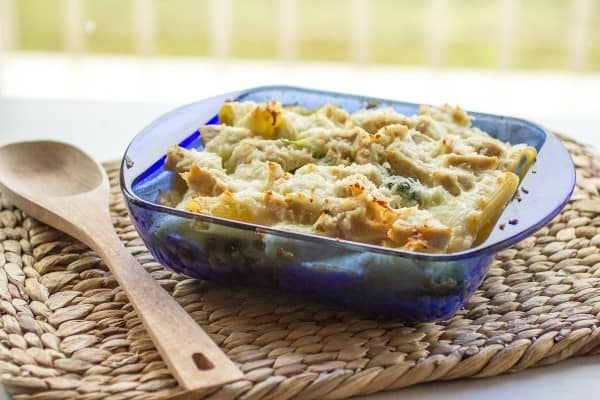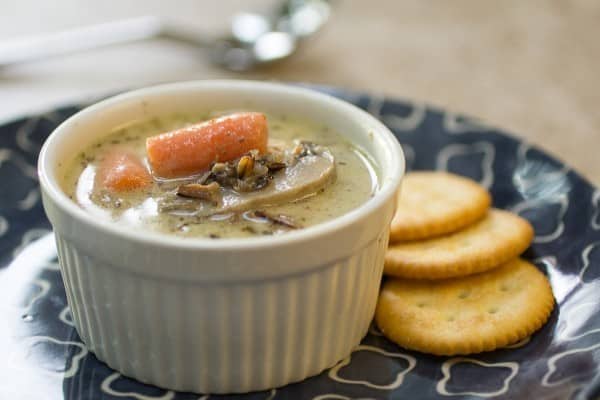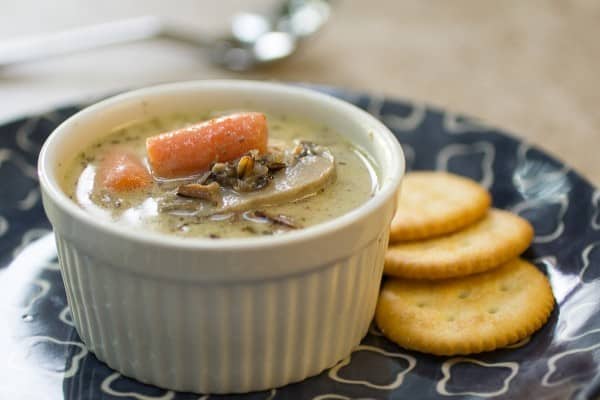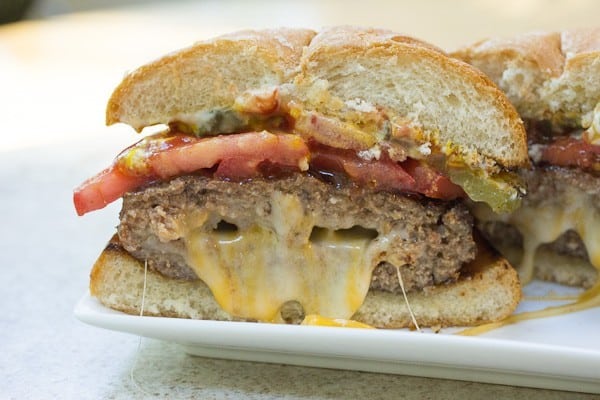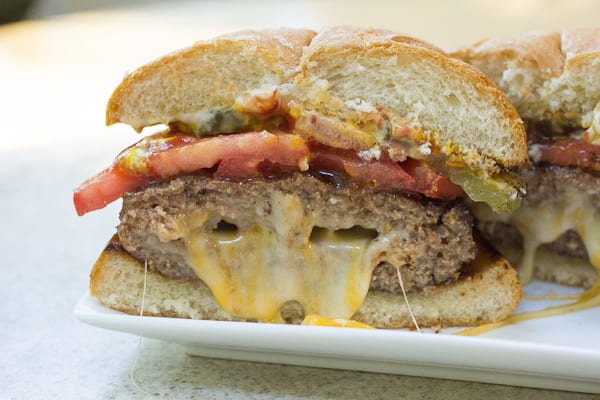 Sesame Vegetables with Rice Noodles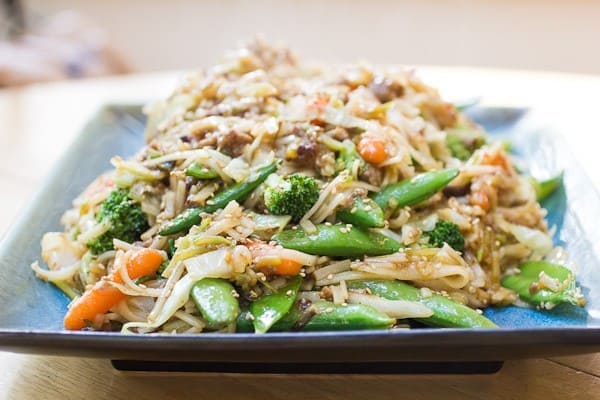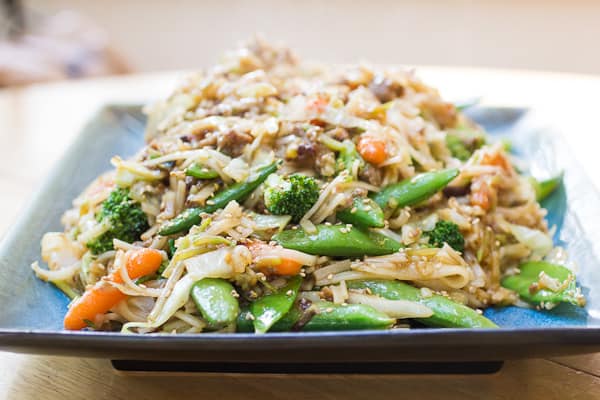 Yield: 10 servings
Steak and Potato Pie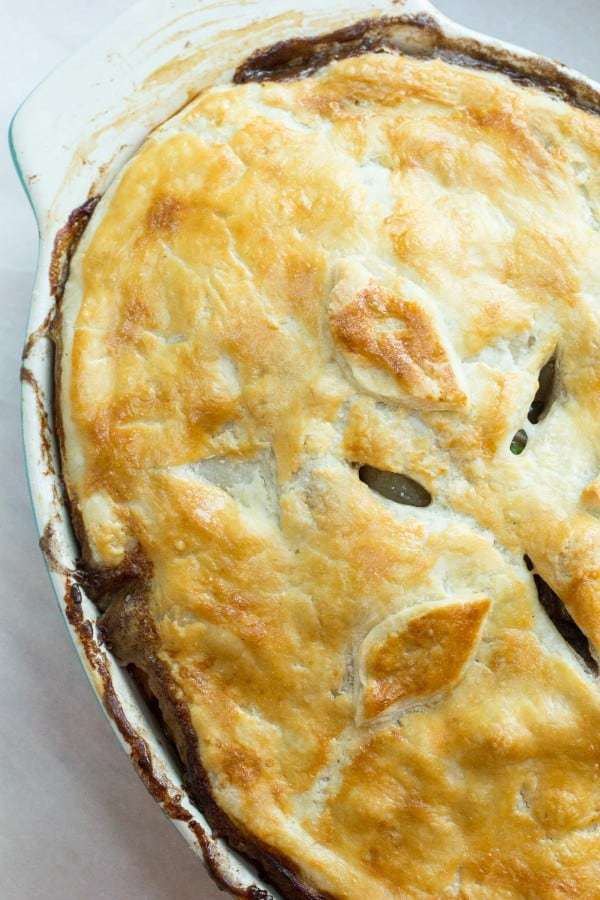 Hearty, delicious, and beautiful steak and potato pie! This is one of my favorite fall and winter dishes.
Cook Time
1 hour
15 minutes
Total Time
1 hour
40 minutes
Ingredients
Upper Crust:
1 1/4 cup flour
1/2 cup butter, chilled, salted and diced into cubes
1/4 cup ice water + 2-3 teaspoons ice water
1/4 teaspoon salt
Filling:
3 inch large red potatoes, diced to 1/2 pieces
salt, pepper, garlic salt, onion powder, seasoning salt
1/2 large onion, sliced thinly
1/3 cup butter, salted
cup heaping 1/4 flour
1/3 cup dry red wine
2 cups beef stock
1 clove garlic, thinly sliced
1 cup corn
1 cup peas
1 cup carrots, sliced
3 cups diced leftover steak or roast
1/8 teaspoon dried thyme
1 bay leaf
Egg Wash:
Instructions
Preheat oven to 350 degrees.
Prepare Pie Crust: Mix 1 1/4 cups flour with 1/2 cup of cold cubed butter. Mix it together well until it is crumbly and the butter is about pea-sized. Slowly pour ice water into the flour mixture and mix with a fork until the mixture forms a ball. Don't overmix. It should be JUST this side of crumbly. Add an extra teaspoon or two of water, slowly, if the dough won't stick together. Wrap dough in plastic wrap and place in the fridge.
Peel potatoes if desired, and then dice into 1/2 inch chunks. Season liberally with salt, pepper, garlic salt, onion powder, and seasoning salt. Place on a large baking sheet, and bake for 15-20 minutes at 350.
While potatoes are roasting, make your pie filling by sauteing onions in 1/3 cup butter for 2-3 minutes, or until translucent and soft. Sprinkle 1/4 cup flour over the butter/onion mixture, and stir well so no lumps form. Cook over low heat for 1-2 minutes.
Add red wine, and beef stock. Stir well and simmer over low heat until thickened.
Add garlic, corn, peas, carrots, beef, thyme, and the bay leaf. Simmer over low heat for 5 minutes. Add potatoes into the mix and gently stir. Remove from heat and carefully spoon mixture into a deep dish pie pan, or a medium sized baking dish that's been sprayed liberally with cooking spray.
Lightly flour one large piece of parchment paper. Place pie dough on top, sprinkle a little flour on top, and then add another sheet of parchment. Roll out the pie dough to the size/shape you need for your baking dish, and gently place on top of filling. Trim edges, and roll the edges under a bit. Place a few vent holes in the top of the pie crust. Lightly brush the top with an egg wash.
Bake at 350 for 40-45 minutes, or until mixture is bubbly, and crust is golden brown. Remove from oven and let cool for 20 minutes before serving.
Notes
Easily substitute different veggies into this mix if you prefer a different mix. You can also use frozen diced potatoes in place of fresh to save some time. Subbing in a ready-made pie crust would also speed this up some. I just happened to not have those things on hand. 🙂
Nutrition Information:
Yield:
10
Serving Size:
1
Amount Per Serving:
Calories:

490
Total Fat:

31g
Saturated Fat:

16g
Trans Fat:

1g
Unsaturated Fat:

12g
Cholesterol:

135mg
Sodium:

465mg
Carbohydrates:

26g
Fiber:

3g
Sugar:

3g
Protein:

26g
Nutrition data provided here is only an estimate. If you are tracking these things for medical purposes please consult an outside, trusted source. Thanks!