If you need a great side dish to serve besides almost any bbq main, I've got a delicious one for you! This Blackstone Mexican-Style Street Corn is simple, made with frozen corn, and only takes about 20 minutes!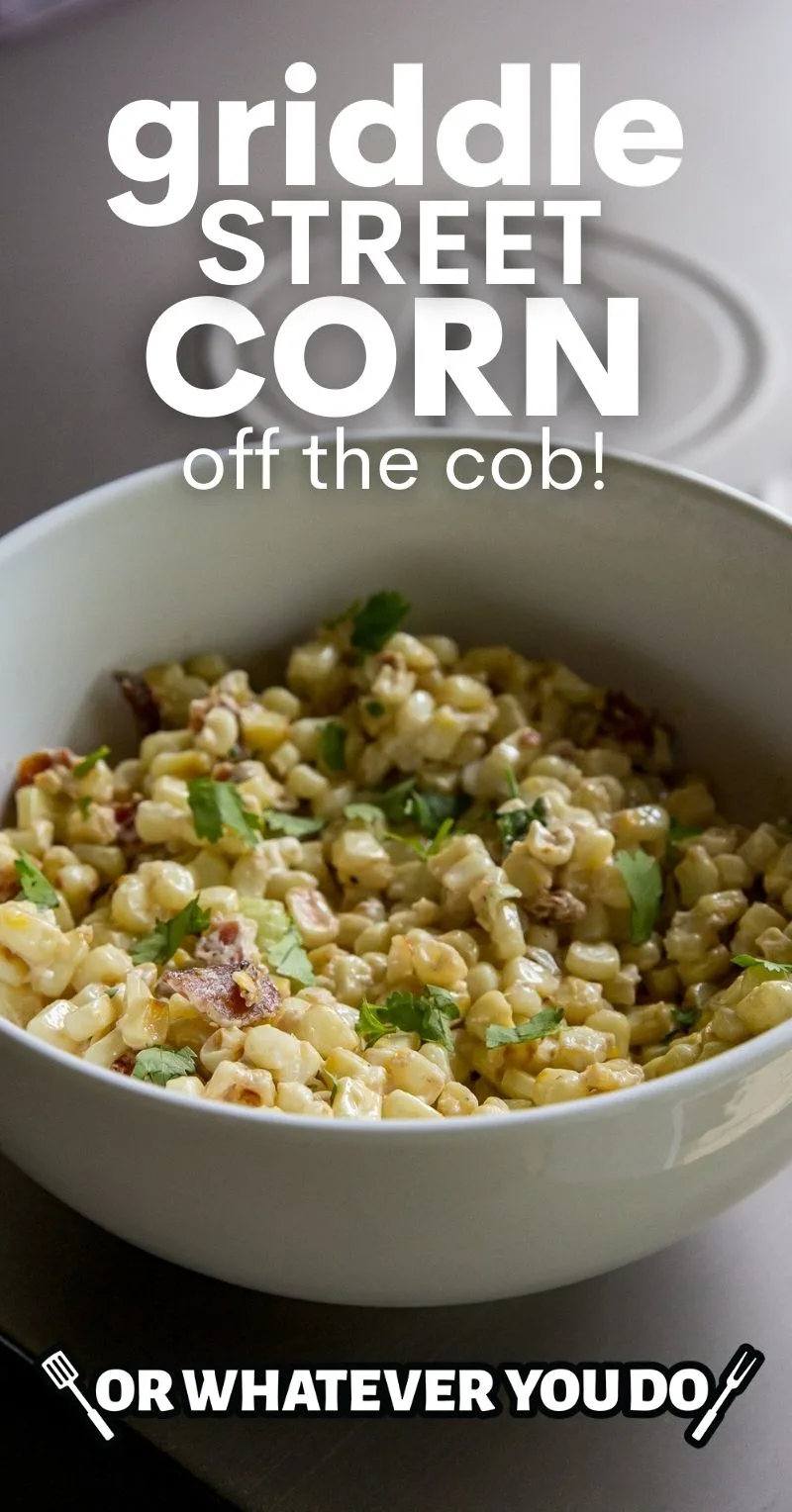 Blackstone Mexican-Style Street Corn (Off the Cob)
Fire up the griddles because today we're whipping up a batch of creamy, incredible, Mexican-Style Street Corn that is conveniently off the cob for easy eating action.
We love Elote, but it is 100% a mess to eat. Like most corn on the cob, you wind up with almost as much on your shirt as you do in your mouth. Not that there's anything wrong with that. But – sometimes I just don't want to deal with the whole mess that comes along with feeding small children something that level of messy.
When I happened upon this awesome recipe from LeMoine Family Kitchen, I knew I had to give it the Blackstone treatment!
Get all of my BLACKSTONE RECIPES here!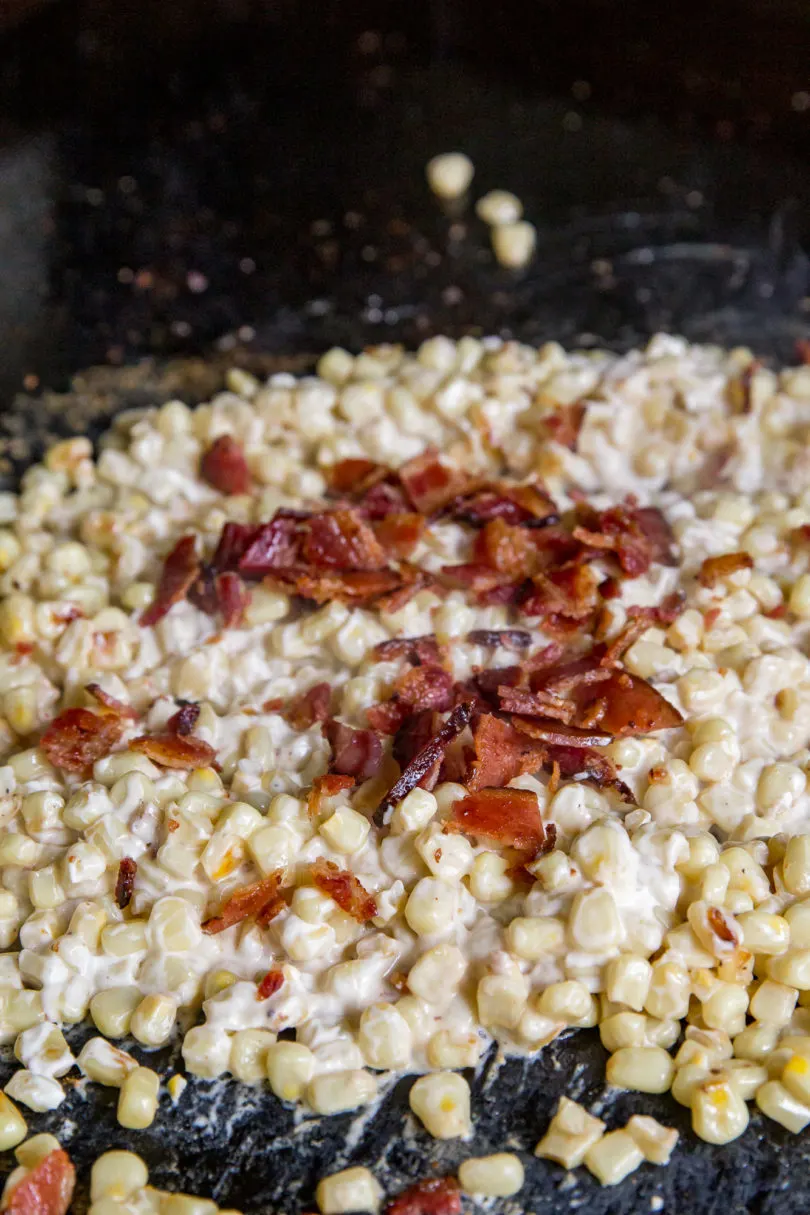 Freaky Friday Recipe Swap – Spring Edition
Every so often we bloggers get together and do something fun, like the recipe swap I've been participating in for the last year or so that Michaela from An Affair From The Heart organizes and puts on. We all get assigned another blogger and get to pick whatever we want from their whole site to make and share on our own sites.
It is a really fun way to see what everyone is up to, and also to find and make something you might not have otherwise.
In previous rounds, I've made the BEST Raspberry Thumbprint Cookies, Parmesan Grilled Halibut, a French Onion Risotto you can definitely make into a meal, and an Air Fryer Shrimp that SO many people have made on Pinterest that I'm still surprised about it.
This recipe was inspired by the Creamy Skillet Corn from The LeMoine Family Kitchen.
Angela has a love of cooking that started at a very young age, when she learned to cook in her Italian family's kitchen. She's been blogging for NINE years, which is basically forever when you are talking blog age, and shares approachable, family-style meals that make you want to dive in and get cooking.
And in her free time? She makes PASTA.
I'm definitely going to be trying these grilled yogurt chicken skewers, her delicious white cheddar and broccoli potatoes, and how about this ricotta, prosciutto, and arugula crostini? Ummmm, yeah.
You can see a list of the rest of the Freaky Friday Spring 2021 edition down below the recipe!
Follow me on Instagram!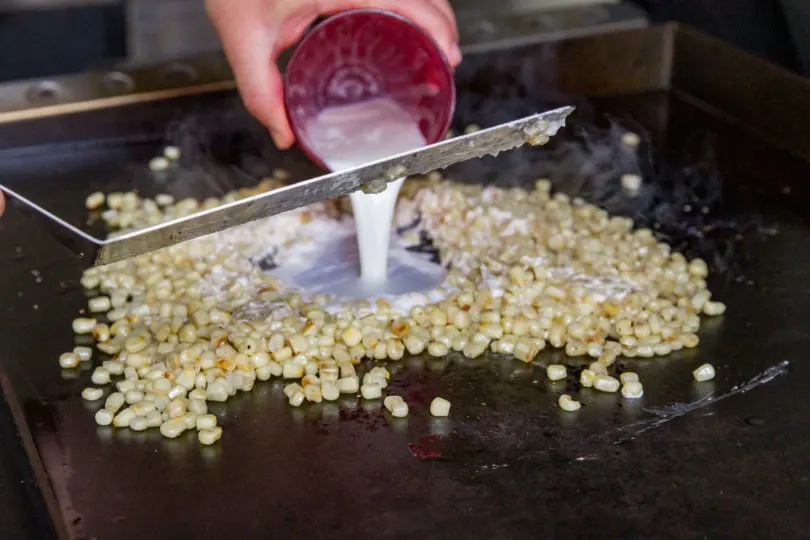 Mexican Skillet Corn shopping list
There are quite a few ingredients in this, but with the exception of the cotija cheese I usually have them around the house.
bacon (save the fat)
frozen corn
fresh cracked pepper
cream cheese
whole milk
green onions
cotija cheese
chopped cilantro
How to make Mexican Street Corn (Off The Cob)
This recipe is so easy! Here's the overview of what you're in for if you make this dish. Make sure to cook from the printable recipe card at the bottom of the post!
Preheat your griddle
Medium-low heat for at least 10 minutes before cooking, please and thank you.
Thaw your corn
Just a minute or two in the microwave will do it. You don't want to cook it, you just don't want it to be super frozen when it goes onto a hot griddle.
Cook the bacon
Technically, I'd do this part while I was heating up my griddle, but now works too. Follow your heart.
Cook the corn in some bacon grease
Season it, stir it around a bit. 1-2 minutes is pretty good.
Sauce it
Make a whole in the middle of your corn and put down the sauce ingredients. Using a couple spatulas, stir everything around. Sprinkle in the bacon and cotija. Dome it for a minute to make sure everything is hot and melty.
Garnish and serve
Cilantro, more bacon if you've got it, and a few shakes of hot sauce for good measure.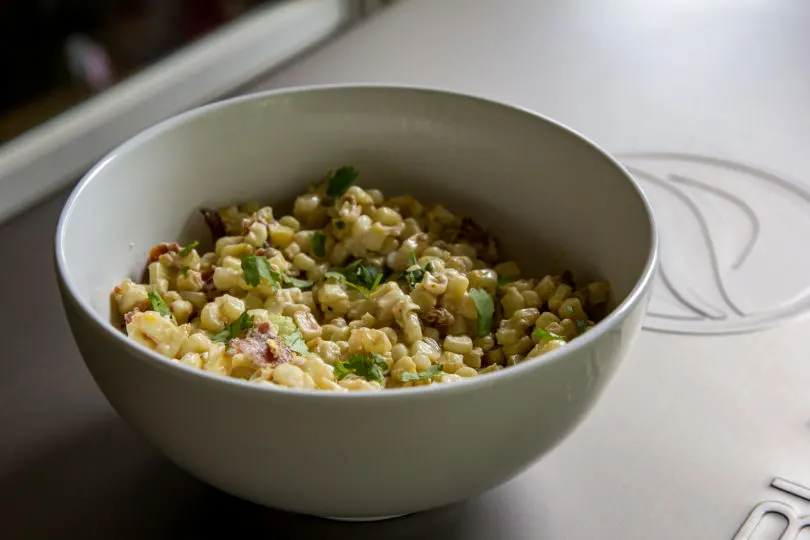 What would you serve with this Mexican-style Corn Off The Cob?
This easy, cheesy side dish has a touch of Mexican flavors with the chile-lime seasoning, so serving it along with one of our other Mexican-inspired dishes.
Join our Easy Griddle Recipes Facebook Group!
Blackstone Street Corn off the Cob FAQ
How should you store leftover corn off the cob?
Store this in an airtight container in the fridge for 3-4 days, max. I don't recommend freezing this dish.
How should you reheat leftover corn off the cob?
The microwave is the most convenient way to reheat this dish.
Can you use canned corn instead of frozen?
Sure! The results might be slightly less than they would be if you used frozen corn, however. Canned corn is heat-processed, so it'll be pre-cooked. Then you'll be cooking it again on the flat top, so the texture won't be quite the same as if you use fresh or frozen corn.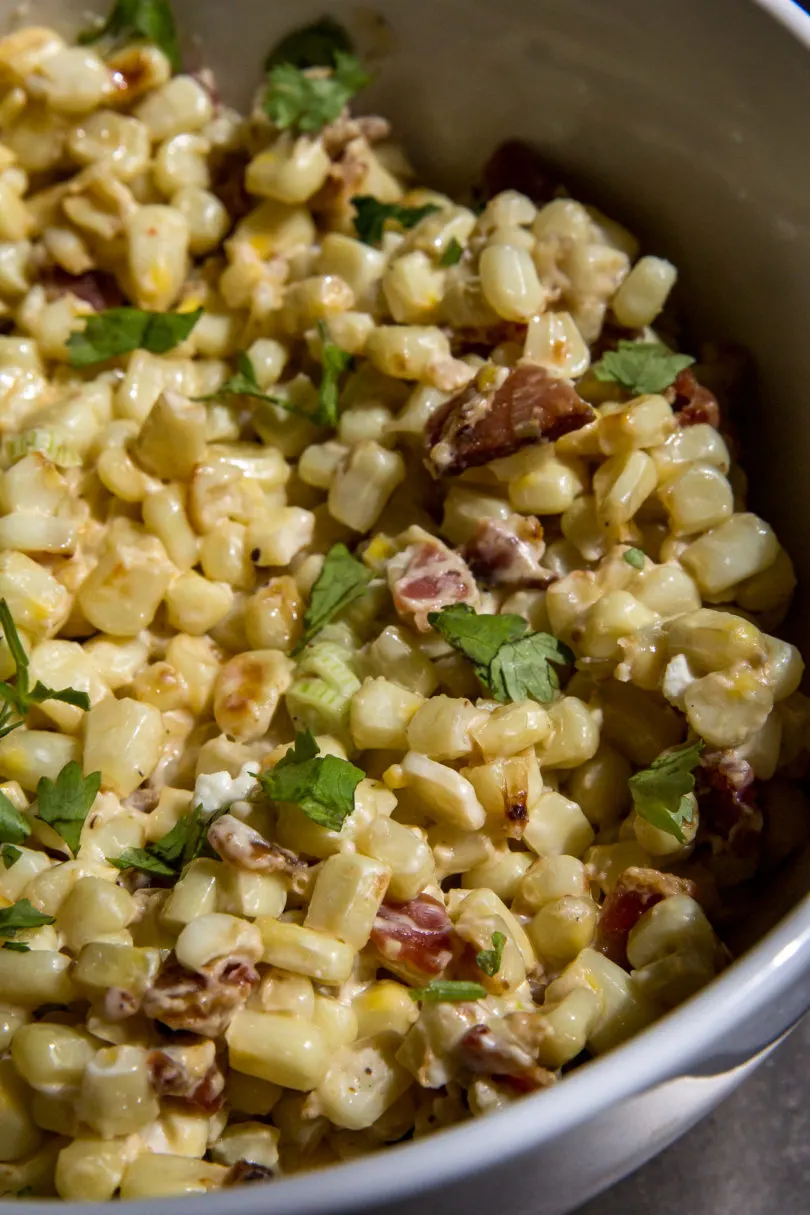 More recipes to love!
More recipes to love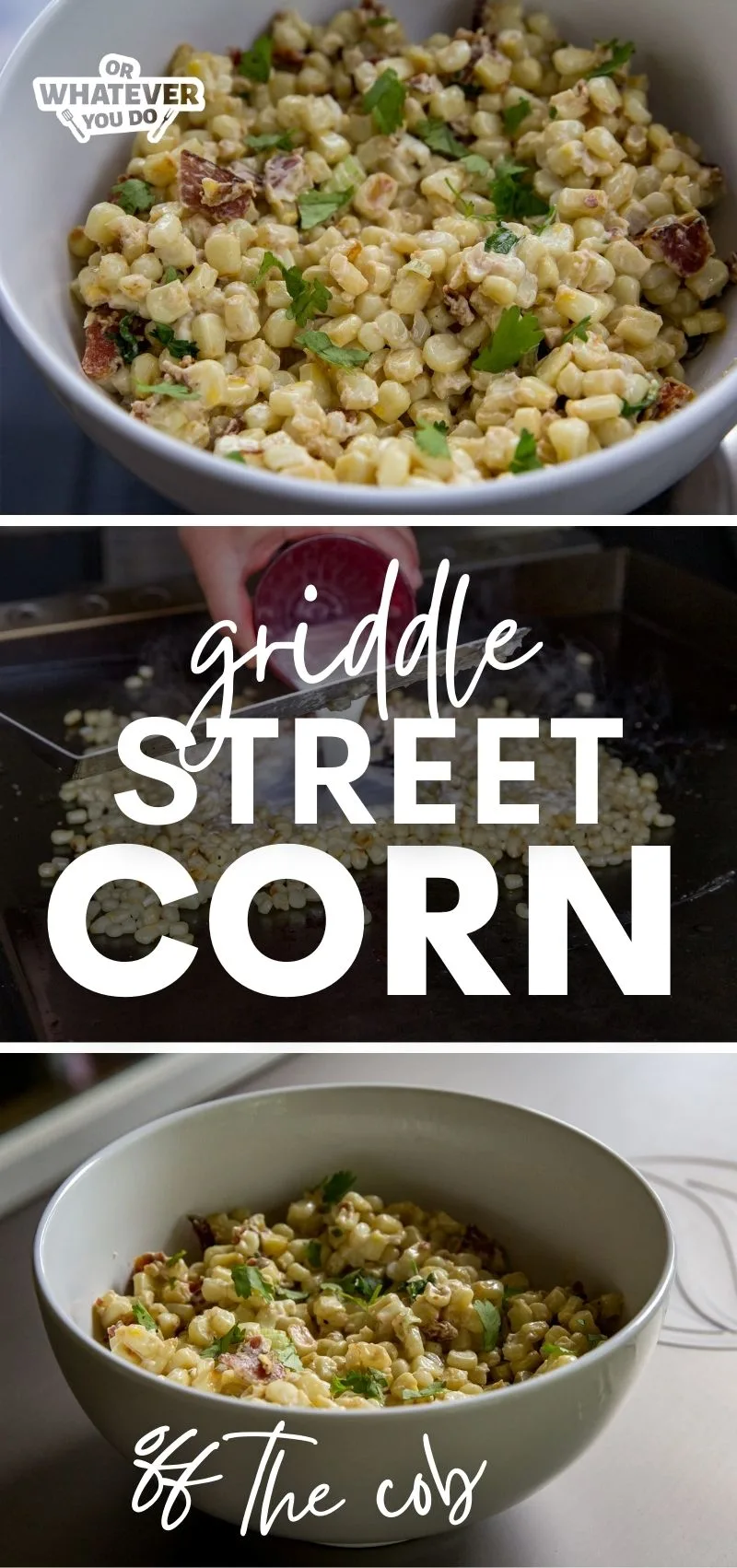 More Freaky Friday Spring 2021 Recipes to love!
Yield: 6 servings
Blackstone Mexican Street Corn Off the Cob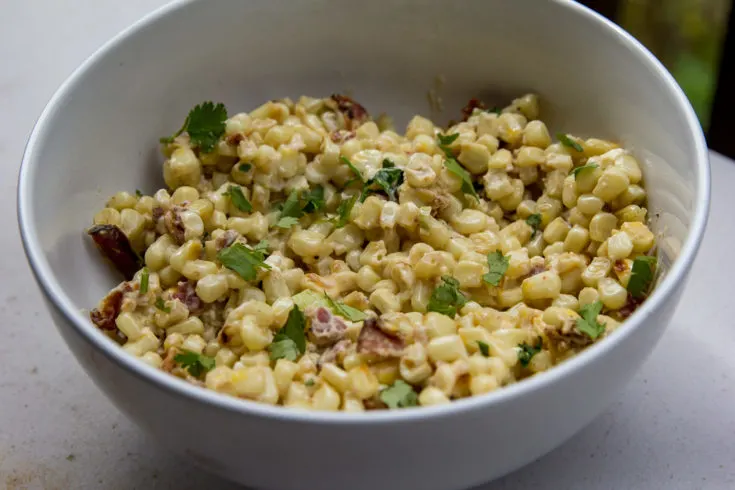 If you need a delicious side dish to go with your next meal, try this easy griddle elote that's conveniently off the cob! We used frozen corn here, but you could also use fresh corn and slice the kernels off yourself.
Ingredients
4 slices of bacon (save the fat)
3 cups frozen corn
1/2 teaspoon fresh cracked pepper
1 teaspoon chile margarita seasoning
2 ounces cream cheese
1/4 cup whole milk
3 tablespoons green onions
1/2 cup cotija cheese
2 tablespoons chopped cilantro
Instructions
Preheat your gas griddle over medium-low heat. Cook the bacon until it is crisp. Remove and dice, reserving the bacon fat on the griddle.
If using frozen corn, microwave it for 1-3 minutes, or just long enough so it isn't totally frozen. Putting large quantities of frozen foods on a hot griddle is a great way to warp your griddle.
Put the corn onto the griddle and cook for a few minutes, stirring frequently with a large spatula. Season with pepper & chile margarita seasoning.
Make a circle in the center of the corn pile and put down the cream cheese and milk. Let it bubble up a bit, and stir when necessary to keep it mixing in together.
Mix back in the chopped bacon, green onions, and cotija cheese. Stir until combined. Cover with a dome for the final minute of cooking if you have one.
Remove from the griddle and top with cilantro. Serve hot.
Recommended Products
As an Amazon Associate and member of other affiliate programs, I earn from qualifying purchases.
Nutrition Information:
Yield:
6
Serving Size:
1
Amount Per Serving:
Calories:

232
Total Fat:

10g
Saturated Fat:

5g
Trans Fat:

0g
Unsaturated Fat:

4g
Cholesterol:

28mg
Sodium:

442mg
Carbohydrates:

25g
Fiber:

2g
Sugar:

7g
Protein:

8g
Nutrition data provided here is only an estimate.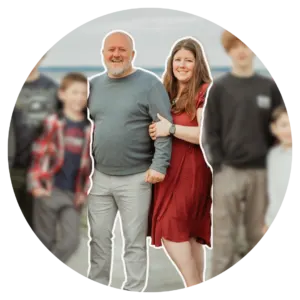 Nicole Johnson, a self-taught expert in grilling and outdoor cooking, launched Or Whatever You Do in 2010. Her blog, renowned for its comprehensive and creative outdoor cooking recipes, has garnered a vast audience of millions. Nicole's hands-on experience and passion for grilling shine through her work. Her husband, Jeremiah Johnson, also plays a pivotal role in recipe development, adding his culinary flair to the mix. Together, they form a dynamic duo, offering a rich and varied outdoor cooking experience to their followers.