Our Smoked Shredded Beef Enchiladas are made with tender beef roasts that have been rubbed and smoked for about 4 hours before getting braised for another 3-4 hours with beer and a giant jar of Hatch Chilies.
For the grand finale, they get stuffed into tortillas, filled with cheese, rolled up and smothered with enchilada sauce and copious amounts of shredded cheese.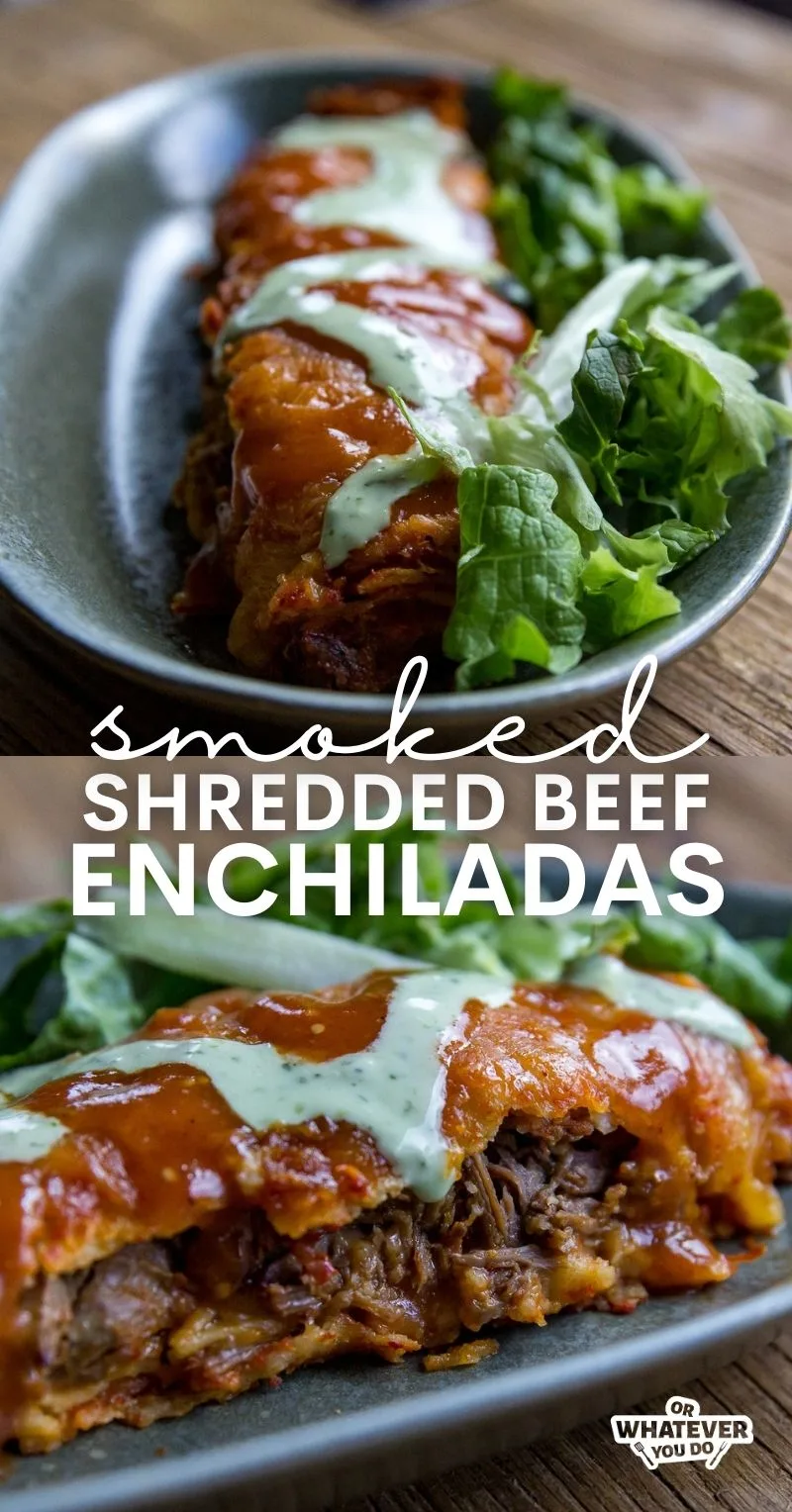 Smoked Shredded Beef Enchiladas
If you are looking for a delicious dinner where you can show off your skills on your smoker or pellet grill but also need the reliability of a set dinner time and not having to spend a ton of time cooking while you have company, you've gotta try these.
Heck, even if you just really love enchiladas, you gotta try these.
Tender, delicious smoked and shredded beef, fresh corn tortillas, bold red enchilada sauce, and ALL THE CHEESE you can throw on there.
Get all of my Easy Traeger Recipes here!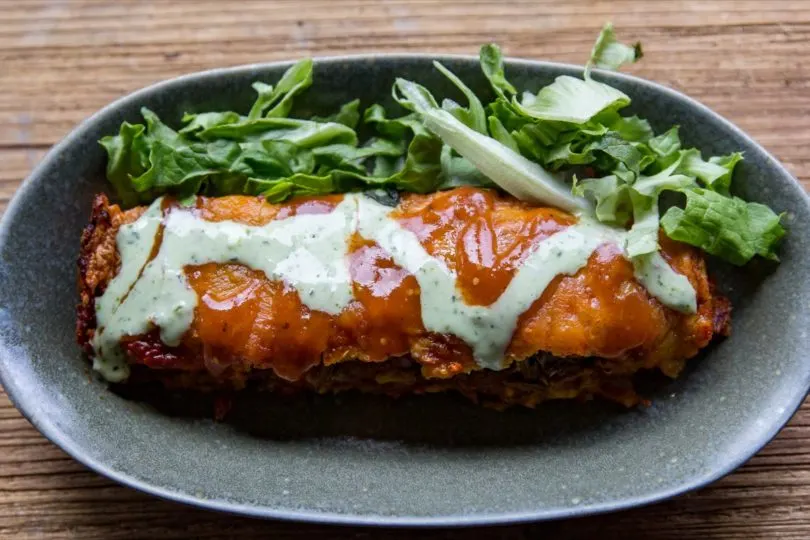 Shopping List
The full recipe, including the specific amounts, is located down in the recipe card. This is just an overview so you can see if you have everything you need, or if you need to hit up the grocery store to pick up a few things.
beef chuck roast
Chipotle Garlic Rub (or your favorite Mexican rub)
beer
jarred hatch chilies
El Pato Jalapeno salsa
El Pato Red Enchilada sauce
cheddar cheese
Monterrey jack cheese
More South-of-the-Border Inspired Recipes here!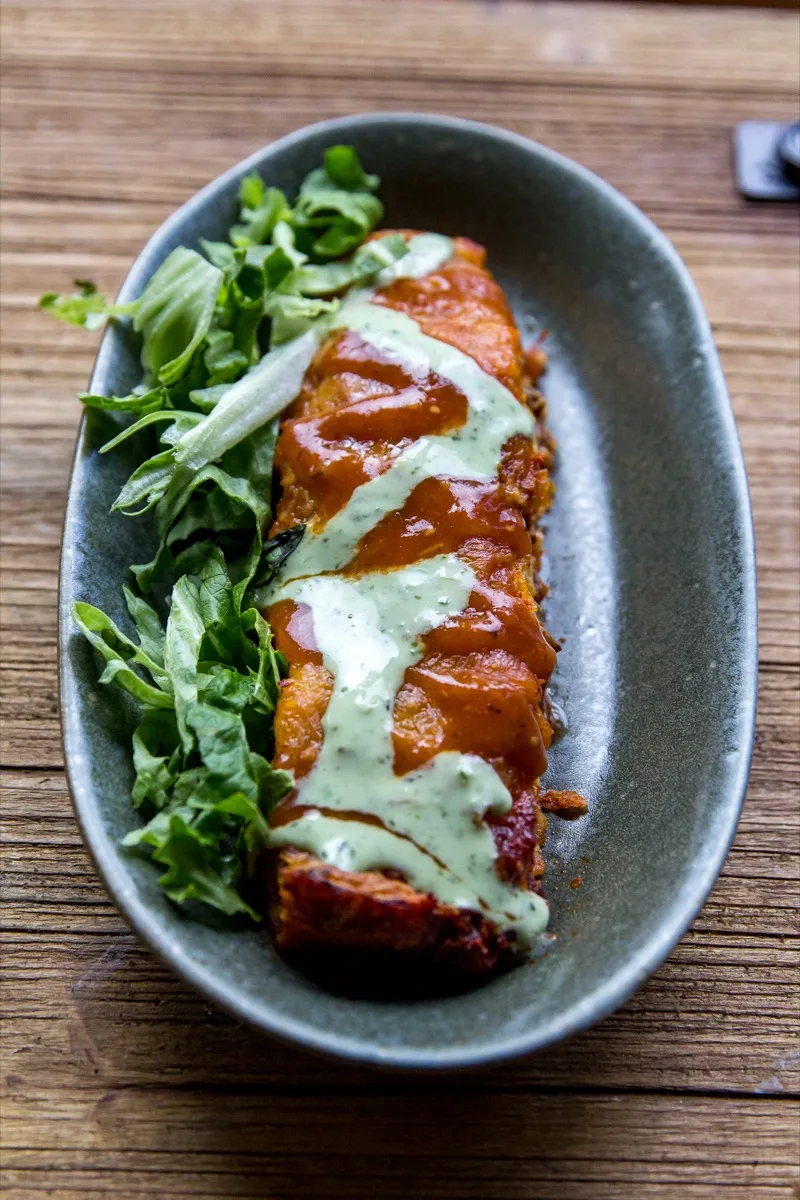 How to make Smoked Beef Enchiladas on the Traeger
Want to know what you're getting yourself into? Read on for the overview on how to make this easy, pellet grill dish.
For the full instructions, make sure to scroll to the bottom of the post and read the instructions while you are cooking!
Rub it
Take the rub and cover the roast with it thoroughly. Don't miss any spots! If you don't have the specific rub that is called for in the recipe, you can sub in your favorite
Smoke it!
Put the meat on the smoker at 200° and smoke for 3-4 hours.
Braise it!
Add the liquids to a Dutch oven along with the hatch chilies and El Pato Jalapeño salsa. Braise for about 3-4 hours, or until it is tender and easily shreddable with forks.
Roll em up'
Take your tortillas, dunk them in enchilada sauce, and then fill with shredded beef and cheese. Roll and place into a casserole dish. Cover with copious amounts of enchilada sauce and cheese.
Get melty
Whether you choose the pellet grill or oven, get the enchiladas in at around 350°, and bake until all of the cheese is melted and bubbly. Usually 30-45 minutes is about right.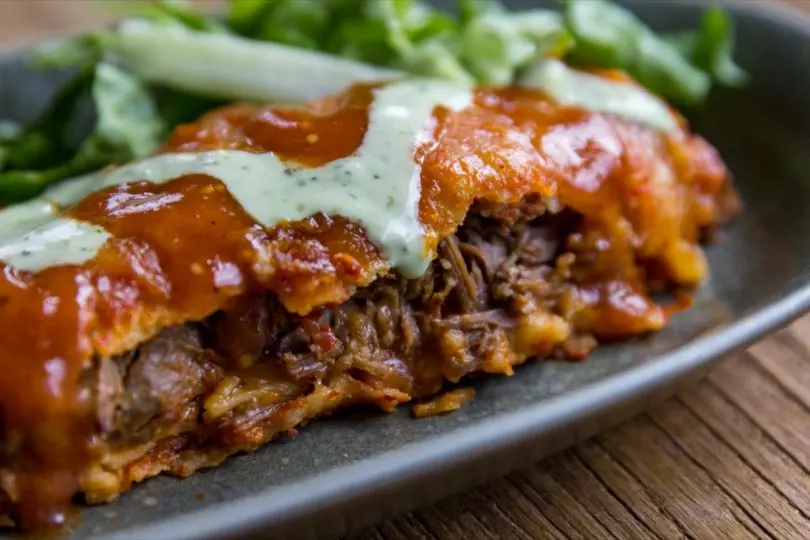 What else can you serve with smoked beef enchiladas?
I love a good Mexican-inspired feast, and I've got lots of great recipes for you to serve along with your enchiladas!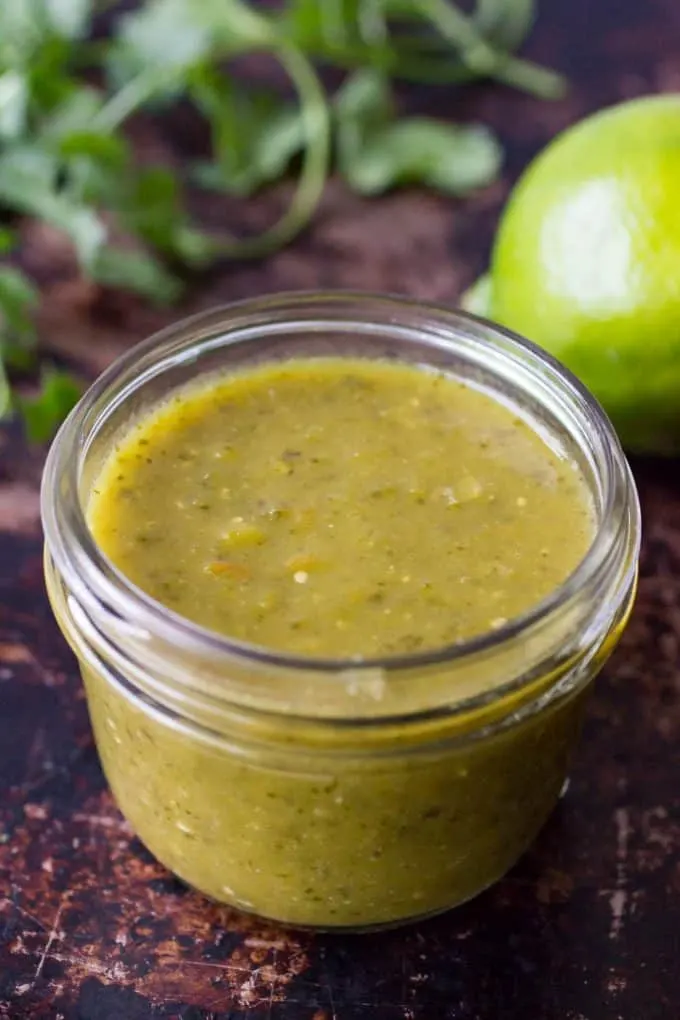 Smoked Enchiladas FAQ
Can you make these in the oven?
Yup! If you don't have a smoker, you can still make amazing shredded beef enchiladas. Just skip the "smoke" portion and instead do a quick sear with the rub on all sides of your roast, and head right to the braising portion of things.
What methods can you use to braise the beef?
You can do the braise portion on your pellet grill, your stovetop, your oven, or even your slow cooker or pressure cooker if you have one around!
The key is that you need to make sure that the roast ends up tender and infused with all of the awesome flavors in the braising liquid.
Can you freeze un-baked enchiladas for later?
You sure can! Make a double batch and freeze a whole pan of rolled enchiladas in a disposable tin foil grill pan (covered tightly) for a couple of months for a super easy dinner.
How do you store leftover cooked enchiladas?
Cover any uneaten enchiladas and keep them in the refrigerator for 3-4 days. Freeze any portion that won't be eaten in that amount of time.
How to you reheat leftover enchiladas?
I prefer to reheat enchiladas in the microwave, believe it or not. I think it maintains the overall quality the best.
If you are above microwaves or don't have one, a low-temp oven for a semi-long period of time works pretty well to not overcook the cheese while heating everything else through.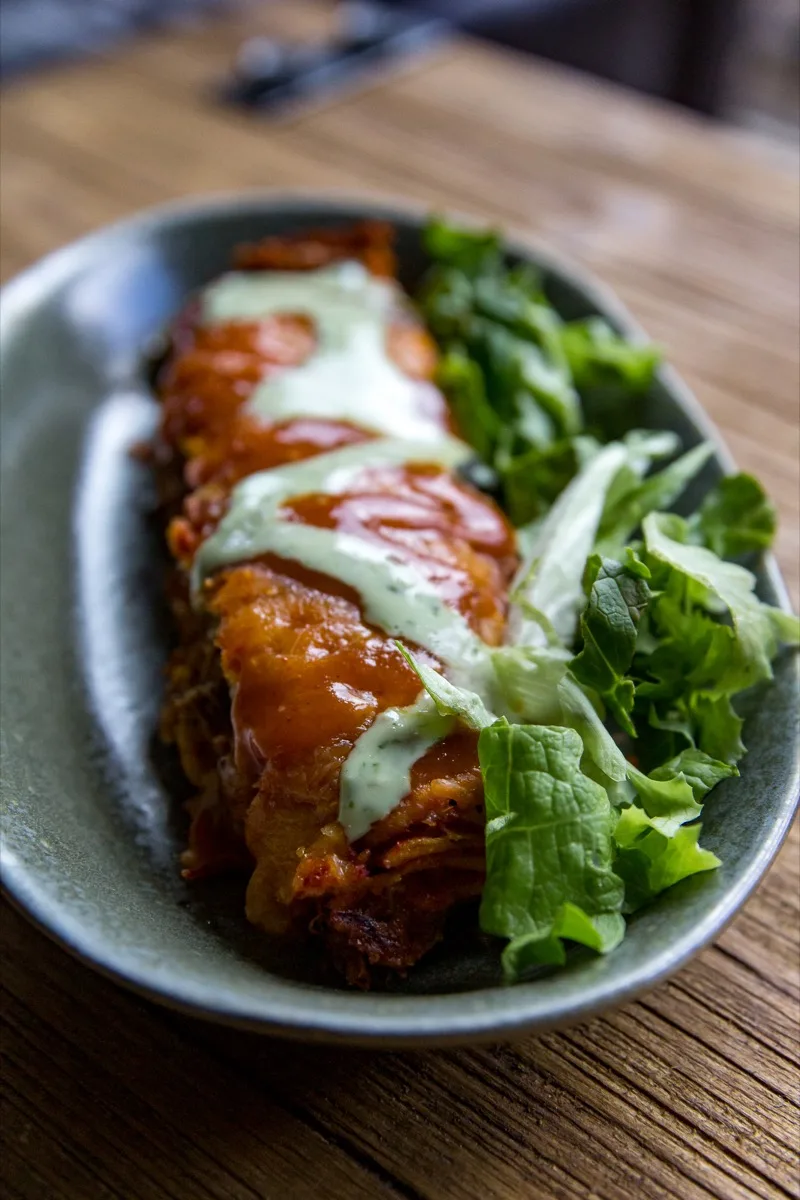 More enchiladas to love!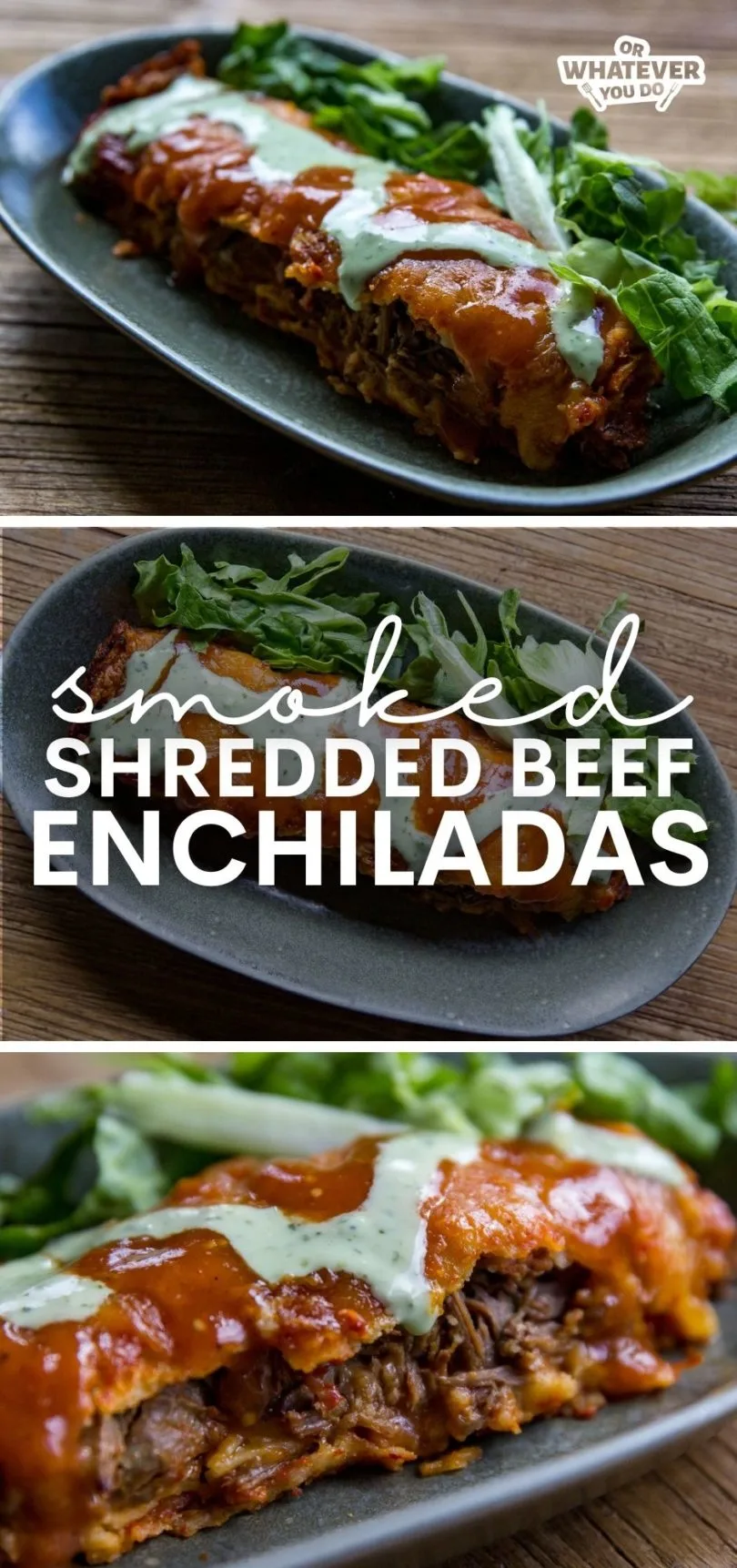 Yield: 8 servings
Smoked Shredded Beef Enchiladas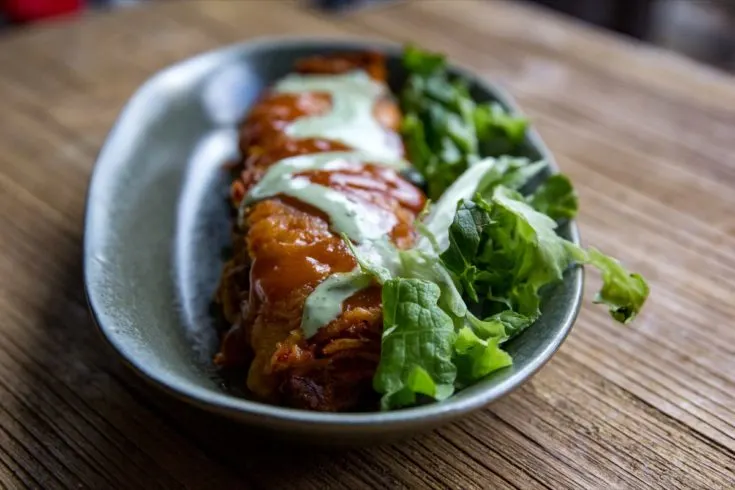 Tender shredded smoked beef with all of the cheese and all of the enchilada sauce you can handle!
Total Time
8 hours
30 minutes
Ingredients
3 pounds beef chuck roast
4 tablespoons Chipotle Garlic Rub*
1 bottle beer
16 ounces jarred hatch chilies
Corn tortillas
1 - 7.75 ounce can El Pato Jalapeno salsa
1 - 28 ounce can El Pato Red Enchilada sauce
3 cups shredded cheddar cheese
3 cups shredded Monterrey jack
Instructions
Cover the roast with the rub, and place on your pellet grill or smoker at 200°.
Smoke the roast for 3-4 hours.
Place the roast into a Dutch Oven and pour in the beer, chilies, and Jalapeno salsa. Braise for 3-4 hours, or until the roast is fork-tender and shreddable. You can do this on your grill, in your oven, or on the stovetop. If you have an Instant Pot, you could also utilize that as well. As long as the roast can braise for 3-4 hours, it doesn't particularly matter what the heat source is.
Shred your roast and discard any unappetizing bits.
Take a large high-sided rectangular baking pan (9x13 or 10x13 work pretty well) and spray with non-stick cooking spray. Coat the bottom with a thin layer of enchilada sauce.
Dip your tortillas in enchilada sauce and then stuff with meat and cheese. Roll up and place into the baking pan. Continue rolling until they are all full. Depending on how full you stuff them, you might need two pans.
Pour the rest of the enchilada sauce over the top and then cover with the remaining cheese. If you like LOTS of cheese you can play a little fast-and-loose here with amounts. You can also go the other direction if you like, but if your answer is even "less cheese" I'm not super sure you are on the right food blog. (Kidding, mostly. 😉 )
Bake, uncovered, in a 350° pellet grill, smoker, or oven for about 45 minutes, or until the cheese is nice and melted, bubbly, and the whole thing is heated through.
Notes
* If you don't have Chipotle Garlic rub, order some, but if you want to make this now anyway you can sub in a mix of garlic powder, salt, chipotle powder, pepper, celery salt, and brown sugar. You can also use any other of your favorite Mexican-style rubs.
Recommended Products
As an Amazon Associate and member of other affiliate programs, I earn from qualifying purchases.
Nutrition Information:
Yield:
8
Serving Size:
1
Amount Per Serving:
Calories:

669
Total Fat:

40g
Saturated Fat:

19g
Trans Fat:

2g
Unsaturated Fat:

18g
Cholesterol:

183mg
Sodium:

1306mg
Carbohydrates:

20g
Fiber:

3g
Sugar:

10g
Protein:

55g
Nutrition data provided here is only an estimate.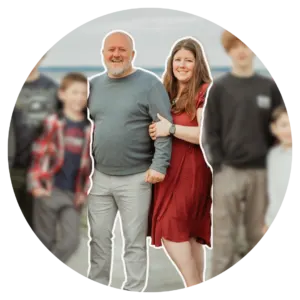 Nicole Johnson, a self-taught expert in grilling and outdoor cooking, launched Or Whatever You Do in 2010. Her blog, renowned for its comprehensive and creative outdoor cooking recipes, has garnered a vast audience of millions. Nicole's hands-on experience and passion for grilling shine through her work. Her husband, Jeremiah Johnson, also plays a pivotal role in recipe development, adding his culinary flair to the mix. Together, they form a dynamic duo, offering a rich and varied outdoor cooking experience to their followers.