Our Blackstone Skirt Steak Street Tacos recipe is the perfect quick and easy dinner for any night of the week! Tender skirt steak, simple seasonings, and bring on the lime for the perfect homemade street taco that tastes like it came off of your local taco truck.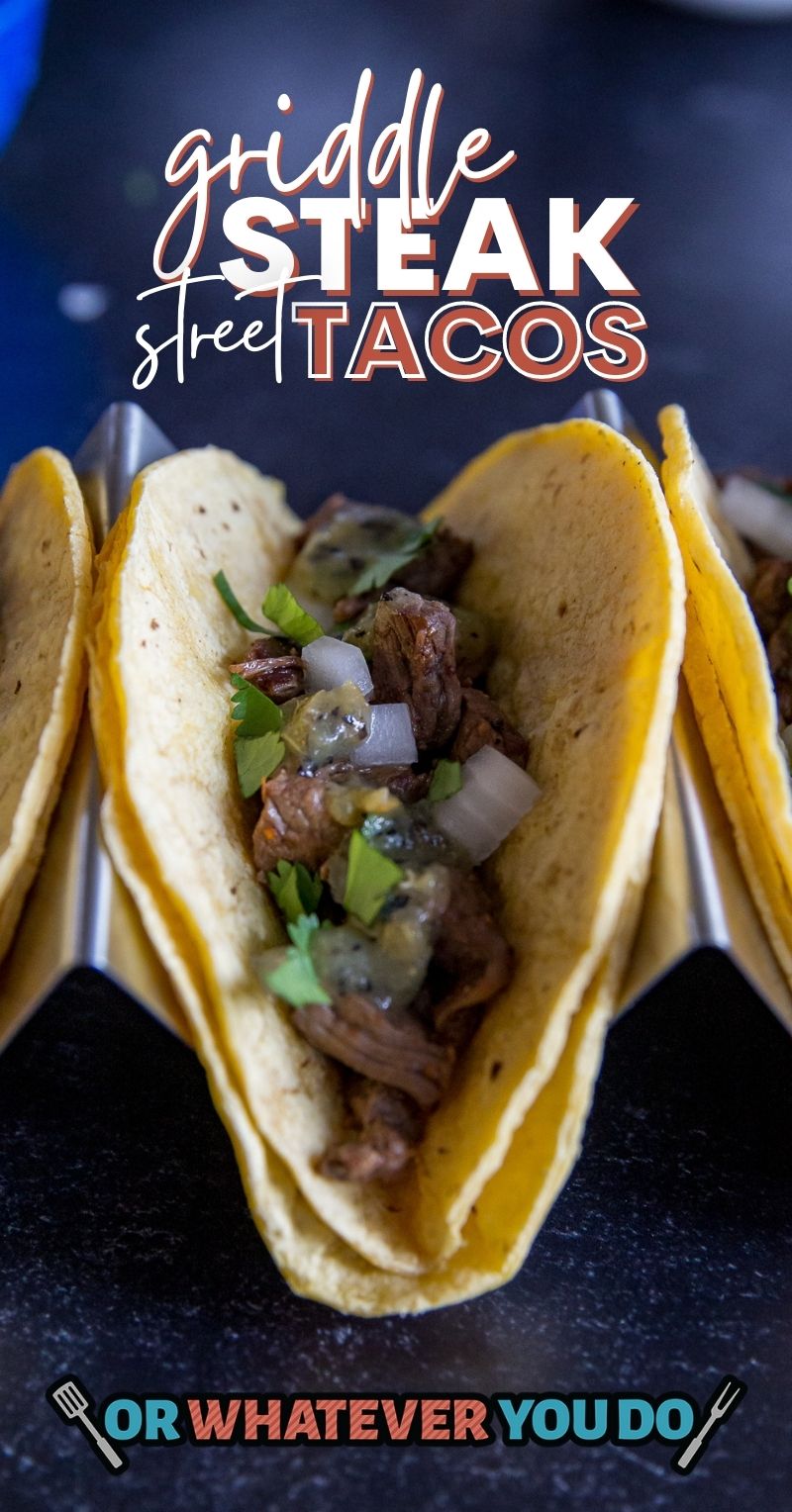 Steak Street Tacos Recipe
If you guys haven't noticed yet, we are big fans of all things taco in this house. Whether it is your classic American Ground Beef Taco, Shredded Chicken Tacos, Smoked Shredded Beef Tacos, Puffy Tacos, Birria tacos, Fish Tacos, Shrimp Tacos, Pork Tacos, Taco Salad, or even Taco Pizza, we are HERE for it.
We don't limit our taco feasts to Tuesday, either. Tacos are fair game any night of the week here!
I love these easy street tacos because they are made with skirt steak, which is one of my very favorite things, and they are SO simple. You can go from frozen skirt steak to dinner being done in an hour if you need to, and with very little cleanup beyond a cutting board, knife, and your Blackstone spatulas!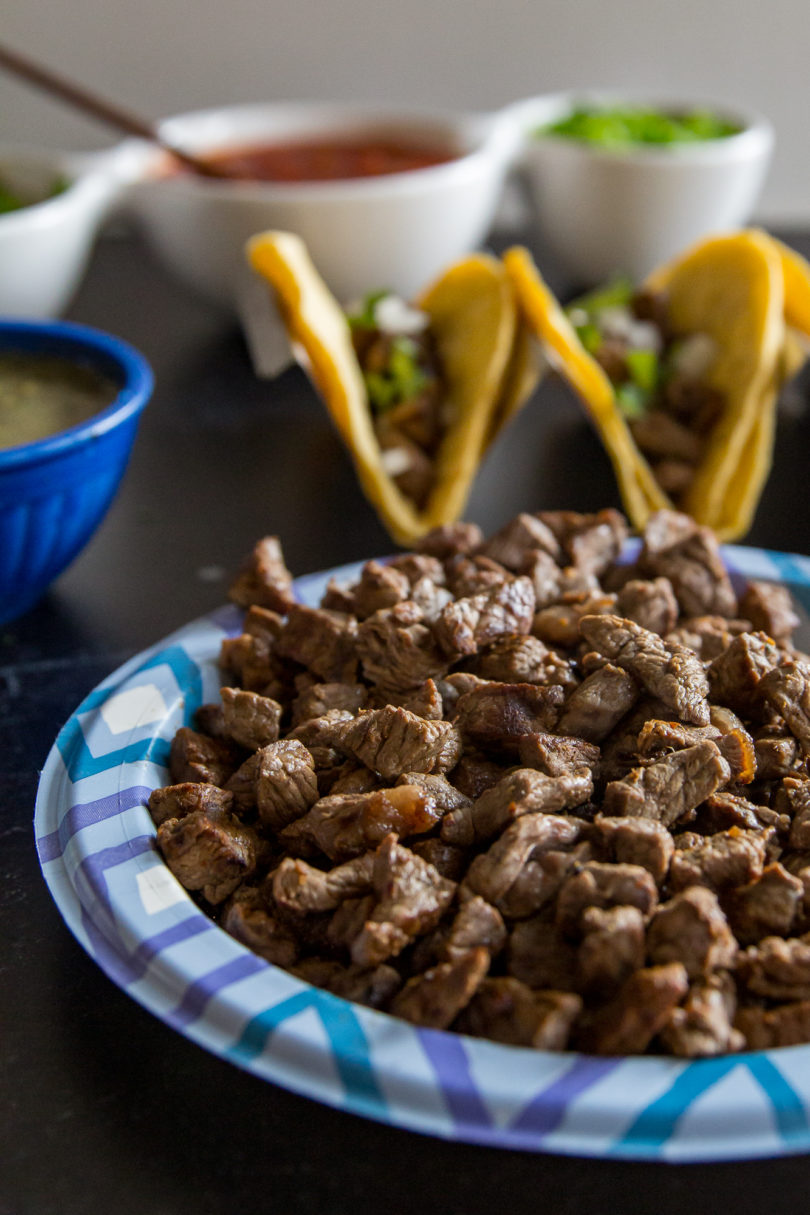 Blackstone Street Tacos Shopping List
Here's the run-down on what you'll need to pull this off. For the full recipe, make sure to scroll down to the very bottom of the post and use the recipe card.
skirt steak
limes
salt & pepper
garlic powder
corn tortillas
white onion
cilantro
hot sauce
More Blackstone Recipes here!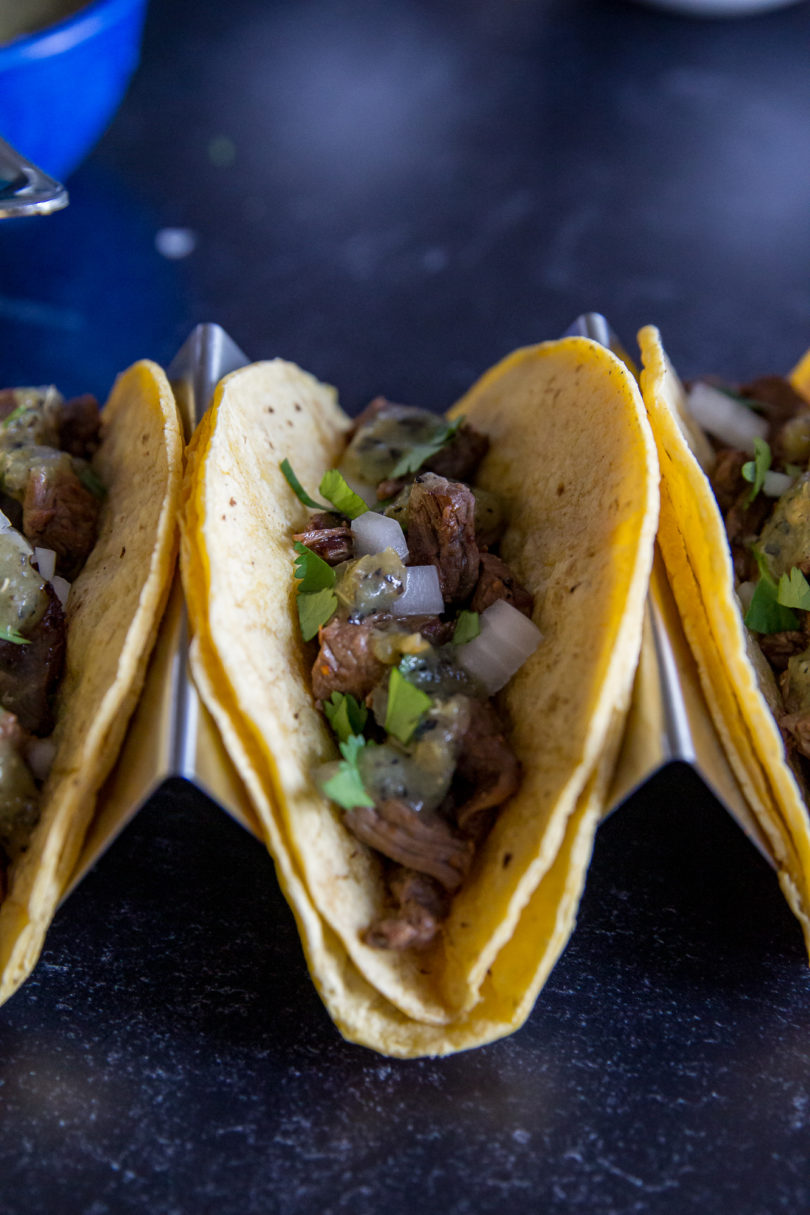 How to make Beef Street Tacos on the Blackstone Griddle
Here's the run-down on how simple these are to make. For the full recipe, make sure to check out the recipe card at the bottom of the post!
Season the steak
Get all the sides of it with the seasonings! You don't want to miss any spots. If you don't have the specific rubs that I call for in the recipe, feel free to get creative and sub in your favorite!
Preheat and oil your griddle
Don't skimp on the oil and don't skimp on the pre-heating time! The Blackstone needs about 10-15 minutes to heat completely.
Dice the steak into bite-sized pieces
Size actually doesn't matter here. Whatever your preference is works! We like smaller bite-sized pieces. And by "we", I mean "me". Jeremiah prefers bigger hunks, so how they end up usually depends on who is cooking that night.
Cook it, turning once or twice
Don't mess with it too much! You want it to get a bit of a crust on the first side especially.
Squeeze lime juice onto the steak
Fresh only! Save that bottle of lime juice for literally nothing else. (Okay, maybe some limeade. Or some sweet and sour mix in a PINCH. But definitely not tacos.)
Serve with corn tortillas
Heat up the tortillas on the griddle. There's pretty much nothing worse than a typical grocery store tortilla straight out of the package. But warm them up and toast them a little on the griddle?? Delicious.

Or, if you have access, spring for actual fresh tortillas! Or, better yet, get real brave and give making your own homemade corn tortillas a shot!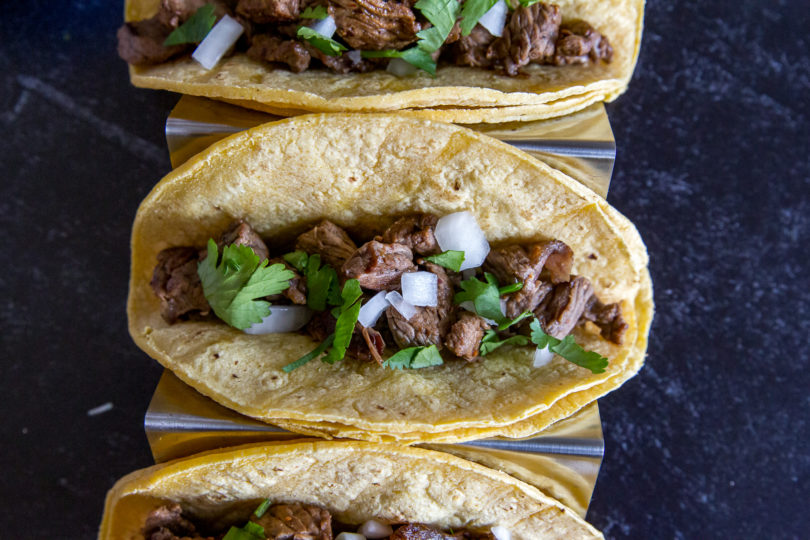 What should you serve with steak tacos?
Taco night is our favorite night, and I have so many suggestions for you if you want to round out your meal!
Also, no judgement if you're going with JUST steak tacos. I'm there, most days.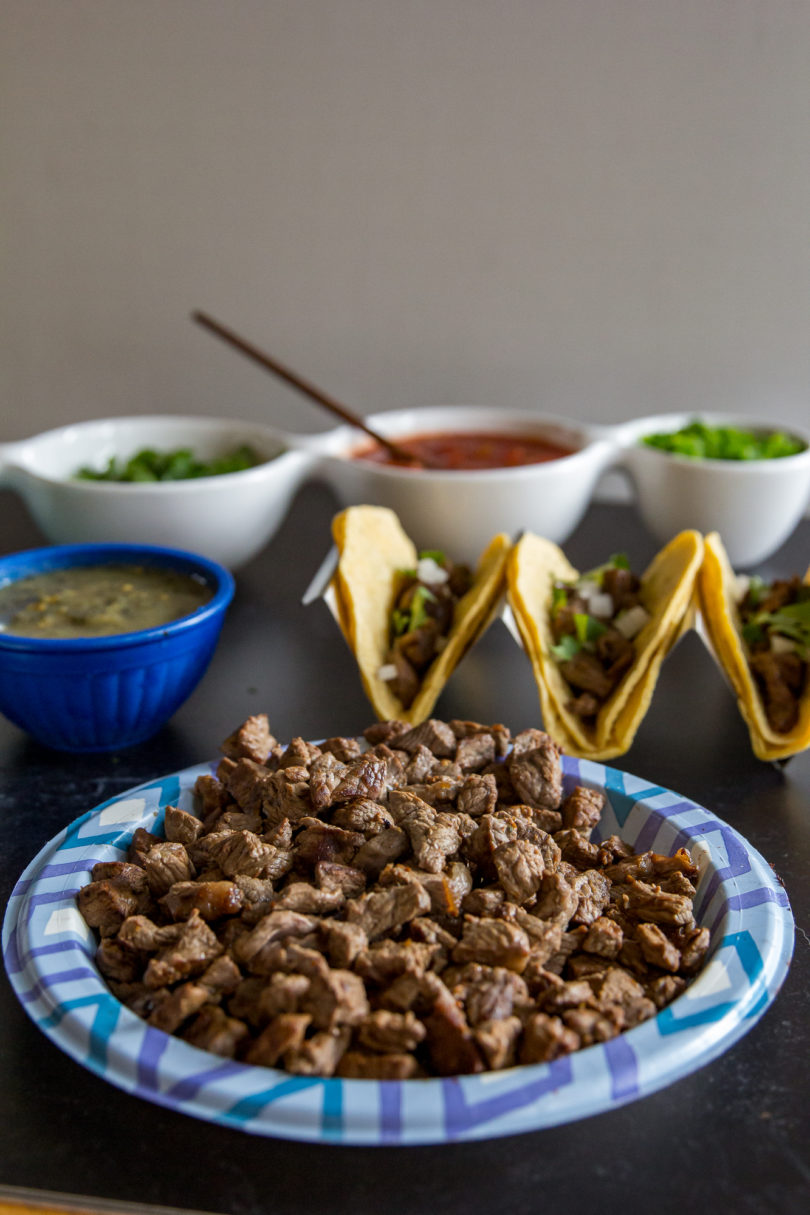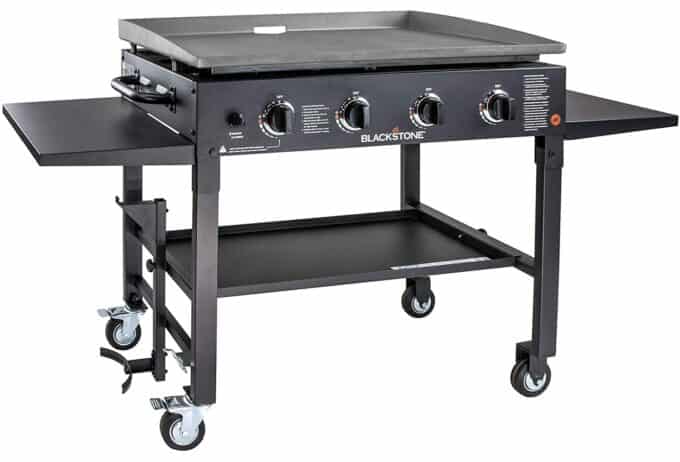 Flat-top griddles are so versatile! Make pancakes for an army or the best hibachi fried rice you've ever had. Reverse sear a steak, whip up some smash burgers, or cook basically anything you could cook in a pan that doesn't require a sauce. You need this!
Join our Easy Griddle Recipes Facebook Group!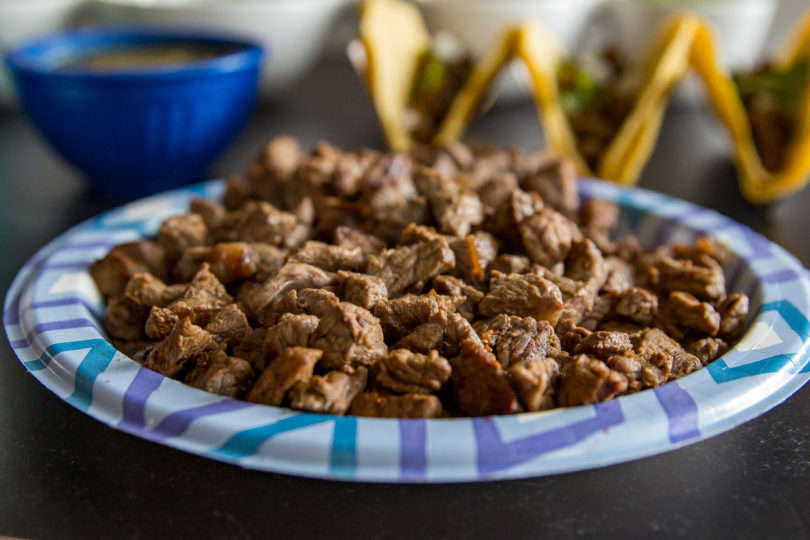 Blackstone Street Tacos FAQS
How do you store leftover street tacos?
Keep any leftovers in an airtight container or plastic food storage bag in the fridge. Eat within 3-4 days.
How do you reheat leftover street tacos?
The best way to reheat street tacos will be in the oven or air fryer. I've also used the microwave in a pinch. If you use the oven or air fryer, just make sure to cook at around 325°, and just until hot! In the microwave, enough meat for 2-3 tacos should take 1:30-2 minutes, max, to heat up.
Why do street tacos have two corn tortillas?
Corn tortillas tend to break apart a bit if they get damp. Doubling up on the tortillas lets you pile on the toppings (and hot sauce) without worrying about everything falling out the bottom.
Can you cook this on the stovetop instead of a gas griddle?
Sure! Pretty much any recipe that's cooked on the griddle could be cooked inside in a pan on the stove. It'll just take a lot longer. 😉 Make sure to not crowd your pan or you won't get that distinctive crust!
Follow me on Instagram!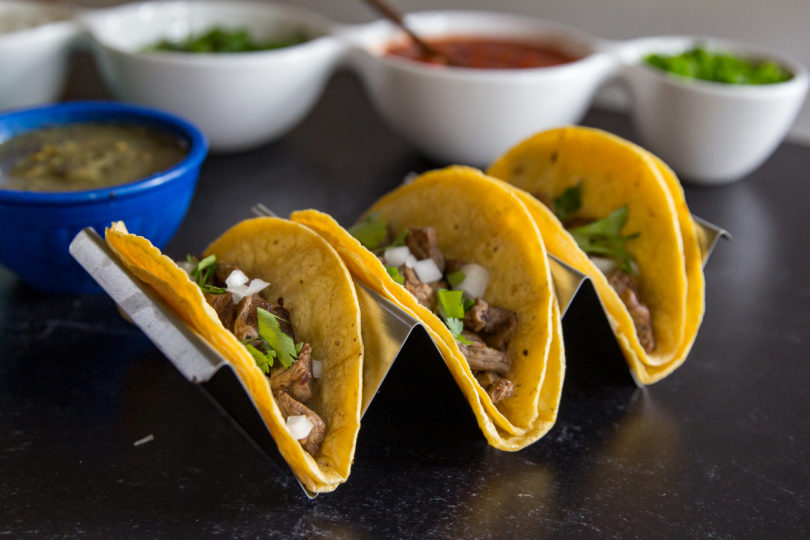 More recipes to love!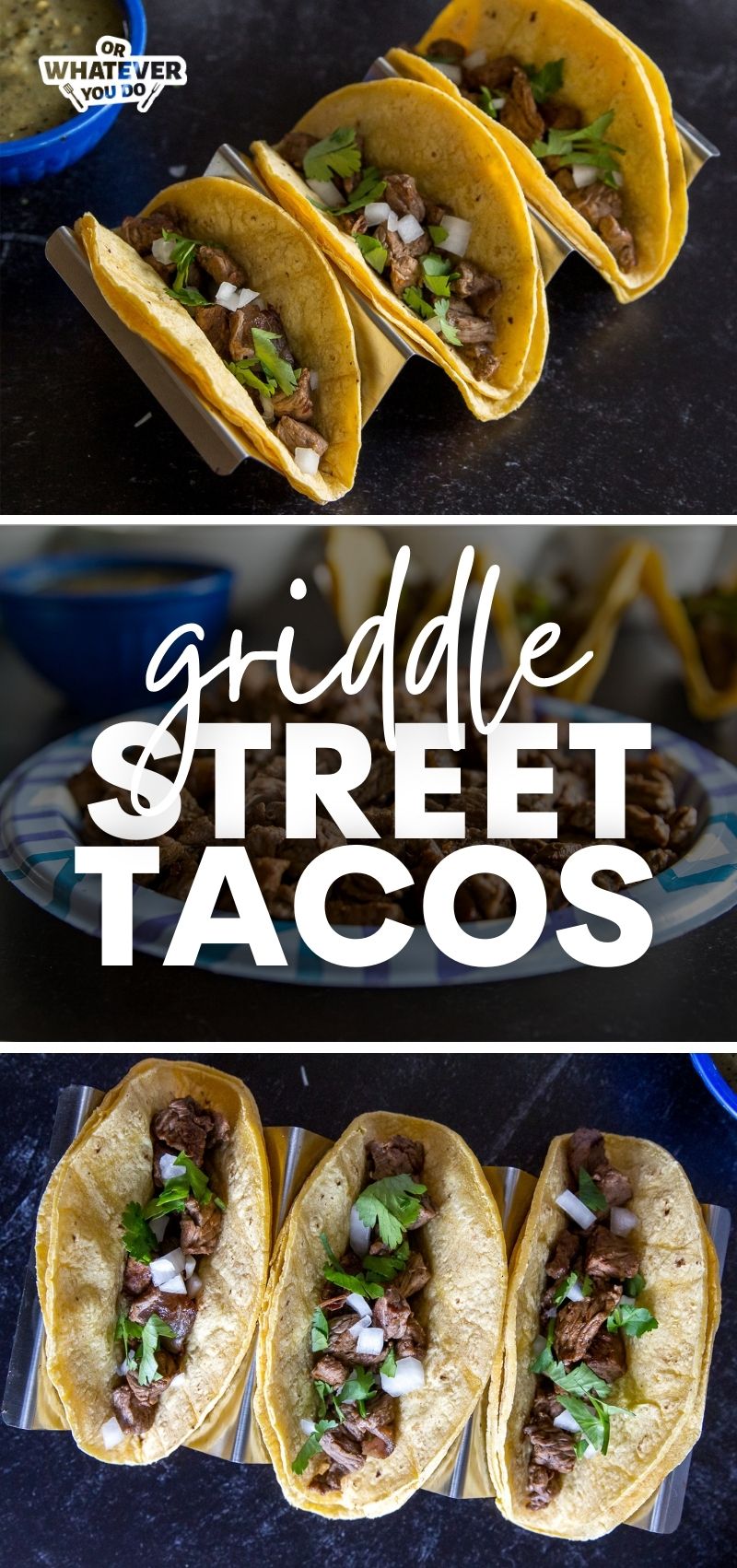 Yield: 8 servings
Blackstone Griddle Steak Street Tacos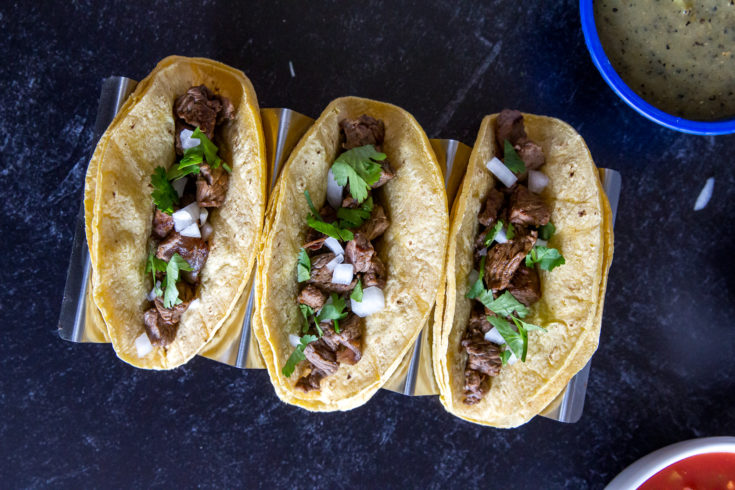 These delicious street tacos are cooked quickly on the Blackstone griddle and then served with the classic onion and cilantro and hot sauce for a legit street taco right in your own backyard!
Ingredients
4 pounds beef skirt steak
2 limes, juiced
1 teaspoon salt
1/2 teaspoon pepper
1/2 teaspoon garlic powder
1 tablespoon chile lime rub from Spiceology
corn tortillas
1 small white onion, finely diced
1 bunch cilantro, chopped
hot sauce of your choosing (we love Yellowbird Hot Sauce)
Instructions
Take the steak and evenly distribute all of the salt, pepper, garlic powder, and chile-lime rub. Let it sit in the fridge uncovered and seasoned for about an hour. (You can skip this step if you are short on time.)
While the steak is waiting, chop all of your veggies.
Preheat your Blackstone Gas Griddle over medium heat for 10-15 minutes.
Lay down a thin layer of oil and warm all of your tortillas on both sides on the griddle. Wrap in foil tightly so they stay nice and warm.
Cut the steak across the grain into thin strips, and then cut across all of the strips to dice the uncooked steak into bite-sized pieces.
Lay down a little more oil and throw the steak down in a thin layer on the hot griddle.
Let the steak sizzle and cook for a couple of minutes until it starts getting a light crust on the bottom.
Flip all the steak using a large spatula onto the other side and stir it up a bit. Squeeze your lime juice onto the steak and stir it around, and then remove it promptly from the griddle.
Serve in your hot tortillas with your garnish and enjoy!
Notes
* If you don't have the chile-lime rub I recommend, your favorite Mexican rub will work great too! I do not recommend the packets of taco seasoning, however, as those contain thickeners which you don't want in this dish.
Recommended Products
As an Amazon Associate and member of other affiliate programs, I earn from qualifying purchases.
Nutrition Information:
Yield:
8
Serving Size:
1
Amount Per Serving:
Calories:

703
Total Fat:

46g
Saturated Fat:

18g
Trans Fat:

0g
Unsaturated Fat:

22g
Cholesterol:

204mg
Sodium:

436mg
Carbohydrates:

4g
Fiber:

1g
Sugar:

1g
Protein:

63g
Nutrition data provided here is only an estimate.