This Easy French Onion Risotto is like the fanciest hamburger helper you've ever had. Ground beef, caramelized onions, arborio rice, beef broth, and a little wine are cooked slowly before getting doused in cheese.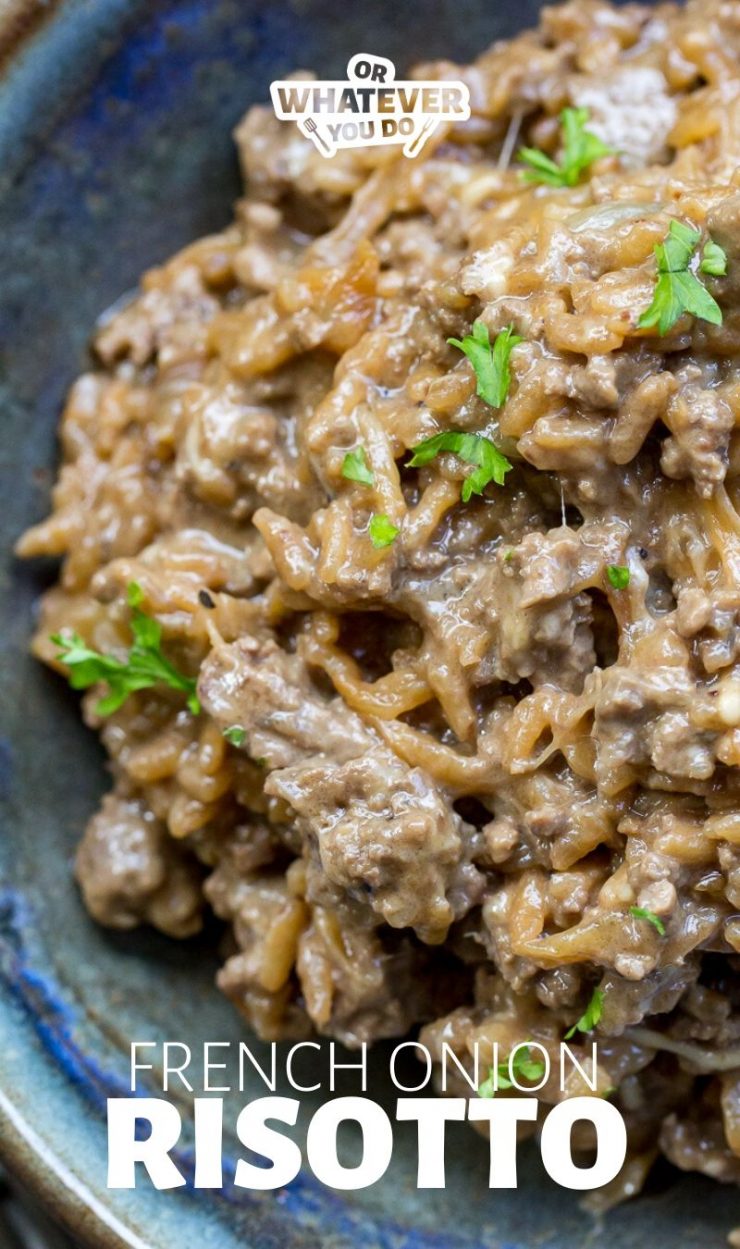 Easy French Onion Risotto
Risotto gets a bad name sometimes because it takes time and patience to do well. Don't let that scare you off, though. It is worth it, and it is a great recipe to get the kids involved with too if they are into that kind of thing.
This particular French Onion Risotto recipe first appeared on The Speckled Palate, which was the blogger that I was given as a part of our Freaky Friday Blog Exchange.
Erin is one of my very favorite bloggers in this business, and one peek at her website and you will see why.
Not only is she kind and genuine and makes everyone around her a little bit happier just by spending some time with her, but girlfriend can COOK, and she also gets down with the cocktails too. Oh, and she's also got all the love for French Onion everything like me. (Look for a whole list of our French Onion love-fest down below!)
Some notable recipes you will definitely not want to miss of Erin's:
Try our other Ground Beef Recipes too!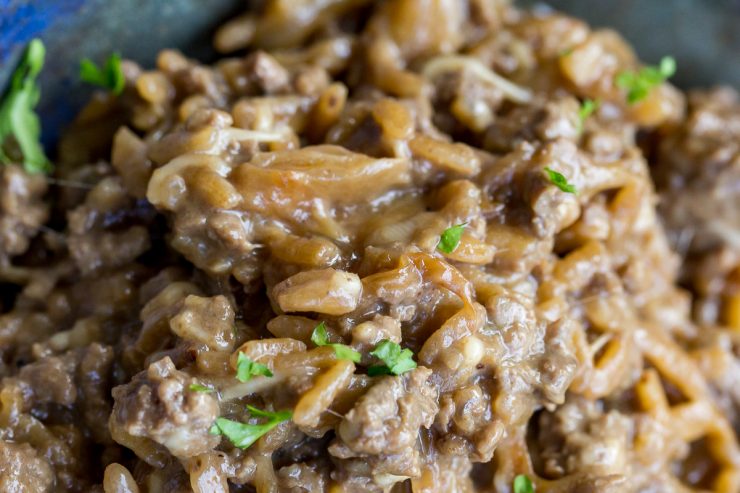 What kind of rice do you use for risotto?
There's only one kind of rice to use for risotto, as far as I'm concerned. I have tried a pretty fabulous wild mushroom risotto in London at the Borough market made from farro, it isn't what I'd choose when I'm craving risotto.
Arborio rice can be found in most major super markets these days, and when all else fails there is always Amazon too. I've got a link in the recipe card if you want to hit the easy button and order some.
Follow me on Instagram!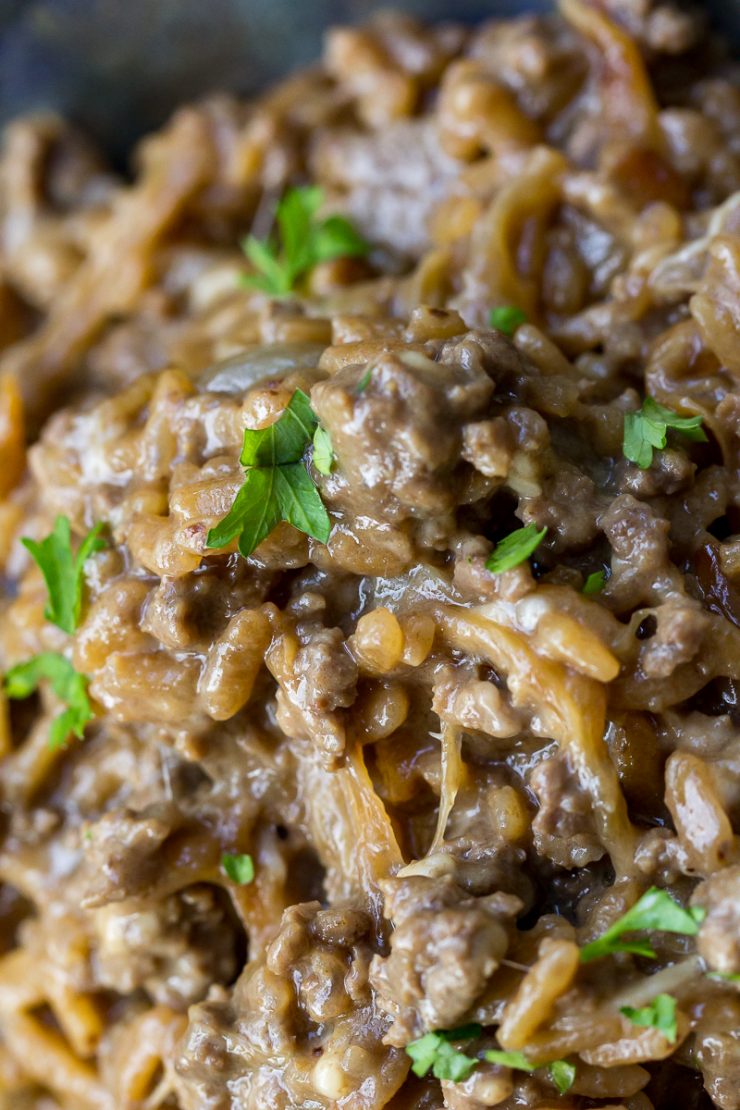 Tips for making the best risoto
Risotto is easy once you've got the hang of it. Here are some key tips to make sure your French Onion Risotto is as good as it possibly can be.
Take your time!
Risotto is not a dish that you can whip up in 20 minutes, even though it is, at its core, a simple rice dish. French onion risotto is no exception, either. It adds caramelized onions to the mix, which are a labor of love in and of themselves.
So, be patient, expect this to take an hour-ish standing over the stove, and don't send me angry emails at minute 50. You've been warned!
Ingredients matter.
Use good ingredients.
You'll notice here I'm using ground sirloin in the recipe. Also, use wine that you'd be okay offering to guests. If you won't drink it, don't cook with it.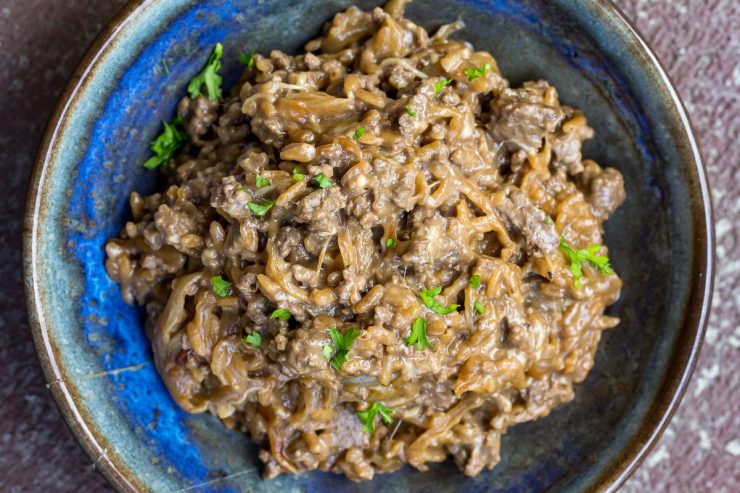 More fabulous French Onion recipes!
What is Freaky Friday?
Freaky Friday is a group of bloggers that do a seasonal recipe swap. Michaela, from An Affair From the Heart, organizes this fun event every season, and is another site you will want to check out!
Want to read the rest of the Freaky Friday posts? Me too! Here are some links so you can follow along with the whole crew.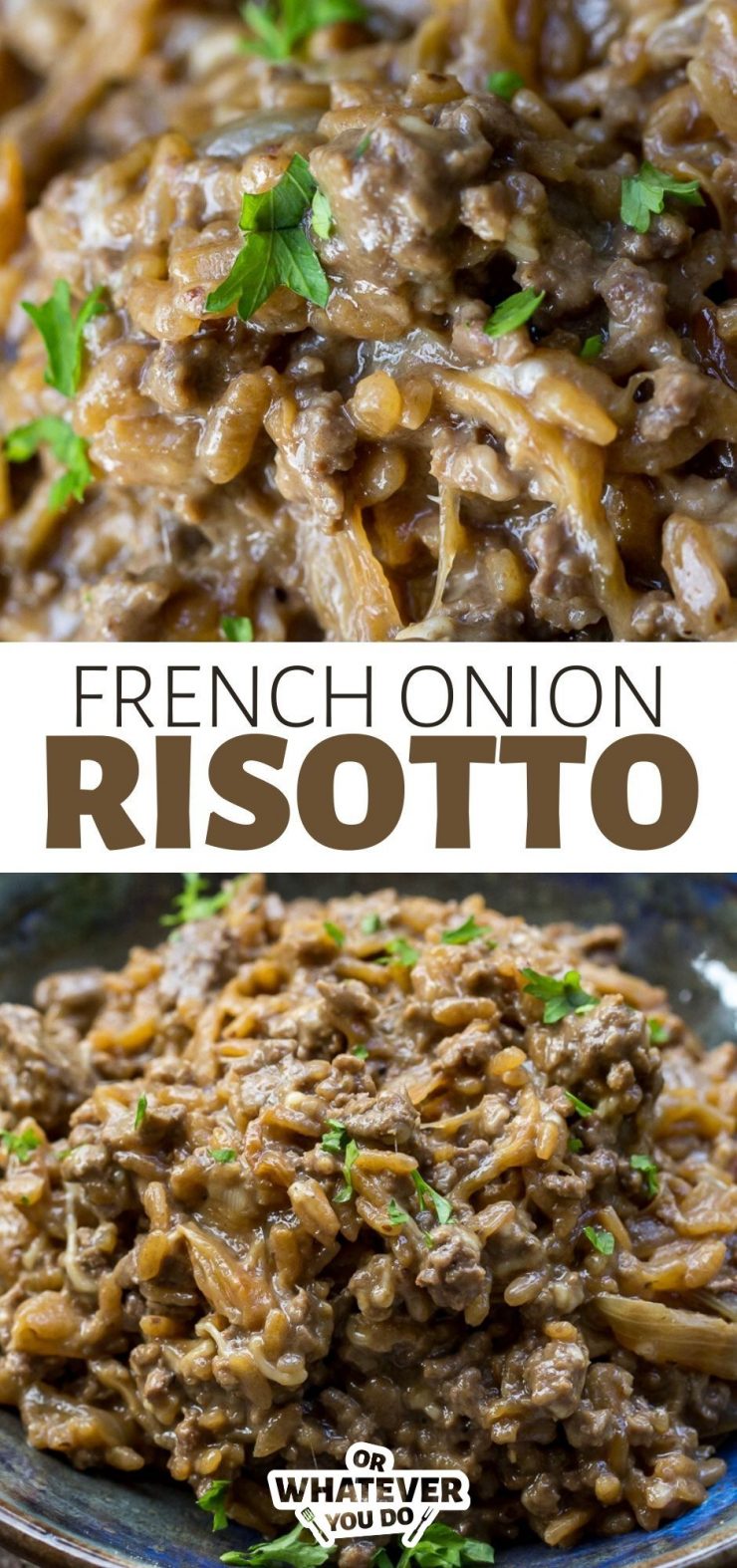 Yield: 6 servings
French Onion Risotto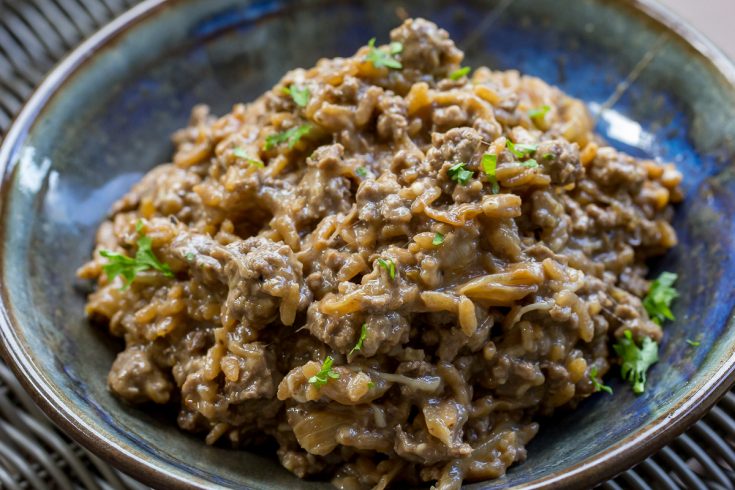 Delicious arborio rice is cooked slowly with beef broth and white wine before getting heaps of seasoned ground beef and caramelized onions stirred in. Then, you toss in some milk and parmesan cheese and serve hot, cheesy, and delicious.
Total Time
1 hour
10 minutes
Ingredients
1 lb. ground sirloin
1 teaspoon salt
1/2 teaspoon black pepper
1/2 teaspoon garlic powder
2 large sweet onions, halved and sliced vertically
3 tablespoons unsalted butter
2 tablespoons extra virgin olive oil
1 ½ cups Arborio rice
3 1/2 cups beef stock
1 /2 cup dry white wine
1 cup whole milk
2 cups shredded parmesan cheese (do not use grated parmesan in the green can. Fresh parm only. You can also use provolone, mozzarella, gruyere, etc.)
6 sprigs fresh thyme
1/2 teaspoon chopped fresh parsley
Instructions
In a large Dutch oven, brown the ground sirloin over medium-high heat, and season well with salt, black pepper, and garlic powder. When no more pink remains, remove from the pan and set aside.
Place the butter and onions in the Dutch oven over medium to medium-low heat. Properly caramelizing onions takes a long time, so be patient and don't rush it! The slower you go, the deeper the flavor. Plan on 35-45 minutes. When the onions are done, set them aside.
Place the olive oil and the arborio rice in the Dutch oven over medium heat. Stir and cook for 5-6 minutes, or until the rice is slightly browned.
Combine the beef stock and the white wine.
Start adding in the beef stock/wine mixture a little at a time, stirring continuously, and when all of the stock you added cooks into the rice, add a little more. Slow and steady wins the race! Rushing risotto is why homemade risotto isn't usually the best risotto you've ever had.
Once all of the liquid is incorporated into the rice, and it is soft but still has a slight bite to it, remove the rice from the heat. Stir in the ground beef and onions, milk and cheese, and allow it to melt.
Sprinkle with parsley and thyme and serve hot!
Recommended Products
As an Amazon Associate and member of other affiliate programs, I earn from qualifying purchases.
Nutrition Information:
Yield:
6
Serving Size:
1
Amount Per Serving:
Calories:

580
Total Fat:

28g
Saturated Fat:

13g
Trans Fat:

0g
Unsaturated Fat:

13g
Cholesterol:

106mg
Sodium:

1179mg
Carbohydrates:

29g
Fiber:

1g
Sugar:

9g
Protein:

38g
Nutrition data provided here is only an estimate.