For our Spicy BBQ Pork Tenderloin recipe, we're using tender pork tenderloins that have been marinated in a bold Korean BBQ marinade, and then firing up our Camp Chef Pellet Grill to make this an easy(and delicious) dinner recipe!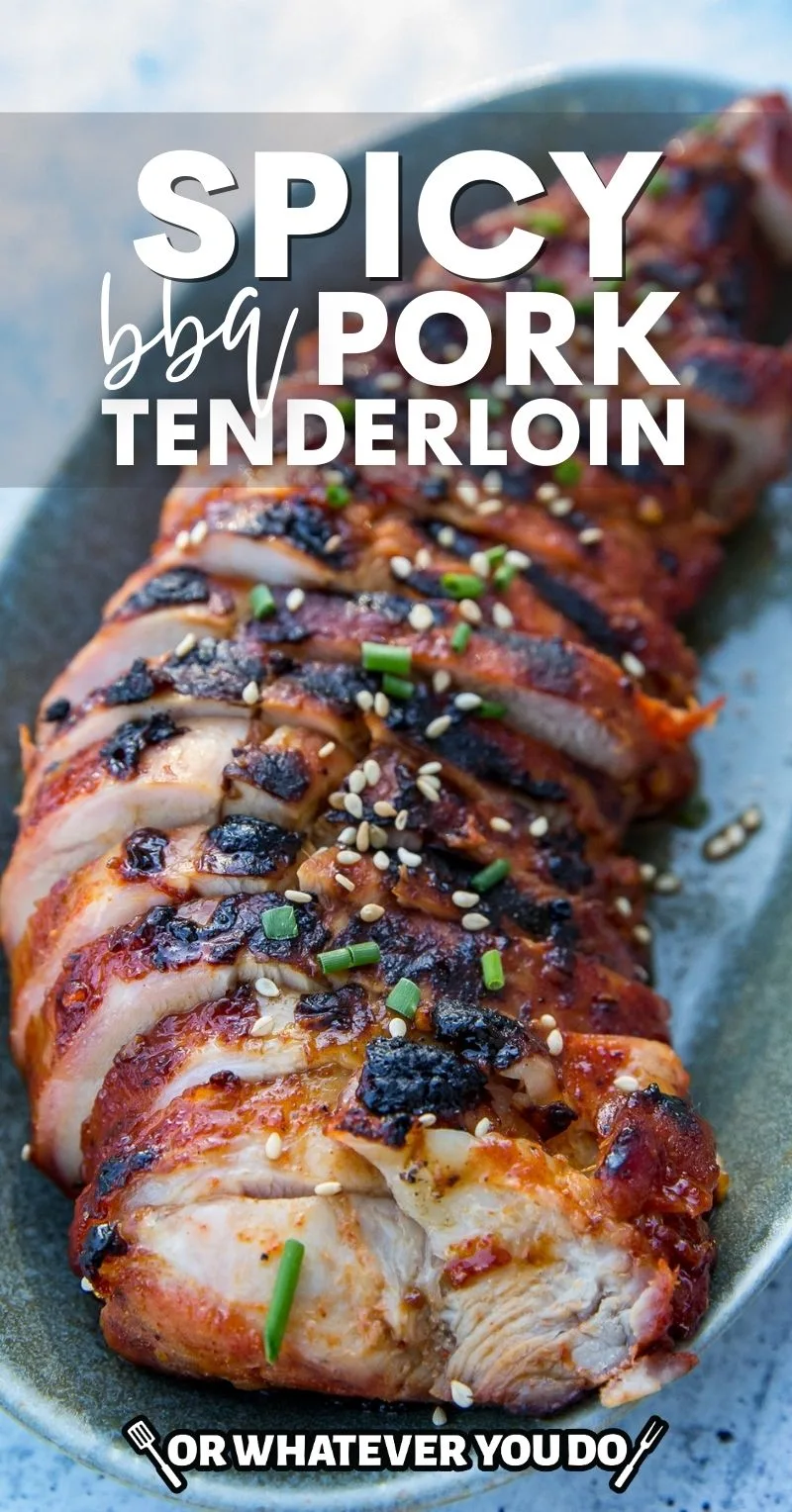 Pellet Grill Spicy BBQ Pork Tenderloin
I love Korean food. It is one of my favorite types of cuisine, ever since my husband drug me introduced me to it back in the early 2000's in St. Paul.
Our favorite restaurant was (and still is) Mirror of Korea, right on Snelling Ave. I still make a point of going in and ordering ridiculous amounts of food anytime I get the pleasure of venturing back to Minnesota, so if you are within driving distance I highly recommend it!
One of our favorite dishes there is this spicy chicken dish with a red sauce on it that I still dream about. We've been looking for a close dupe for that recipe for ages, and recently I discovered that one of the local grocery stores that has an extensive Asian section has a pre-made marinade that almost is super close to our favorite dish! You can order it here from Amazon.
I mentioned our love of Korean food not to say that this IS Korean food. It definitely isn't. But it IS delicious. And it is why we went down this path with this particular marinade too. 😉
Want something more authentic? Check out this awesome recipe from Korean Bapsang where she makes spicy pork bulgogi from scratch!
More Easy Traeger Recipes here!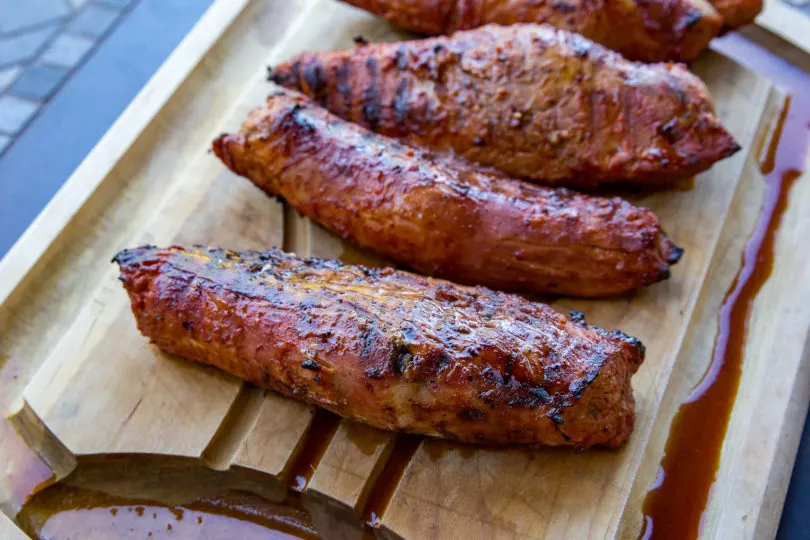 Spicy Grilled Pork Tenderloin shopping list
Here's the run-down on what you'll need to make this easy dinner! For the full recipe, including ingredient amounts, make sure to check out the recipe card at the bottom of the post.
The list is short, if you can find the pre-made marinade in the store. If not, order from Amazon and call it good!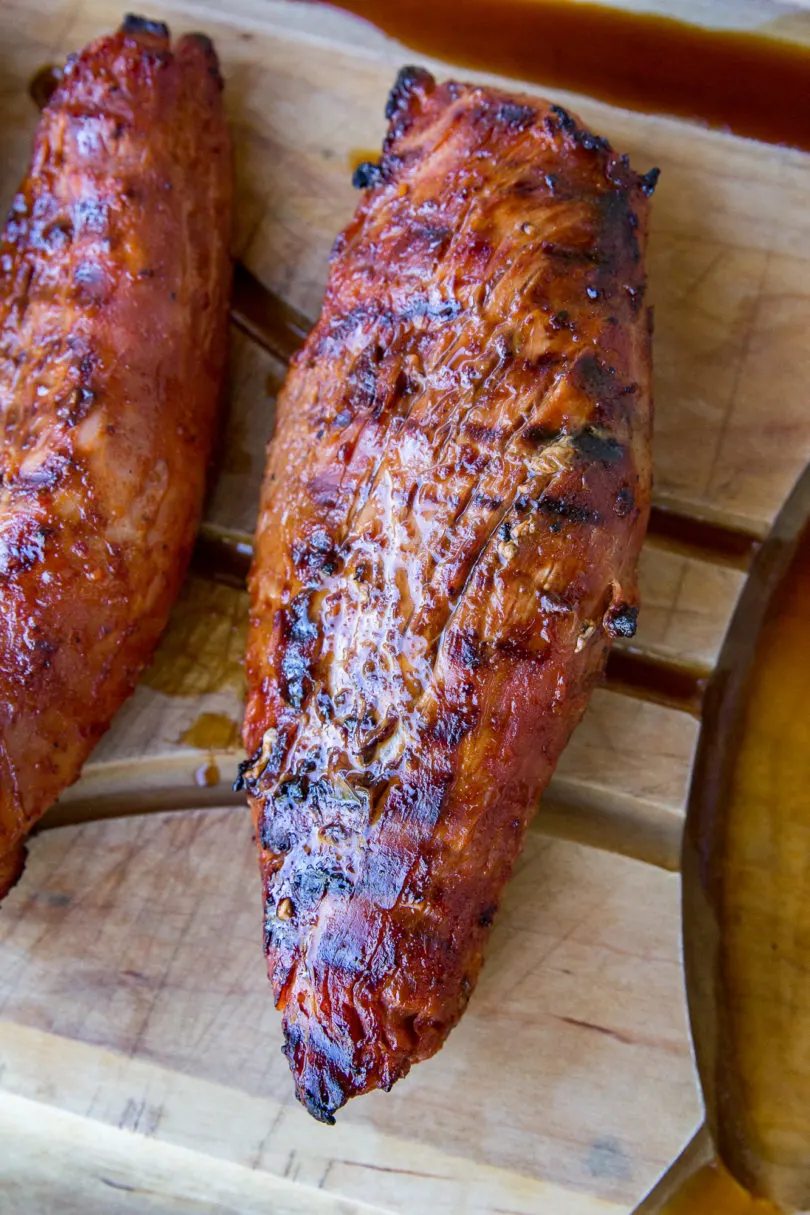 How to make Spicy BBQ Pork Tenderloin
This is the easiest recipe EVER. Here's the very quick overview of the very quick recipe.
Marinate
Place your tenderloins into a plastic baggie and pour in the marinade. Let it soak for 3-4 hours.
Grill
Preheat your grill to 425-450°. We used our Pellet Grill for this, but any kind of grill will work here! Pull it at 140°. The internal temp will raise more during the rest.
Rest
Don't skip this part! You need to let pork tenderloin rest before you cut it or all of the juices will be on your cutting board and not in your meat.
Slice and Serve
Slice, dice (if desired) and serve!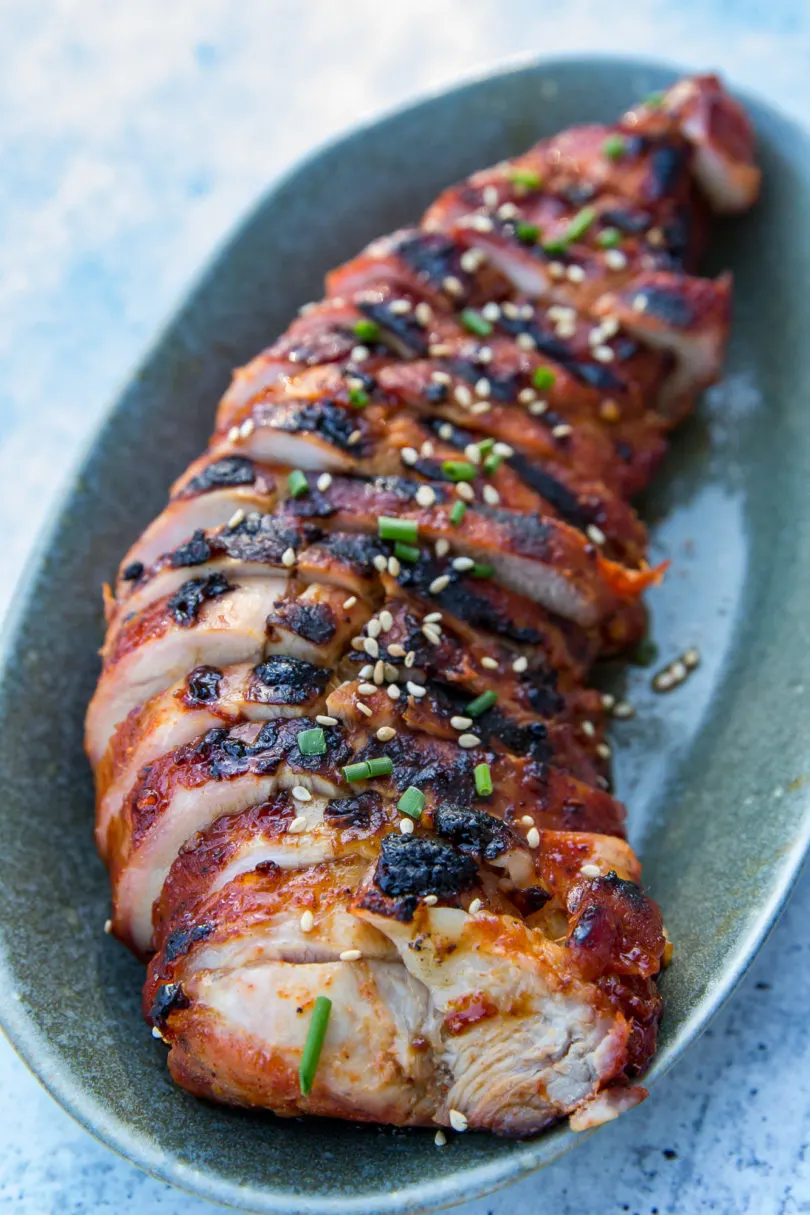 What else can you serve with pellet grill pork tenderloin?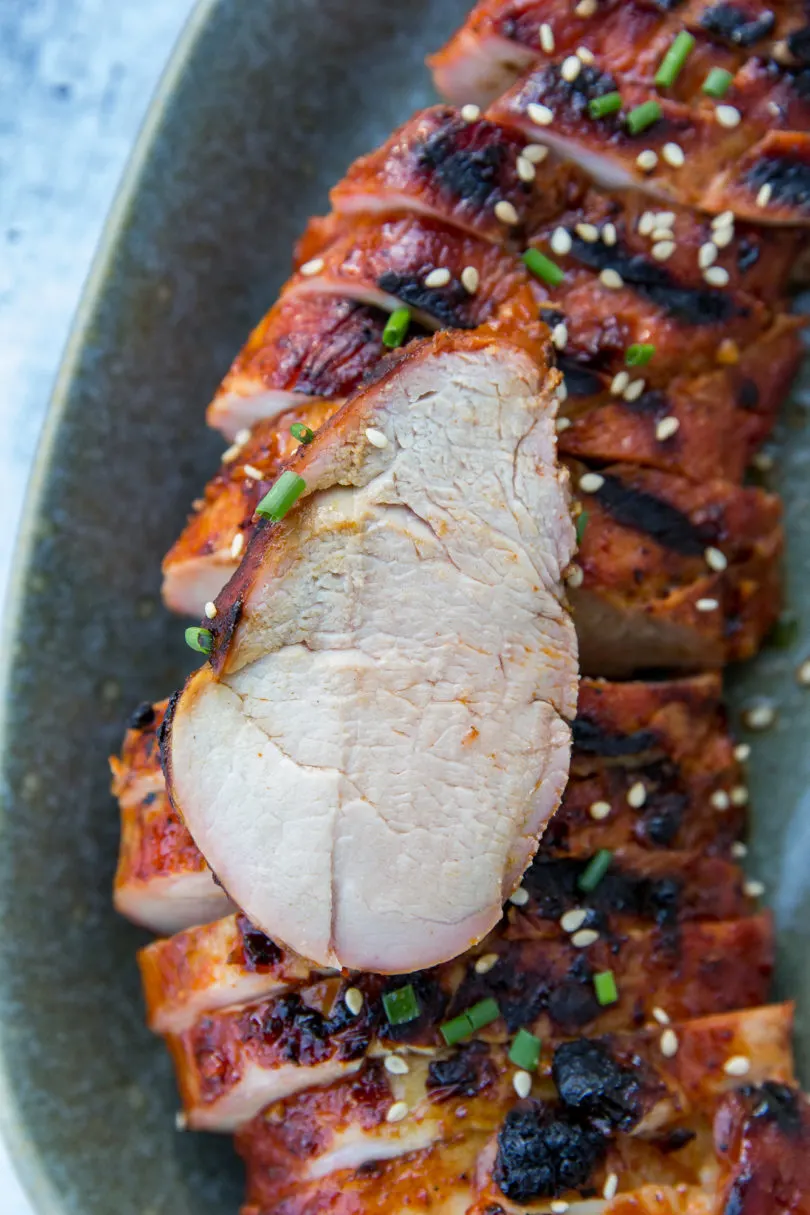 FAQ
How should you store leftover grilled pork tenderloin?
We store our leftovers in airtight storage containers or freezer baggies. You should aim to eat your leftovers in 2-3 days. I don't recommend freezing cooked pork tenderloin.
What's the best way to reheat the leftovers?
These leftovers are so good, you could definitely eat them cold in a sandwich or diced over a salad. If you prefer to heat them up, I'm not above a quick trip to the microwave, or even a little blast in an air fryer.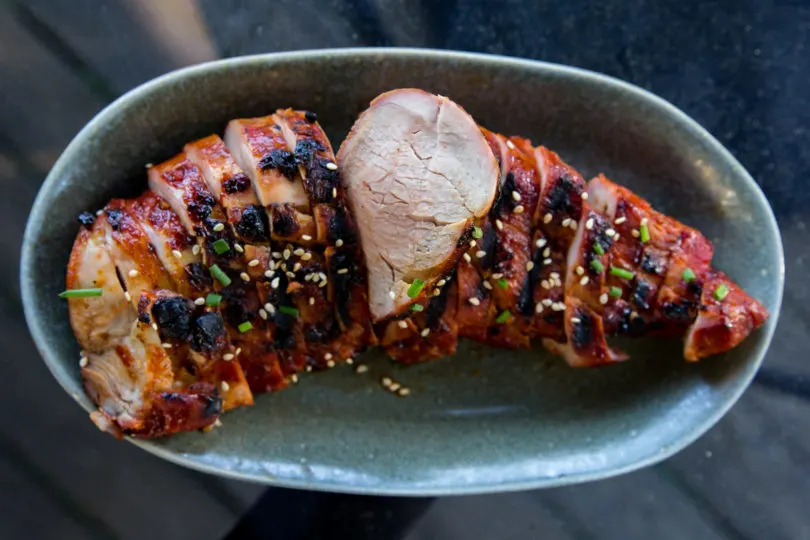 More recipes to love!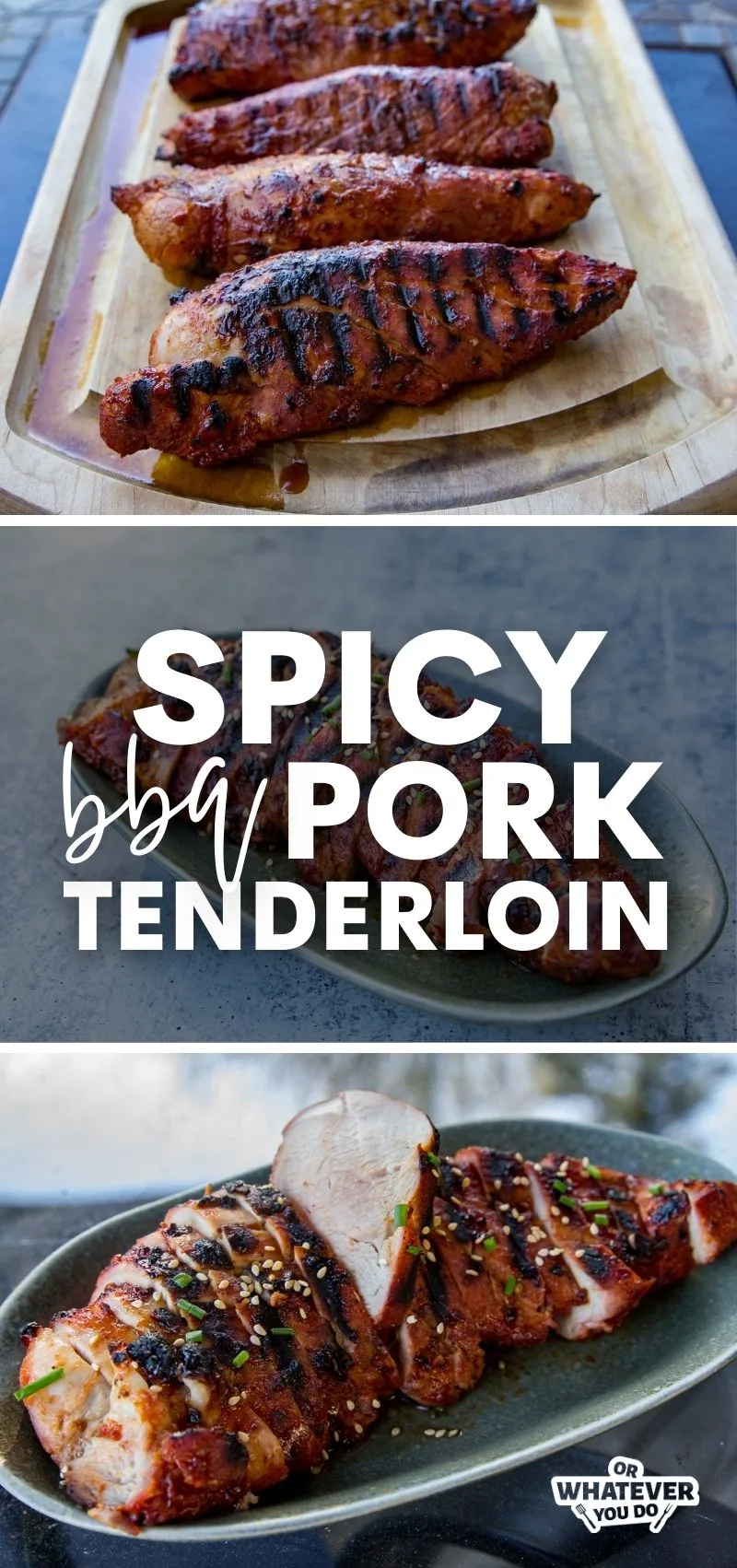 Yield: 6 servings
Spicy Korean BBQ Pork Tenderloin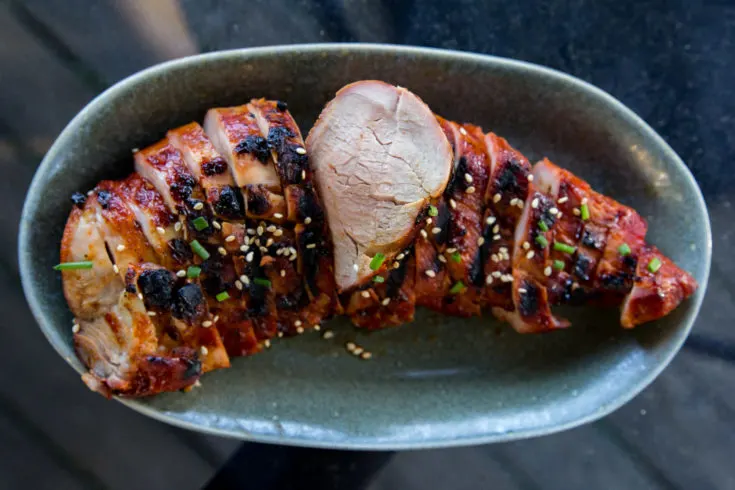 This tender, spicy, and bold port tenderloin gets its kick from a Spicy Korean BBQ Marinade! Fire up your pellet grill and get grilling!
Total Time
3 hours
25 minutes
Instructions
Place your pork tenderloins into a large plastic baggie and pour in the marinade. Evenly distribute it and place in the fridge for 2-3 hours.
Preheat your grill to 425-450°.
Place the tenderloins directly on the grill. Flip after approximately 5-7 minutes. Continue to cook and flip until the internal temperature reaches 140°. (Or 145° if you want to go by the letter of the food safety law.)
Let the meat rest for 10 minutes while tented with foil.
Slice and serve!
Recommended Products
As an Amazon Associate and member of other affiliate programs, I earn from qualifying purchases.
Nutrition Information:
Yield:
6
Serving Size:
1
Amount Per Serving:
Calories:

125
Total Fat:

7g
Saturated Fat:

2g
Trans Fat:

0g
Unsaturated Fat:

5g
Cholesterol:

33mg
Sodium:

208mg
Carbohydrates:

3g
Fiber:

1g
Sugar:

1g
Protein:

12g
Nutrition data provided here is only an estimate.