This Blender Salsa is not only super simple and affordable, but it's SO delicious and totally customizable. It's the perfect option for a snack during the day, putting on top of some huevos rancheros, and it'd also be an amazing choice to bring to a party! If you're a busy person that wants to enjoy some quality salsa, this is for you!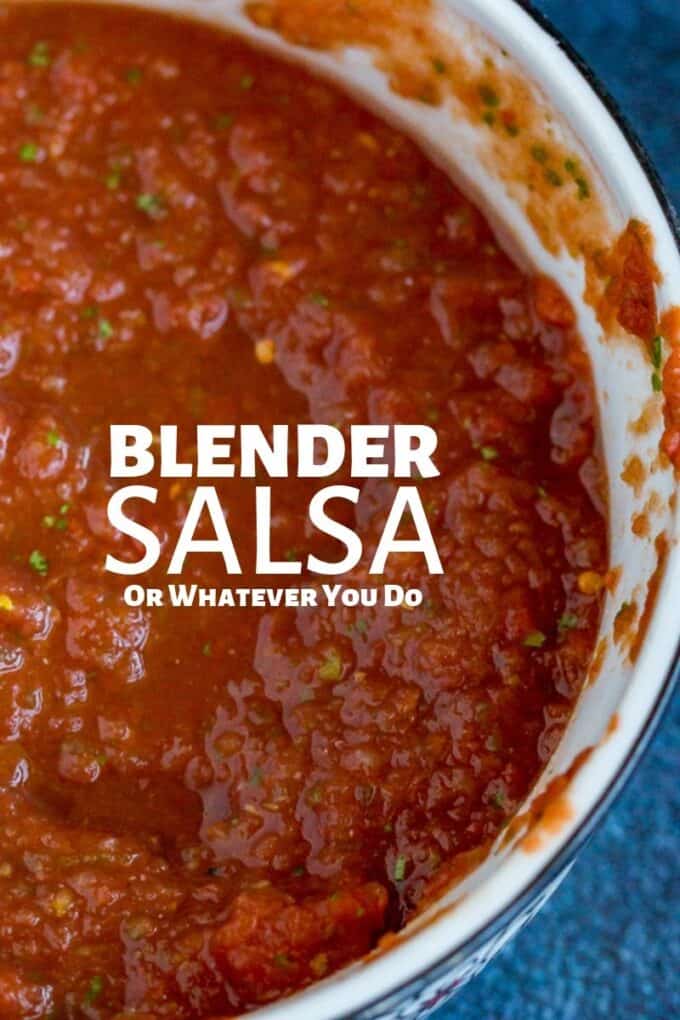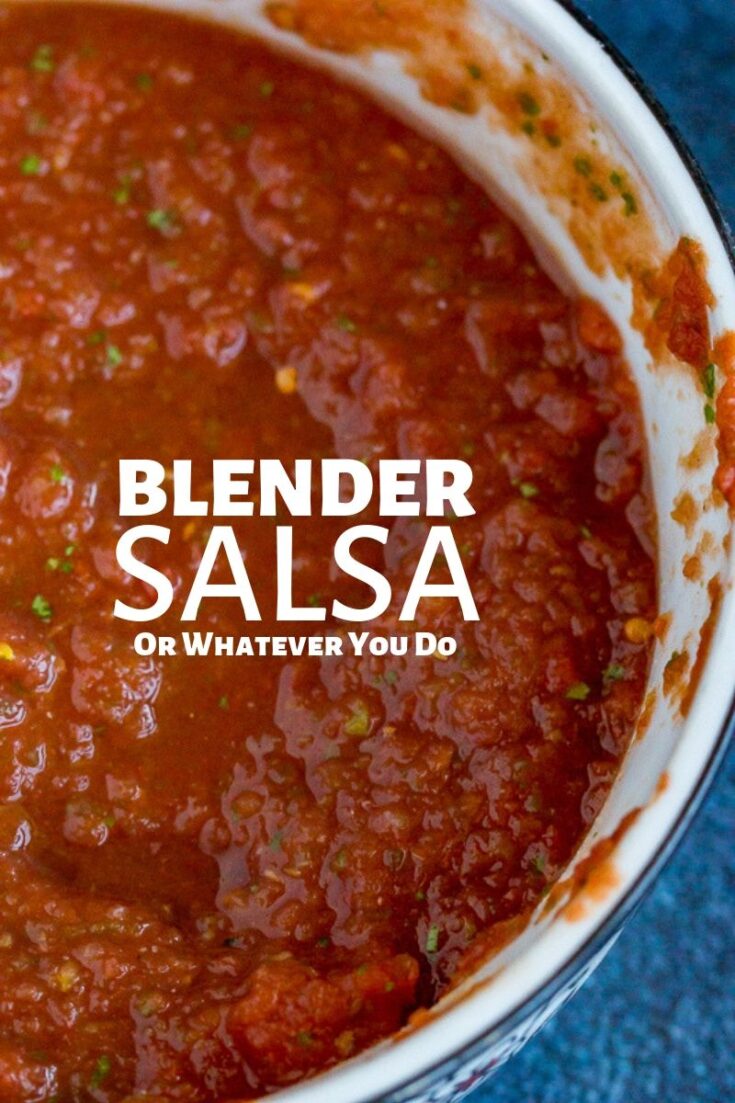 Easy Blender Salsa
Everyone loves salsa, right?
Like, if we were out to dinner and there was a giant basket of chips and salsa set in front of us, and you were like, "Nah. I don't really like salsa".
What kind of insanity is that?
Store-bought salsa has come a long way, and there are more and more options available, but if you find yourself short on pre-made salsa but with a well-stocked pantry, this is the recipe for you.
I think that homemade salsa is one of the most underrated and easy snack foods you can make.
Well, that and guacamole, which I also happen to have an AMAZING recipe for! You can't have one without the other, so go check out my Guacamole recipe after you make this salsa!
Click here to save this post for later!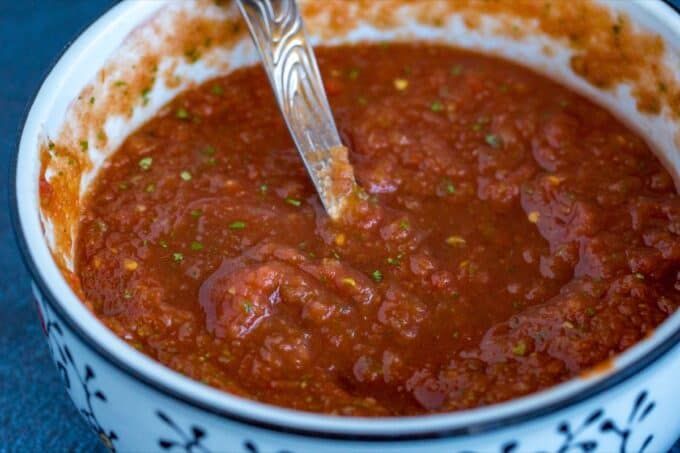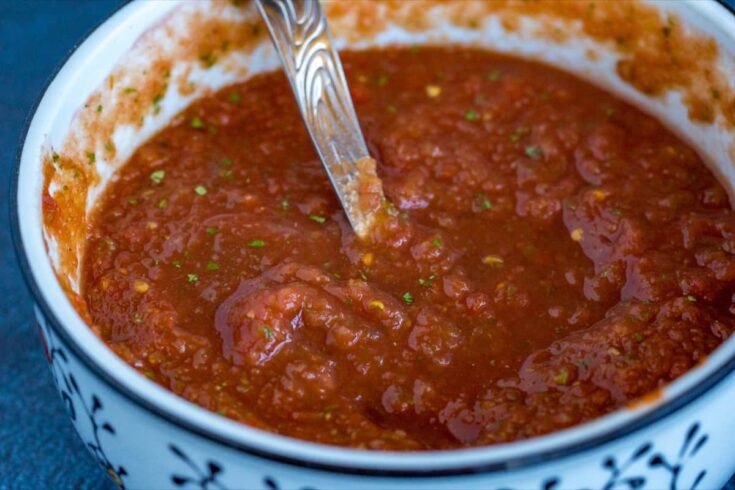 How to make salsa in the blender
This simple salsa recipe has only 10 ingredients, and most of those come to you in a can. They are the same ones that I typically have in my cupboard all the time.
Rotel canned tomatoes, green chiles, and cilantro are just a few of the things that are going to help pack a ton of flavor into your salsa – not to mention hot sauce! If you're the type of person who likes REALLY spicy things you could throw in your favorite spicy peppers or really spicy hot sauce!
If you love this salsa (which you will) you HAVE TO try making my Traeger Smoked Salsa Verde!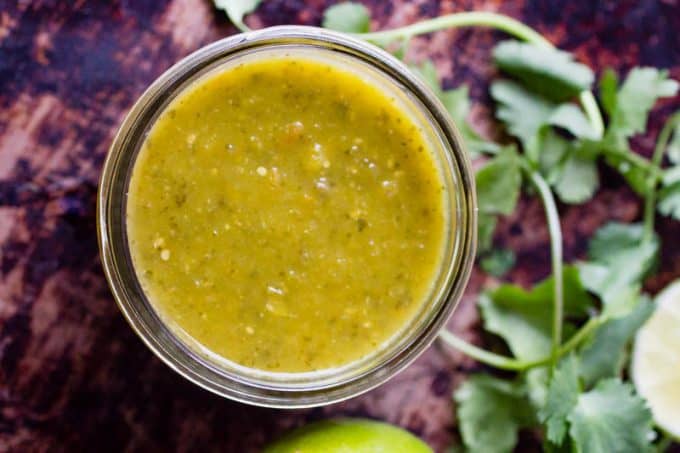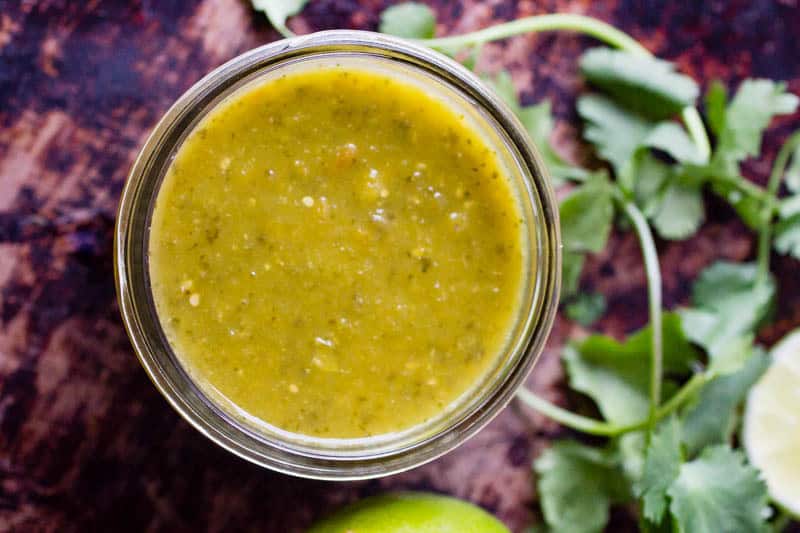 Do I Need A High Power Blender?
Absolutely not! You could honestly make this by hand if you had NO other way to get it done.
A blender that chops stuff up a little bit is all you need, or even a food processor will work!
Here are some tips for when you're making your Blender Salsa with either of these machines:
Pulse, don't blend

– This may sound absurd, but when you're blending everything together, don't use the actual "blend" setting, use the pulse setting! Pulsing your salsa ingredients instead of blending leaves it a more chunky! If you like more of a puree though, feel free to blend away!

Let it rest

– After you make your salsa, it's important to let it rest a little bit before digging into it. Like soups or chilis, the more time the ingredients spend together, the better and richer the flavor will be!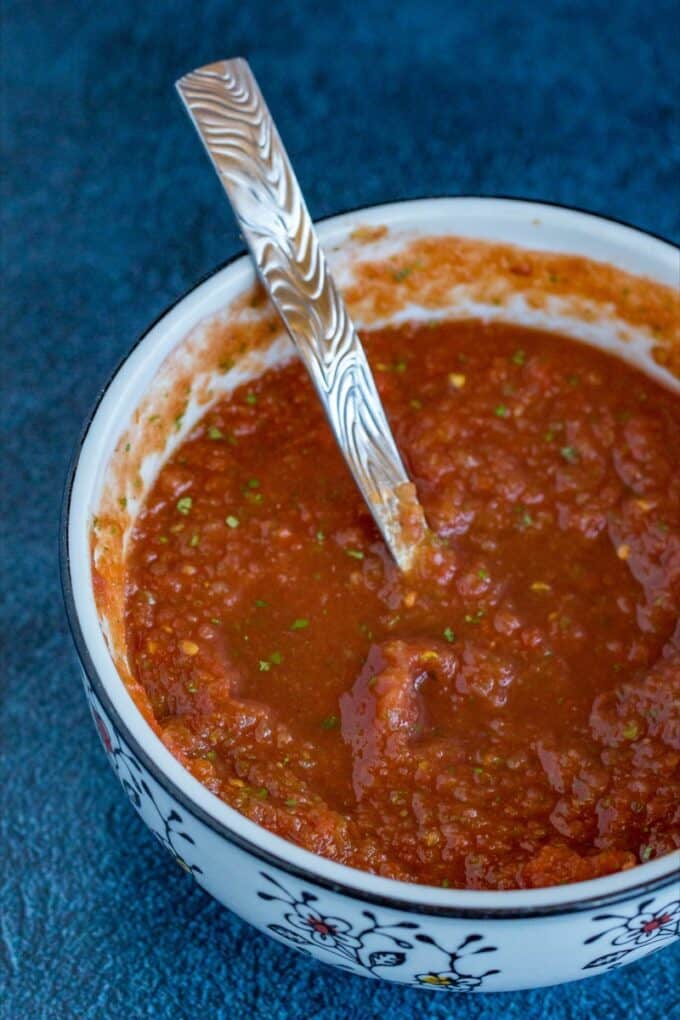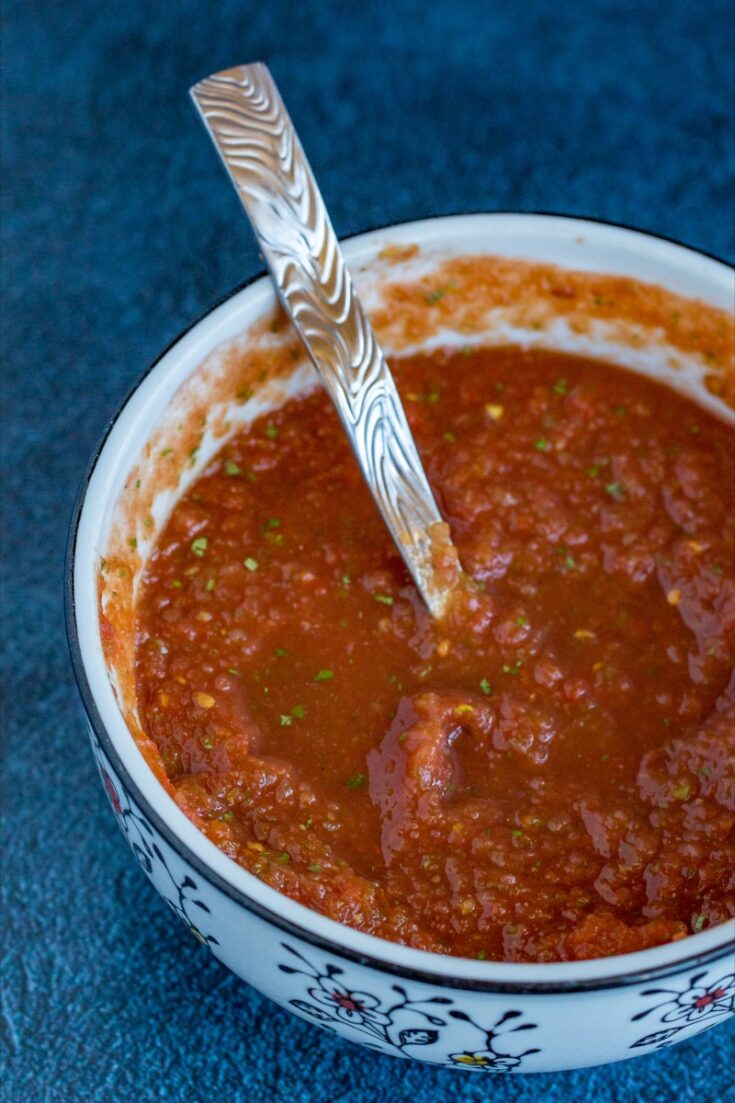 Should I Drain My Tomatoes?
If you've ever cooked with canned tomatoes, then you know that there's some liquid that's with the tomatoes.
The question of whether or not to strain it is really up to your personal preference.
If you prefer a salsa that is thinner you can leave the liquid in when you blend. If you like a thicker salsa that really sticks to your chip, then I'd recommend straining your tomatoes before blending them together. You will want to toss in an extra can or two in this case though.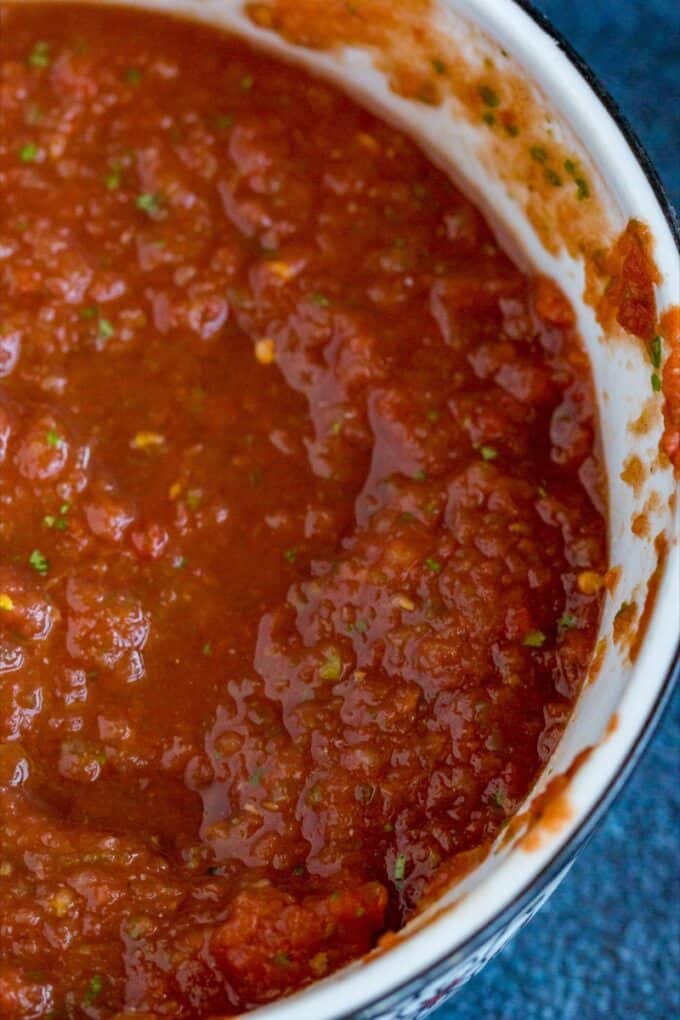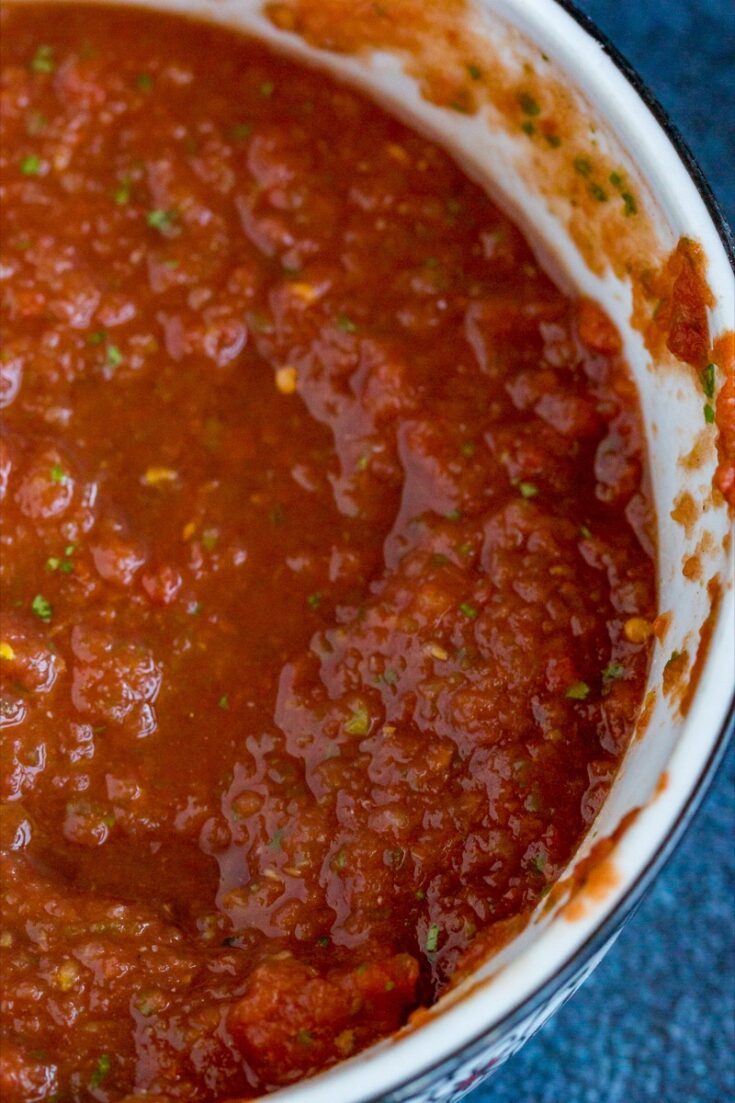 Should I Cook My Salsa?
You may or may not have heard of the concept of cooking your salsa, so let me tell you a little bit about it.
I want to start by saying this is TOTALLY optional, your salsa is going to be amazing no matter what.
If you're making salsa for an event, like a party or something, and you want to impress – try cooking your salsa!
It may sound like an extra unnecessary step, but cooking your salsa helps to bring out a ton of DELICIOUS flavors and enhances it overall!
While it is an added step, it's really not hard! Just heat up some oil in a pan that's big enough to fit your batch of salsa and toss it in! Bring it to a boil and then reduce the heat to low and let it simmer for 10-15 minutes until the color has gotten deeper and richer.
You still want to cool your salsa before you serve it, but this is a great way to adjust your final result according to your taste. Try half one way and half another, and see which you prefer.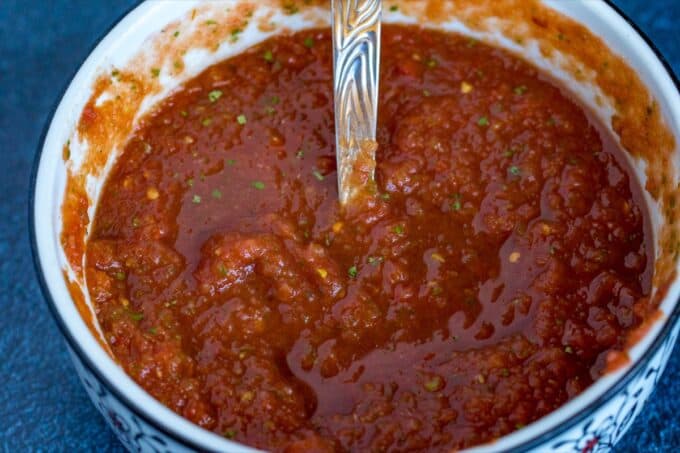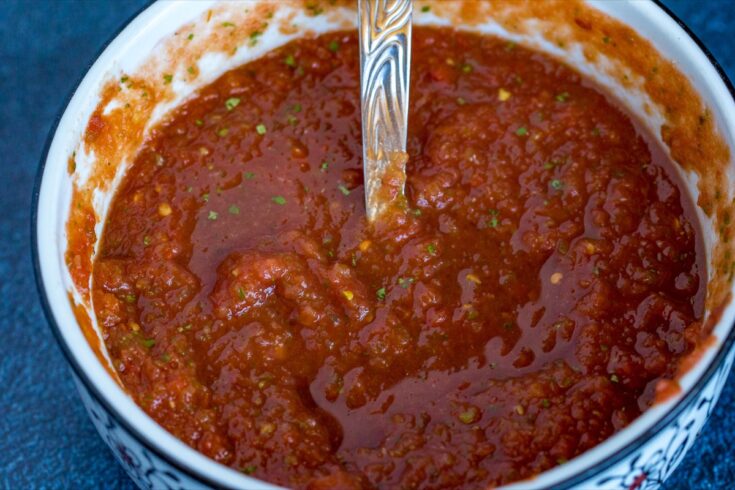 What should I use this salsa on?
You can use this blender salsa on anything that you'd typically use salsa on, but I have some particular recipes that I think would be GREAT with a heaping helping of this salsa on top.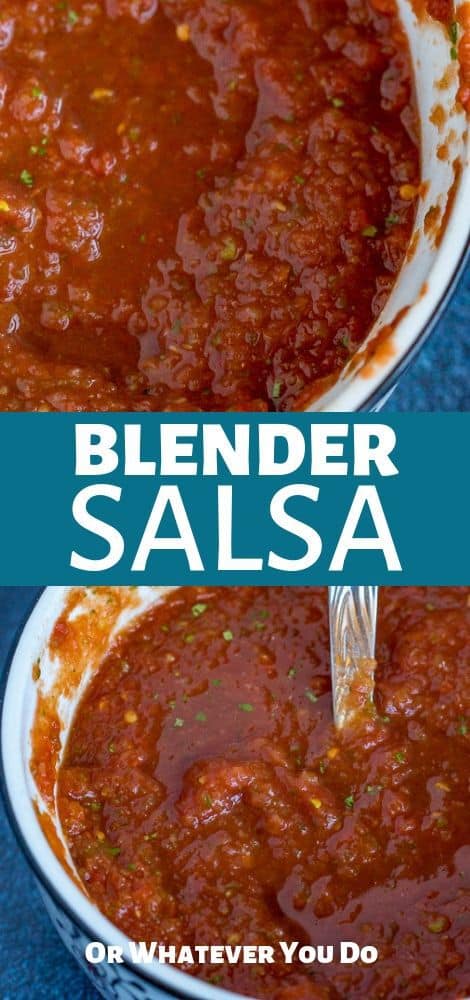 Yield: 12 servings
Blender Salsa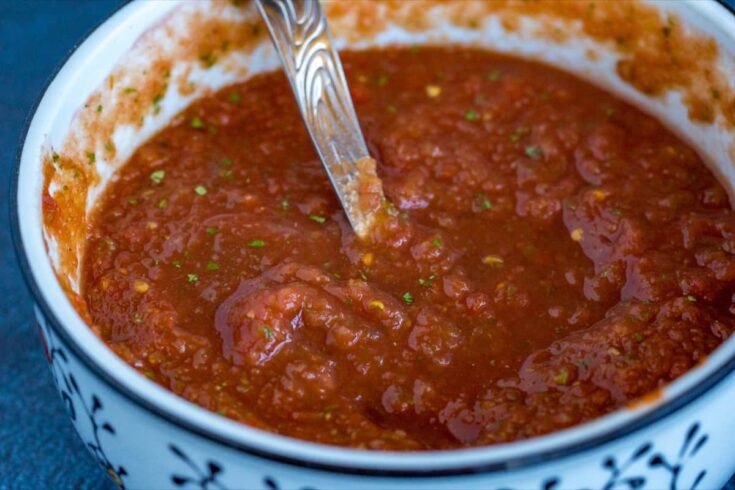 This simple salsa uses almost all canned ingredients, requires no cooking, and is a delicious restaurant-style salsa!
Total Time
2 hours
5 minutes
Ingredients
1 can Rotel (w/ green chilies)
1 can Rotel (w/ lime and cilantro)
1 can green chilies
1 tablespoon hot sauce (of your choosing)
1 can stewed tomatoes
1 can fire-roasted tomatoes
2 limes, juiced
1 teaspoon minced garlic
1/8 cup diced onion (optional, can replace with 1/2 teaspoon onion powder)
1/4 cup cilantro
1/2 teaspoon salt (taste and adjust as necessary! Different brands of tomatoes contain different amounts of sodium, so this could be impacted by the brand of tomatoes.)
Instructions
Place all ingredients in a blender, and pulse to combine.
Let chill for several hours to allow the flavors to meld.
Nutrition Information:
Yield:
12
Serving Size:
1
Amount Per Serving:
Calories:

25
Total Fat:

0g
Saturated Fat:

0g
Trans Fat:

0g
Unsaturated Fat:

0g
Cholesterol:

0mg
Sodium:

460mg
Carbohydrates:

6g
Fiber:

1g
Sugar:

2g
Protein:

1g
Nutrition data provided here is only an estimate. If you are tracking these things for medical purposes please consult an outside, trusted source. Thanks!