These french onion french dip sandwiches are SO easy. They use chuck roasts, and make their own jus. This is one of my favorite meals, ever.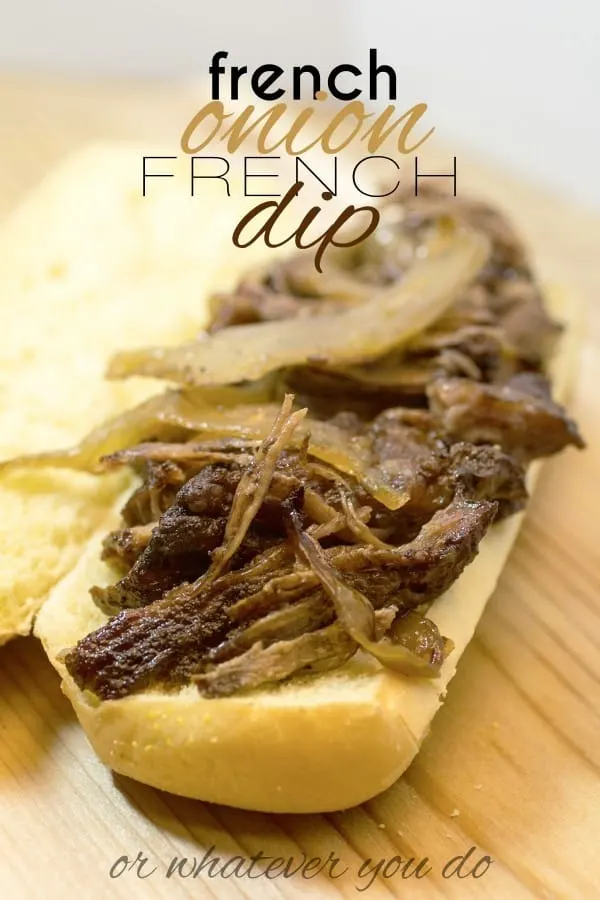 French Onion French Dip Sandwich
These sandwiches are made with a chuck roast that has been slow cooked to tender awesomeness. They are perfect for not only my pot roast…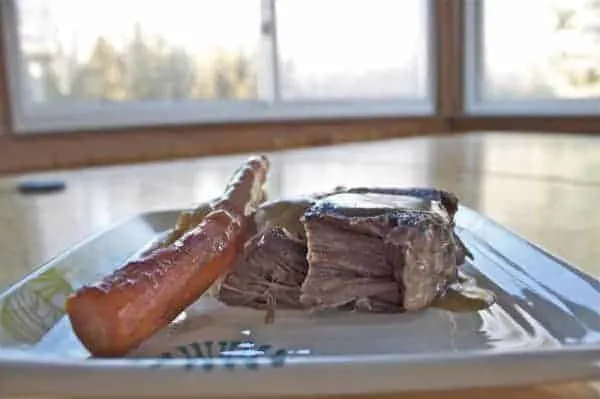 But also for these awesome tequila lime shredded beef tacos.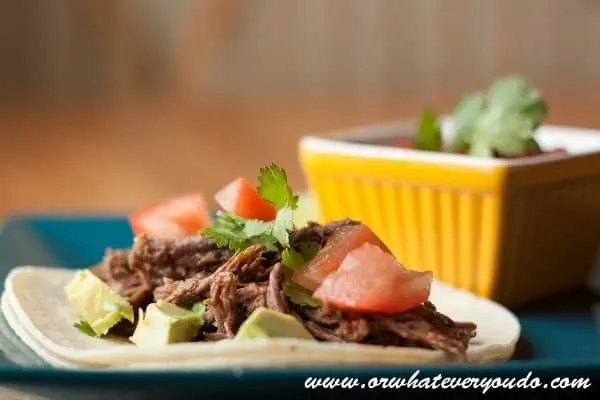 These french onion french dip sandwiches are SO easy.
First, just liberally season your chuck roast on both sides. Then preheat a few tablespoons of oil, and brown the roast on both sides.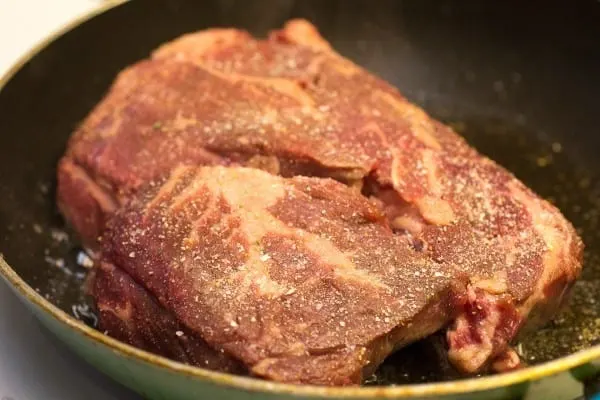 Make sure you wait and don't move that roast for a few minutes because you want that nice brown crust on it. That's all flavor!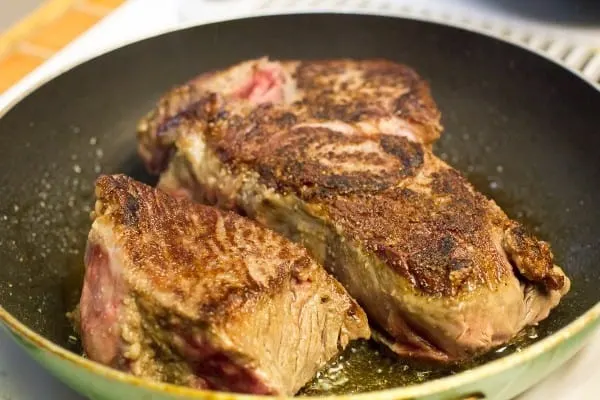 After the roast is browned, put it in your roasting pan, and lightly saute some sliced onion. Add a cup of red wine, and a cup of a high quality beef broth.
Simmer that for a couple minutes, and then pour it all right over the top of the roast.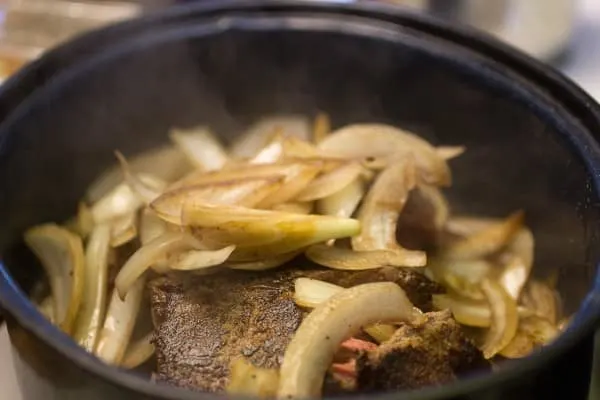 Put a cover on it, and roast it for 4-5 hours on 300.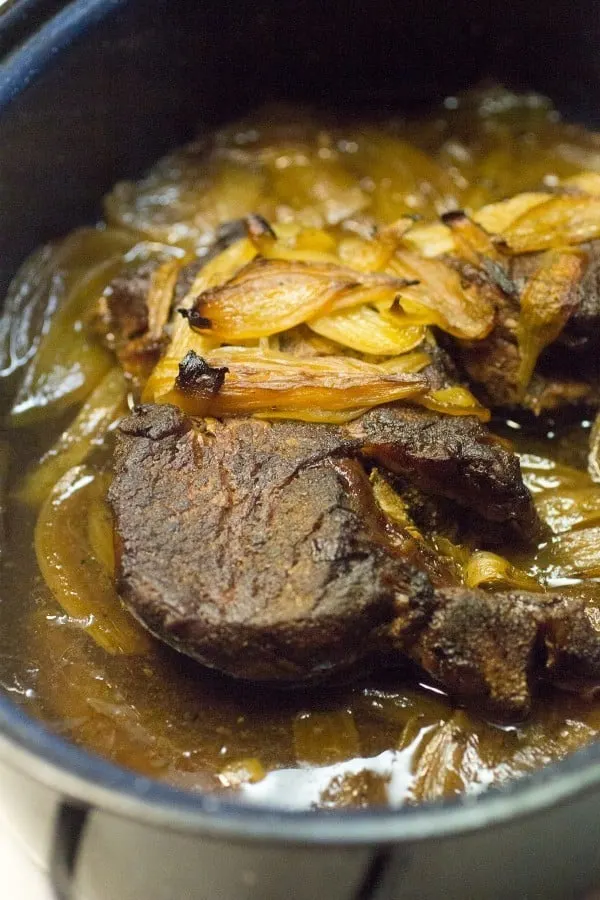 Chunk it up with two forks, and stir around the juices.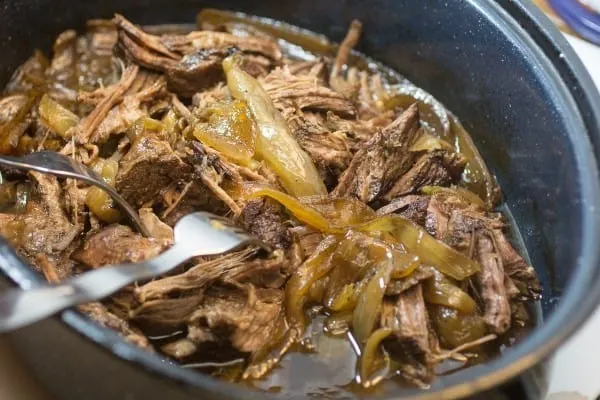 Put heaping amounts on a toasted hoagie roll.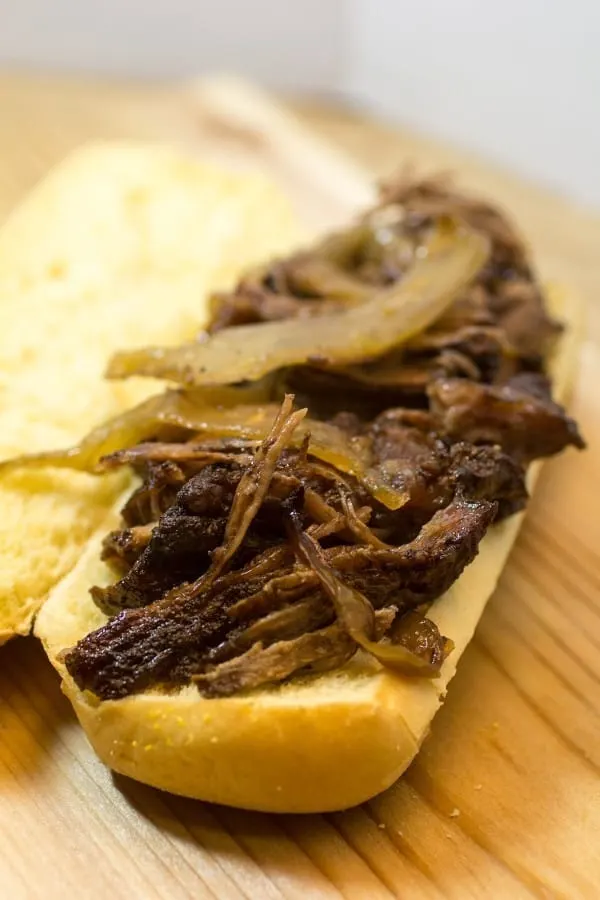 And smother with swiss cheese if that's your thing.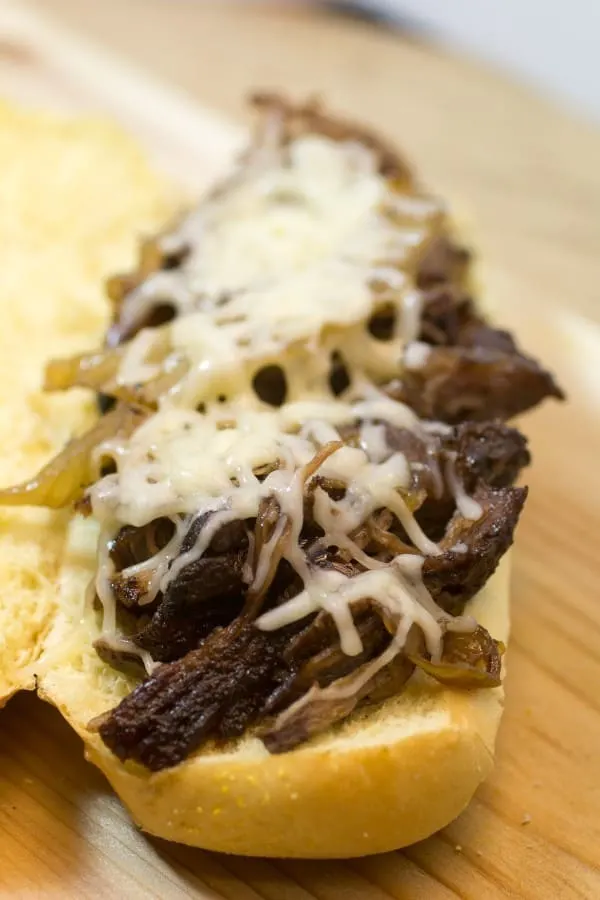 Pull out some of those pan juices, and serve alongside the roast for dipping.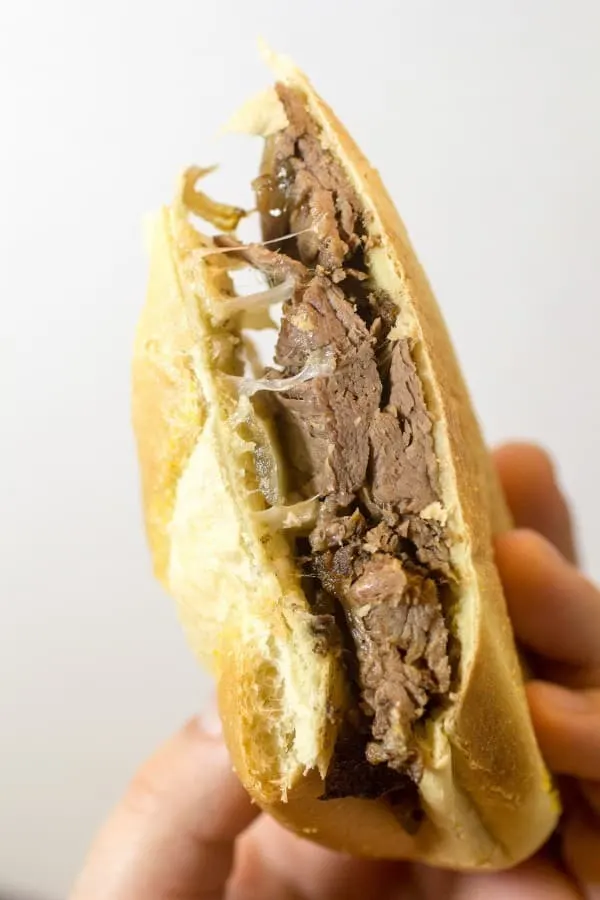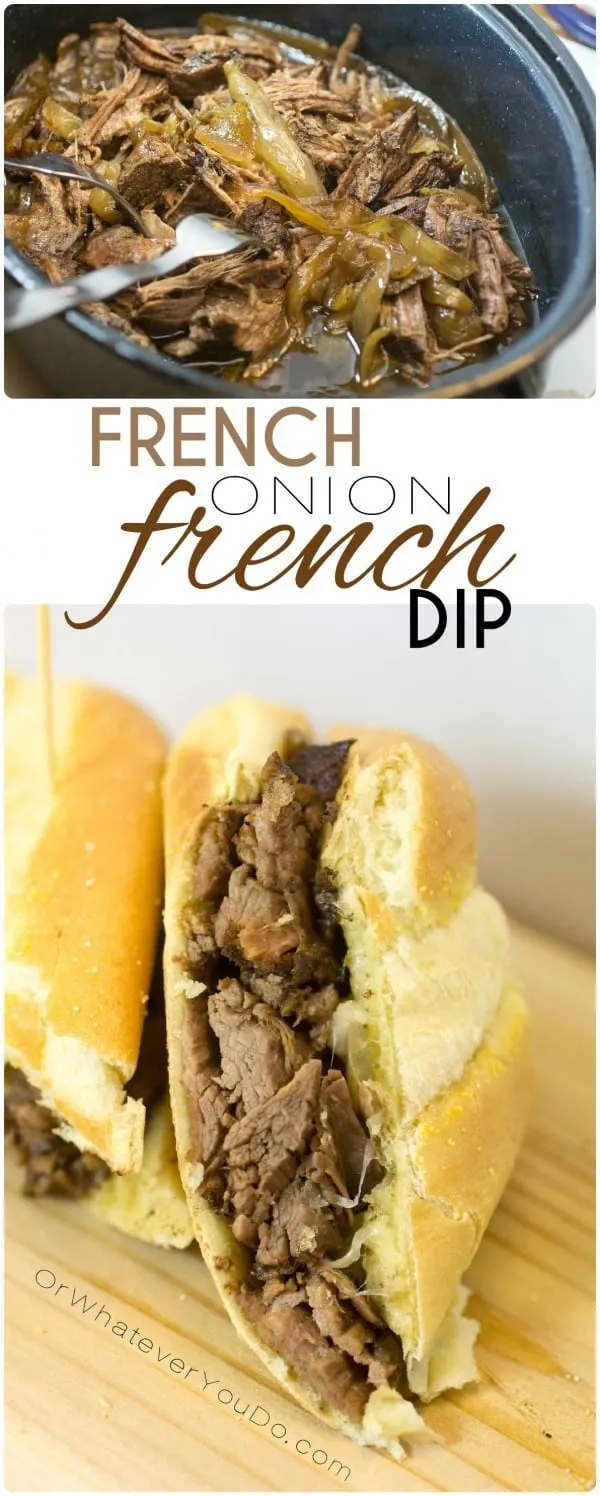 Yield: 8 people
French Onion French Dip Chuck Roast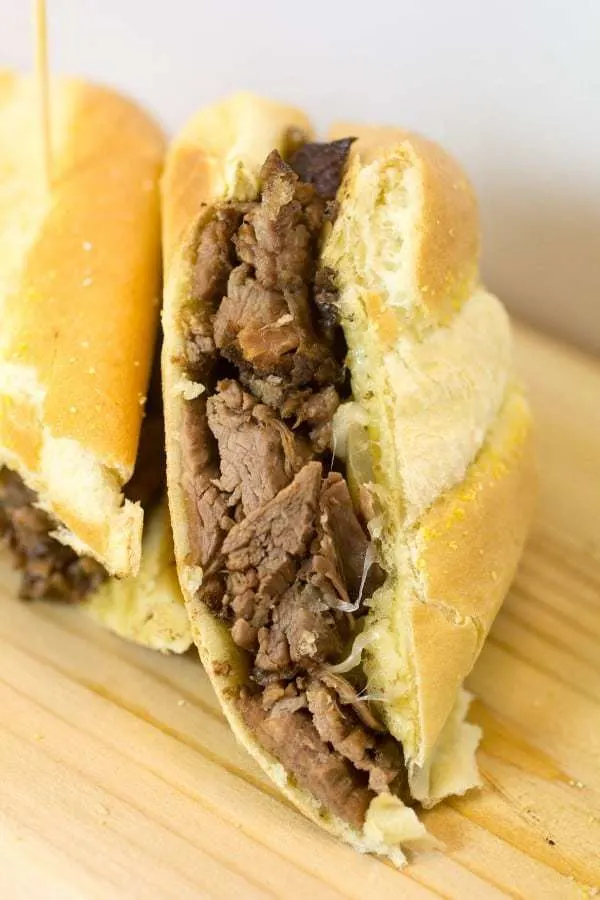 This easy French Onion French Dip Chuck Roast sandwich is a family favorite, and the best way I've ever had a french dip! Your whole family will love it!
Total Time
4 hours
15 minutes
Ingredients
3-4 lb Chuck Roast
liberal amounts of salt, pepper, garlic salt, onion powder
2-3 tablespoons canola oil
1 large onion, sliced
1 cup red wine
1 cup beef broth
6-8 hoagie rolls
2 cups shredded swiss cheese
Instructions
Preheat oven to 300. Place 2 tablespoons of oil in a large skillet or dutch oven, and heat over medium-high heat.
Liberally season both sides of your meat with salt, pepper, garlic salt, and onion powder. Brown both sides of your roast well.
Remove roast from pan and place in roaster (or set aside on a plate if using a dutch oven).
Quickly and lightly brown onions, and then add the wine and beef broth into the pan. Simmer for 2 minutes, and then pour over roast beef in roaster (or add roast back into dutch oven).
Roast for 3-4 hours at 300. Remove when fork tender, and chunk up.
Heap on sandwiches, and melt cheese over top on the broiler.
Nutrition Information:
Yield:
14
Serving Size:
1
Amount Per Serving:
Calories:

1068
Total Fat:

69g
Saturated Fat:

28g
Trans Fat:

3g
Unsaturated Fat:

36g
Cholesterol:

342mg
Sodium:

559mg
Carbohydrates:

7g
Fiber:

1g
Sugar:

1g
Protein:

102g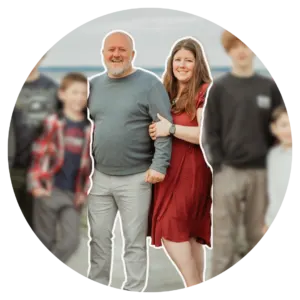 Nicole Johnson, a self-taught expert in grilling and outdoor cooking, launched Or Whatever You Do in 2010. Her blog, renowned for its comprehensive and creative outdoor cooking recipes, has garnered a vast audience of millions. Nicole's hands-on experience and passion for grilling shine through her work. Her husband, Jeremiah Johnson, also plays a pivotal role in recipe development, adding his culinary flair to the mix. Together, they form a dynamic duo, offering a rich and varied outdoor cooking experience to their followers.