These simple braised collard greens go with all the barbecue you can handle. Easy to make and delicious to eat, if you've never had collard greens you need to check these out.

Braised Collard Greens
Braised collard greens are a staple of southern cuisine, but they are a global dish known worldwide. There are collard dishes from Africa and India, to Europe, and from South to North America.
Collard greens belong to the same family of dark green and highly nutritious leafy vegetables that include kale, kohlrabi, and cabbage, but are also related to broccoli and cauliflower.
Of course, as a dish of the world, you can find it by many names. In Great Britain, collards are sometimes called "spring greens". Even "collard" greens can be a bit of a catch all term for a mix of braised greens that might include kale, spinach, and kohlrabi.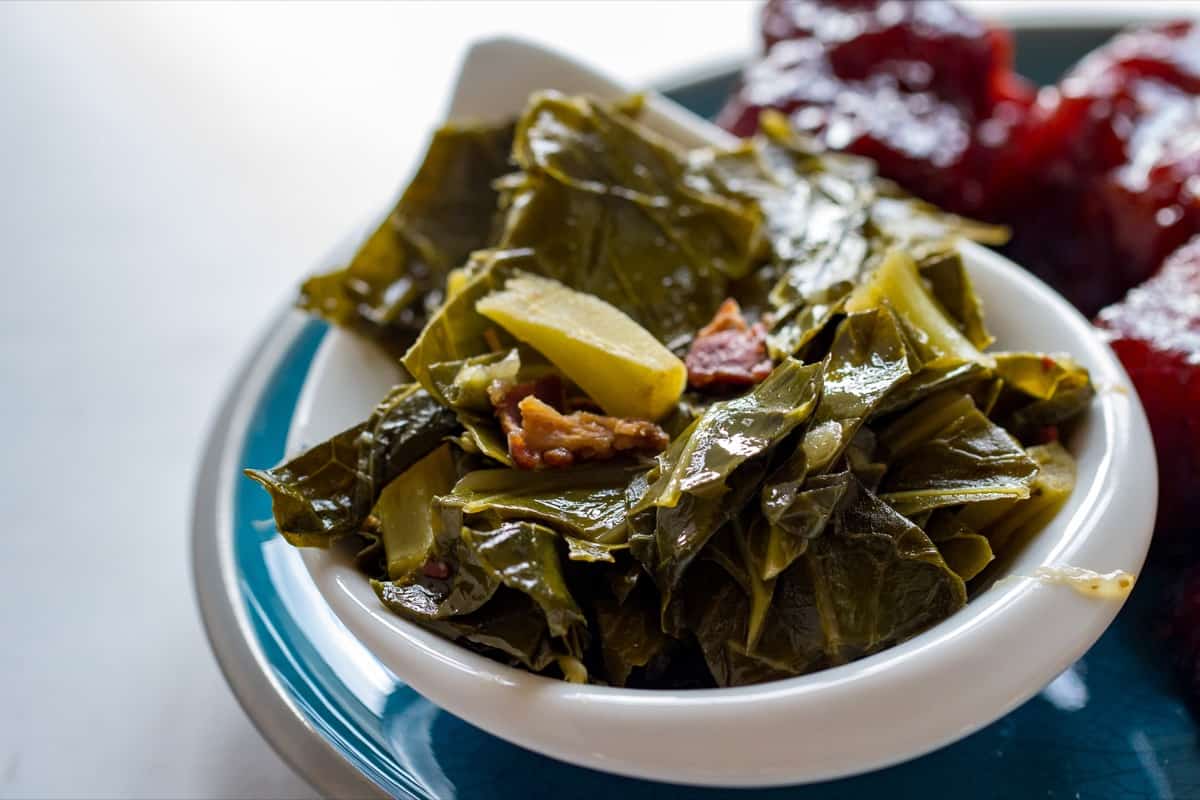 What are collard greens?
Collard greens are a type of cabbage that doesn't have a heart like the white cabbage used often for coleslaw. Collard greens are fibrous and work well for braising because they hold up pretty well to cooking, but they are not quite as tough and fibrous as kale for example.
For this reason, many people prefer using collards for braising to spinach, which falls apart and becomes a bit mushy, and kale which requires more cooking time to help deal with the fibrous leaf.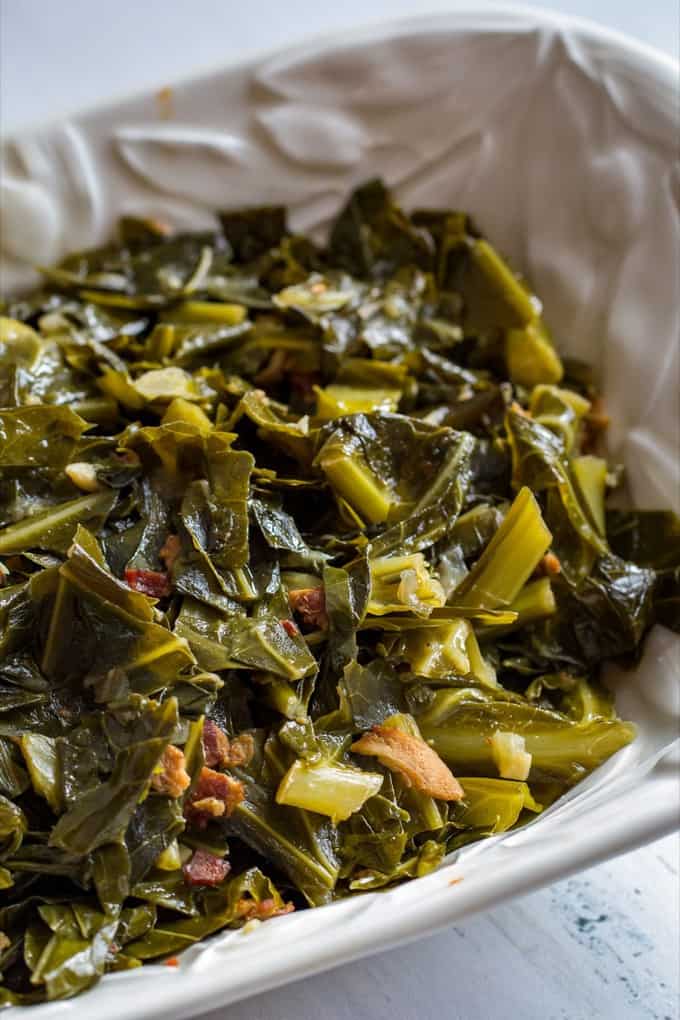 How healthy are collard greens?
Collard greens are full of B vitamins and super high in fiber. Southern cuisine often has a bad reputation for being unhealthy. Tasty, but not something that you eat on a diet.
Fried chicken and the best mac and cheese you've ever had may break the diet, but braised collard greens actually are low in cholesterol and collards even have cholesterol lowering potential because they are so high in fiber.
Collards are right up there with healthy greens like Brussels sprouts, which they are also related to, kale, and kohlrabi.
That being said, we're using a fair bit of bacon grease here to cook these veggies, sooooooooo if bacon isn't a part of a 'healthy' diet in your book, you might want to go find the quinoa instead.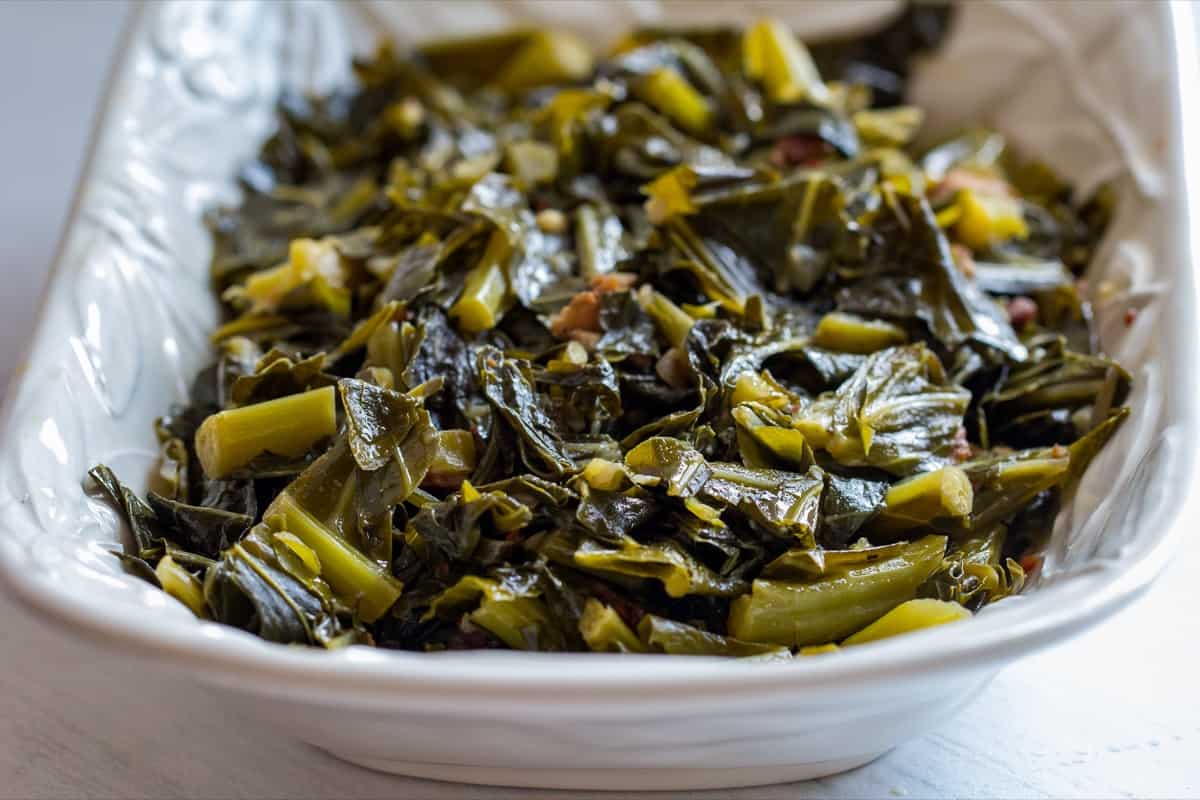 What is a good substitute for collard greens?
Collard greens are easy to find in some places, but you might have trouble in other places finding them easily if there isn't a population of Southern transplants in the area. ( AKA, if you go too far north. 😉 ) Look in the greens section by the kale, celery, and spinach which is where you probably will find them.
If you have to go with a leafy green besides "collard" greens, then you can still make "braised collards" with other options.
Kale is the best option for handling the braising. They just take a bit longer to cook.
You can also substitute with kohlrabi, which is another leafy green.
If you can't find any of those, then you can use green cabbage or Brussels sprouts too.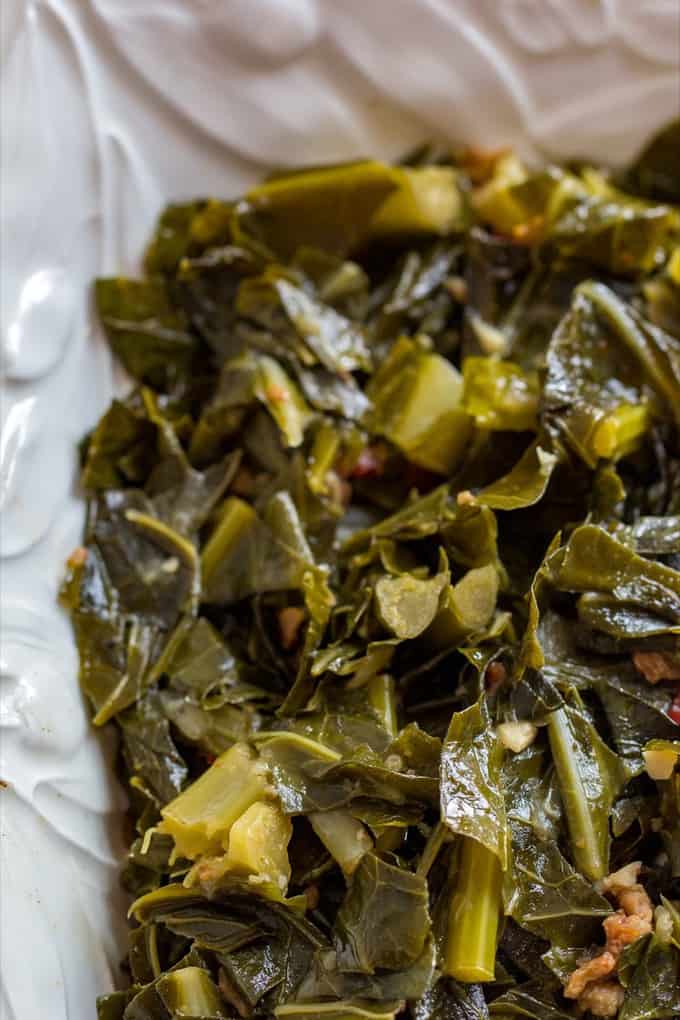 What is healthier, kale or collard greens?
The two vegetables are actually very similar in terms of nutritional value, and both are high in fiber. In terms of flavor, they are also pretty similar. Collards have a slightly sweeter and grassier taste than kale which has a slight bitterness to it.
The braising actually makes them almost interchangeable since the cooking process reduces the grassy and bitter aspects respective of each.
In terms of this recipe, you can't go wrong with either one. Both are full of vitamins and minerals and provide an excellent way to get more fiber into your diet.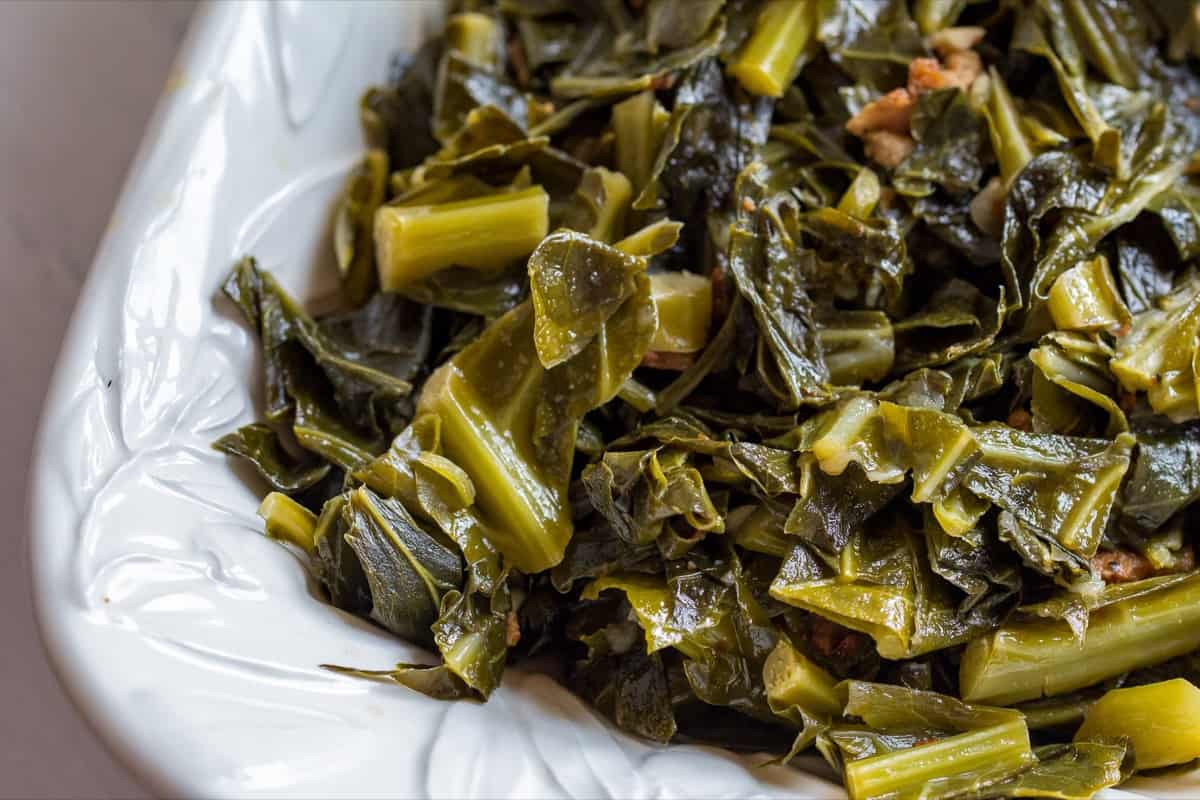 How do you choose the collards?
If you are unfamiliar with collard greens, then you might not know how to pick the best ones for braised collards.
Look for the darkest green leaves with the least amount of wilting. The long leaves have sort of a waxy look similar to cabbage only they are wide and flat and loose. So it sort of looks like a romaine lettuce leaf crossed with a green cabbage.
Like any cabbage, collard greens hold up well in the fridge and keep much longer than greens like spinach and all the varieties of lettuce which wilt so quickly.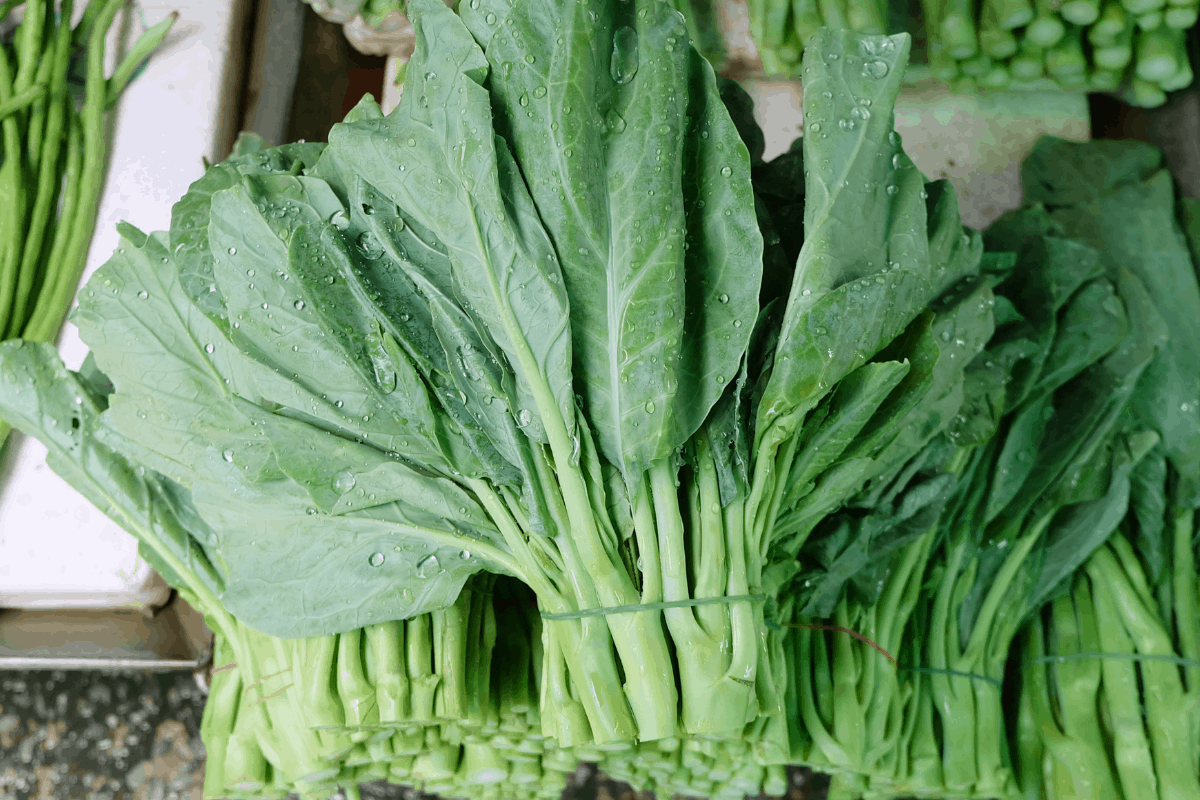 How do you cook braised collard greens to know when they are ready?
Collard greens are easy to cook. Essentially, you wilt them with a bit of saute time in the hot bacon grease along with the onions, then add the chicken broth and reduce the temperature and let them simmer for about 30 or 40 minutes.
They will still have some texture because you are not cooking them so long to completely break down the fiber in the leaves.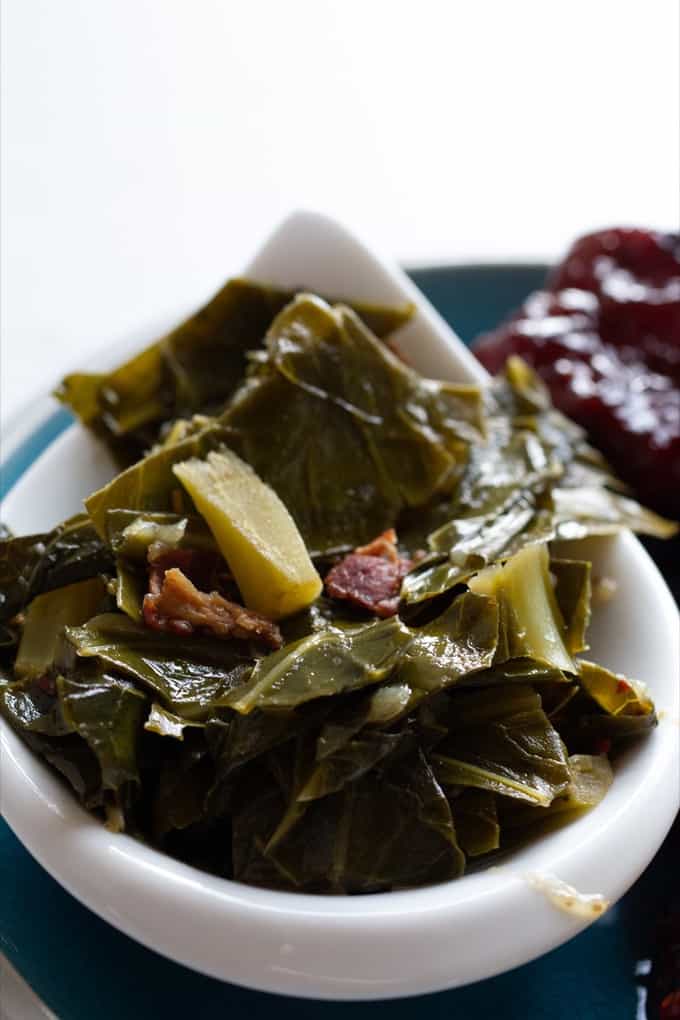 Can I substitute the bacon fat for something else?
If you want to reduce the fat from the bacon grease and use less, then use only half of the amount of rendered bacon fat and replace with olive oil. You will still get the benefit of the bacon flavor but have a healthier alternative.
If you want a completely vegetarian and vegan option, then drop the bacon entirely and just use olive or avocado oil, and sub in some vegetable broth for the chicken broth.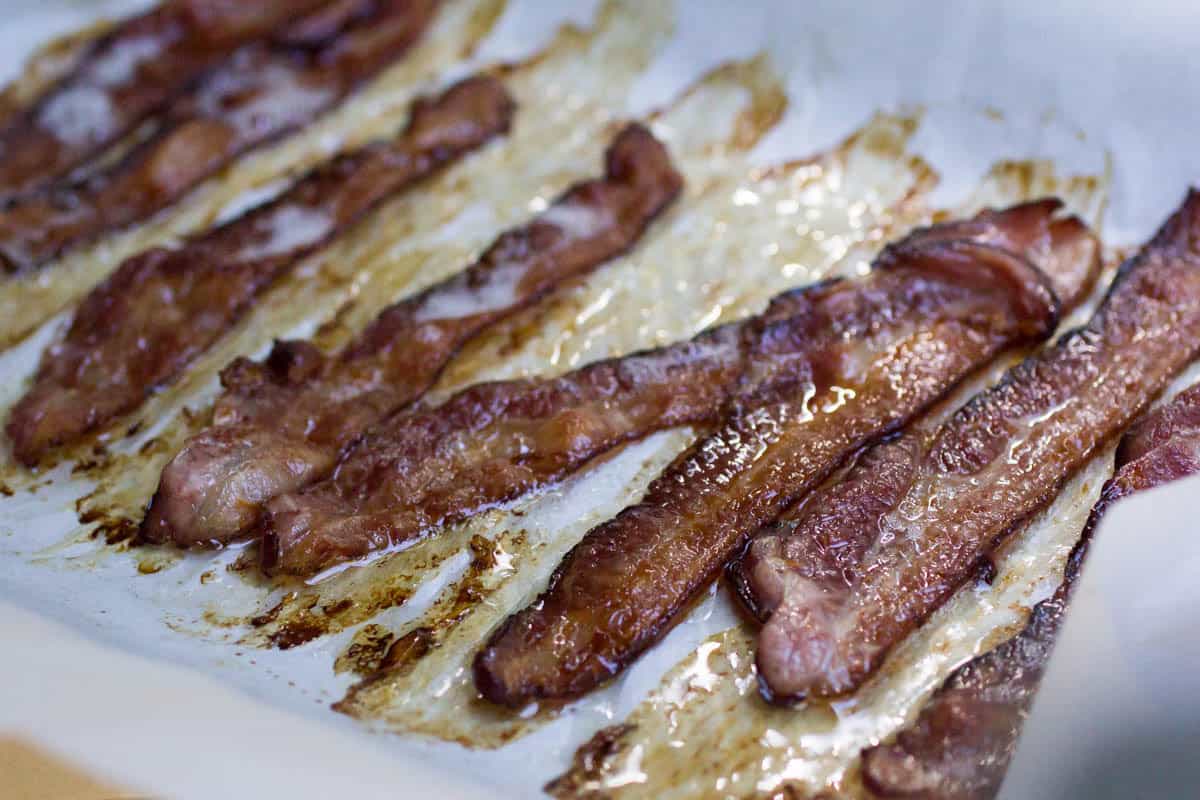 Join our newsletter!
What else can I serve with Collard Greens?
If you really want to go all out and make a southern-themed meal, then I would suggest the following dishes:
Pin for later!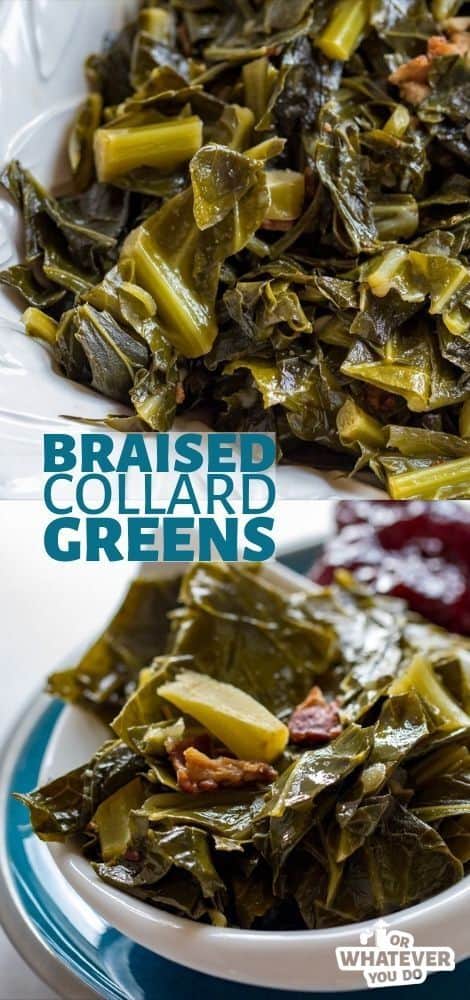 Yield: 8 servings
Braised Collard Greens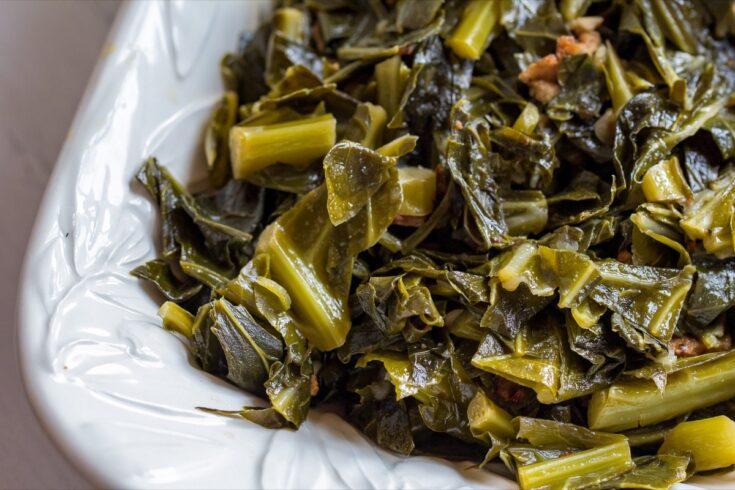 Tender and delicious collard greens flavored with bacon, shallots, onions, and garlic are simmered in chicken stock and served alongside your favorite barbecue.
Total Time
2 hours
20 minutes
Ingredients
1/2 pound thick cut bacon, grease reserved
1 large sweet onion, diced
1 shallot, diced
4 cloves garlic, minced
1 pound collard greens, washed and chopped
1 1/2 teaspoons salt
1 teaspoon black pepper
4 cups chicken broth
Instructions
Pan fry your bacon over medium to medium-low heat until it is crispy. Set aside.
Reserve about 3-4 tablespoons of the rendered bacon fat and put the onions, shallots, and garlic in and saute until they are translucent. About 5 minutes.
Add in the collard greens and the salt and pepper and let them saute for about 5 minutes with the onions and garlic, adding in another tablespoon of bacon grease if necessary.
Pour in the chicken stock, cover and simmer for 1 1/2 - 2 hours, stirring frequently.
Serve hot with your favorite barbecue.
Nutrition Information:
Yield:
8
Serving Size:
1
Amount Per Serving:
Calories:

179
Total Fat:

11g
Saturated Fat:

3g
Trans Fat:

0g
Unsaturated Fat:

6g
Cholesterol:

31mg
Sodium:

1349mg
Carbohydrates:

9g
Fiber:

3g
Sugar:

3g
Protein:

13g
Nutrition data provided here is only an estimate. If you are tracking these things for medical purposes please consult an outside, trusted source. Thanks!