Traeger Grilled Nashville Hot Chicken proves where there is smoke there is fire. The Traeger puts a nice smoke on the chicken, and that Nashville seasoning rub from Spiceology sets your mouth ablaze! Of course, if you don't have a Traeger, then use whatever smoker or grill that you prefer!
This is very similar to my Traeger smoked and grilled chicken.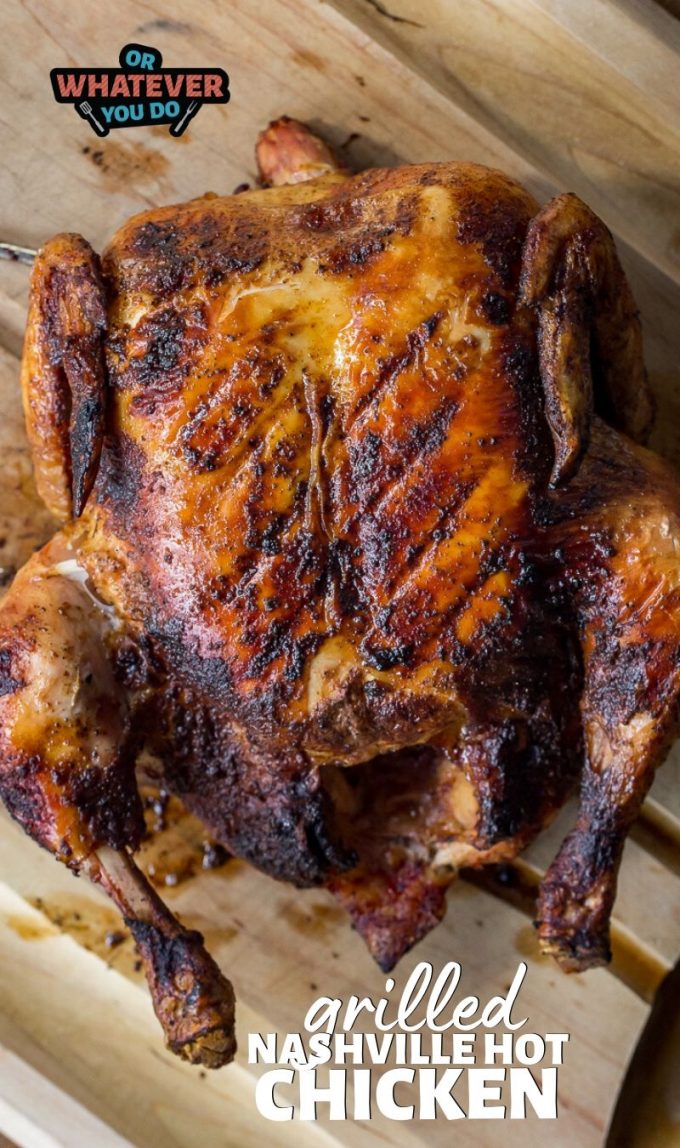 Traeger Grilled Nashville Hot Chicken
Nashville hot chicken is legendary for being extremely spicy. Oddly enough, the sweet and slightly bitter effect of smoking the chicken helps make the burn more durable. That might be because it tastes so good you can't help but risk another fiery spicy bite.
Spiceology has a winner with their Nashville Hot Chicken Spice Rub. It is hot, but you can control it easily with how much you put on the chicken and how long you let it marinate with the rub as well.
Or Whatever You Do participates in several different affiliate programs. As an Amazon Associate, we earn from qualifying purchases.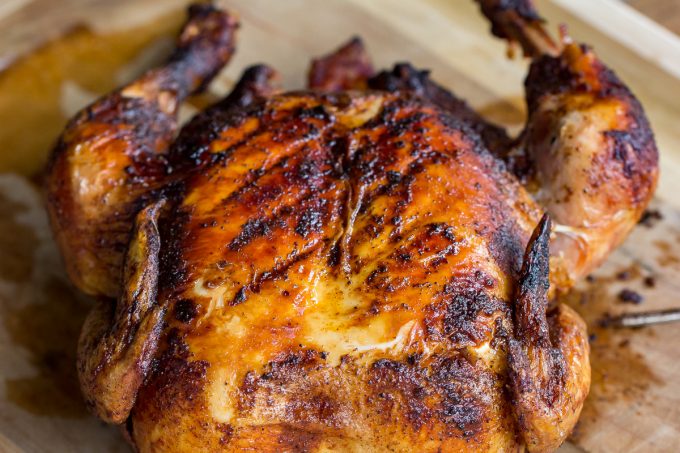 Spiceology Nashville Hot Chicken Rub
Spiceology does a variety of unique rub blends and I enjoy trying them out, especially on the Traeger. The Nashville Hot Chicken Rub combines a bit of sweet with a good dose of heat. The pepper heat comes from cayenne and black pepper, and there is some sweet as well as smoked paprika, onion, and garlic powder.
They keep it simple, but the key is in the proportions. Spiceology nails the balance of each. Sweet with heat, and a nice balance of savory in between.
Flavor-wise, the Spiceology Nashville rub covers a lot of bases. Of course, smoking the chicken on the grill will only improve upon things, but hats off to Spiceology for another great blend.
For a homemade Nashville Hot Chicken Rub, I highly suggest using this one from Carlsbad Cravings!
Make this Nashville Hot Chicken Mac and Cheese with this chicken!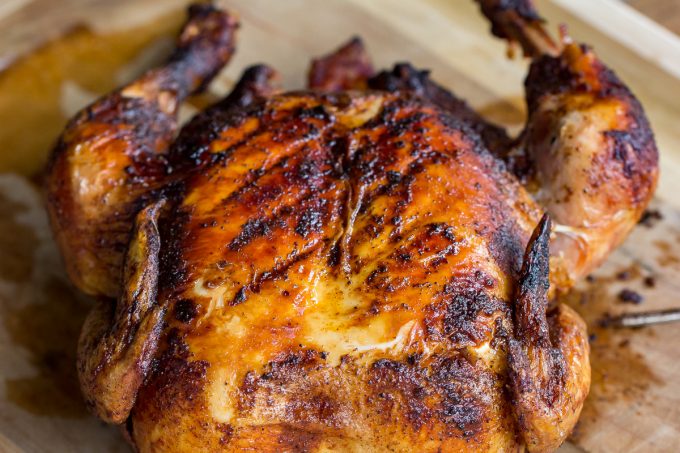 How Long Is Best To Let The Dry Rub Sit?
Many people are used to wet marinades, but dry rubs don't take nearly as long to work their magic. With a wet rub, a few hours or even overnight is preferred. Using dry rubs, you don't have to wait that long at all.
All you need for your Nashville Spice is about thirty minutes. That means you can spice up your meat generously, then start the coals.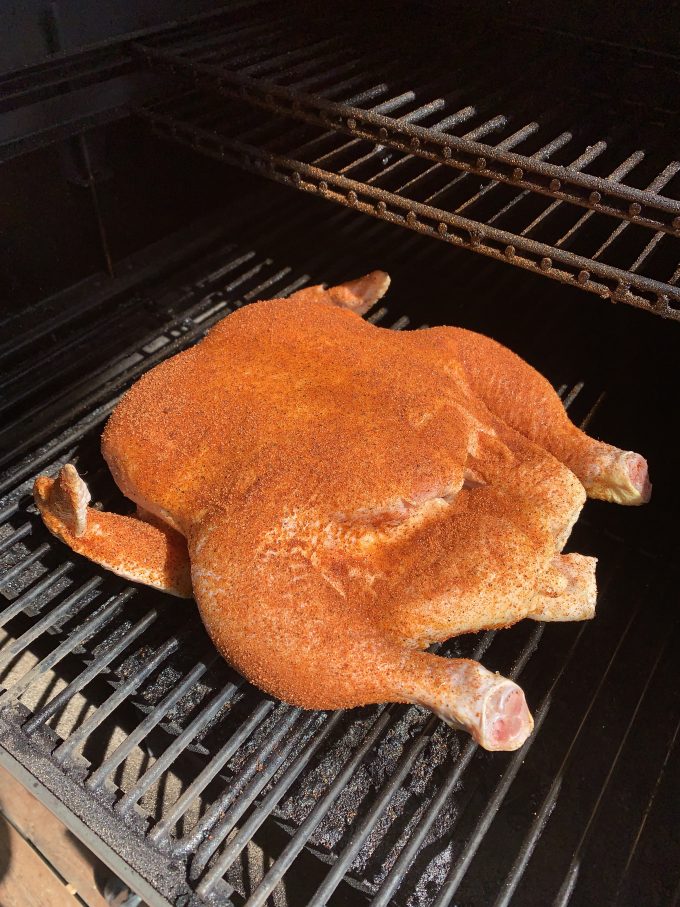 Why I Love My Pellet Grills
Ever since buying a Traeger, I have been very gung ho about smoking and grilling. A Traeger uses electricity and wood pellets to smoke and grill food. So, you never have to worry about "gas" flavors in the meat. The cooking temp stays very consistent, so smoking becomes much less complicated.
Most people just think about cooking on the smoker or grill when the weather gets warmer. I think about using mine all the time! It is just so convenient and the way food comes out of it never ceases to amaze me.
There are a lot of different brands of pellet grills. I, personally, use a Traeger, a Camp Chef, and a Louisiana Vertical Pellet Smoker.
Dry chicken is a thing of the past. Good riddance!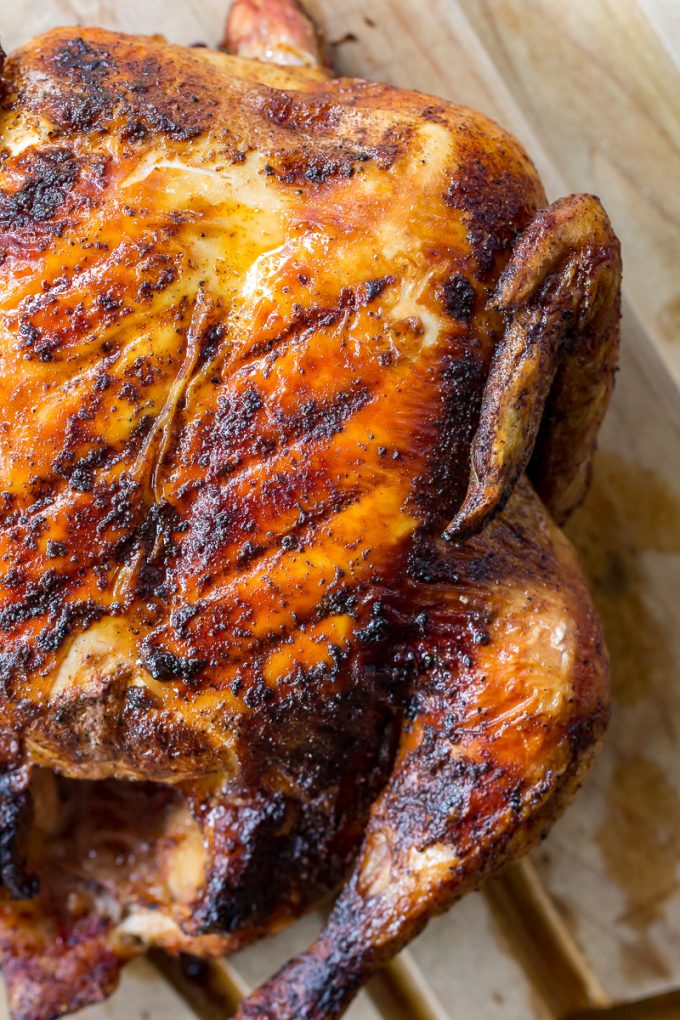 What Exactly Is "Nashville Hot Chicken"?
Nashville chicken refers to a type of very spicy fried chicken that became popular in Nashville. With Nashville chicken, a super spicy cayenne sauce is created by cooking cayenne pepper in hot oil, then basting the chicken in it.
It literally is volcanically hot.
With the Spiceology Nashville rub, you forego the hot oil basting, but the heat is still there. If you are not a fan of extra spicy anything then you probably want to go with the regular smoked chicken recipe I linked above.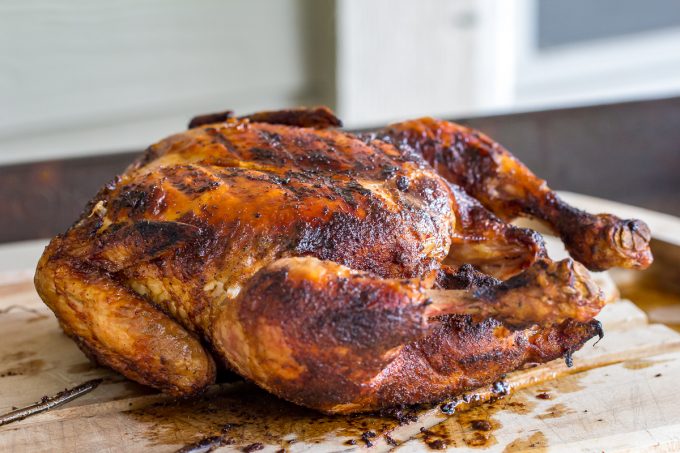 What Kind Of Side Dishes Work Best With Nashville Grilled Chicken?
Since you get all the heat from the Nashville style chicken, you probably want to balance it out with something that cools things down a bit and provides a bit of comfort. Don't worry, no one will question how tough you are about handling the heat. Maybe.
These are a few dishes I would recommend:
Cornbread Muffins – Not only do these cornbread muffins offer a bit of sweet, they also help soak up some of those hot oils that are turning your tongue into a lick of fire.
Coleslaw – Of course coleslaw works well too. The vinegar in coleslaw also helps cool things down and helps clean the hot oil out. There is a good reason this side is served with spicy foods the world over.
Traeger Baked Beans With Brisket – baked beans also add a bit of sweet to balance out the heat. This one is great because it is cooked on the Traeger too.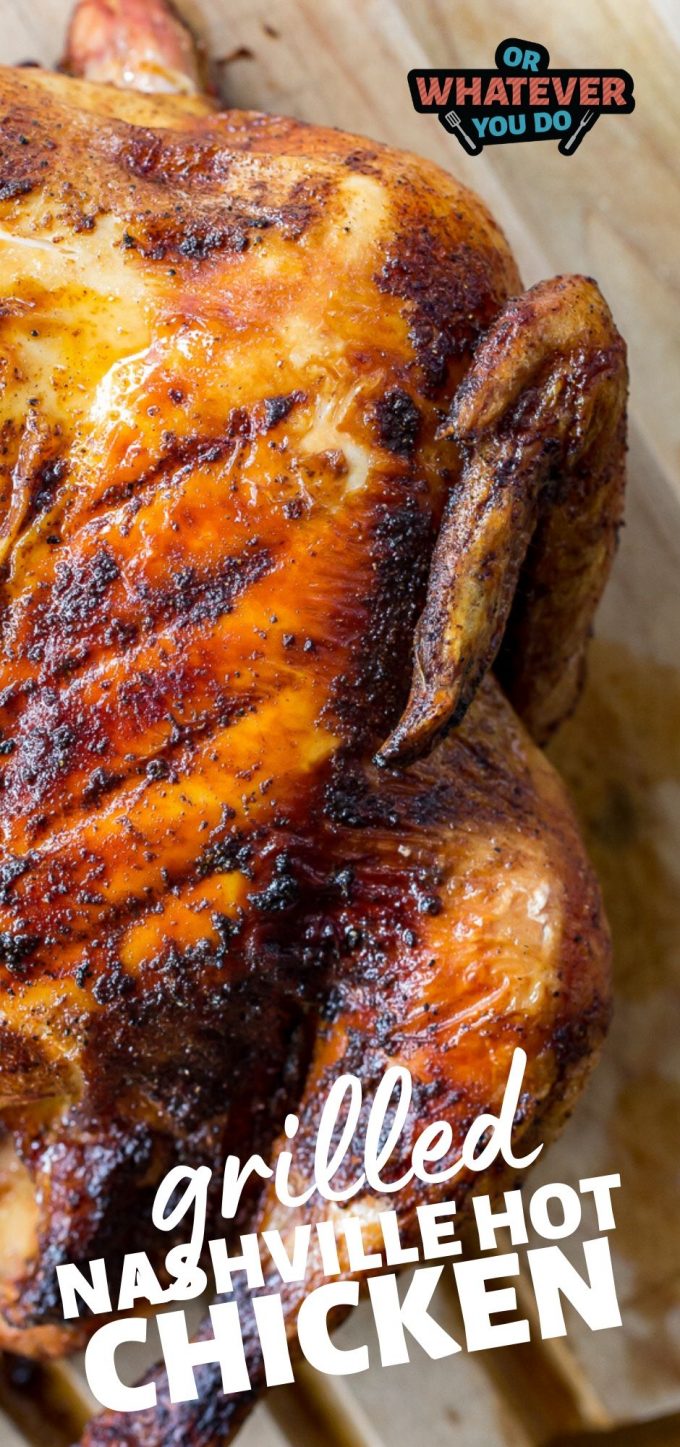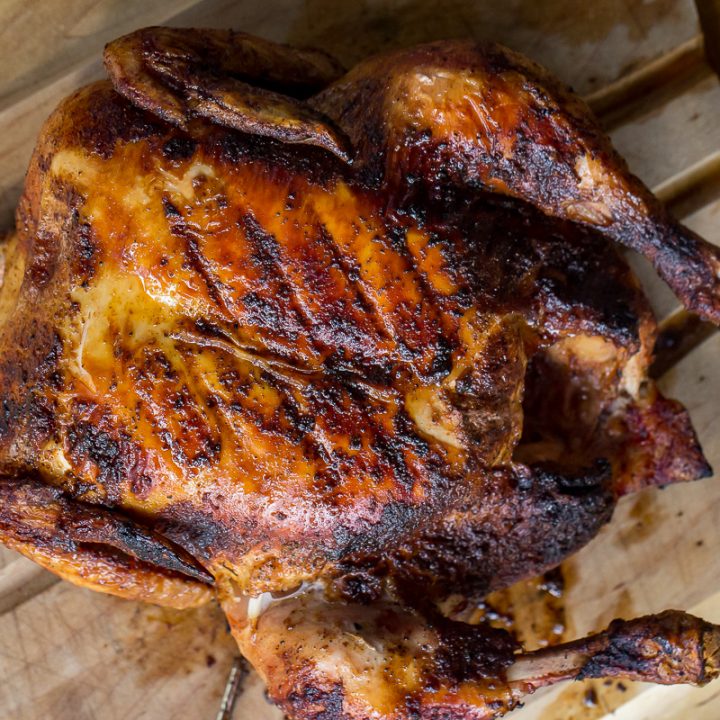 Traeger Grilled Nashville Hot Chicken
Cook Time:
1 hour
10 minutes
Total Time:
1 hour
20 minutes
A whole chicken is coated in Spiceology Nashville Hot Chicken Rub, and then gets the Traeger treatment to make one of the most flavorful grilled birds you'll ever have.
Ingredients
5 pound whole chicken
1/2 cup oil
1/2 cup Spiceology Nashville Hot Chicken Rub
Instructions
Preheat your grill on "smoke" for 4-5 minutes with the lid open. Set the temperature to high, and close the lid and preheat for an additional 10-15 minutes until it reaches 400-450 degrees.
Tie the legs together on your chicken with baker's twine. Rub the chicken with oil, and coat with the rub. Place your chicken onto the grill, breast side up.
Grill until the internal temperature is at least 165°. It is best to use a wireless thermometer for this.
Carefully remove the chicken from the grill and let rest for 15 minutes. Cut and serve!
Recommended Products
As an Amazon Associate and member of other affiliate programs, I earn from qualifying purchases.
Nutrition Information:
Yield:

6
Serving Size:

1
Amount Per Serving:
Calories:

935
Total Fat:

53g
Saturated Fat:

15g
Trans Fat:

0g
Unsaturated Fat:

33g
Cholesterol:

346mg
Sodium:

320mg
Carbohydrates:

0g
Fiber:

0g
Sugar:

0g
Protein:

107g
Nutrition data provided here is only an estimate. If you are tracking these things for medical purposes please consult an outside, trusted source. Thanks!