We have a few holiday traditions at our house that we NEVER skip, and Traeger Spinach Artichoke Dip is one of them. But guess what? You can make this rich, creamy appetizer any time of the year! And you absolutely should. I had never grilled my spinach artichoke dip before, but it is SO GOOD and super easy! This is a family favorite for us, and I know you'll love it too!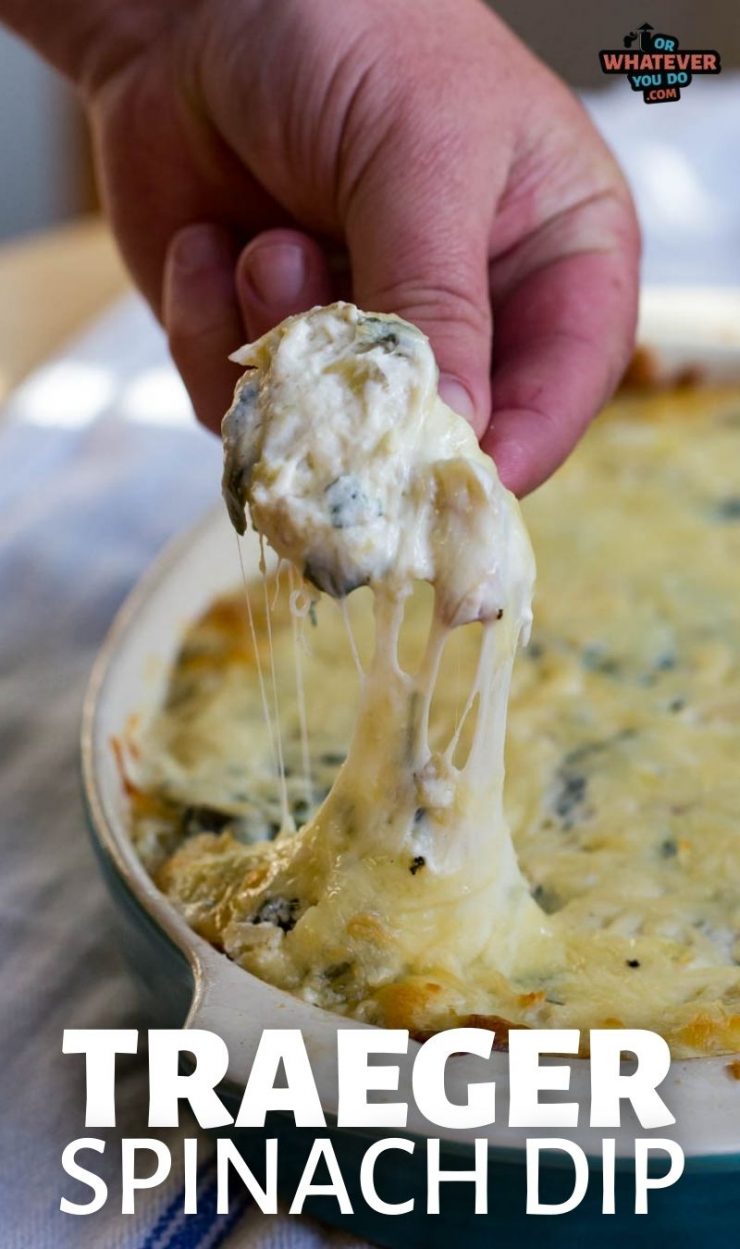 Traeger Spinach Artichoke Dip
My Grilled Spinach Artichoke Dip has marinated artichoke hearts, a whole bag of baby spinach sauteed with garlic and butter, and then mixed together with cream cheese, sour cream, mayo, and copious amounts of cheese that includes mozzarella, swiss, and parmesan.
You get a dip that's savory and flavorful that you'll want to make (and eat!) again and again. Serve it up with some tortilla chips, or try it with my Simple Dinner Rolls for a something really special!
This dip is even great served cold, and would be a wonderful layer in a sandwich, or mixed into some scrambled eggs.
More Easy Traeger Recipes here!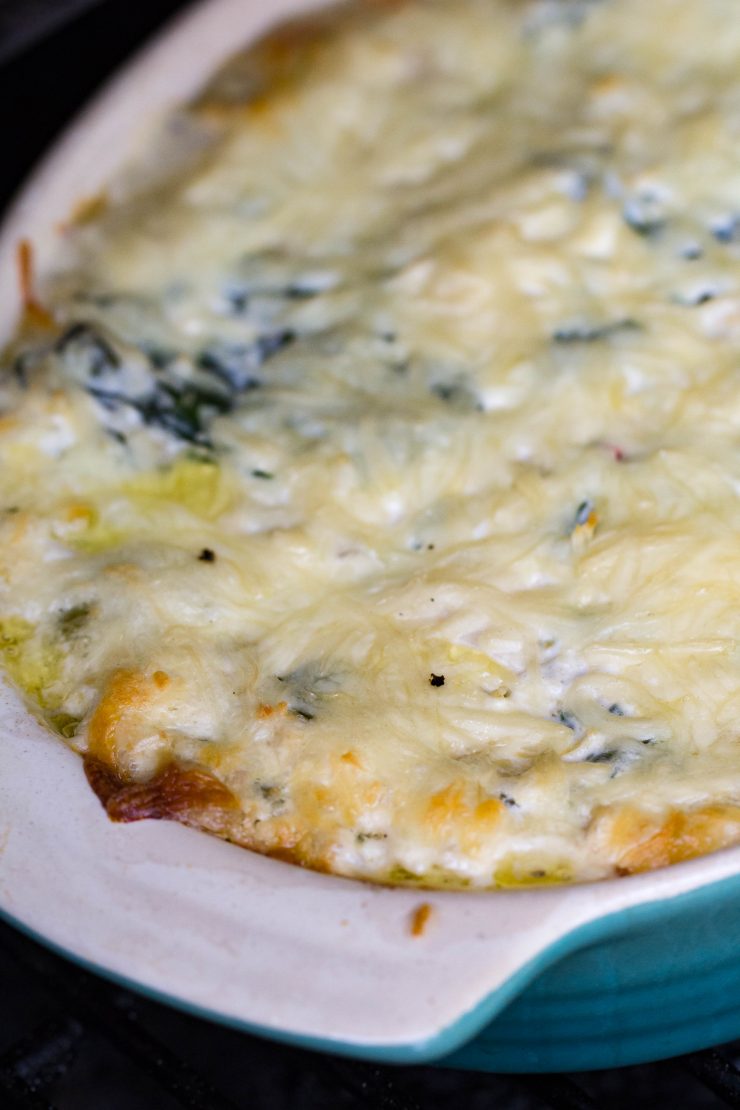 Should I grill or bake my dip?
This recipe will definitely still work if you don't have a Traeger grill but it's just not the same as grilled. Grilling adds a little browning and texture that you just won't get otherwise, and just a touch of wood-fired flavor if you use your Traeger wood-pellet grill.
If you need to get it ready ahead of time, you can make it in a slow cooker. Using a slow cooker also means you can conveniently set it out during a party for people to graze on and it will stay toasty warm!
Follow me on Instagram!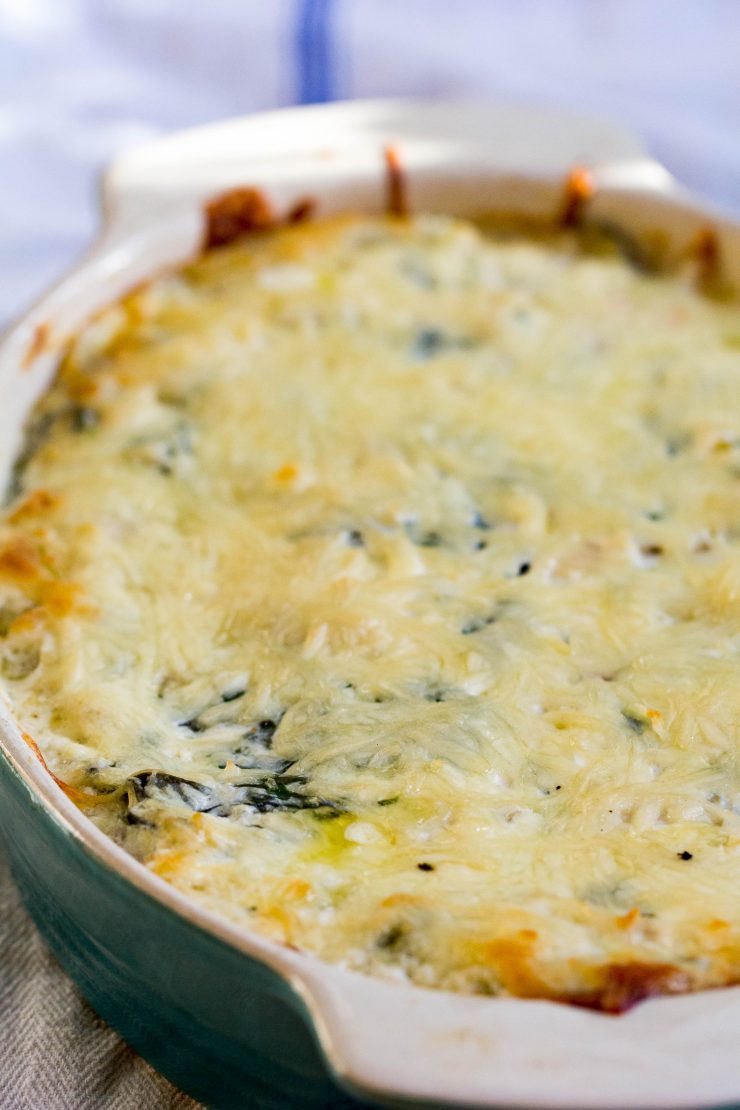 All about spinach
When shopping for fresh spinach look for dark green, hardy leaves that aren't too big. If you buy organic, it will typically come pre-washed and packaged. If you choose standard spinach it's usually sold by the bunch unwashed.
Washing spinach is crazy easy. I would recommend washing it even if it's labeled "pre-washed" just in case. Spinach grows best in very sandy soil, so sand tends to get mixed in with the leaves. Not a problem, and totally normal! We'll just rinse it well, no worries!
Untie your bundle of spinach
Submerge in a bowl of water and swish the leaves gently
Remove from water and drain in a colander
Check for sand
Repeat as necessary using fresh water every time
Pat dry gently
Join our Easy Traeger Recipes Facebook Group!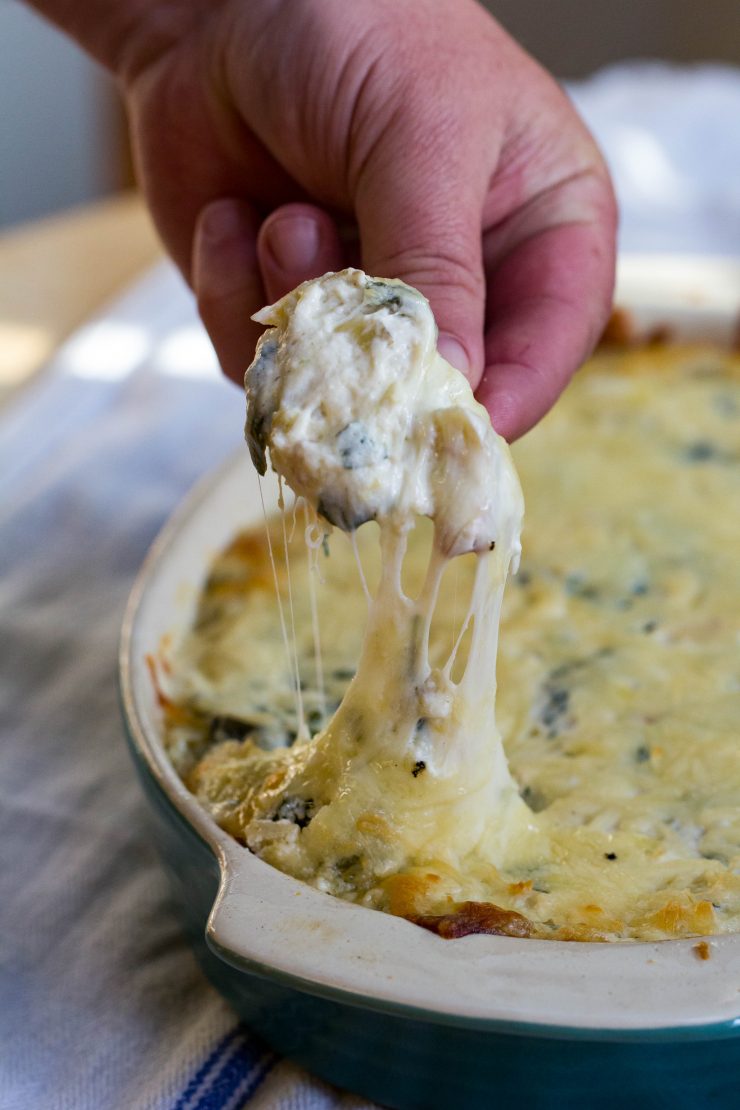 Expect to rinse your spinach at least twice, especially if your spinach came in a loose bundle!
After your spinach is clean and dry, you'll probably want to remove the stems. You don't need to bother with baby spinach since the stems are so soft anyway.
Spinach stems are totally edible, but as the leaves get bigger the stems get tough and stringy. Just break them off by hand or use a sharp knife to cut them off.
You can use frozen spinach instead of fresh, but make sure to thaw it well, drain it, and pat it dry. Frozen spinach has a lot of extra water in it!
If you love spinach as much as I do (and have some extra to use up) bookmark my Italian Meatballs With Creamed Spinach for another day this week!
Get more awesome Appetizer Recipes!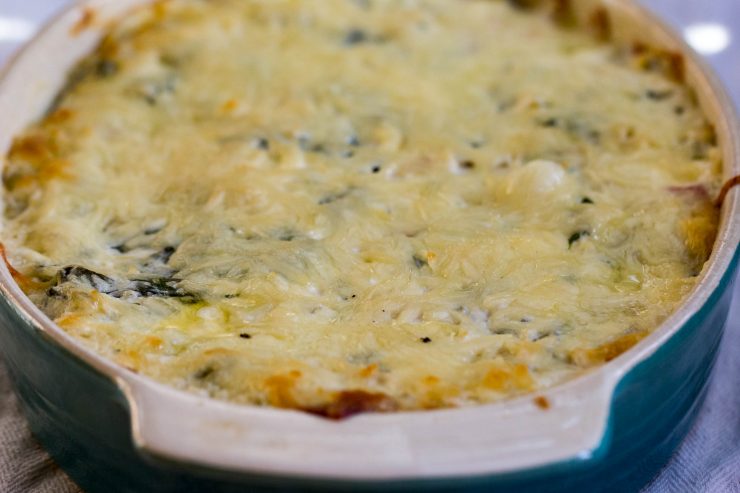 Can I use marinated artichokes in this?
Yes! Absolutely. I actually encourage it.
If you've never cooked with artichokes before, you are in for a delicious surprise. Marinated artichokes are actually artichoke hearts, the compact core of the artichoke.
Artichokes are a species of edible thistle, and the artichoke itself is the bud of the plant before it begins to flower! (After it flowers it becomes tough and inedible). In the US, we usually get globe artichokes, which are also sometimes called French artichokes.
Every variety of marinated artichoke is going to be a little different of course, but in general, you can expect a pretty mellow, earthy, rich flavor. You can experiment to find your favorite variety.
I love using marinated artichoke hearts as opposed to canned artichokes because you do get a slightly more complex mix of flavors. You can mix canned and marinated together if you'd like for a little variety.
Check out our OWYD shop!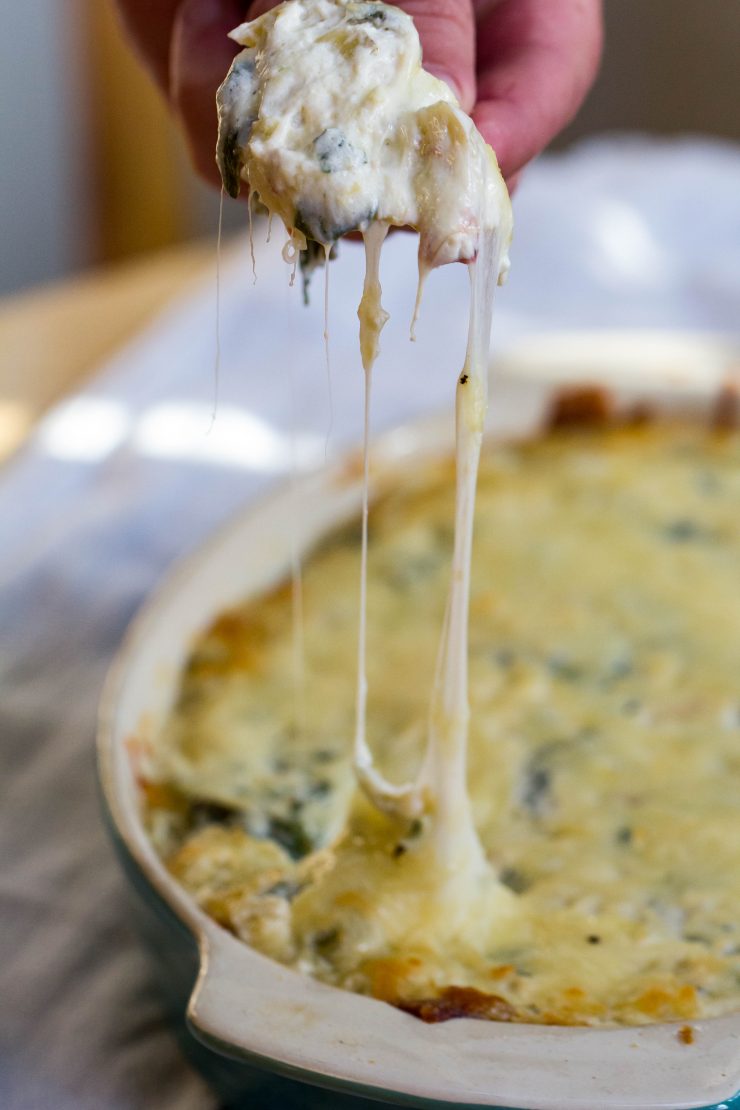 More great appetizers to love!
Grilled Spinach Artichoke dip is a perfect appetizer for parties. Need a few ideas to round out your party menu? Now that you have a great grilled appetizer, here are a few recipes to try out for your entree!
And don't forget dessert! My Dessert Recipe Collection is perfect and will give you all of the ideas!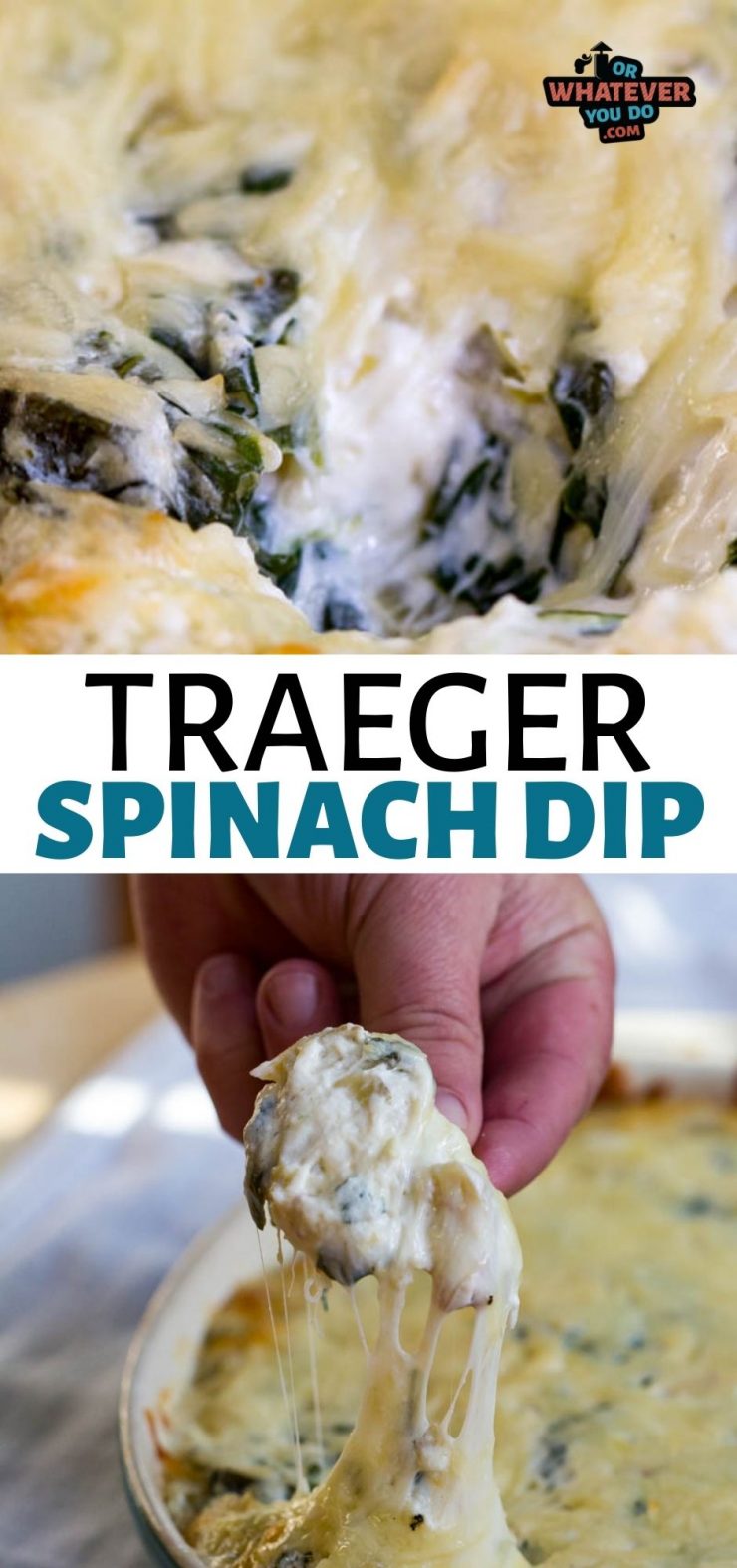 Yield: 12 servings
Traeger Wood-Fired Spinach Artichoke Dip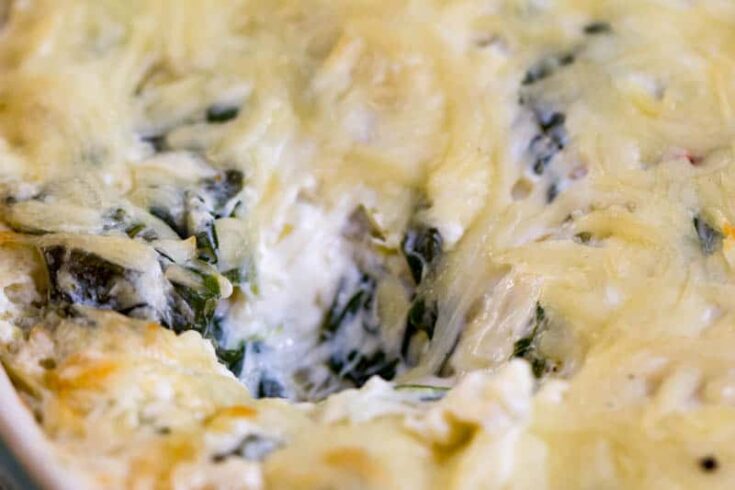 This cheesy homemade Traeger Spinach Artichoke Dip is full of amazing cheeses, artichoke hearts, and sauteed spinach. The dip base is cream cheese, sour cream, and mayo.
Ingredients
2 teaspoons butter
6 ounce bag baby spinach
1 teaspoon minced garlic
1 cup mayo
8 ounce block cream cheese, softened
1 cup sour cream
1/2 teaspoon salt
1/4 teaspoon freshly ground black pepper
2 cups chopped and drained artichoke hearts, marinated or canned or a combination
2 cups shredded mozzarella
1 cup shredded parmesan
Instructions
Take the butter and melt it over medium-high heat in a large non-stick skillet. Add in the garlic and saute for about 10 seconds before tossing in the bag of baby spinach. Stir continuously for 1-2 minutes, or until the spinach is wilted.
Combine the mayo, cream cheese, and sour cream in a bowl with the salt and pepper, and stir until combined.
Chop the artichoke hearts roughly, and mix them along with the sauted spinach into the cream cheese/mayo mixture.
Stir in the cheeses, reserving 1/2 cup of mozzarella and 1/2 cup of parmesan for the top, and place into a baking dish that is grill-safe and has been liberally sprayed with cooking spray.
Sprinkle the rest of the cheese on top, and place into a pre-heated 325° wood-pellet grill, such as a Traeger.
Bake with the lid closed for 20-25 minutes, or until the cheeses are melted and the dish is hot and bubbly.
Serve hot with sliced baguettes, tortilla chips, or your favorite crackers.
Recommended Products
As an Amazon Associate and member of other affiliate programs, I earn from qualifying purchases.
Nutrition Information:
Yield:
12
Serving Size:
1
Amount Per Serving:
Calories:

338
Total Fat:

31g
Saturated Fat:

11g
Trans Fat:

0g
Unsaturated Fat:

18g
Cholesterol:

54mg
Sodium:

720mg
Carbohydrates:

6g
Fiber:

1g
Sugar:

2g
Protein:

9g