This Smoked Salmon with Scrambled Eggs is an easy, crowd-pleasing, egg recipe for a brunch. Great for Easter Brunch, Mother's day breakfast, Father's day breakfast, or really any breakfast that you want something just a little bit better.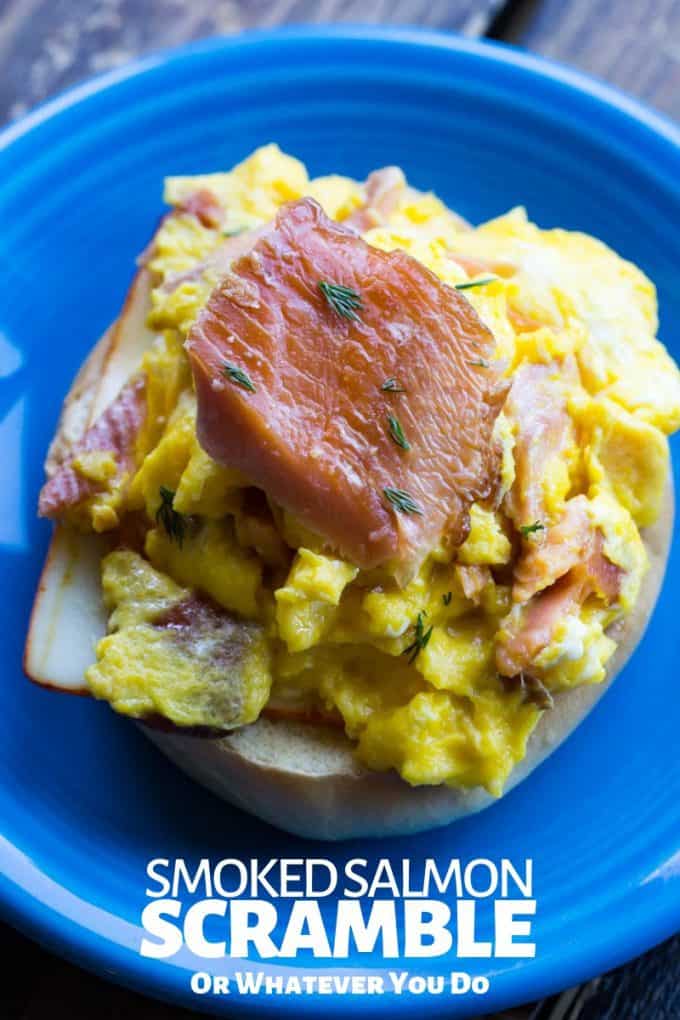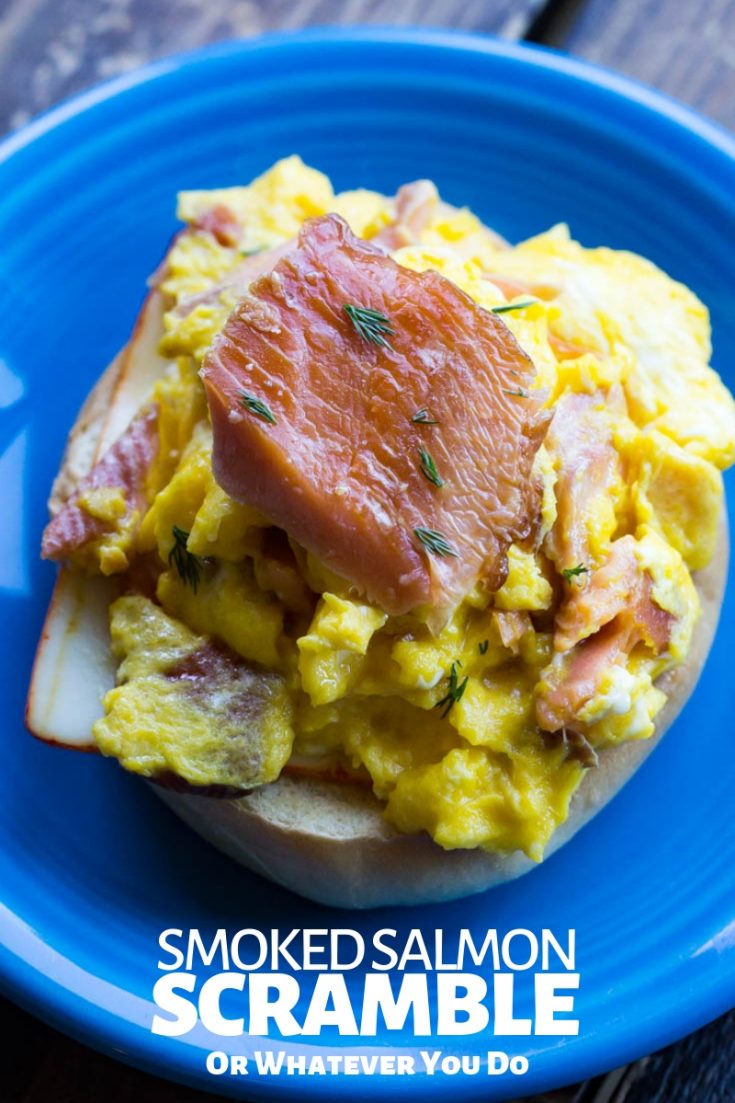 Smoked Salmon with Scrambled E
ggs
This Smoked Salmon with Scrambled Eggs recipe has something for everyone. A hearty and filling breakfast scramble, it is also ultra-simple too.
What do you need to make smoked salmon scrambled eggs?
Farm eggs! Just do it.
Fresh hot-smoked salmon
Copious amounts of cheese
Milk, cream, or half-and-half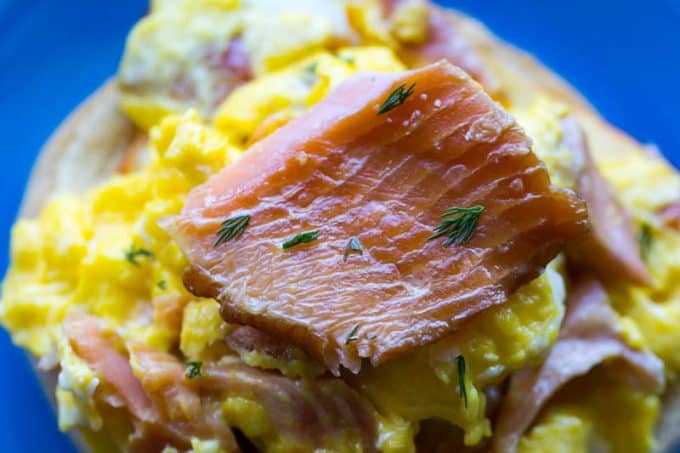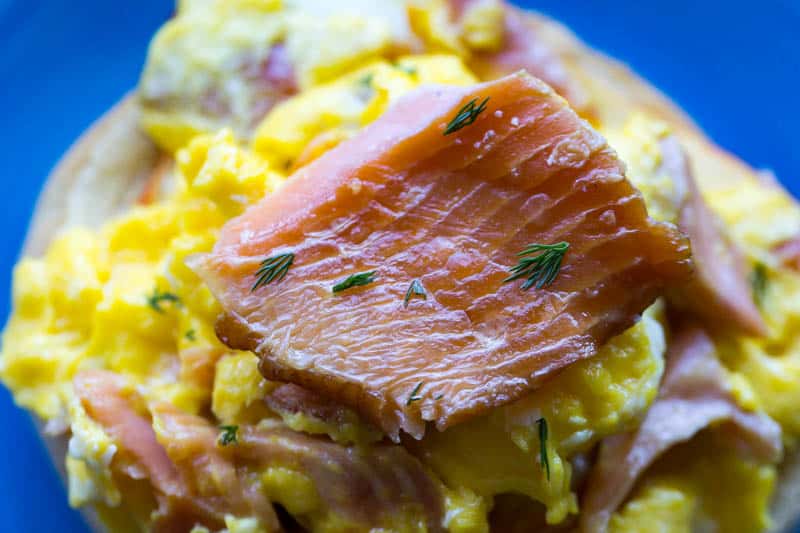 Do farm eggs taste better than store-bought eggs?
YES.
I used to think it was all a bunch of bologna, but then we moved to a house that already had chickens and I actually got to taste how great eggs can taste when they are laid by chickens who spend their days hunting bugs and scratching the grass (and harassing the neighbors when they get out of the pen), I was all in.
Eggs fresh from the farm have a deeper, golden-colored yolk, and a richer taste. Store-bought eggs have a medium yellow-colored yolk with a more mild flavor.
Join our Easy Traeger Recipes Facebook group!
The shell from a farm-fresh egg is thicker than that of a store-bought egg as well, you'll notice that they are more difficult to crack. Chickens on a smaller farm will typically be fed a higher quality feed than those raised for mass egg production.
If you don't have access to farm fresh eggs, grocery store eggs will work and this Smoked Salmon with Scrambled Eggs will still be a delicious crowd-pleaser.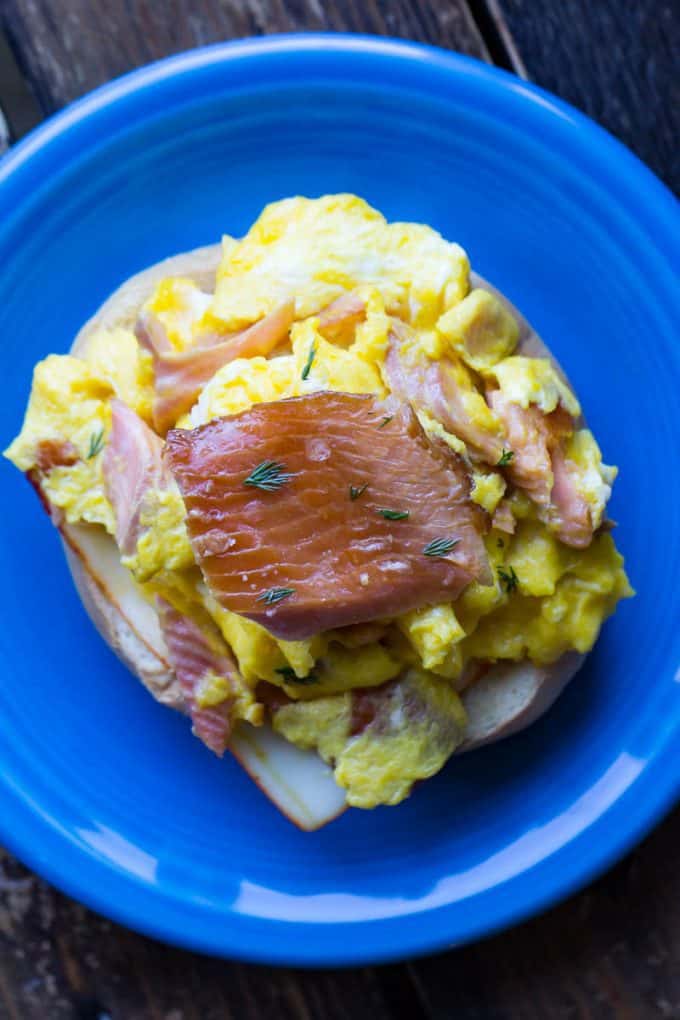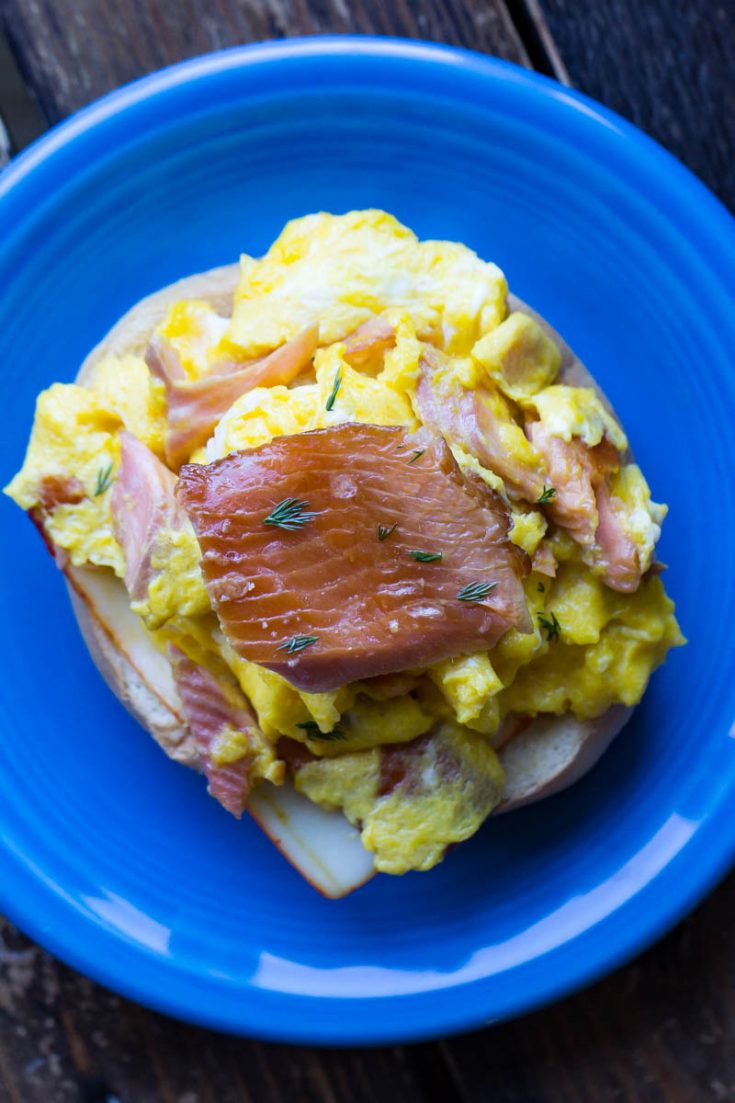 How to make fluffy scrambed eggs
You make your scrambled eggs fluffy by whipping them, a lot. You can whip them by hand, or even with an immersion blender. I bought one on Amazon at a reasonable price and love it!
Another important thing is to make sure that you are cooking it slowly. The faster you cook the eggs the less fluff you are going to get.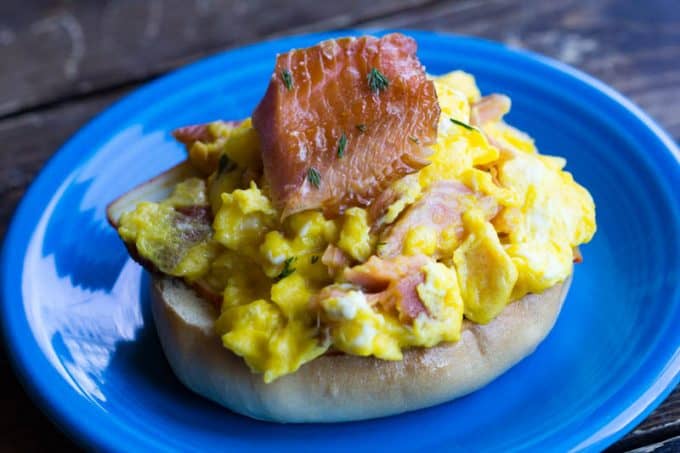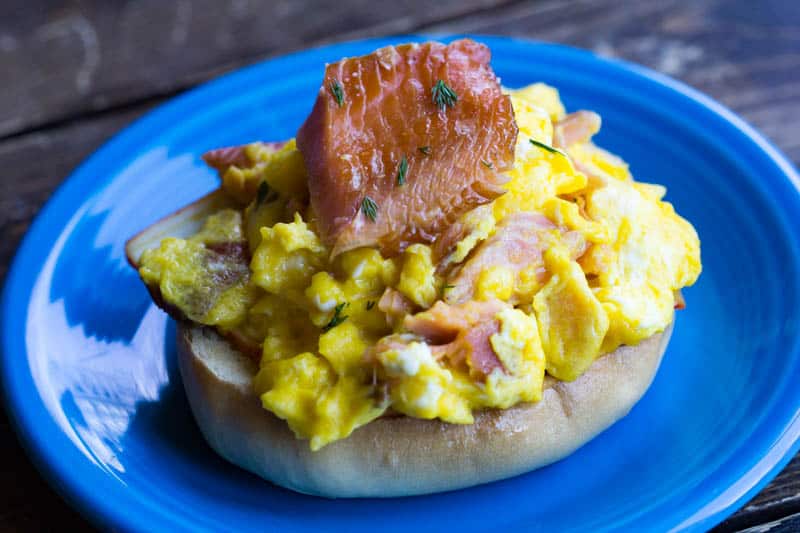 Should I use water, milk, cream, or mayo for fluffy scrambled eggs?
Well, the jury is out on this. In my opinion, real cream is the best. In this recipe, you will also add a little sour cream. I have tried many variations, and I always go back to this one. 1 tablespoon of liquid per egg is a really good benchmark to ensure that they have the proper ratios.
Some people like to add milk as the mix-in for scrambled eggs. If you don't have any cream you can definitely substitute milk. Whole or 2% are the best kinds to use for this.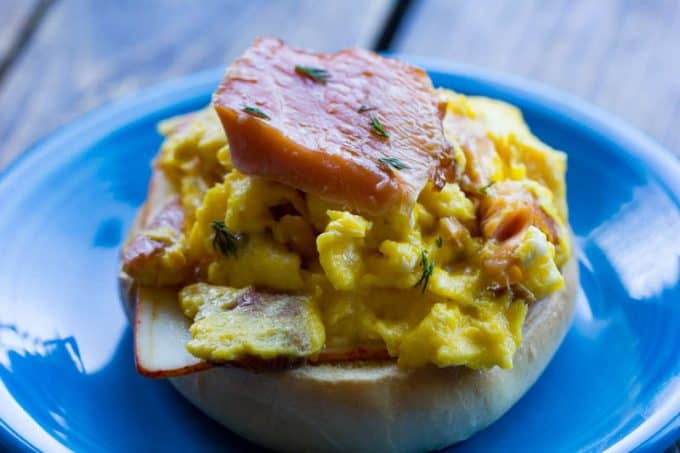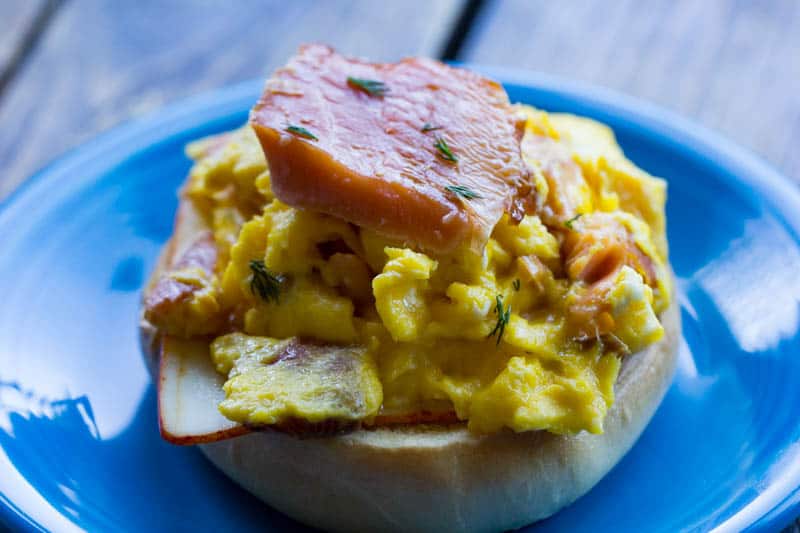 Mayo or salad dressing can also be used. It will be a little sweeter with salad dressing and a little saltier, according to Buzz Feed. Alton Brown (author of Everyday Cook) adds a dollop of mayo to his scrambled eggs.
You can also add sour cream. Stay away from the reduced-fat versions, and be prepared to whip it good. Using sour cream lends a bit of tang to the end result that I really appreciate.
Water is also an option, and some people swear by it because it doesn't actually add any more flavor to the eggs, but this tends to make them thin and well, watery, in my opinion.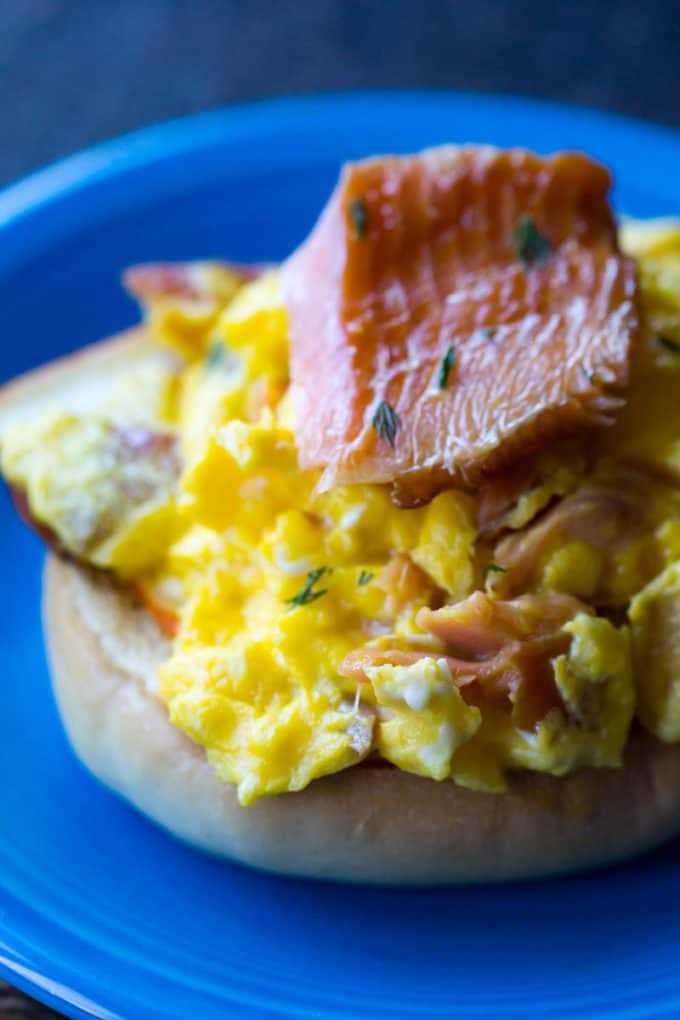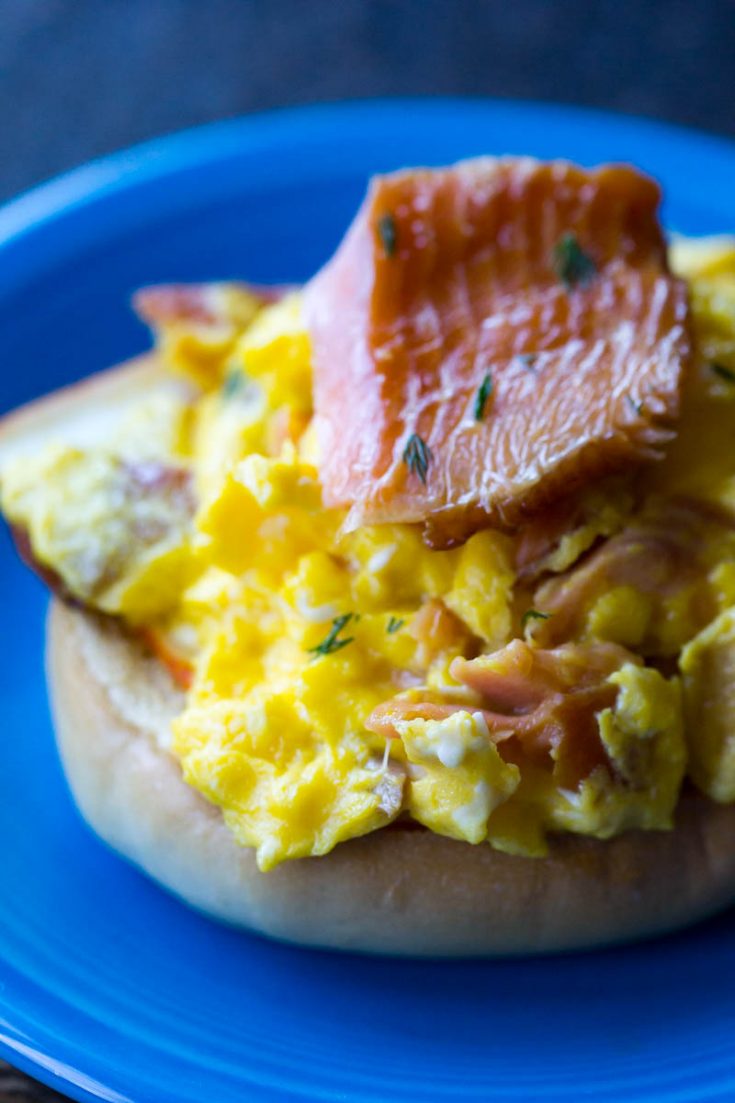 What are some common mistakes when making scrambled eggs?
You have your heat up too high.
Keep your stove on medium-low heat and stir frequently. Use a rubber scraper, go slow, and be patient!
Overcooking
Cooking your eggs for too long will make them hard. Your pan and the eggs hold heat and the eggs continue to cook after removed from the heat, so I would suggest removing them from the pan as soon as they are done.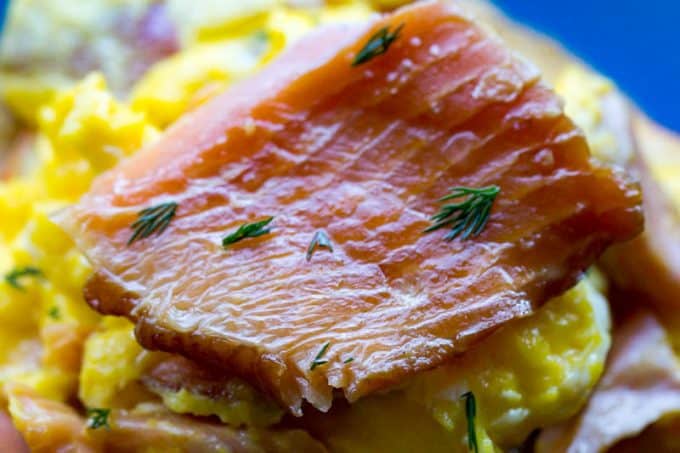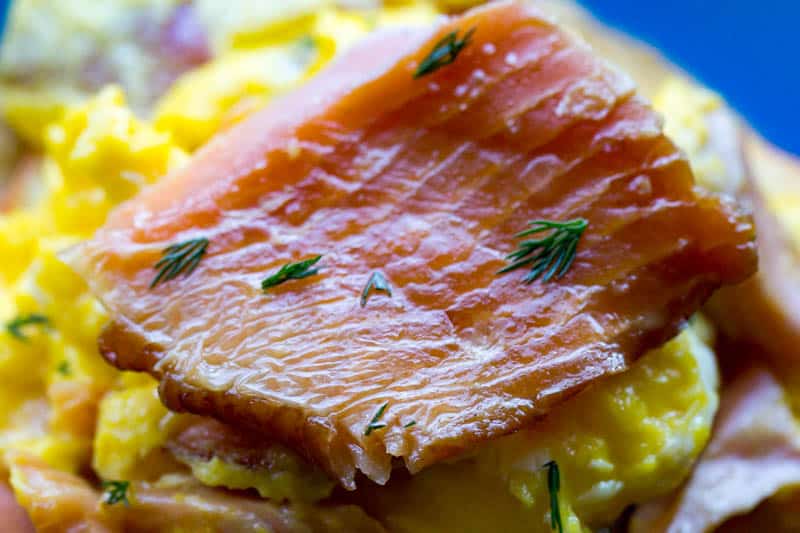 What else should I serve with my smoked salmon scramble?
If you are making this for a brunch it would pair perfectly with this Perfect Grilled Asparagus. I might add a bearnaise sauce to my asparagus, but a sauce is not necessary. It is perfect just as is.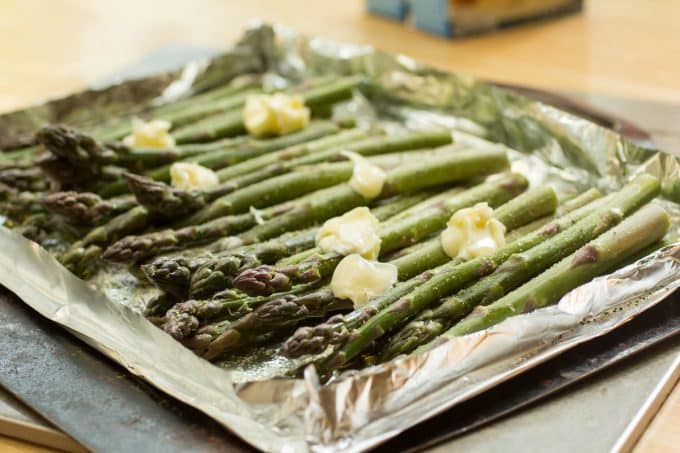 You can also serve this breakfast with seasonal fruit. Some ideas are strawberries, blackberries, blueberries, raspberries, cantaloupe, watermelon, bananas, kiwi, orange slices, grapefruit, and I could go on, just pick your favorites.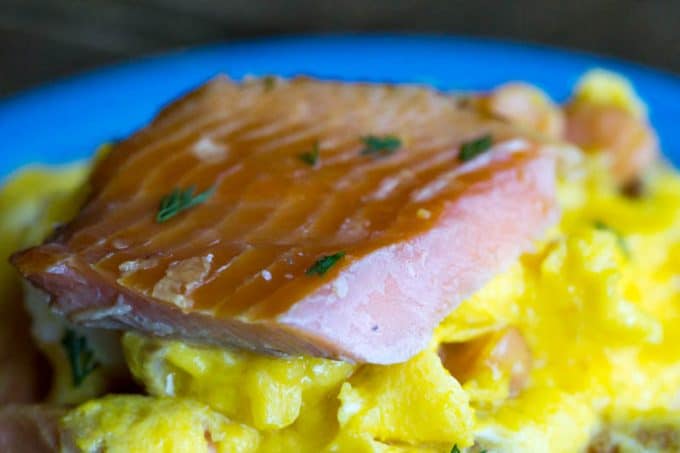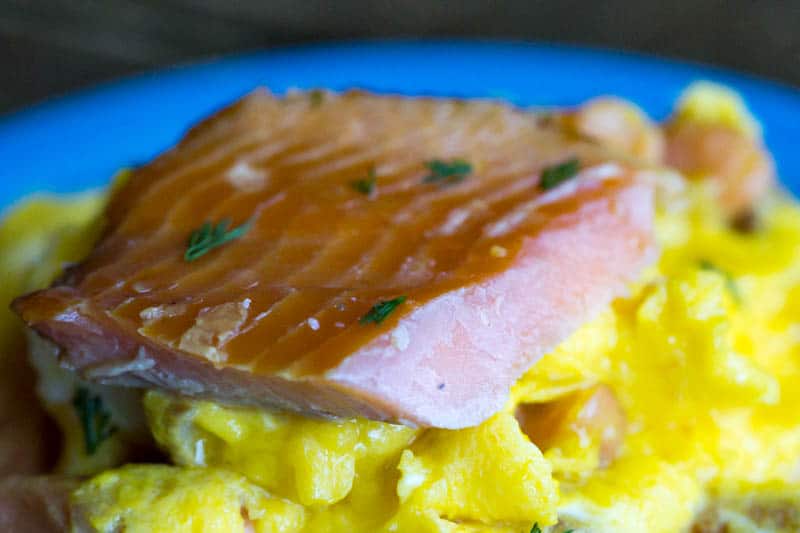 Can I substitute something else for the smoked salmon?
Traeger Bacon


No explanation needed here, bacon is good with ANYTHING!
Steak
Leftover grilled steak would be great as a substitute for the smoked salmon!

Sausage

– recipe coming soon!
I like any breakfast sausage, I like to use a breakfast sausage in a roll (not pre-cooked), such as a mild Jimmy Dean that I can fry and crumble.

Ham


Ham would be good especially if you are making one for a holiday and have leftovers.
Check out all of my Traeger Recipes here!
What other stir-ins could I use?
Assorted veggies like green, orange, yellow, or red peppers, onion, mushroom, and finely chopped broccoli would be great options. Traeger Smoked Caramelized Onions are also a really fun thing to keep around to stir into things when you get the whim.
Always cheese! More cheese is always a good decision.
I like a smoked Gouda, maybe some provolone, mozzarella, your standards like sharp cheddar, even American if that's your preferred flavor, or really you could use whatever cheese you have on hand.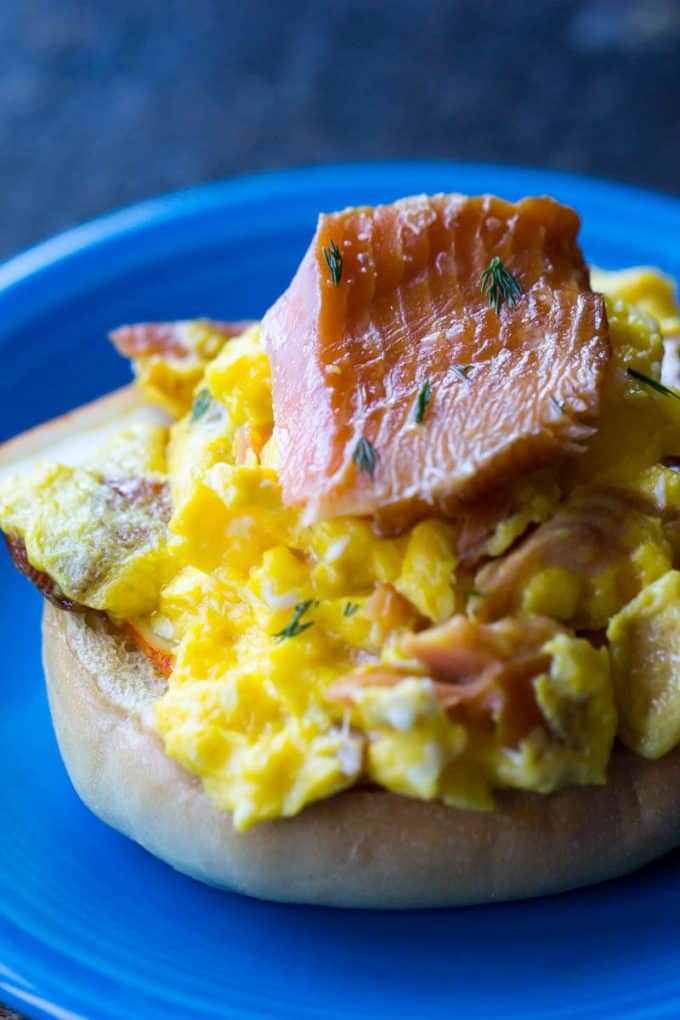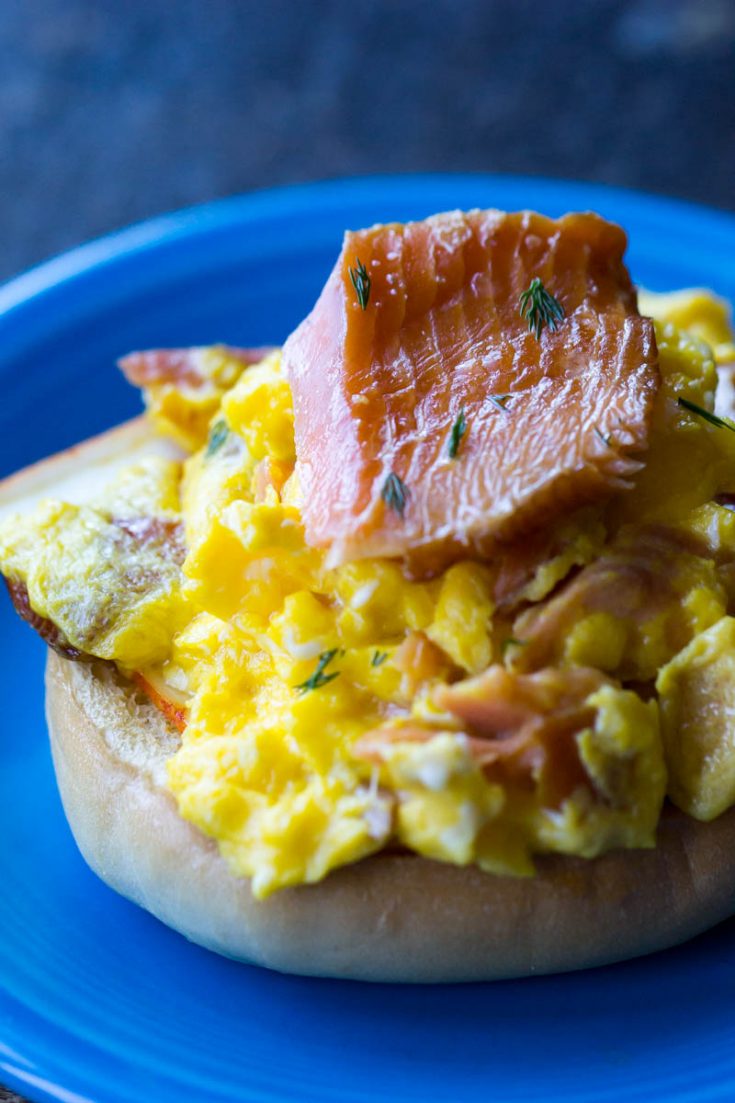 What else can I make with salmon?
If you like this Smoked Salmon with Scrambled Eggs I think you'll also love these salmon recipes.
Another must-try brunch recipe is this Traeger Grilled Bacon Asparagus Frittata.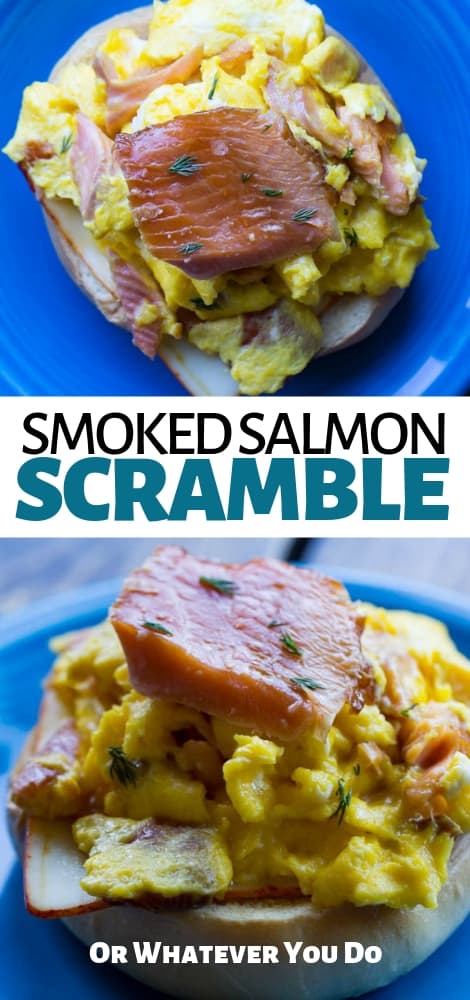 Yield: 4 servings
Smoked Salmon Scramble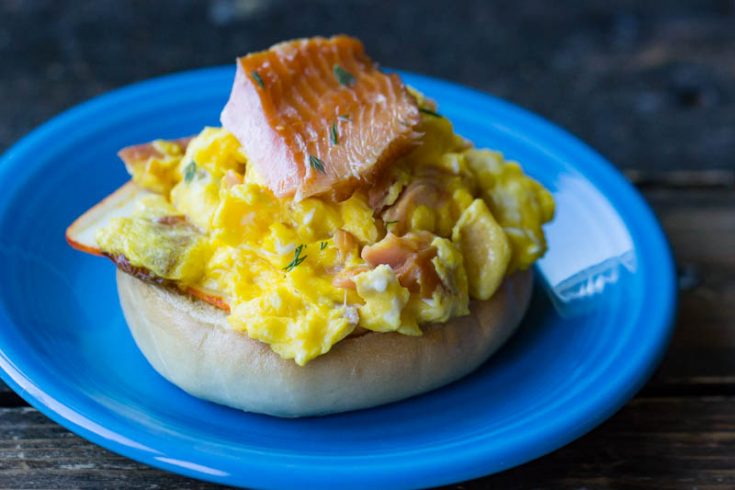 My smoked salmon scramble is rich and fluffy scrambled eggs mixed in with hot smoked salmon and all the cheese. You're going to love this on a toasted bagel or an English muffin!
Ingredients
6 large eggs, farm fresh if you can
1/8 cup half and half (or whole milk)
1/4 teaspoon salt
dash white pepper
1 tablespoon salted butter
1 cup shredded muenster or sharp cheddar
8 ounces hot smoked salmon
Instructions
Crack the eggs into a large bowl and add the half-and-half, salt, and white pepper.
Whisk vigorously for 2-3 minutes.
In a non-stick skillet, melt the butter over medium-low heat.
Pour in the eggs and cook over medium-low heat until they are starting to solidify, stirring frequently and scraping the bottom with a rubber scraper.
Add in the chunked smoked salmon and your shredded cheese, and cook until the eggs are soft but not runny, and the cheese is melted. Cover the pan with a lid and remove from the heat if the eggs finish before the cheese is melted.
Pile the eggs on top of a toasted bagel or English muffin. Serve hot.
Nutrition Information:
Yield:
4
Serving Size:
1
Amount Per Serving:
Calories:

283
Total Fat:

22g
Saturated Fat:

12g
Trans Fat:

0g
Unsaturated Fat:

9g
Cholesterol:

326mg
Sodium:

503mg
Carbohydrates:

1g
Fiber:

0g
Sugar:

1g
Protein:

19g