This Smoked Garlic Goat Cheese recipe is an appetizer fit for any table, and is drizzled with chimichurri and served with big slices of fresh bread. Fancy enough for even a holiday table or dinner party, this recipe was inspired by the Herb Goat Cheese with Roasted Garlic appetizer at the Greenhouse Restaurant in Gig Harbor, WA.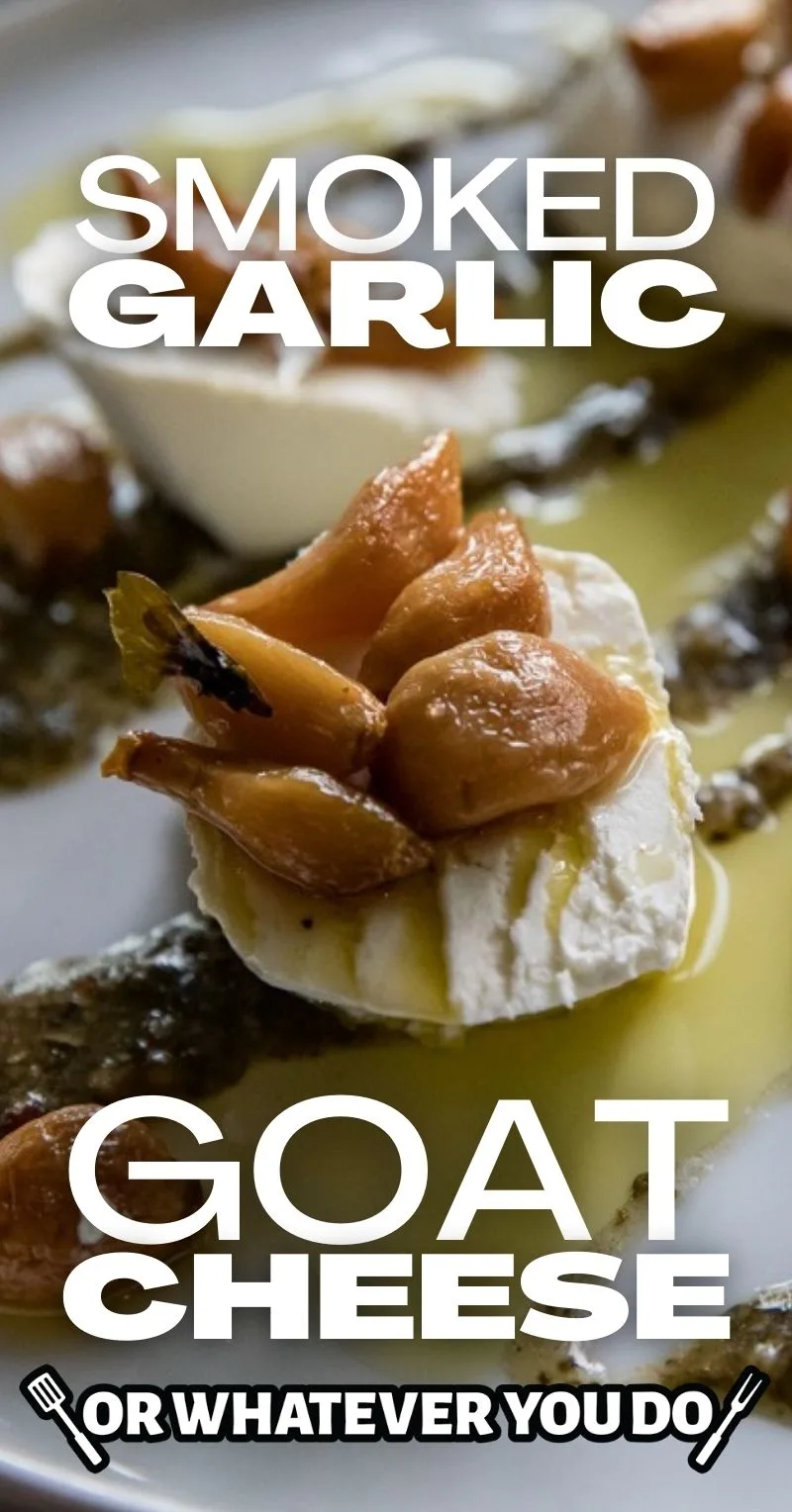 Smoked Garlic Goat Cheese
I came to love goat cheese way too late in life. I'm talking like 36. The first time I tried goat cheese and actually liked it was at a restaurant in Kansas City called Rye. They served this whipped goat cheese there drizzled with honey and topped with herbs, and even though I thought that I wouldn't like it because EWWW GOAT CHEESE, I didn't want to look like a big picky baby in front of a table of food bloggers so I tried a piece, and my whole world changed.
I came home from that trip and immediately made a version of my own with this Honey Blueberry Whipped Goat Cheese, then I followed it up with a holiday version with our Whipped Cranberry Goat Cheese, and it was over for me.
Almost anytime I see goat cheese on a menu, I'm ordering it.
If you're still on the "I don't know about goat cheese" bus, one of those whipped versions that I linked above. It is a good entry-level goal cheese.
This one is not for rookies, though I suspect it would win over someone who has just dabbled in the goodness of goat cheese but isn't opposed to it.
For goat cheese fans? You may have just found a new favorite.
Get all of my Easy Traeger Recipes here!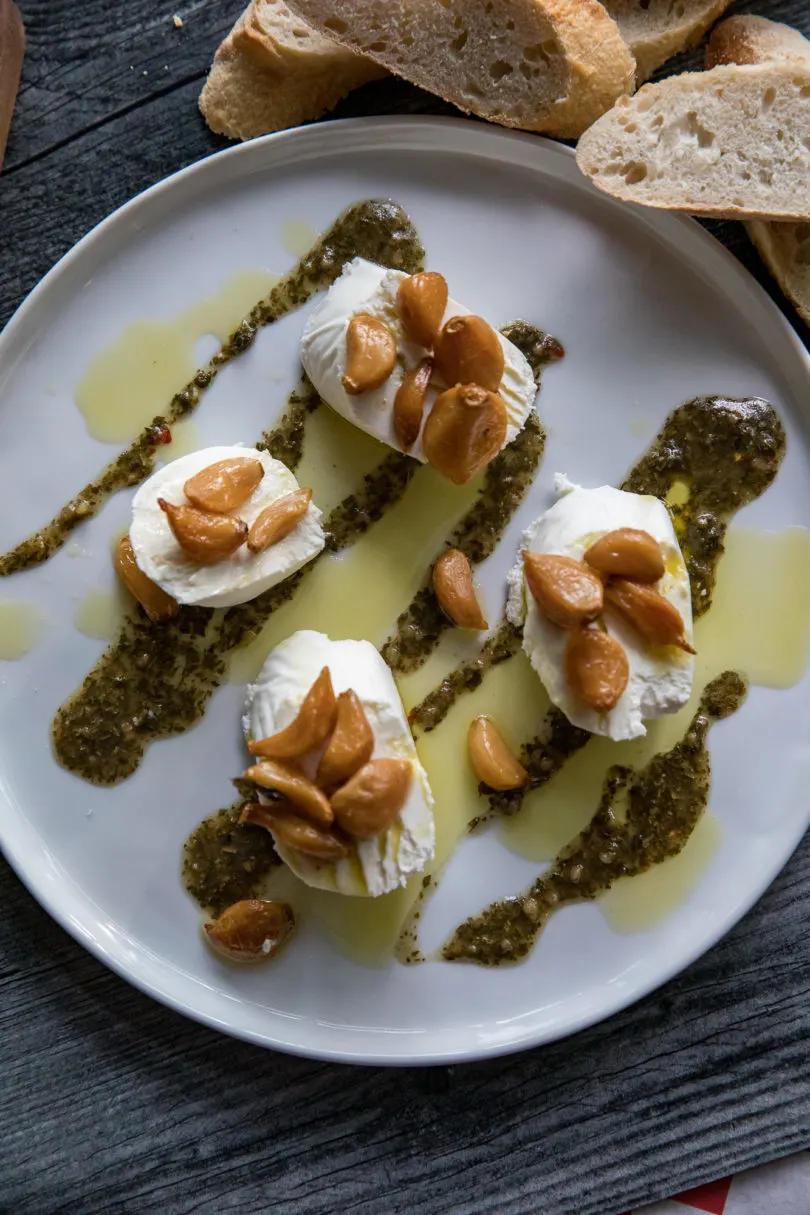 Smoked Garlic Goat Cheese shopping list
Wondering if you have to hit the store? Here's the list of items you'll need to make this recipe. For specific amounts, please refer to the printable recipe card at the bottom of the post.
Get more awesome Appetizer Recipes!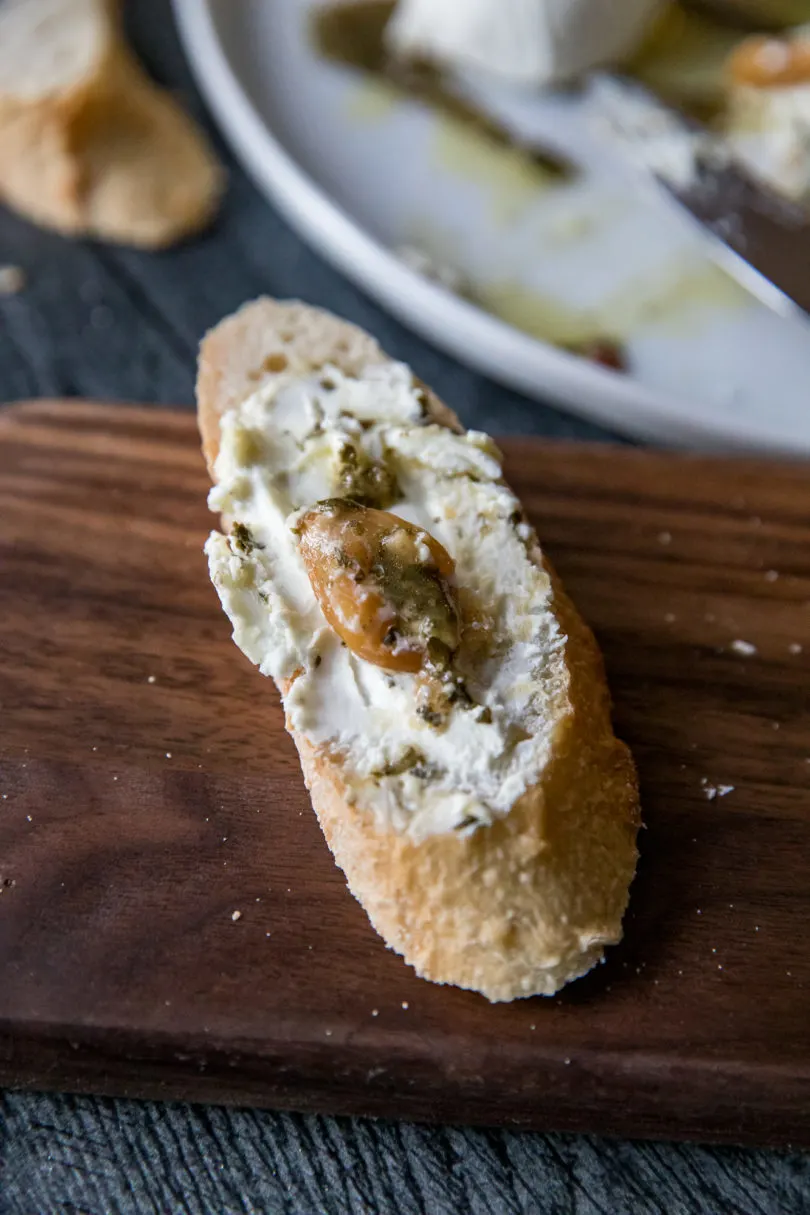 How to make Smoked Garlic Goat Cheese
This is just the overview so you can see what you're actually getting into here. When you are cooking, you'll want to use the full recipe at the bottom of the page.
Cut the cheese
Into larger rounds, or whatever you'd like to do with it. Shape doesn't matter so much here. Put the rounds on a grill-safe dish. We aren't cooking too hot here, so a high-quality ceramic plate that's oven-safe will even work.
Preheat your pellet grill
Break out that garlic confit
This part isn't optional! If you need a good recipe for smoked garlic confit, check out the bottom of the post or pop over to this full recipe post for Traeger Smoked Garlic Confit here! Take it and drizzle it all over the goat cheese and toss some of those whole cloves on top while you're at it.
Smoke it
Toss the goat cheese on it and let it cook for about 20-30 minutes, or until the cheese is heated through.
Serve it
Drizzle with chimichurri, and serve with crusty garlic bread or slices of a baguette. Pick your pleasure!
Follow me on Instagram!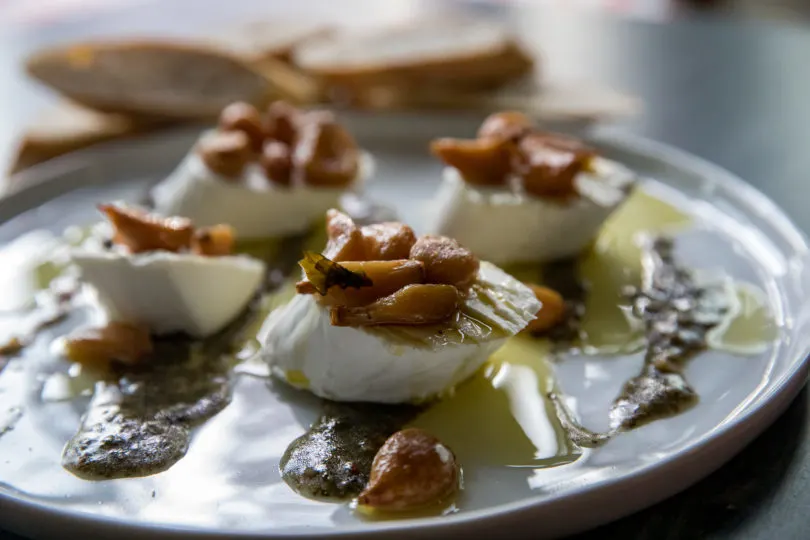 Garlic Goat Cheese FAQ
Can you make this without a smoker?
Absolutely! Both the garlic confit and this goat cheese can be made in the oven. You can follow the same times and temps, and it'll be delicious!
How do you store the leftovers?
Cover with plastic wrap and store in the fridge. Eat within 2-3 days.
Join our Easy Traeger Recipes Facebook Group!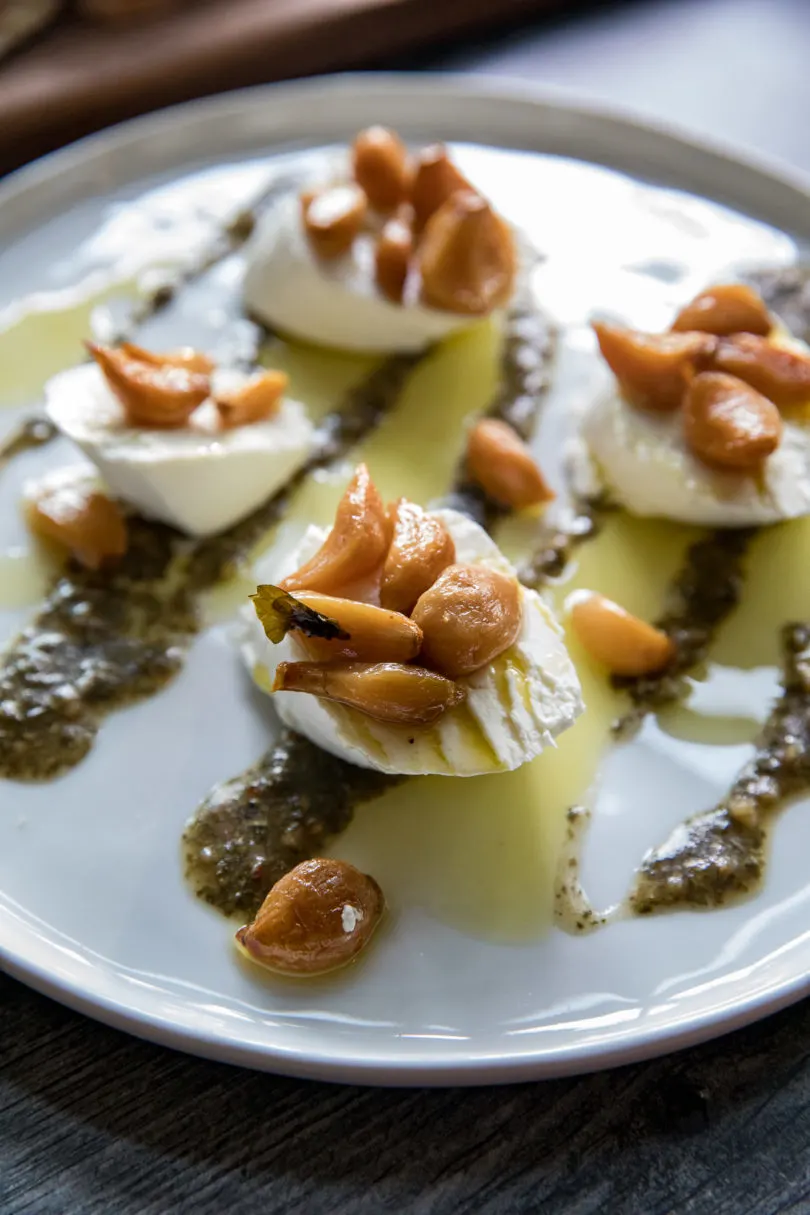 What else can you serve with Smoked Garlic Goat Cheese?
Want to make a meal out of it? I've got some great suggestions to round things out.
More Traeger Appetizers to love!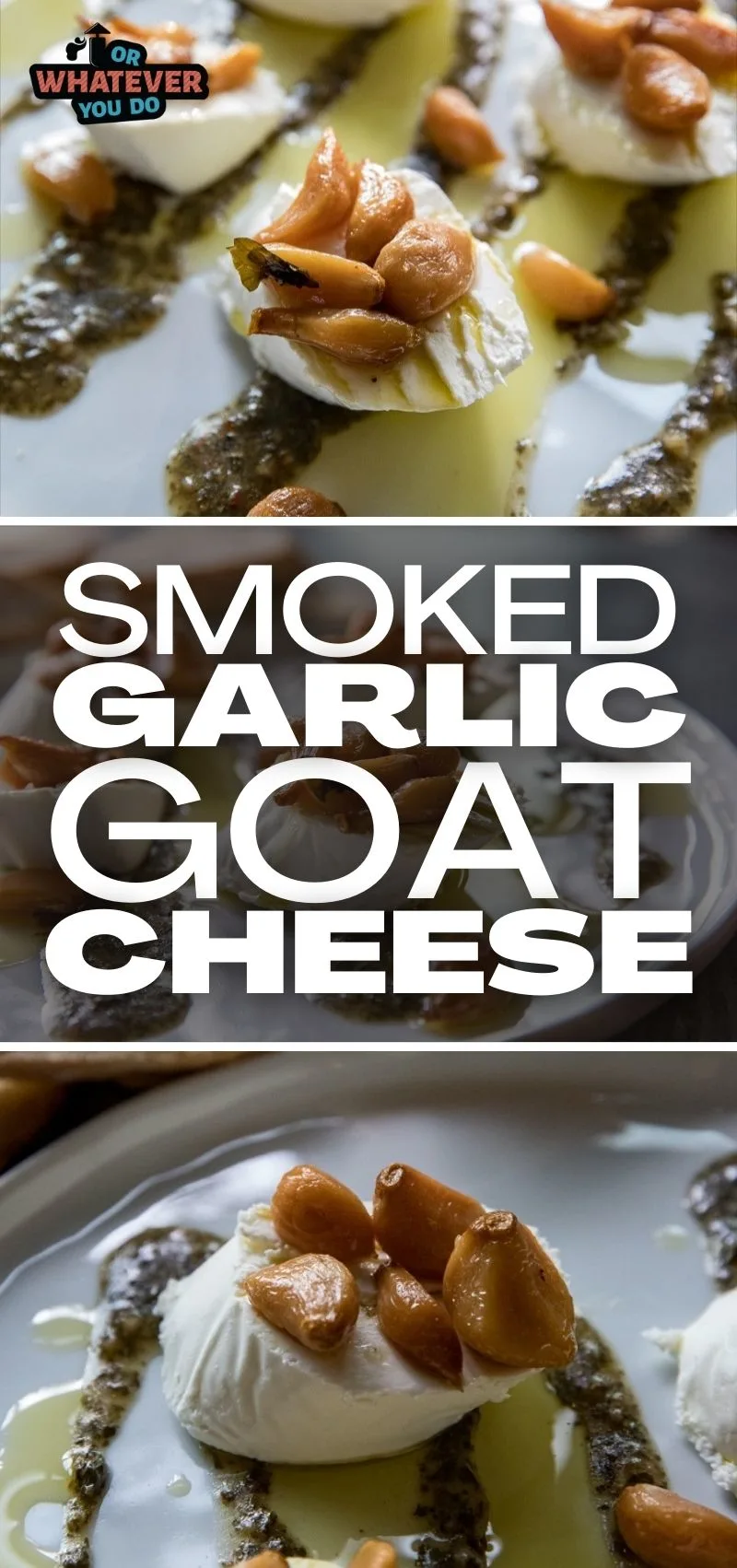 Yield: 6 servings
Smoked Garlic Goat Cheese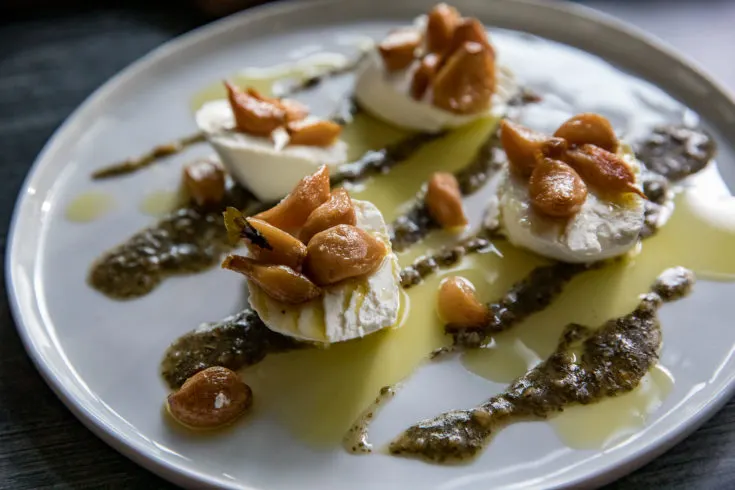 This is one of the easiest appetizers that you'll ever make, but it tastes like it is SO fancy. Smoked Garlic Goat Cheese is going to make you very popular at your next dinner party.
Ingredients
8 ounces goat cheese
12 cloves smoked garlic
1/4 cup smoked garlic olive oil
1/4 cup chimichurri
1 baguette
1/2 cup garlic butter (optional)
Instructions
Preheat your pellet grill to 250°F.
Slice the goat cheese into 1-2" rounds and place on a grill-safe dish.
Top with smoked garlic and drizzle with olive oil.
Place the goat cheese onto the pellet grill and let it smoked for 20-30 minutes, or until the cheese is heated through.
Slice the baguette in half or into rounds, spread with garlic butter (if desired), and toast lightly on the grill.
Serve both warm, and enjoy!
Nutrition Information:
Yield:
12
Serving Size:
1
Amount Per Serving:
Calories:

260
Total Fat:

19g
Saturated Fat:

8g
Trans Fat:

0g
Unsaturated Fat:

10g
Cholesterol:

28mg
Sodium:

386mg
Carbohydrates:

16g
Fiber:

1g
Sugar:

1g
Protein:

7g
Nutrition data provided here is only an estimate.
Yield: 12 servings
Traeger Smoked Confit Garlic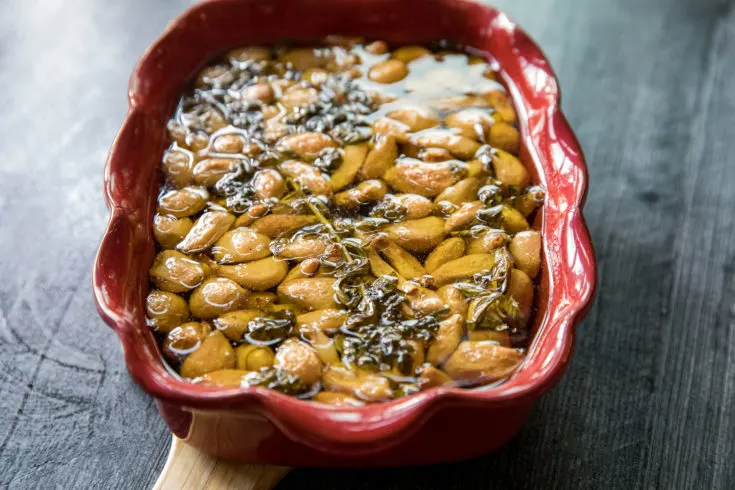 This is as simple as it is delicious, and is going to be a mainstay in your fridge once you try it! Smoked confit garlic can be used in so many different things.
Cook Time
1 hour
30 minutes
Total Time
1 hour
35 minutes
Ingredients
2 cups peeled whole garlic cloves
2 cups extra virgin olive oil
fresh herbs (if desired)
Instructions
Preheat your grill to 180°. Place the garlic on a grill pan and drizzle with a few tablespoons of olive oil. Shake to coat.
Smoke the garlic for an hour, shaking the pan periodically.
Remove from the grill and place into a 1 1/2 - 2 quart casserole dish. (You want the oil to cover the garlic entirely. You can use a bigger dish, but you'll likely need more oil.) Pour in the remaining oil to cover the garlic. Add more oil if necessary to ensure the garlic is totally covered.
Turn the grill up to 250° and put the pan on the grill.
Cook until the garlic is lightly browned and soft. This can take 30 minutes or 90 minutes, depending on many different factors. Keep an eye on it, and remove when it is light golden brown and soft.
Let cool, strain the garlic from the oil, and store both in air-tight containers in the refrigerator.
Notes
Serving size here is VERY approximate, and depends on what you wind up making with this, how much oil you use, and what kind of things you are cooking with it.
Recommended Products
As an Amazon Associate and member of other affiliate programs, I earn from qualifying purchases.
Nutrition Information:
Yield:
12
Serving Size:
1
Amount Per Serving:
Calories:

353
Total Fat:

36g
Saturated Fat:

5g
Trans Fat:

0g
Unsaturated Fat:

30g
Cholesterol:

0mg
Sodium:

5mg
Carbohydrates:

8g
Fiber:

1g
Sugar:

0g
Protein:

2g
Nutrition data provided here is only an estimate.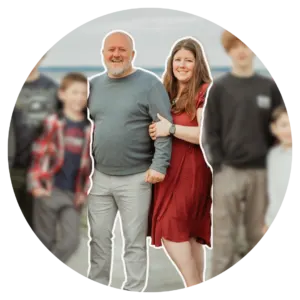 Nicole Johnson, a self-taught expert in grilling and outdoor cooking, launched Or Whatever You Do in 2010. Her blog, renowned for its comprehensive and creative outdoor cooking recipes, has garnered a vast audience of millions. Nicole's hands-on experience and passion for grilling shine through her work. Her husband, Jeremiah Johnson, also plays a pivotal role in recipe development, adding his culinary flair to the mix. Together, they form a dynamic duo, offering a rich and varied outdoor cooking experience to their followers.