Traeger Smoked Turkey is going to quickly become your new favorite turkey method. Put away the gallons of oil, free up your oven, and go ahead and donate that giant electric roaster that you only pull out once a year to someone else, because you're going to want smoked Traeger turkey every year from here on out.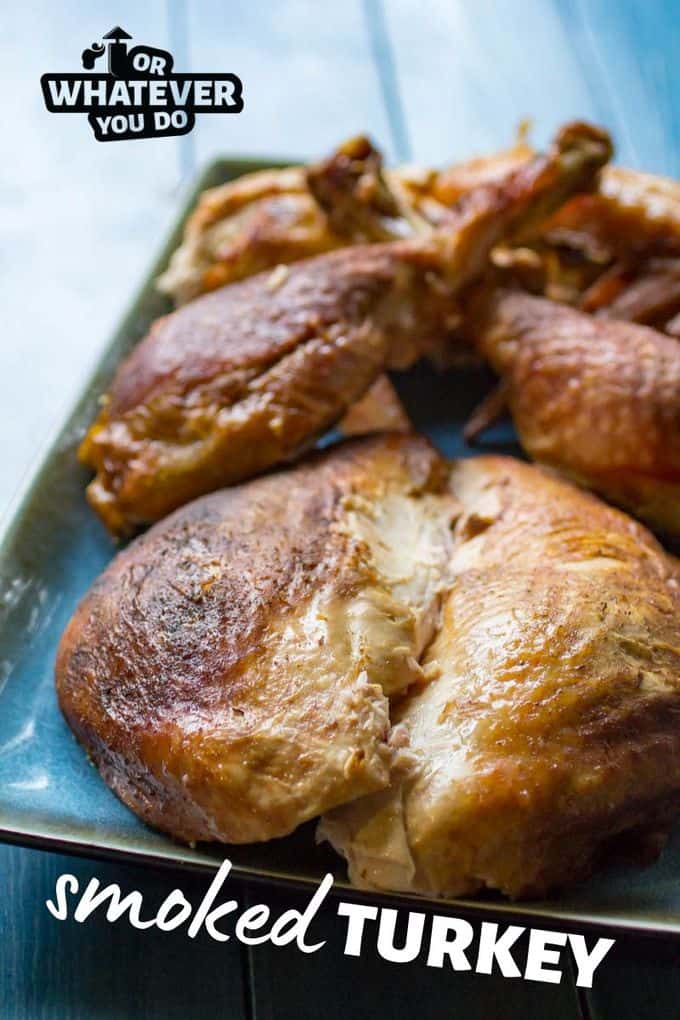 Traeger Smoked Turkey
You guys probably made Traeger Chicken for your very first recipe on your grill. Most everyone does and for very good reason.
It just works.
Every time.
I wasn't sure if I'd be as impressed with a whole roasted turkey as I am with the chicken, but I'm already excited for Thanksgiving this week because like whoa.
Try my Traeger Spatchcock Turkey! (picture below)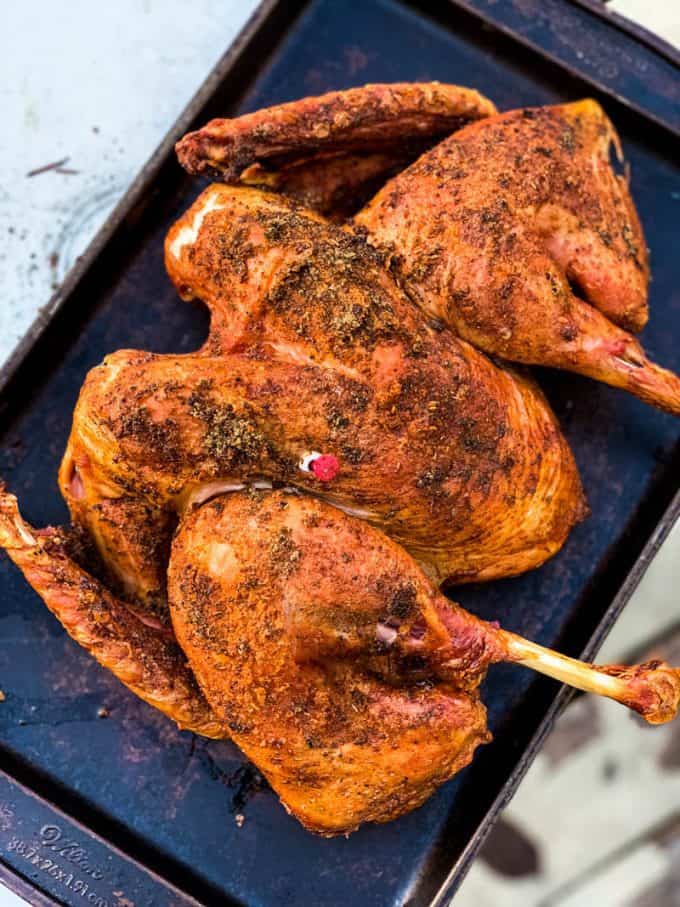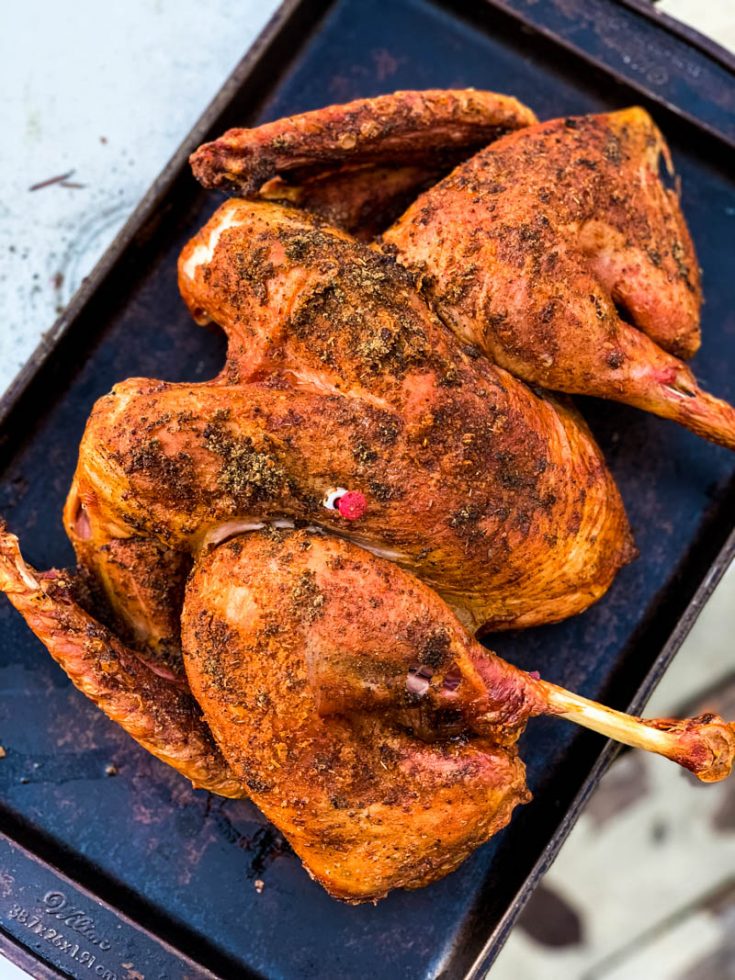 It was moist, and the skin was perfect. There was a hint of smoke but it wasn't overwhelming. We got the great drippings for gravy by cooking it in a large pan, and I made bone broth with the carcass so I can make alllllll the gravy I want for Turkey Day next week and not have to use a lick of boxed stock.
Side note, you are definitely going to want to make this Instant Pot Wild Rice and Mushroom Stuffing to go with your turkey! Just forgive the horrid pictures. It tasted better than it looks!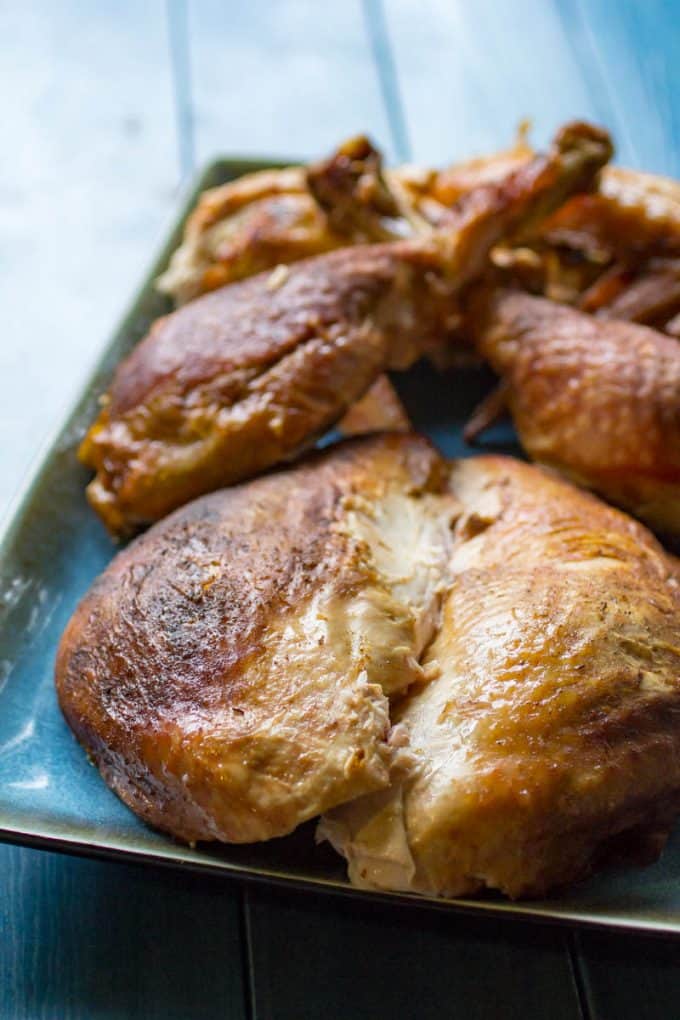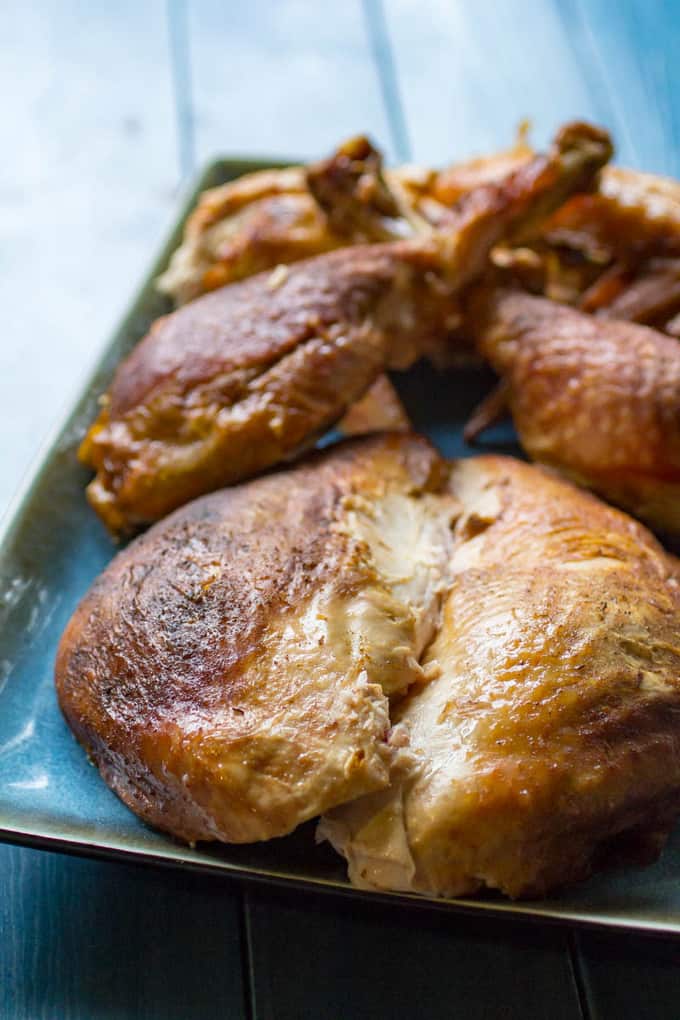 I might start doing turkey dinner more than once a year now that I have a fool-proof way of cooking it. Turkey dinner is up near the top of my "favorite food" list, right after spaghetti and meat sauce.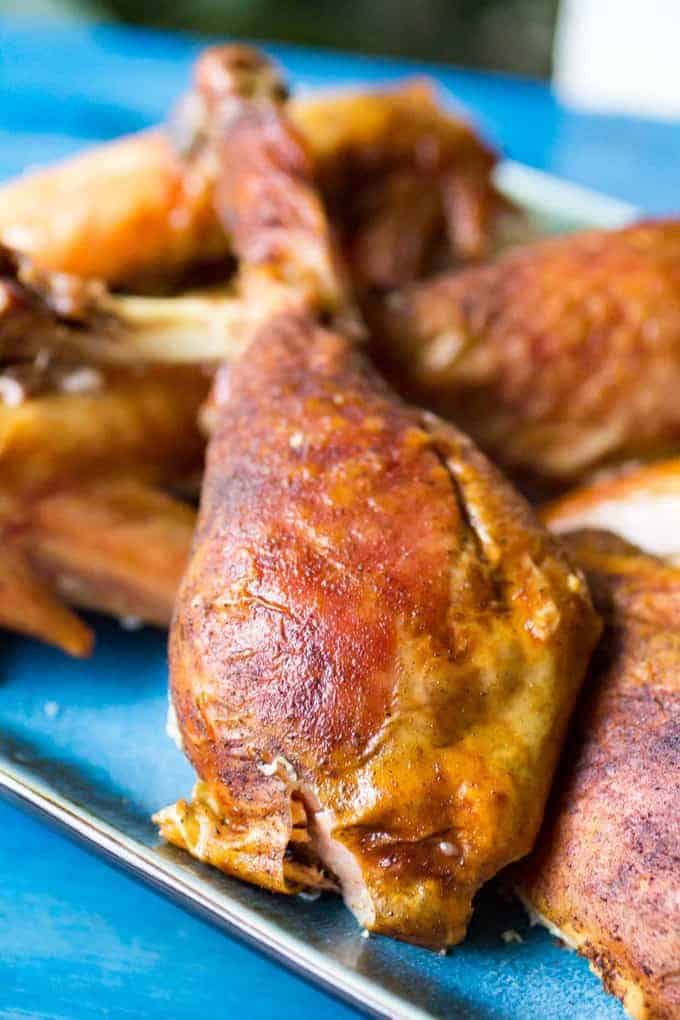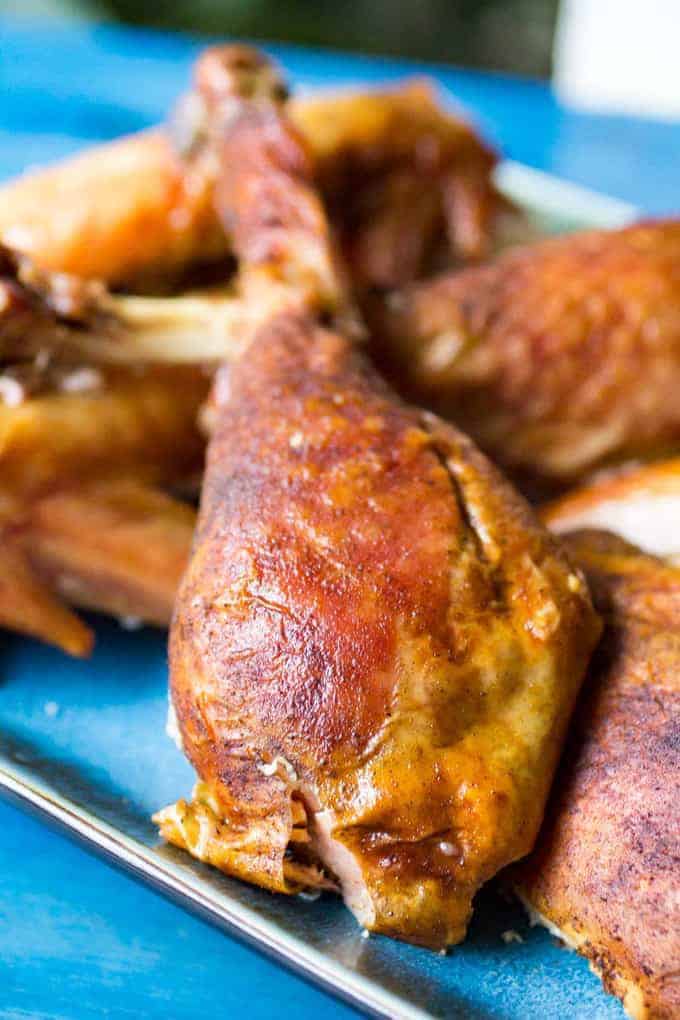 I had turkey dinner AT MY WEDDING, you guys. In August. (Many Augusts ago, but still August. In Northern MN. Not your typical turkey time of year!) My poor family was cooking for days, but I (and all of our guests) had one of the best turkey dinners ever put together.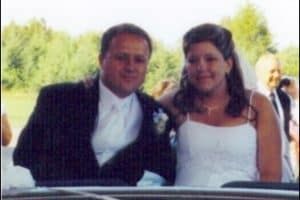 How to make a turkey in your wood-pellet grill
For this turkey, we did it very simply. Traeger pellet grill. Good quality pellets. Fresh bird, no brine, no injections, no stuffing.
Massage the bird with olive oil, cover with the seasonings and bake in your Traeger uncovered at 250 for 2 hours, and then covered at 325 for another 2-4 hours (depending on the size of your bird.)
Doesn't get much easier than that, when it comes to turkey. I do suggest doing a couple smaller turkeys if you have a really big family coming. We bought a 13-pound bird, and there was enough meat (plus some leftover) to have turkey sandwiches for 6 adults, 3 teenagers, 4 elementary-aged kids, and 4 toddlers/preschoolers.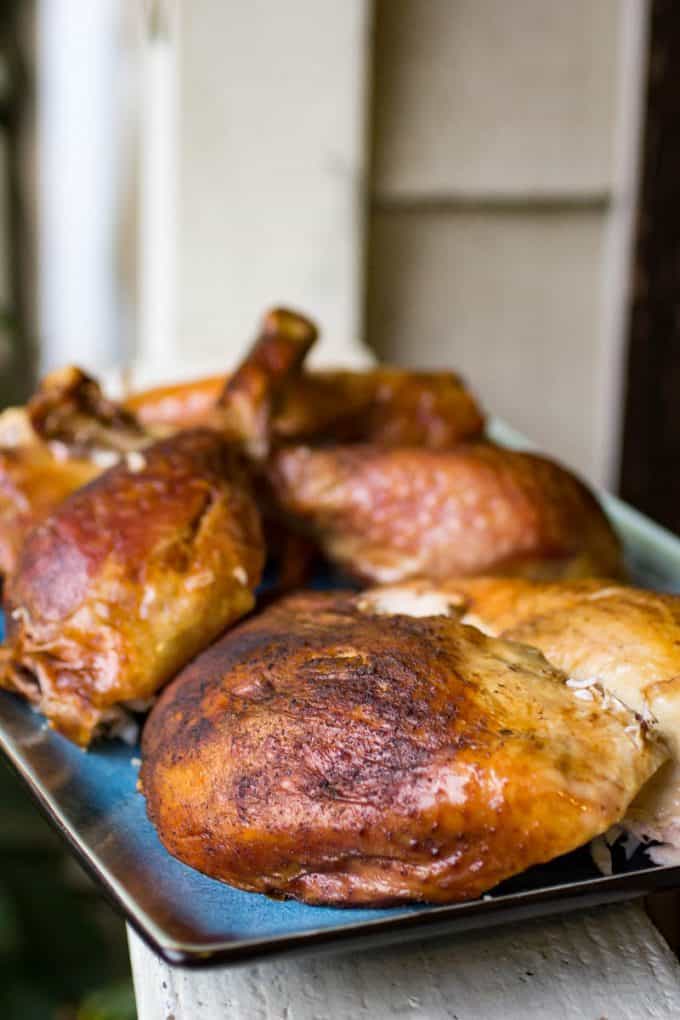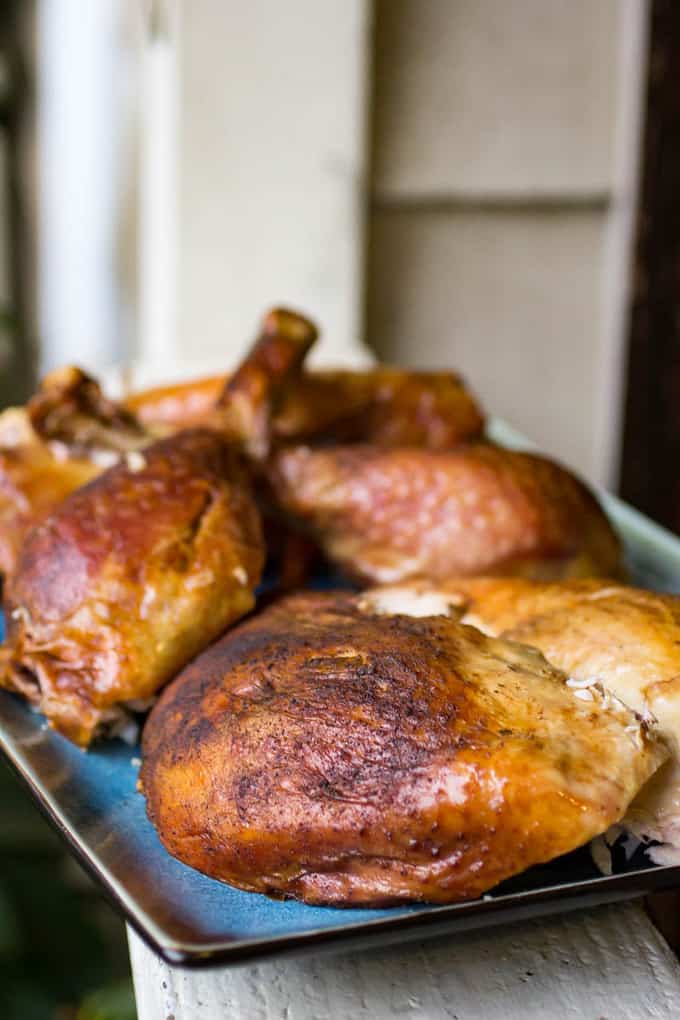 If you really want to make your family happy, just make the extra bird and send everyone home with leftovers. That's the worst part about not hosting Thanksgiving. I might love Thanksgiving leftovers more than the 1st-day dinner!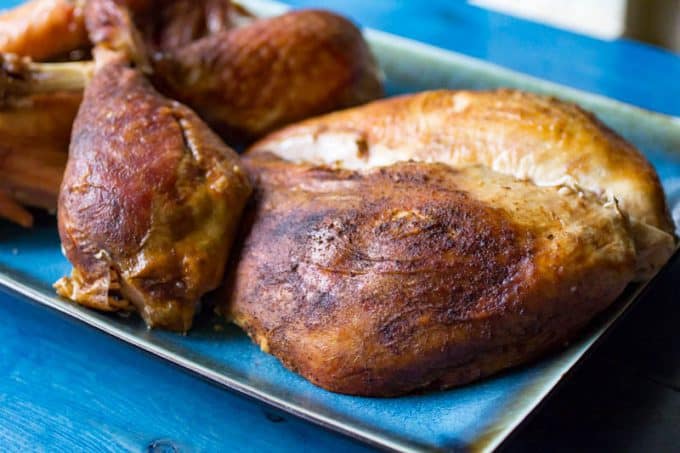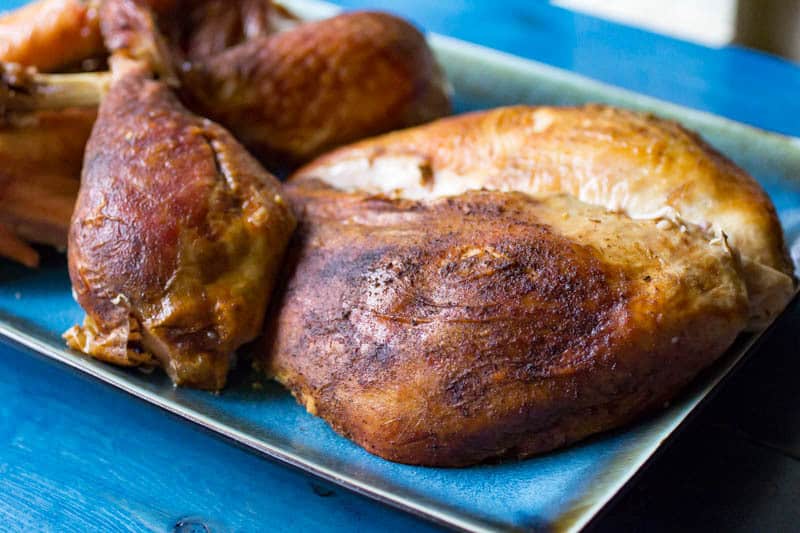 MORE THANKSGIVING DISHES FOR YOUR TABLE!
Pin for later!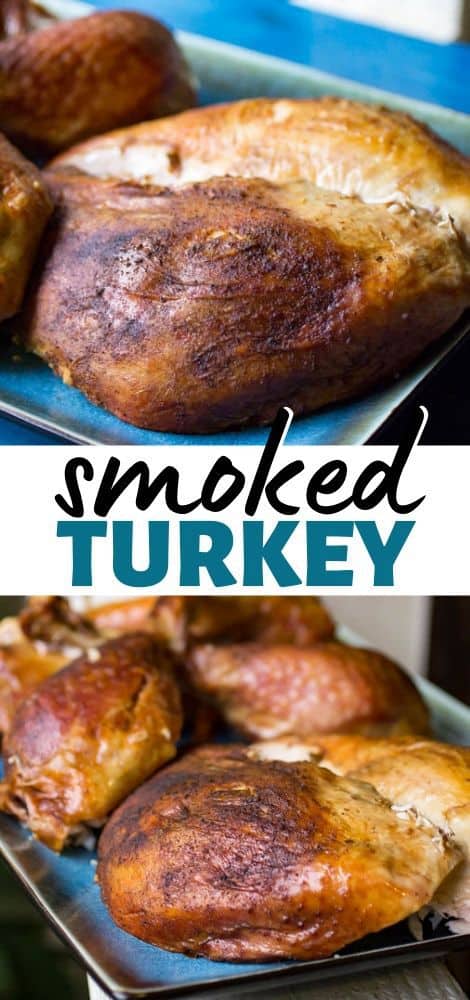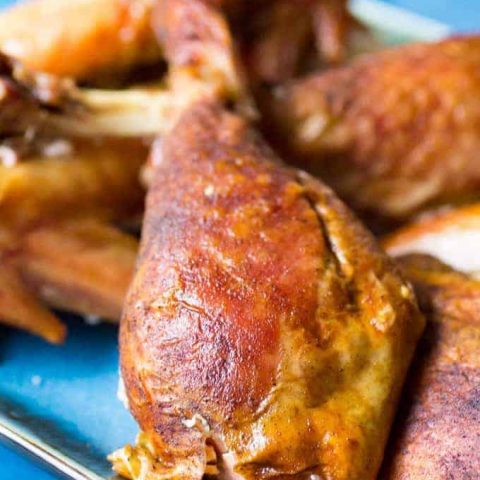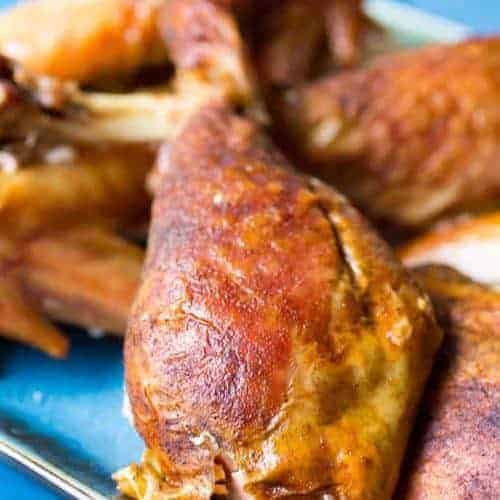 Traeger Smoked Turkey
Total Time:
4 hours
15 minutes
Traeger Smoked Turkey is going to quickly become your new favorite turkey method. Moist, tender, and with just enough smoke to keep it interesting - you'll be coming back for seconds.
Ingredients
1 10-13 pound turkey, thawed, rinsed, and patted dry
1/4 cup olive oil
2 teaspoons ground poultry seasoning
1 1/2 teaspoons salt
2 teaspoons Traeger Chicken Rub
Instructions
Mix together the oil and seasonings, and then get to rubbing. You want it alllll over the outside of the turkey. Bonus points for getting a little between the skin and the breast too.
Place the turkey on a rack to raise it off the bottom of the pan, breast up.
Fire up the Traeger according to factory instructions, and preheat to 250. Place the turkey + pan on the grill, uncovered. Close the lid of the grill and set your timer for 2 hours, because you don't want to peek before then.
After two hours have passed, increase the temp to 325 and cover the turkey.
Roast another 2-4 hours (depending on the size of your turkey) until the internal temperature reaches 165 degrees.
Remove from grill, carve, and make gravy with the drippings!
Notes
If you stuff your turkey:
Do so at your own risk. I think we're all pretty aware of the dangers of this at this point. Make sure to temp your stuffing and ensure it is fully cooked, and DON'T PACK IT IN.
If you can swing it, scoop all the stuffing out for the last hour of cook time, and cook separately (covered) in a baking dish in the oven at 375.
Nutrition Information:
Amount Per Serving:
Calories:

418
Saturated Fat:

4g
Cholesterol:

193mg
Sodium:

591mg
Protein:

58g