Hot boozy drinks are one of the best things about the winter, and this salted caramel spiked apple cider skyrocketed to the top of my list this year.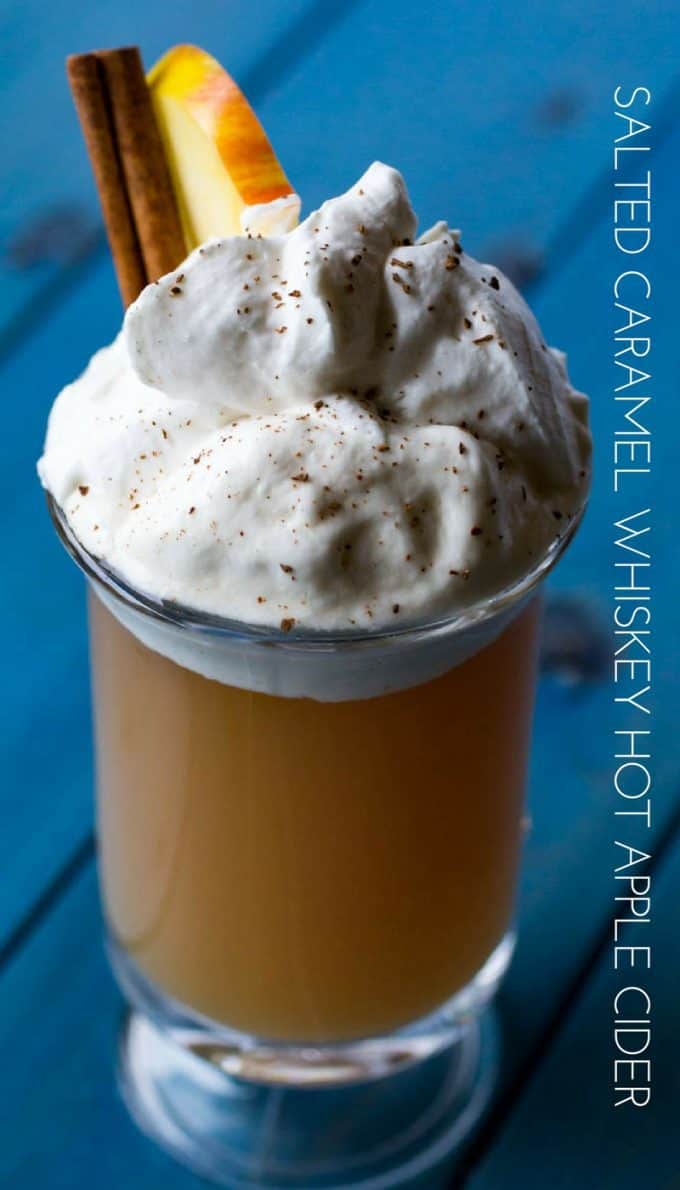 Salted Caramel Spiked Hot Apple Cider
I've been "testing" this cocktail all week long. Maybe for two weeks. I'm normally not a whiskey drinker (but don't tell my coworkers because many of them are big fans), but when I saw Salted Caramel Crown Royal at the store recently I snatched that up like it was the last box of Count Chocula for the next year.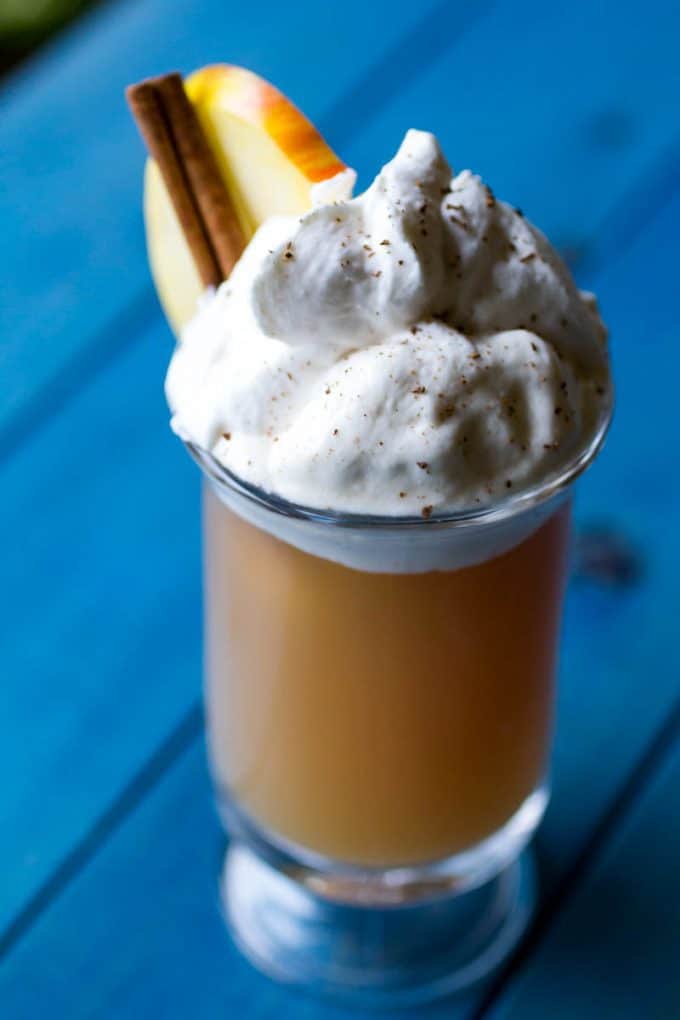 You see, the only time that whiskey and I are only ever friends is in the winter months at band practice when I like to sip hot apple cider (usually the packet kind, I'm not ashamed) with a healthy dose of whiskey in there. For the vocal chords, of course. Purely for the craft, you know.
Well, I LOVE caramel apple everything, like this caramel apple tarts, and my apple crumble pie recipe that ALWAYS gets a healthy dose of caramel on top of the big scoop of French vanilla ice cream that MUST go on top of it. I even MAKE caramel myself you guys. Sometimes even the REALLY old fashioned way with WHITE SUGAR. That is no joke. Maybe it isn't even caramel + apple that I like, but just caramel itself. It shows up a lot here, is all I'm saying.
How to make spiked hot apple cider
First – don't do what I usually do and crack open a packet of the powdered spiced cider. It has it's place, but for something really special you need to get the big guns out. Go buy this year's batch of honeycrisp unfiltered apple cider, or your favorite variety. MAJOR "you have your crap together" fall bonus points if you bring home some cider from an actual orchard that you went to visit to pick pumpkins or something, because kudos and props and all of those other things. I haven't been to an orchard in like 4 or 5 years.
Back when we lived in Michigan for a couple of years, I used to frequent an orchard and it was amazing. I actually hosted karaoke there once a week during the peak season, and while it was COLD and sometimes miserable, I always had such a great time there with all of the kids passing through, and the teenagers with their big groups of friends, and the occasional couple crooning love songs to each other.
Anyway –  back to the cider.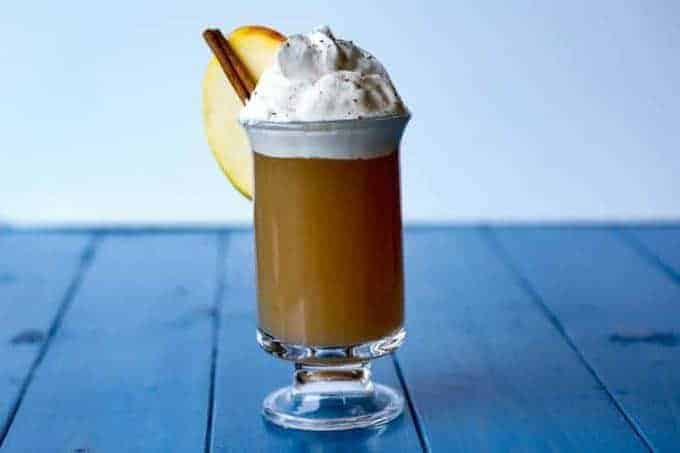 Start with the best cider you can find, or you know – whatever you picked up at the grocery store last week that your kids haven't demolished yet.
Next – get thyself this Crown Royal. Regular will definitely do if you aren't a flavored booze fan, but the Salted Caramel Apple is like – well. Let's just say I'm going to be keeping a bottle in reserve here since I assume it is a very seasonal offering.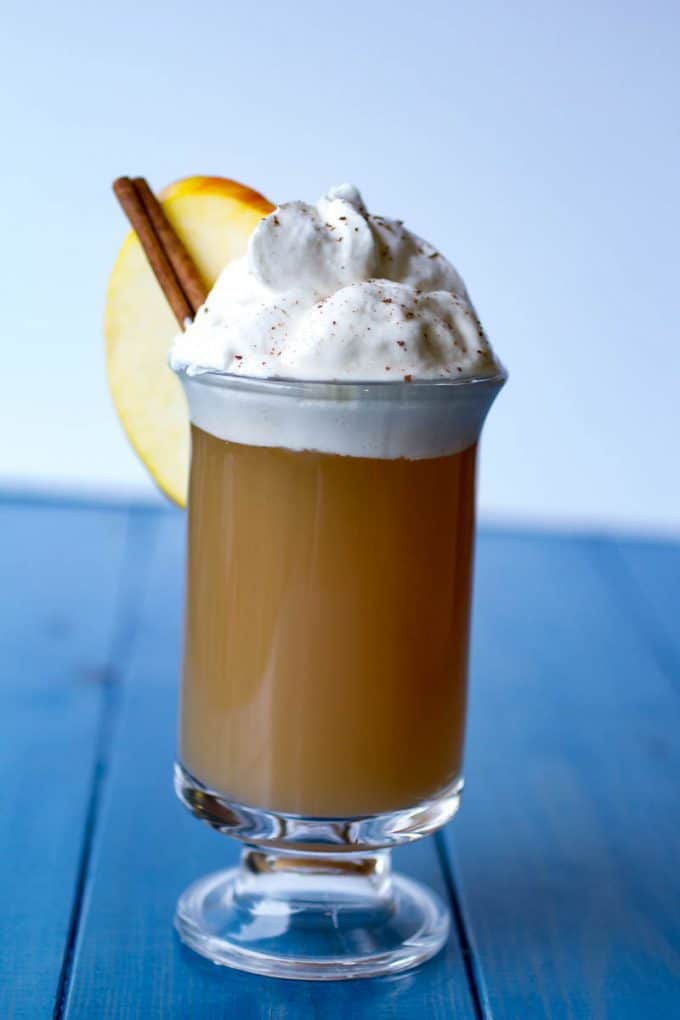 Once you do that, the next part is the WHIPPED CREAM. Because it took this drink from "OOOOHHHHHHHHHHHHH that's good" RIGHT into "Like WHOA" territory. Like, "whoa I've already snapchatted and made this for all of my people because I think they will love it so much."
How to make cinnamon-spiced whipped cream
This one is super simple. For 4 drinks, whip one cup of extra heavy whipping cream with 1/2 teaspoon ground cinnamon, 2 tablespoons powdered sugar, and a dash of vanilla. Whip it, and whip it good. You want it to form stiff peaks and not melt into the hot cider too quickly.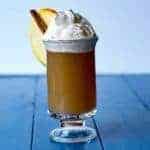 Salted Caramel Spiked Hot Apple Cider
Hot boozy drinks are one of the best things about the winter, and this salted caramel whiskey hot apple cider skyrocketed to the top of my list this year.
Ingredients
Cinnamon Whipped Cream
1

cup

heavy whipping cream

2-3

tablespoons

powdered sugar

1/2

teaspoon

ground cinnamon
Optional Garnish
Extra sprinkle cinnamon

caramel drizzle
Instructions
Beat the whipped cream ingredients until stiff peaks form and it is scoopable.

Heat the cider and whiskey using your favorite method (stovetop or microwave). Pour into 4 cups, and top with whipped cream. Garnish with a dried or fresh apple, and another sprinkle of cinnamon.
Nutrition Facts

Salted Caramel Spiked Hot Apple Cider

Amount Per Serving

Calories 277

Calories from Fat 99

% Daily Value*

Total Fat 11g 17%

Cholesterol 40mg 13%

Sodium 15mg 1%

Potassium 136mg 4%

Total Carbohydrates 17g 6%

* Percent Daily Values are based on a 2000 calorie diet.

We are a participant in the Amazon Services LLC Associates Program, an affiliate advertising program designed to provide a means for us to earn fees by linking to Amazon.com and affiliated sites.