Traeger Thanksgiving Dressing is an easy and delicious way to make a classic holiday dressing. You know that oven space is precious on the holiday, even if you are rocking a double oven. Save some space and fire up your pellet grill and make a pan of everyone's favorite Thanksgiving side dish.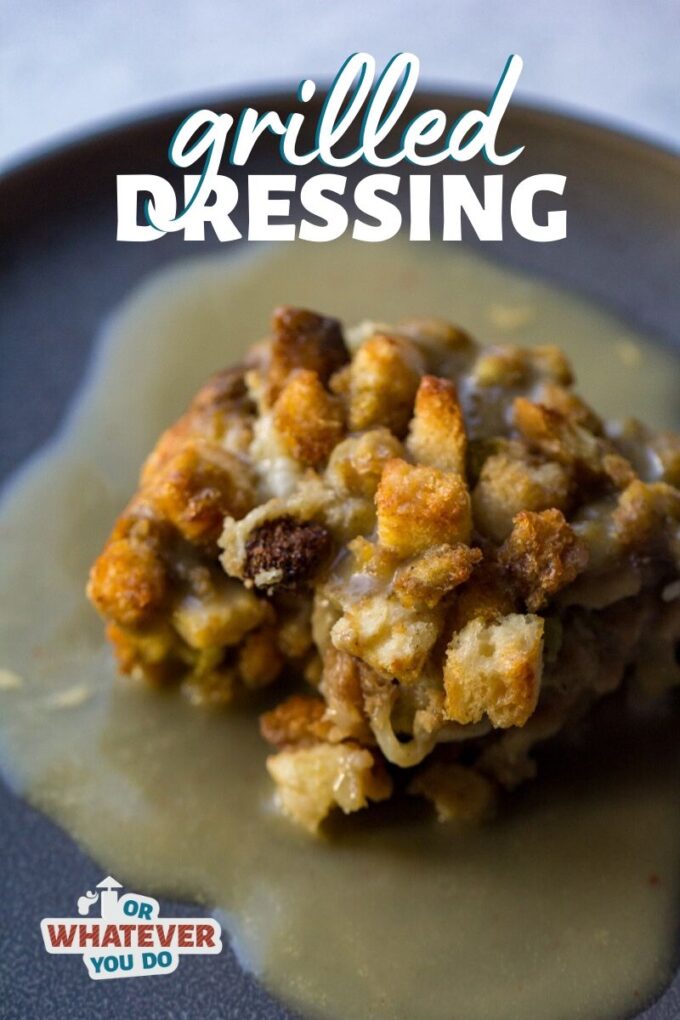 Grilled Thanksgiving Dressing
Dressing is arguably one of the best parts about Thanksgiving dinner, and I am SERIOUS about Thanksgiving dinner. I want it from the giant bags at the grocery store, heavy on the poulty seasoning, lots of butter and onions and celery, and served with a steaming portion of turkey gravy.
I could eat it as a meal, and the day after Thanksgiving, sometimes I do.
The only "problem", if there is one, is that if you go the dressing route and don't stuff your bird, it takes up precious oven space.
Oven space that is at a HUGE premium on one of the biggest baking days of the year.
Enter the pellet grill.
I love pellet grills at all times of the year, but maybe not more than when I am in desperate need of an extra oven and suddenly realize that I have several of them.
We have a Traeger and a Camp Chef, and both basically act as giant outdoor convection ovens when they are running at higher temperatures, and if you cover the dish you are making you won't even smell any smoke.
For this Thanksgiving dressing recipe, I DID want a touch of smoke so I uncovered the pan at the end, which also served to crisp up that top layer and turn this from a 'soggy bread' dish, as the haters like to say, into a perfect bready casserole.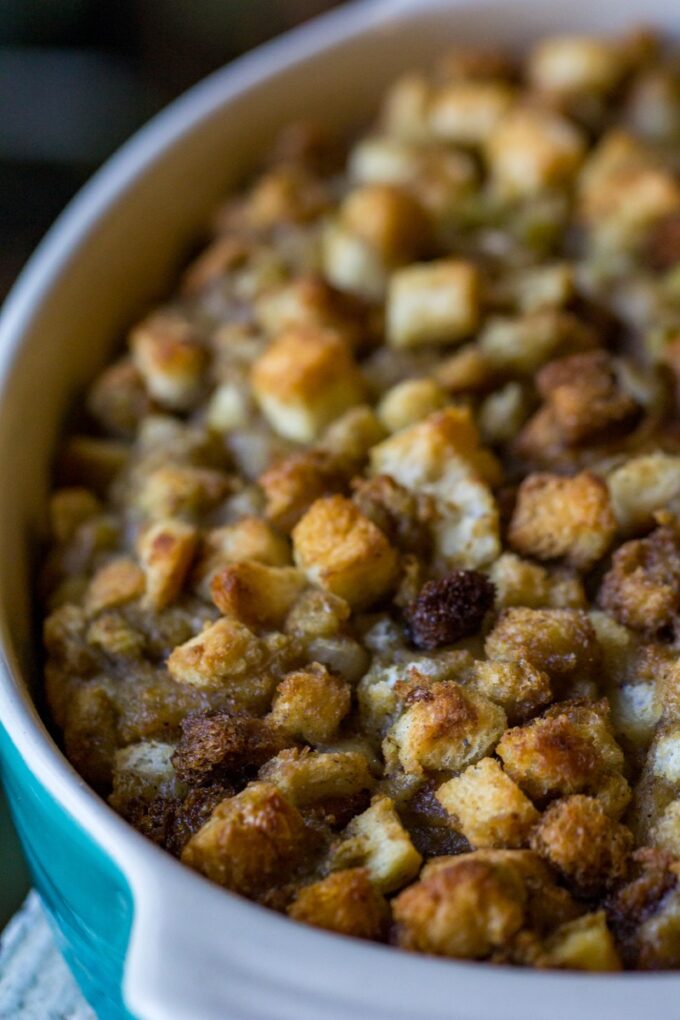 What is Thanksgiving dressing?
Thanksgiving dressing is a traditional bread-based dish that features bread, aromatics like onions and celery, butter, herbs, and broth.
All of this is mixed together along with enough broth to moisten the bread, and then it is baked like a kind of bread casserole.
If you were born before 1985 you probably put it inside of your turkey and hope for the best. If not, you probably only make this separately in the oven.
Get my easy Side Dish recipes!
Can I make dressing the day before Thanksgiving?
You can definitely make this Thanksgiving dressing the day before Thanksgiving, but what I'd recommend instead is just prepping everything in advance, but waiting until the day of to combine it and do the final bake.
Most of what takes time for dressing is the chopping and sauteeing of the vegetables, so if you do that part the day before and store those in the fridge overnight, when the big day comes all you'll need to do is microwave the butter/onion/celery mix with your broth until it is nice and hot and then mix it in with the dried bread cubes.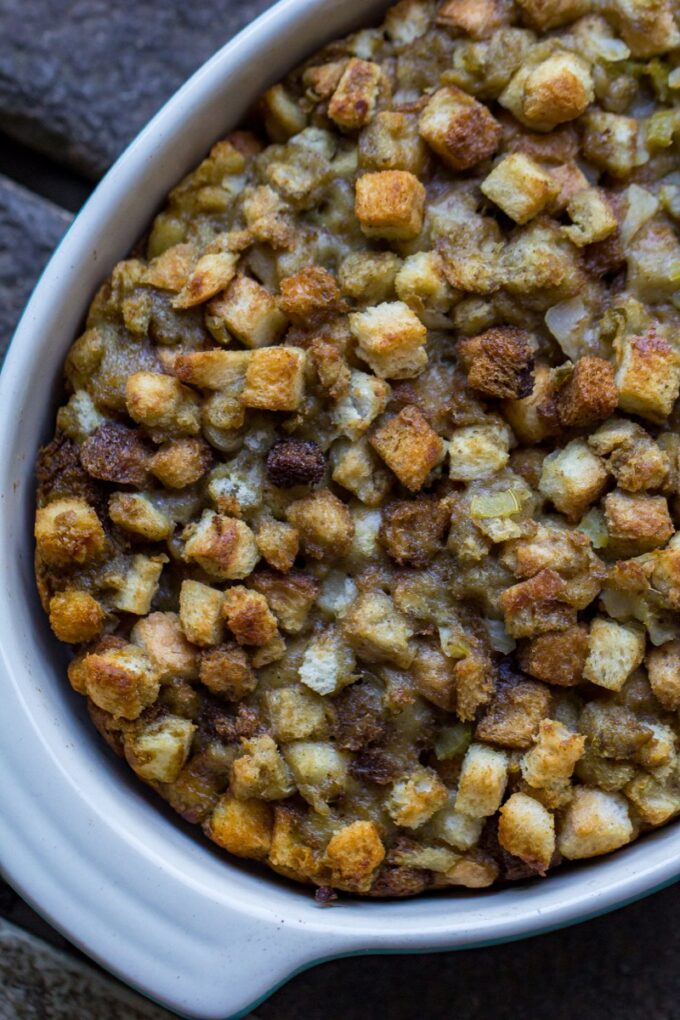 So, what's the different between stuffing and dressing?
The main difference between dressing and stuffing is that stuffing is…stuffed. Into the bird. Hence, the name.
A lot of people don't stuff their birds anymore because it can lead to having a dried-out turkey because you have to cook the bird long enough for the stuffing to reach at least 165°, and that often happens long after the meat does.
If you are like me and REALLY just like the taste of Thanksgiving stuffing but don't want to play food poisioning Russian Roulette,
Get my easy Side Dish recipes!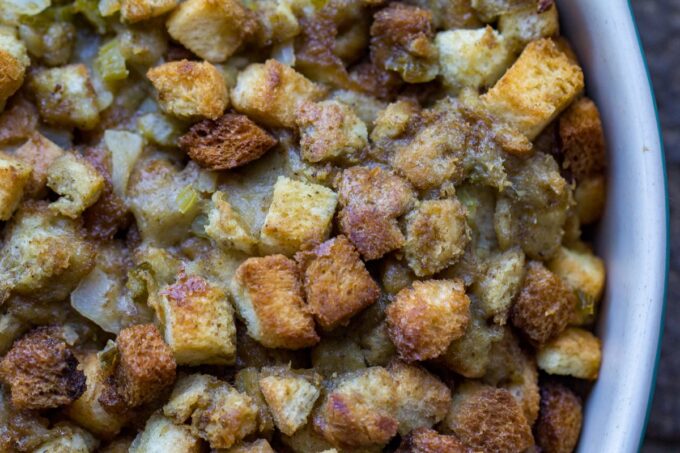 Do you put raw egg in dressing?
Some people do, but I do not. I don't think it is necessary or that it adds any real benefit to the end result, so I usually skip it.
If you do choose to use egg as a binder, make sure you take the temp of your final product so that you are getting it to at least 160° which is the temp that it is considered safe.
You'll also want to make sure you do NOT mix the stuffing together before you cook it if raw egg with be in the mix.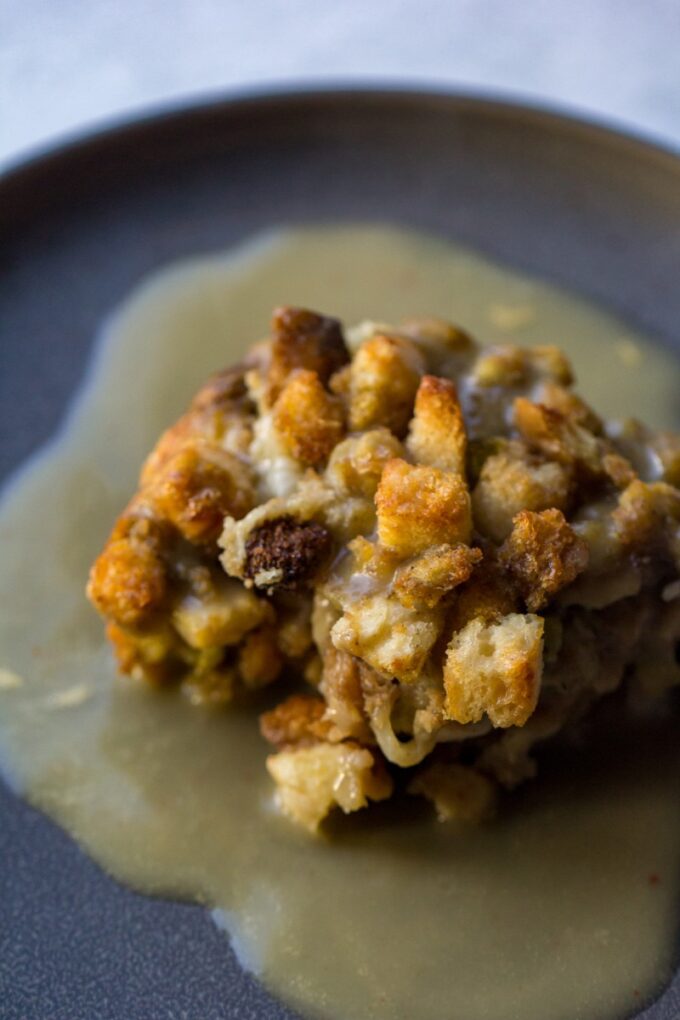 Can you refrigerate dressing before cooking?
My recipe that is without raw egg can easily be refrigerated prior to cooking, but I don't advise it.
If you need to save some time and prep something in advance, just chop the veggies and saute them beforehand, and don't mix everything together until right before you'll be baking it.
Follow me on Instagram!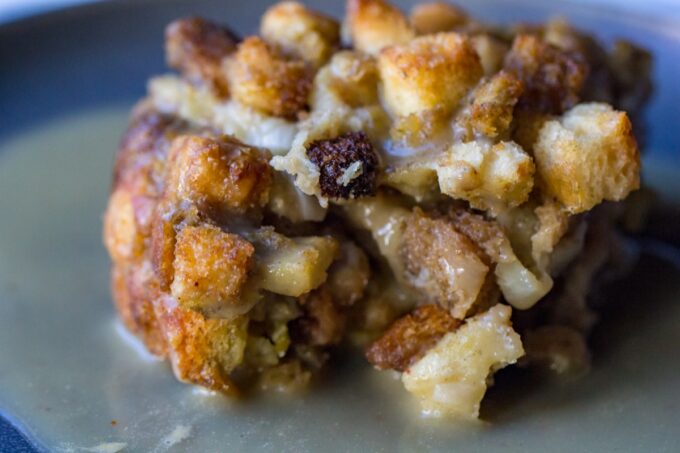 Should dressing be covered while cooking?
Yes! I didn't want much of a wood-fired flavor in this dressing, and I also wanted to retain a lot of the moisture during the cook so that every nook and cranny got some of that aweome broth and seasoning.
Cover tightly with foil for the first 3/4 of the cook time, and remove the foil during the last 10-15 minutes.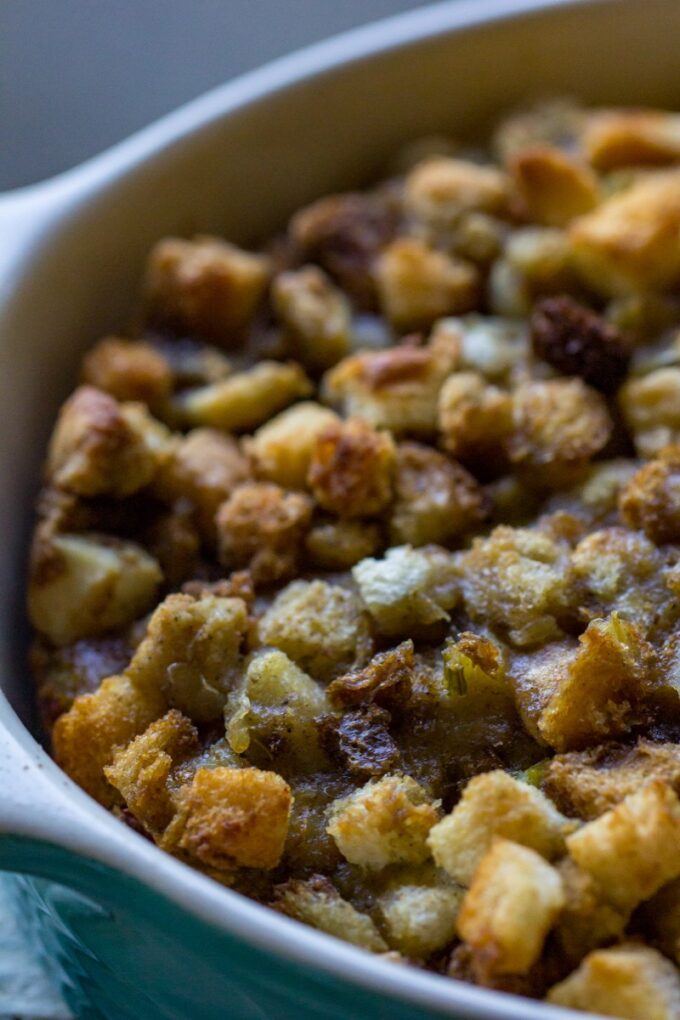 What else can you mix into dressing?
Dressing is a super flexible dish, and there's a number of things you can add into the mix if you should so desire. Here are just a few of the possibilities.
Wild rice
Mushrooms
Giblets
Caramelized Onions
Dried cranberries
Apples
Sausage
Chorizo
What else should you serve with Thanksgiving Dressing?
Thanksgiving dinner, of course!
Check out my whole Thanksgiving Dinner meal plan, and below are links to the best of the best.
Pin For Later!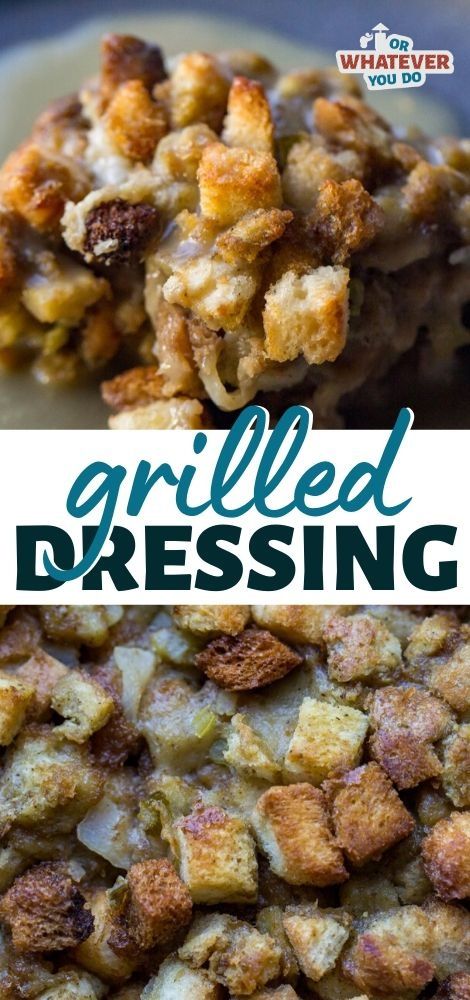 Yield: 8 servings
Traeger Thanksgiving Dressing
Traditional Thanksgiving dressing gets the Traeger treatment! Save some oven space and use your pellet grill to cook Thanksgiving's best side dish.
Total Time
1 hour
15 minutes
Ingredients
1/2 cup salted butter
1 medium onion, diced
4 stalks celery, washed and chopped
13-ounce bag dried crouton dressing mix (I used Franz brand)
2 1/2 cups chicken broth
seasoning packet from dressing mix (or see notes for substitution if your mix doesn't have a packet)
Instructions
Place the butter, celery, and onion into a large saute pan over medium heat. Cook the vegetables until they are tender, about 10-15 minutes.
Add in the seasoning packet and chicken broth, and let the mixture come up to a simmer.
Mix together the butter/broth mixture with the croutons, and place into a grill-safe container that's been lightly sprayed with cooking spray.
Cover with tin foil tightly and place into a pre-heated 350° grill.
Cook for 35-40 minutes, rotating the position 1/2 way through the cook, and then remove the foil and cook for an additional 10-15 minutes.
Remove and serve hot with all of the favorite Thanksgiving fixings.
Notes
Dressing Seasoning Mix Substitution
1 teaspoon ground sage
2 teaspoons ground poultry seasoning
Recommended Products
As an Amazon Associate and member of other affiliate programs, I earn from qualifying purchases.
Nutrition Information:
Yield:
12
Serving Size:
1
Amount Per Serving:
Calories:

241
Total Fat:

16g
Saturated Fat:

7g
Trans Fat:

0g
Unsaturated Fat:

8g
Cholesterol:

25mg
Sodium:

677mg
Carbohydrates:

21g
Fiber:

2g
Sugar:

3g
Protein:

4g
Nutrition data provided here is only an estimate. If you are tracking these things for medical purposes please consult an outside, trusted source. Thanks!