Homemade Turkey Noodle Soup is one of my very favorite meals, ever. The homemade noodles make this something that you and your family will not only enjoy, but remember.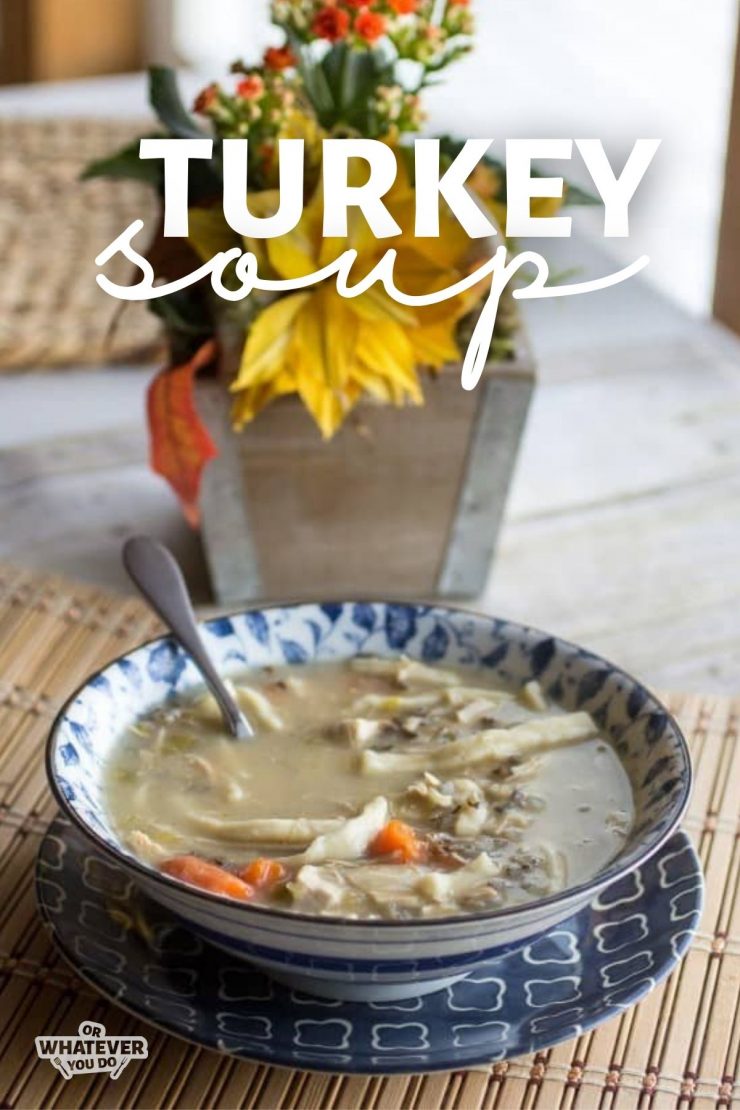 Homemade Turkey Noodle Soup
There is something so amazing about making something completely from scratch. It isn't always possible or practical, but when you have the time, the motivation, and the inclination, the rewards are awesome!
Turkey noodle soup is one of the best parts about Thanksgiving for me. We always have plenty of turkey left, and if you give yourself enough time you won't even need any extra bouillon, stock, or broth added to the mix.
Way back when I first started this blog I posted my Great Grandma's Homemade Soup Noodles. I shot that post with my trusty old point-and-shoot, but I leave it up for posterity. If you'd like a step-by-step on making these noodles, feel free to venture back into my own personal time machine and check out that post.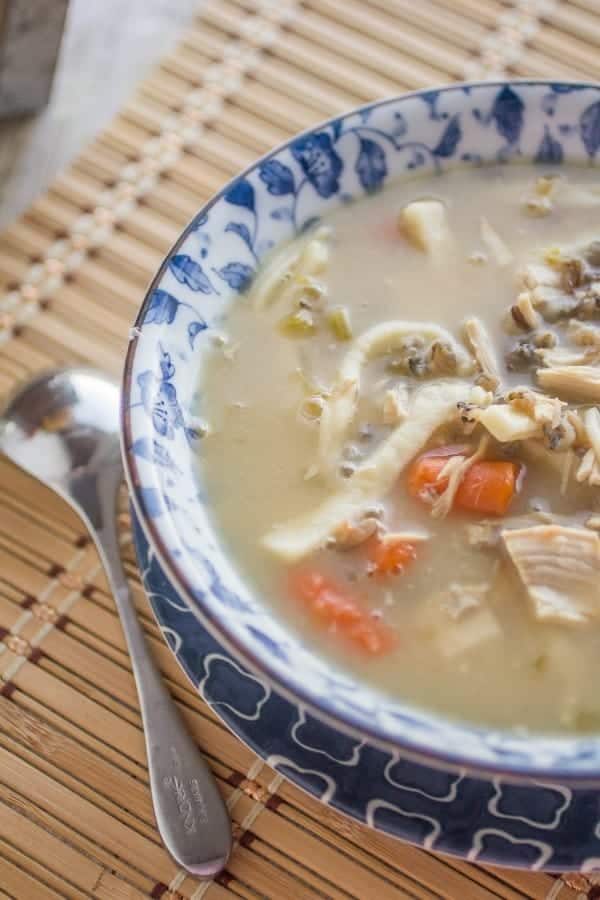 What kind of turkey is best for homemade turkey noodle soup?
Any turkey you have will work, but I'm really partial to my grilled turkey. Here is my go-to for a Thanksgiving turkey, and also a spatchcocked version as well. Spatchcock turkey is a great thing to do for a second turkey if you are making multiples.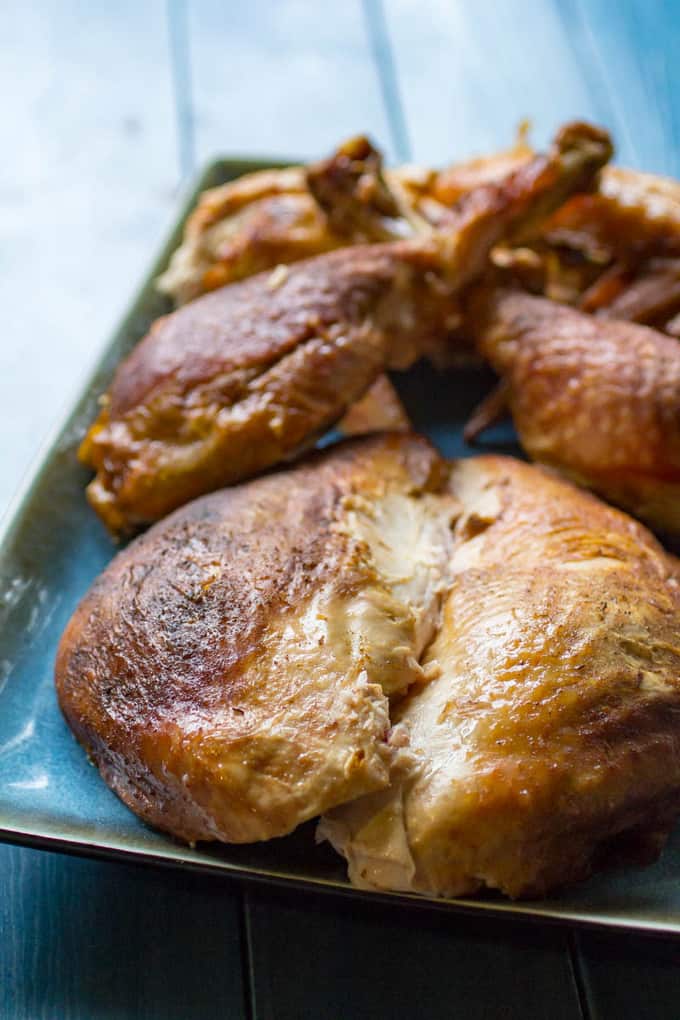 How to make homemade turkey stock
If you have never made homemade soup stock before, it is about the easiest thing you can do.
First, remove all of the useable meat from the carcass because you don't want that boiling with the stock. Put that in the fridge and save it for later.
You just stick your carcass in a large pot, cover it with water, toss in some carrots, onions, and celery, and simmer it until the carcass pretty much falls apart. Then simmer it some more.
Good stock will set up like jello when it is chilled.
Weird, but true!
After you are done simmering, strain the stock through a fine mesh strainer. Once it is strained, you have stock! Amazing, delicious stock.
Salt it to taste, and you are set. To finish the soup you just add in your veggies and rice, cook until they are tender, and then toss in your noodles and meat.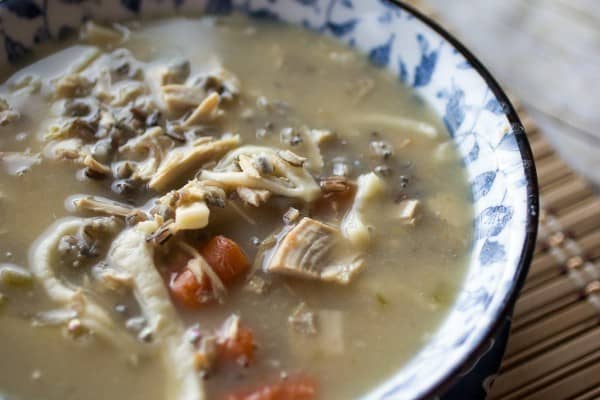 These noodles are like a big bowl of home to me. My great grandma made them, and then my mom, and it was one of the first things I learned to make on my own after I moved out on my own.
I love the way they slightly thicken the broth. They also do really well as leftovers too, and don't turn into complete mush like commercial noodles do when you try and reheat them the next day.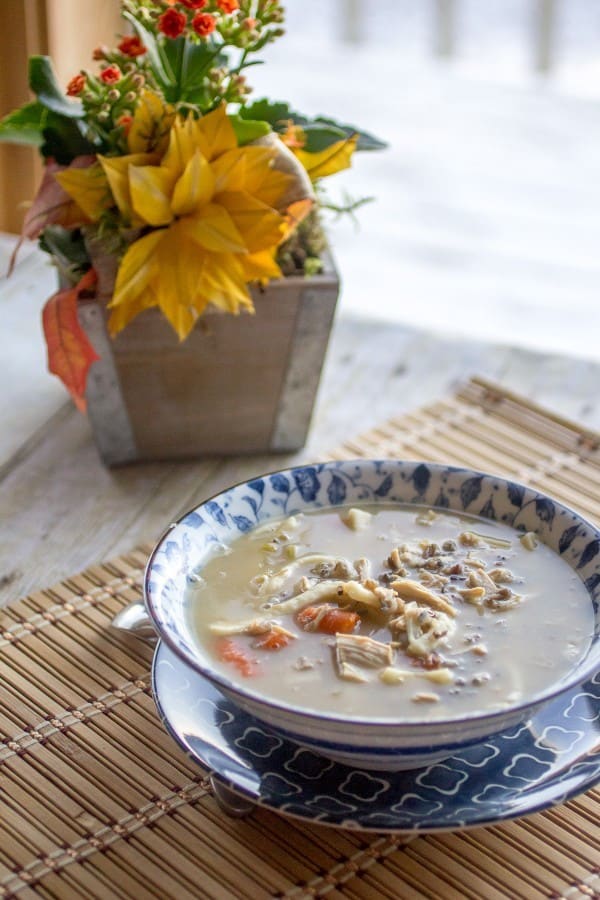 What can I serve with Turkey Soup?
I love a good soup, salad, and bread combo myself, so I'd recommend whipping up a batch of my Homemade Caesar Dressing and if there aren't leftover rolls from Thanksgiving, bake up some of my homemade milk rolls. It'll be the most epic of lunches.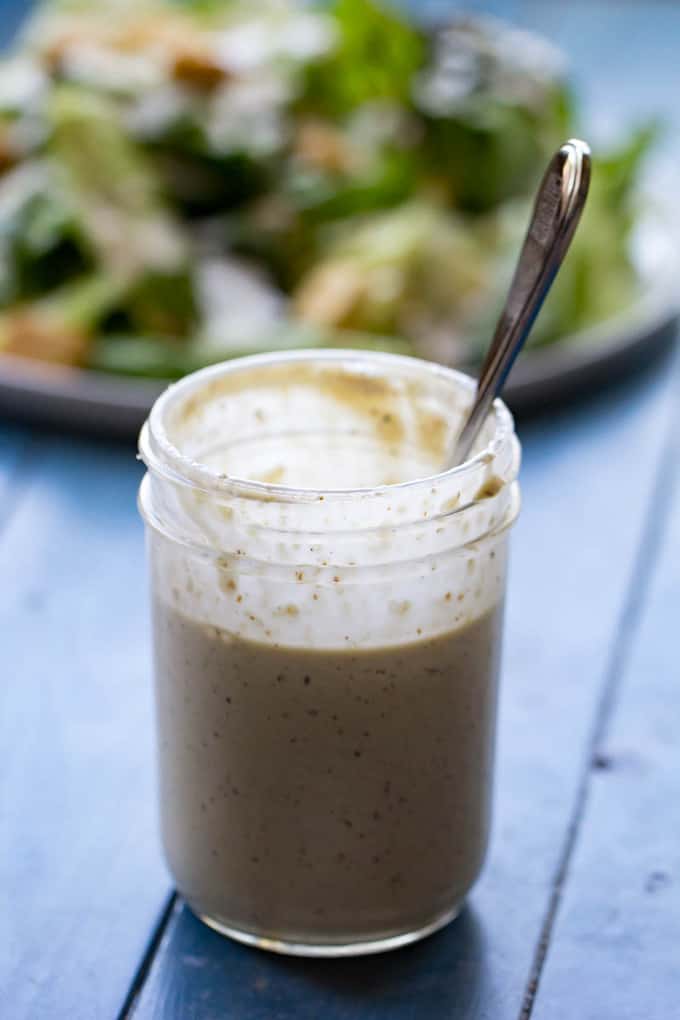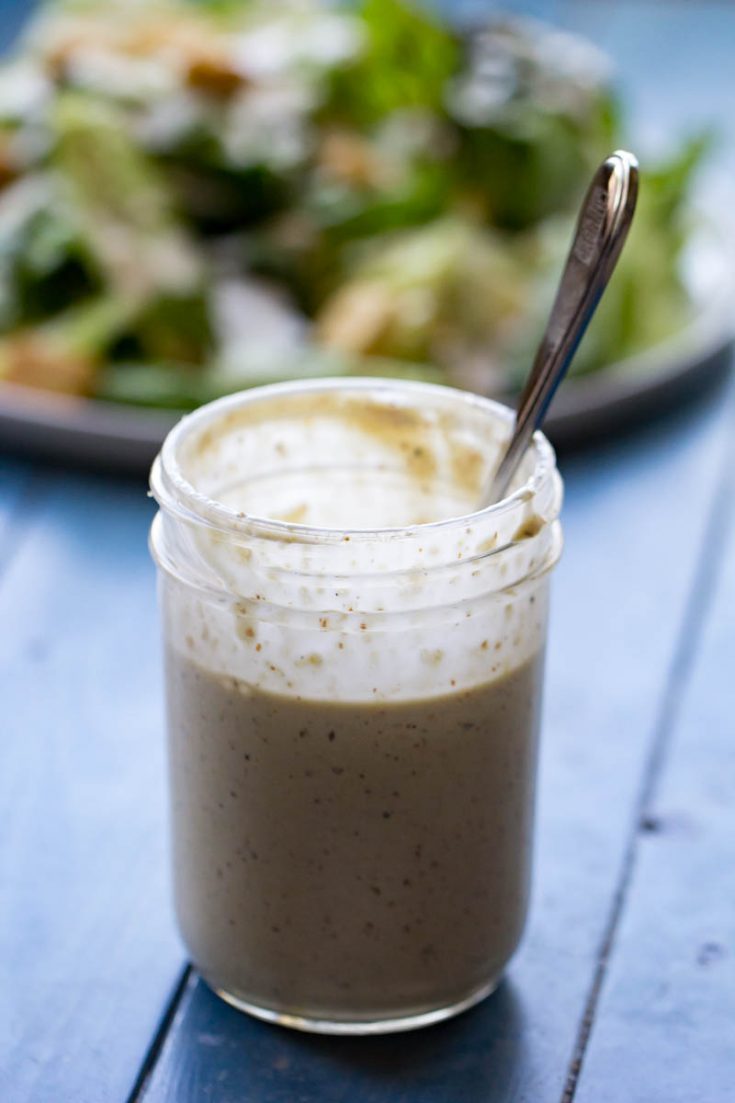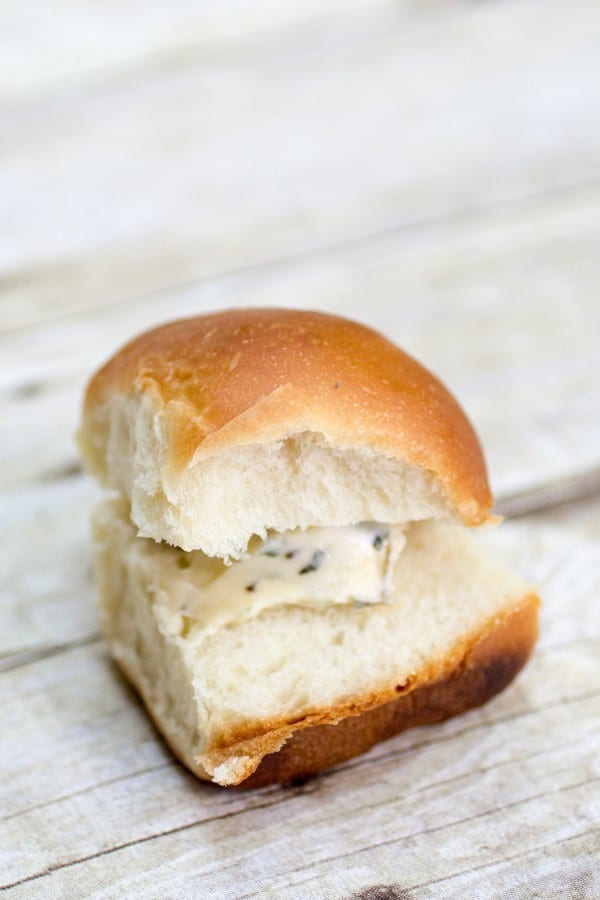 Pin for later!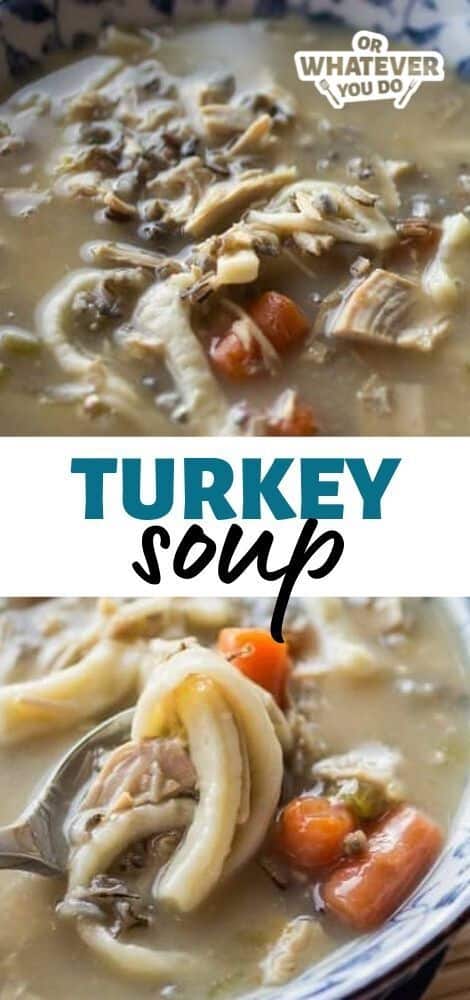 Yield: 12 servings
Homemade Turkey Noodle Soup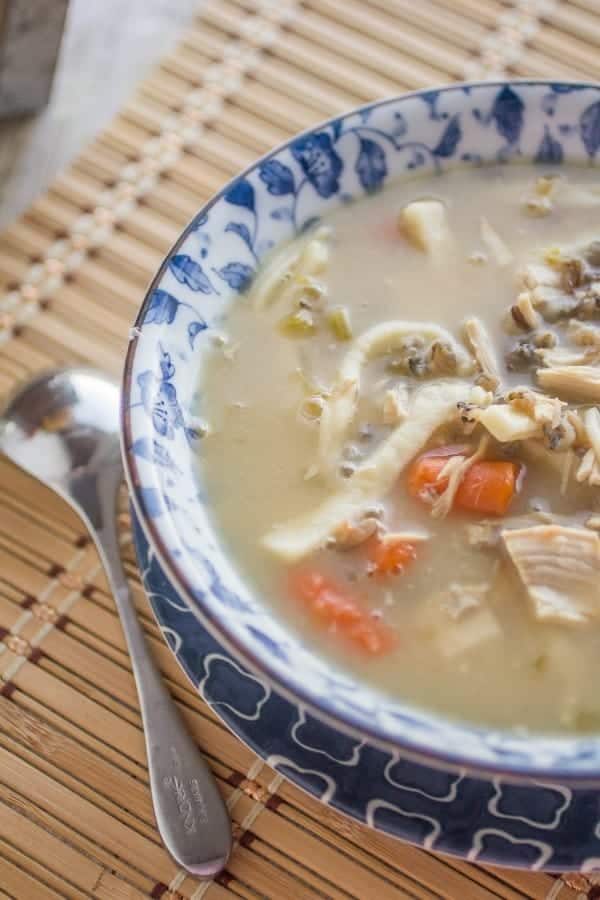 Leftover turkey? Turn it into delicious homemade turkey noodle soup! This is easy, delicious, and a perfect way to transform that leftover turkey.
Ingredients
Stock:
1 turkey carcass
enough water to cover the carcass
3 leaves bay
4 peppercorns
2 whole allspice
1 teaspoon poultry seasoning
1 whole onion, roughly chopped
2 cups diced carrots
4 stalks celery, chopped
Homemade Egg Noodles
3 cups flour
3 large eggs
3 tablespoons half and half
1/2 teaspoon salt
Add-ins:
3 stalks celery, diced
1 cup wild rice, uncooked
3 cups sliced carrots
3-4 cups of chopped turkey meat
Instructions
Soup Stock
Place the turkey carcass in a large stock pot, and cover with water. Add the bay leaves, peppercorns, allspice, poultry seasoning, onion, carrots, and celery. Simmer, stirring occasionally, for 3-4 hours.
Strain broth through a fine mesh strainer or cheesecloth. Return strained broth to pot, and bring back up to a simmer.
Noodles
Place flour in a large bowl. Make a well in the middle and add the eggs.
Beat the eggs in the center of the well, and then add salt and half and half. Mix well.
Slowly start incorporating the egg mixture into the flour mixture until a soft dough forms.
When the dough is able to be formed into a ball, remove from the bowl and coat with a thin layer of oil. Wrap in plastic wrap and refrigerate for 10-15 minutes, or until ready to use.
Roll out into a thin sheet and cup with a pizza cutter into small strips.
Soup
Add in chopped carrots, celery, and rice into the pot with all the homemade stock. Add salt to taste.
Bring the stock to a simmer, and cook until the vegetables are tender.
Bring the pot up to a low boil, and add to boiling soup, stirring as you add them, and cook until done, approximately 2-4 minutes.
Remove the soup from the heat, and stir in cooked, diced turkey. Serve with warm crusty bread.
Recommended Products
As an Amazon Associate and member of other affiliate programs, I earn from qualifying purchases.
Nutrition Information:
Yield:
12
Serving Size:
1
Amount Per Serving:
Calories:

402
Total Fat:

8g
Saturated Fat:

2g
Trans Fat:

0g
Unsaturated Fat:

4g
Cholesterol:

187mg
Sodium:

307mg
Carbohydrates:

35g
Fiber:

4g
Sugar:

4g
Protein:

46g
Nutrition data provided here is only an estimate. If you are tracking these things for medical purposes please consult an outside, trusted source. Thanks!