Honey Blueberry Whipped Goat Cheese is a delicious savory sweet appetizer.
You're going to want to double this batch! Even people who normally don't like goat cheese are going to love this spread.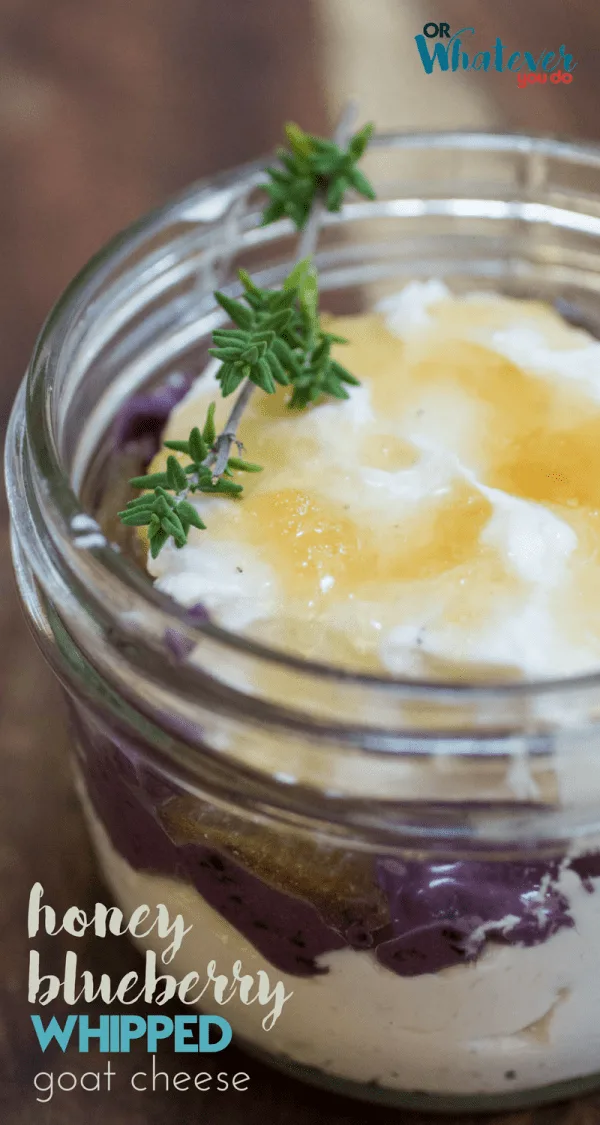 Honey Blueberry Whipped Goat Cheese
I've been in the blogging world for a long time. My little corner of the internet is 6 years old now, believe it or not. I've met a lot of amazing people in the last few years, but there are a few that are kind of super stars in my mind. Their beautiful photos, amazing story-telling, and successful businesses are shining examples of what you can do when you really go after pursuing your passions.
Our community is such a fantastic one. A bunch of super supportive women, holding each other up and helping each other out. You meet people sometimes, and just know. Yes. They are just as strange as you, and OH MY GOSH you have a bunch of things in common because we're all on this crazy ride together. Instant friends, sometimes, in a way that I've never really found in other areas of my life.
Kristen, of Dine and Dish, is one of those. She is so down to earth, easy to talk to, and so so kind. You'd never know upon meeting her that she has a giant blog empire and a zillion readers. Beyond her amazing photography, I'm pretty sure her approachability and the rapport and care she has for people is a big reason WHY she has all of those loyal followers!
I was fortunate enough to share a meal in Kansas with her at the fabulous Rye, (along with equally awesome Julie from The Little Kitchen, and Melissa from My Whole Food Life) where this recipe originated, as well as spend some time hanging out at Chopped. It was one of the best experiences ever.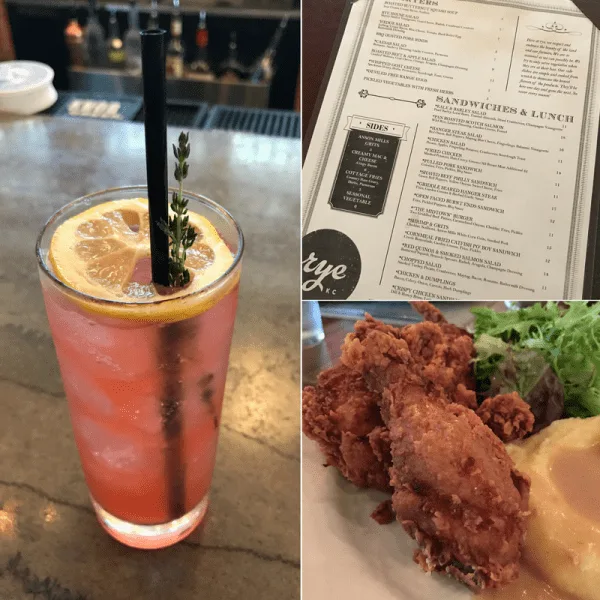 And Rye. You guys. Oh.my.gosh. I strongly recommend checking this place out if you are in the Kansas City area.
Not only did they have delicious cocktails, but they also introduced me to a newfound love of whipped goat cheese, cottage fries, and ham gravy.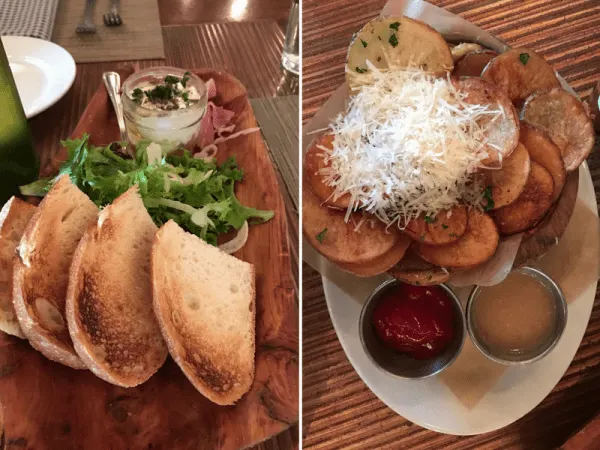 Okay so the cottage fries and ham gravy were pretty easy sells. I'm down with any kind of fries and gravy, really. That's kind of my thing, you know. My favorite unhealthy, inexpensive teenage snack was going down to the local diner and getting a side of fries covered with beef gravy.
Actually it was Kristen who really introduced me to my love of goat cheese. Prior to this trip, it was one of the new foods that was pretty firmly on my "NOPE" list. It isn't a very long list. It includes insects, anything that's still alive, rodents, and until recently – goat cheese. It just wasn't my favorite thing.
Then I tried this. Ohhhhh yeah.
Kristen mentioned while I was taking way more than my fair share of this that she had the recipe on her site too, and I knew pretty much immediately that I'd be making this. Her Whipped Goat Cheese and Honey recipe comes right from the Rye cookbook, and you must check it out.
My version is whipped together from some amazing double cream goat cheese rolled in blueberries that we picked up at Costco not too long ago.
You'll only use one log for this recipe, which served about 8 people appetizer-sized portions very comfortably. If you can't find this particular product in your area, there should be other brands available in your local grocer. If not, definitely check out Kristen's recipe which is blueberry-less, but equally amazing.
Start by taking your blueberry rolled goat cheese log, and cutting off most of the blueberries. I know, this sounds odd, but trust me. It'll work.
Set the blueberries aside, and put the goat cheese, cream cheese, garlic, thyme, salt, and pepper into a large bowl, and whip it. Whip it good. You want this to be light and fluffy and amazing.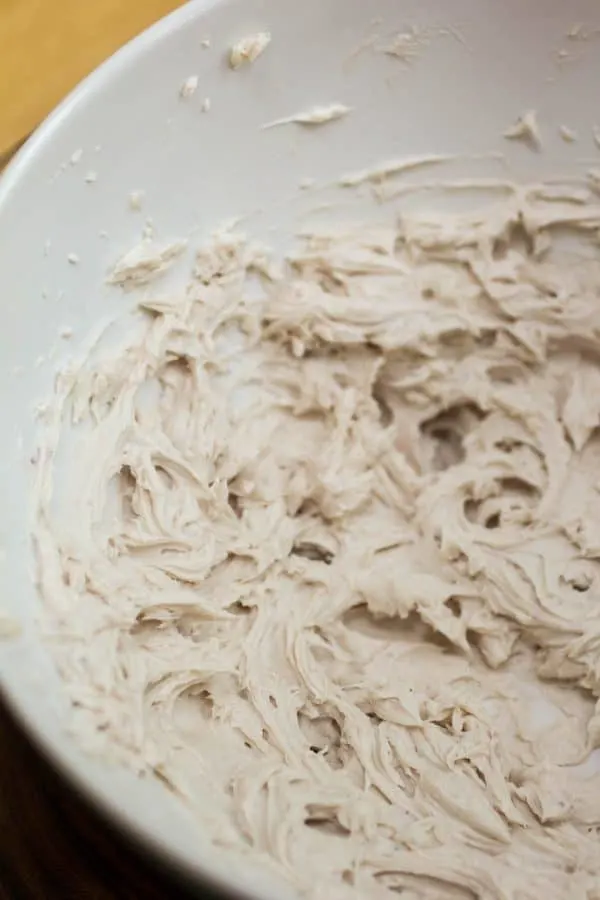 Now you'll take the blueberries, add in the cream and whip that too.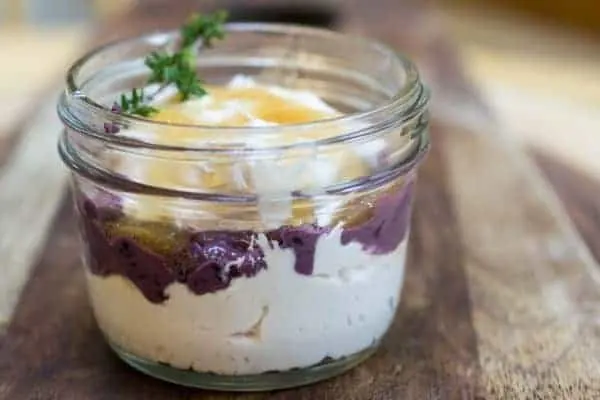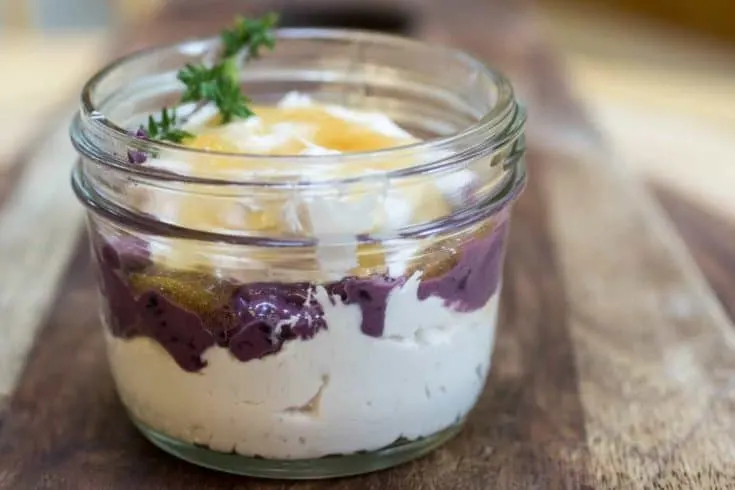 Layer some of the goat cheese mixture into a small jar, top with some of the blueberry mixture, add another dollop of the regular goat cheese, and then drizzle with honey. Ohhhh yes.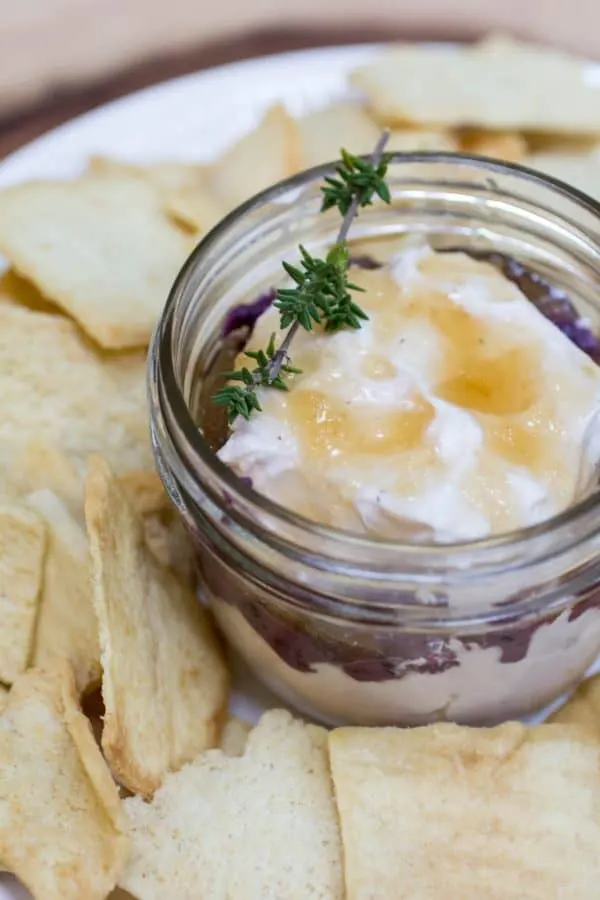 I served with with some pita chips, but it is also amazing with crusty toasted bread. Or a spoon. You know, whatever you can get your hands on. Use the dough recipe from my roasted garlic twisty bread, and make french loaves out of it. You won't regret it!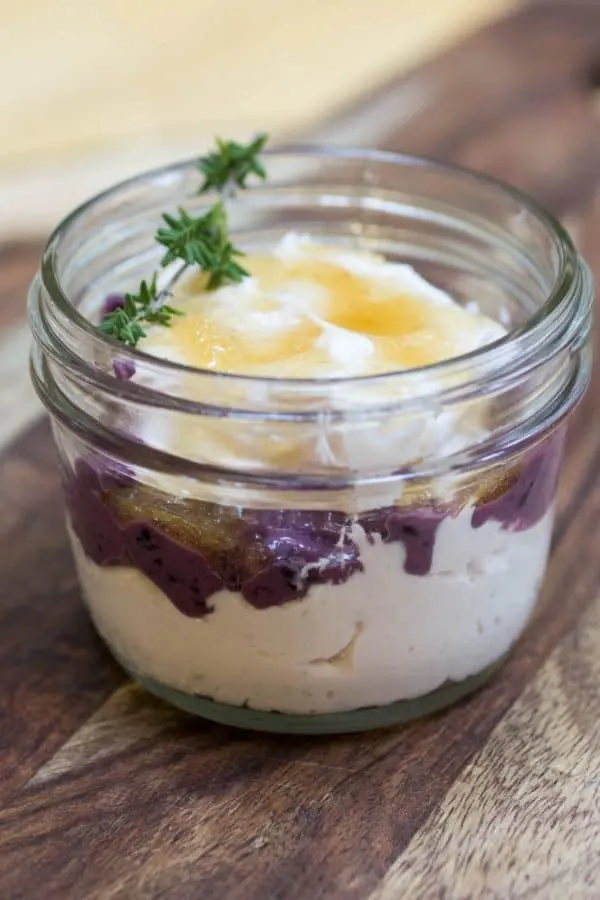 Yield: 8 servings
Honey Blueberry Whipped Goat Cheese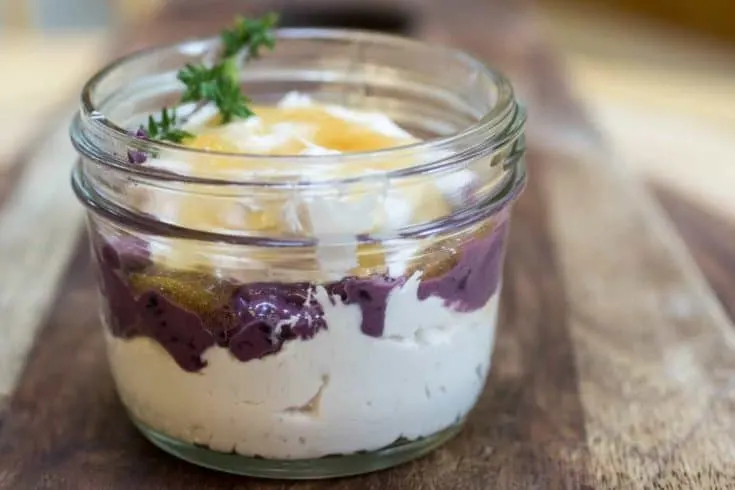 This delicious goat cheese spread is blended and has both a sweet and savory layer! It made me a believer in how good goat cheese can be, and it can make you one too!
Ingredients
Goat Cheese Layer
1 - 10.5 ounce log double cream goat cheese rolled in blueberries - blueberries cut off and set aside, or comparable
4 ounces cream cheese, softened
1/4 cup heavy whipping cream
2 teaspoons finely chopped garlic
1/4 teaspoon salt
1/8 teaspoon pepper
1/8 teaspoon onion powder
Blueberry Layer
Blueberries that were cut off previously
1/8 cup heavy cream
3 tablespoons honey
Instructions
Whip together the goat cheese, cream cheese, 1/4 cup whipping cream, garlic, salt, pepper, and onion powder. Whip for 2-3 minutes, or until light and fluffy. Place into two small mason jars, reserving about 1/3 of the mixture to top the dish.
In a separate bowl, beat together the blueberries and heavy cream until smooth. Spoon into the mason jars, and top with the remaining goat cheese. Drizzle on the honey, and serve with pita chips or toasted baguette rounds.
Nutrition Information:
Yield:
8
Serving Size:
1
Amount Per Serving:
Calories:

255
Total Fat:

24g
Saturated Fat:

15g
Trans Fat:

1g
Unsaturated Fat:

7g
Cholesterol:

73mg
Sodium:

141mg
Carbohydrates:

9g
Fiber:

0g
Sugar:

9g
Protein:

3g
Nutrition data provided here is only an estimate. If you are tracking these things for medical purposes please consult an outside, trusted source. Thanks!
This post was sponsored by Gourmet Garden! Thanks for supporting my sponsors, as it allows me to continue doing my thing here for you all!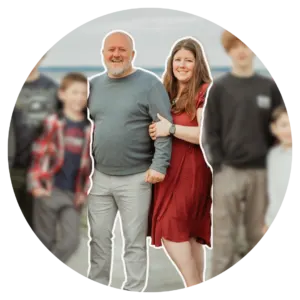 Nicole Johnson, a self-taught expert in grilling and outdoor cooking, launched Or Whatever You Do in 2010. Her blog, renowned for its comprehensive and creative outdoor cooking recipes, has garnered a vast audience of millions. Nicole's hands-on experience and passion for grilling shine through her work. Her husband, Jeremiah Johnson, also plays a pivotal role in recipe development, adding his culinary flair to the mix. Together, they form a dynamic duo, offering a rich and varied outdoor cooking experience to their followers.