Traeger Grilled Chicken is the first recipe that they recommend you tackle after buying your first Traeger wood-pellet grill, and after tasting this I can totally see why. I've never had a whole chicken that retained so much moisture or had so much flavor.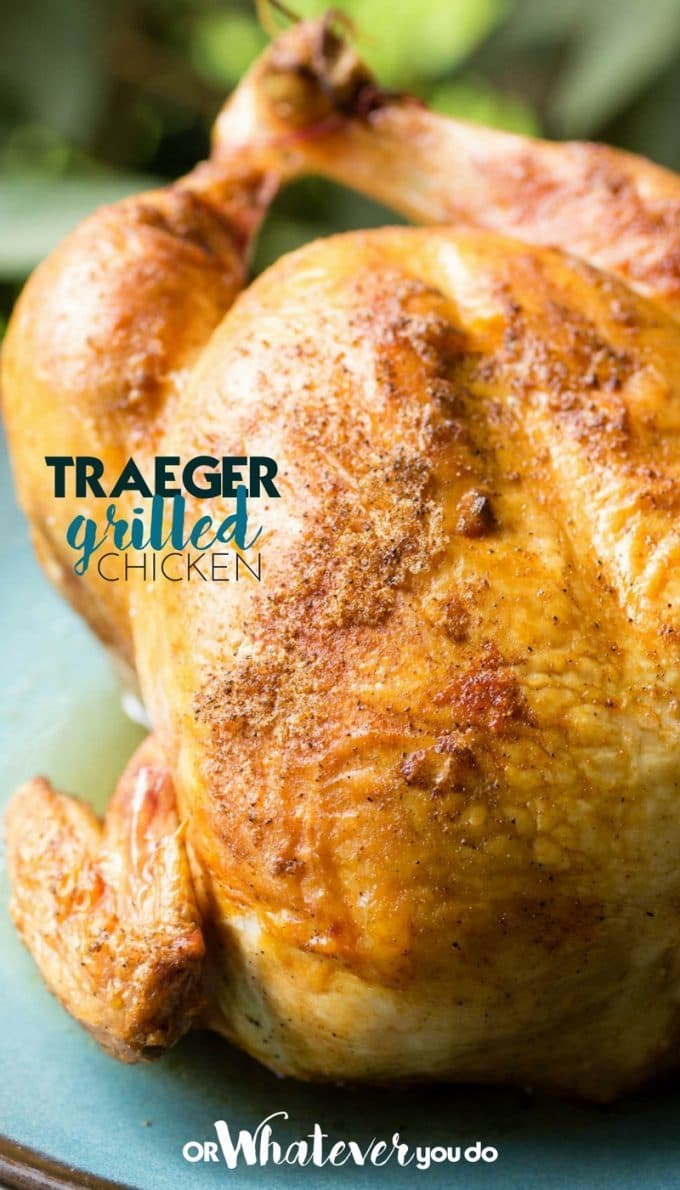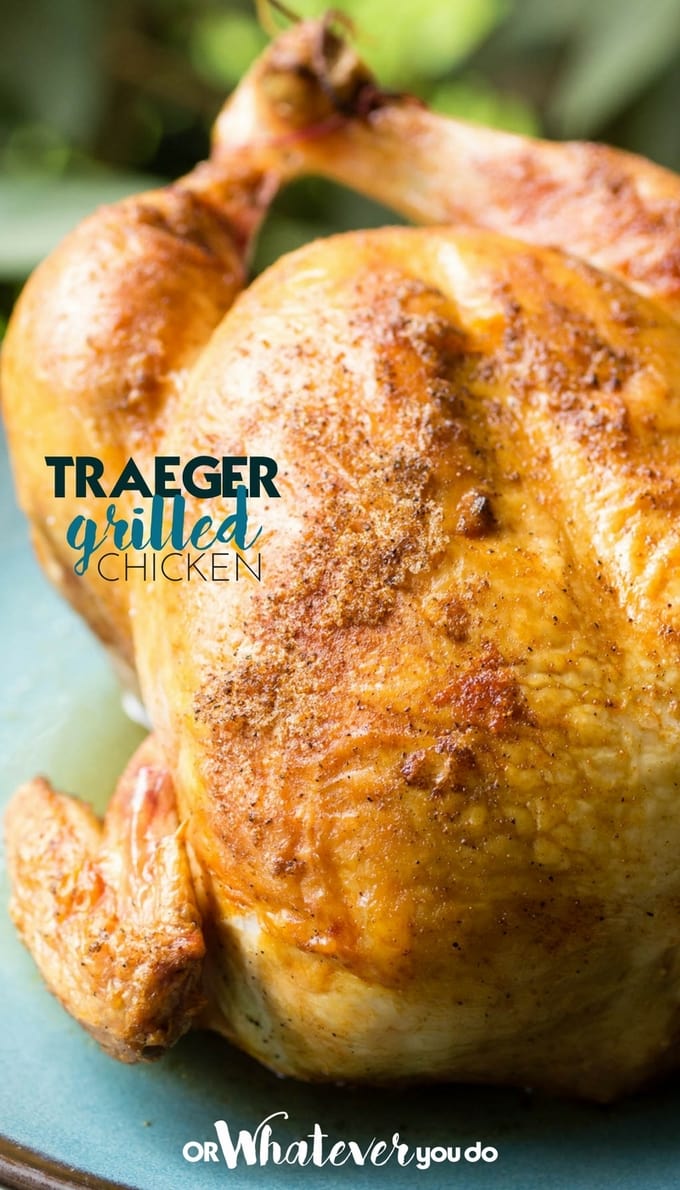 Traeger Grilled Chicken
Just when I thought I'd acquired enough kitchen gadgets to last a lifetime, my husband bought a Traeger Grill.
These are like a gas grill, but without the inconsistent temperatures, and you know – the GAS. It is an easy-to-use smoker that takes all of the mystery and learning curves out of smoking meats.
You can see my whole collection of Trager Recipes too! Most of these would work well in a gas grill too, you just won't have as much of the smokey flavor and you'll need to keep a close eye on cook times and temps.
How Does a Traeger Wood-Pellet Grill Work?
Traeger Grills run on wood pellets and plug into an electric outlet. You can set the temp, dial in the smoke level, and grill to your heart's content over constant temps with no hot spots, no flares from grease dripping off of the meats, and you get that awesome wood-smoked flavor that you just can't get on a gas grill.
There are quite a few different brands if you are in the market for a pellet smoker. I've heard great things about a lot of them, but the Traeger is the only one we have personal experience with.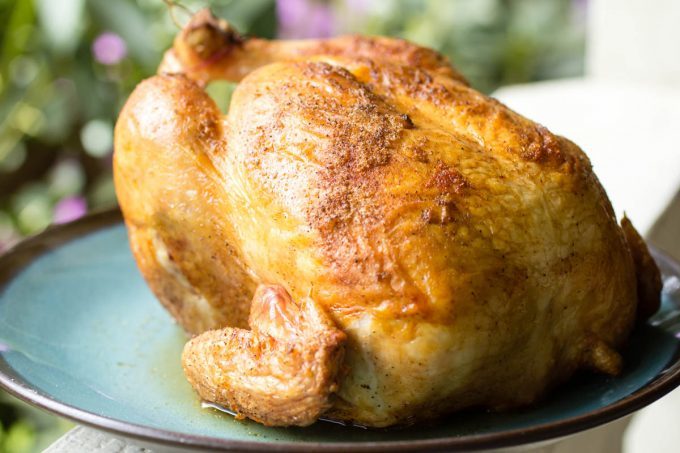 You also get this…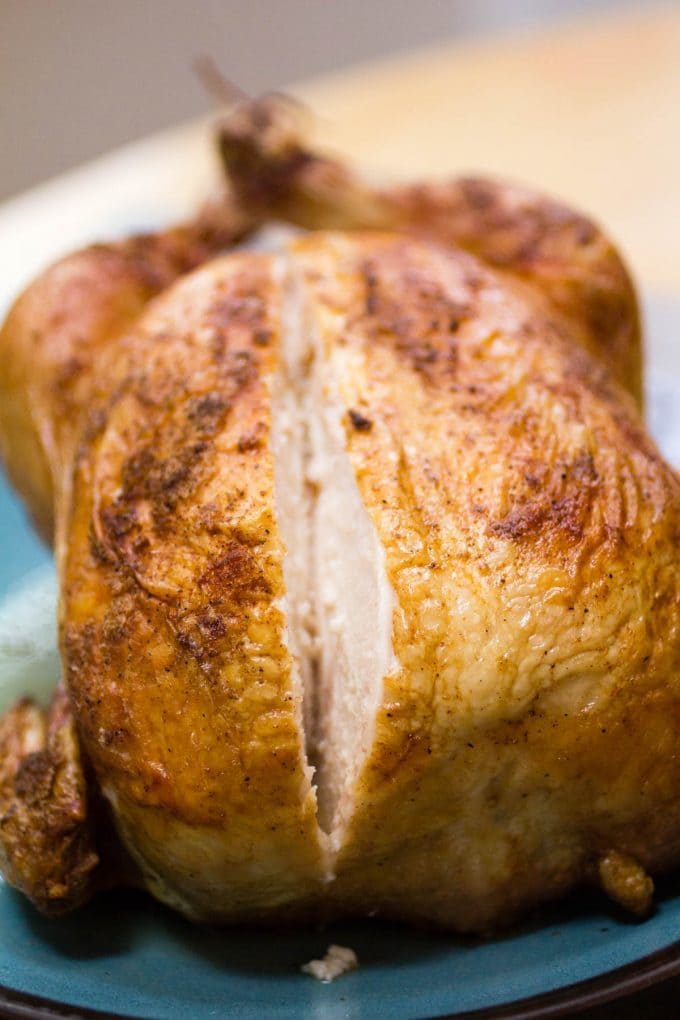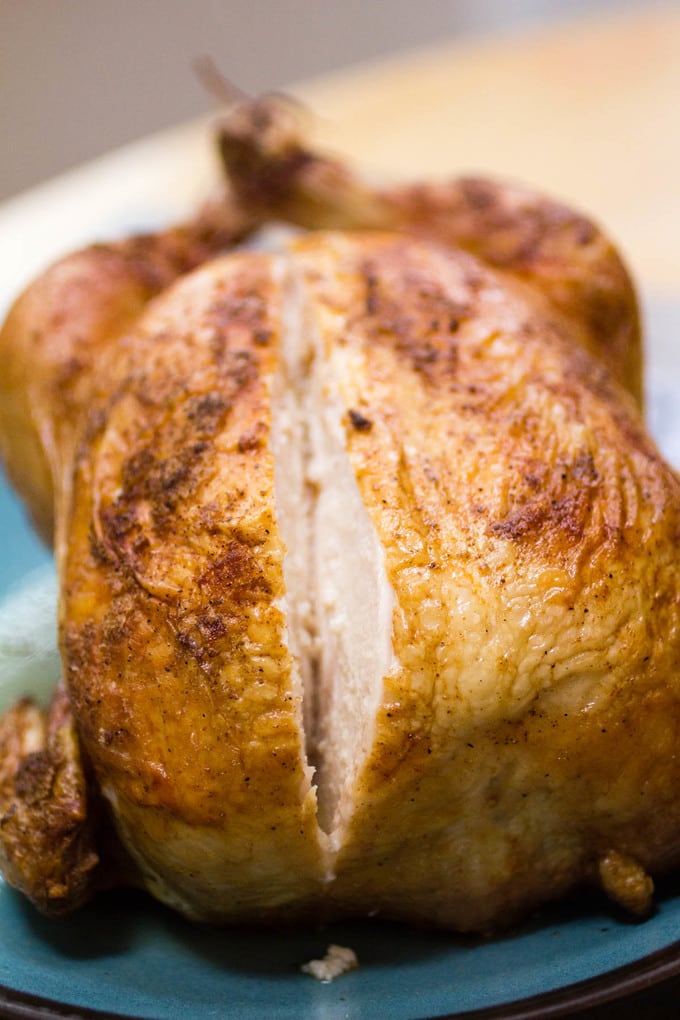 Benefits of a Traeger Wood Smoker
No hot spots or flare-ups
Better flavor
Great smoke flavor
Runs on electric
Easier to cook things at lower temperatures
This chicken was SO moist and juicy. I would take these a million times over the grocery store rotisserie chicken. Like, alll day every day.
Rotisserie chicken has its place, especially when you need to throw together a quick meal, but if you want an experience and not just something to fill a belly – this is definitely the way to go.
Speaking of the way to go – you'll want to make this loaded baked potato salad, coleslaw, and zesty Italian pasta salad to go along with this!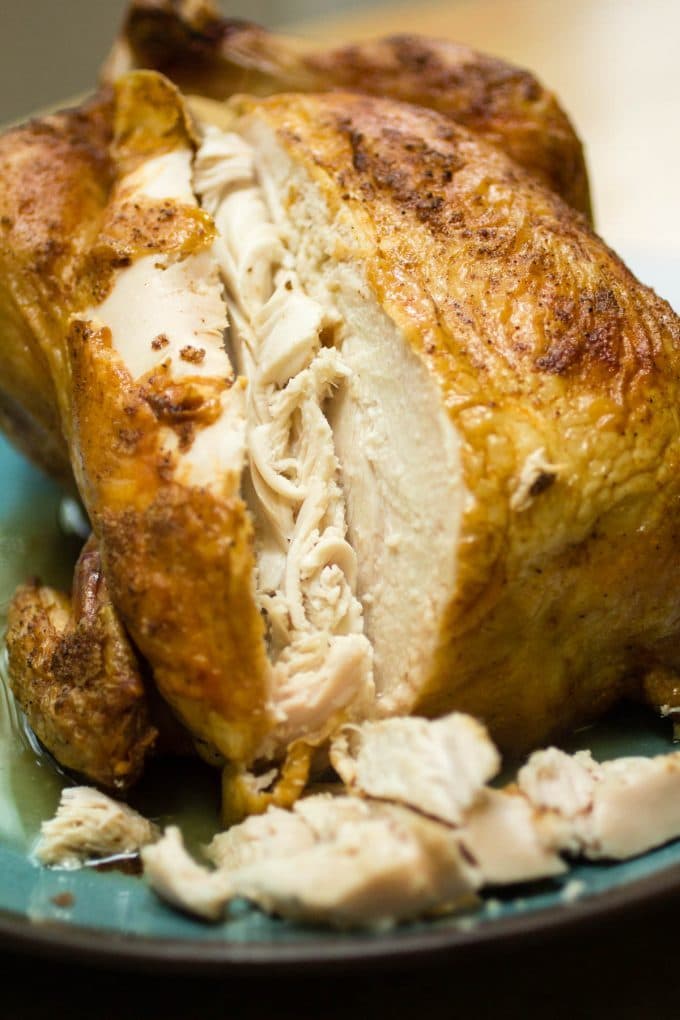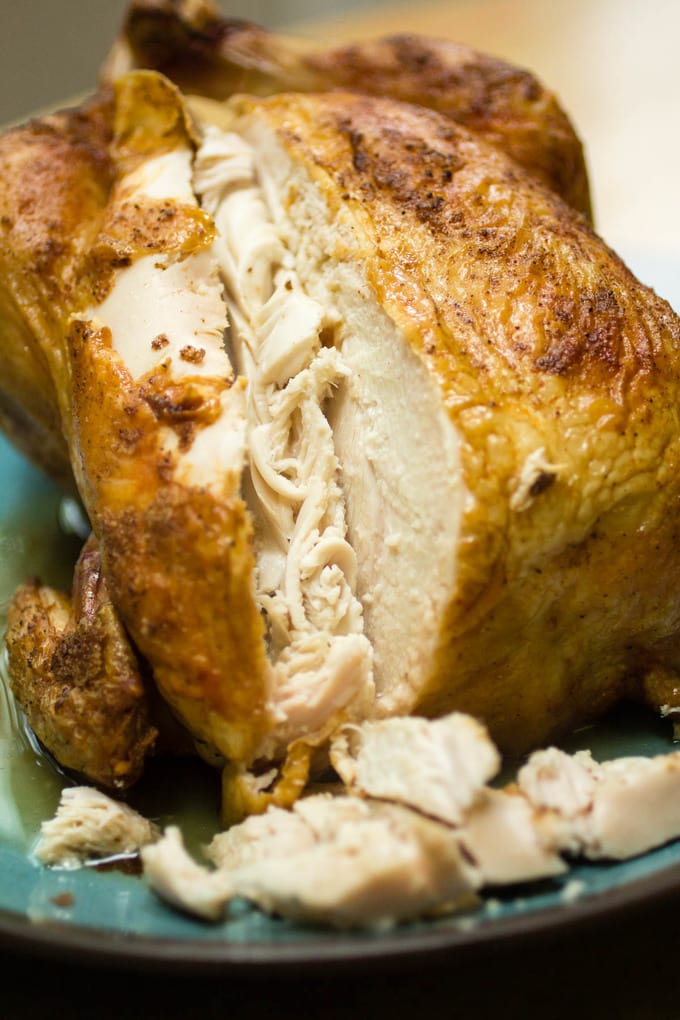 By the way – like my Instant Pot posts (which aren't sponsored), these ones aren't sponsored either. I just fell in love with this product, and I post what we eat, and we've been eating a LOT of Traeger grilled foods lately!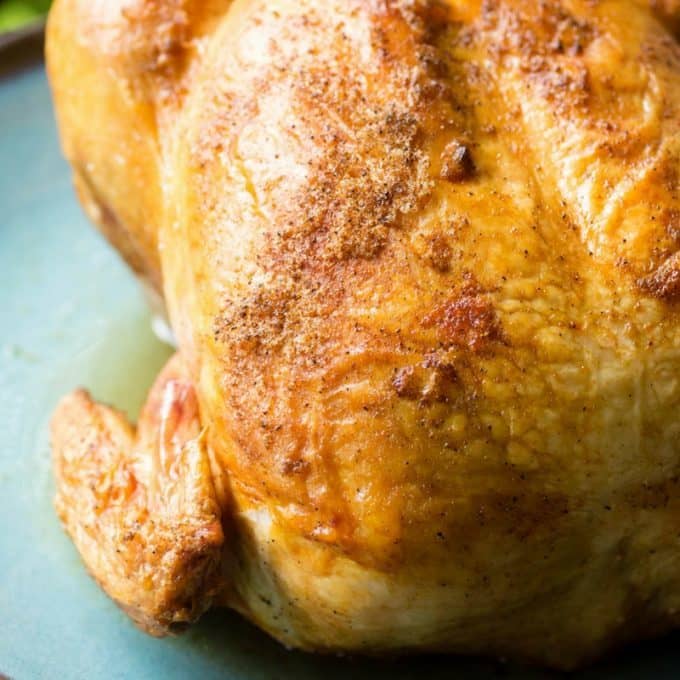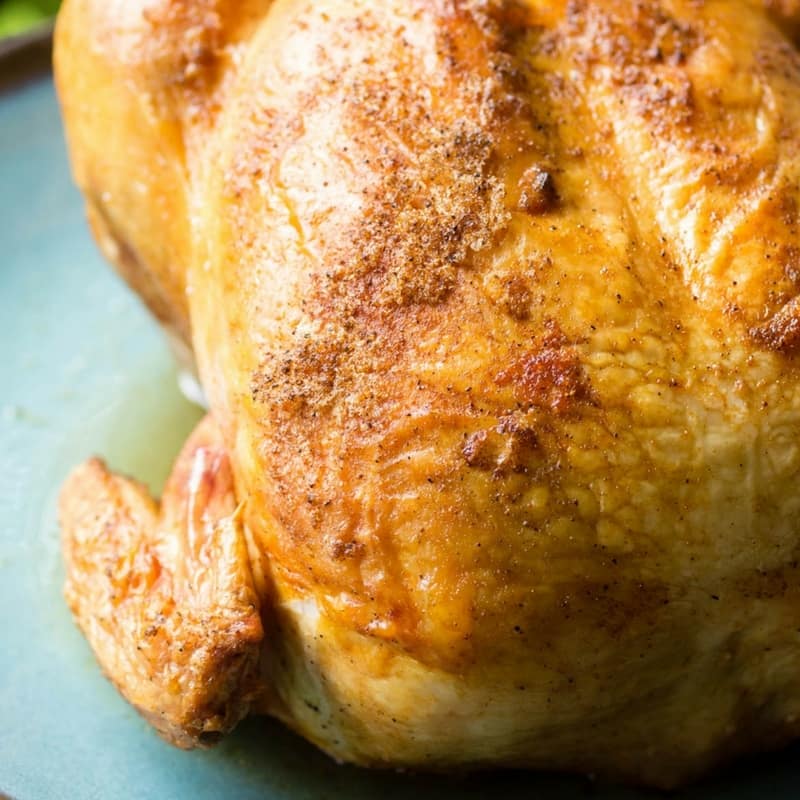 More Traeger Recipes That You'll Love!
Smoked Beef Roast – This one was a game-changer with my relationship with the Traeger. It takes a LONG time, but it is seriously worth every single second. Every one. And then some. Make thissssss.
Traeger Smoked Salmon – If you are a salmon fan this maple glazed smoked salmon is going to be your new favorite thing in life. Make this for someone you love, or someone that you would like to love you.
Traeger Grilled Shrimp Scampi – Like whoa. I love all of the Traeger shrimp I've ever had, but this one is near and dear to my heart. Make it. MAAAAAKKKKKEEEEE IT.
Traeger Grilled Scallops – Seafood on the grill is delicious, and these scallops are no exception. Simple, and totally delicious, with JUST enough smoke to make it interesting.
Yield: 6 people
Traeger Grilled Chicken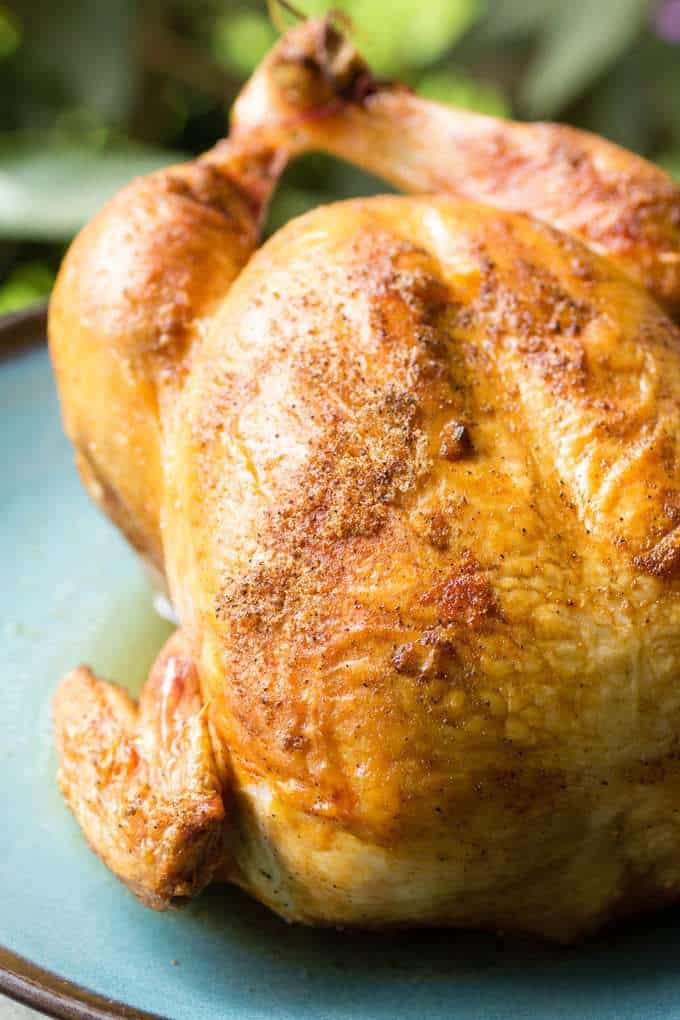 This chicken lives up to ALLLLLL of the hype. Traeger Grilled Chicken is going to be the best roasted and grilled chicken you've ever had.
Cook Time
1 hour
10 minutes
Total Time
1 hour
20 minutes
Ingredients
5 pound whole chicken
1/2 cup oil
Traeger Chicken Rub
Instructions
Preheat your grill on "smoke" for 4-5 minutes with the lid open. Set the temperature to high, and close the lid and preheat for an additional 10-15 minutes until it reaches 400-450 degrees.
Tie the legs together on your chicken with baker's twine. Rub the chicken with oil, and coat with the chicken rub. Place your chicken onto the grill, breast side up.
Grill for 70 minutes. DO NOT OPEN THE GRILL for 70 minutes. (If you have a thermometer, place it right away so you can monitor internal temp for doneness! If it reaches 165° before the 70 minutes, open the grill.)
Check the internal temperature of the chicken, to ensure it is at least 165°. If it is not yet VERY close to 165°, leave it on the grill a little while longer.
Carefully remove the chicken from the grill and let rest for 15 minutes. Cut and serve!
Recommended Products
As an Amazon Associate and member of other affiliate programs, I earn from qualifying purchases.
Nutrition Information:
Yield:
6
Serving Size:
1
Amount Per Serving:
Calories:

935
Total Fat:

53g
Saturated Fat:

15g
Trans Fat:

0g
Unsaturated Fat:

33g
Cholesterol:

346mg
Sodium:

320mg
Carbohydrates:

0g
Fiber:

0g
Sugar:

0g
Protein:

107g
Nutrition data provided here is only an estimate. If you are tracking these things for medical purposes please consult an outside, trusted source. Thanks!