Indulge in the rich, smoky flavor of our Smoked Pulled Pork Nachos! We take tender pulled pork piled on top of crisp tortilla chips, and all enveloped in a blanket of melted cheese. Each bite offers the heat of jalapeños, the freshness of homemade salsa, and a ribbon of zesty cilantro lime crema. Complete this dish with a heap of sour cream and a side of creamy guacamole. Ideal for any party or family event, these nachos are sure to delight everyone with their robust taste and hearty crunch.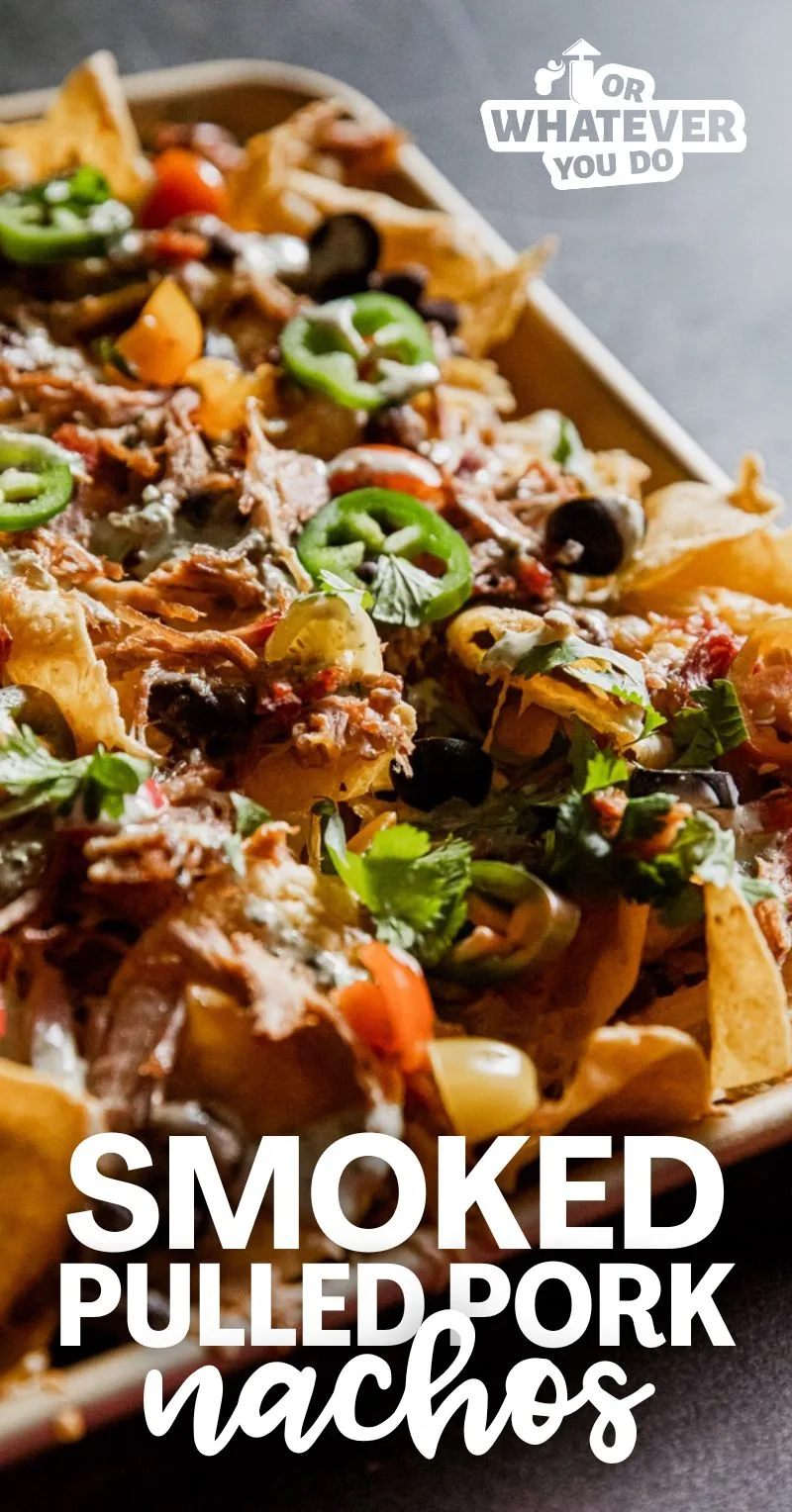 Smoked Pulled Pork Nachos
For those seeking a recipe that will feed a small army that's both incredibly flavorful and easy to make, Smoked Pulled Pork Nachos are an excellent choice. The smoked pork, when shredded and nestled among a bed of crispy nachos, creates some amazing texture and crunch. The convenience of using leftover smoked pulled pork means less time in the kitchen and more time enjoying your friends and family. Whether you're looking for a hearty snack or a casual dinner, the robust flavors and simplicity of this dish make it appealing to any home cook.
Smoked pulled pork nachos are a versatile choice for a variety of gatherings. They're a hit at game day watch parties, where guests can graze and cheer without fuss. They also shine as a standout at backyard barbecues, adding a gourmet twist to the casual outdoor setting. Even for movie nights or potlucks, these nachos provide a satisfying, communal food that's easy for guests to serve themselves as much or as little as they'd like.
Ultimately, these nachos are not just about the bold flavors and the crowd-pleasing appeal; they're about adaptability. Modify to suit any occasion or taste preference. It's a dish that allows you to experiment with flavors while still providing the comforting, communal eating experience that makes nachos so enjoyable. Whether keeping it classic or dressing it up with gourmet touches, smoked pulled pork nachos will surely be a hit!
Why you'll love this dish…
Great way to use up leftover pulled pork!
This feeds an army either as a snack or as a meal.
Super customizable! Add or omit whatever you'd like and tailor to your family!
If you don't want to fire up your Traeger, you can cook these in the oven too.
Get all of my Traeger Recipes here!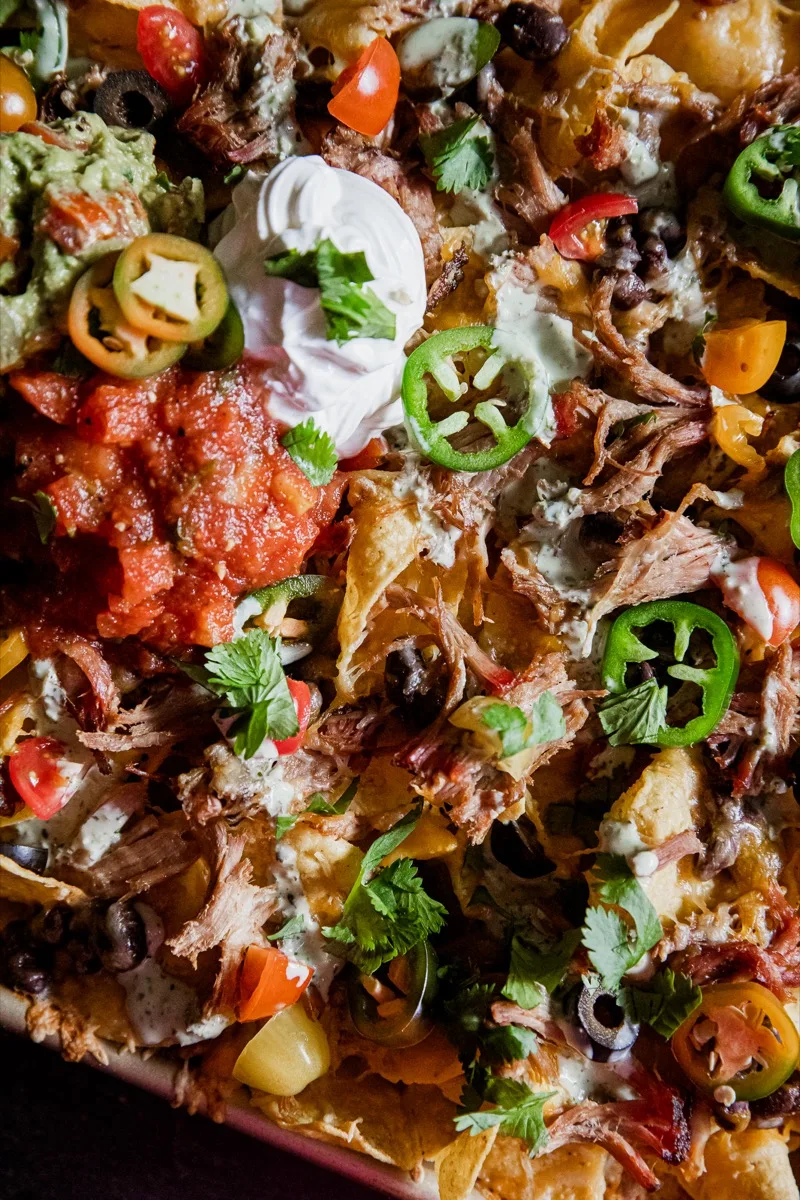 Smoked Pulled Pork Nachos shopping list
Wondering if you have to hit the store? Here's the list of items you'll need to make this recipe. For specific amounts, please refer to the printable recipe card at the bottom of the post.
Juanita's Tortilla Chips
Colby Jack cheese
Smoked pulled pork
Mexican BBQ rub
Black beans
Jalapeños
Tomatoes
Salsa
Sour cream
Guacamole
Black olives
Cilantro lime crema
Cilantro
Get 75+ of my favorite Traeger Recipes here!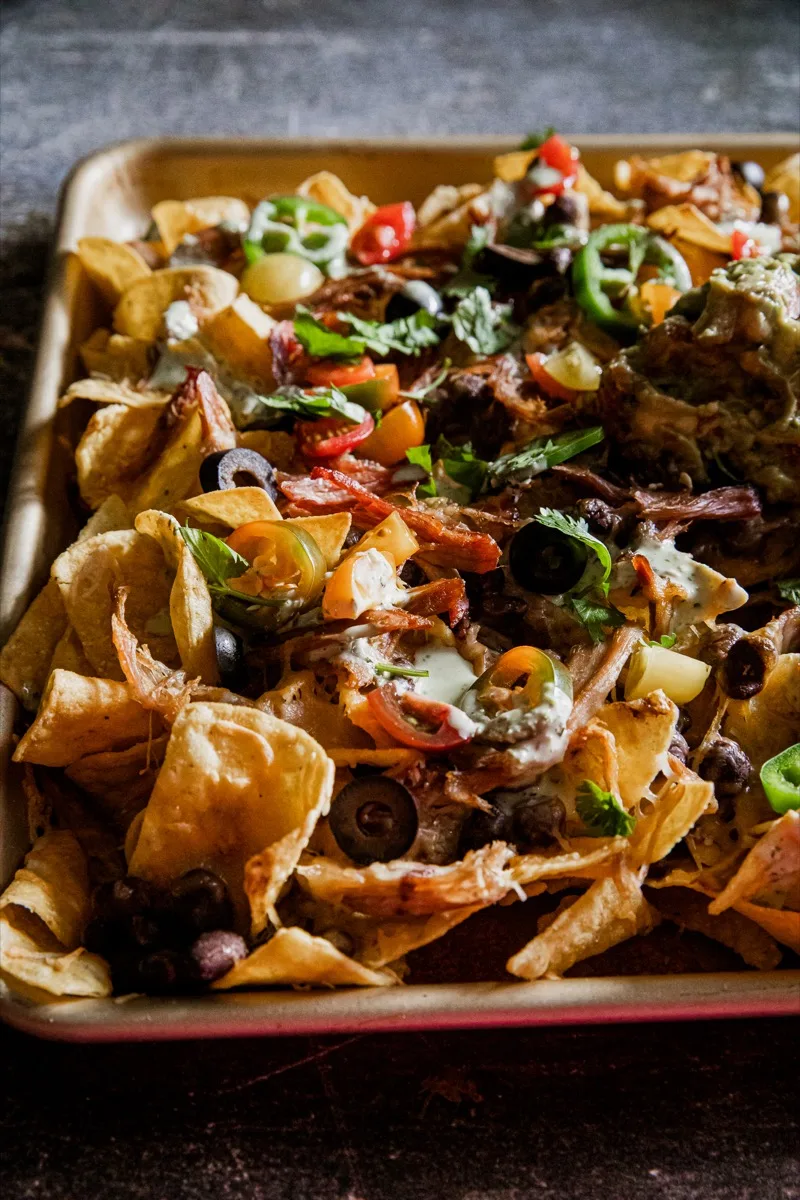 How to make Smoked Pulled Pork Nachos
This is just the overview so you can see what you're actually getting into here. When you are cooking, you'll want to use the full recipe at the bottom of the page.
Preheat
You can use your oven or your Traeger. Fire it up and preheat to 350°F.
Build
Build the nachos on a large baking sheet. Put on the chips, cheese, beans, and cooked pulled pork.
Cook
Put into the oven or grill and cook for about 20 minutes, or until the meat is hot and the cheese is melted.
Load 'em up
Load up with all the toppings you can fit on them!
Enjoy
Feast! I like to serve with some extra hot sauce on the side for people who like to kick it up a notch or three.
Try our Smoked Chicken Breast Burrito Bowl!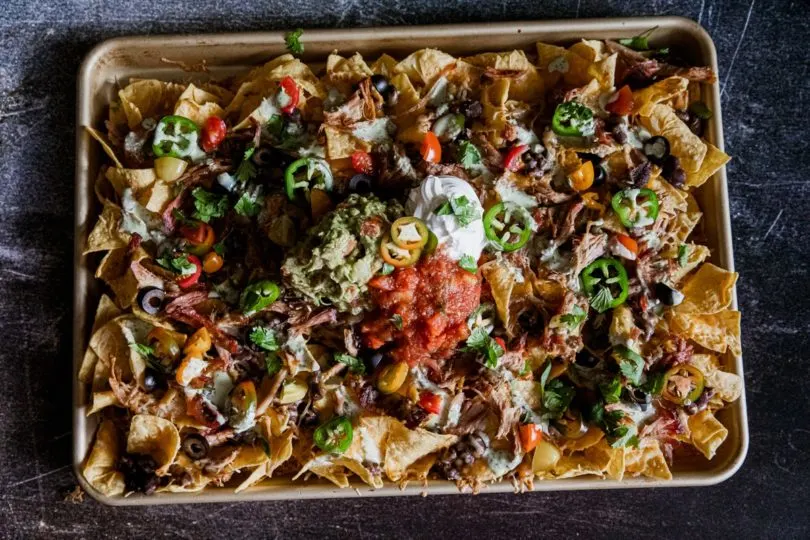 Pulled Pork Nachos FAQ
Can this recipe be made in advance?
All of the elements of this recipe can. be made ahead of time, but it is best not to actually assemble them until right before the final cook, right before eating. You can certainly transport them across the neighborhood if you need to, but much further than that and I'd make sure there's an oven available for heat.
What are good nacho toppings?
We threw the kitchen sink at this recipe, but there are lots of other options for nacho toppings if you are looking to get creative! You could add diced tomatoes, additional peppers, some grilled Mexican corn, and different hot sauces to switch up the flavors a bit.
Are there any suggested substitutions or variations?
Nachos are great because they are so customizable to individual tastes and preferences. If there's an ingredient here you aren't into, skip it! Did I forget something that's your favorite? Toss it on and make this your own.
Try with some Smoked Salsa Verde!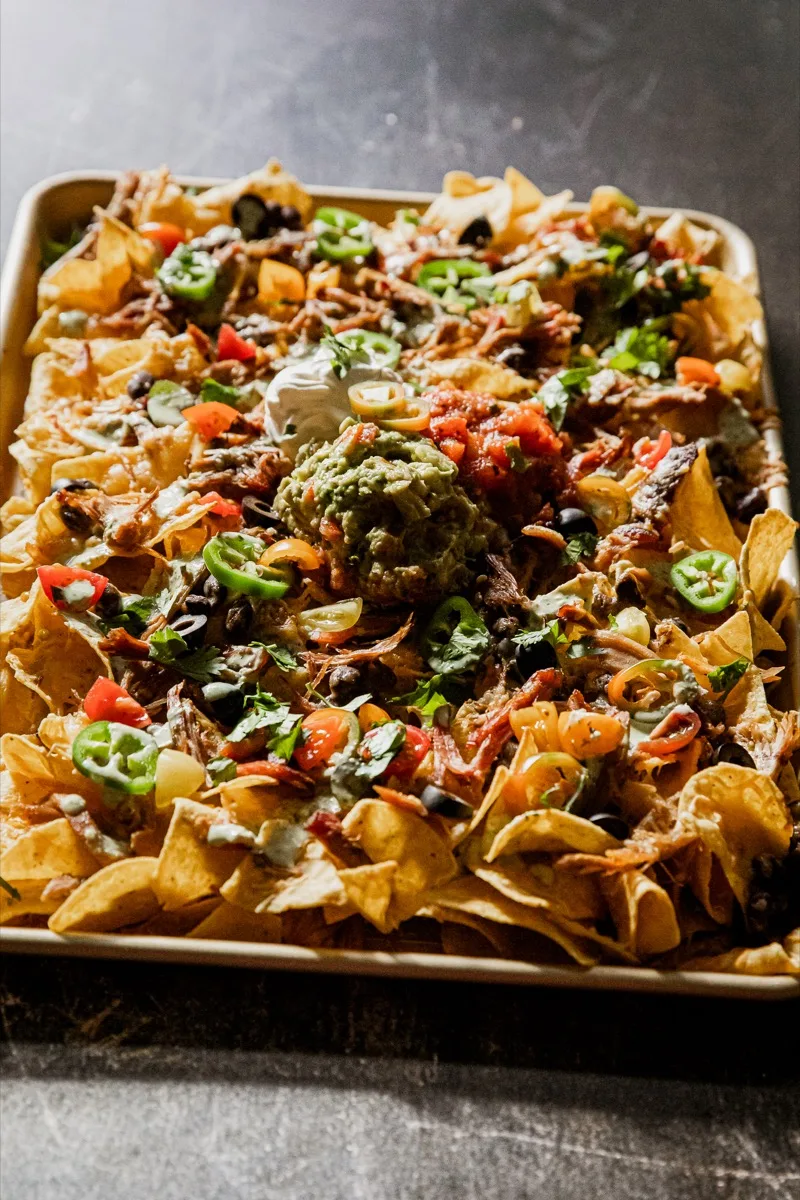 Serve this with…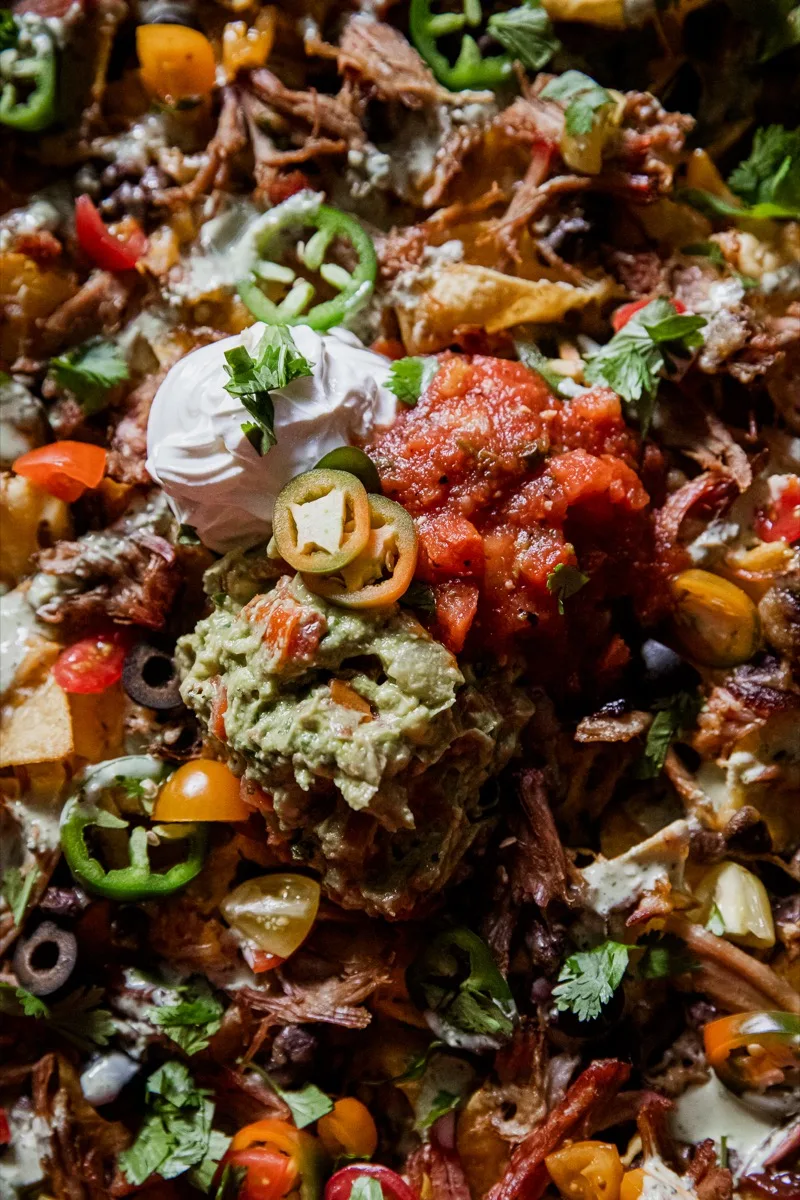 More great spicy recipes to love!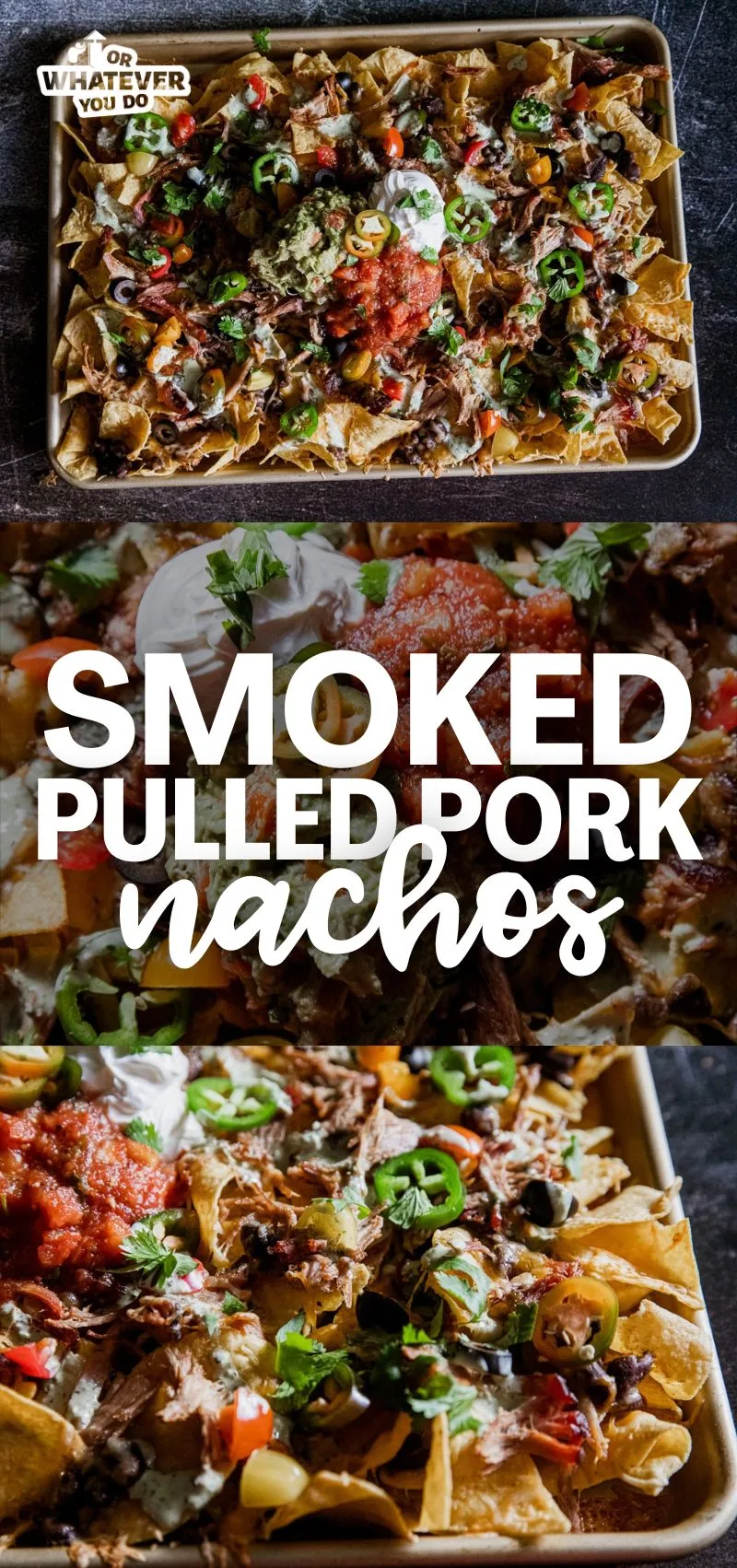 Yield: 12 servings
Smoked Pulled Pork Nachos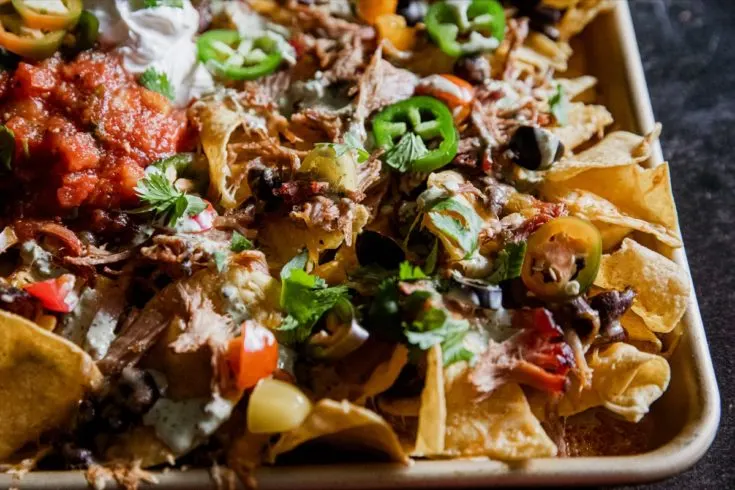 Enjoy smoky, tender pulled pork layered over crunchy tortilla chips, smothered in melted cheese. This dish is topped with spicy jalapeños, fresh salsa, and a drizzle of cilantro lime crema. Serve with a dollop of sour cream and guacamole for a full-flavored feast. Perfect for game day or a family gathering, these nachos are a crowd-pleaser, packed with bold flavors and satisfying textures. Quick to assemble, they're a go-to for easy, delicious snacking.
Ingredients
15 ounces Juanita's Tortilla Chips
6 cups shredded Colby Jack cheese
4 cups smoked pulled pork
1 tablespoon Mexican BBQ rub
2 cups black beans
2 jalapeños, sliced
1 cup diced tomatoes
1/2 cup salsa
1/2 cup sour cream
1/2 cup guacamole
1/2 cup sliced black olives
1/4 cup cilantro lime crema
1/4 cup chopped cilantro
Instructions
Preheat your oven or your Traeger to 350°F.
Build your nachos on a large sheet pan. Season the pulled pork with the Mexican BBQ rub. Evenly distribute the seasoned pork, beans, and cheese over the chips.
Heat until the cheese is melted and the meat is nice and hot.
Top with the rest of your fixings and serve hot!
Recommended Products
As an Amazon Associate and member of other affiliate programs, I earn from qualifying purchases.
Nutrition Information:
Yield:
12
Serving Size:
1
Amount Per Serving:
Calories:

619
Total Fat:

33g
Saturated Fat:

15g
Trans Fat:

0g
Unsaturated Fat:

16g
Cholesterol:

89mg
Sodium:

1217mg
Carbohydrates:

51g
Fiber:

7g
Sugar:

15g
Protein:

31g
Nutrition data provided here is only an estimate.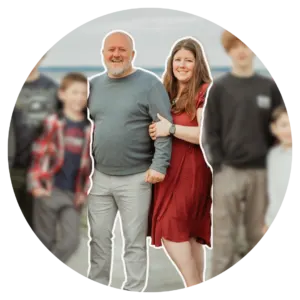 Nicole Johnson, a self-taught expert in grilling and outdoor cooking, launched Or Whatever You Do in 2010. Her blog, renowned for its comprehensive and creative outdoor cooking recipes, has garnered a vast audience of millions. Nicole's hands-on experience and passion for grilling shine through her work. Her husband, Jeremiah Johnson, also plays a pivotal role in recipe development, adding his culinary flair to the mix. Together, they form a dynamic duo, offering a rich and varied outdoor cooking experience to their followers.