Are you ready to take your taco game to the next level? Look no further than this ultimate guide to making restaurant-quality Smoked Quesabirria Tacos in the comfort of your own kitchen. These tacos perfectly combine smoky flavors with super tender chuck roast. With our foolproof recipe and step-by-step instructions, you can create a mouthwatering plate of Traeger Quesabirria that rivals even the most popular food joints. So, grab your apron, turn up the heat, and dive into the beautiful world of smoked birria tacos!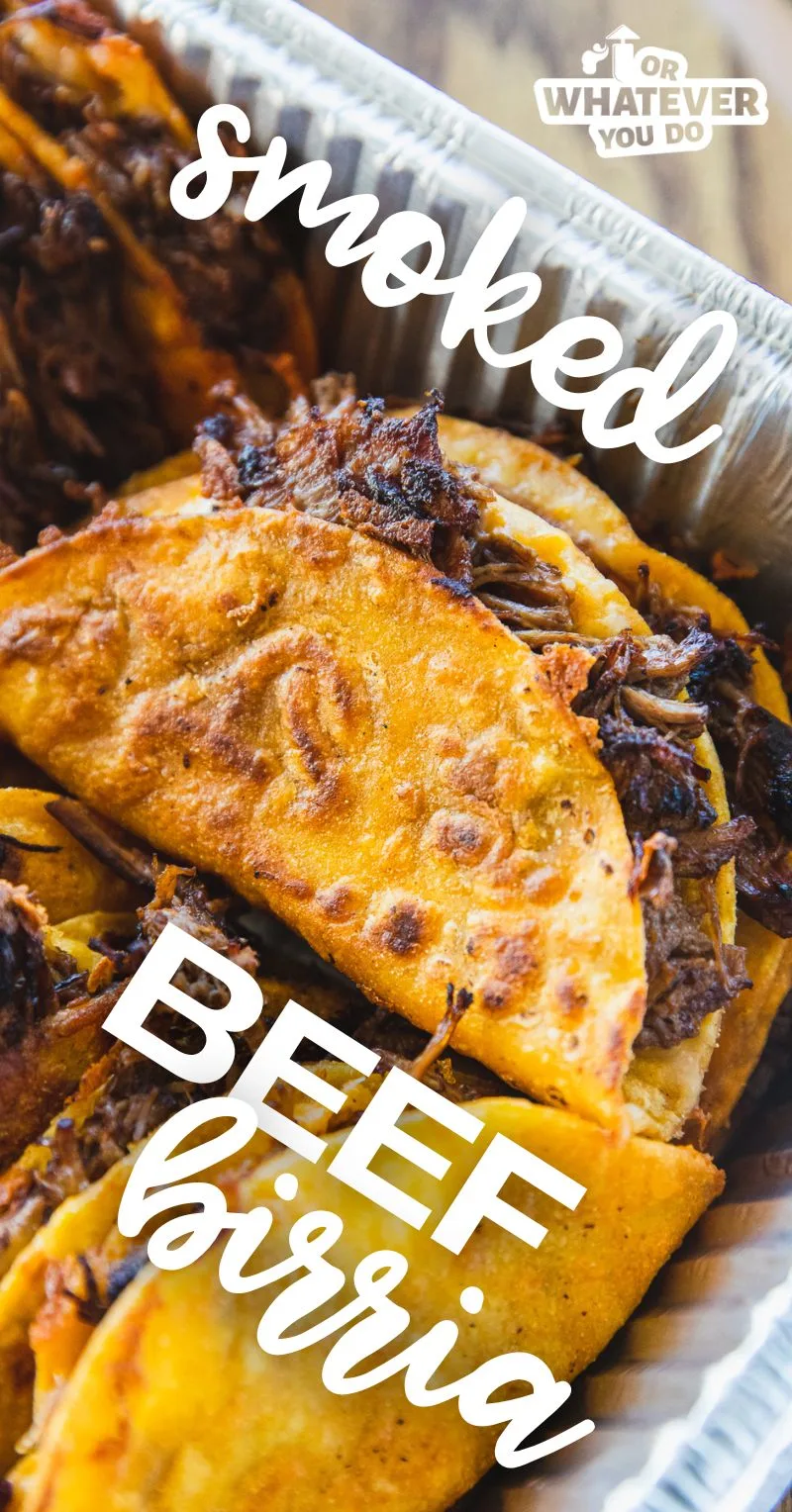 Smoked Quesabirria Tacos Recipe
Quesabirria Tacos have exploded in popularity over the last few years. Several birrieria restaurants have opened near me, and they are insanely busy. People love these chessy, shredded beef tacos, and I can see why. You can't get more flavor packed into a bite than you do with these, especially when served with a side of consommé for dipping.
Making birria at home is a bit of a process. It takes me the better part of an afternoon, and if you have some extra hands for helping – all the better. To be fair, MOST of the work making this is hands-off work. The smoking and the braising require little more than a couple of minutes of attention every half hour or so, but after that part is done all bets are off.
If you're making a big batch to feed a crowd, and you know that's what we do around here, the shredding and cooking of the tacos themselves can be a little intense. Especially if you don't have a gas griddle to work with where you can make 6-8 of these at a time. Fan you fire up a few pans on the stove and do 4 at a time? Sure! But I hope you have some history in the back-of-the-house of a restaurant or you really know your way around the stove, because it gets a little hectic in the middle of cooking.
Having a helper is always ideal, even if they are just coming to take cooked tacos away from you or are helping babysit a couple of those pans.
Don't let me scare you off, though. Every second of work you pour into these tacos is worth it.
Get all of my Traeger Recipes here!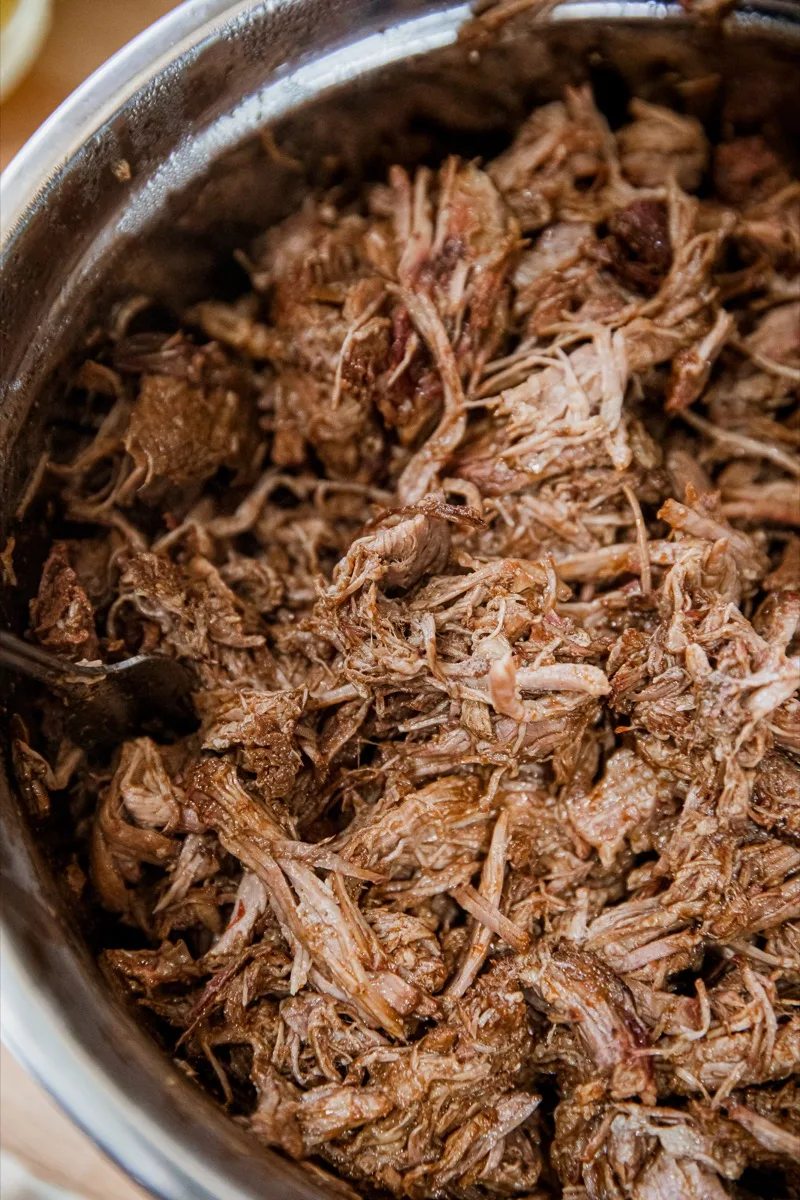 Smoked Quesabirria Tacos shopping list
Wondering if you have to hit the store? Here's the list of items you'll need to make this recipe. For specific amounts, please refer to the printable recipe card at the bottom of the post.
Beef chuck shoulder roast
Salt
Pepper
Thyme
Garlic
Onion
Corn tortillas
Shredded Mexican-blend cheese
Onion
Cilantro
Get 75+ of my favorite Traeger Recipes here!
Get our FREE Pellet Grill Appetizers Recipe E-Book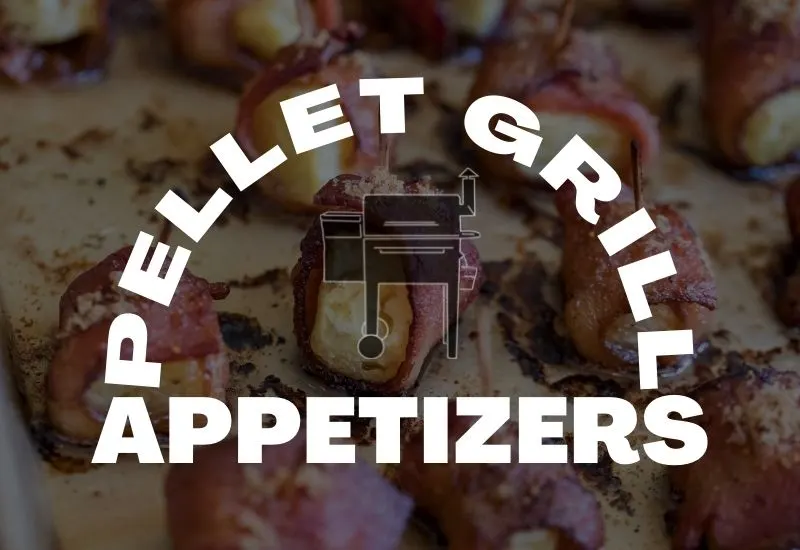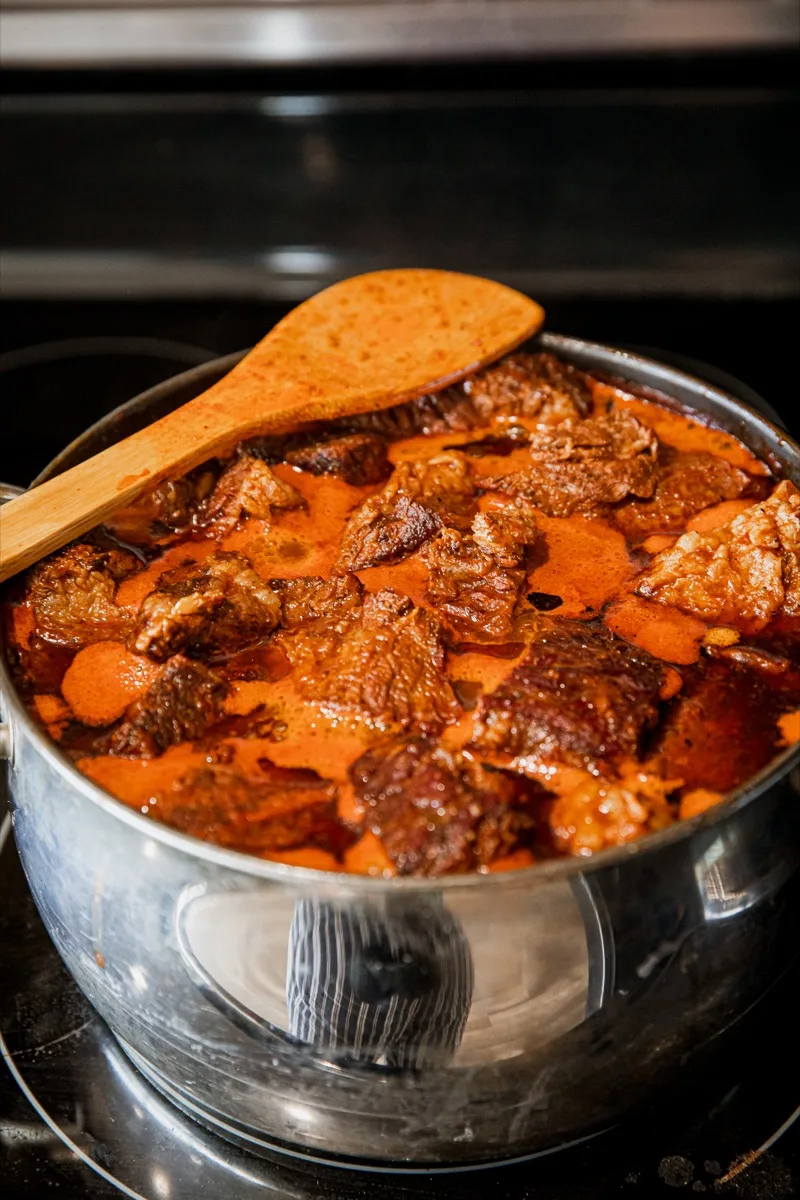 How to make Smoked Quesabirria Tacos
This is just the overview so you can see what you're actually getting into here. When you are cooking, you'll want to use the full recipe at the bottom of the page.
Preheat
Fire up the grill and get it preheating to 220°F.
Season & Smoke
Season all sides of the roast with your seasoning and put the roast on the smoker. Let it smoke for 2-3 hours.
Comsommé
Whip up the consommé while the roast is smoking.
Braise
Cut the roast into large chunks and place it into a Dutch oven. Cover with the consommé and cook over low to medium-low heat until the meat is tender and shreddable.
Shred and discard all the gross bits from the roast. Strain the consommé.
Crisp
Preheat your griddle or your pan on the stove. Dip the tortillas in the top layer of oil of the consommé and place onto the preheated griddle. Cover with lots of cheese and then the shredded meat on half. Fold over and brown both sides.
Optional – add onion and cilantro into the tacos as well.
Repeat until they are all cooked.
Enjoy
Serve with a side of consommé for dipping.
60+ Incredible Blackstone Recipes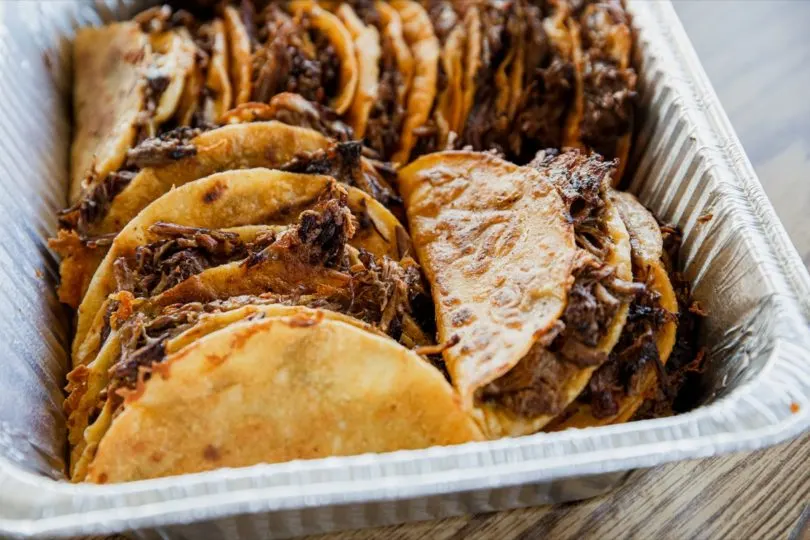 Smoked Quesabirria Tacos FAQ
Are there any other cuts of beef that would work for birria?
Yes! My favorite cut of beef for slow-cooking and shredding is chuck. It is readily available, relatively inexpensive, and always turns out great. If you'd like to try something else, I suggest the following.
Beef Brisket:
Brisket is another excellent choice due to its rich flavor and ability to become tender after slow cooking and braising.
Beef Shank:
Shank meat is flavorful and contains connective tissue that breaks down during slow cooking, adding richness to the broth.
Beef Short Ribs:
Short ribs are well-marbled and perfect for braising, resulting in tender, succulent meat.
Beef Cheek Meat:
Cheek meat is incredibly tender and flavorful, making it a traditional choice for birria.
These cuts of beef work well in birria recipes and will give you delicious, tender meat for your dish.
Can this dish be made in advance?
Yes! Quesabirria is perfect to make in advance and bring along. Just cover tightly with foil and pop back into the grill to reheat. Don't forget the extra consommé!
The leftovers are also delicious. If you can keep them in the house. These don't last more than a day around here!
More Blackstone Recipes here!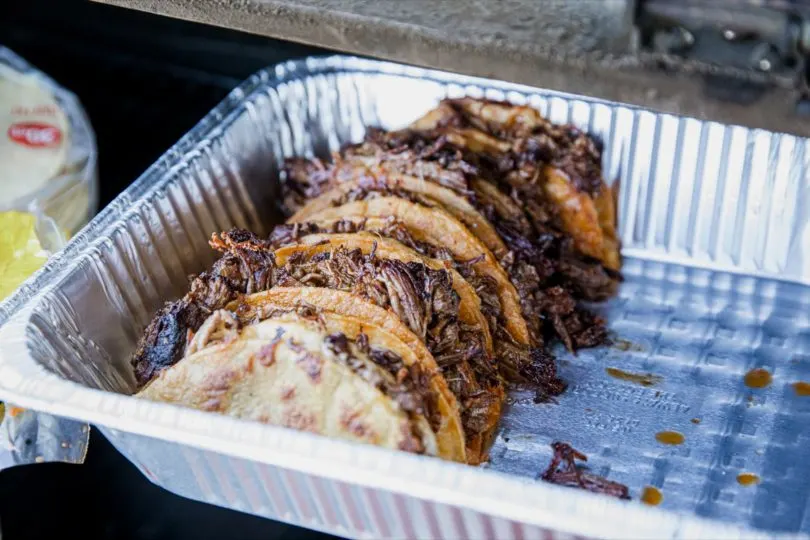 Serve this with…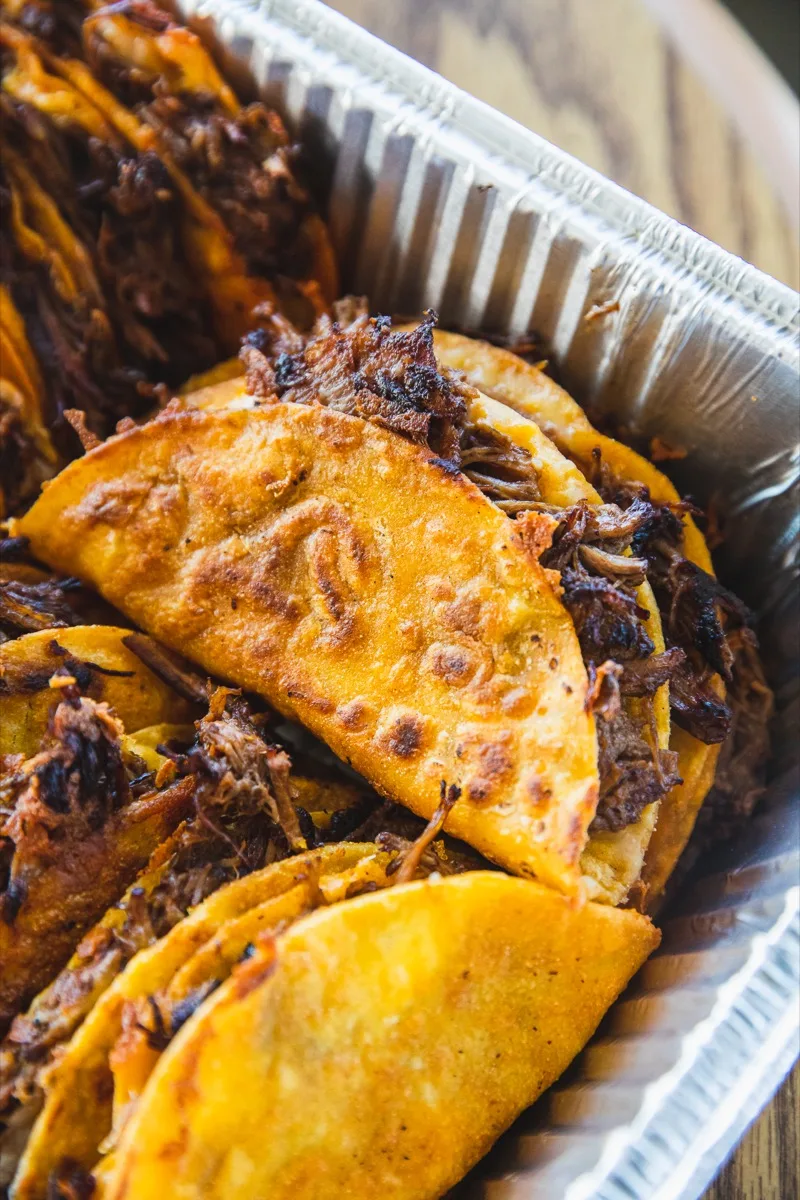 More great recipes using chuck roast to enjoy!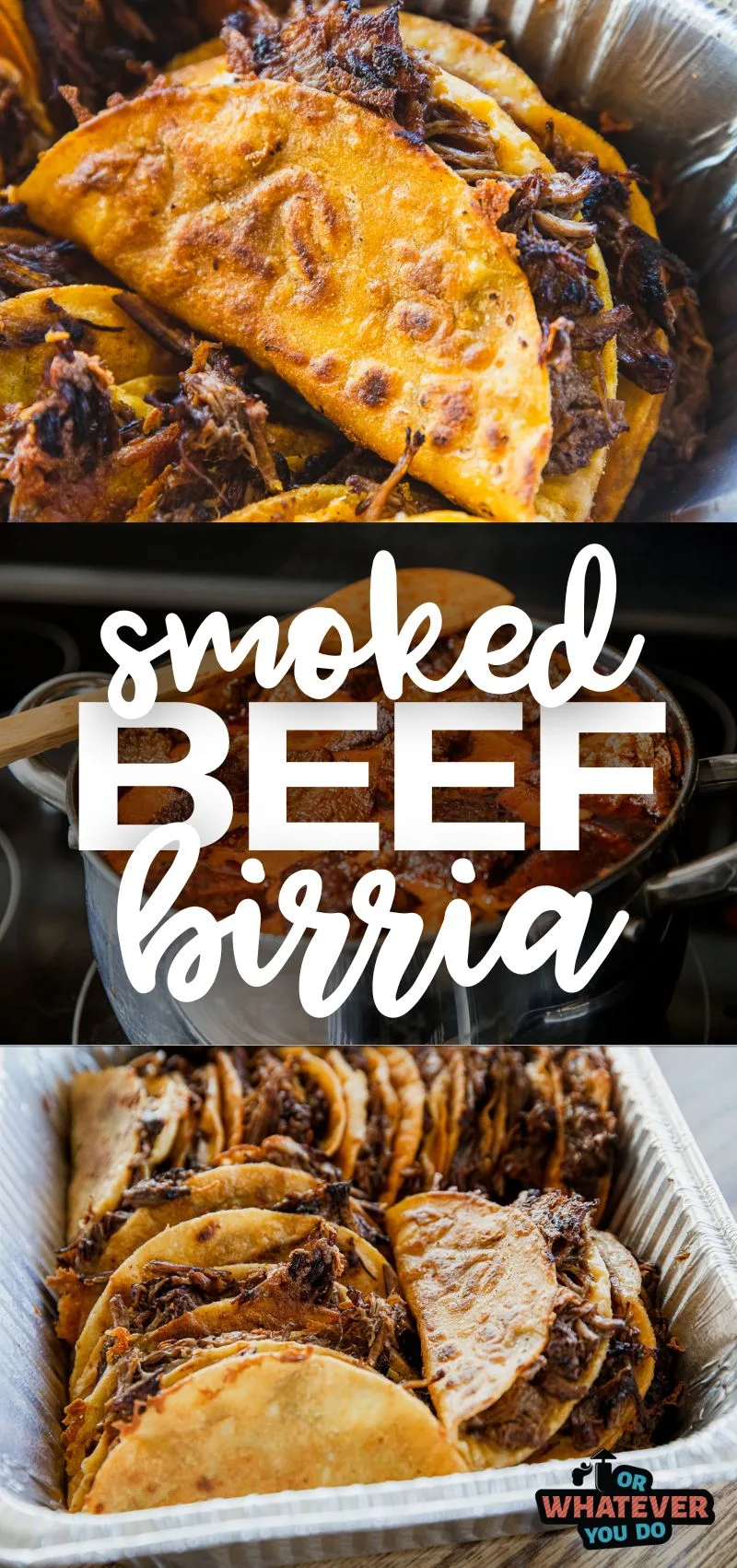 Yield: 12 servings
Smoked Quesabirria Tacos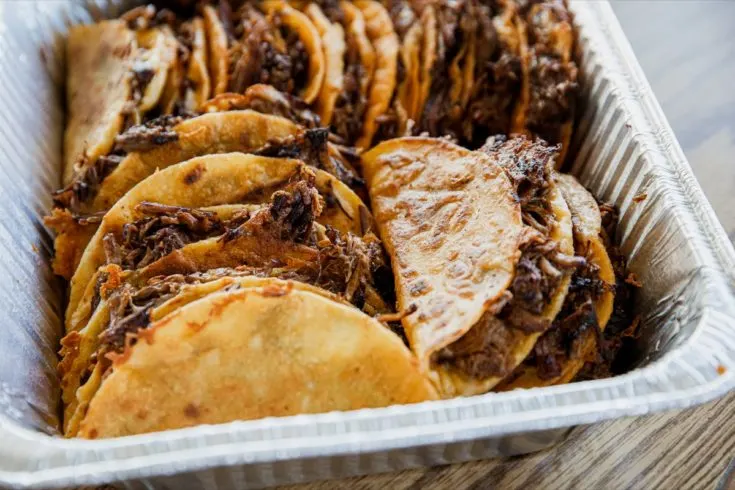 These delicious cheesy tacos are made with smoked shredded chuck roast that's sandwiched between a tortilla with tons of cheese. Serve it with the delicious consomme that the roast cooks in, and you've got the best taco you've ever had!
Total Time
5 hours
15 minutes
Ingredients
Meat
4 pounds beef chuck shoulder roast
4 tablespoons Mexican seasoning blend
1 teaspoon salt
1 teaspoon pepper
Consomme / braising liquid
12 dried Guajillo peppers, seeds and stems removed
1 teaspoon salt
1/4 teaspoon ground cloves
1 teaspoon thyme
1/2 teaspoon cumin
1 teaspoon peppercorns
1 tablespoon Mexican oregano
5 cloves garlic
1 large onion, halved
1 15 ounce can whole roma tomatoes
6 cups water
2 cups beef broth
Tacos
24 corn tortillas
6 cups shredded Mexican-blend cheese
diced onion
cilantro
Instructions
Smoke the meat
Turn on your pellet grill to "smoke" at 220°.
Season your beef with the Mexican seasoning blend and the salt and pepper.
Smoke for 2-3 hours.
Make the consomme
Remove the stem and seeds from the peppers and place them into a pot with the rest of the ingredients for the consomme. Bring up to a simmer, and let cook for 10-15 minutes.
Remove from heat and let cool for 15-20 minutes.
Blend until smooth, and set aside.
Braise the meat
Cut the meat into large chunks after it comes off the smoker.
Place the chunks into a Dutch Oven. Strain the blended consomme mixture through a fine mesh strainer over the meat. If the liquid doesn't cover the beef, pour in some additional beef broth until there's enough to cover it fully.
Let the meat braise over low heat for 2-3 hours, minimum, or until the meat is tender and shreddable.
Shred, remove any unappetizing bits, and reserve the consomme.

Fire up the flat top or non-stick pan on the stove
Preheat your Blackstone over medium-low heat. If you don't have a griddle, a pan on the stove works just as well. You'll just be at it longer since the griddle can do a bunch at a time.
While it is heating, dip your corn tortillas in the oil on top of the consomme and place on the flat top griddle. Top the whole tortilla with cheese, and half of it with some shredded beef. You can also add onions and cilantro at this stage if you want.
Fold over the empty half of the tortilla and lightly press down. Cook for an additional 2-4 minutes and flip. Continue cooking until the other side is crisp and then remove from the griddle.
Repeat until all of the tacos are cooked. You can keep them hot in a foil pan held on one part of the griddle and covered with foil over low heat.

EAT!
Serve the tacos with any kind of fixing you like (I like lettuce and sour cream with salsa) and a small dish of the consomme for dipping.
Recommended Products
As an Amazon Associate and member of other affiliate programs, I earn from qualifying purchases.
Nutrition Information:
Yield:
12
Serving Size:
1
Amount Per Serving:
Calories:

634
Total Fat:

30g
Saturated Fat:

14g
Trans Fat:

0g
Unsaturated Fat:

11g
Cholesterol:

168mg
Sodium:

2333mg
Carbohydrates:

35g
Fiber:

6g
Sugar:

6g
Protein:

58g
Nutrition data provided here is only an estimate.