Fire up your griddle and find yourself some thinly sliced steak because we're making an easy Blackstone Carne Asada that is done in under half an hour and requires such little prep you'll feel like you're cheating. But you aren't. Because there are no rules besides eating great food, and great food, this is.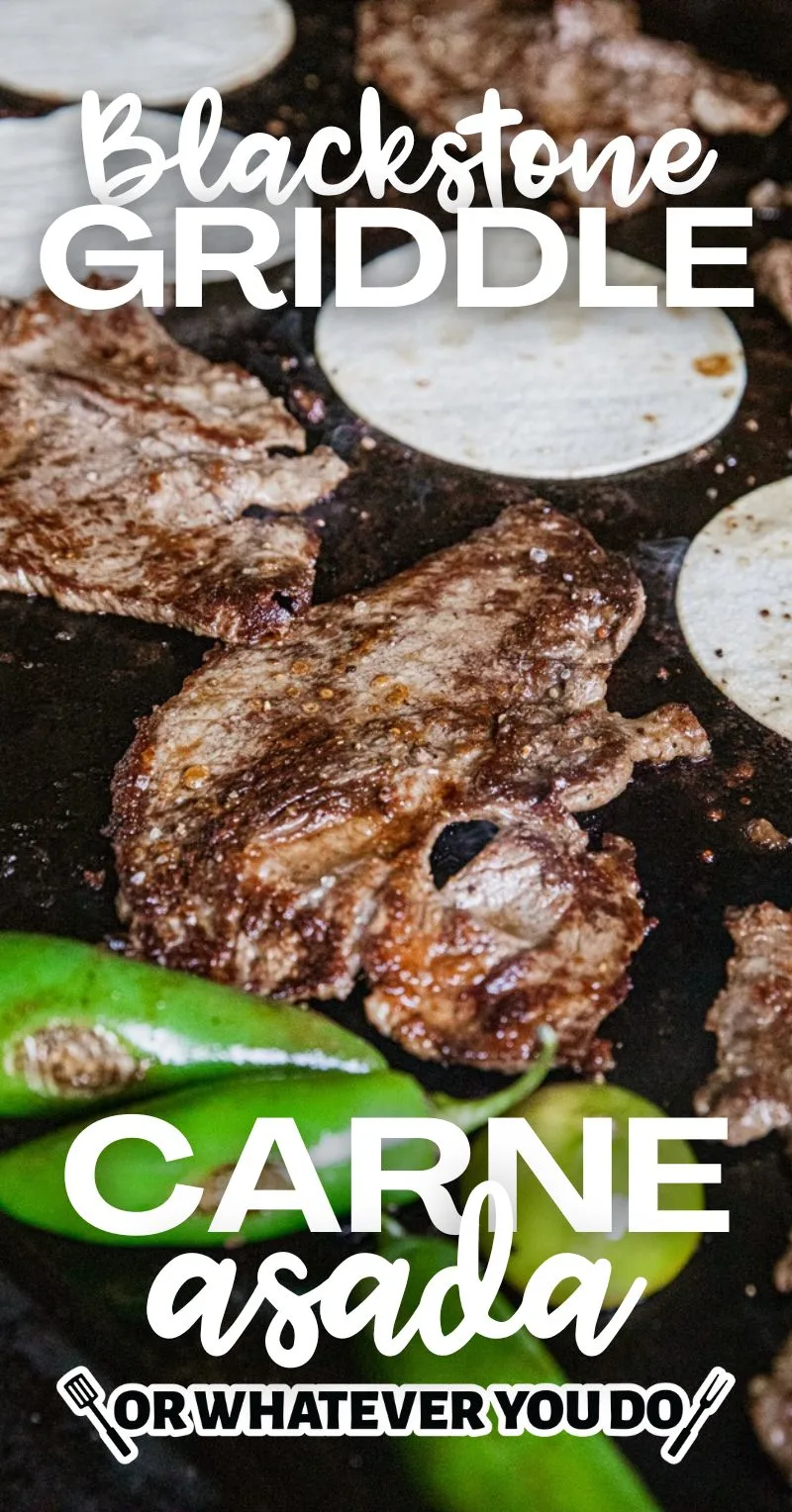 Blackstone Carne Asada Recipe
This tender carne asada recipe is cooked right on the gas griddle for an amazing (and fast) version of this classic Mexican recipe. You'll notice in our version we're using a thinly sliced chuck roast and we're skipping the marinade. That isn't typical for carne asada, but it tastes amazing, doesn't require any prep or marinade time, and the final result was SO tender and flavorful!
We're celebrating the BEEF here with simple seasoning of salt and pepper and a quick hot-and-fast cook on the griddle. Then you chop the beef, load it up with your favorite fixings in some warm toasty tortillas, and dive.right.in.
How is this recipe different from traditional carne asada?
Carne asada traditionally uses thin cuts of beef, such as a skirt or flank steak. These cuts are favored for their flavor and texture when grilled. You can see a more traditional Traeger Carne Asada recipe here. Except that one also includes soy sauce which isn't traditional either, so I'm just over here bucking ALL KINDS OF SYSTEMS and traditions with no one to stop me.
In addition to skirt steak and flank steak, you can also use other cuts of beef for carne asada, such as the thinly sliced chuck roast you see pictured here that we picked up at Costco, or:
Sirloin steak: This cut is tender and flavorful when marinated and grilled.
Ribeye steak: Ribeye is known for its rich marbling, which adds extra flavor to carne asada.
Top round or bottom round steak: These leaner cuts can work well when properly marinated and cooked to medium-rare to prevent them from becoming tough.
Tenderloin: While more expensive, tenderloin is incredibly tender and can be used for a more premium version of carne asada.
Remember that marinating the beef is critical to infusing flavor and tenderness into any cut you choose for carne asada. However, if you are in a rush you'll still get an incredible result by following the recipe detailed at the bottom of this post.
Carne Asada Marinade
A traditional marinade for carne asada typically includes the following ingredients. You CAN whip up a marinade for this recipe if you feel extra. You do you! Either way, you'll end up with a delicious taco, so what could be wrong about that?
Citrus Juice: Typically lime and/or orange juice.
Garlic: Minced or crushed garlic cloves preferably. Not the kind from the jar.
Cilantro: Chopped leaves and stems contribute a fresh, herbal note.
Onion: Thinly sliced or diced, usually white or red, adds a mild, sweet onion flavor.
Salt and Pepper: Self-explanatory.
Chili Pepper: A bit of heat can come from minced jalapeño or serrano peppers. You can also use dried versions too if that's what you have on hand.
Ground Cumin: Cumin powder brings the marinade a warm, earthy flavor.
Mexican Oregano: Dried Mexican oregano adds a distinct herbal flavor different from Mediterranean oregano. It matters unless you are using THIS recipe, which skips the marinade entirely and goes right for just straight beefy goodness. 😉
Combine these ingredients in a bowl to create the marinade, then pour it over your thinly sliced beef. Allow the meat to marinate for at least 30 minutes, but overnight marinating in the refrigerator is even better to allow the flavors to penetrate the meat fully.
OR – keep reading and make my super simple no-marinade version. 😉 Either way.
More Blackstone Recipes here!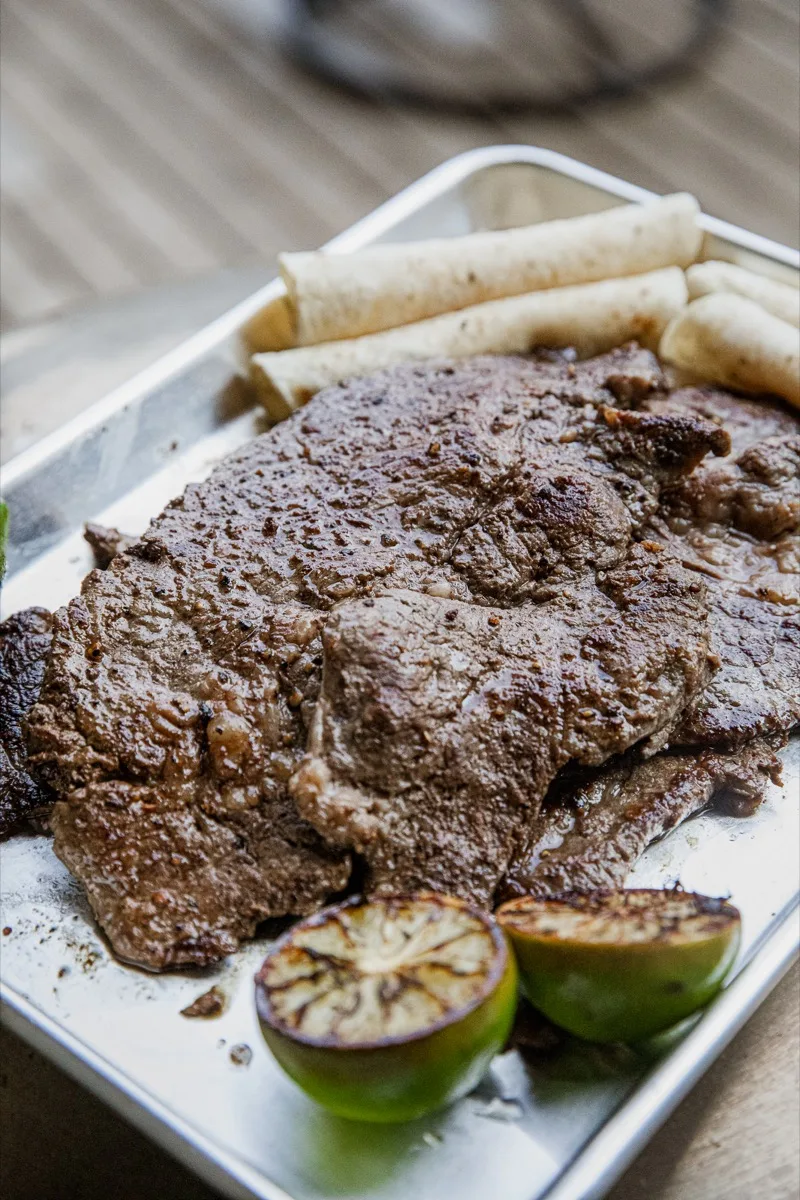 Blackstone Carne Asada shopping list
Wondering if you have to hit the store? Here's the list of items you'll need to make this recipe. For specific amounts, please refer to the printable recipe card at the bottom of the post.
3 tablespoons avocado oil
3 pounds thinly sliced chuck (or thin sliced ribeye or skirt steak works well too)
2 teaspoons salt
1 1/2 teaspoons pepper
3 limes, halved
3 jalapeño peppers
36 corn tortillas
1 small white onion, finely diced
1 bunch cilantro, chopped
salsa
sour cream
hot sauce
60+ Incredible Blackstone Recipes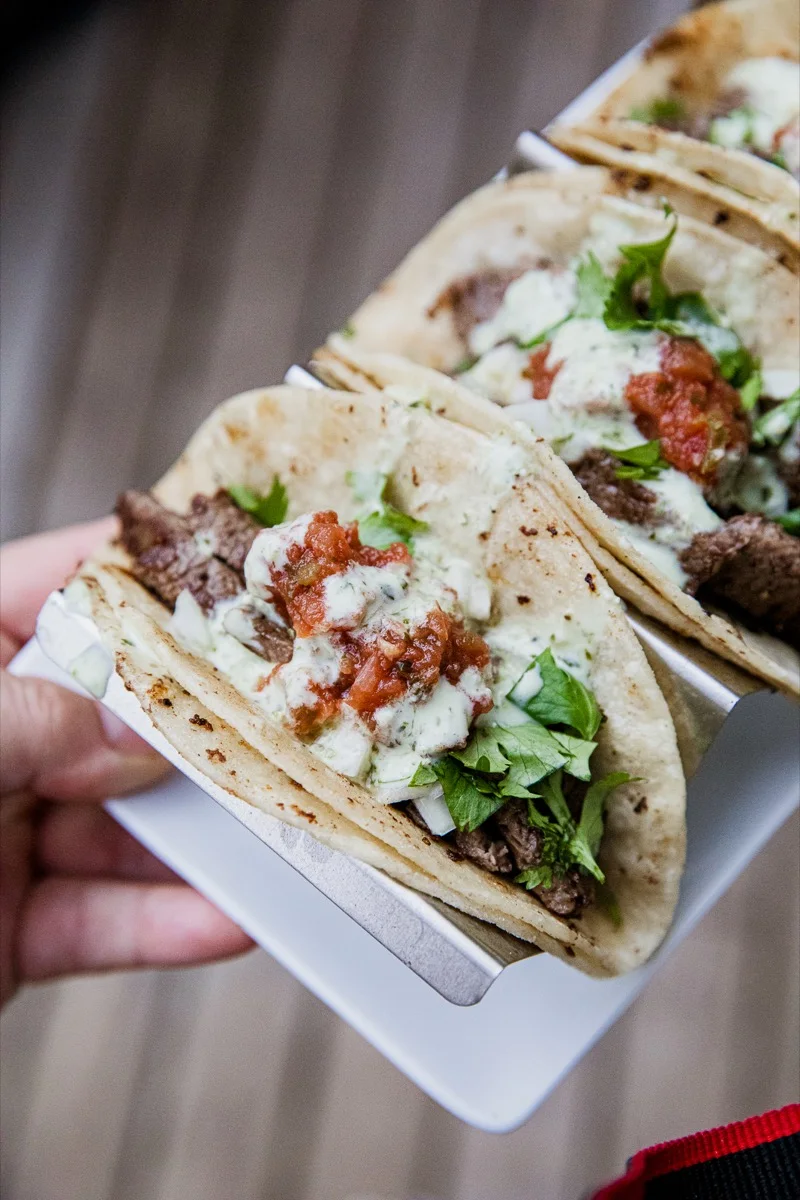 How to make Carne Asada on the Blackstone
This is just the overview so you can see what you're getting into here. When cooking, you'll want to use the full recipe at the bottom of the page.
Preheat
Fire up that griddle and get it heating over high heat.
Season
Season both sides of the steak with salt and pepper.
Cook
Lay down some avocado oil on the griddle. Put the meat down along with some jalapeños. Squeeze some lime on the meat. Cook for a few minutes and flip.
Cook the other side for a few minutes, squeeze with more lime, and remove from the griddle. Flip the jalapeño around on the griddle until they brown on all sides.
Tortilla
Put all the tortillas down and let them warm on both sides.
Enjoy
Cut the meat into bite-sized pieces and load it up into your warm tortillas. Top with all your favorite taco fixings and enjoy!
Try our Blackstone Tacos Borrachos!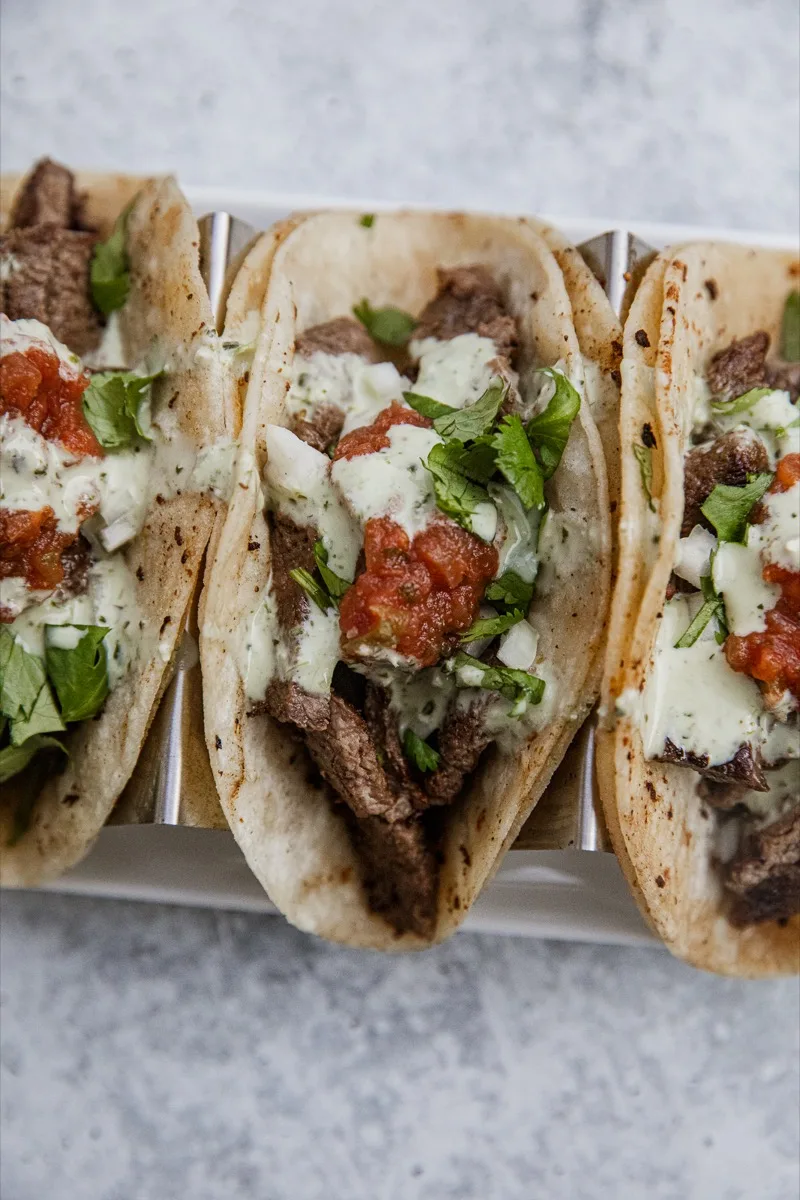 Blackstone Carne Asada FAQ
Can this dish be made in advance?
Not really. This dish is best served immediately after cooking for the best results.
What's the best way to store and reheat leftovers?
If you make more than you can eat in one sitting, store the leftovers in an airtight container in the fridge. Reheat back on the griddle, in a pan on the stove, or even in the microwave in a pinch.
Will this recipe work with substitutions?
Yes! Do you have some time on your hands? Whip up that marinade I suggested above and power up your carne asada with some extra flavor! Do you like it spicy? Add some hot sauce or some jalapeño powder to the meat.
Try our Smoked Shredded Beef Enchiladas!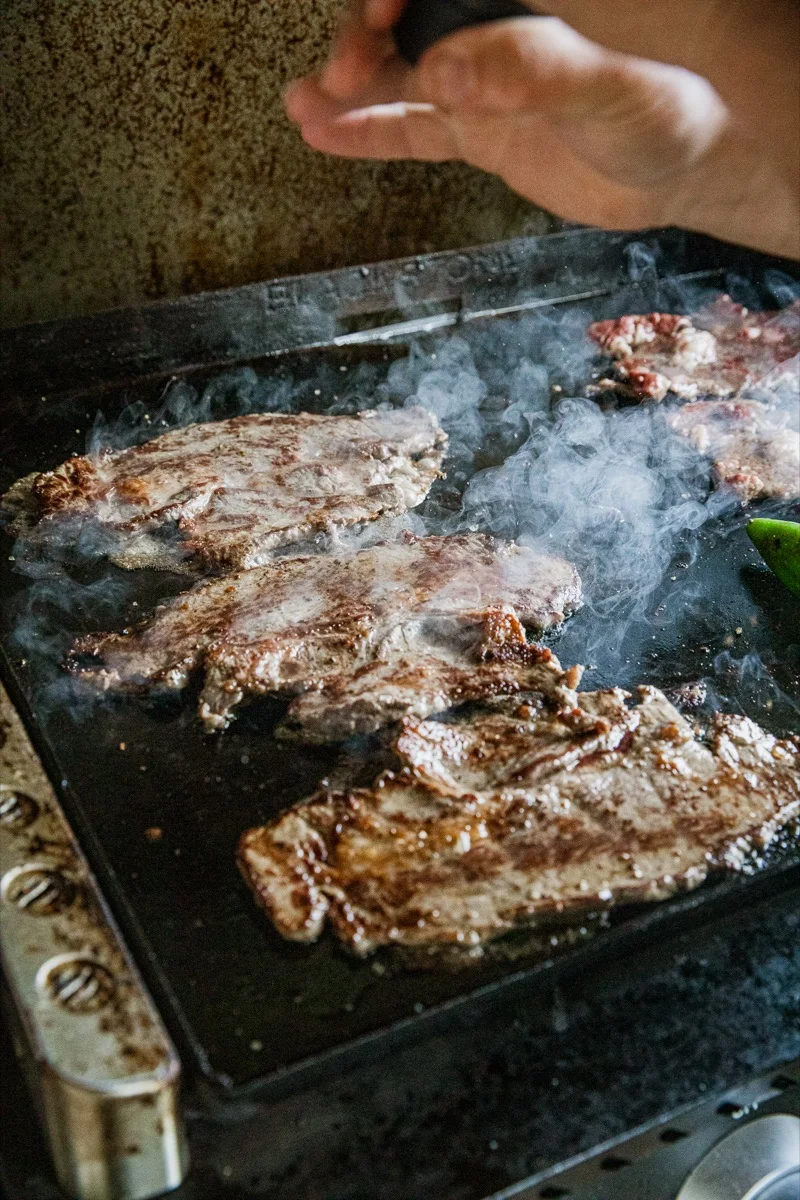 Serve this with…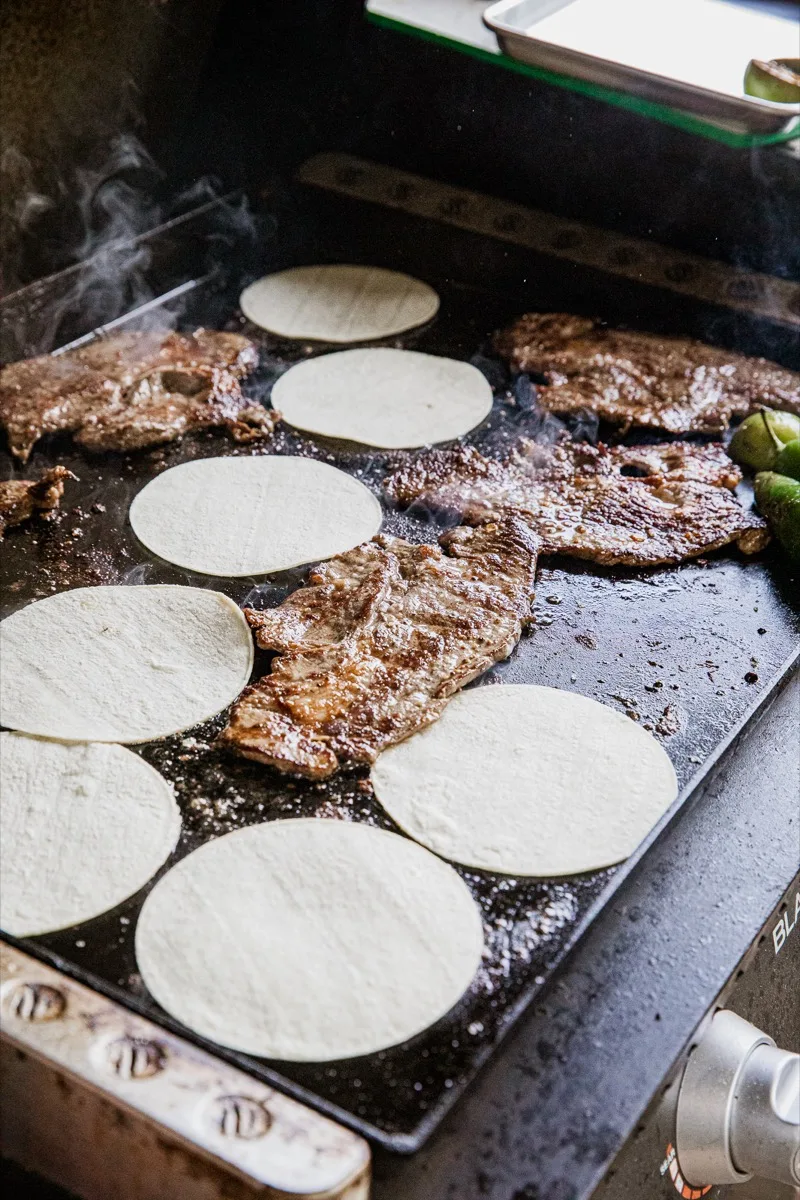 More great Mexican-inspired recipes to love!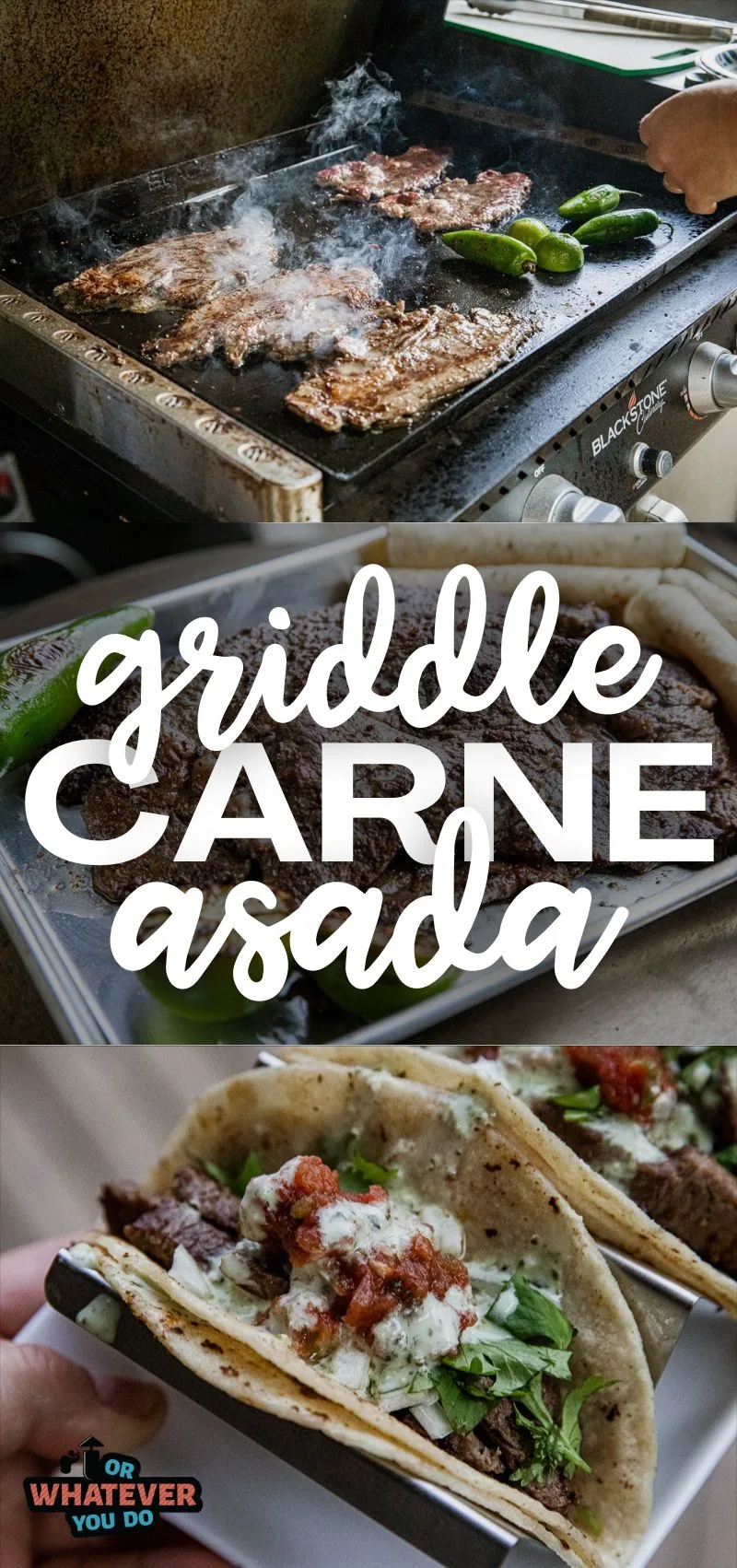 Yield: 6 servings
Blackstone Carne Asada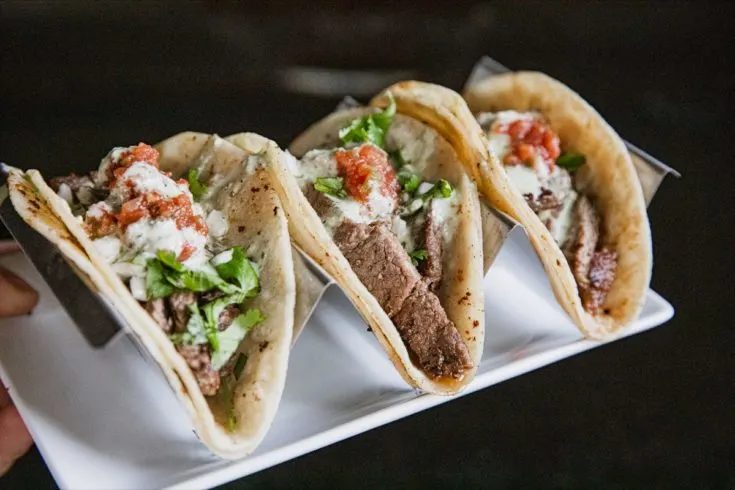 This tender steak is seasoned simply with salt and pepper and then cooked over high heat on your gas griddle. Perfect tacos are within your reach!
Ingredients
3 tablespoons avocado oil
3 pounds thinly sliced chuck (or thin sliced ribeye or skirt steak works well too)
2 teaspoons salt
1 1/2 teaspoons pepper
3 limes, halved
3 jalapeño peppers
36 corn tortillas
1 small white onion, finely diced
1 bunch cilantro, chopped
salsa
sour cream
hot sauce
Instructions
Preheat your griddle over high heat.
Season the steaks with the salt and pepper.
Put the oil onto the griddle and let it get nice and hot.
Place the steaks onto the griddle along with the jalapeńos.
Squeeze some of the lime of the top. Place the other limes cut side down onto the griddle. Let cook for a couple of minutes before flipping.
Cook for another couple minutes on the other side, squeezing additional lime juice over the top of the steaks. Remove from the griddle and cut into bite-sized pieces.
Place all the tortillas on the griddle to heat up. Double them up for stability and then load up with the meat, diced onions, cilantro, and any other fixings you'd like.
Recommended Products
As an Amazon Associate and member of other affiliate programs, I earn from qualifying purchases.
Nutrition Information:
Yield:
6
Serving Size:
1
Amount Per Serving:
Calories:

833
Total Fat:

27g
Saturated Fat:

8g
Trans Fat:

1g
Unsaturated Fat:

18g
Cholesterol:

226mg
Sodium:

969mg
Carbohydrates:

70g
Fiber:

11g
Sugar:

3g
Protein:

82g
Nutrition data provided here is only an estimate.