Rib Roasts are a special treat that I love to treat my family to a few times a year. Cooking these large, expensive roasts can be intimidating, but don't let it be! Oven Baked Prime Rib Roasts are super easy.
Oven-Baked Prime Rib Roast
Rib roasts are really easy to make – but they are not an inexpensive cut of meat so you want to make sure you get it right. With a few easy steps and tools, you can make sure you have the perfect rib roast every time.
First of all – you need a good thermometer. That'll ensure you get the perfect temperature every time with a minimal loss of oven heat when checking. I love the ThermoWorks brand, and specifically their Smoke model. With the smoke, you can leave the probe in the roast and never wonder where it is at.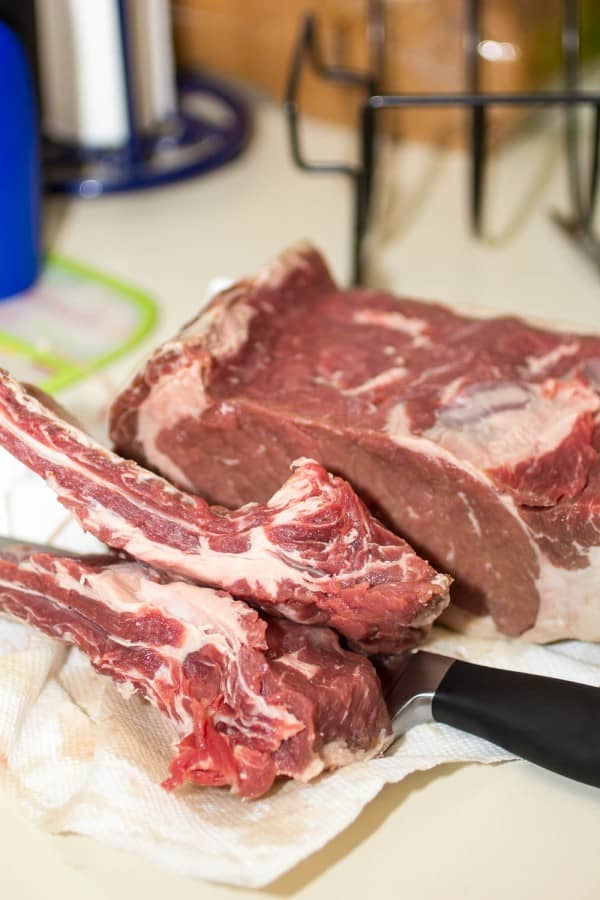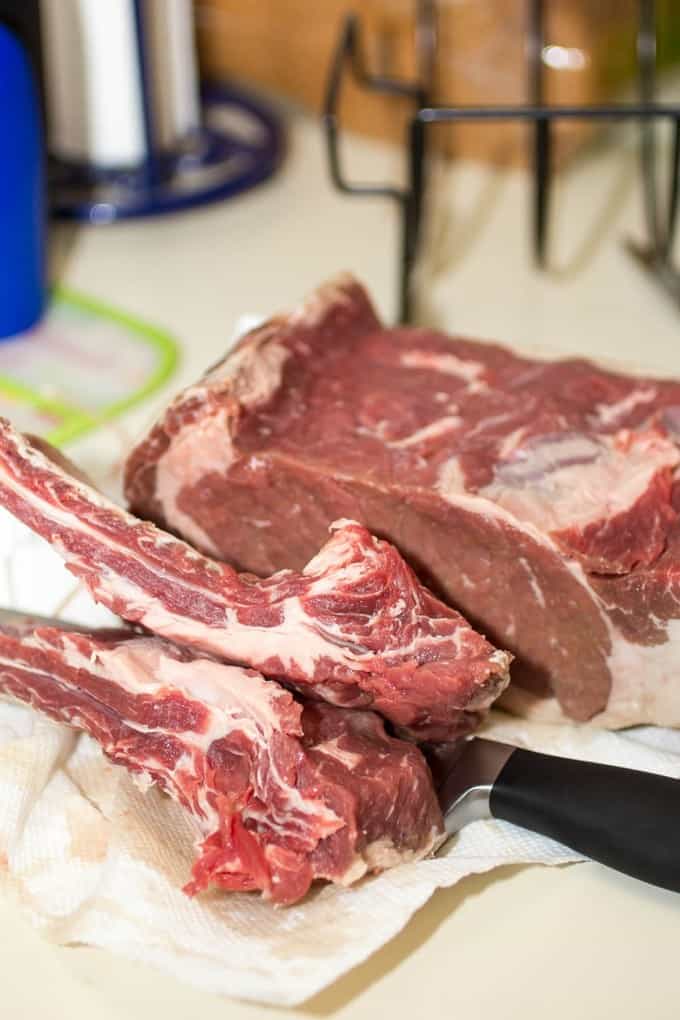 I never buy boneless roasts because I love roasting the rib bones with the roast for extra flavor for the au jus. You can also have your butcher cut them off and tie them back on, and then the roast has its very own roasting rack.
You can also roast the boneless section of the roast on a rack, and put the rib bones in the bottom of the pan to add some flavor into your au jus.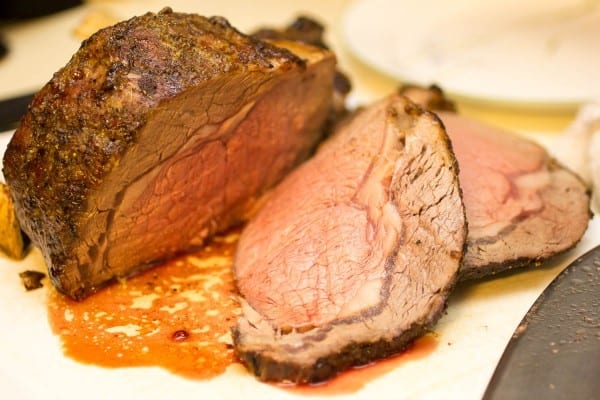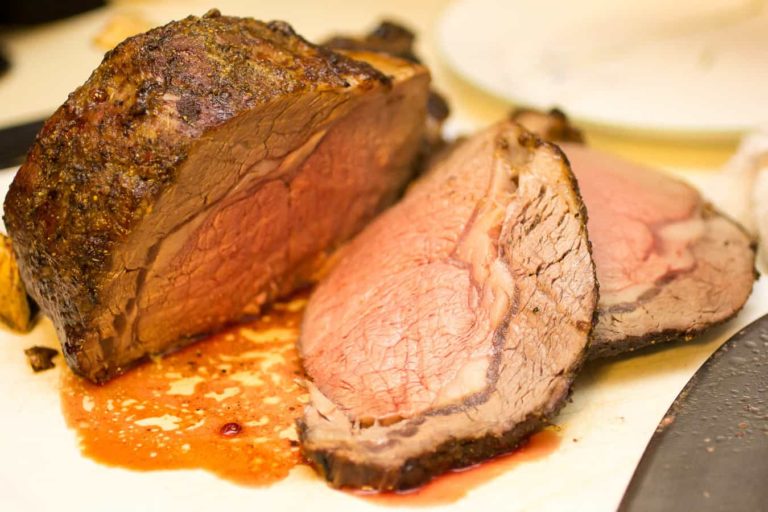 How long will it take to cook my rib roast?
How long your roast will take depends on quite a few different factors. The size of your roast, the particulars of your oven, and what final temp you'd like your rib roast to be. We prefer medium rare here, or 135 degrees, but the roast you are seeing here is more medium than that.
I guess 7 kids can be a little distracting at dinnertime on occasion?
Well – that and the fact that I can't remember anything without a timer set. Ever. A little of that. The key for you is to check the temp of your roast 30-45 minutes before you think it's going to be done. That'll give you a good idea of where you are at, and how far you need to go.
Another important part of making an awesome rib roast is the rub. I love to start with a base of a neutral oil. My current favorite is avocado oil. Then you mix in a combination of salt, seasonings, herbs, and spices. I used garlic and oregano in this rub as well as a mish-mash of things from my spice cupboard. I love having a fridge full of their herbs and seasonings on hand – especially in the winter when my garden isn't producing.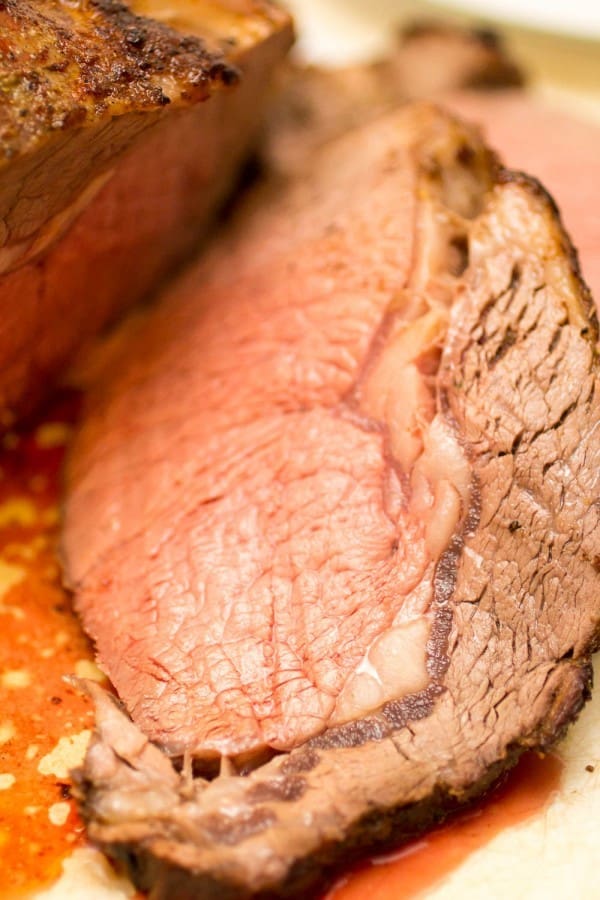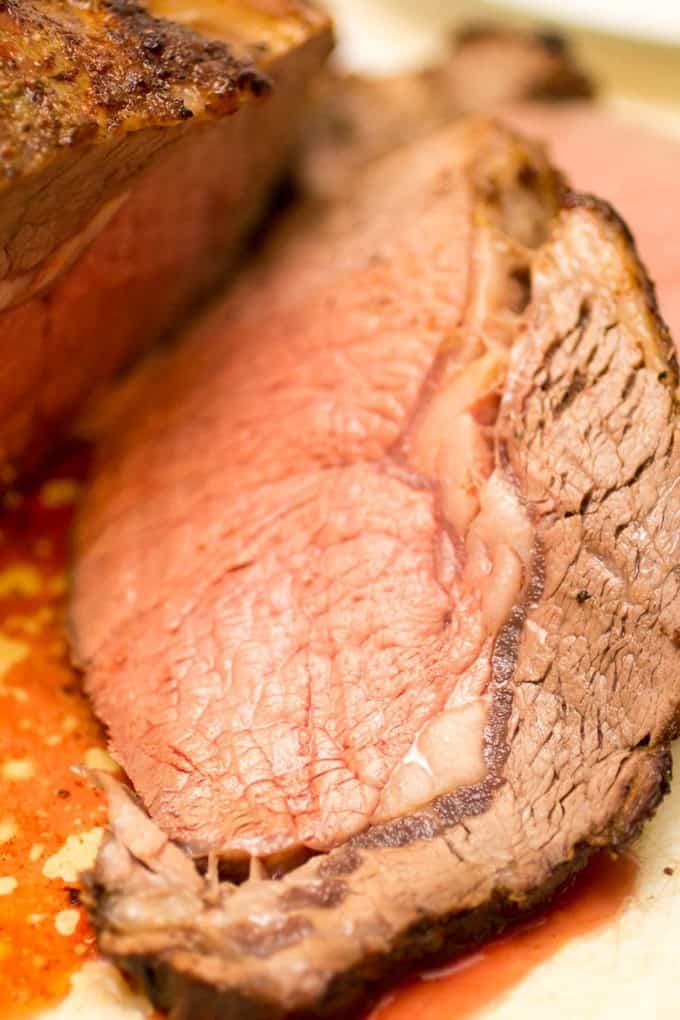 Oven-Baked Prime Rib Roast
Total Time:
2 hours
15 minutes
Prime rib is such a special treat! Make sure you cook it correctly by following these easy directions.
Ingredients
4-6 pounds rib roast, bones cut off and tied back on
1/2 cup avocado oil
2 teaspoons minced fresh garlic
1 teaspoon dried oregano
1 1/2 tablespoons kosher salt
2 teaspoons onion powder
1 teaspoon garlic salt
1 teaspoon black pepper
Instructions
Let your roast sit out of the fridge for 1 hour prior to cooking.
Mix together the oil and all of the spices, and rub liberally all over the top and sides of the roast.
Place the roast into a roasting pan, bone side down and fat side up, and roast in a 500-degree oven for 15 minutes. Turn the heat down to 325, and roast for about 15 minutes per pound for medium rare. Check the roast with your instant-read thermometer. Remove when the roast reaches 120-125 degrees for medium rare, as the roast will continue cooking for the rest time and will raise an additional 5-10 degrees.
Let rest for 15-20 minutes. While the roast is resting, take the roasting pan and remove all but 2-3 tablespoons of beef fat.
Place the roasting pan on the stove over medium high heat, and add 1 1/2 cups of beef broth, and 1 1/2 cups of red wine. Let the mixture simmer while whisking to get the brown bits off of the bottom of the pan. Simmer for the entire rest time, and serve with the hot au jus.
Notes
If anyone eating with you likes their meat done a little more, you can cook it a bit in the au jus after slicing it but before serving.
Nutrition Information:
Amount Per Serving:
Calories:

639
Saturated Fat:

21g
Cholesterol:

109mg
Sodium:

1360mg
Protein:

24g
Nutrition data provided here is only an estimate. If you are tracking these things for medical purposes please consult an outside, trusted source. Thanks!