Our easy Traeger Orange Salmon recipe takes simple ingredients on our favorite fish and transforms it into something even more special than before. Wood fire does magic things to salmon and seafood, and this garlicky, bright citrus salmon is perfect as a main dish, on top of a salad, or inside a sandwich or wrap.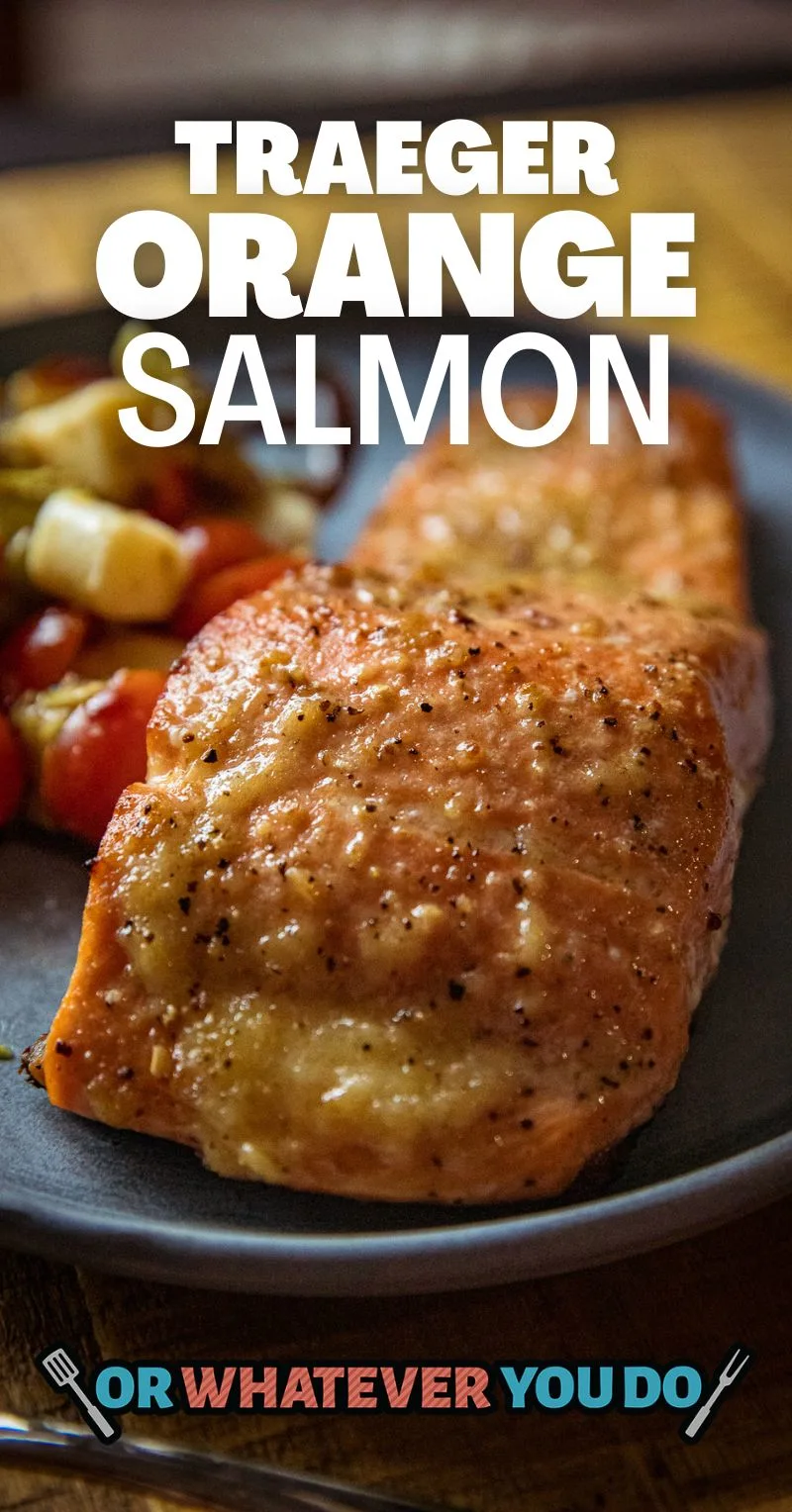 Traeger Orange Salmon Recipe
There is little better in this whole culinary world than a well-cooked piece of fresh-caught salmon. It is a treat that very few people, overall, get to enjoy, but here in the Pacific Northwest that % is a little higher than elsewhere in the country.
If you aren't neighbors with me yet, just find the best salmon you can. Stay away from anything farmed, if you're able, and opt for Pacific salmon of the Coho or Chinook varieties.
The rich and distinctive flavor of these species is greatly influenced by their natural diet and the life they lead in the Pacific Ocean. Chinook salmon, also referred to as King salmon, has a high fat content that imparts a buttery texture and a rich taste to the fish. While Coho salmon, known as Silver salmon, is leaner, it still possesses a decent amount of healthy fats, lending it a unique flavor.
The clean, cold waters of the Pacific Northwest provide an ideal environment for salmon, which reflects in their taste. And let's not forget their diet. The shrimp and krill and fish consumed by these expert hunters introduce a distinct color and flavor.
If you can't find any wild-caught Pacific salmon near you, there are a lot of great sources for it online. I don't have any in particular to recommend at the moment since we catch all of our own salmon, but I've heard great things about a lot of them from my East Coast readers!
Get all of my Traeger Recipes here!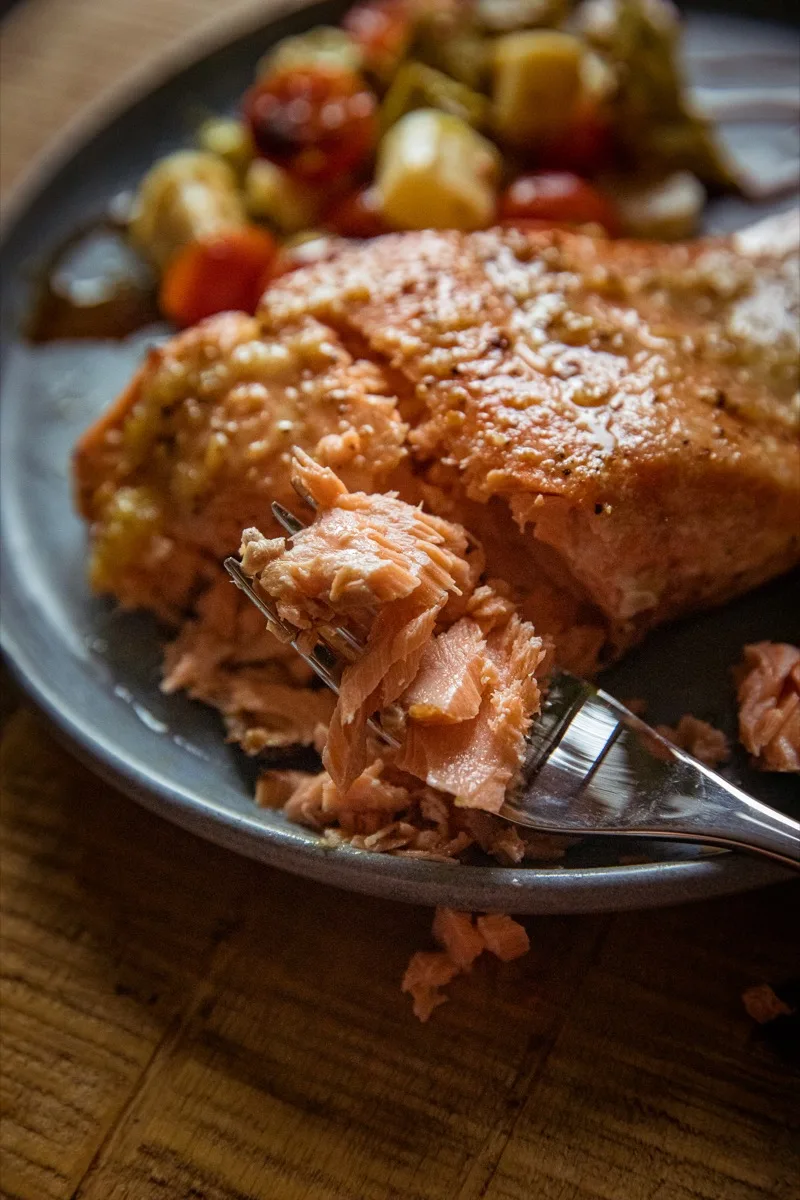 Orange Salmon shopping list
Wondering if you have to hit the store? Here's the list of items you'll need to make this recipe. For specific amounts, please refer to the printable recipe card at the bottom of the post.
Salmon filets
Seasoning Mix
Garlic paste
Lemon pepper
Orange zest
Orange juice
Get all of our Salmon Recipes here!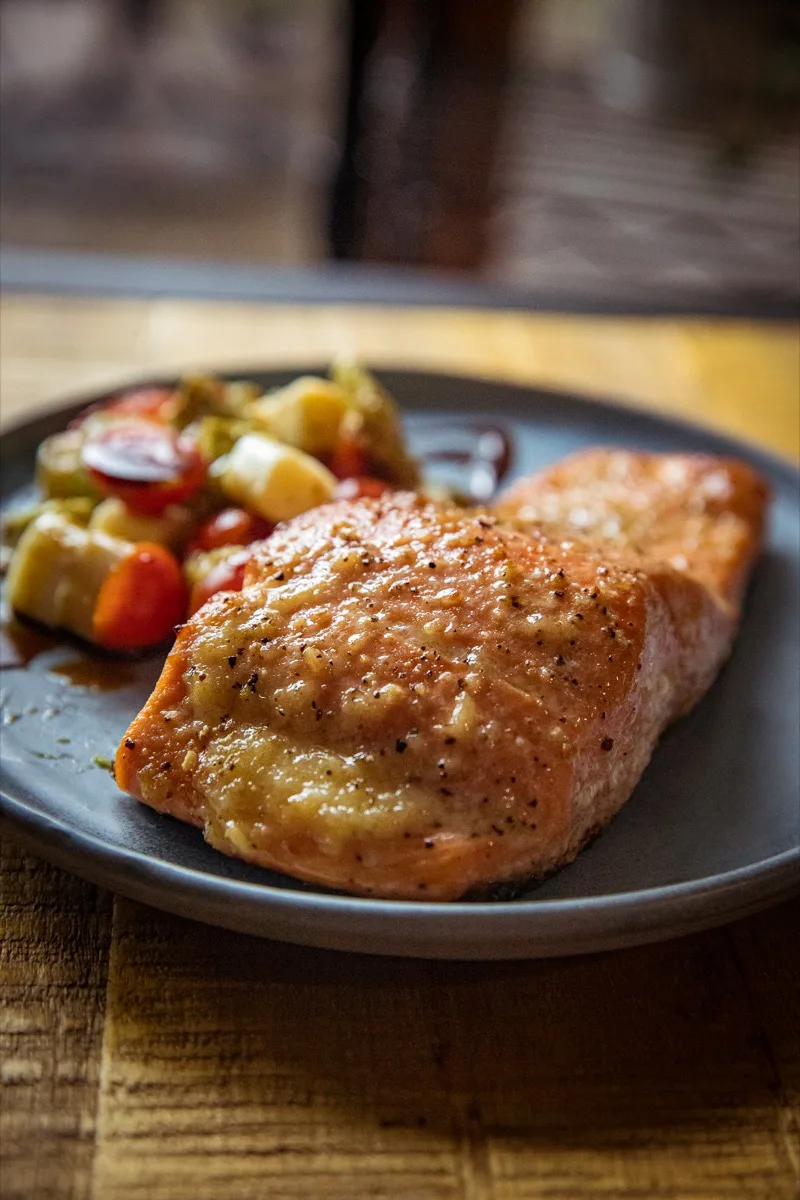 How to make Orange Salmon on the Traeger
This is just the overview so you can see what you're actually getting into here. When you are cooking, you'll want to use the full recipe at the bottom of the page.
Preheat
Fire up your pellet grill and let it preheat to 350°F.
Prep
Mix together the seasoning mix. Spray a 1/4 baking sheet (toaster oven sized) with cooking spray. Put the salmon on the pan. Spread the seasoning mix over the tops of the filets. Pour the remaining orange juice in the bottom of the pan.
Cook
Put the tray of salmon into the grill and let it cook for about 20-25 minutes, or until the internal temperature reaches between 110°-125°F.
Enjoy
Dig in! This delicious salmon is going to be requested over and over again!
Get 75+ of my favorite Traeger Recipes here!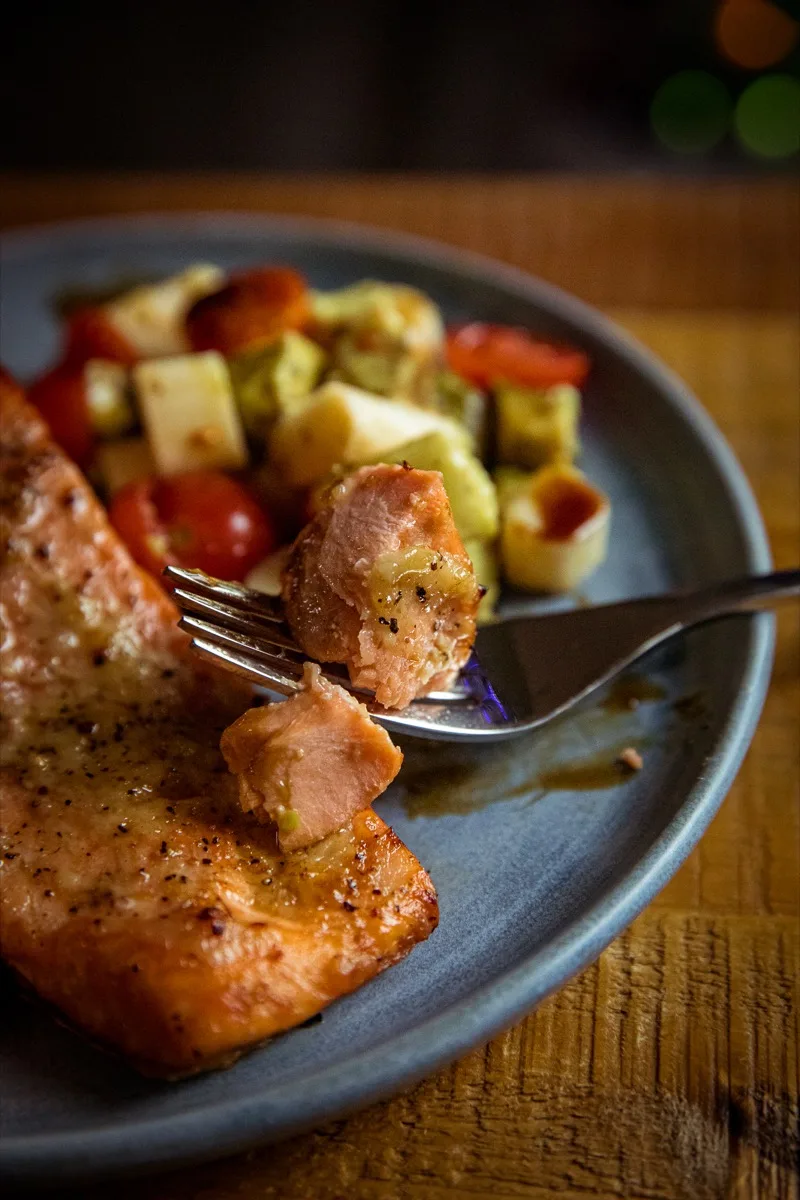 Orange Salmon FAQ
Can you make this Orange Salmon in the oven?
Yes! If you don't have a pellet grill you can also make this in an oven. Just follow the same temperature and approximate time guidelines and you'll be set. You can also make this in single or double serving sizes in the air fryer.
What's the best way to store and reheat leftovers?
Fish, in general, isn't great to have leftover. Try to only make as much as you can eat in one sitting. If you do overshoot the mark, store this in the fridge for up to 2 days. Reheat it gently in a pan on the stove with some butter. Scramble it into some eggs or fold into an omelette.
Try our Traeger Grilled Salmon recipe too!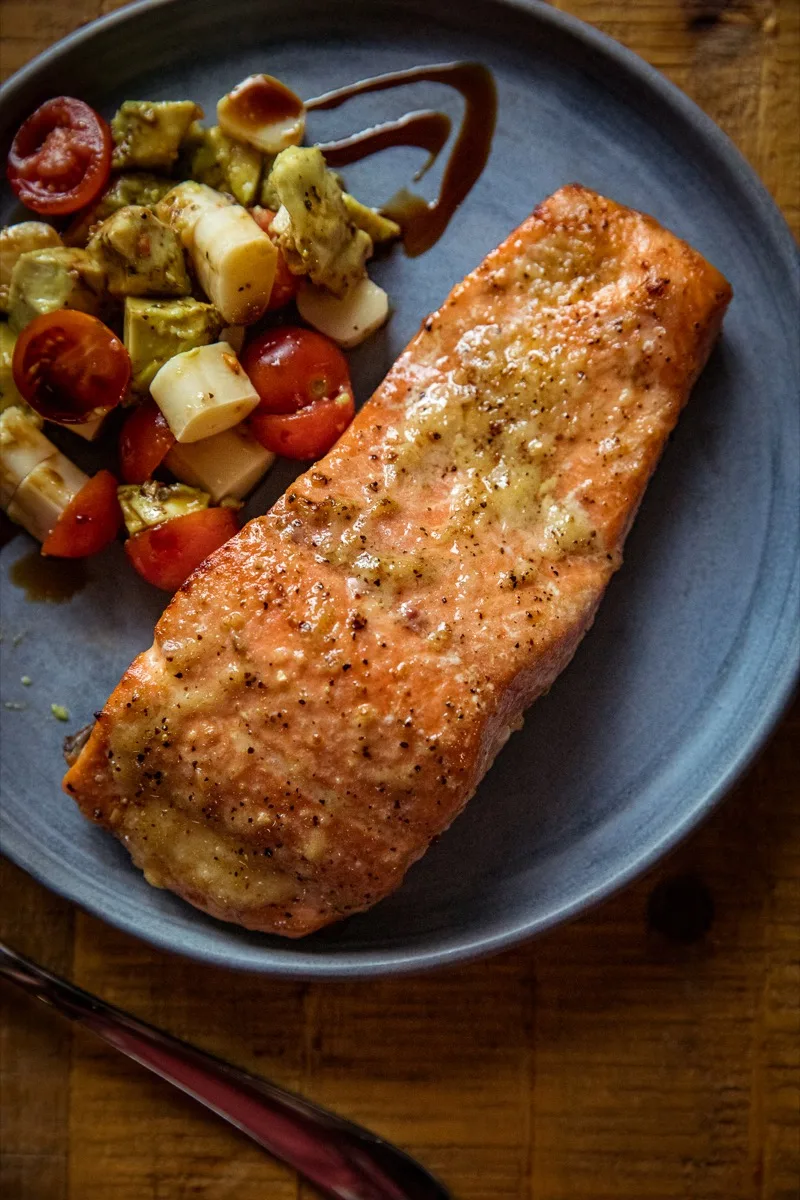 Serve this with…
More great salmon recipes to love!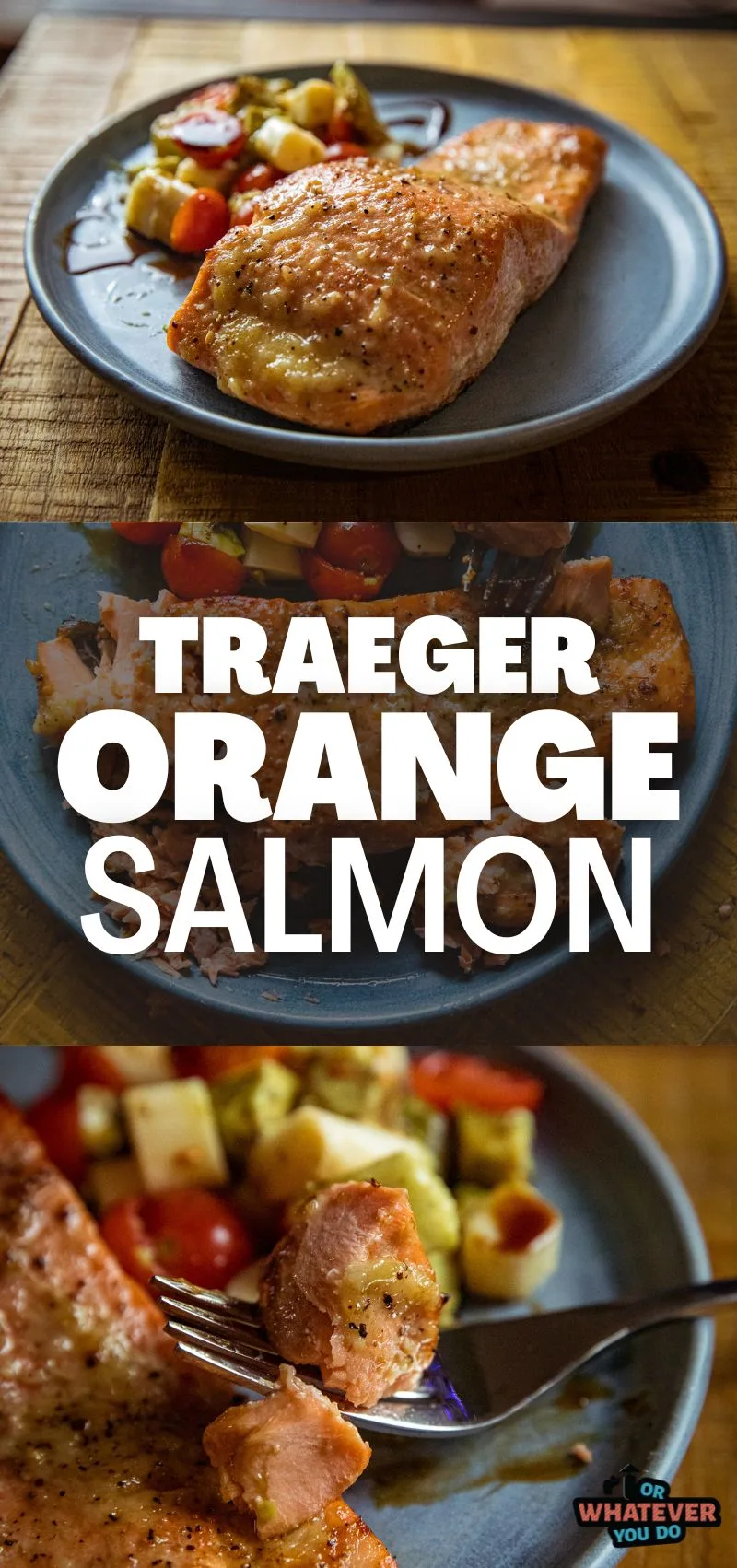 Yield: 4 servings
Traeger Orange Salmon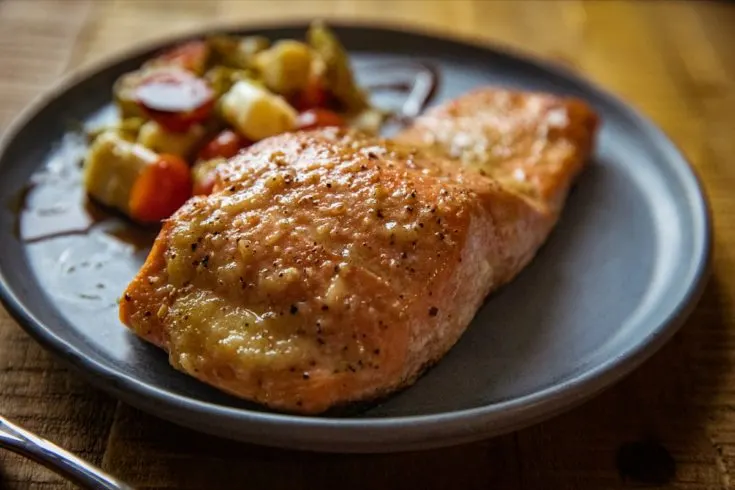 These tender, amazing salmon filet are cooked on the pellet grill and topped with a bright, delicious orange seasoning blend!
Ingredients
Seasoning Mix
2 tablespoons garlic paste (we like Gourmet Garden)
2 teaspoons lemon pepper blend (recommendations below)
1 tablespoon orange zest
1/2 cup orange juice (divided)
Instructions
Preheat your pellet grill to 350°F.
Mix together the garlic paste, lemon pepper blend, orange zest, and 1 teaspoon of the orange juice.
Gently spread this mixture on top of each of the salmon filets.
Place the filets onto a small quarter-sheet baking pan that's been prepped with cooking spray. Pour the orange juice onto the baking sheet.
Put the baking sheet into the grill and let cook for about 20-25 minutes. Salmon is done when it is medium rare, so pull it when it reaches between 110°-125°F.
Recommended Products
As an Amazon Associate and member of other affiliate programs, I earn from qualifying purchases.
Nutrition Information:
Yield:
4
Serving Size:
1
Amount Per Serving:
Calories:

526
Total Fat:

32g
Saturated Fat:

6g
Trans Fat:

0g
Unsaturated Fat:

23g
Cholesterol:

143mg
Sodium:

845mg
Carbohydrates:

6g
Fiber:

1g
Sugar:

3g
Protein:

51g
Nutrition data provided here is only an estimate.