There's nothing easier than grilled salmon, and this time we made some Grilled Togarashi Salmon Rice Noodle Bowls that were packed full of stir fried cabbage, mushrooms, and bell peppers in a Korean-inspired stir fry sauce that you're going to want to have in your back pocket.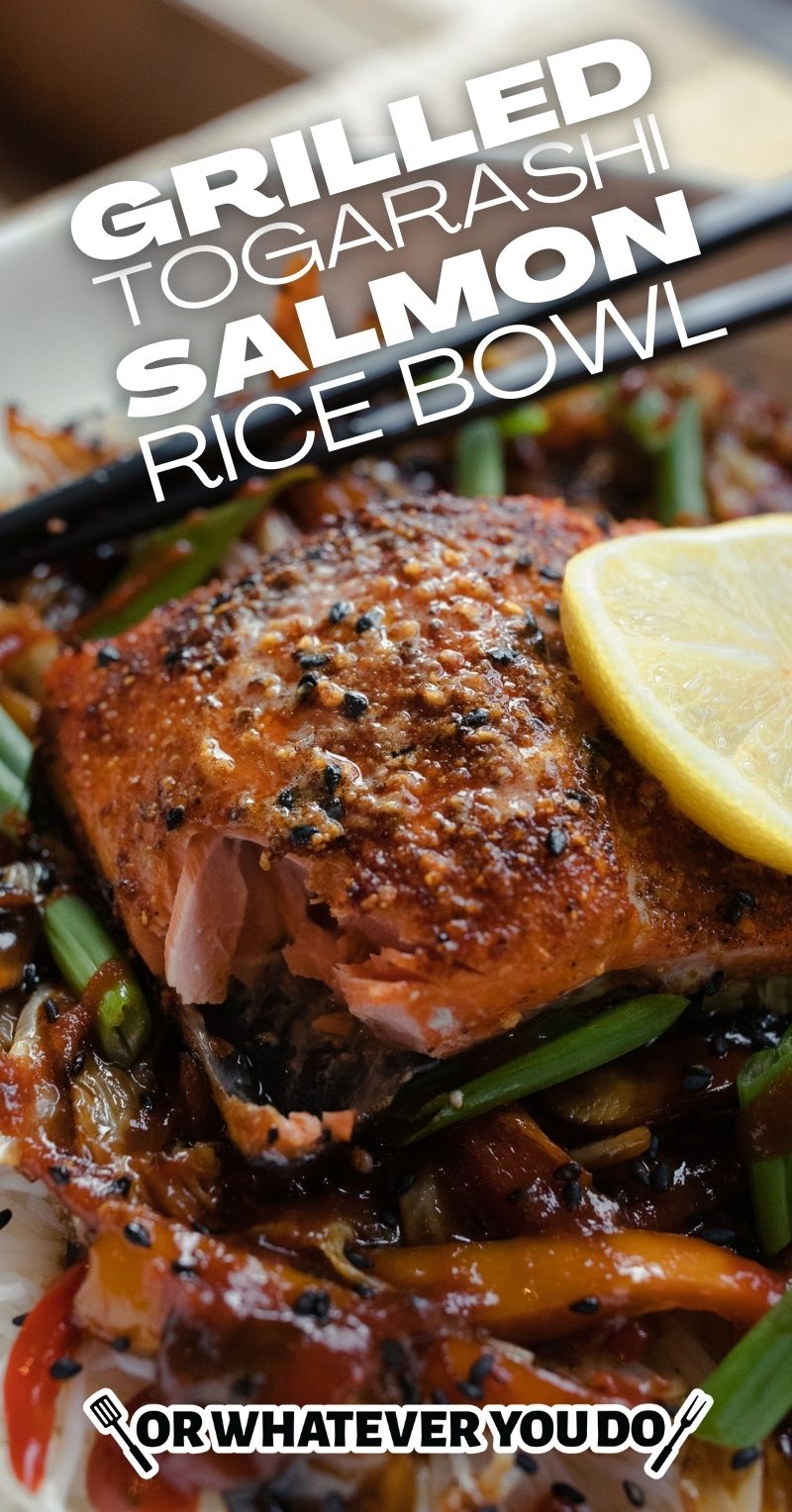 Traeger Grilled Togarashi Salmon
We eat a ton of salmon around here. Mostly because we are fortunate enough to have access to the best salmon in the entire world, almost right outside our backdoor. There's no better piece of fish than a fat ocean-caught Coho (Silver), cooked medium-rare, or even eaten raw and made into your own Salmon Miso Poke Bowl.
My husband and our sons hit the salmon season hard here in the Pacific Northwest, but if you don't live around here or can't hit the water, this recipe will work with any kind of salmon. Really, any kind of fish works well with togarashi seasoning. It is spicy, savory, and incredible.
If you want a special treat, order up some fresh coho salmon filets from CrowdCow.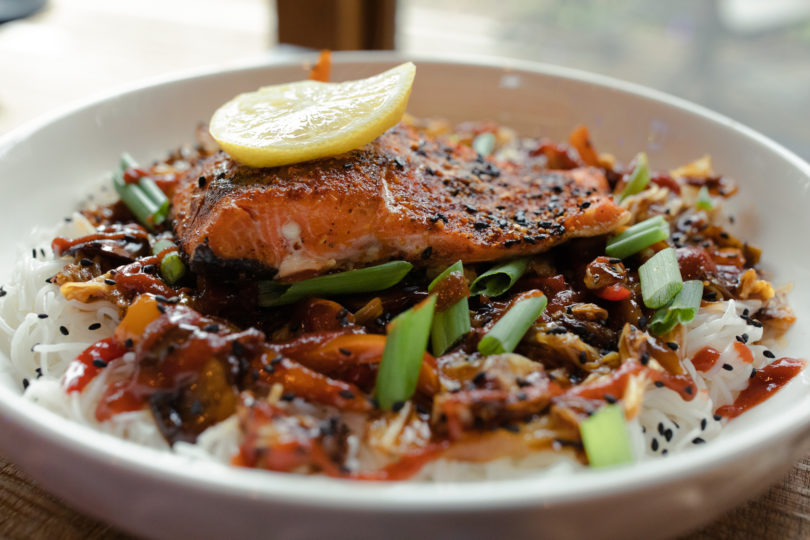 Togarashi Salmon Rice Noodle Bowl shopping list
Wondering if you have to hit the store? Here's the list of items you'll need to make this recipe. For specific amounts, please refer to the printable recipe card at the bottom of the post.
fresh salmon filet
togarashi seasoning
onions
bell peppers
mushrooms
green onions
soy sauce
mirin
honey
rice wine vinegar
gochujang
lemon
red chili pepper
cornstarch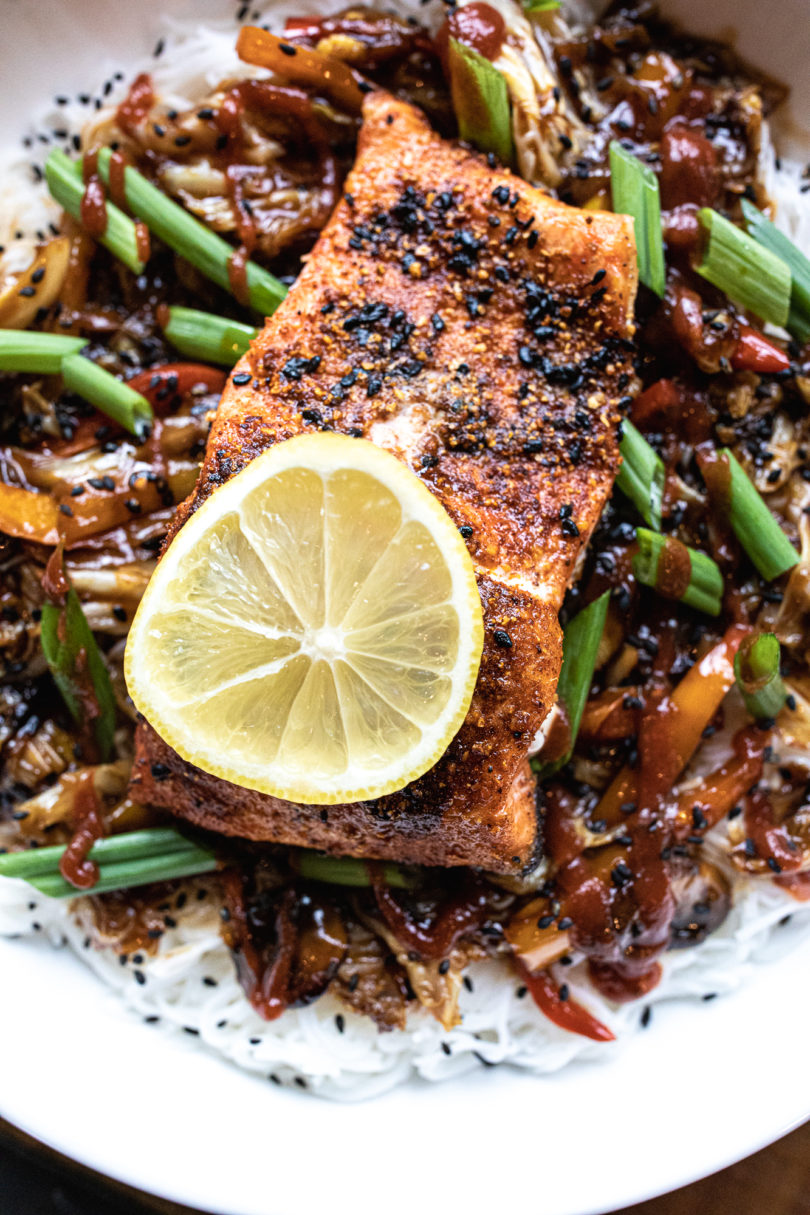 How to make Traeger Grilled Togarashi Salmon with Sauteed Vegetables and Rice Noodles
This is just the overview so you can see what you're actually getting into here. When you are cooking, you'll want to use the full recipe at the bottom of the page.
Preheat your Traeger
You can also use the oven if you don't have a pellet grill handy, or it is buried in snow, or you just feel like staying in. I won't tell.
Prep vegetables and sauce
Chop all the vegetables and mix up the Korean-inspired stir-fry sauce and set it near your cooking area.
Soak the rice noodles
Cook the rice noodles according to package directions. Drain well, rinse in cool water, and set aside.
Season and Grill
Liberally season your salmon filets with togarashi seasoning. Place a pat of butter on top of each. Grill at 400° for about 6-8 minutes, or until your salmon is cooked to your liking. (I prefer mine medium to medium-rare.)
Stir-Fry Vegetables
In a wok or non-stick saute pan over medium-high heat, preheat your oil until it is almost smoking. Toss in the vegetables and stir-fry for 2-3 minutes, stirring constantly.
Pour 3 tablespoons of oil into the pan and cover tightly. Let the vegetables steam until they are tender crisp.
Pour in the sauce ingredients and cook until thickened.
Enjoy
Place the rice noodles in a bowl, top with the sauced vegetables, and top that with your salmon filet. You can peel off the skin before plating if you'd like, but that isn't required. Top with green onions and additional sesame seeds and enjoy!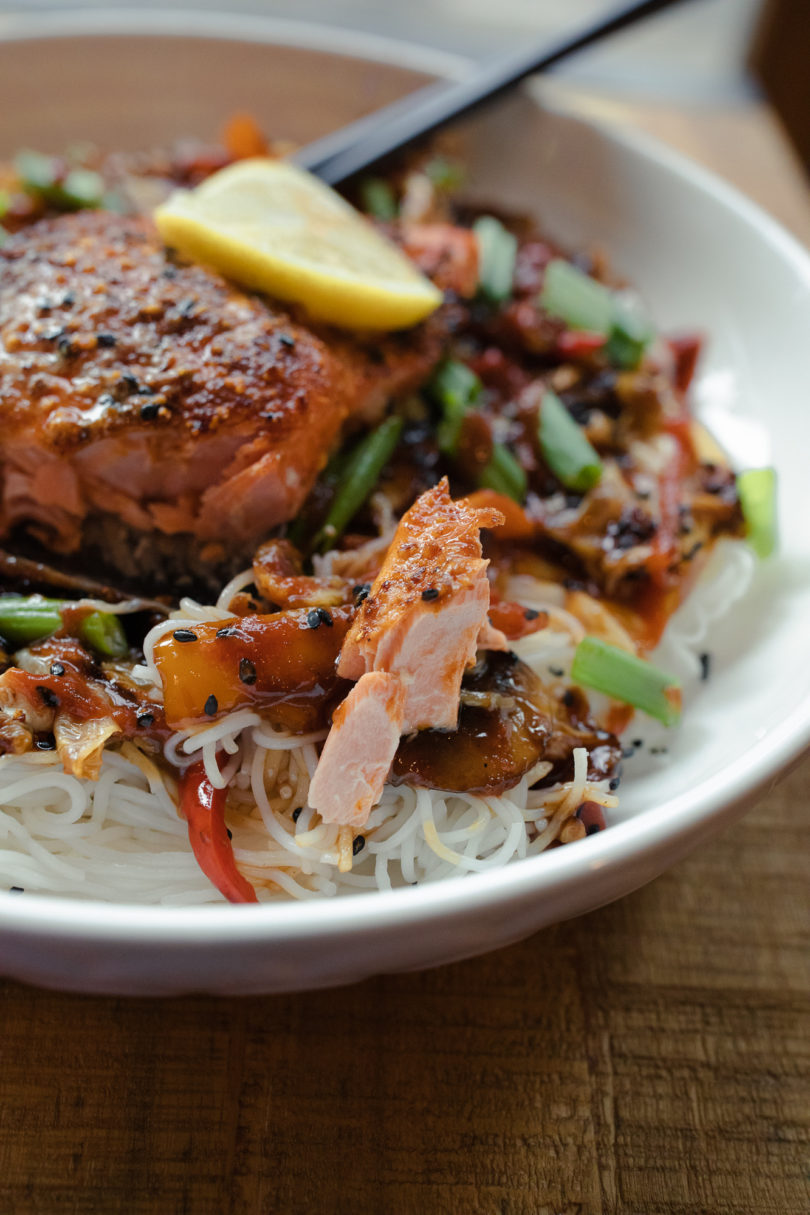 What else can you serve with this?
This dish is basically an entire meal all in one, but if you want to get crazy and serve an Asian-inspired feast, I have a lot of options available!
More salmon recipes to love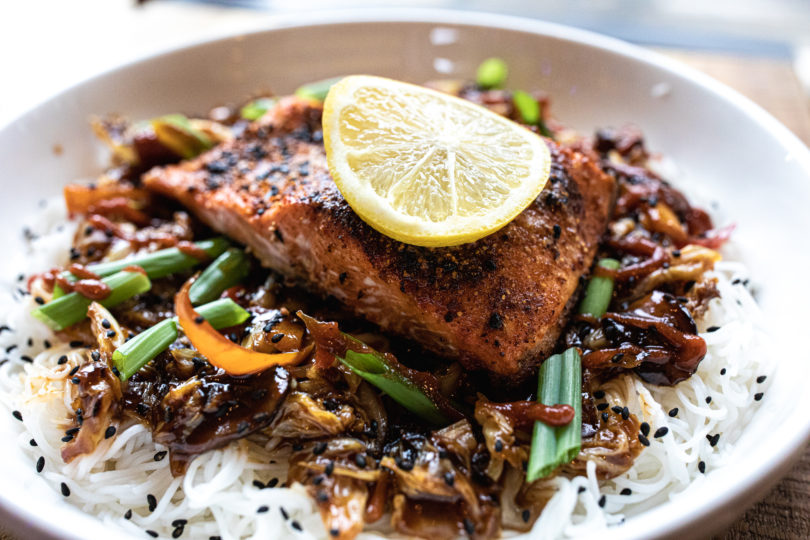 Grilled Togarashi Salmon FAQ
What is Togarashi?
Togarashi is a Japanese spice blend that typically contains Red Chili Pepper, Orange Peel, Sesame Seeds, Gochugaru, Ginger and Nori. It is pretty spicy, so use some restraint if you are preparing this for sensitive palates or children. If you like a little heat though, this might be your new favorite spice!
What is the best kind of salmon to use?
Whatever is fresh and available is the best kind of use. I advise to buy wild-caught Pacific ocean salmon if you are able. I know people rave about Copper River Salmon, but have they ever eaten an ocean-caught silver?? I THINK NOT. Anyway – if you love salmon and all you have access to is farmed Atlantic salmon, do your thing. This recipe works with any kind of salmon. You could also sub in trout or steelhead as well.
Can this be made in advance?
No. I wouldn't make this ahead of time. Salmon is best served fresh off the grill, as are stir fried vegetables, so it is best to make this right before you want to serve it.
What's the best way to store leftovers?
If you do wind up having more than you can handle in one sitting, store the leftovers in an airtight container for 1-2 days.
How do you reheat leftovers?
I have a pretty strong aversion to fish in a microwave, pretty much ever. So, if this were chicken I'd definitely be telling you to nuke it for a couple minutes, but since we are talking fish here and we aren't psychopaths, I'd toss the fish back in the oven for a few minutes. You can nuke the veggies and rice noodles if you wanted to.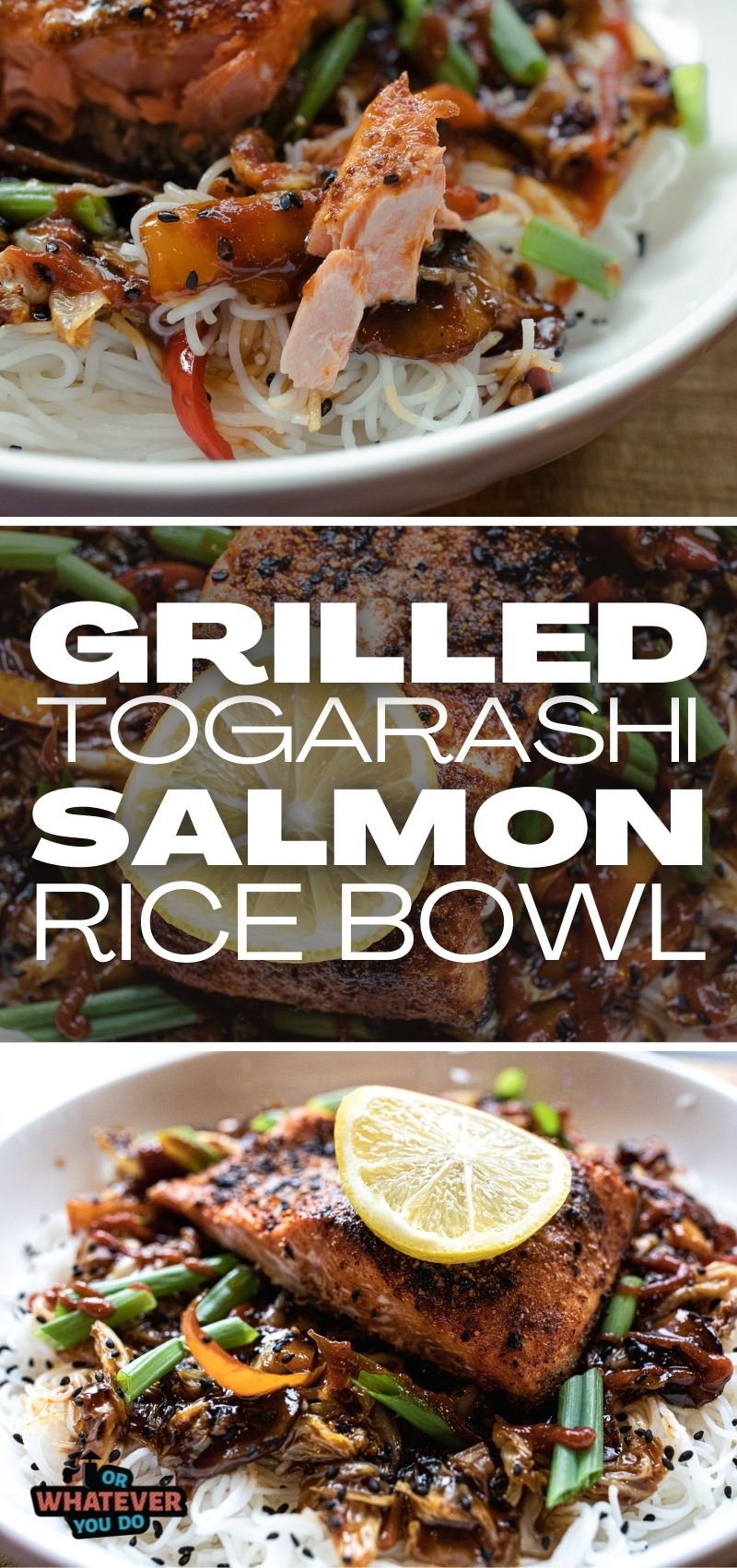 Yield: 4 servings
Grilled Togarashi Salmon Rice Noodle Bowl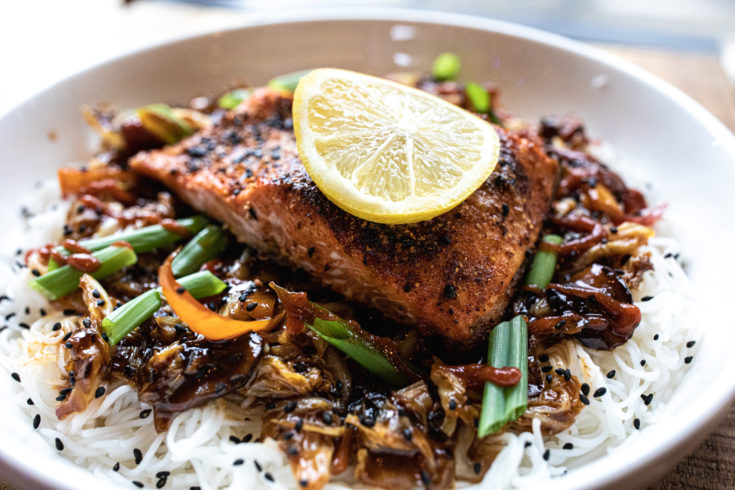 A simple grilled salmon filet seasoned with a spicy togarashi seasoning, and served on top of stir-fried vegetables and rice noodles.
Ingredients
Salmon
4 portions fresh salmon
4 teaspoons togarashi seasoning
4 teaspoons salted butter
Vegetables
1 small white onion, sliced
2 cups sliced bell peppers, multicolor
2 cups mushrooms, sliced
Sauce
1/3 cup soy sauce
1/8 cup mirin
1/8 cup rice wine vinegar
1-2 tablespoons gochujang
1 tablespoon honey
1 teaspoon lemon juice
1/2 teaspoon red chili pepper
1 tablespoons cornstarch
1/3 cup cold water
Noodles
8 ounces rice noodles
1/2 teaspoon sesame oil
Garnish
1 tablespoon Black Sesame Seeds (optional)
1 bunch green onions, green parts only, chopped
fresh lemon slices
sriracha (optional)
Instructions
Preheat your Traeger to 400°. Put some water on the stove to boil for the rice noodles.
Pat dry your salmon filets and season with the togarashi. Place a pat of butter on each, and place the filets on a sheet of parchment paper.
Slice your vegetables and set aside. Mix together the sauce ingredients and set aside.
Place the salmon on the grill. Cook for 6-8 minutes, or until the filets are cooked to your liking. We prefer salmon to be done to medium at most, but you do you!
Soak the rice noodles, following package directions, while the salmon is cooking.
While the salmon is cooking and the rice noodles are soaking, stir fry your onion, bell peppers, and mushrooms by placing a non-stick skillet or wok on the stove over medium-high to high heat. Stir-fry for 3-4 minutes, or until tender crisp. Once the vegetables are done to your liking, pour in the sauce and stir continuously until it is thickened. Remove from heat.
Toss the drained rice noodles with the sesame oil, and plate evenly over the 4 servings. Top with saucey vegetables, and place a salmon filet on top. Garnish with green onions, black sesame seeds, a lemon slice on top of the salmon, and if you like it spicy, some sriracha.
Notes
Feel free to add in more vegetables, omit ones you don't like, or skip the veg all-together if that's your thing. You could make the sauce just for the noodles if you wanted, but I really like the vegetables in this mix!
This sauce was inspired by the salmon marinade in this epic marinated raw salmon recipe from Korean Bapsang.
Recommended Products
As an Amazon Associate and member of other affiliate programs, I earn from qualifying purchases.
Nutrition Information:
Yield:
4
Serving Size:
1
Amount Per Serving:
Calories:

686
Total Fat:

34g
Saturated Fat:

8g
Trans Fat:

0g
Unsaturated Fat:

23g
Cholesterol:

153mg
Sodium:

2895mg
Carbohydrates:

36g
Fiber:

4g
Sugar:

12g
Protein:

56g
Nutrition data provided here is only an estimate.