Dive into the BEST Tuna Salad Recipe! We made an easy, versatile mix that's been my family's go-to for ages! Perfect between two pieces of white bread or made into a tuna melt!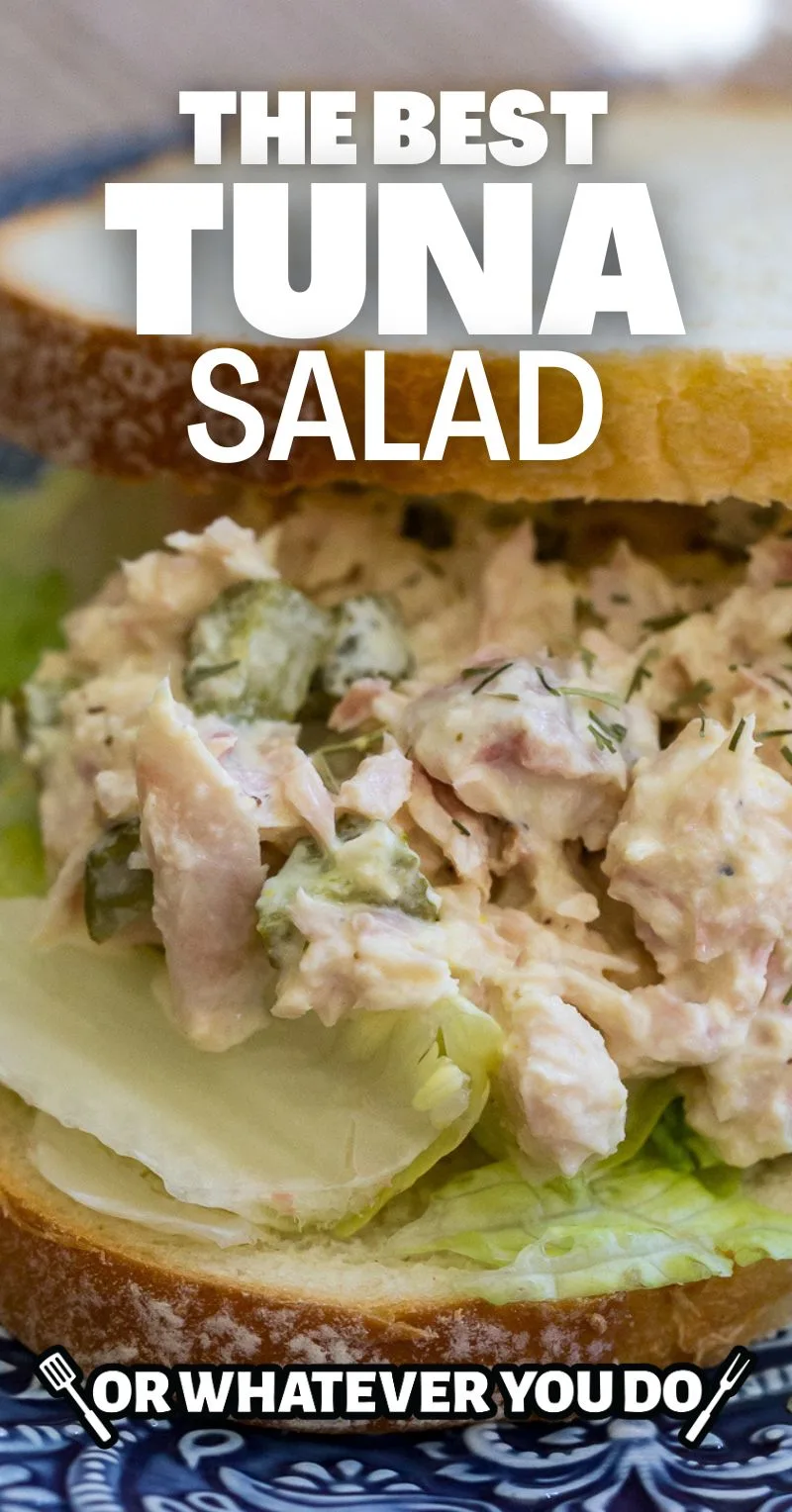 Easy Homemade Tuna Salad Sandwich
Tuna salad has long held a special spot in my recipe book full of comfort foods, particularly for its balance of textures and flavors. The smooth creaminess of mayo complements the robust, flaky texture of canned tuna. Crunchy elements like celery and diced pickles join in to deliver a delicious contrast.
People will absolutely fall in love with this salad for its simplicity and versatility. Whether you're throwing together a quick lunch, looking for a nutritious snack, or even prepping a light dinner, this tuna salad is a great option. Pair it with some hearty, toasted bread for a fulfilling sandwich or serve it on top crisp, fresh lettuce cups for a low-carb alternative. It's perfect for those busy days when you want something quick but refuse to compromise on flavor.
This recipe is one you can't afford to skip because it demonstrates what home cooking is all about: easy-to-prepare meals that still manage to offer a sense of indulgence. It's a recipe that reminds us that food doesn't need to be complex to be satisfying. It also highlights the beauty of canned tuna, an often overlooked pantry staple.
Try our Tuna Pasta Salad too!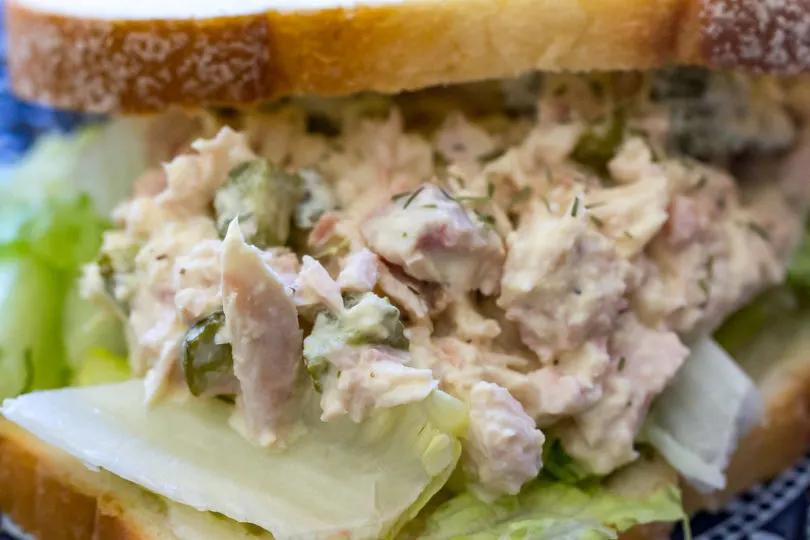 Tuna Salad shopping list
Wondering if you have to hit the store? Here's the list of items you'll need to make this recipe. For specific amounts, please refer to the printable recipe card at the bottom of the post.
Albacore tuna in water
Mayo
Dill pickles
Pickle juice
Fresh dill
Garlic salt
Pepper
Celery (optional)
How about a Tuna Melt Flatbread?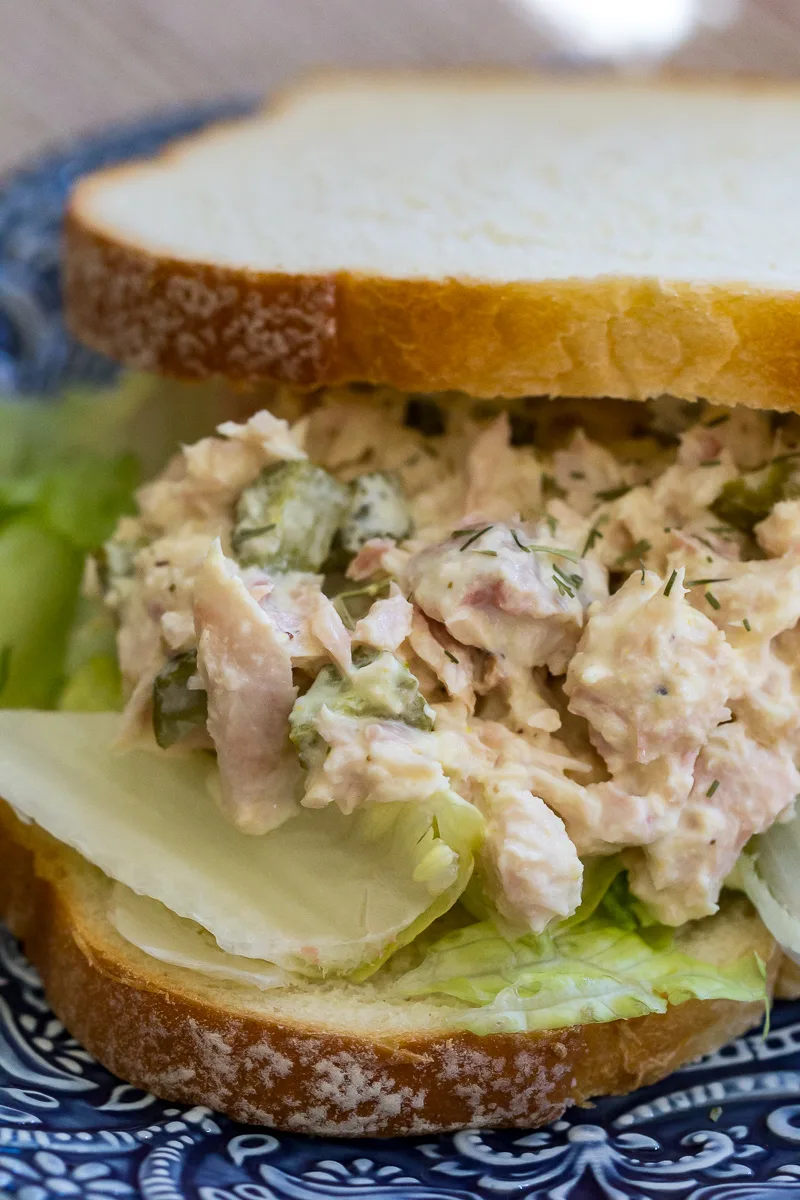 How to make a Tuna Salad Sandwich
This is just the overview so you can see what you're actually getting into here. When you are cooking, you'll want to use the full recipe at the bottom of the page.
Mix
Mix together the ingredients.
Make
Put them inside of a sandwich, on a piece of toast, or inside a lettuce cup or wrap. You decide!
Try with our Homemade Milk Rolls!
Tuna Salad Sandwich FAQ
Can this be made ahead of time?
Yes! You can make this up to a day in advance if you'd like. I don't like to keep tuna salad much longer than that in the fridge, but it should be safe for 2-3 days at least.
What's the best way to store leftovers?
Premade tuna sandwiches will get mushy if they are made before they are going to be eaten. You can combat this by putting a leaf of dry lettuce between the bread and the tuna, or even a slice of cheese. I prefer just to keep the ingredients stored separately and build sandwiches right before I'm going to eat them.
Can you use a different type of canned tuna for this meal?
Yes! We tend to buy Albacore tuna, but there is also Yellowfin and Skipjack (aka "Light" tuna) to choose from in most grocery stores. Here is some information about each variety that will help you decide.
Albacore (White Tuna)
This is the only type that can be labeled as "white" in the United States. It has a mild flavor and a firm, steak-like texture. It's often the most expensive type of canned tuna.
Yellowfin Tuna
Yellowfin, sometimes referred to as Ahi, is a flavorful, typically higher-quality tuna. It has a slightly stronger flavor than albacore and can be found both canned and as fresh steaks. The fresh version is often used in dishes like sushi and poke and in other raw or near-raw preparations.
Skipjack (Light Tuna)
This is the most common variety of canned tuna, offering a stronger flavor and darker meat than albacore. It's often the type found as "light canned tuna". This is the most economical option and is the one I grew up using for pasta salad and tuna salad sandwiches.
Try our Seared Bluefin Tuna Recipe!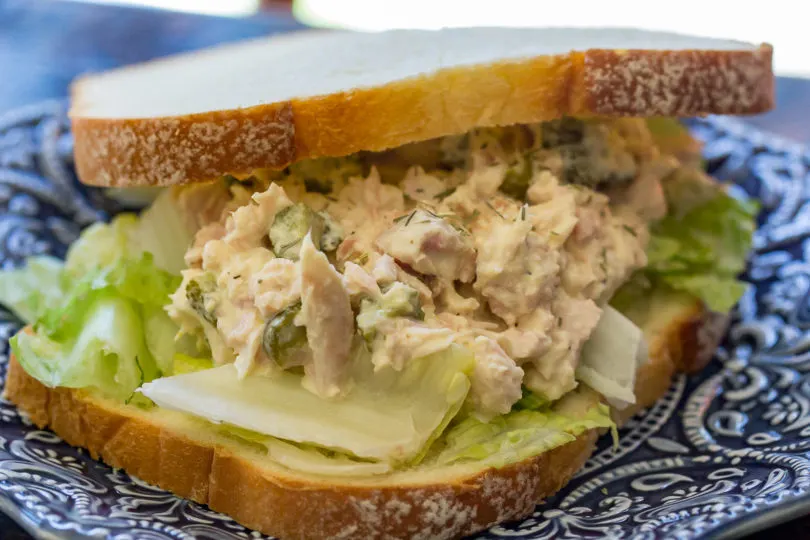 More great recipes to love!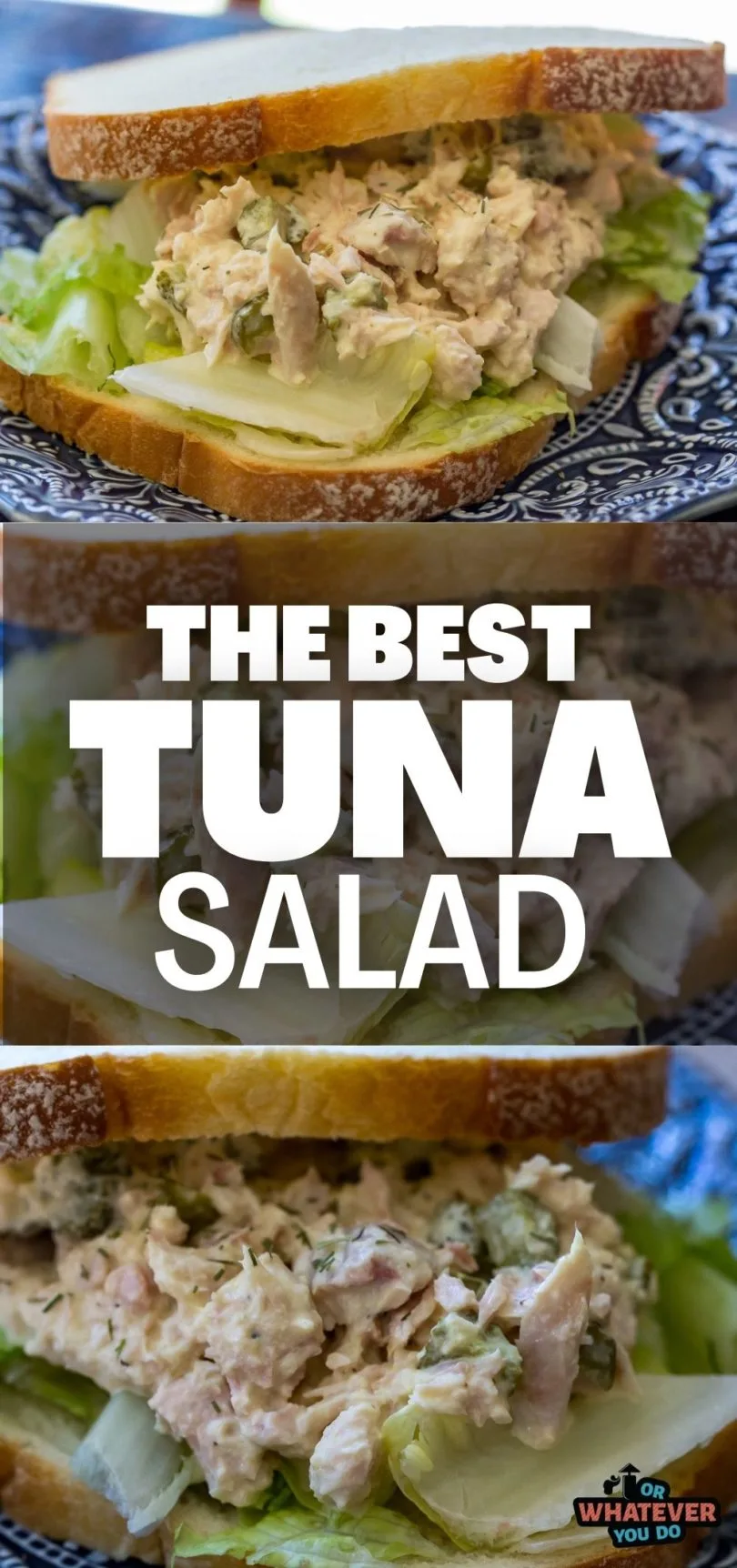 Yield: 4 servings
Tuna Salad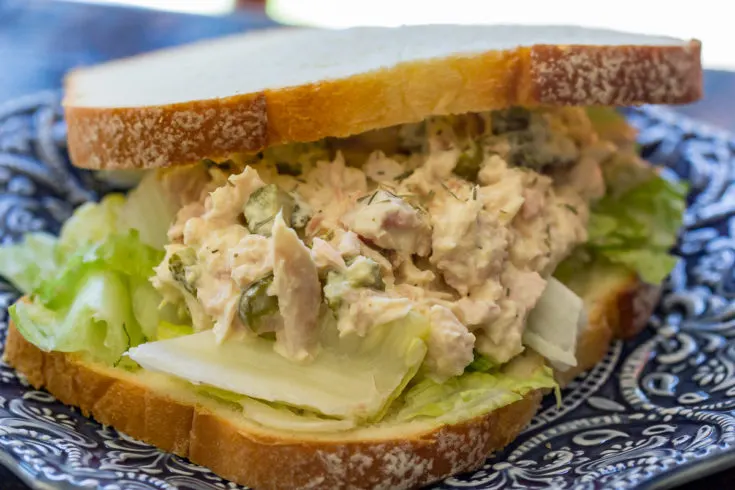 This easy, delicious tuna salad recipe is perfect to put inside a sandwich or in a lettuce cup! This is one of my favorite quick lunches, and I hope you'll enjoy it too!
Ingredients
2 6-ounce cans Albacore tuna in water, drained
1/2 cup mayo* (Duke's or Kewpie is my favorite)
3 tablespoons diced dill pickles or dill pickle relish
1 teaspoon pickle juice
1/2 teaspoon fresh dill
1/4 teaspoon garlic salt
1/8 teaspoon pepper
1/4 cups diced celery (OPTIONAL)
Instructions
Mix together all of the ingredients until combined.
Try not to break up the tuna into TOO small of pieces, you want some decent-sized chunks, ideally. Or not. You do you. Whatever you prefer is how you should make it. 😉
Notes
I like to start with a 1/2 cup of mayo in the mix, and then after stirring if it looks like it needs a little extra, I will add a little more.
Nutrition Information:
Yield:
4
Serving Size:
1
Amount Per Serving:
Calories:

300
Total Fat:

23g
Saturated Fat:

4g
Trans Fat:

0g
Unsaturated Fat:

19g
Cholesterol:

47mg
Sodium:

723mg
Carbohydrates:

1g
Fiber:

0g
Sugar:

1g
Protein:

20g
Nutrition data provided here is only an estimate.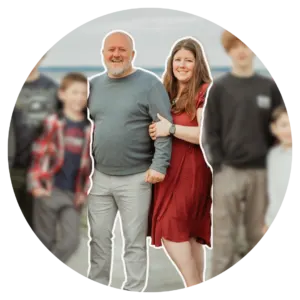 Nicole Johnson, a self-taught expert in grilling and outdoor cooking, launched Or Whatever You Do in 2010. Her blog, renowned for its comprehensive and creative outdoor cooking recipes, has garnered a vast audience of millions. Nicole's hands-on experience and passion for grilling shine through her work. Her husband, Jeremiah Johnson, also plays a pivotal role in recipe development, adding his culinary flair to the mix. Together, they form a dynamic duo, offering a rich and varied outdoor cooking experience to their followers.