This recipe for Traeger Smoked Salmon is so easy to make, and you will be amazed at the flavor of home-smoked salmon. This recipe is a must make for anyone who loves smoked salmon.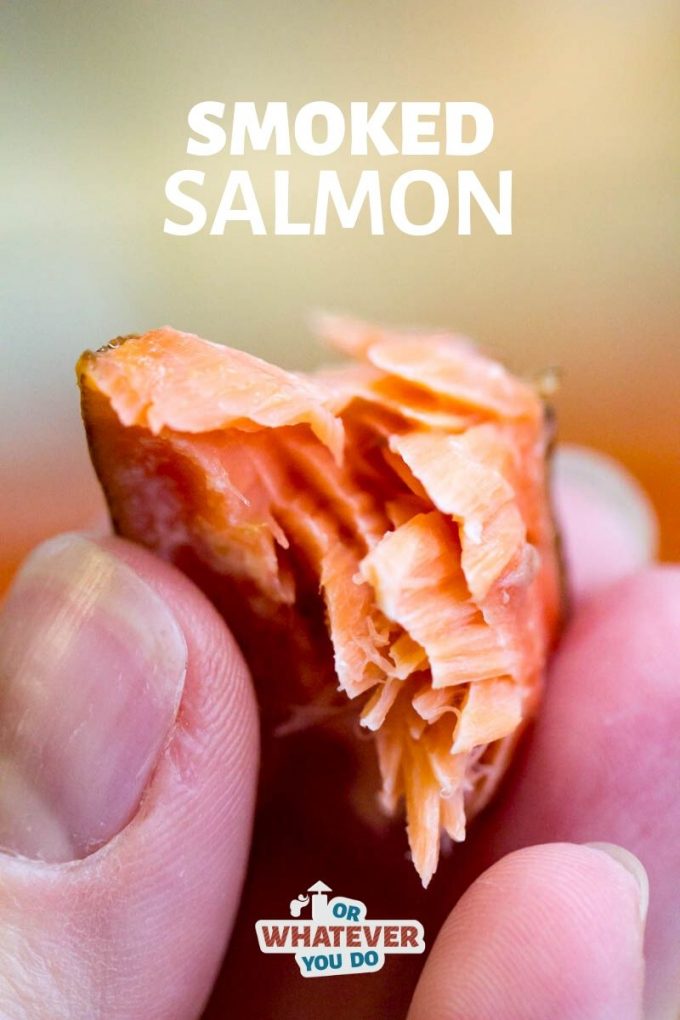 Traeger Smoked Salmon
A very simple recipe that you can make over and over. Smokey, sweet, melt in your mouth salmon that is brined and slow smoked on your Traeger grill.
One of our favorite ways to use all of the awesome salmon that Jeremiah has been catching has been to make fresh Smoked Salmon.
Salmon is such a super protein to incorporate into your diet and smoked salmon is one of my favorite treats to have.
Hungry for more Traeger Recipes? Check out my Traeger Recipe Collection!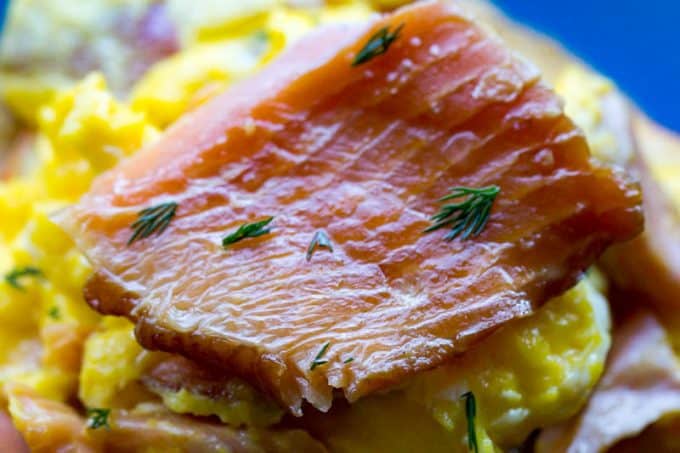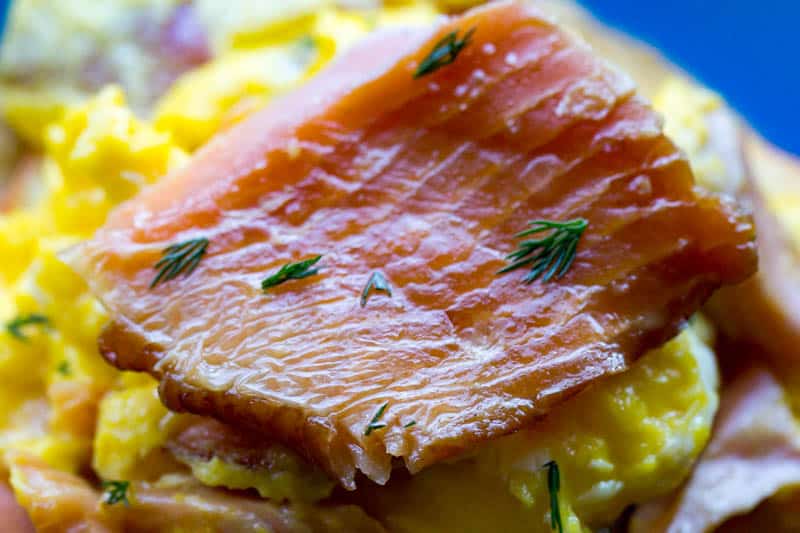 What Makes Smoked Salmon So Delicious?
With a little homemade brine and some slow smoking, you can create your own wood-fired salmon that tastes better than what you can buy. Low and slow is the key for that rich flavorful smoked salmon taste.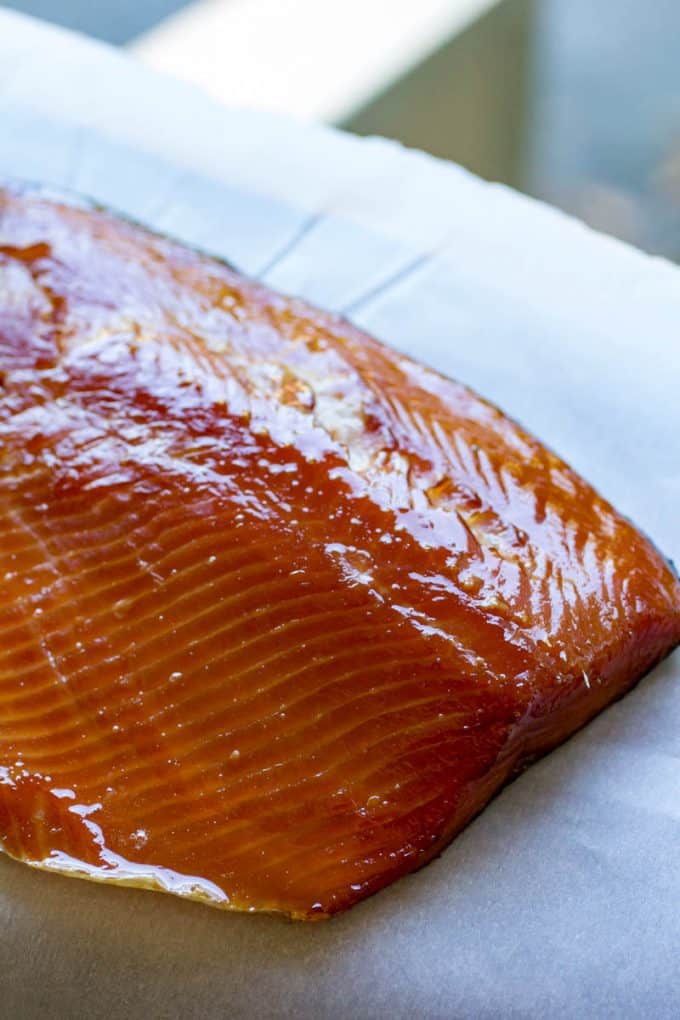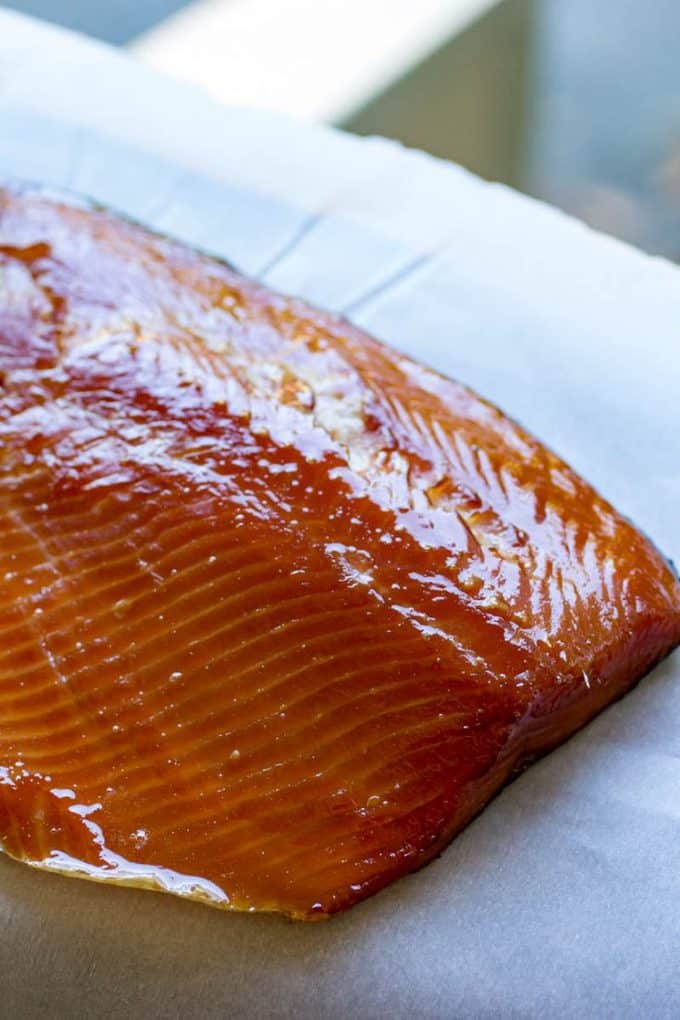 How Do You Eat Smoked Salmon
There are tons of ways you can eat smoked salmon!
Flake it and make a salmon salad, top some salmon on a cream cheese bagel, eat it plain, create a smoked salmon platter, and more. The beauty of smoked salmon is it is so versatile, and you can use it in a ton of ways from slicing and eating it plain to a handful of ways and more.
You can see all of our smoked salmon recipes here.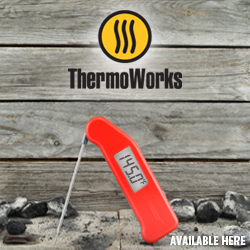 Need another fun Traeger appetizer? Make these bacon-wrapped shrimp!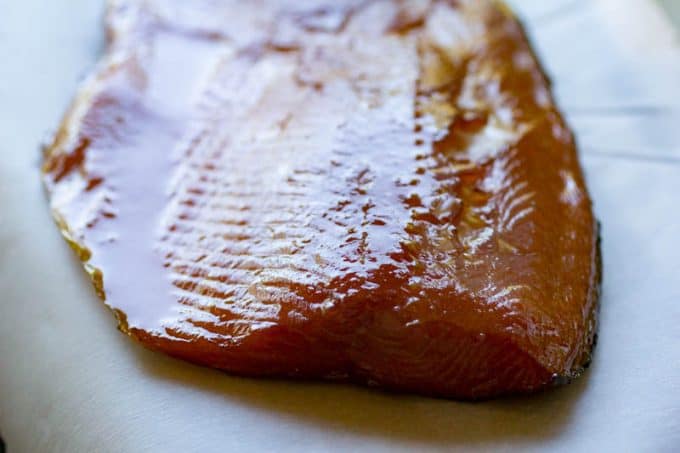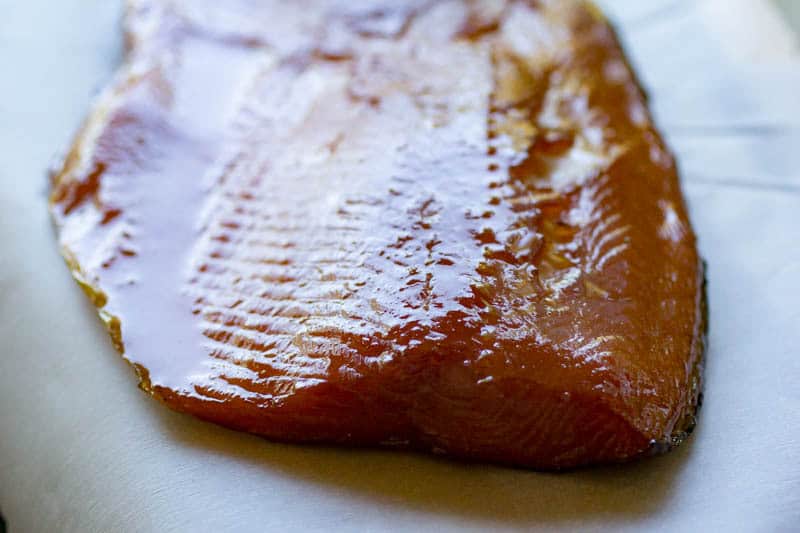 What Should I Serve With Smoked Salmon?
You can serve this simply with crackers and cream cheese, in a smoked salmon eggs benedict that you will die for, or even on top of a pile of alfredo instead of the chicken or shrimp.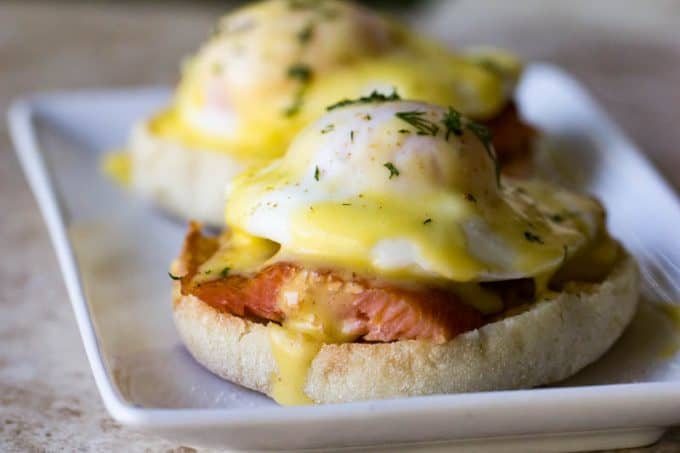 How to Smoke the Perfect Salmon
My pellet grill has come in handy when smoking salmon because you can maintain a specific temperature. For the process of smoked salmon, you want to cook on low heat for a long period of time with all the smoke.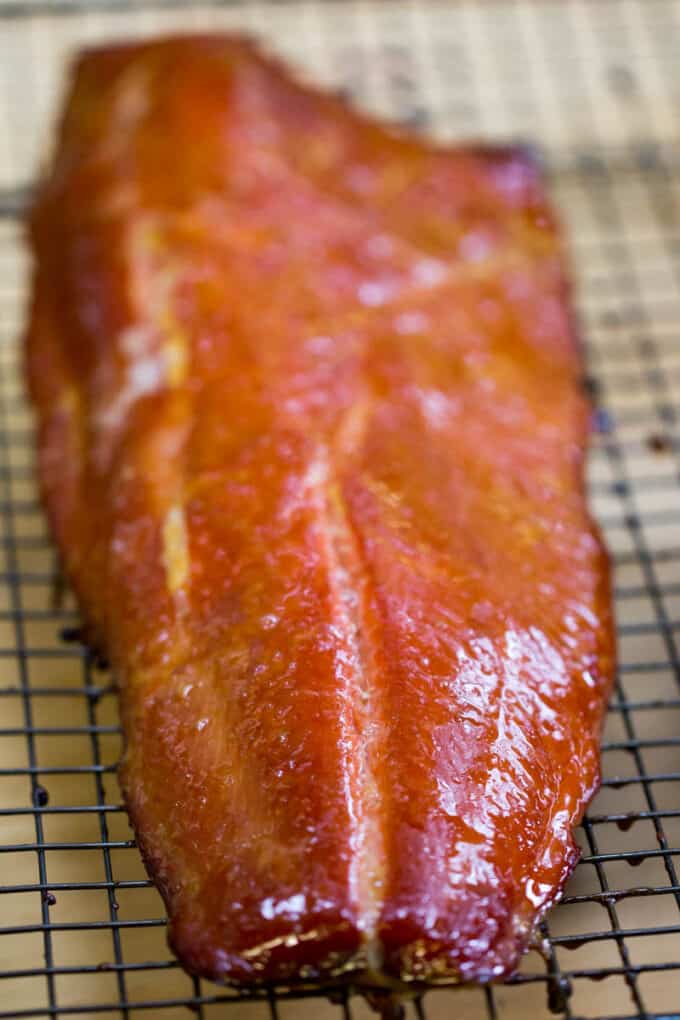 Our Traeger has a temperature gauge right on the front so I can see the temperature all the time. If you get a fancier one than I have, I think there are even apps that you can use to control things from your phone. I haven't gone that route yet, but you'd better believe that I will be.
The temperature control has helped make sure I don't cook too high and ruin the salmon. If your salmon gets too hot, you will have such a tough piece of meat and you will probably end up tossing it out.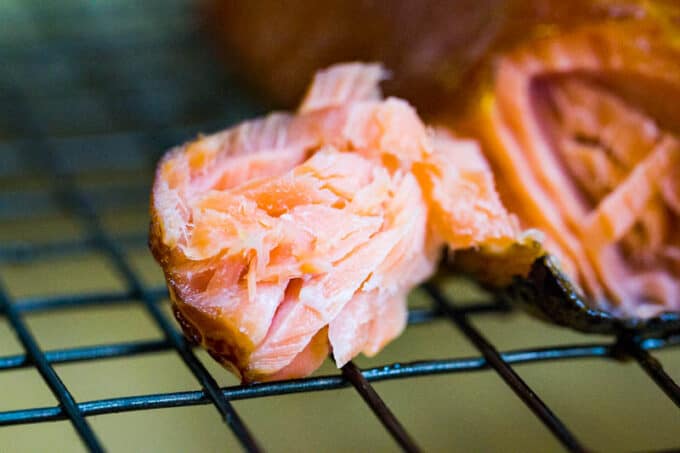 Make sure to brush your salmon throughout the cooking process to seal in moisture to the fish to help it from drying out and it will give an element of flavor. The process is pretty easy if you maintain temperature.
You can use any type of smoker you have to make this easy smoked salmon recipe. We have a Traeger and a Camp Chef, and both are amazing!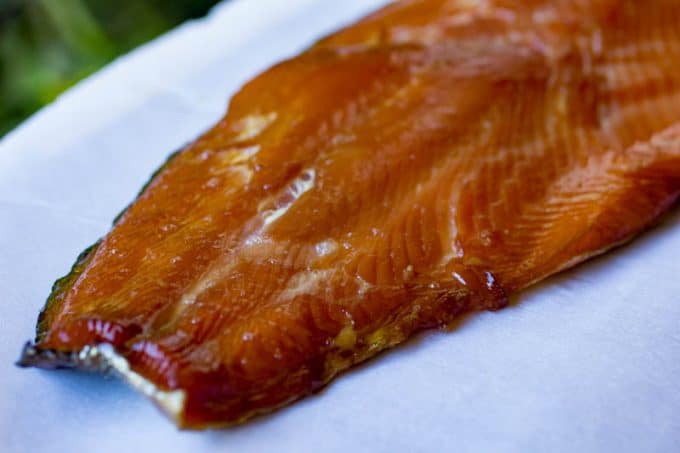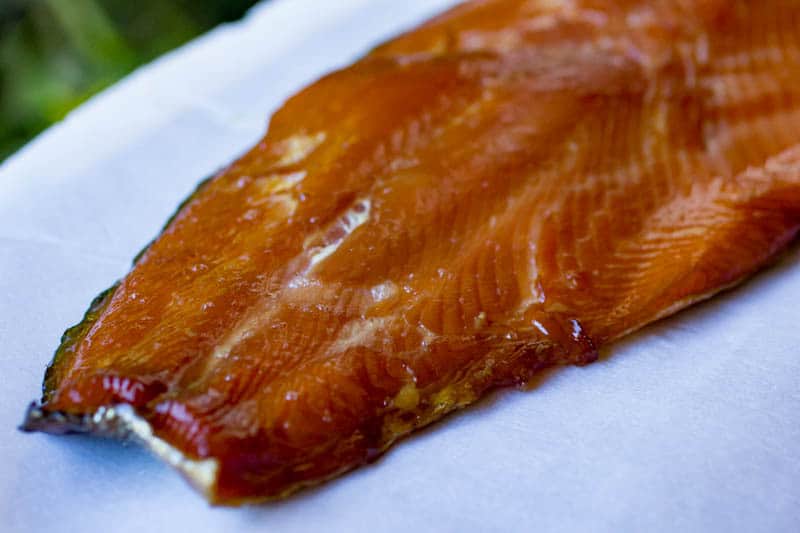 Do I have to use a Traeger to make Smoked Salmon?
Nope! We also have a Camp Chef and it works really well for smoked salmon. Any smoker or pellet grill will do the trick, so grill away!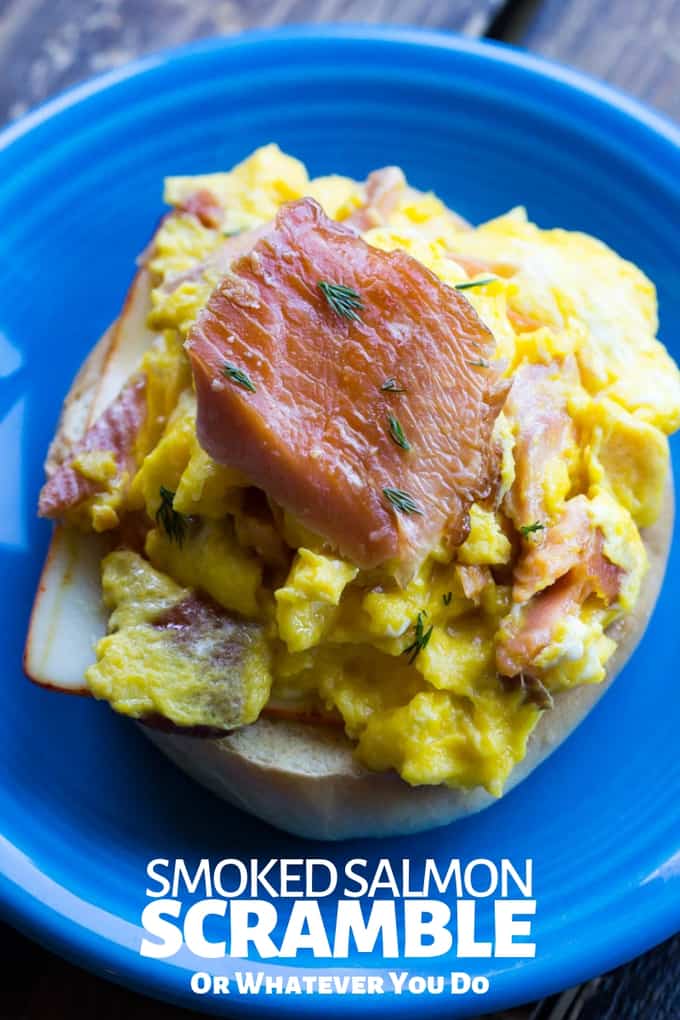 Do You Have Any Grilled Fish Recipes?
Oh yeah. You came to the right place! I've got this awesome Lemon Dill Salmon that you'll love, and more awesome options in the works.
We also have an amazing Grilled Walleye recipe with a Lemon Cream Sauce that's one of the best pieces of fish I've ever had in my whole life.
Grilled Fish Recipes:
Grilled Seafood Recipes: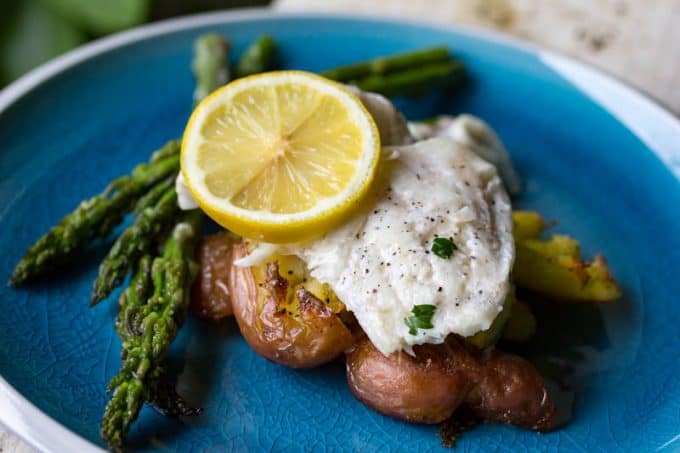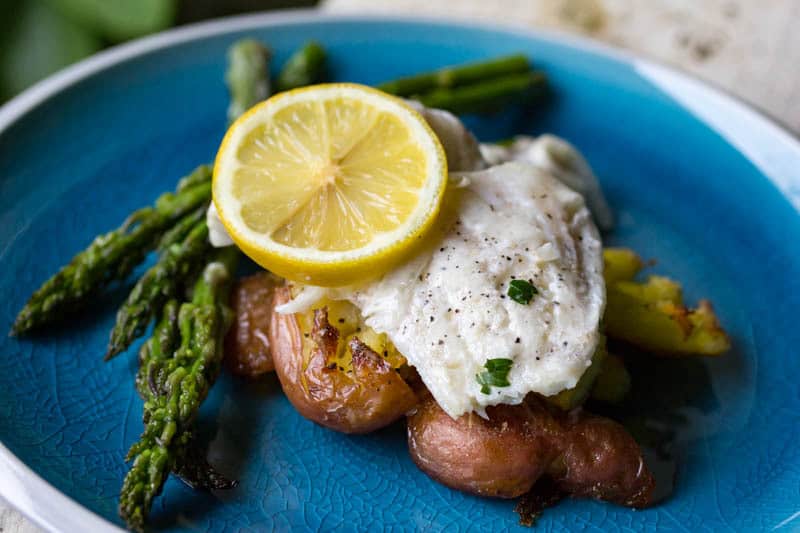 Tips for making this Maple Smoked Salmon
Real maple syrup is a must for this recipe. Please don't waste your time on the imitation. Real maple syrup is going to help give you the sweet to your smoky, and fake maple syrup will not do. You will ruin your salmon, so make sure you spend the money and buy real maple syrup to slather onto your gorgeous filet.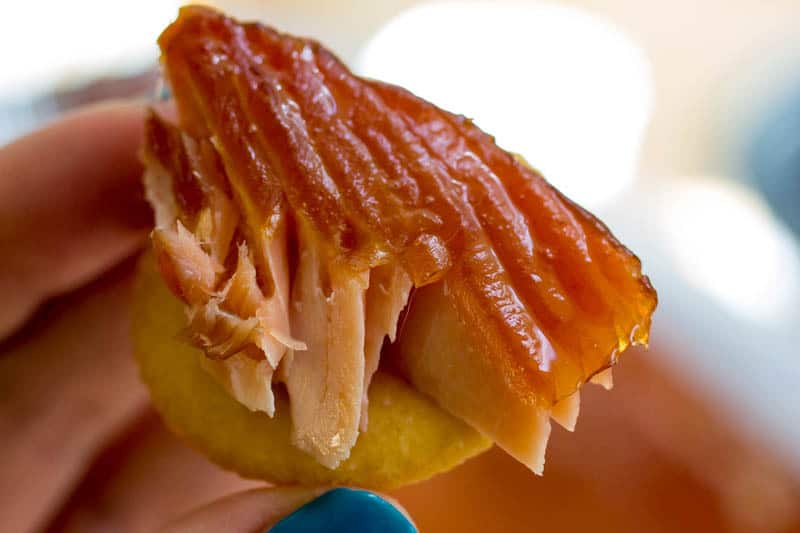 Skin On or Skin Off?
We find better success when we smoke with the skin on. It helps to keep the fish from falling apart, so keep the skin on the bottom of your filet and smoke away!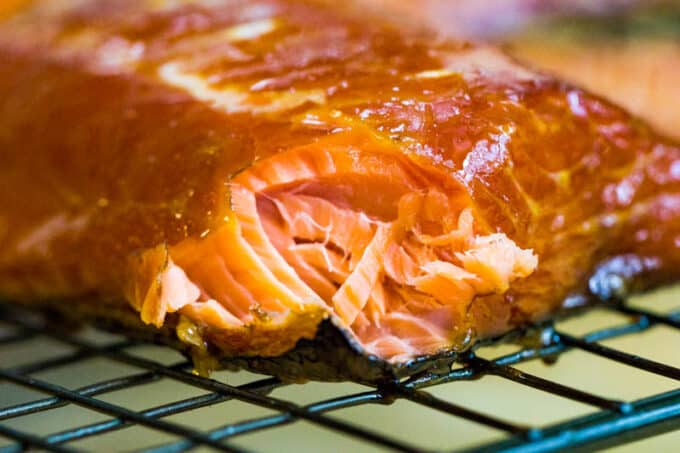 Storing Smoked Salmon
After you are finished smoking your fish, you want to let it rest for around an hour on a cooling rack. Once it is completely cool, wrap it up in plastic wrap and place in the fridge. Your smoked salmon will keep for around 8-10 days.
Now, if you have a vacuum system you can vacuum seal your fish for a lasting time of around 3 weeks in the fridge, or you can toss in the freezer and it will last for up to a year.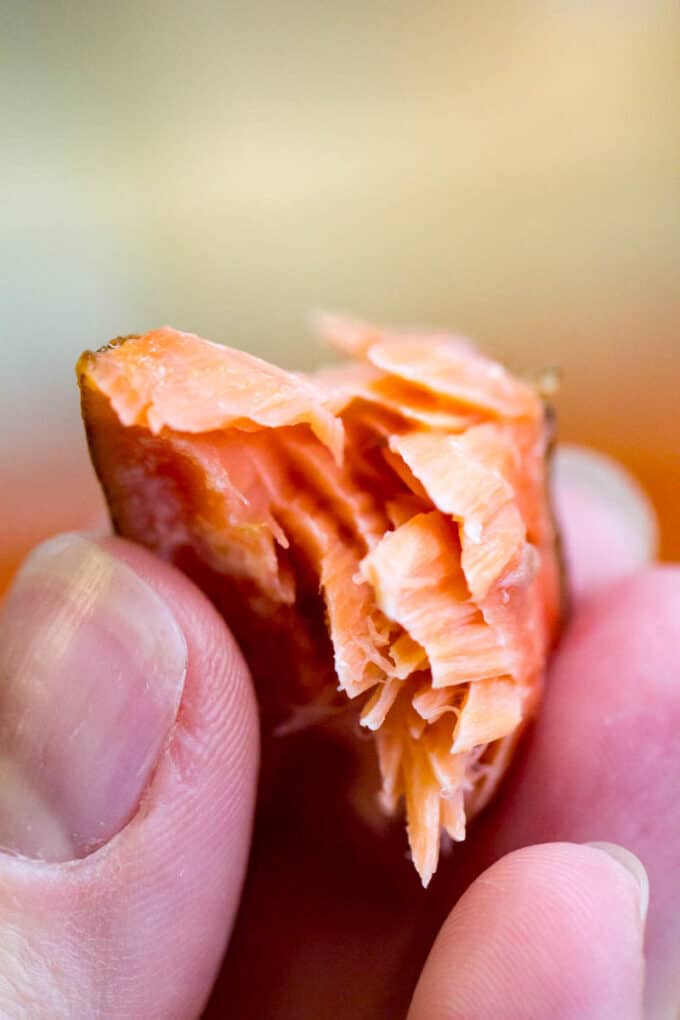 This is a great smoker starter recipe, and for anyone who loves salmon. I have easy directions to follow, to help give you that final product that you will love and keep making over and over again. This is my tried and true recipe I keep on hand and make a handful of times throughout the year.
Pin for later!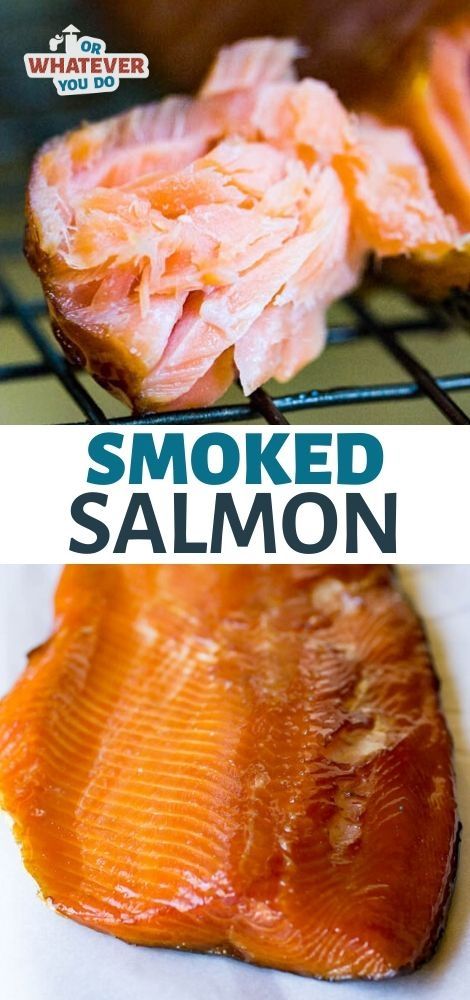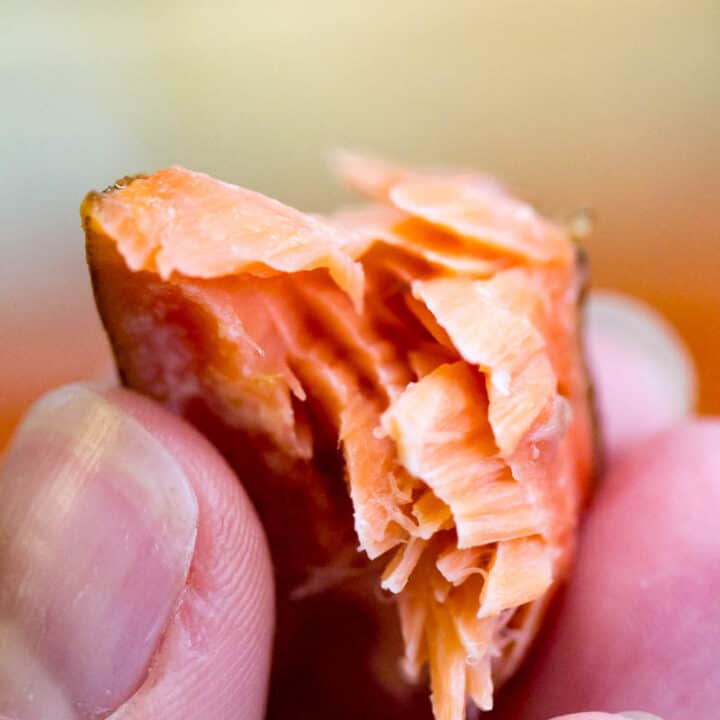 Traeger Smoked Salmon
Total Time:
16 hours
10 minutes
Easy and delicious Traeger Smoked Salmon recipe. Homemade taste, fresh flavor, delicious real maple glaze.
Ingredients
Brine
4 cups water
1 cup brown sugar
1/3 cup kosher salt
Salmon
Large skin-on salmon filet
REAL maple syrup
Instructions
Combine brine ingredients until the sugar is dissolved, and place into a large ziplock baggie or large covered container. Place your cleaned salmon into the brine, and refrigerate for 10-12 hours.
Once the fish is brined, remove from the liquid, rinse quickly, and pat dry with paper towels. Let sit out at room temperature for 1-2 hours to allow the pellicle to form.
Turn your smoker to smoke to get the fire started, and place the salmon on a baking rack that's been sprayed with cooking spray.
Place the rack on the smoker, and close the lid.
Once an hour, baste the salmon with pure maple syrup generously. Don't let the smoker get above 180 degrees for best results.
Smoke for 3-4 hours, but the length of time really depends on how thick your fillets are. You want to pull the salmon when it flakes easily.
Recommended Products
As an Amazon Associate and member of other affiliate programs, I earn from qualifying purchases.
Nutrition Information:
Yield:

12
Serving Size:

1
Amount Per Serving:
Calories:

101
Total Fat:

2g
Saturated Fat:

0g
Trans Fat:

0g
Unsaturated Fat:

2g
Cholesterol:

12mg
Sodium:

3131mg
Carbohydrates:

16g
Fiber:

0g
Sugar:

16g
Protein:

4g
Nutrition data provided here is only an estimate. If you are tracking these things for medical purposes please consult an outside, trusted source. Thanks!