When you are craving salmon, there's no better way to make it than this Grilled Cedar Plank Salmon, cooked right on our Pellet Grill! This method of preparing salmon is super popular, and for good reason. It is easy AND delicious. Just 30 minutes from start to finish, and that includes preheating your grill!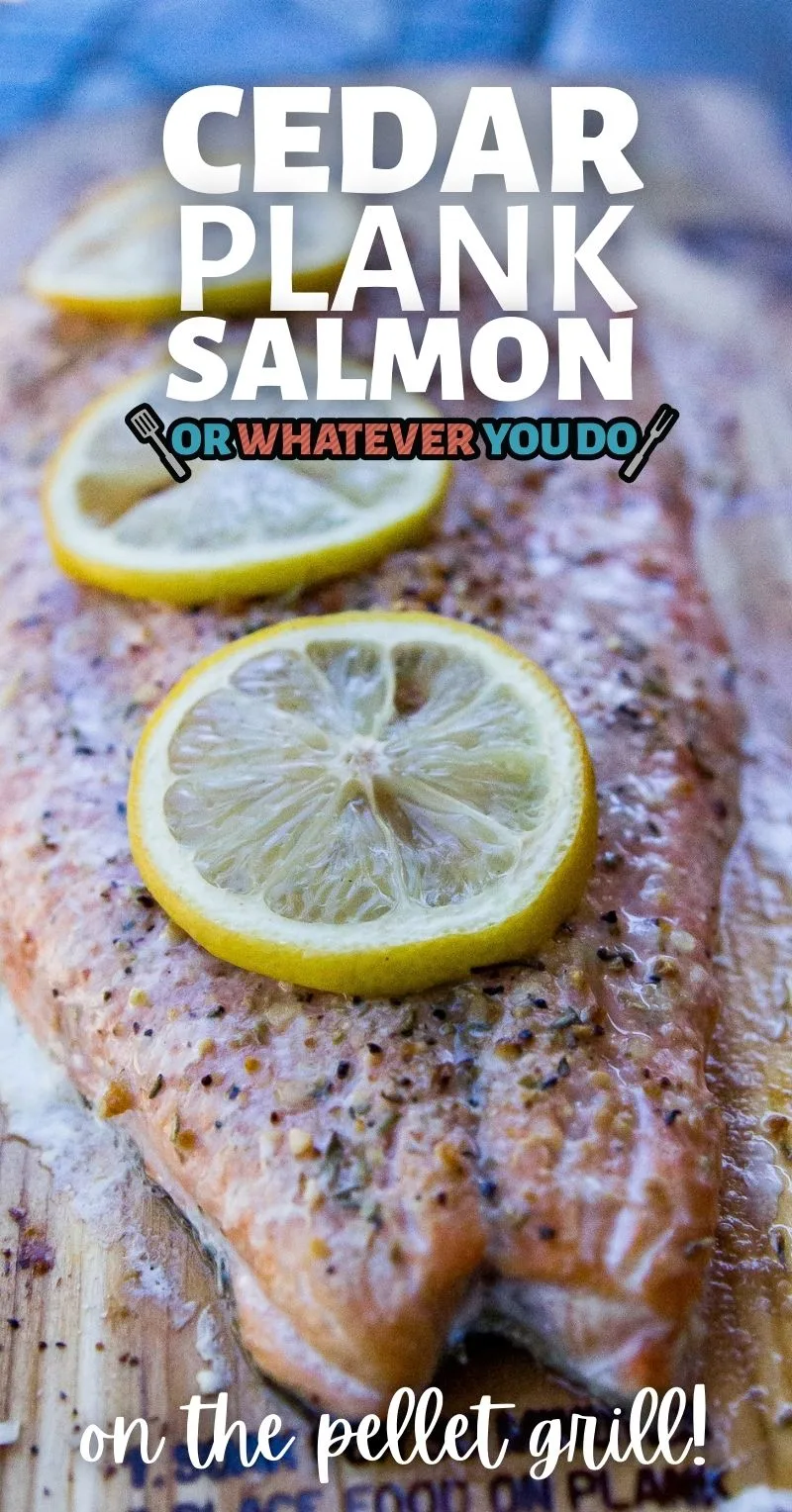 Traeger Cedar Plank Salmon
It is summer in the Pacific Northwest, and for a lot of the area fishermen, that means one thing.
Salmon.
And lots of them, and lots of time and energy spent finding them.
If you think you don't like salmon, you aren't alone. I was also in the "I hate salmon" club for most of my life. I think that's mostly because the only salmon I'd ever eaten until I was in my mid-thirties came from grocery stores or mid-range restaurants in the midwest. Not the freshest, and not the highest quality, by far.
When Jeremiah took up fishing (again) a few years ago, and started preparing things like this Traeger Smoked Salmon, and also this Traeger Grilled Salmon with lemon pepper, I was suddenly much more on board with the quest for these epic, famous fish.
More Easy Traeger Recipes here!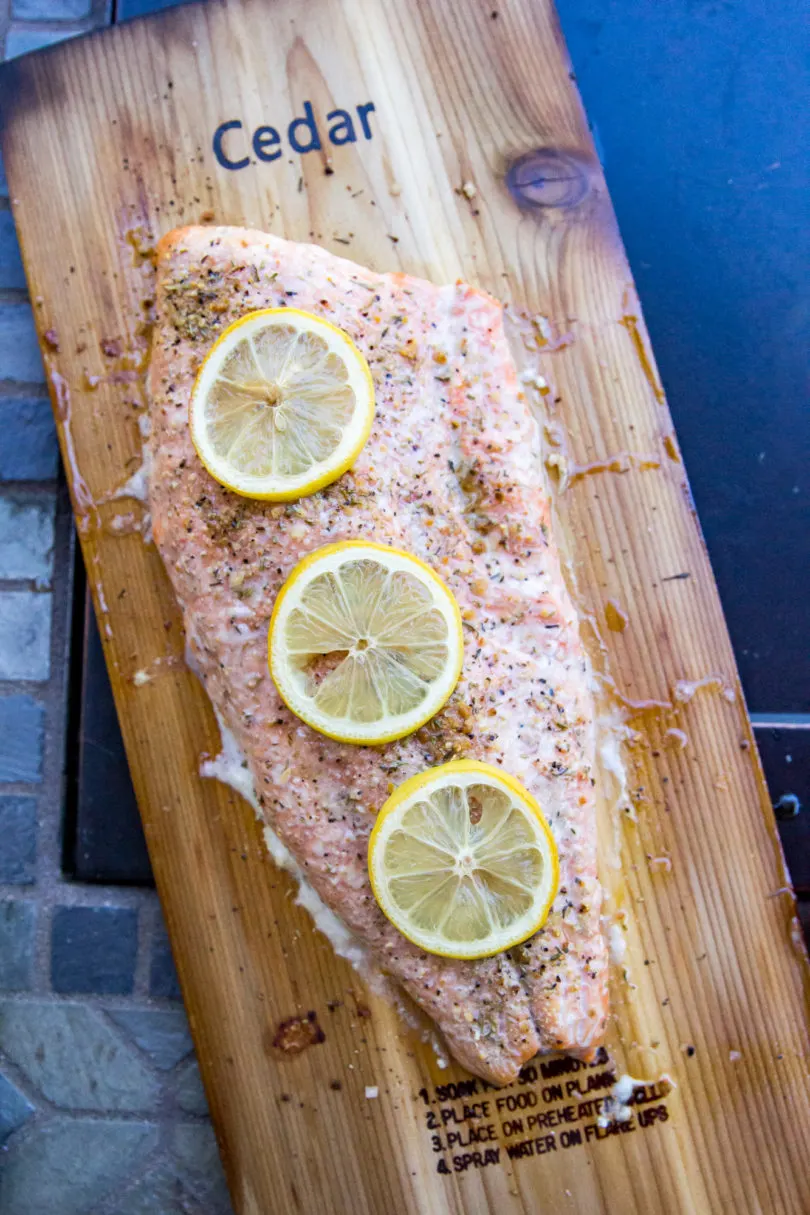 Cedar Plank Salmon shopping list
Wondering if you have to hit the store? Here's the list of items you'll need to make this recipe. For specific amounts, please refer to the printable recipe card at the bottom of the post.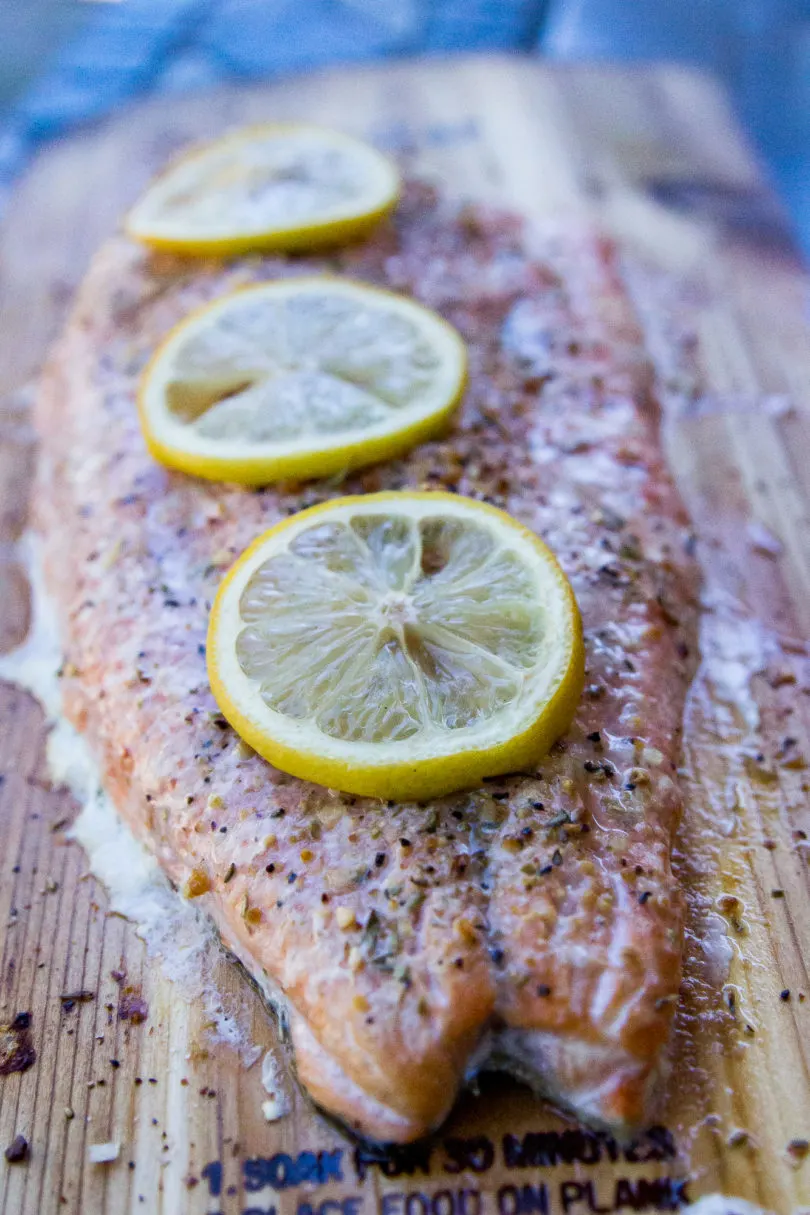 What kind of salmon is best for cedar plank salmon?
Pictured here you see Coho salmon, also known as "silver" salmon. It is our favorite kind and the one we use most often for any kind of fresh, grilled recipe. Chinook salmon, also known as "king" salmon, would work well for this recipe too. Another great option would be Sockeye salmon.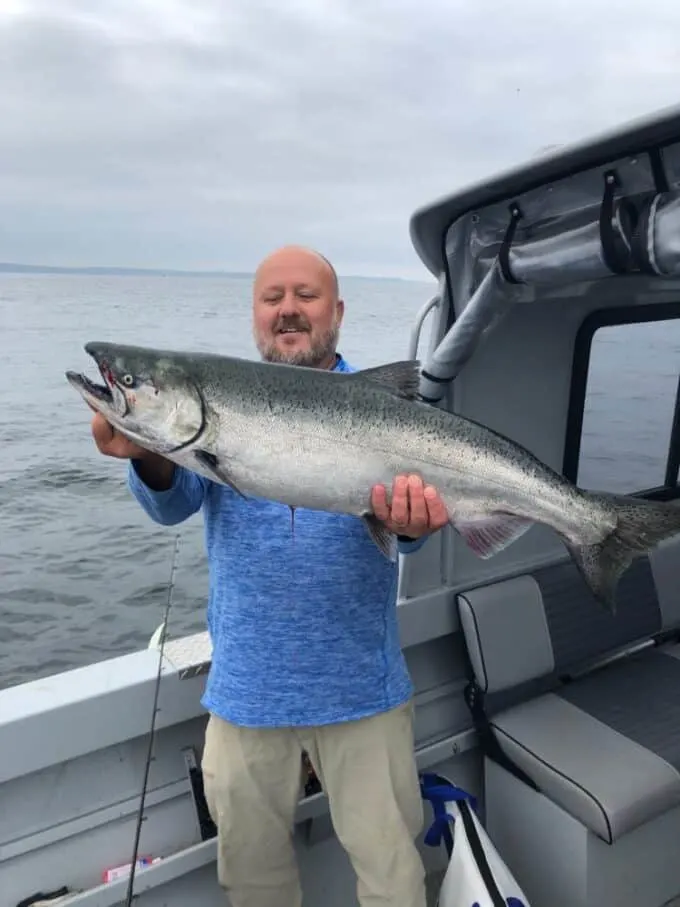 How to make Pellet Grill Cedar Plank Salmon
This is just the overview so you can see what you're actually getting into here. When you are cooking, you'll want to use the full recipe at the bottom of the page.
Soak your planks
30-45 minutes is what you're aiming for. This is a necessary step so the wood doesn't burn.
Preheat your pellet grill
350° is about where you want it. If that varies a little, don't worry. It'll still be great.
Season your salmon
Put the salmon skin-side-down on the plant and season. Don't be shy! Top with the lemon slices.
Onto the grill
Shut the lid and no peeking! You're going to go for 12-15 minutes. Salmon is best-served medium, so try not to go past 125° for the best results, which for salmon is "medium" doneness

Reminder – ALWAYS LISTEN TO THE MEAT! The actual time it can take to get to the finished temp can vary based on a number of different factors. Cook to temp and never to time. The time is just a rough estimate to give you a ballpark of what worked for US.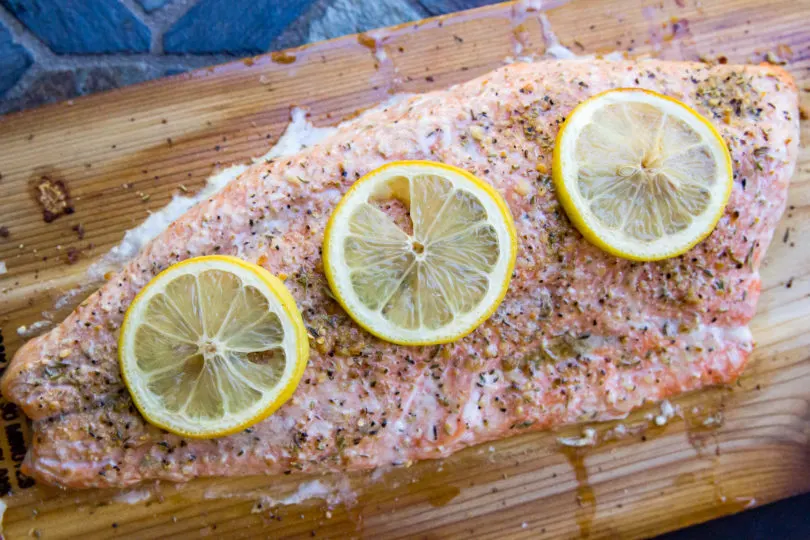 What should you serve with Traeger Cedar Plank Salmon?
Salmon is a perfect dinner when you need something fast, easy, and delicious to throw on the table. Because of that, I like to pair it with equally quick and easy sides to make sure we aren't wasting a good "simple dinner" opportunity when we have one.
Our Broccoli Salad has sunflower seeds and a bright, tangy dressing, and dried cranberries! This one isn't just for the holidays!
If you're looking for something with all the lettuce, our Greek Salad has a homemade dressing, but you could totally sub in a store-bought version if you have one handy that you love.
Get my easy Side Dish recipes!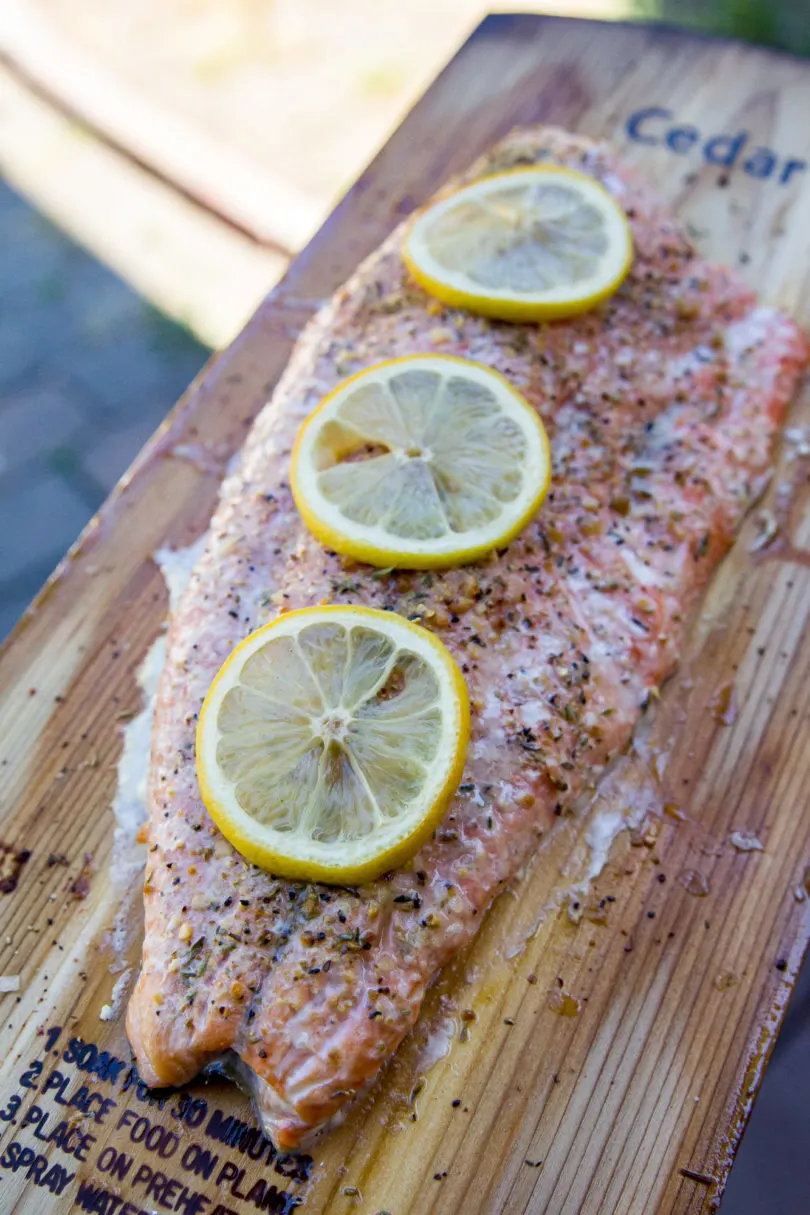 Cedar Plank Salmon FAQ
How should you store leftovers?
This is fish, so unless you are going to serve it in something like our Salmon Orzo Pasta Salad or adding it to a sauce, I think you should try and NOT have leftovers. Fish is best served fresh.
How should you reheat leftover salmon?
Ideally, you don't want to have leftover salmon. Fish is definitely the best when it is freshly caught and fresh-cooked, so unless you'll be using these leftovers cold in a salad or in a sauce that can gently reheat the fish without destroying the quality or overcooking it.
What's a good substitute for the Lemon-Thyme Rub?
If you don't have the Lemon Thyme Whitefish rub, you can make one of your own with lemon pepper, garlic powder, ground thyme, and a little onion powder.
What if you don't have a pellet grill?
If you don't have a pellet grill, you can use any smoker, gas or charcoal grill, or whatever you'd like! You can even use the oven to make these if that's what is convenient. Follow the same instruction, and just try and run close to the same times and temps as is listed in the recipe below.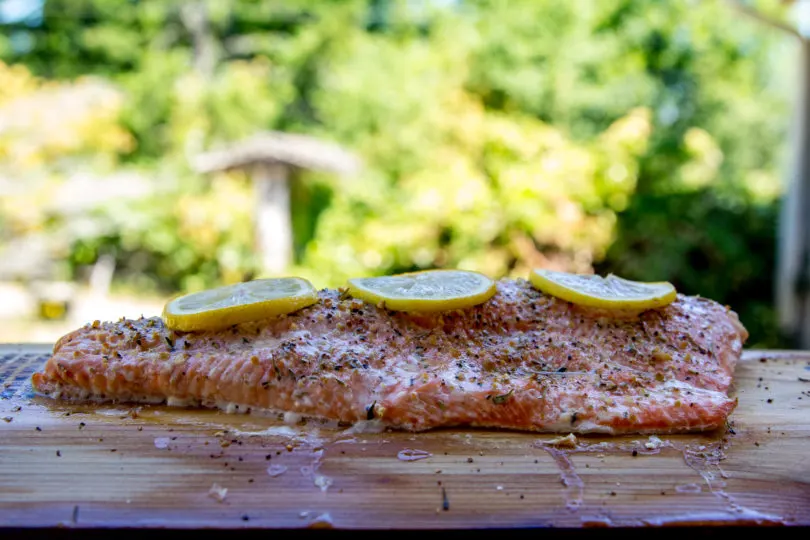 More recipes to love!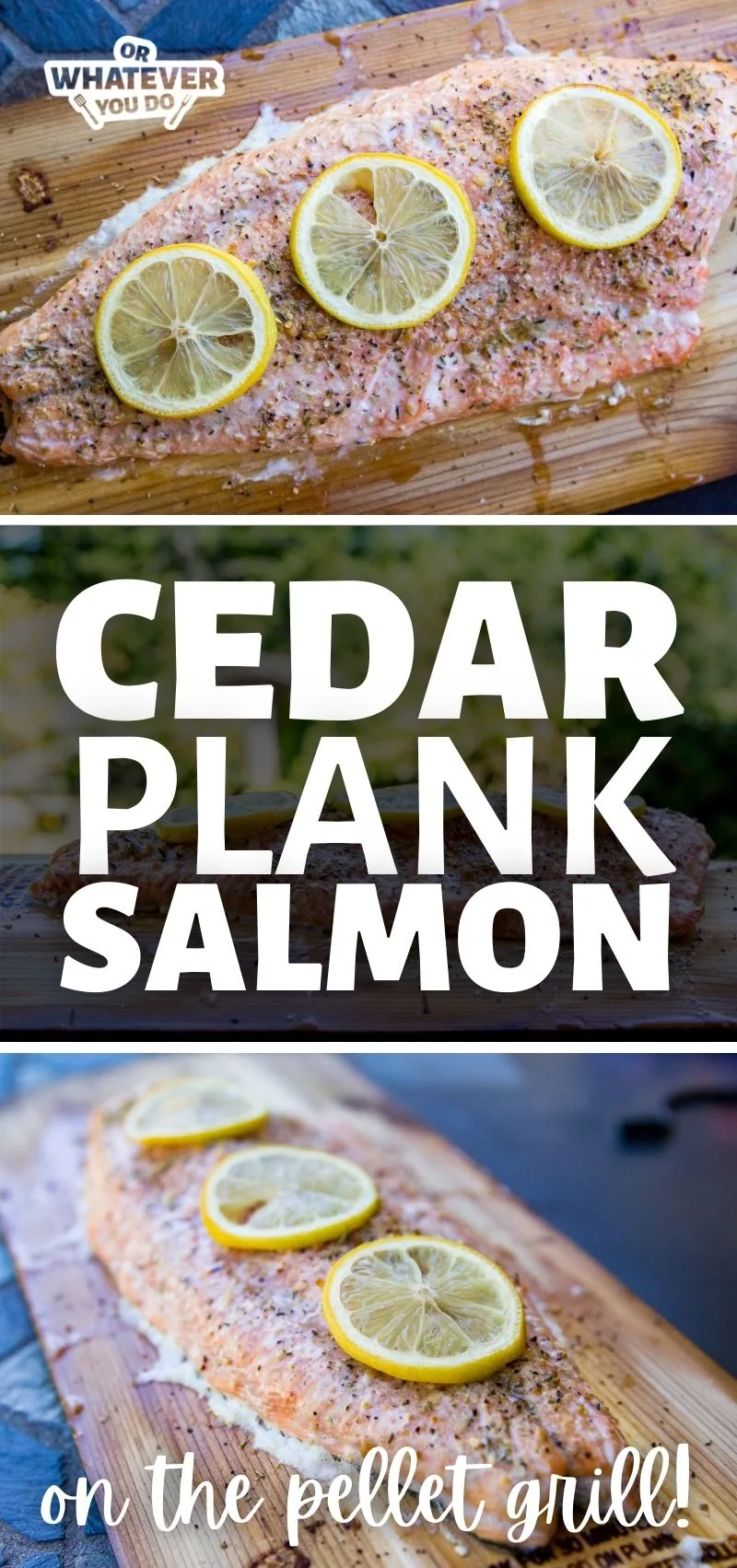 Yield: 6 servings
Cedar Plank Salmon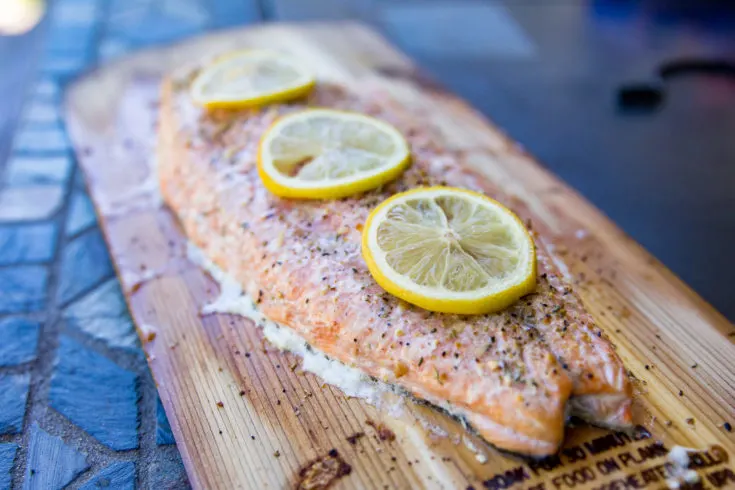 Delicious, fresh salmon fillets are rubbed with an herby lemon time blend from The Spice Guy, topped with lemon slices, and then cooked on the pellet grill.
Instructions
Soak your cedar planks in hot water for 30-45 minutes.
Preheat your pellet grill to 350°.
Place the salmon fillets, skin-side down, on the cedar planks.
Season with the lemon-thyme blend and the salt.
Place the lemons on top of the filets.
Place into the preheated grill, and cook for 12-15 minutes, or until the salmon reaches your preferred temp. We like it to be around 125°. The actual time it takes to get there can vary based on many different factors, so make sure to always listen to the fish!
Recommended Products
As an Amazon Associate and member of other affiliate programs, I earn from qualifying purchases.
Nutrition Information:
Yield:
6
Serving Size:
1
Amount Per Serving:
Calories:

205
Total Fat:

11g
Saturated Fat:

2g
Trans Fat:

0g
Unsaturated Fat:

8g
Cholesterol:

67mg
Sodium:

63mg
Carbohydrates:

2g
Fiber:

1g
Sugar:

0g
Protein:

23g
Nutrition data provided here is only an estimate.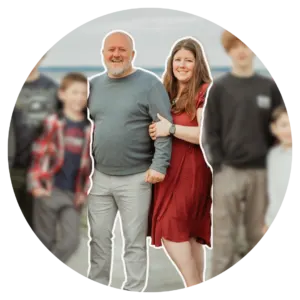 Nicole Johnson, a self-taught expert in grilling and outdoor cooking, launched Or Whatever You Do in 2010. Her blog, renowned for its comprehensive and creative outdoor cooking recipes, has garnered a vast audience of millions. Nicole's hands-on experience and passion for grilling shine through her work. Her husband, Jeremiah Johnson, also plays a pivotal role in recipe development, adding his culinary flair to the mix. Together, they form a dynamic duo, offering a rich and varied outdoor cooking experience to their followers.