We took the famous tik tok pasta, gave it the Traeger treatment, and added in some goodies to make this not only a full meal, but one that's so easy you're going to feel like you cheated a little. Make our Traeger Feta Pasta Recipe with Sausage and Bell Peppers, and tell your friends!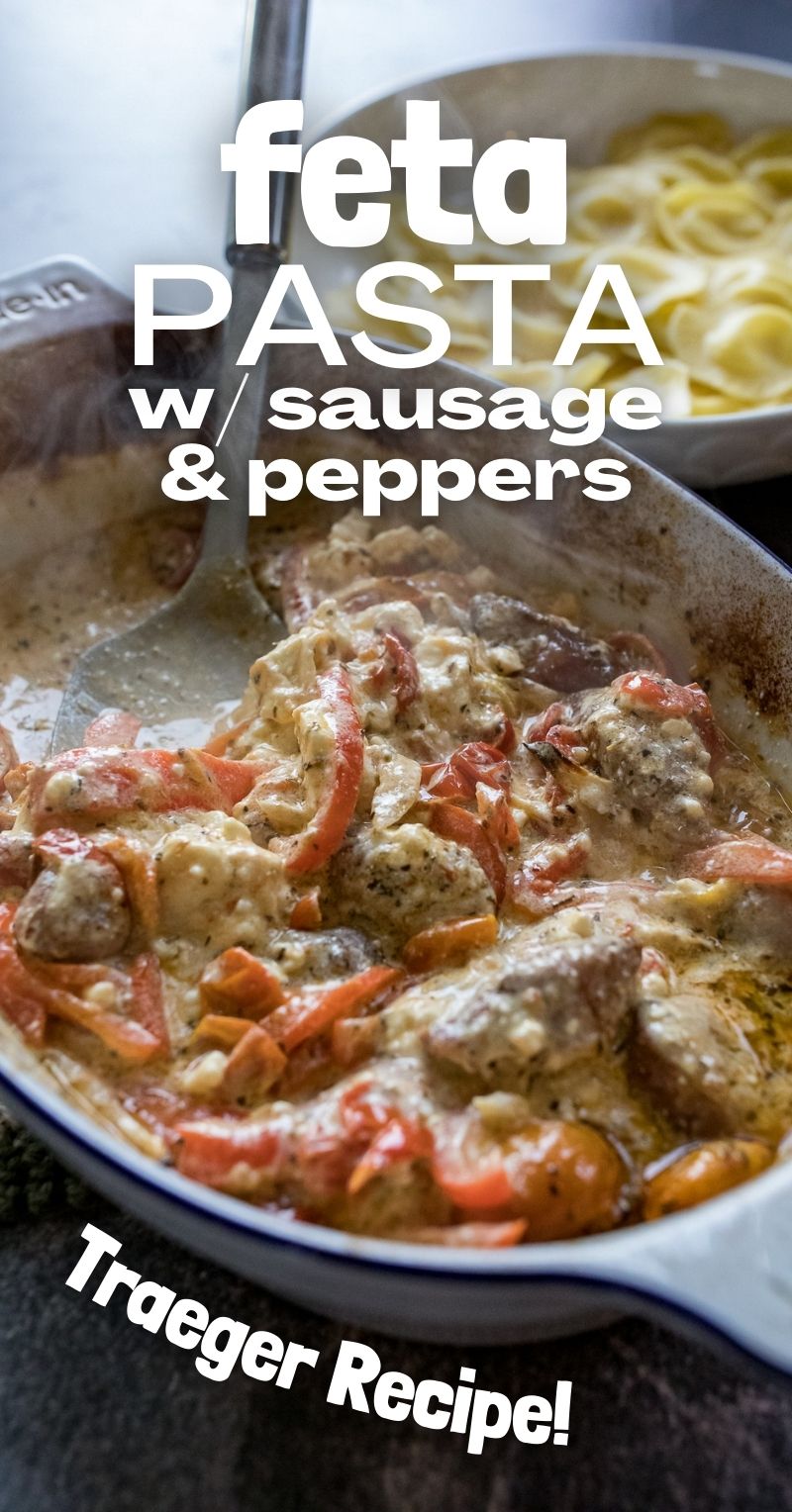 Traeger Feta Pasta with Sausage and Peppers
This pasta blew up a while back on TikTok, and we did a great Traeger TikTok Pasta copycat soon after. I was pretty sure this was going to be a bunch of hype, but turns out that this viral trend is actually really really delicious.
In this version, we add in some sausages, change up the seasonings a bit, and skip the heavy cream for a slightly more winey version than last time.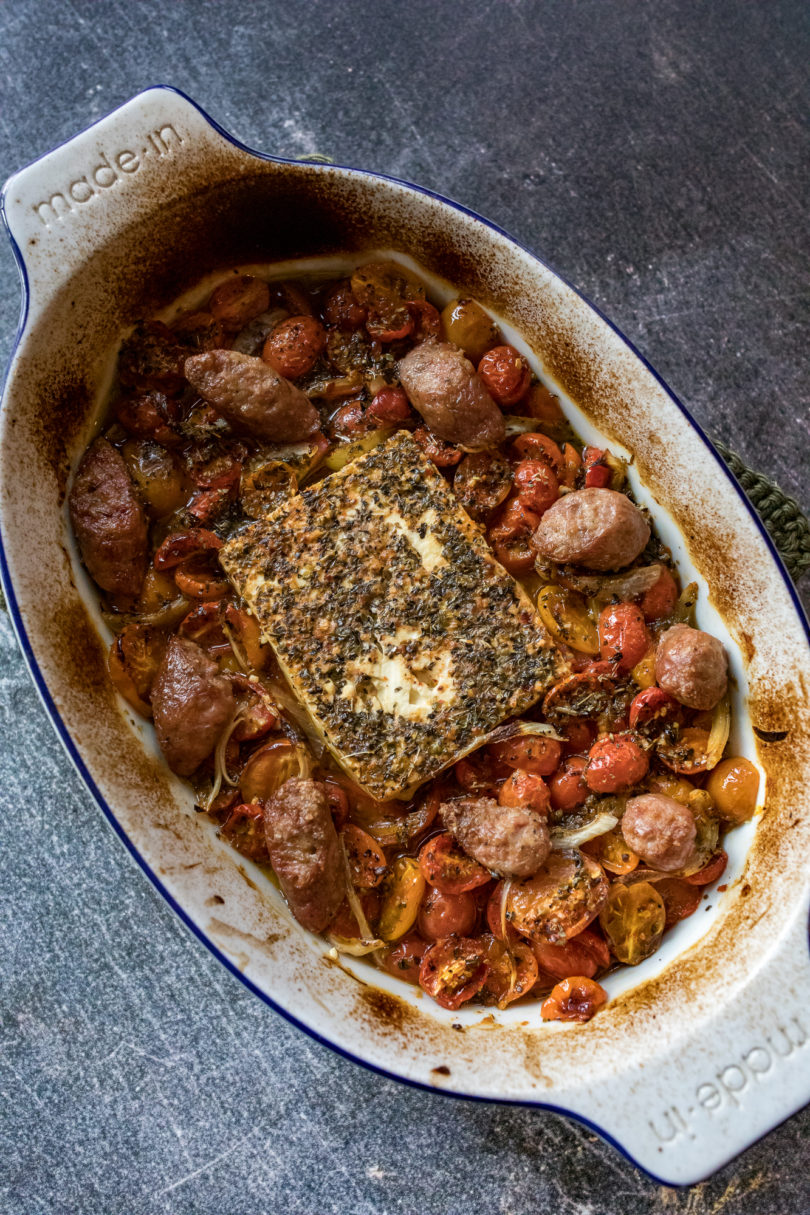 Feta Pasta with Sausage and Peppers shopping list
Wondering if you have to hit the store? Here's the list of items you'll need to make this recipe. For specific amounts, please refer to the printable recipe card at the bottom of the post.
oil
fresh feta cheese block
olive oil
cherry tomatoes
red bell pepper
onion
garlic
sausages
Italian seasoning blend
dry white wine
ravioli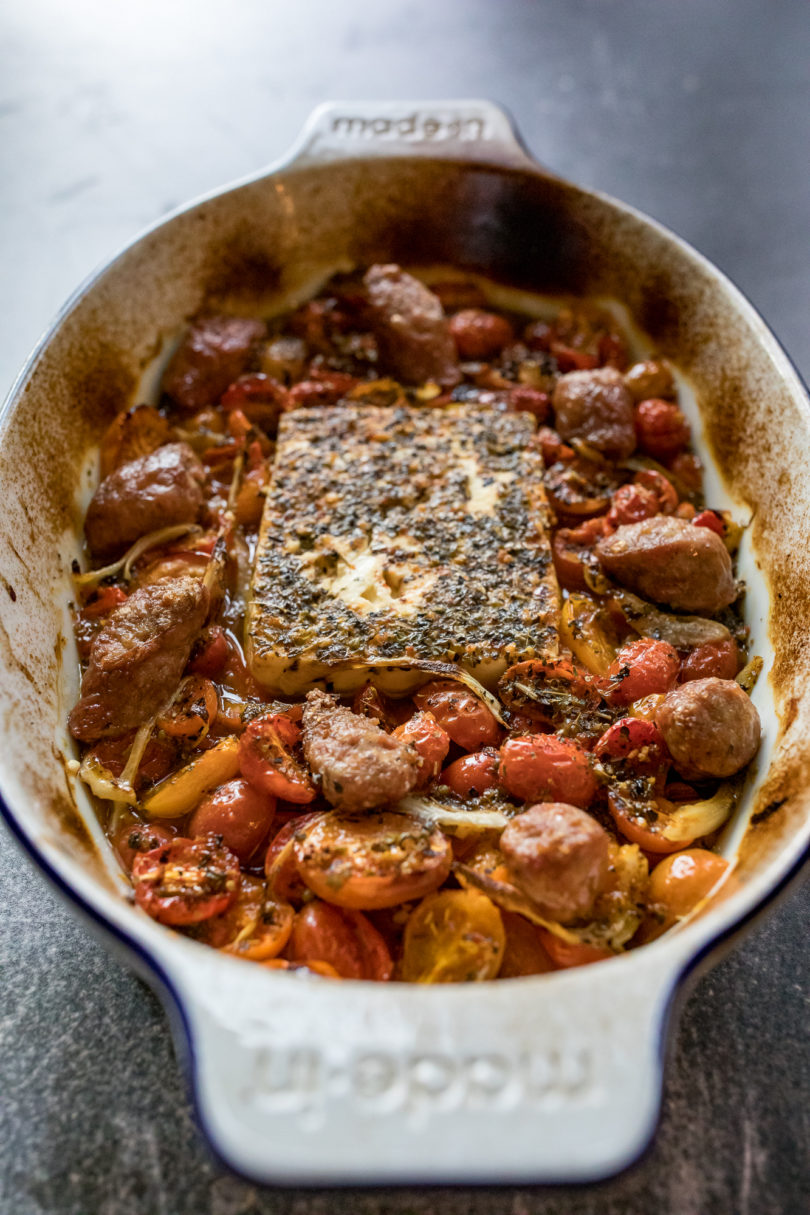 How to make Feta Pasta on the Pellet Grill
This is just the overview so you can see what you're actually getting into here. When you are cooking, you'll want to use the full recipe at the bottom of the page.
Preheat your pellet grill
Preheat your pellet smoker or oven to 400°.
Assemble
In a grill-safe baking dish, place the block of feta in the middle and the onions, peppers, tomatoes, garlic, and sausage around the outside. Also pour in the wine and stock.
Grill
Put the pan in the grill and let it ride. About 30-45 minutes is usually about perfect, but keep an eye on it and pull it as soon as it is as roasty toasty as you like it.
Boil
While the sauce is cooking, boil some well-salted water for your cheese ravioli.
Stir and Mix
Remove the sauce from the grill and mix everything together until the cheese and the wine and broth are well combined. If it is too thick, you can add some additional broth at this stage. Pour over the cooked ravioli and serve hot with parmesan cheese on top.
Traeger TikTok Pasta FAQ
What if you don't have a pellet grill?
The oven works great for this recipe. In a pinch, you could also do it over low heat in a Dutch Oven on the stovetop too, or over indirect heat on a charcoal grill.
What's the best way to reheat leftovers?
The microwave works perfect for this!
Are there any substitutions for feta?
Nope! But I'm hoping to try a version with goat cheese and a version with cream cheese in the near future.
More great pasta recipes!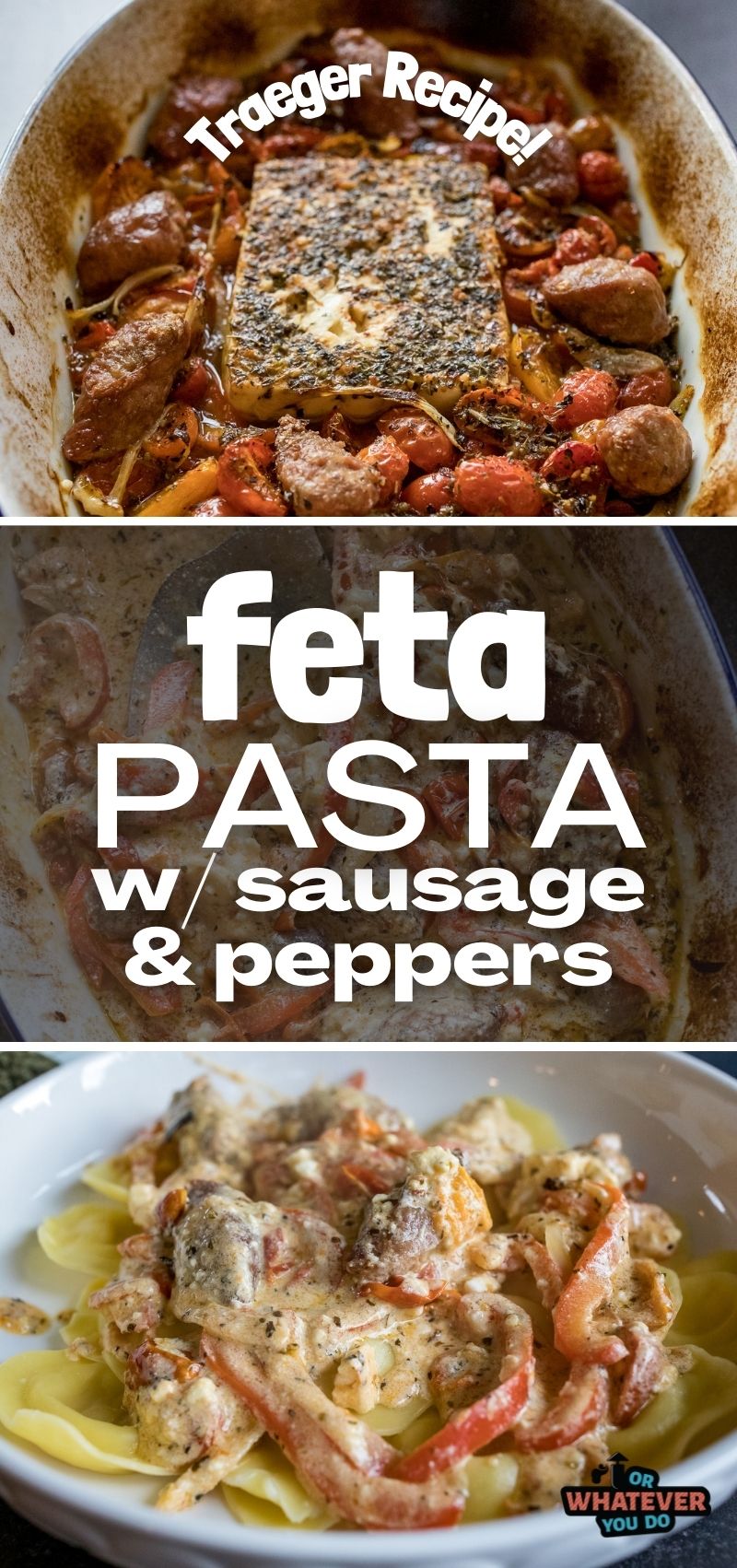 Yield: 6 servings
Traeger Feta Pasta Recipe with Sausage and Bell Peppers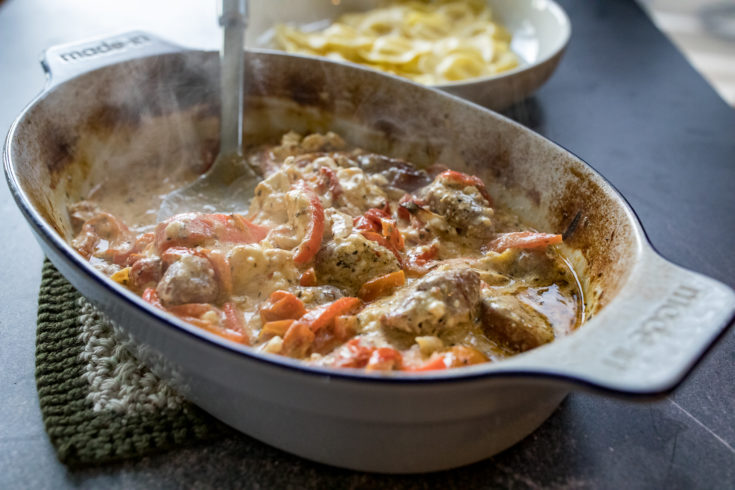 This delicious, flavorful pasta sauce is made on the Traeger grill and is almost entirely hands off! It practically makes itself after some chopping. Use any kind of pasta, but the mozzarella ravioli was as close to perfect as it gets!
Ingredients
7 ounces fresh feta cheese block
1/4 cup olive oil
3 cups cherry tomatoes, cut in half
1 red bell pepper, cored and sliced
1 small onion, sliced
3 cloves garlic, minced
3 sausages*, sliced
2 tablespoons Italian seasoning blend
1 cup dry white wine
1/2 cup chicken stock
18 ounces cheese ravioli (the family-sized bag in the refrigerated section)
1/2 cup parmesan cheese, for garnish
Instructions
Preheat your grill (or oven) to 400°.
In a grill-safe baking dish, place the block of feta in the middle. Put the halved cherry tomatoes, sliced bell peppers, sliced onions, and garlic, and sausages around the feta in the pan. Sprinkle the Italian seasoning blend over the top of it all, and pour in the white wine and chicken stock.
Put on the grill and cook for 30-45 minutes, or until the tomatoes and vegetables are as caramelized as you like them.
While the sauce is cooking, boil some well-salted water and cook the ravioli according to package directions.
Remove the sauce from the grill. Mix together the liquid with the feta until it is well-incorporated and coats all of the vegetables and pasta.
Pour the sauce over the pasta and serve with some parmesan cheese.
Notes
For sausage, I used Uli's Men's Room Sausage. It is a pork sausage flavored with bold spices and a red beer. It is delicious! Any sausage will do here though. Chicken sausage, Italian sausage, whatever. Just pick your favorite!
Recommended Products
As an Amazon Associate and member of other affiliate programs, I earn from qualifying purchases.
Nutrition Information:
Yield:
6
Serving Size:
1
Amount Per Serving:
Calories:

527
Total Fat:

34g
Saturated Fat:

14g
Trans Fat:

0g
Unsaturated Fat:

17g
Cholesterol:

78mg
Sodium:

994mg
Carbohydrates:

28g
Fiber:

3g
Sugar:

6g
Protein:

21g
Nutrition data provided here is only an estimate.