Grilled Nashville Hot Chicken Mac and Cheese uses that spicy hot Smoked Nashville Whole Chicken to make mac and cheese with some zing!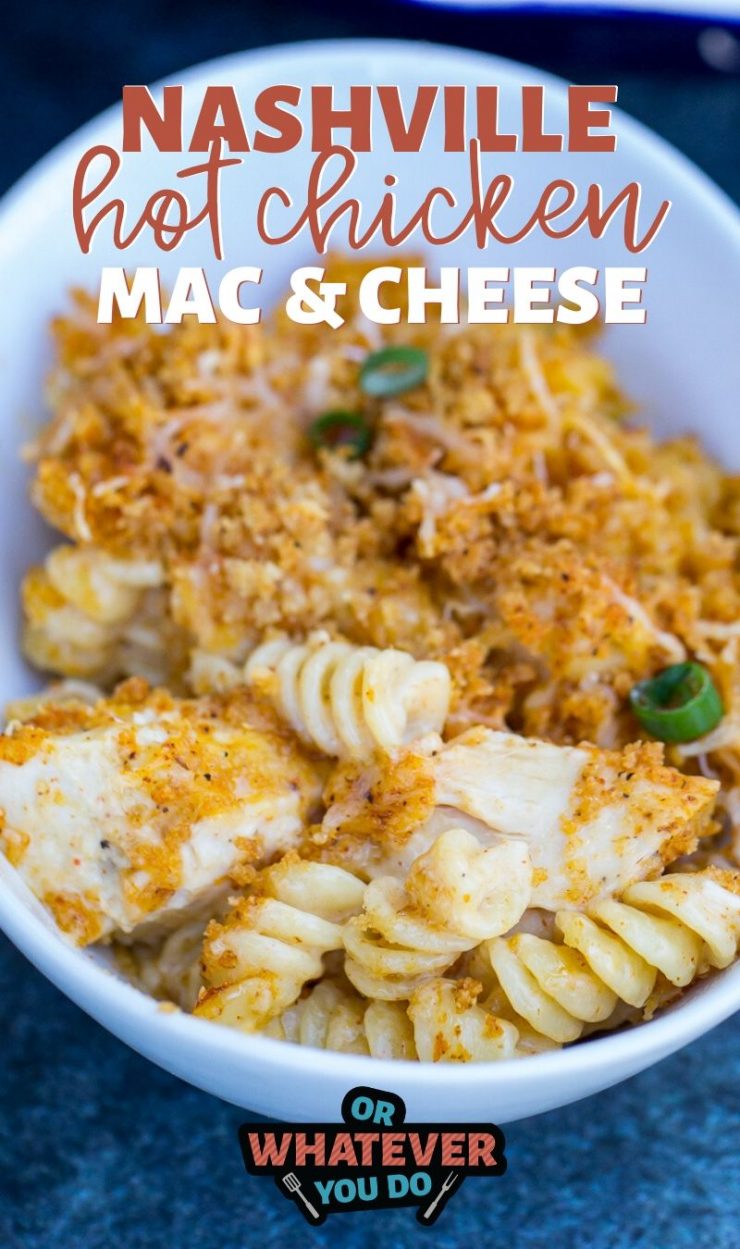 Nashville Hot Chicken Mac and Cheese
If you are unfamiliar with Nashville style spiced chicken, it is a supremely spicy chicken that makes your eyes water and your mouth burn, and it is worth every hot tingling moment!
If you are scared of heat, then Nashville chicken mac and cheese is the answer. The cheese sauce and the pasta both help to bring the temperature down a few degrees. So it is spicy, but not "run to the sink and turn on the faucet to extinguish the fire" hot.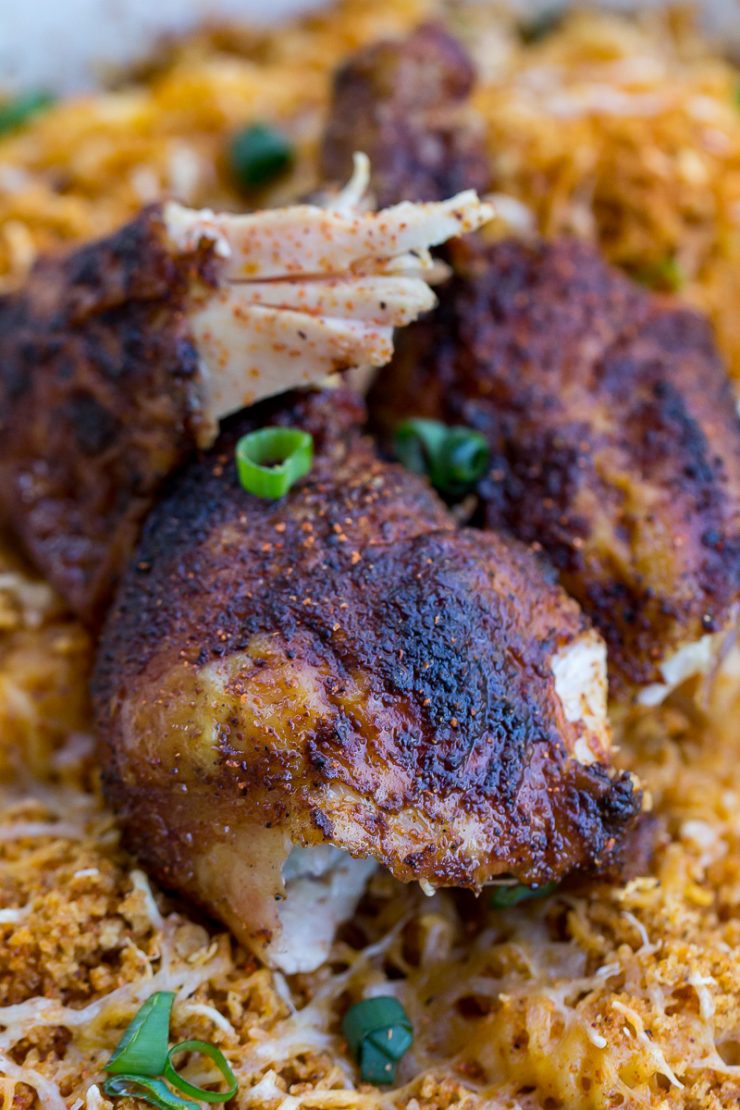 Making Grilled Nashville Hot Chicken Mac And Cheese
This mac and cheese recipe is basically the same as my one-pot creamy noodle recipe. The big difference comes in using Spiceology Nashville rub on everything! This spicy rub seasons the sauce, it seasons the chicken, and it even seasons the crumbs on top!
The triple play of this wonderfully spicy rub brings the heat. Of course, if you want to cut the heat a notch or two, then just sprinkle less in the sauce or in the bread crumbs for the top. You can let the spice rub on the chicken do all the work adding heat if you want.
Just don't be surprised to find yourself sprinkling some of it on anyway.
More Easy Traeger Recipes here!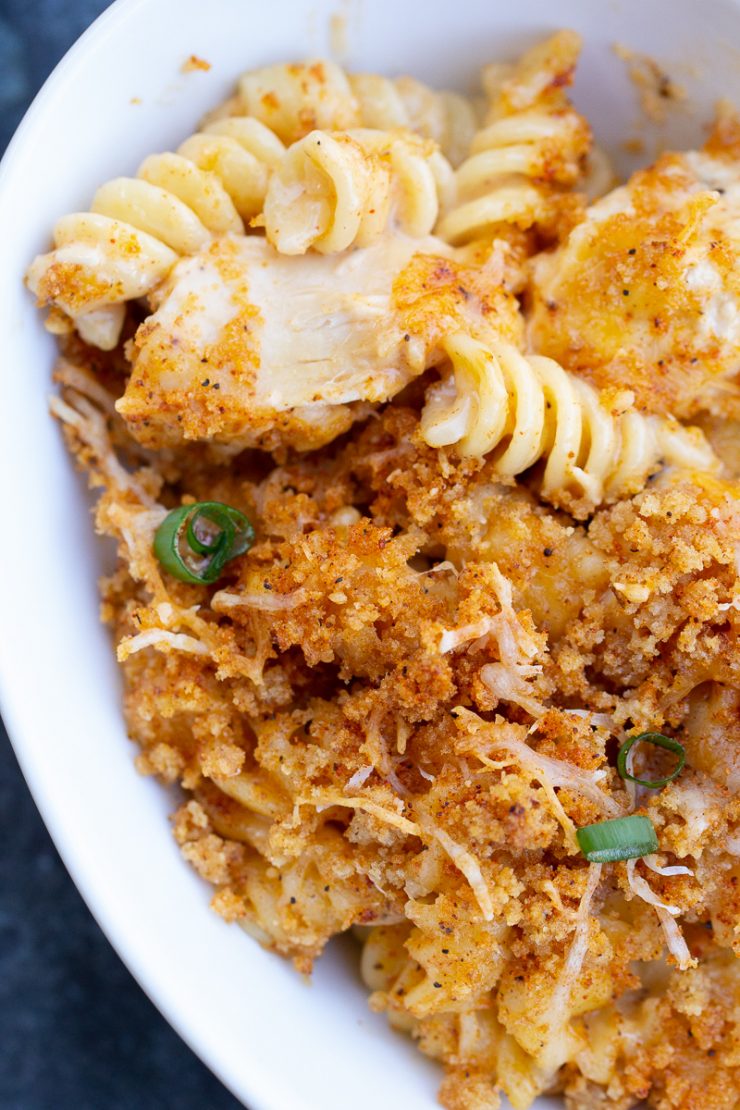 What Kind Of Cheese Is Best For The Mac and Cheese?
In my one-pot creamy noodle recipe, I recommend using parmesan or mozzarella. In fact, about half and half of each of those is ideal. The parmesan adds a bit of funky umami and a bit of saltiness. Then mozzarella comes through with the creamy goodness.
Of course, you could also use a variety of other cheeses as well.
With the super spicy Nashville rub, then don't be afraid to use a bit of blue cheese and some cheddar. The English cheese called Stilton is essentially a sharp cheddar style cheese that has veins of blue cheese in it.
You could also use Mexican Oaxacan style cheese which is similar to mozzarella and some cotija cheese which is similar to parmesan.
The key is getting a balance of creaminess with a bit of funky saltiness since those will play off the hot spice nicely.
The point is, you can customize this with whatever cheese you have on hand, really, so experiment a bit!
Get my easy Side Dish recipes!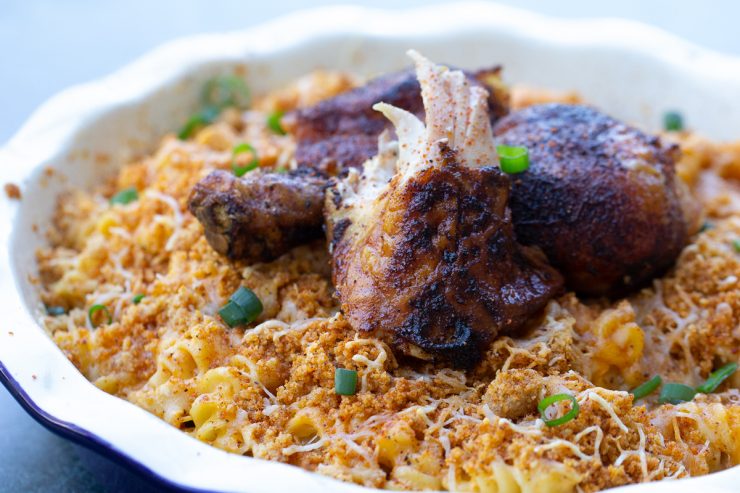 Nashville Grilled Chicken
Grilled Nashville chicken gets the superheat from being coated in a cayenne infused hot oil. The hot oil helps the cayenne seep into every single taste bud and makes them scream for mercy.
With Spiceology's Nashville Hot Chicken rub, you can easily create the flavors of Nashville chicken and keep the heat. But you don't have to worry about creating hot cayenne infused oil to dunk the chicken in.
I recommend using my Smoked Nashville Hot Chicken recipe. You can also just bake the chicken with the Nashville Spiceology rub if you prefer the convenience, or you can grill chicken breasts with the spicy rub too.
Follow me on Instagram!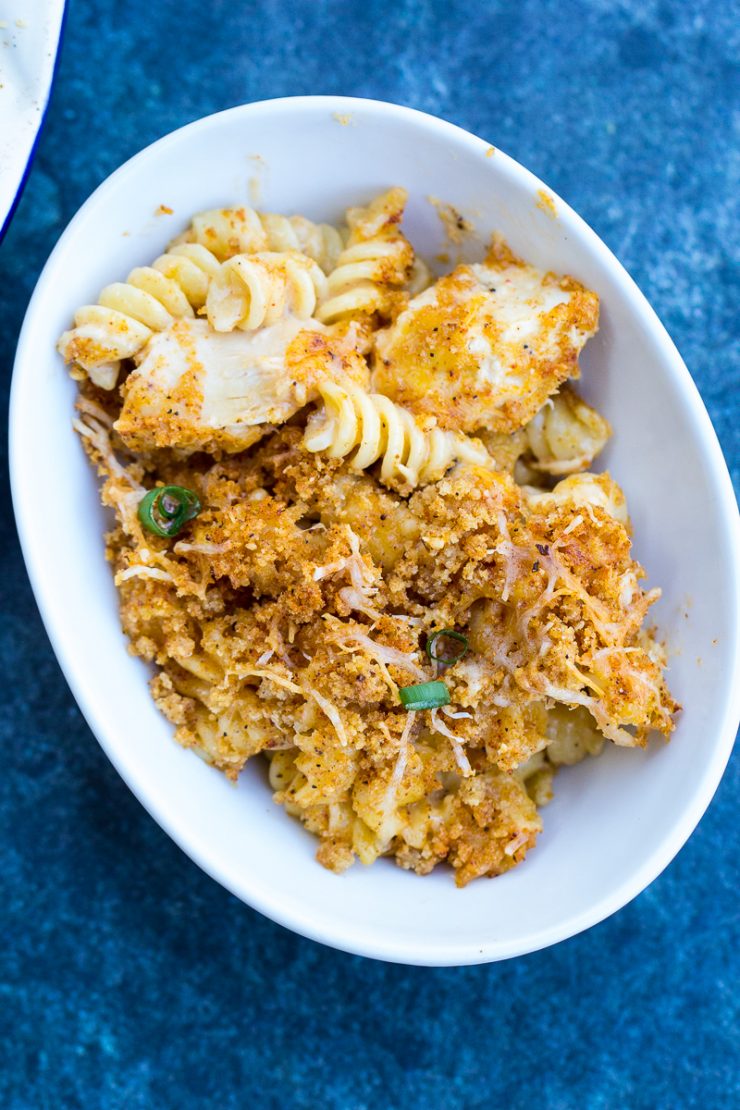 What Kind Of Pasta Is Best For The Mac And Cheese?
Ideally, the best pasta for Mac and Cheese is one that can easily coat and hold a bit of cheese sauce in it. I like penne noodles myself but if you want to use macaroni or shells that is fine too. I do recommend using the larger sized shells if you are going to go that route.
Penne is the tube-shaped noodles, and they come in several sizes as well. If you are shopping for them, then I recommend the mid-sized ones.
Basically, you want the pasta to be sized sort of equally to the bits of spiced chicken you are adding in.
Get all of my easy dessert recipes here!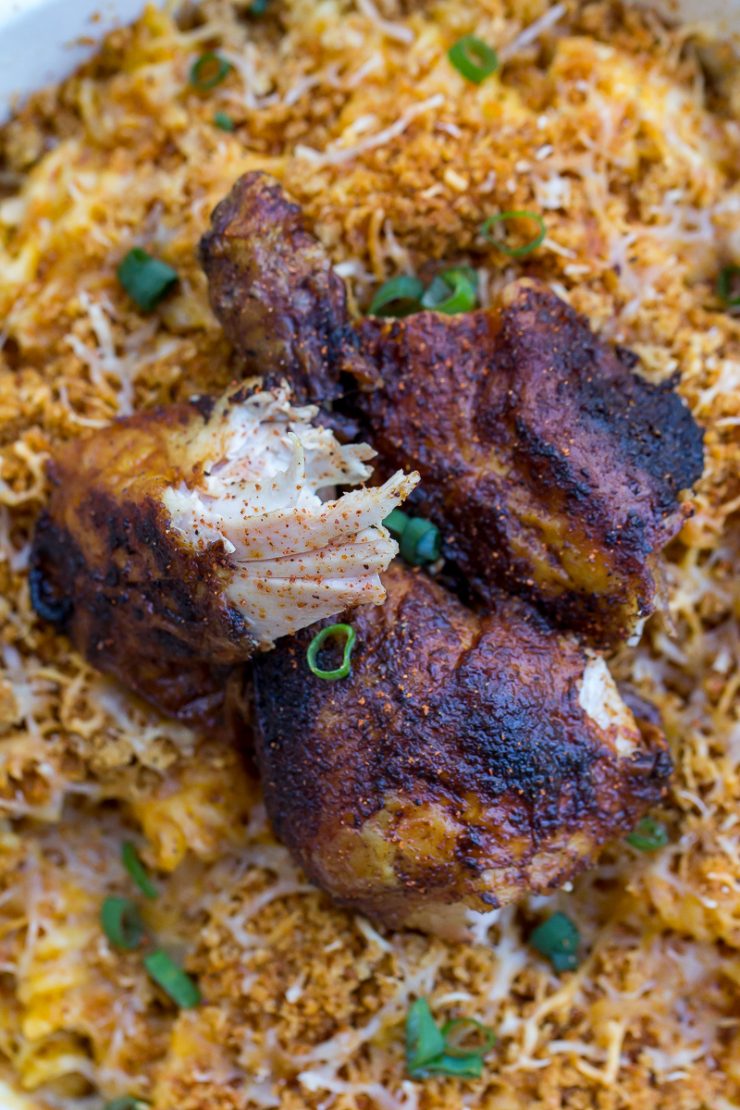 How Do I Store Leftover Mac and Cheese?
If you do have any leftovers handy, then keep them in a plastic container that is microwave proof. That way you can conveniently serve them easily with quick zap in the mic.
The noodles will keep up to a week.
If you want to keep that crunchy top you can also reheat in the oven or the air fryer.
While you can freeze them, I don't highly recommend it. The noodles lose their texture and don't do well with freezing, defrosting, and reheating. It won't taste bad, but it just won't be as "wow" as when you first served it, or if you just ate the refrigerated leftovers.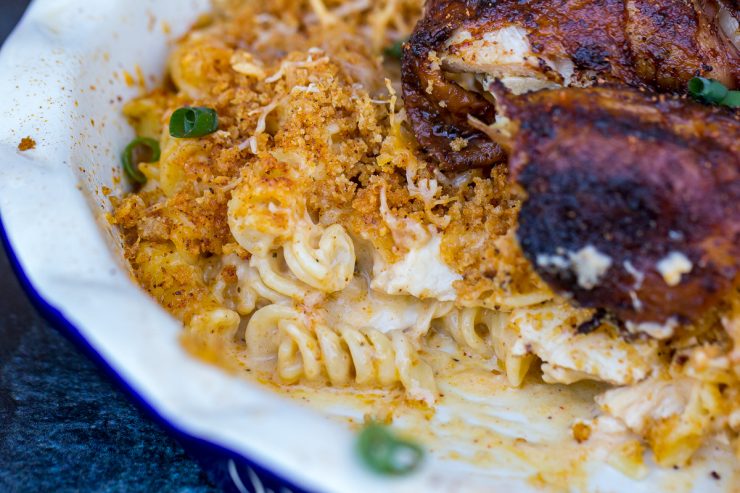 What Can I Serve With Nashville Chicken Mac And Cheese?
You can do grilled Nashville hot chicken mac and cheese as an entree or a side no problem. If you serve it as a main course, then I can recommend a few salads to go with it.
And if you serve it on the side, then I recommend serving it with any of these hearty dishes that can stand up to the spicy chicken.
Make something for dessert!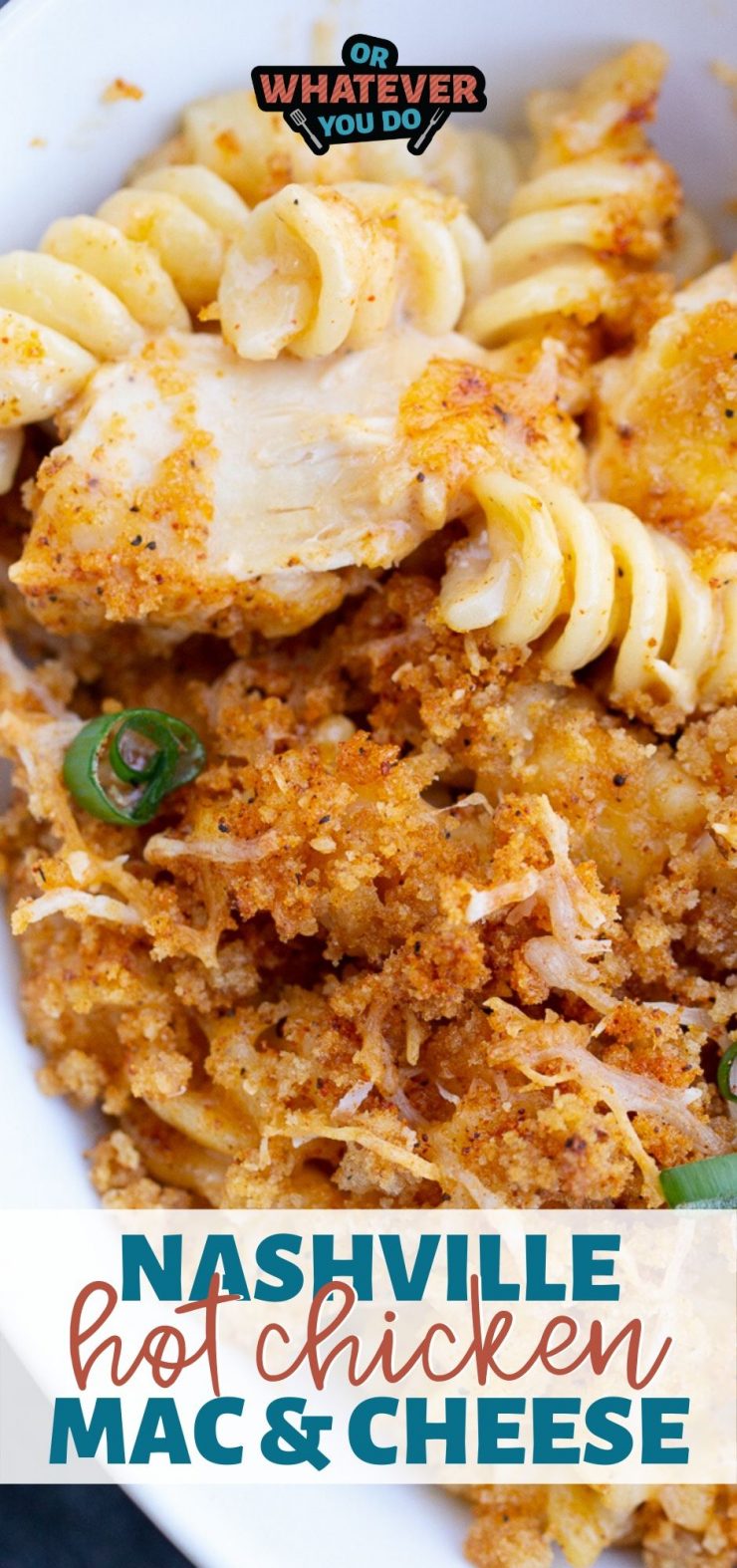 Yield: 8 servings
Nashville Hot Chicken Mac and Cheese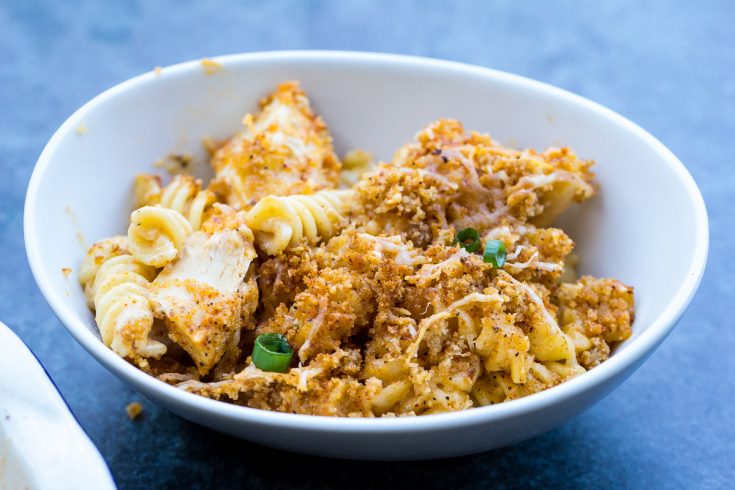 Creamy and delicious mac and cheese is turned into the best Nashville Hot Chicken dish, EVER. Spicy seasoned bread crumbs top this dish giving it that classic Nashville chicken crunch!
Ingredients
4 cups water
1 cup milk
1/4 cup butter, salted
1/2 teaspoon salt
1 packet ranch seasoning mix
1 pound rotini (high-quality stuff that takes 8-10 minutes to cook preferably)
1/2 cup half and half or heavy cream
2 cups shredded cheddar or Colby jack cheese
2 tablespoons Spiceology Nashville Hot Chicken seasoning
2 cups cubed chicken
1/2 cup plain breadcrumbs
2 tablespoons butter, melted
1 tablespoon Nashville Hot Chicken seasoning
Instructions
Put the water, milk, butter, salt, ranch mix, and rotini into a large pot over medium heat. Bring to a simmer and let cook for 7-8 minutes, or until the noodles are tender.
Remove from heat and stir in the cream or half and half. Once that is combined, stir in the cheese and continue stirring until it is fully melted.
Mix in the Nashville Hot Chicken seasoning, and place the cubed chicken on top.
Scoop the pasta into an oven-safe dish.
Combine the bread crumbs and melted butter, and sprinkle over the top of the mac and cheese. Sprinkle on the last 1 tablespoon of Nashville Hot Chicken seasoning.
Bake at 325° for 20-25 minutes, or until hot, bubbly, and the bread crumbs on the top have had a chance to get toasty.
Top with some ranch dressing and serve hot!
Recommended Products
As an Amazon Associate and member of other affiliate programs, I earn from qualifying purchases.
Nutrition Information:
Yield:
8
Serving Size:
1
Amount Per Serving:
Calories:

455
Total Fat:

28g
Saturated Fat:

15g
Trans Fat:

1g
Unsaturated Fat:

10g
Cholesterol:

98mg
Sodium:

790mg
Carbohydrates:

28g
Fiber:

2g
Sugar:

2g
Protein:

22g
Nutrition data provided here is only an estimate.