Our Traeger Smoked Corn Beef and Cabbage is the perfect festive dinner to cook up for your next St. Patty's Day meal! Slow smoked for 4 hours and then braised with cabbage, potatoes, and carrots.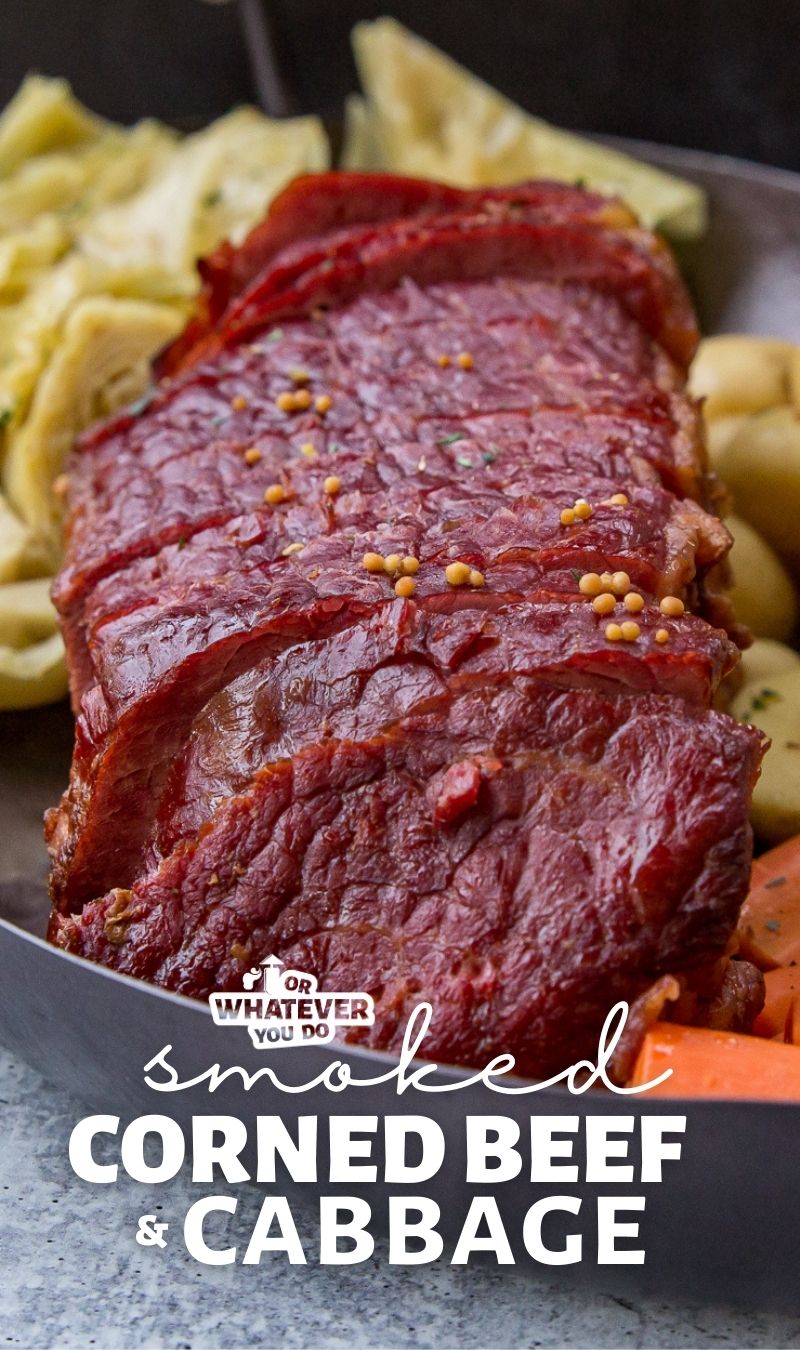 Smoked Corned Beef and Cabbage Recipe
Want to make one of the best plates of corned beef and cabbage that you'll ever have?
Fire up your pellet grill and get smoking. This recipe is easy, utilizes a pre-brined corned beef roast, your favorite pellet grill, and your least favorite Dutch Oven and by the end of the day, you're going to have a delicious plate of traditional corned beef and cabbage with an extra kick of flavor from the real wood fire.
More Easy Traeger Recipes here!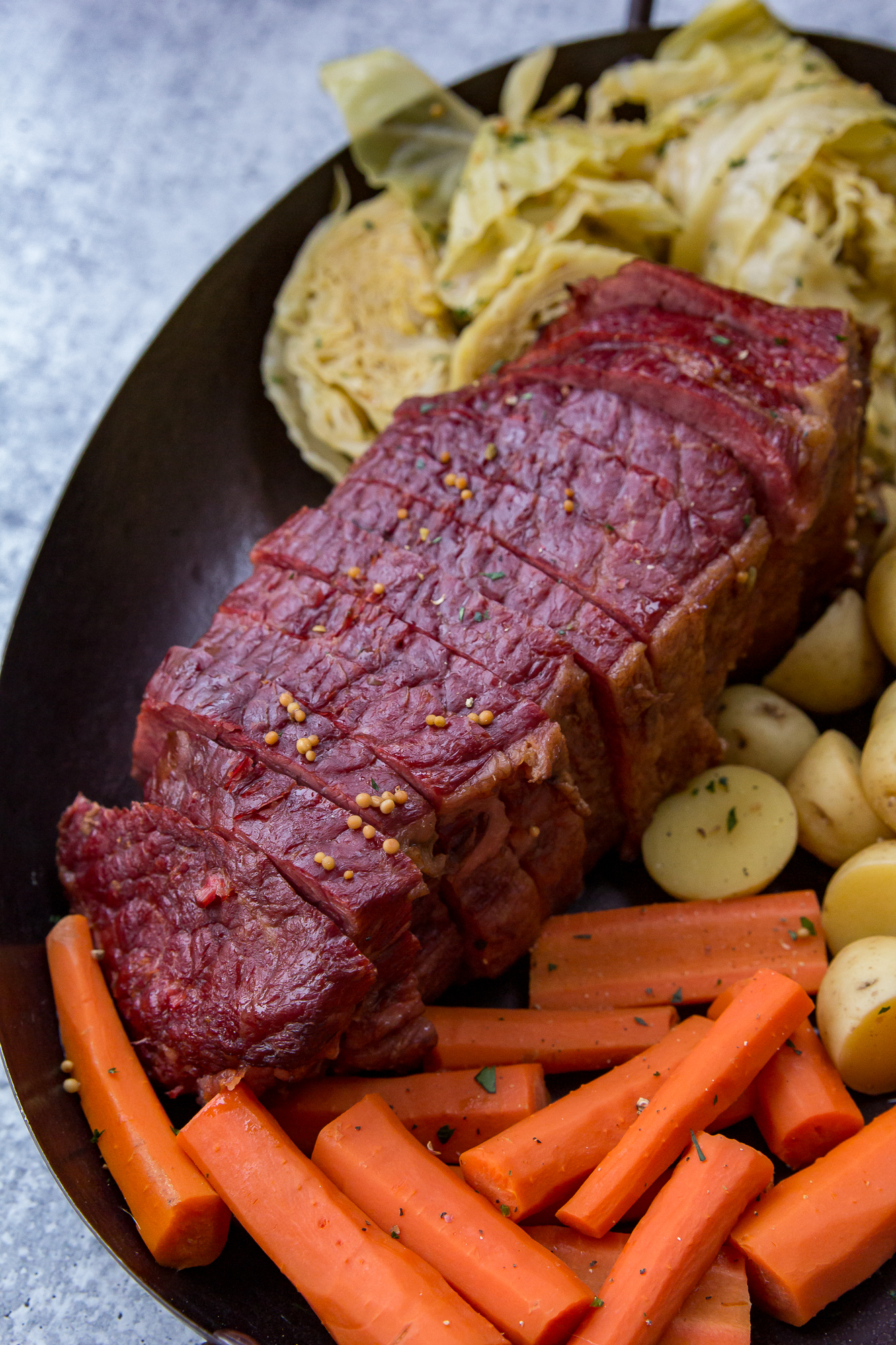 Where did corned beef and cabbage come from?
So, for all of these years where I've been aware of this as a dish as a thing that exists, I thought that it came from Ireland. I only ever see this around Saint Patrick's Day, so naturally, I made the connection.
While I was doing a little research tonight and came across this article from the Smithsonian Mag and GUESS WHAT.
THEY DIDN'T EVEN EAT THIS IN IRELAND.
I know. Mind. blown.
Stay with me though, because even though they didn't (and likely still don't) eat corned beef and cabbage over in Ireland, this dish absolutely has Irish origins.
Turns out, it is the Irish immigrants in New York often shopped at Kosher butchers near where they live. Then, they picked up the Jewish version of Corned Beef Brisket and turned it into something close to what you are seeing here today with cabbage and potatoes.
More Traeger Beef Recipes here!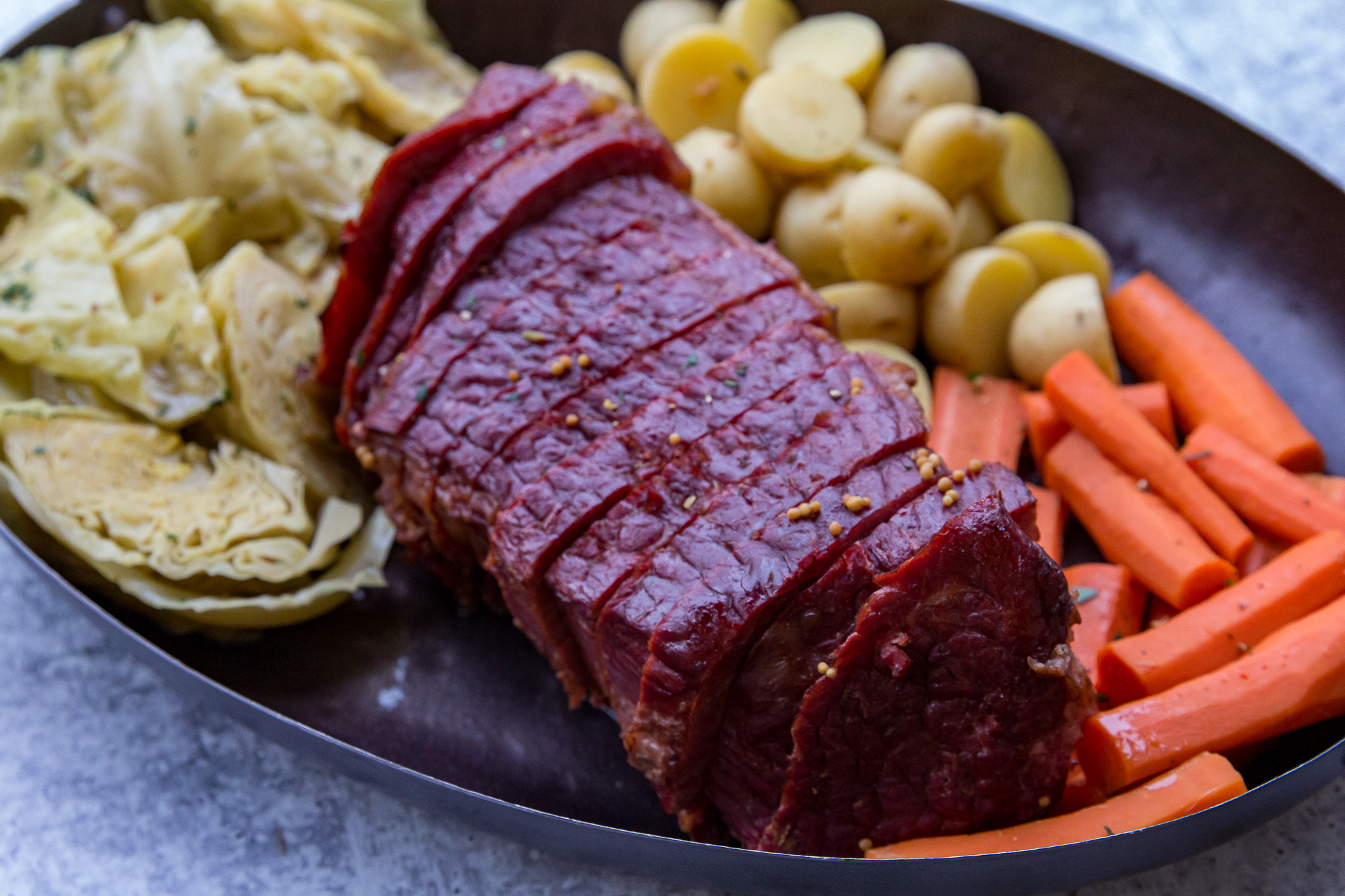 Corned Beef and Cabbage shopping list
Here are the basics of what you'll need to pull this off. For the full recipe, make sure to scroll down to the recipe card below. It includes the specific amounts you'll need along with the complete instructions!
pre-brined corned beef brisket
hard apple cider
yellow potatoes
carrots
green cabbage
parsley
Follow me on Instagram!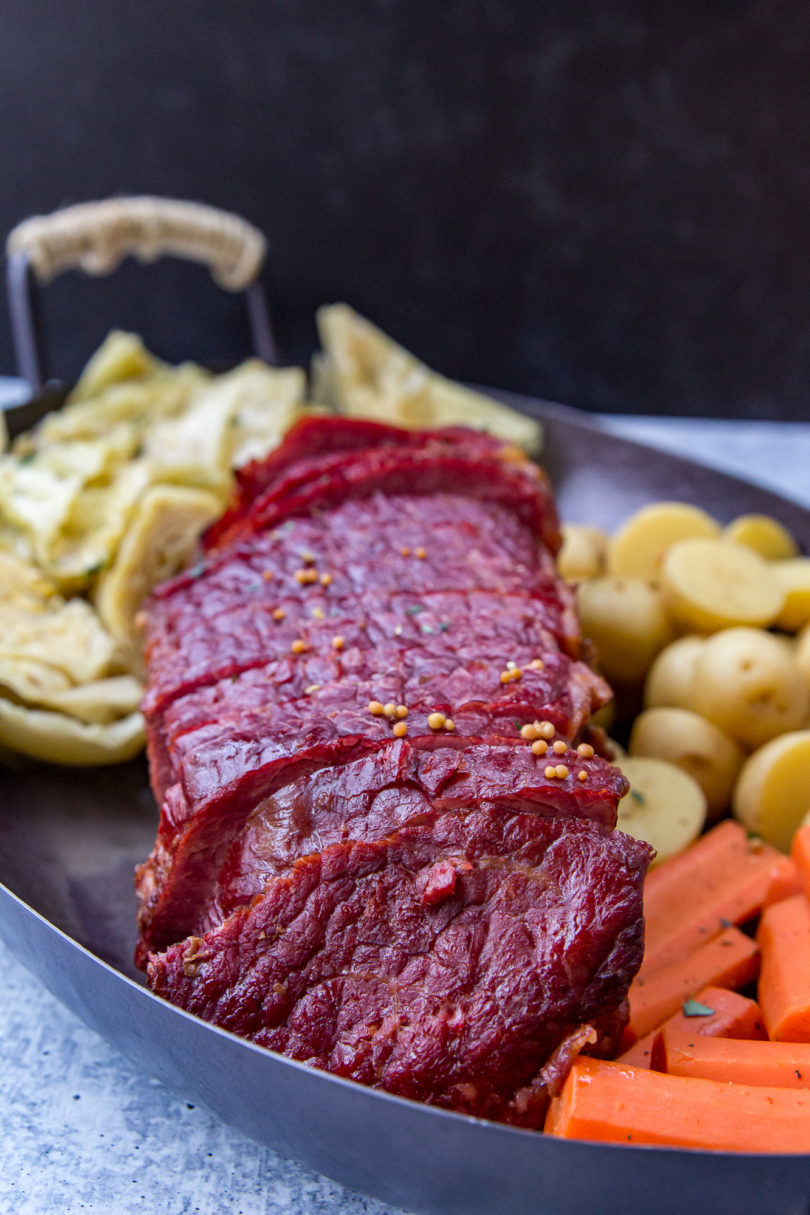 How to make corned beef and cabbage on the pellet grill
Curious about what you are getting yourself into? Here's a summary of the basic steps, and about how long it is going to take for each one. Make sure to follow the detailed, full instructions during the actual cook. Those are located at the bottom of this post in the recipe card.
Smoke it
At 225° for about 4 hours on your pellet grill.
Braise it
For another 3-4 hours, or until the meat is tender.
Cook the vegetables
About 30 minutes before serving, throw in your cabbage, carrots, and potatoes to the pot.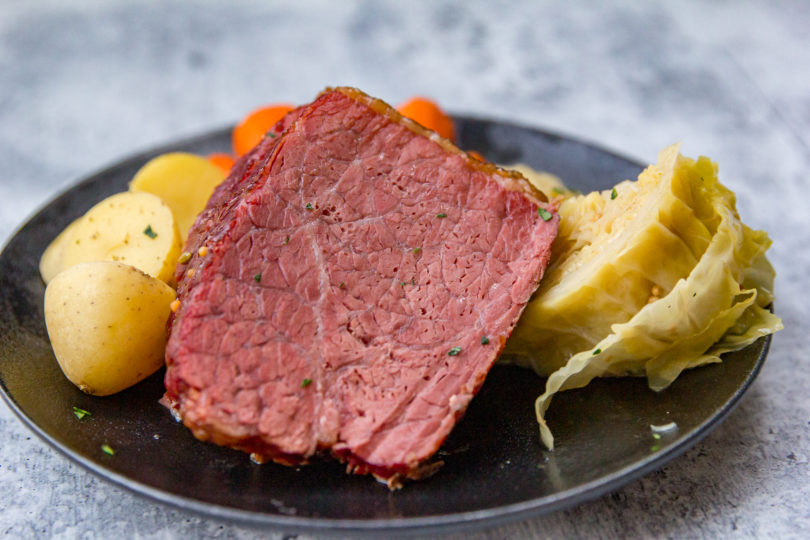 What cut of meat is corned beef?
Corned beef is made from the brisket cut of the cow. This cut is relatively tough, so requires a long and slow cooking time in order to be tender and, well – edible.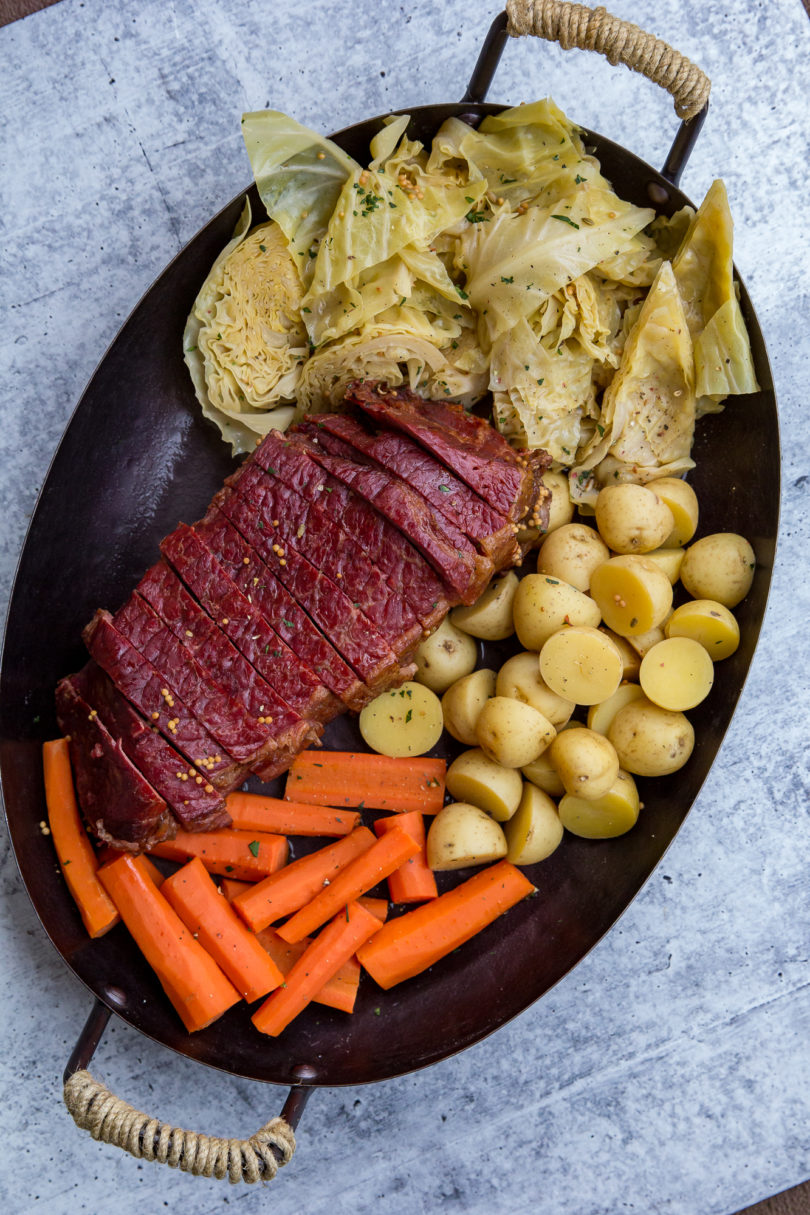 Check out these great recipes too!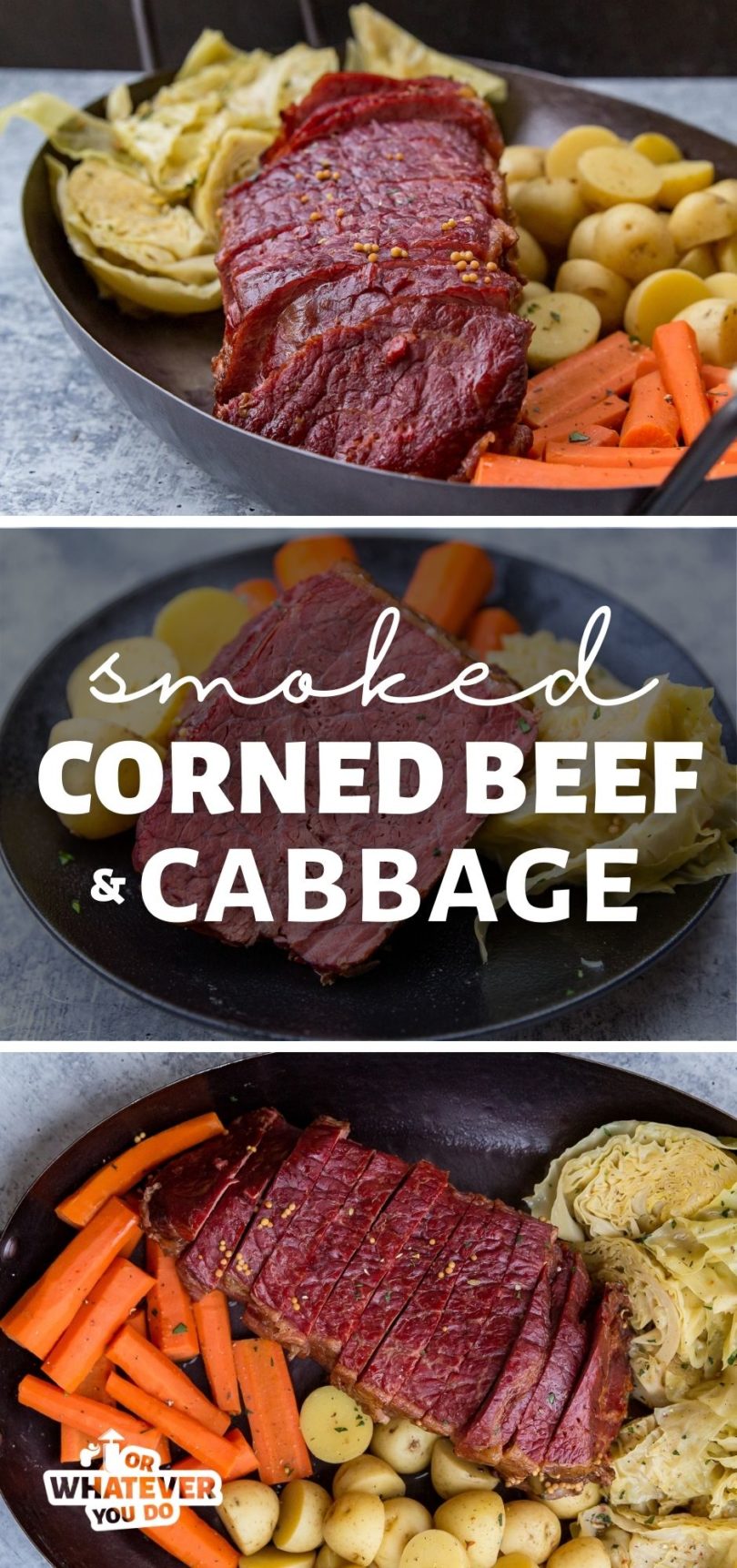 Yield: 8 servings
Smoked Corned Beef and Cabbage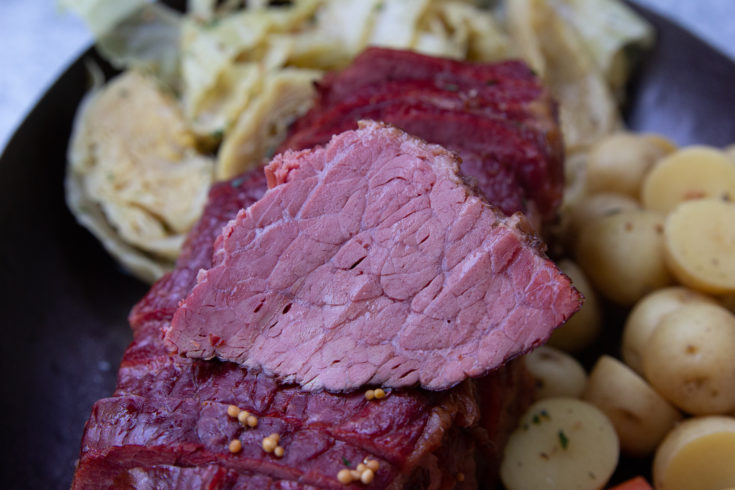 Tender and delicious Smoked Corned Beef and Cabbage is cooked on the pellet grill before getting braised with cabbage and potatoes for the perfect St. Paddy's Day dish!
Total Time
8 hours
20 minutes
Ingredients
6 pound brined corned beef brisket
24 ounces hard apple cider
2 cups water
1 pound yellow potatoes
6 peeled carrots
1 small head green cabbage
1/2 teaspoon black pepper
1/2 teaspoon chopped parsley
Instructions
Preheat your pellet grill and set it to 225°
Remove your brisket from the brine and pat it dry with paper towels. Find and set aside the packet of spices that comes with the pre-brined brisket.
Place the brisket directly onto the grates of your preheated pellet grill. Cook at 225° for 4 hours.
Transfer the roast to a Dutch oven and pour two cans of hard apple cider (or apple juice) over top. Add enough water so the brisket is almost covered.
Add your packet of dry spices, cover, and let simmer on medium-low heat for 2-3 hours. If you'd like to keep in on the pellet grill, turn the heat up to around 250°. Otherwise, you can put this right on the stovetop after it is covered since it won't take any more smoke or flavor from the grill at that point.
Prepare your vegetables by cutting your cabbage into small wedges, your carrots into 3-inch sticks, and your potatoes in half.
Check your brisket for tenderness and, once confirmed, add your vegetables and let simmer for an additional 30 minutes.
Once your vegetables are fork-tender, pull your brisket from the pot and slice it against the grain.
Sprinkle with parsley for garnish and serve hot.
Recommended Products
As an Amazon Associate and member of other affiliate programs, I earn from qualifying purchases.
Nutrition Information:
Yield:
8
Serving Size:
1
Amount Per Serving:
Calories:

1095
Total Fat:

63g
Saturated Fat:

25g
Trans Fat:

0g
Unsaturated Fat:

29g
Cholesterol:

361mg
Sodium:

197mg
Carbohydrates:

26g
Fiber:

3g
Sugar:

11g
Protein:

100g
Nutrition data provided here is only an estimate.