When it is Spring and Summer in the Pacific Northwest, fishermen all over the region start prepping their shrimp pots for the famed Spot Prawn season! This recipe for Traeger Grilled Spot Prawn Rolls is a perfect use for these delicacies that seafood lovers up and down the West Coast treasure and keep largely ALLLLL to themselves.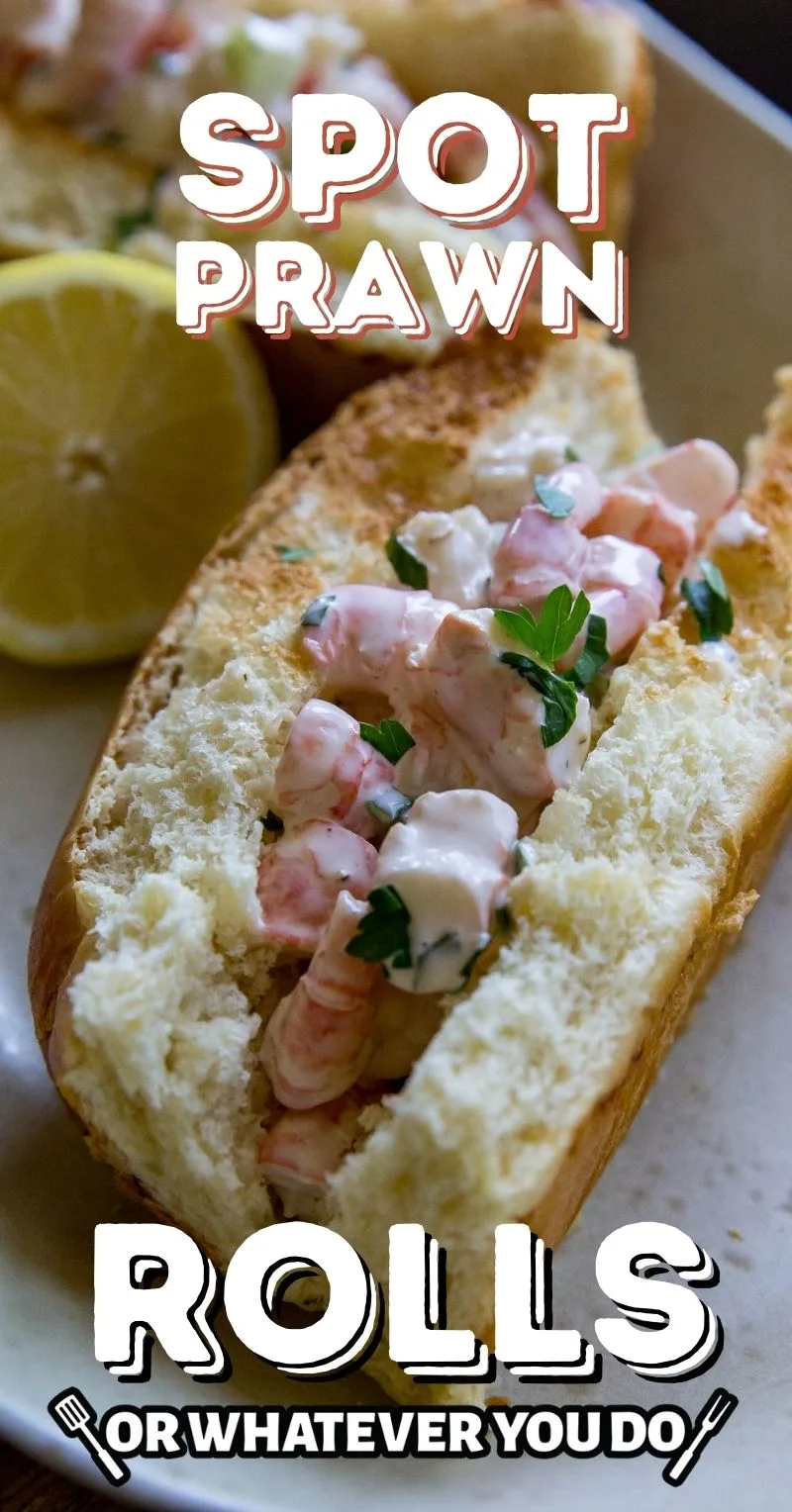 Spot Prawn Rolls Recipe
We've all heard of the famed Lobster Roll, but did you know that you can also use shrimp or prawns for an equally delicious seafood roll too?
These Spot Prawn Rolls are actually a little fancier than lobster rolls, as Spot Prawns aren't as widely available as lobster meat, and runs upwards of $29/lb to purchase if you can even find it.
All that to say, when we eat Spot Prawns we really appreciate them.
See all of my SHRIMP RECIPES here!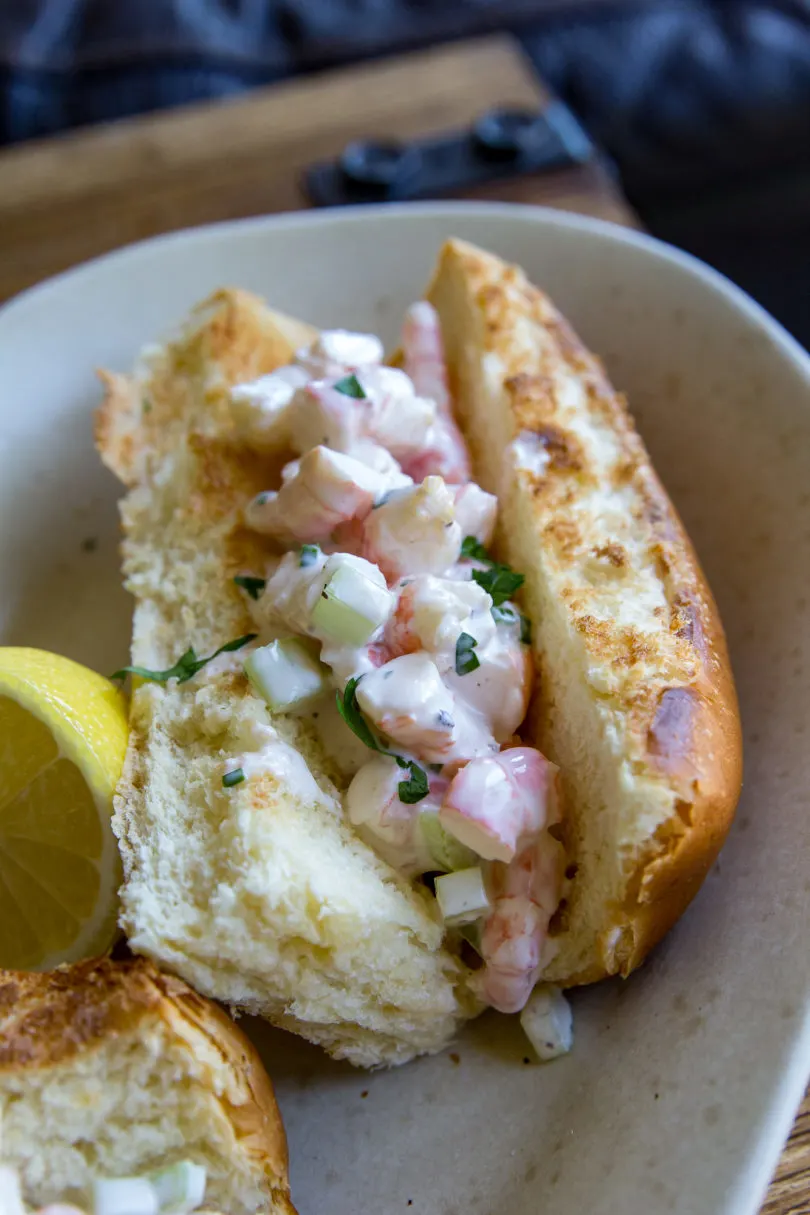 What are spot prawns?
It is easy to really appreciate this rare treat since we go out and catch it ourselves. We live right on the Puget Sound in Washington State and have had the privilege of enjoying all of the vast, world-class fish and seafood that it has to offer since our family started fishing back in 2018.
In addition to the salmon, lingcod, rockfish, and halibut we enjoy all year long, there are also abundant amounts of Dungeness crab, Oysters (with our homemade mignonette), clams, and these spot prawns too, which we can find right outside of our front door.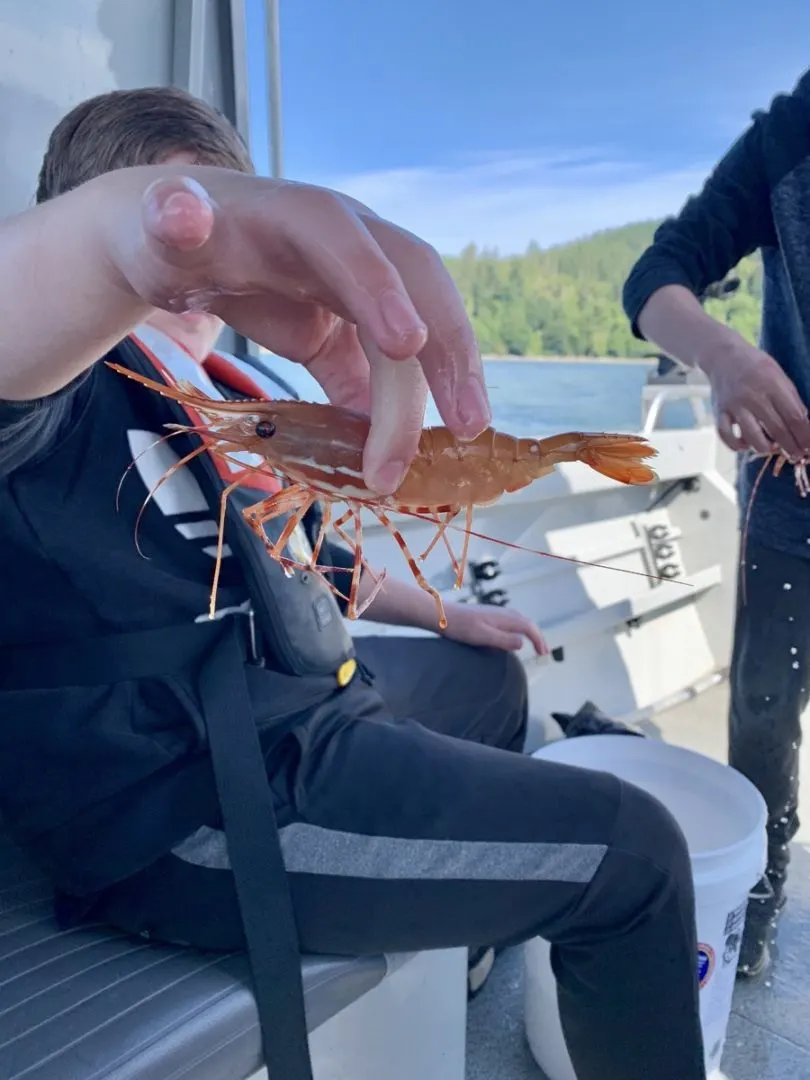 If you live in the Pacific Northwest, love seafood, and aren't jumping all over these spot prawns, you are doing something wrong. These are shellfish you rarely even see on restaurant menus around here, they are so treasured.
Either go to your local fancy grocery store and track some down to buy or make VERY good friends with a local fisherman and try and sweet talk bribe your way into their hearts and/or a day on the deck of the boat pulling heads off of shrimp, to find out what Puget Sound shrimping is all about.
Get all of my FISH recipes!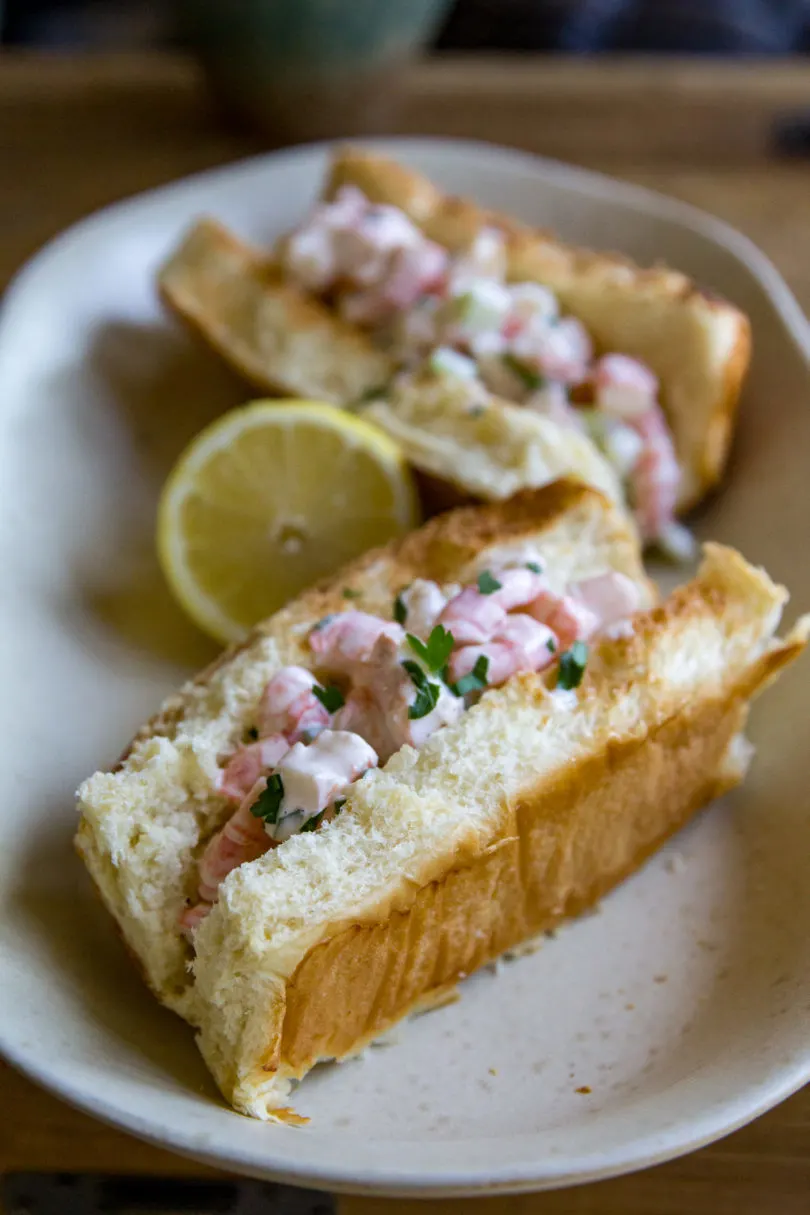 Spot Prawn Rolls shopping list
Wondering if you have to hit the store? Here's the list of items you'll need to make this recipe. For specific amounts, please refer to the printable recipe card at the bottom of the post.
Spot Prawns (or another kind of prawns, or shrimp)
salt & pepper
celery stalk
lemon
mayo
parsley
chopped green onion
brioche rolls
butter
Pacific Northwest Fish Recipes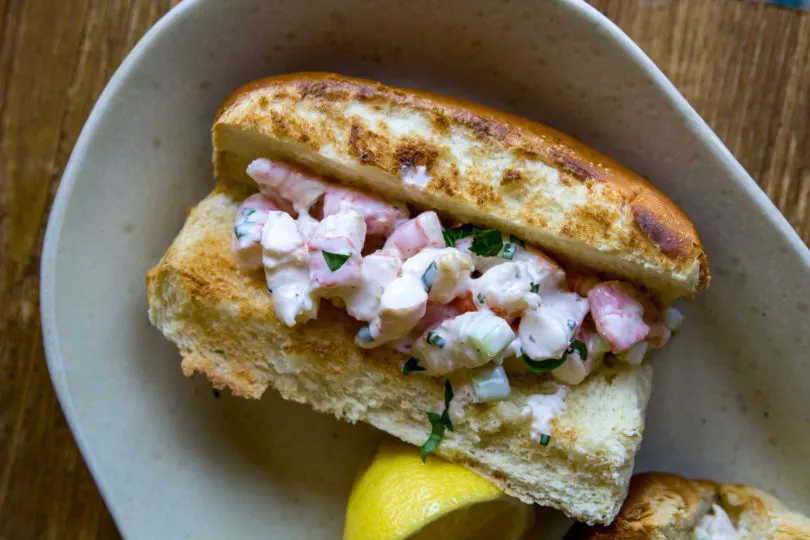 How to make Spot Prawn Rolls
This is just the overview so you can see what you're actually getting into here. When you are cooking, you'll want to use the full recipe at the bottom of the post.
Also, please see the FAQs for alternative cooking methods you can use to make these Spot Prawn Rolls, even if you don't have a pellet grill.
Preheat your grill
High heat is what we're going for! So aim for 400° or above on a pellet grill.
Peel the shrimp
You don't need any shells or tails here. Just season and grill.
Grill
Grill just long enough for the shrimp to turn pink. The biggest mistake people make it to overcook their seafood! 6-8 minutes is the MAX you should need with a properly preheated grill.
Mix & Chill
Mix up the sauce if you haven't already and let it meld. Also, get those prawns in the fridge. This is a cold dish. Or at least room temp. So get those shrimp chilling and the sauce mix melding.
Toast the buns and load them up
Butter those buns, toast them, and load them up with the chilled prawn mixture.
Follow me on Instagram!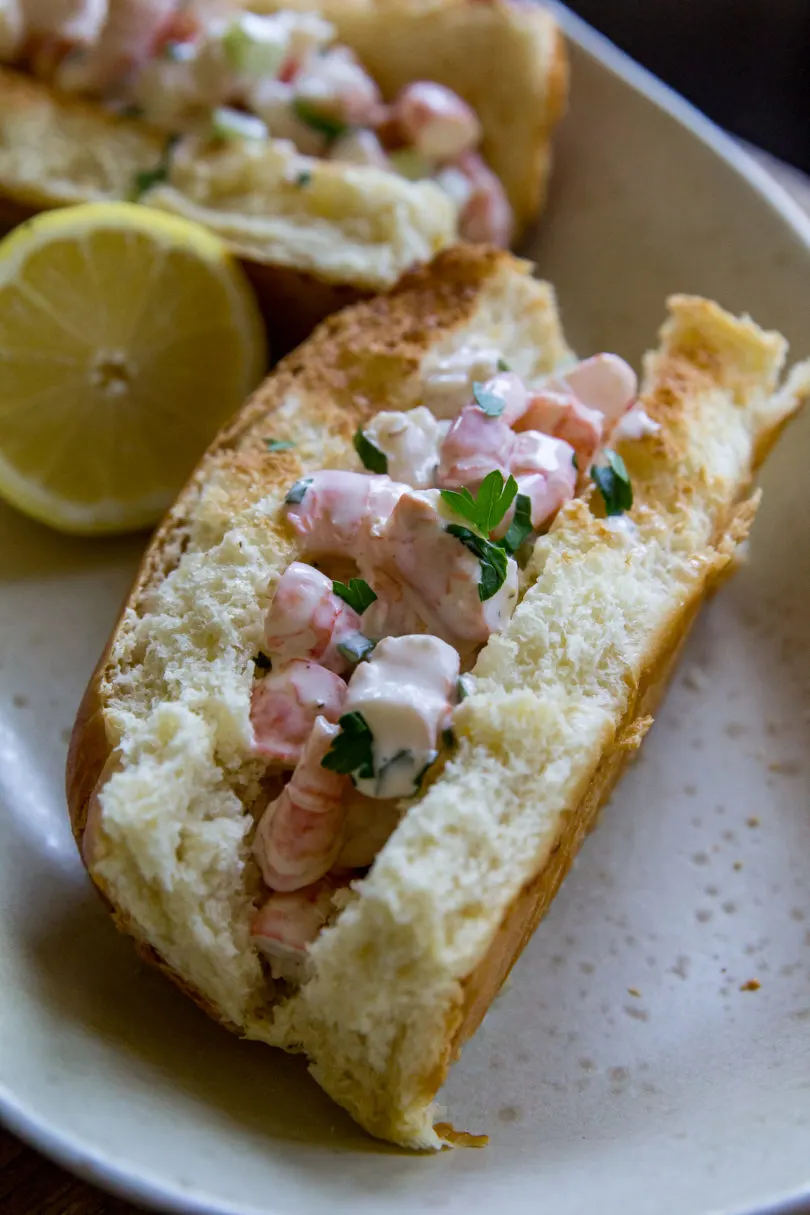 What should you serve with Fresh Spot Prawn Rolls?
We love these with kettle-cooked potato chips. Bonus points if you make a batch of onion rings with kettle chips as the breading!
Seafood rolls are also perfect to serve with creamy coleslaw, grilled baked potatoes, or even some of my ultimate smoked mac and cheese.
Try our Traeger Surf and Turf feast too!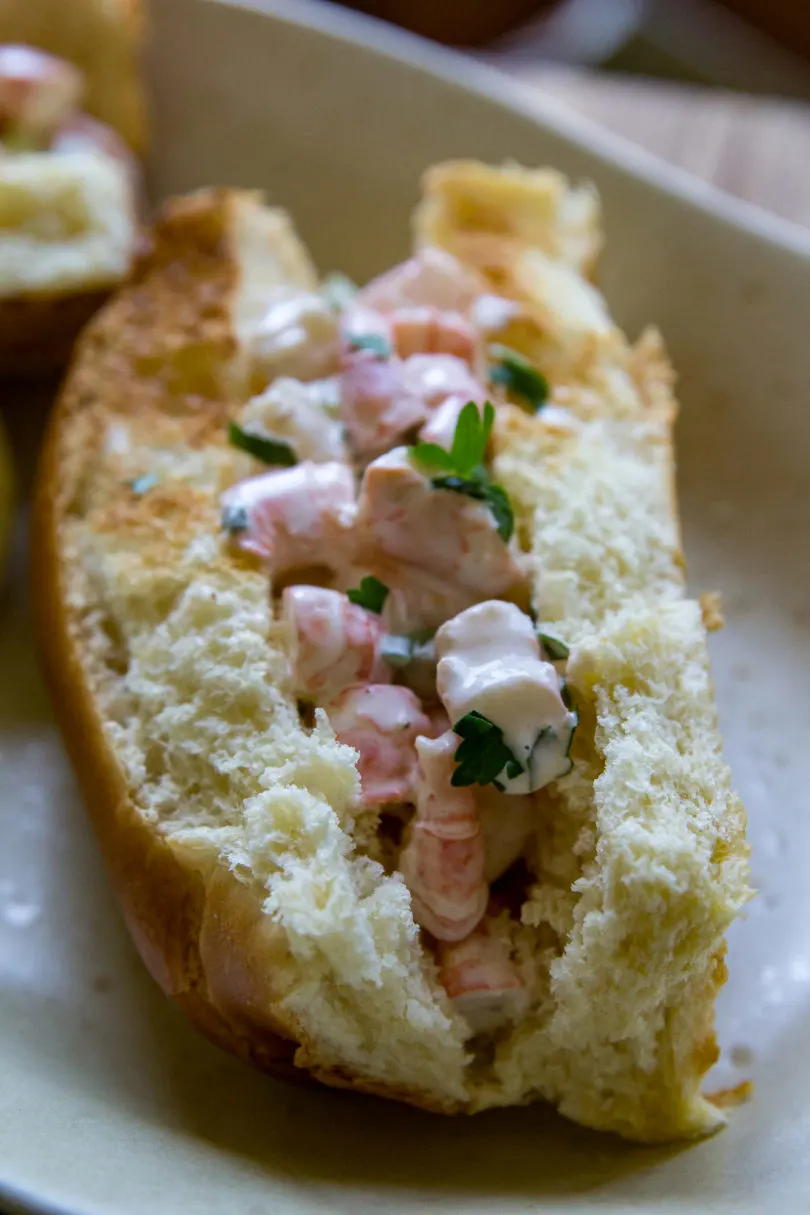 Spot Prawn Rolls FAQ
How do you store leftover prawn roll mix?
Store any uneaten spot prawns in an airtight container in the fridge for 1-2 days.
What are the best buns for Spot Prawn Rolls?
We got some buttery, amazing, freshly baked Brioche Rolls from Macrena Bakery. They are sturdy enough to stand up to the moisture levels of the prawn mix, toast up beautifully, and compliment the sweet notes of these sport prawns in all of the best ways.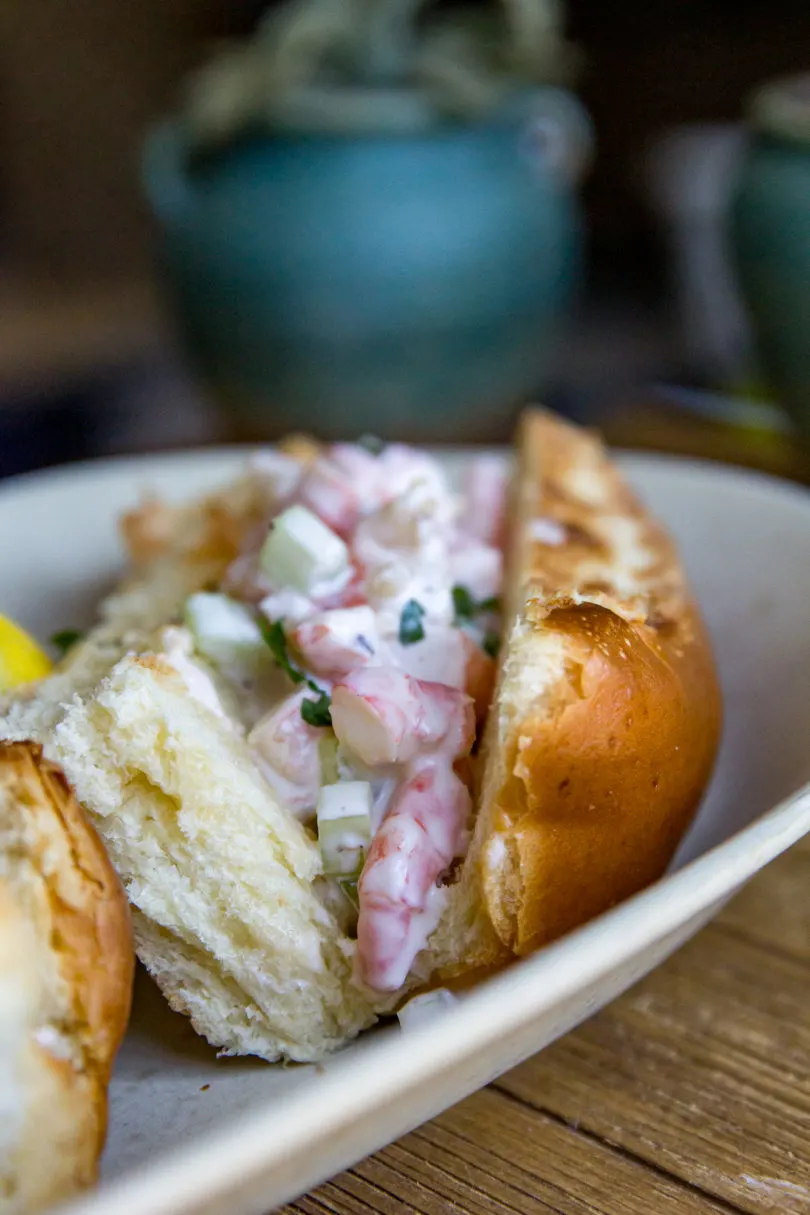 More recipes to love!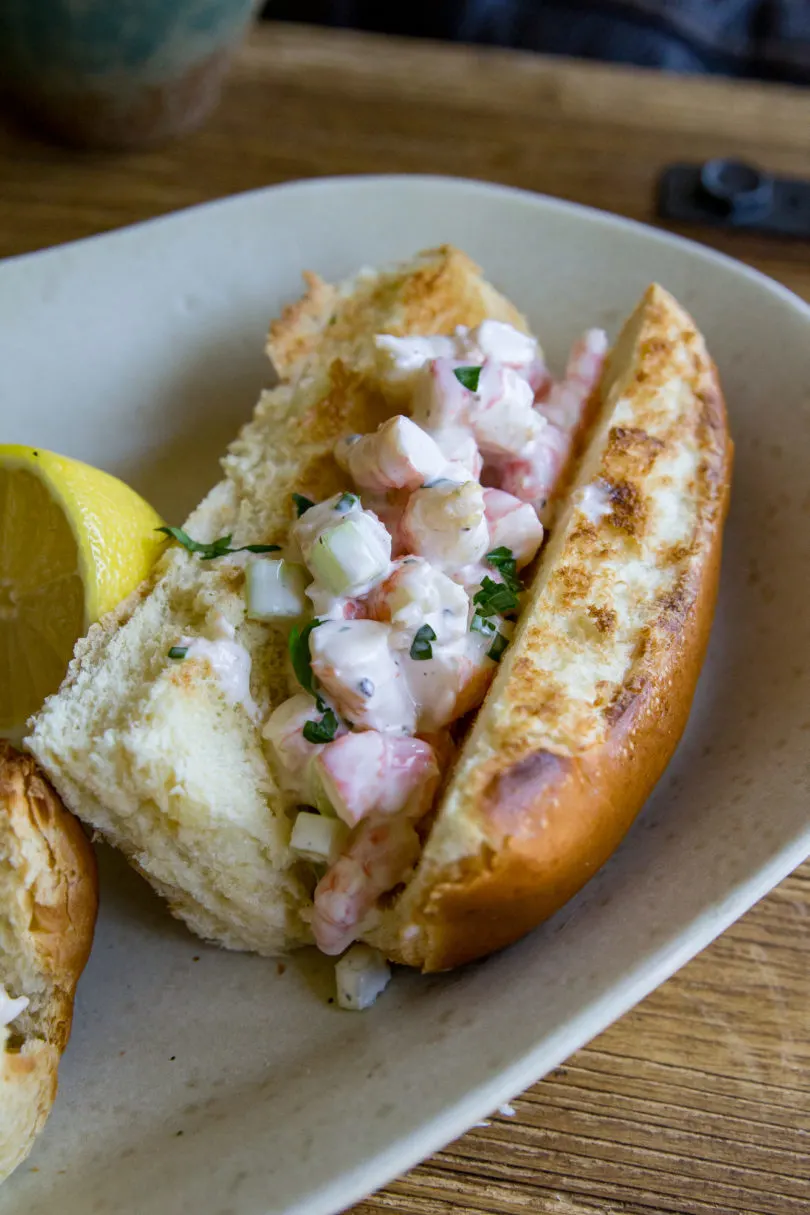 More fish recipes to enjoy!
More recipes to enjoy!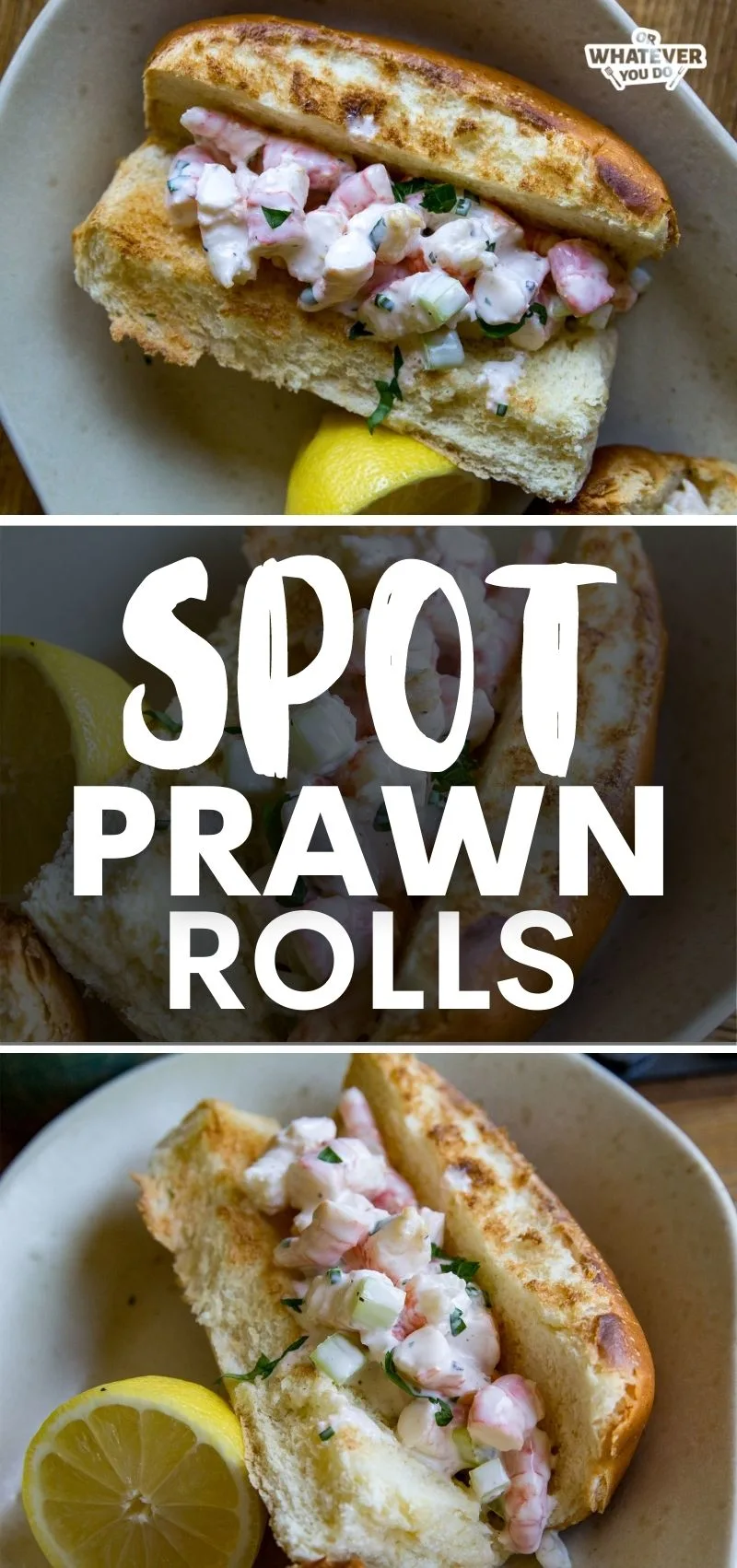 Yield: 4 servings
Traeger Spot Prawn Rolls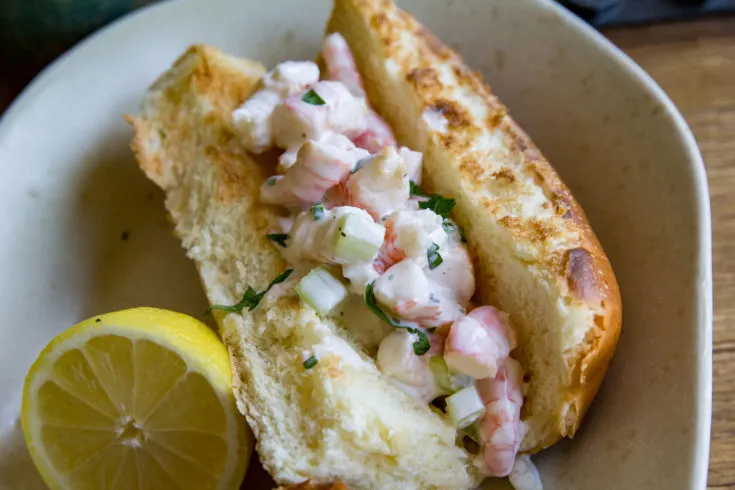 Tender, delicious Traeger Spot Prawn Rolls feature tender, lobster-like spot prawns in a lobster-roll style treat that everyone is going to love!
Ingredients
40-50 Spot Prawns, peeled (or regular uncooked shrimp)
1/2 teaspoon salt
1/4 teaspoon pepper
1 inner celery stalk, finely chopped
2 tablespoons fresh lemon juice
1 teaspoon kosher salt
1/2 teaspoon ground black pepper
1/4 cup mayo (get the good stuff. No Miracle Whip allowed!)
2 tablespoons chopped parsley
1 tablespoon chopped green onion
4 brioche rolls
butter for spreading (optional)
Instructions
Preheat your grill to 400°.
Place the Spot Prawns on a grill mat, piece or parchment paper, or non-stick foil, drizzle with oil, and season with salt and pepper.
Grill for 6-8 minutes, or until pink and no longer opaque.
Remove from the grill and let cool in the fridge for 20-30 minutes.
Combine the celery, lemon juice, salt, black pepper, mayo, parsley, and green onion in a small bowl. Stir and let sit for 5-10 minutes.
While the sauce is melding, chop up the shrimp into bite-sized pieces.
Gently mix the prawns and the sauce together. Let chill together in the fridge for another 20-30 minutes. (You can skip if you are impatient. It'll still be amazing.)
Butter your buns and toast them in the oven until they are golden brown.
Load on the prawn mixture, and serve immediately.
Recommended Products
As an Amazon Associate and member of other affiliate programs, I earn from qualifying purchases.
Nutrition Information:
Yield:
4
Serving Size:
1
Amount Per Serving:
Calories:

478
Total Fat:

27g
Saturated Fat:

11g
Trans Fat:

1g
Unsaturated Fat:

15g
Cholesterol:

249mg
Sodium:

1613mg
Carbohydrates:

36g
Fiber:

2g
Sugar:

6g
Protein:

22g
Nutrition data provided here is only an estimate.