If you are looking for a simple meal that is also really impressive, look no further than this Air Fryer Parmesan Crusted Halibut. It is crunchy on the outside, tender and flakey on the inside, and is one of my favorite bites of fish that I've ever had.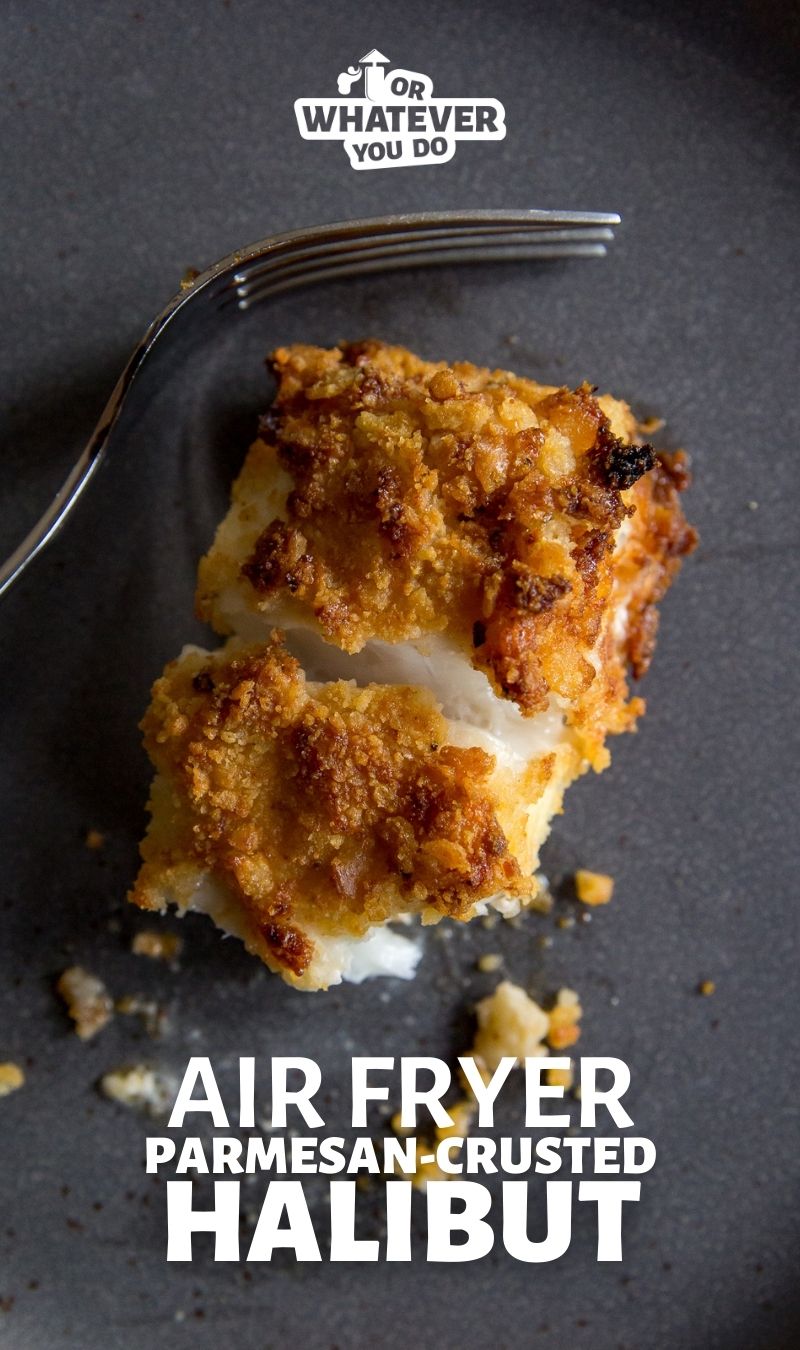 Air Fryer Parmesan-Crusted Halibut
Some of you that have been following along for a while know that Jeremiah really likes to fish. (If you like fishing videos, check out this one!)
We got a boat a few years ago, and it has been one of the best things we've ever done. He and the kids go out dozens and dozens of times a year and fish for all kinds of things in the Puget Sound and off the coast of Washington and Oregon.
I mention this because it is a bit of a teaser for some more fishing-related content to come, and because while 2020 was a shit show in almost all other regards, it happened to be a banner year for halibut.
In 2020, due to a lack of demand from restaurants that were not open due to various restrictions, the halibut season was open for recreational fishermen for a much longer time period than it usually is.
For us, that means we now have a freezer with enough fresh halibut (and almost every other fish that can be legally caught in those waters) to last the year, and also that they didn't have to go out in less-than-perfect waters to do it.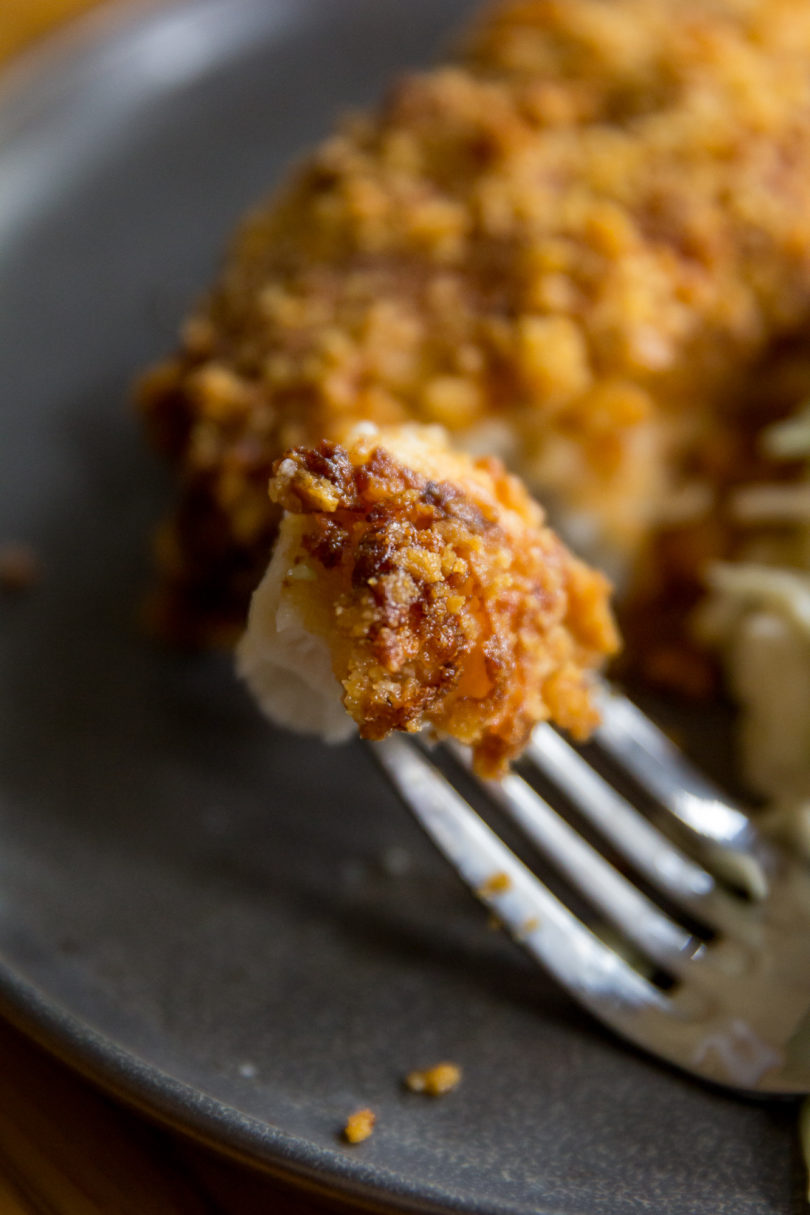 Why I love halibut, and you should too
Halibut is prized for its thick, meaty flesh and how buttery and delicious it is after it is cooked. I think of a big, thick halibut filet in the same way I think about a big steak. In fact, if I knew the fish was going to be prepared well, I'd pick halibut over steak almost every time in a restaurant.
I've shared some halibut recipes with you before. Our Traeger Parmesan Halibut was delicious, and this Crispy Battered Halibut with NO Beer has been really popular on Pinterest for quite a few years. If you love a good Beer Batter, I have one of those too.
This one though – this one might be my favorite yet.
Air Fryer Parmesan Shrimp Recipe
We're just getting into Air Frying these days, but these shrimp have been a huge hit!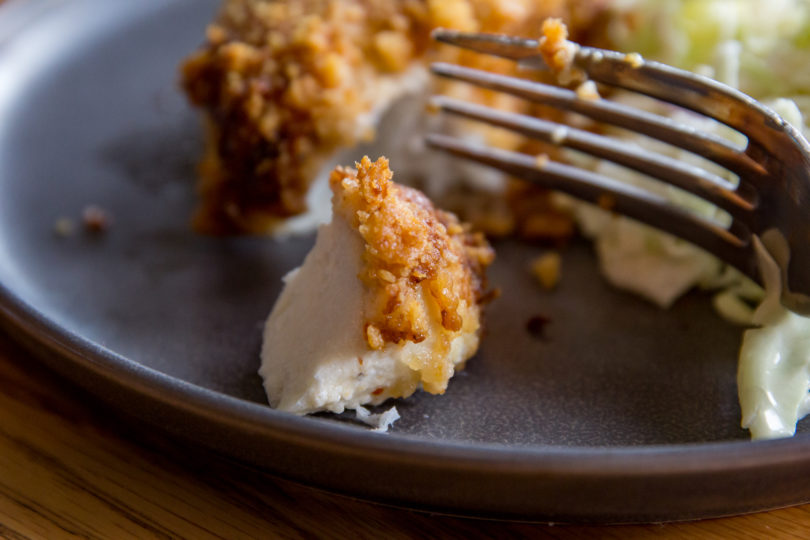 Why you're going to LOVE it
From the crispy cracker-filled crust to the ultrasimple prep and cooking method, this is just a winner all-around. The kids even devoured this, and there are usually a few that turn their nose up at fish depending on the preparation and the kid. (And the time of the day, and what kind of mood they are in.)
If you don't have halibut, this recipe can be used on any firm whitefish. I am really excited to try it with lingcod, rockfish, and walleye.
Parmesan-Crusted Halibut Shopping List
For the complete recipe, including the amounts you need for each ingredient, make sure to scroll down to the recipe card!
halibut
mayonnaise
parmesan cheese
salt & pepper
hot sauce
Ritz crackers
garlic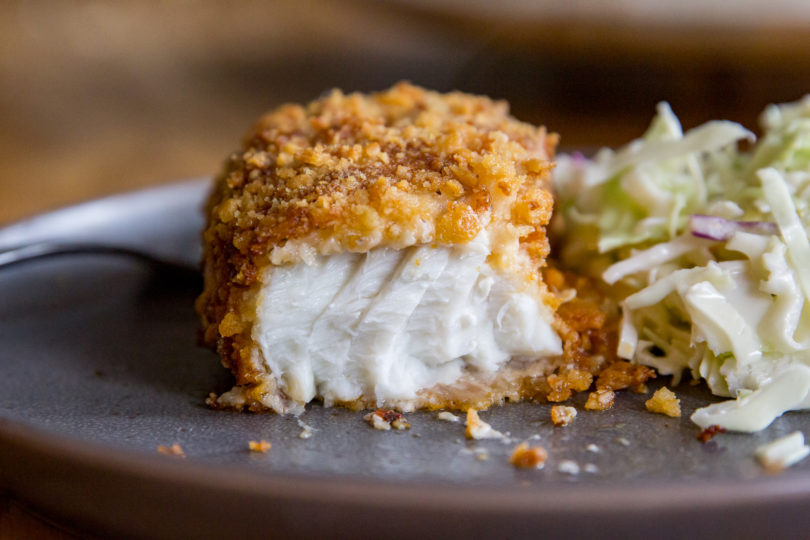 How to make crispy halibut in the air fryer
If you want to know what you are getting yourself into, I've got the cliff notes here. Make sure when you are cooking to follow the instructions in the recipe card at the bottom of the post.
Your hands are going to get messy – It is just a thing. Wash up and get to it, they don't stay messy for long. This is the most annoying part of the recipe, and the rest is a cake wake.
Don't let it stick – Make sure your cooking surface is non-stick, or make it so. The last thing you want is to lose half your breading to the bottom of your air fryer.
Mix together everything except the crackers.
Spread it all over the fish, on all sides.
Roll the fish in the crushed Ritz crackers.
Air fry at 350° for about 10 minutes!
How to store crunchy parmesan halibut leftovers
My suggestion for fish is usually to just not make too much, but this one comes back to life again surprisingly well. If you find yourself with some extra halibut that was cooked up, store it in a covered container for a day or two.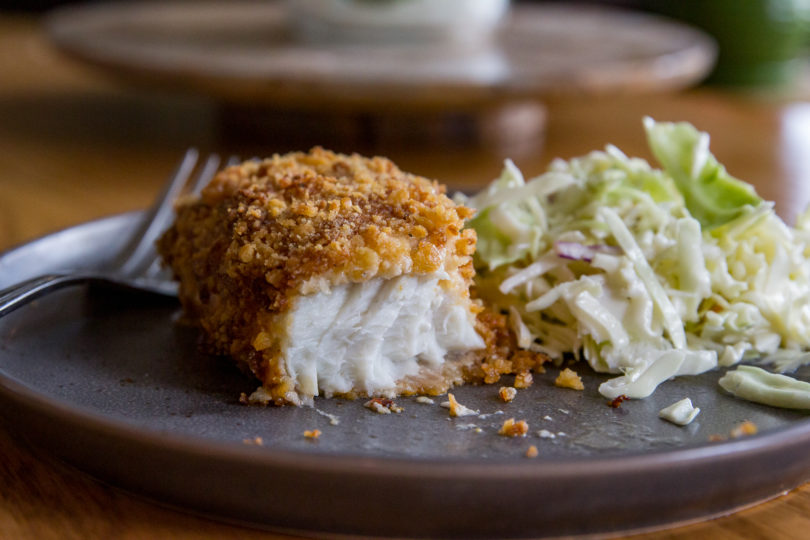 How to reheat breaded halibut
Easy! Just reheat it in the air fryer. I'd turn the heat down to about 300° though, so the breading doesn't burn while the center is heating, and keep a close eye on things!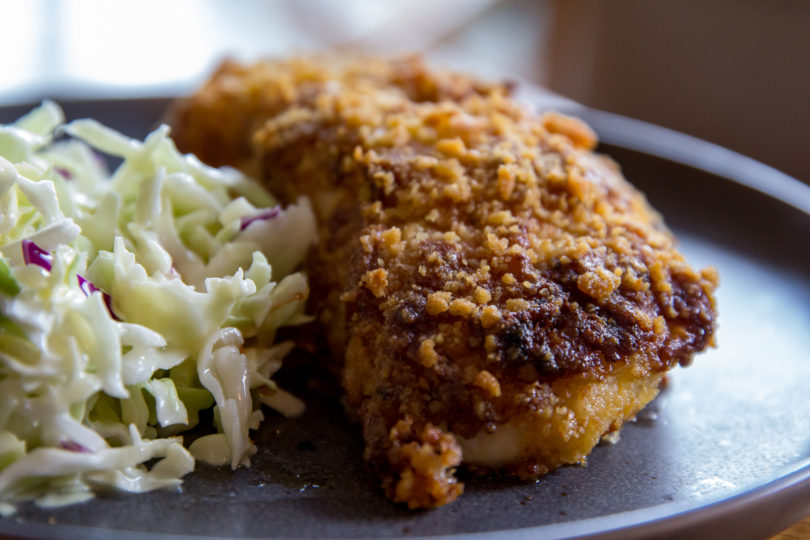 What else can you serve with Air Fryer Parmesan Halibut?
Lots of good stuff! Pictured here you see some creamy coleslaw. I'd also serve this gladly next to a big helping of my favorite Greek Salad, and these perfect grilled asparagus.
Craving some pasta? Try this easy one-pot creamy noodles recipe!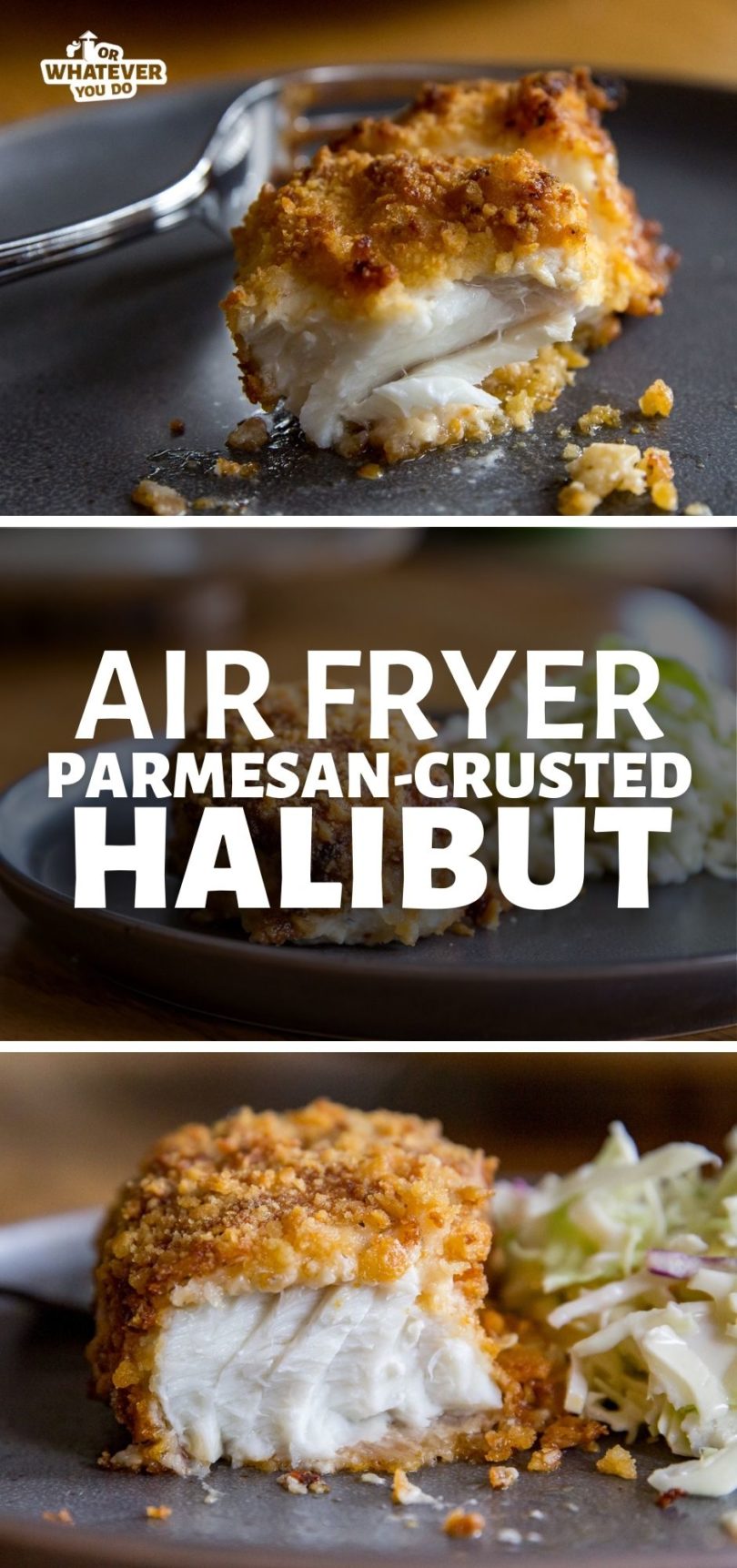 Some of our content is only for OWYD+ members. Membership is FREE! Find out more here, or sign up below!
Yield: 2 servings
Air Fryer Parmesan-Crusted Halibut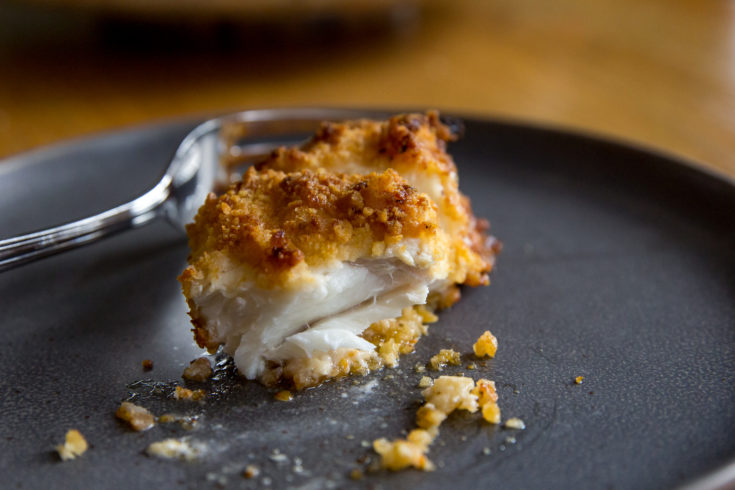 Halibut filets are breaded and cooked in the air fryer until they are a perfect medium. Simple and impressive dinner!
Ingredients
1 pound halibut
1/2 cup mayonnaise
1/2 cup shredded parmesan cheese
2 teaspoons minced garlic (or 2 cloves of my smoked garlic)
1/2 teaspoon salt
1/4 teaspoon black pepper
1/2 teaspoon hot sauce
1 sleeve ritz crackers, crushed
Instructions
Dry the halibut well with paper towels.
Combine the mayo, parmesan, minced garlic, salt, pepper, and hot sauce in a small bowl.
Crush the crackers and place them into another bowl.
Coat the fish in the mayo mixture and then roll in the crackers to cover all sides. Carefully place into the air fryer in a single layer, not touching the sides or each other, in your air fryer. (Spray the rack with cooking spray if it is not well-seasoned and if things tend to stick.) Repeat with the other filet(s).
Cook in the air fryer at 350° for 10 minutes, or until the internal temp is 130-135°, depending on how you like your fish.
Recommended Products
As an Amazon Associate and member of other affiliate programs, I earn from qualifying purchases.
Nutrition Information:
Yield:
2
Serving Size:
1
Amount Per Serving:
Calories:

722
Total Fat:

51g
Saturated Fat:

11g
Trans Fat:

0g
Unsaturated Fat:

38g
Cholesterol:

174mg
Sodium:

1450mg
Carbohydrates:

3g
Fiber:

0g
Sugar:

1g
Protein:

60g
Nutrition data provided here is only an estimate.