Largely regarded as the peak of the shrimp and prawn culinary mountain, we fire up the pellet grill for this Spot Prawn Linguine recipe that has a delicious sauce made with white wine, tomatoes, and all the garlic.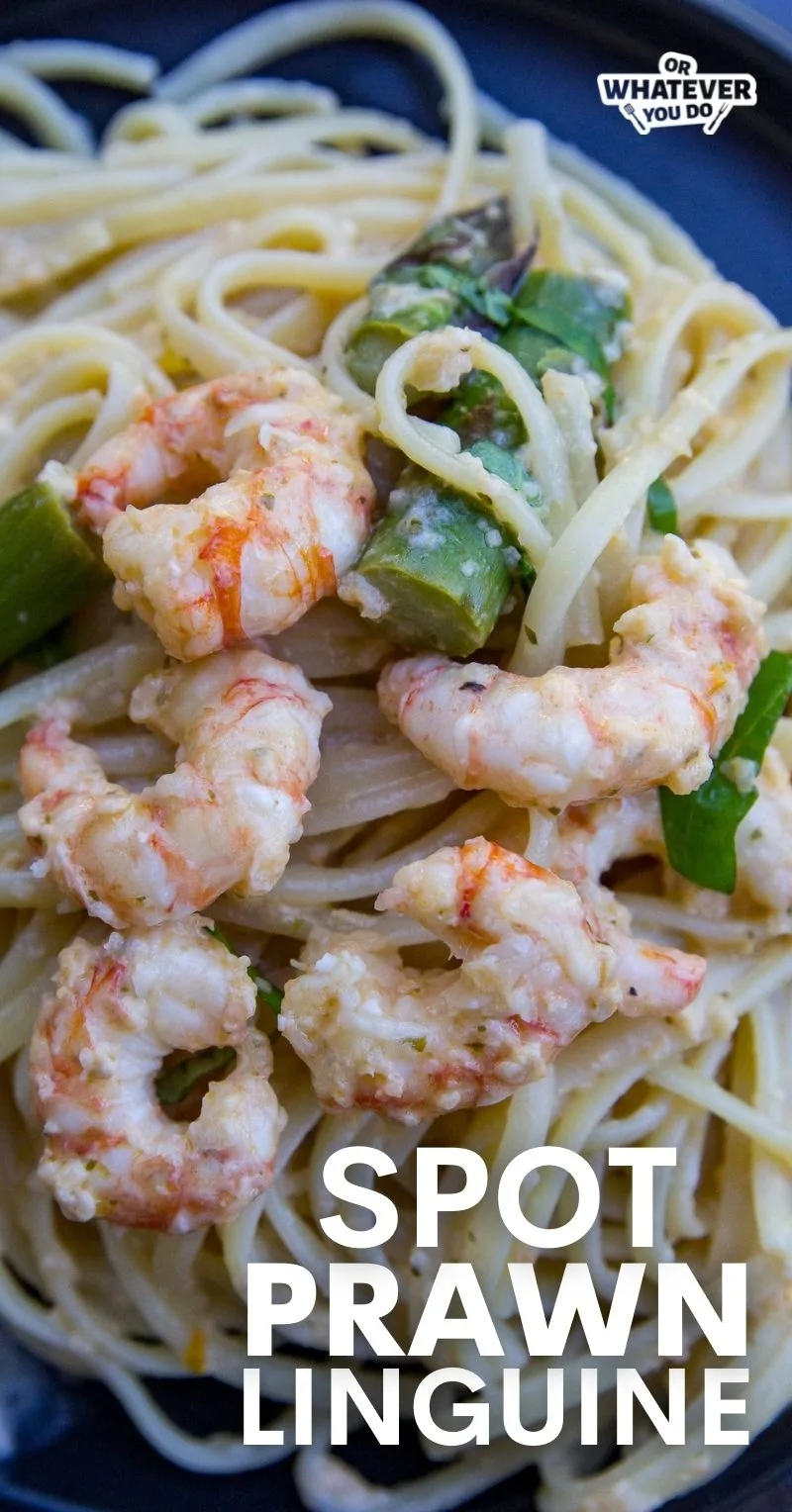 Spot Prawn Linguine Recipe
When Spot Prawn season is upon us, there's nothing I don't want to make with these fancy, delicious crustaceans. We took fresh spring asparagus and spot prawns and cooked them in a sauce made from white wine, fresh tomatoes, garlic, and cream, and cooked it on the pellet grill over a live wood fire.
This sauce is already one of my favorites. We'd never done one quite like this before, and have a hard time comparing it to other sauces. It isn't like a typical wine sauce as we use in our Shrimp Pasta with Tomatoes and Basil, and it isn't a traditional cream sauce like we use in our Fettuccine Alfredo or Creamy Mushroom Pasta either.
The instructions for this recipe use a pellet grill like a Traeger, Camp Chef, Rec Tec, or one of the many, many other brands of pellet grills currently on the market. If you don't have a pellet grill or smoker, you can make this recipe right on your stovetop too. While I personally love the notes that cooking over wood fire provide, it isn't a "make or break" element of this particular dish. The star of this one isn't the smoke, it is most definitely the spot prawns.
See all of my SHRIMP RECIPES here!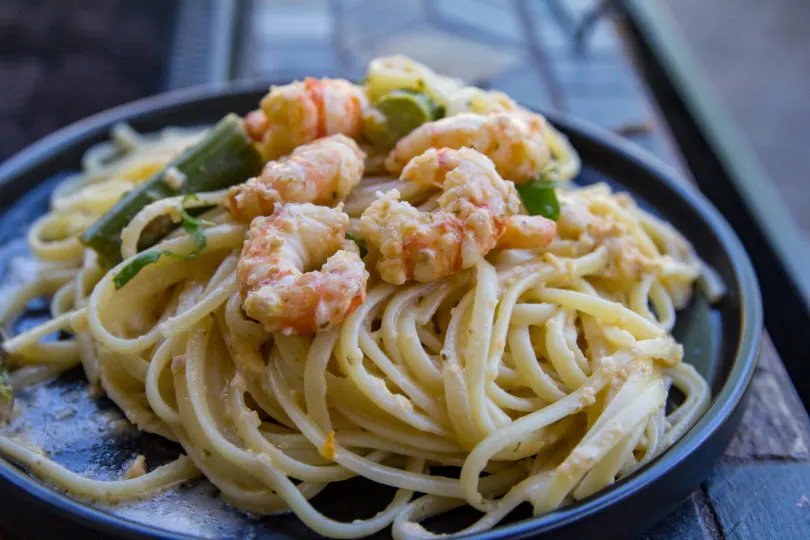 What are spot prawns?
Spot prawns are wonderful little shrimp-like creatures that live off of the West Coast, and in the Puget Sound region of Washington State. They are delicate, tender, and buttery, and are often described as having a lobster-like flavor, or as being a cross between Dungeness crab and lobster.
We live right near some of the world's best Spot Prawn grounds, right on the Puget Sound's Hood Canal. Every year they open up days for recreational spot prawn harvesting, and we make a big family event out of it.
You can use Spot Prawns in any recipe that calls for shrimp.
2020 Spot Prawning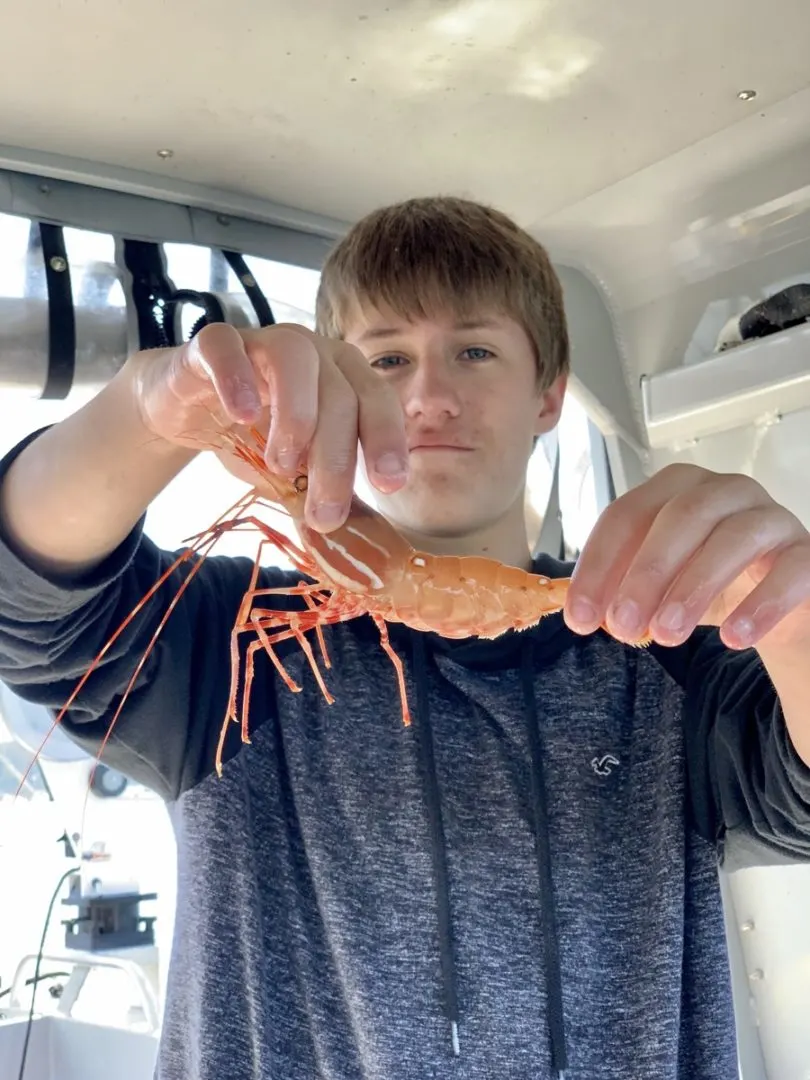 Do you live near the Puget Sound and want to try your hand at Spot Prawning? Check out this informative post from PNW Best Life!
Garlic Spot Prawn Linguine shopping list
Wondering if you have to hit the store? Here's the list of items you'll need to make this recipe. For specific amounts, please refer to the printable recipe card at the bottom of the post.
tomatoes
garlic
olive oil
salt & black pepper
fresh basil
white wine
Spot Prawns (or shrimp)
asparagus
butter
heavy whipping cream
parmesan cheese
linguine noodles
Get all of my FISH recipes!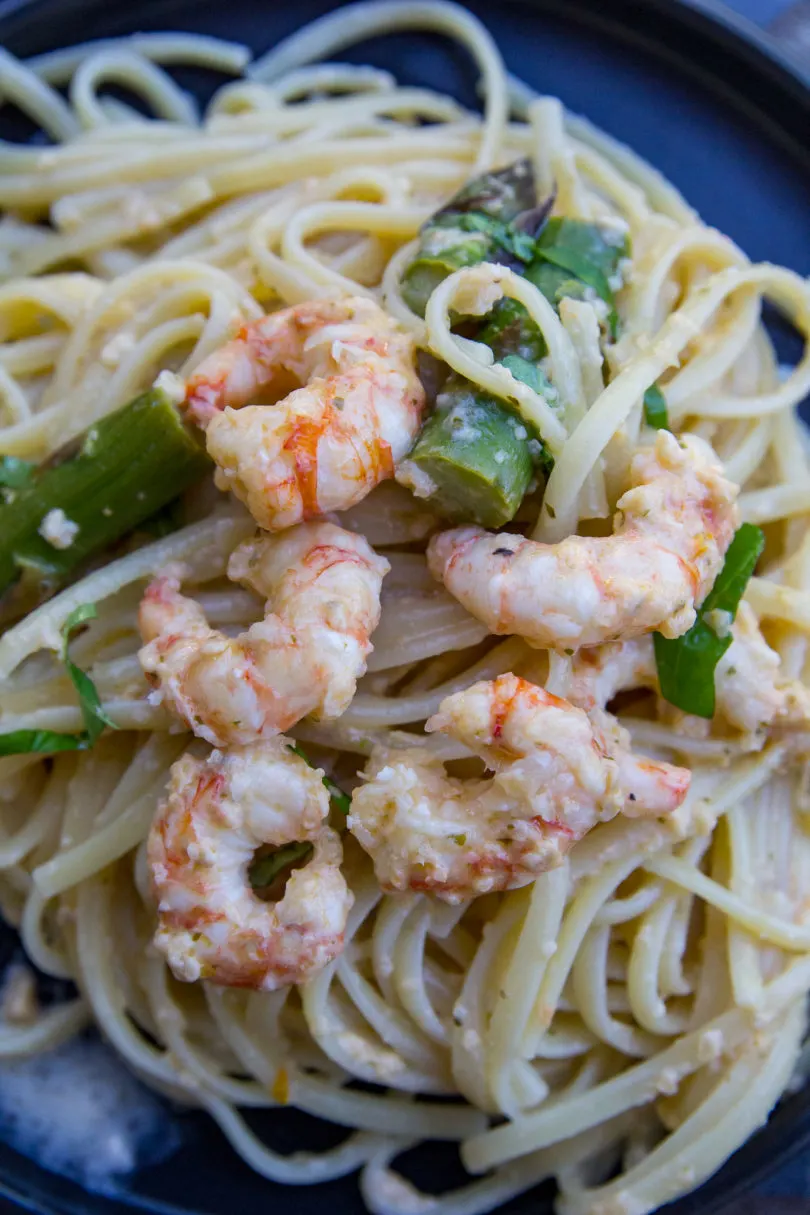 How to make Garlic Spot Prawn Linguine
This is just the overview so you can see what you're actually getting into here. When you are cooking, you'll want to use the full recipe at the bottom of the page.
Whip up the sauce
You'll need to blanch and peel the tomatoes. If that's not your thing, a can or two of diced tomatoes would also work here. Then, just put the rest of the sauce ingredients along with the tomatoes into a blender or food processor, blend, and bring the sauce up to a simmer on the stove for 10 minutes.
Grill it
Put your asparagus and sauce into a large 10×13 high-sided grill-safe casserole dish, and put that dish into a preheated 400° grill. Let it simmer in the grill for 15-20 minutes. Stir mid-way through!
Cook the noodles
While your sauce is on the grill, cook your noodles. Don't undersalt the pot. It should taste salty like the sea!
Add the prawns to the pot
After 15 minutes of simmer time, add the shrimp into the simmering pot and let them cook for 5 more minutes.
Put it all together
Pull the simmering pot (carefully) off the grill, and let it stop simmering and cool for about 5 minutes. Add the cream and parmesan cheese, and then toss it all with the cooked pasta. Top with the rest of your basil, and enjoy!
Get all of my Pacific Northwest Fish Recipes here!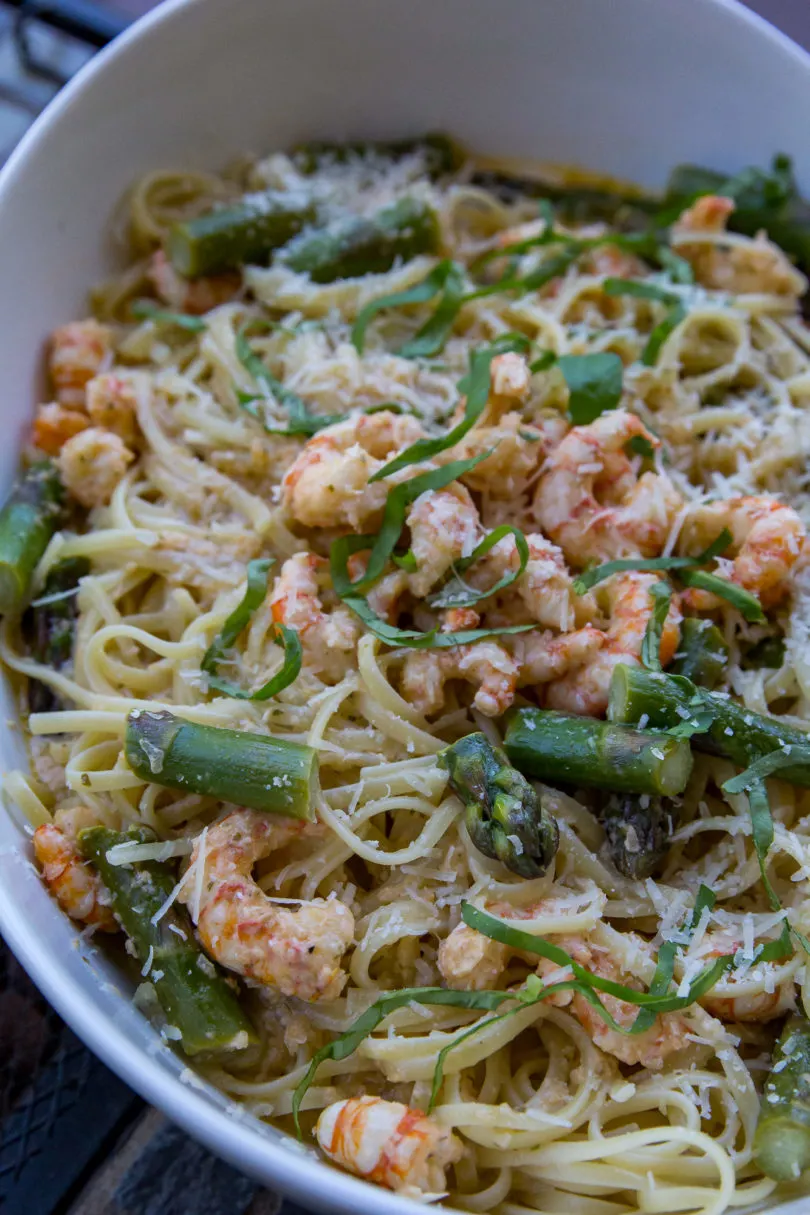 What are the best things to serve with Spot Prawn Linguine?
This delicious pasta would be perfect next to a pile of our homemade Garlic Breadsticks, and a fresh salad with homemade Creamy Caesar Dressing.
Our Garlic Fry Bread would also be delicious too. If you are more in the mood for a vinaigrette instead of a creamy Caesar, our Greek Vinaigrette would be perfect.
Follow me on Instagram!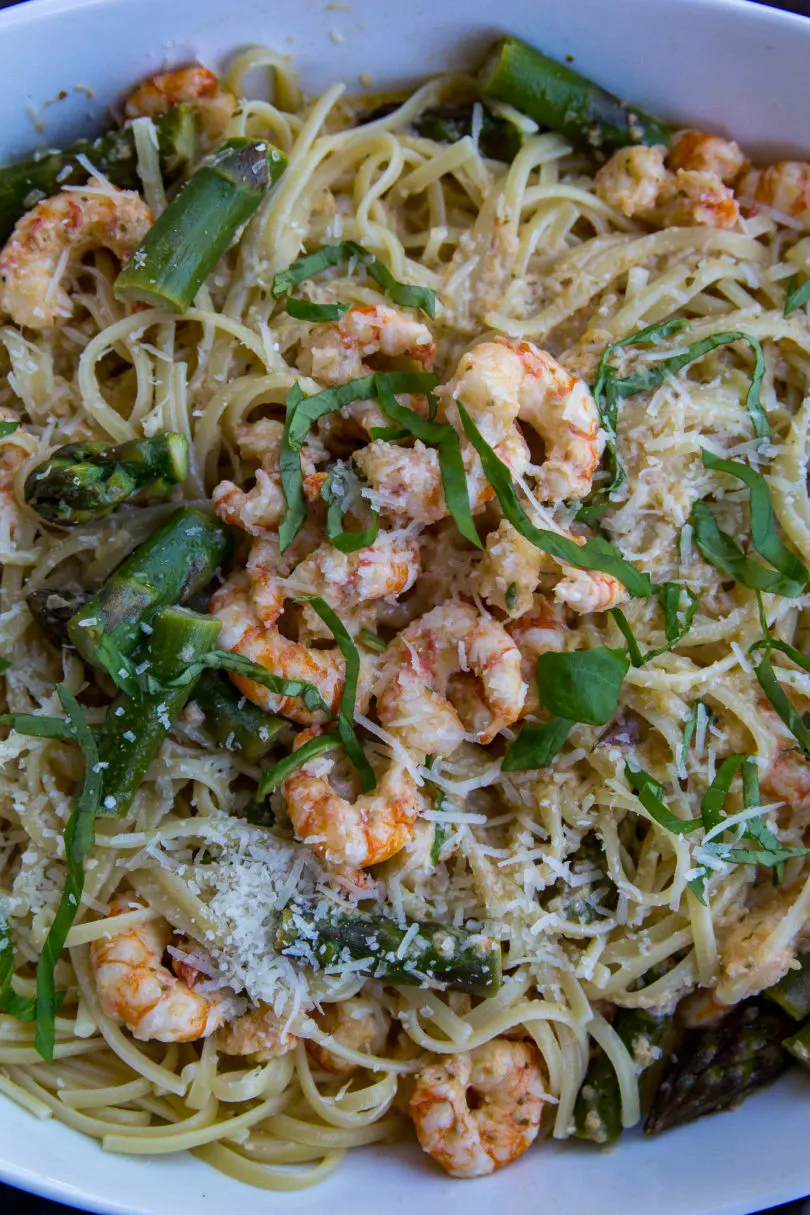 Spot Prawn Linguine FAQ
Can you use a different kind of seafood in this dish?
Absolutely! If you don't have access to fresh spot prawns, you can use regular uncooked shrimp, boneless white fish, scallops, chunks of lobster, or a combination of those in this versatile pasta dish.
What's the best way to store the leftovers?
Store the leftovers in an airtight container in the fridge, and eat it within a day or two since it is seafood we're talking about here. The prawns are still going to be great the day after, but you do lose a little in the texture department once you get into reheating shellfish. It isn't significant enough to make me recommend against it.
How should you reheat leftover Spot Prawn Linguine?
The best way to reheat pasta is in the microwave. Typically I'd advise that you keep the seafood as far away from the microwave as possible, but in this case it really is the best option. Just be careful not to over-do it or you'll wind up with a bigger chance of a rubbery second experience.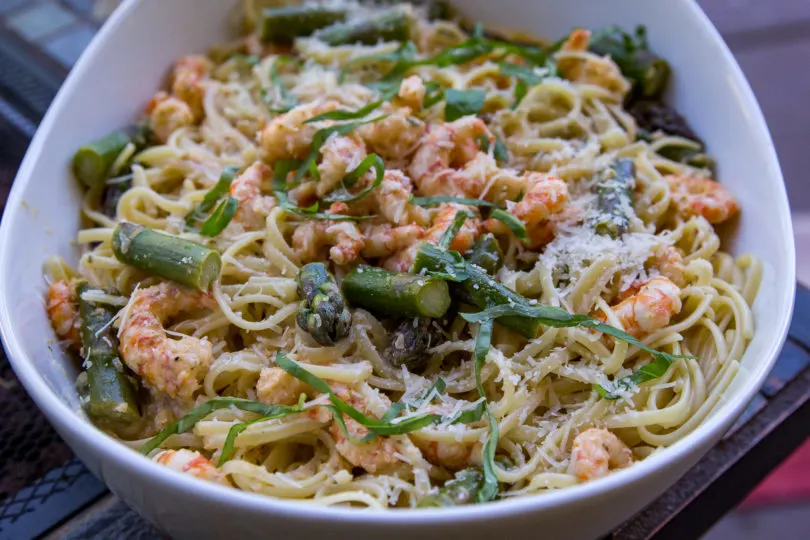 More recipes to love!
Check out these great recipes too!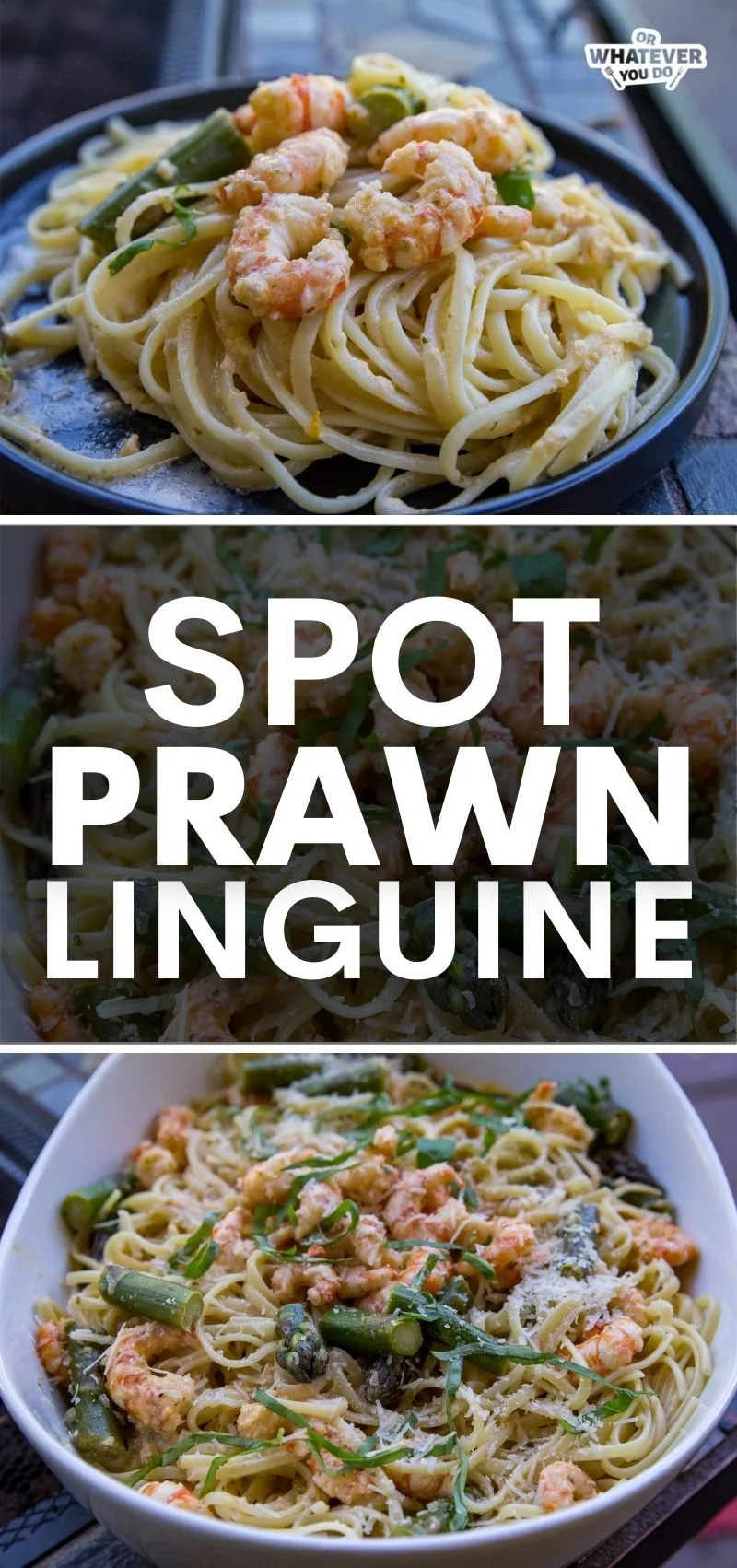 Yield: 12 servings
Spot Prawn Linguine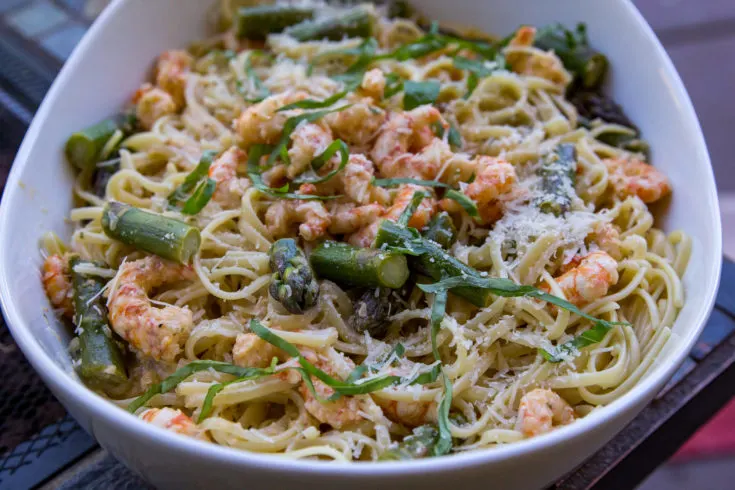 This unique spot prawn linguine is made with a flavorful sauce full of wine, garlic, herbs, and fresh tomatoes.
Ingredients
4 large tomatoes
6 cloves garlic
4 tablespoons olive oil, divided
2 teaspoon salt
1/2 teaspoon black pepper
1 tablespoon minced fresh basil, divided
1 cup white wine
1 pound spot prawns
1 pound asparagus
8 tablespoons butter
2 cups heavy whipping cream
6 ounces shredded parmesan cheese
2 pounds linguine noodles
Instructions
Bring a medium-sized pot of water to a boil. Add in the tomatoes to blanch for one minute and remove. Peel the skin and remove the stem.
Put the tomatoes, garlic, olive oil, salt, pepper, 1 1/2 teaspoons minced basil, wine, and 3 tablespoons of olive oil, into a blender and blend it all on high for one minute.
Pour the sauce into a small pot and place it on the stove. Bring the sauce to a boil, reduce heat and let simmer for ten minutes. Remove sauce from the stove and set aside.
Preheat your pellet grill to 400-425°.
Use a cast iron pan or another grill-safe pan.
Pour the last of your olive oil into the pan and spread it out.
Wash and cut your asparagus into one-inch pieces. Spread your asparagus out on the bottom of the pan. Pour all of your sauce into the pan. Place one-ounce pats of the butter into the pan, making sure to space out evenly. Place the pan onto your grill and close the lid.
Let cook on high for 15 minutes.
While it is cooking on the grill, bring a large pot of water to a boil on your stovetop. When the water begins to boil, add in the pasta and cook until al dente. Remove from the stove and drain into a large strainer.
Open the lid and check to see if it is boiling (if the grill temp is 400 degrees, it should be boiling.) Add all the shrimp to the pan and close the lid of your grill. Let cook for five minutes and remove the pan from the grill. The sauce in the pan will be boiling.
As soon as the sauce stops boiling, add the cream and four ounces of parmesan cheese. Mix the cheese and cream into the sauce completely.
Pour the sauce over the pasta, and garnish the top with parmesan and fresh basil.
Notes
This is a relatively thin sauce, so you'll want to make sure to serve it toss with the pasta in a big serving bowl, and make sure to provide a spoon to pour some of the sauce from the bottom of the bowl over your individual portions.
If you like yours a little thicker, just pour it in hot and grate in some extra cheese for your bowl. 😉
Recommended Products
As an Amazon Associate and member of other affiliate programs, I earn from qualifying purchases.
Nutrition Information:
Yield:
12
Serving Size:
1
Amount Per Serving:
Calories:

520
Total Fat:

32g
Saturated Fat:

17g
Trans Fat:

1g
Unsaturated Fat:

12g
Cholesterol:

155mg
Sodium:

1033mg
Carbohydrates:

34g
Fiber:

3g
Sugar:

4g
Protein:

22g
Nutrition data provided here is only an estimate.