Traeger clams are a must make seafood dish this summer. Smokey flavored clams, incredible wine butter sauce, for that easy beach-inspired dinner.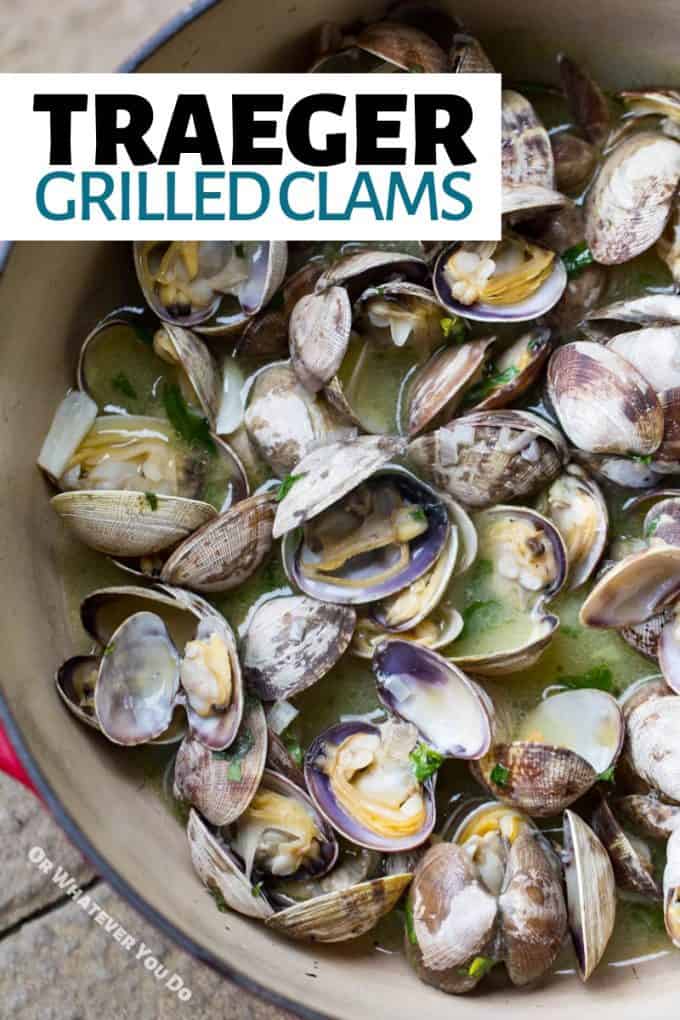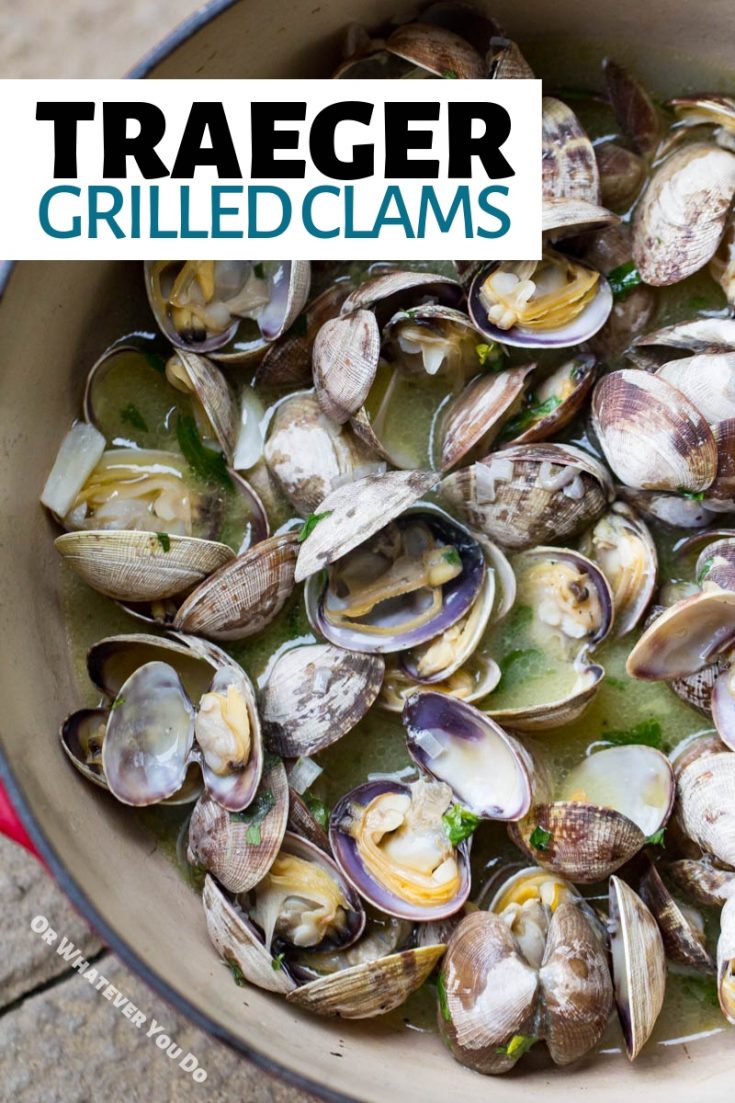 Traeger Grilled Clams
Traeger clams are a must make seafood dish this summer. Smokey flavored clams, incredible wine butter sauce, for that easy beach-inspired dinner.
Clam bakes are always a blast. If you haven't had one, now is the time. Let me share how to make Traeger clams that will win over your crowd easily. Butter, Pinot Grigio, garlic, shallots, and seasoning is all that is required for unforgettable clams.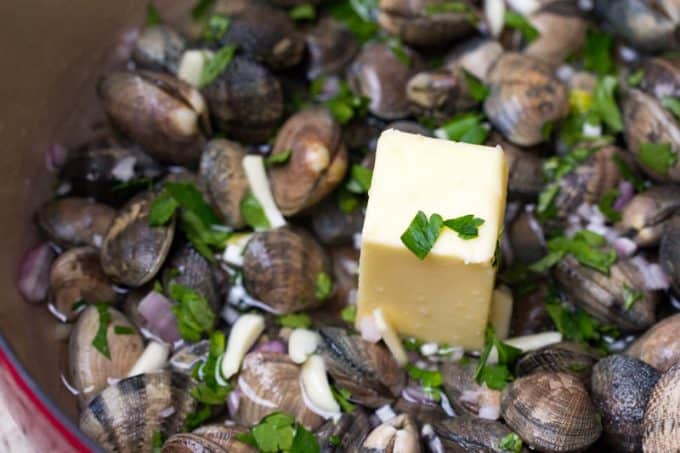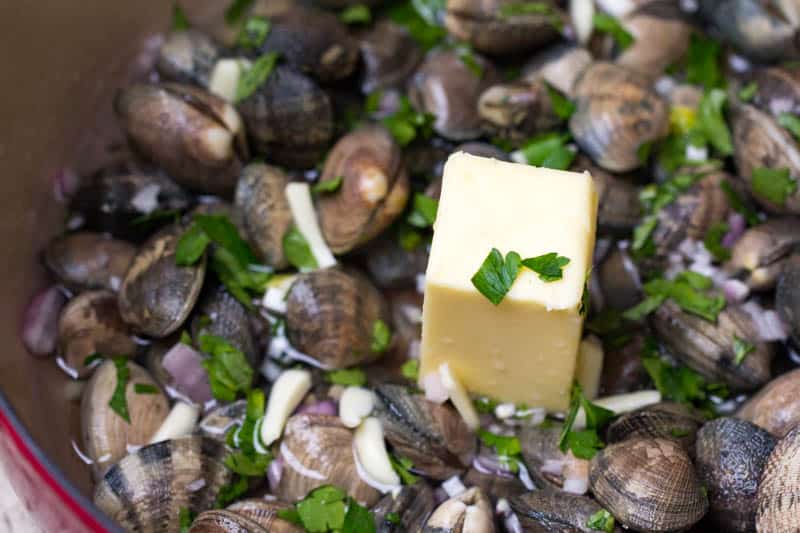 Easy Grilled Clams
Woodfire clams offer an incredible flavor that you don't get when you cook other ways. The wood smoke adds an element of character to the butter wine sauce that enhances the flavor.
Just grab a pan, create your sauce and toss clams in and wait for them to pop open!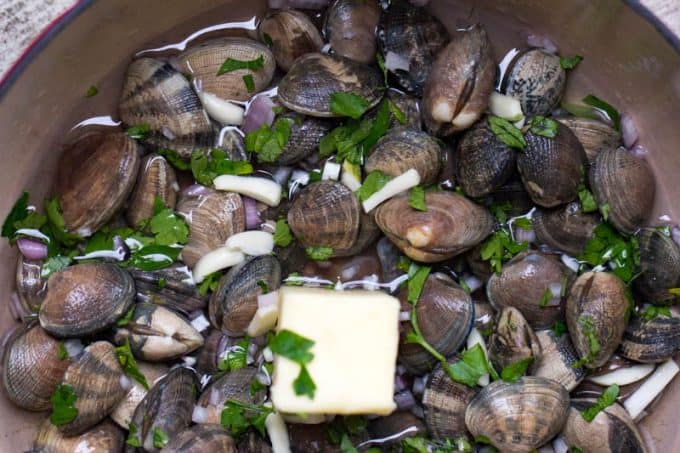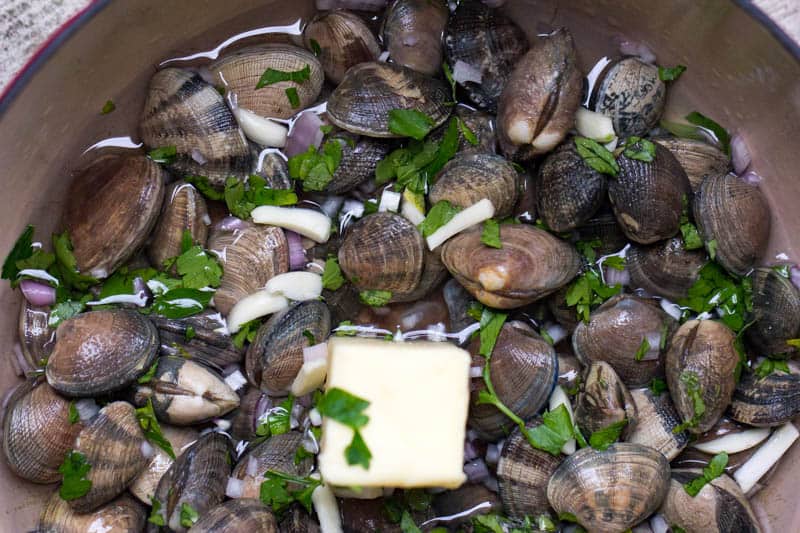 Can I Substitute Mussels For Clams
You are welcome to use mussels if you prefer, or you can do a mix of clams and mussels.
How Do You Know When Clams Are Cooked?
Clams are unique in that when they are done, they will tell you. When you see the clams beginning to open the shells, you know they are ready to be served.
Why Cook Clams In A Pot on Grill
A lot of people swear by just tossing clams straight on your grill grates and cook them that way. I find that using a sturdy pot or even Dutch Oven simplifies the process.
I cook my clams right in the sauce so that as the clams open up, they soak in the garlic, butter, wine, and herbs. You gain incredible flavor this way.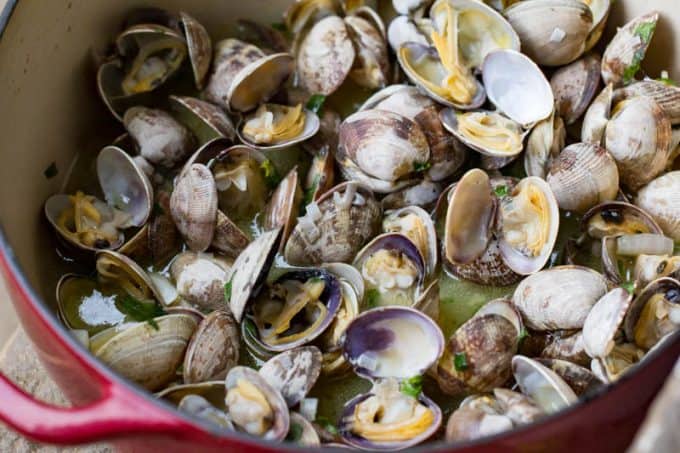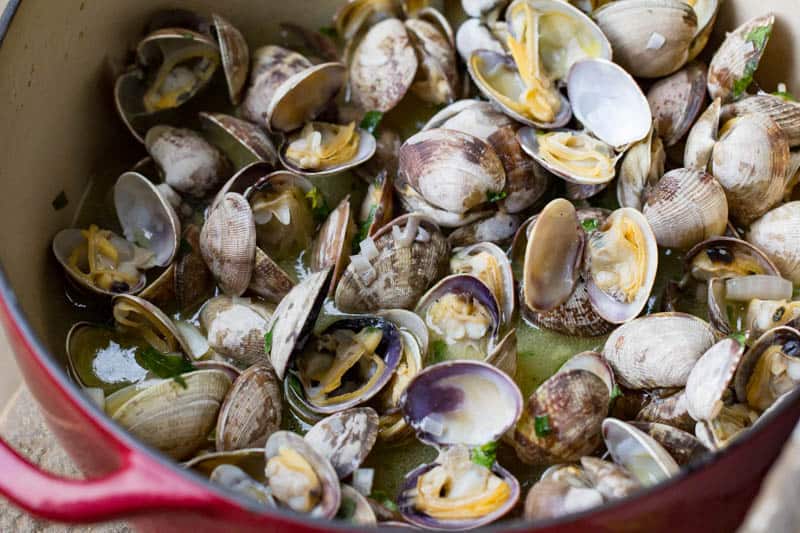 What Pairs Well With Grilled Clams
For this recipe, you could reach for a grilled baguette or even sturdy bread. Use it to help soak up all the extra sauce you spoon out. Stuffed mushrooms could be another tasty option, light salad, or make these grilled clams as an appetizer.
Can You Cook These Clams with Butter and Wine In The Oven
Yes!
I recommend rinsing your clams well and then tossing them into a dutch oven. Add in all your other ingredients and bake at 400 degrees until the clams open up.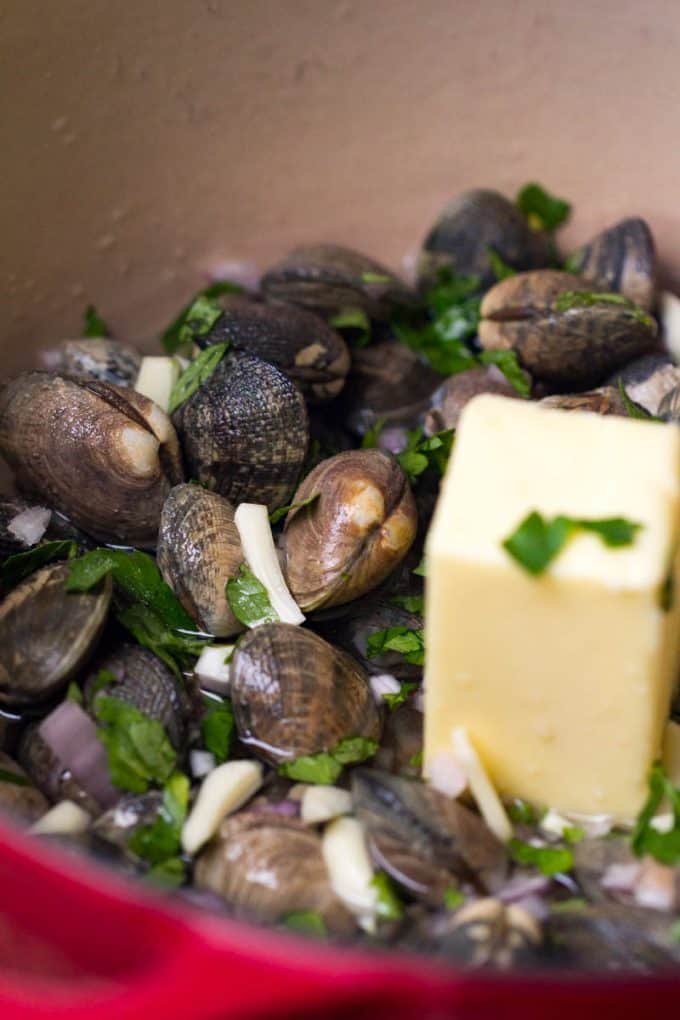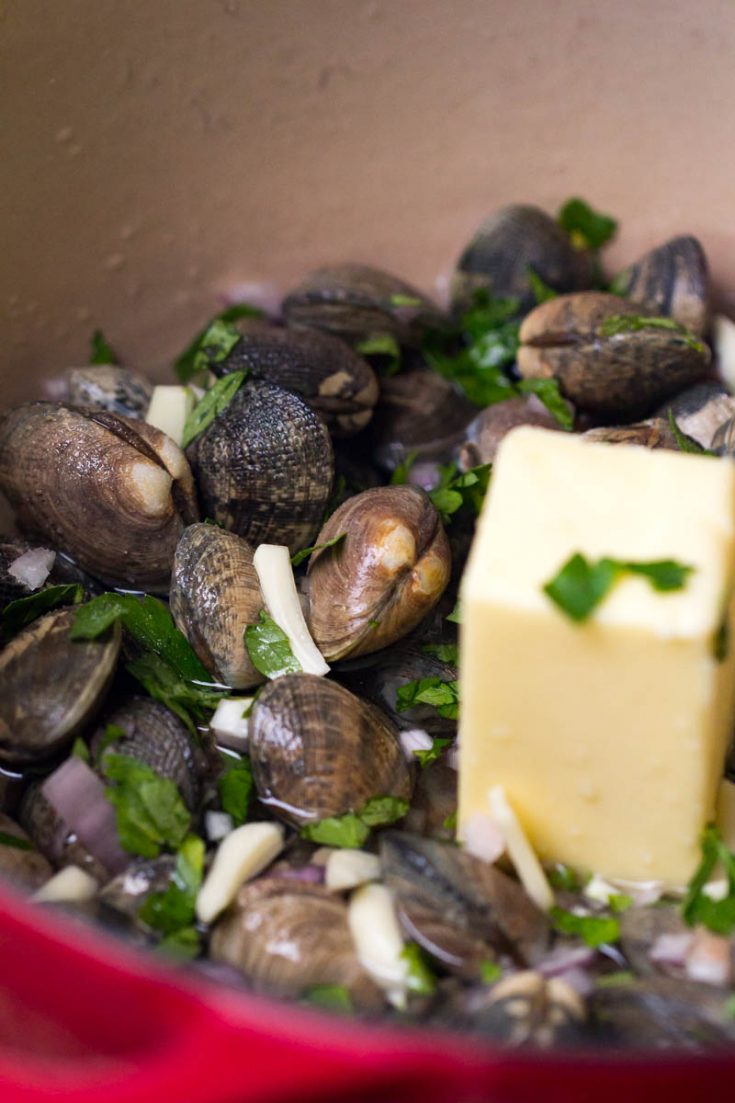 Tips for Grilling Clams
Make sure the clams you buy are live and do not have any cracks in the shells. I tend to cook clams the day I buy them for the freshest taste.
When you go to purchase clams, aim to find clams that are less than two inches across.
Ensure the shells are hard and look good. If you see a lot of chips or cracks, skip.
If you cook up your clams and a few don't open during the cooking process, toss them out. Don't try to open and eat them.
Join our Easy Traeger Recipes Facebook group!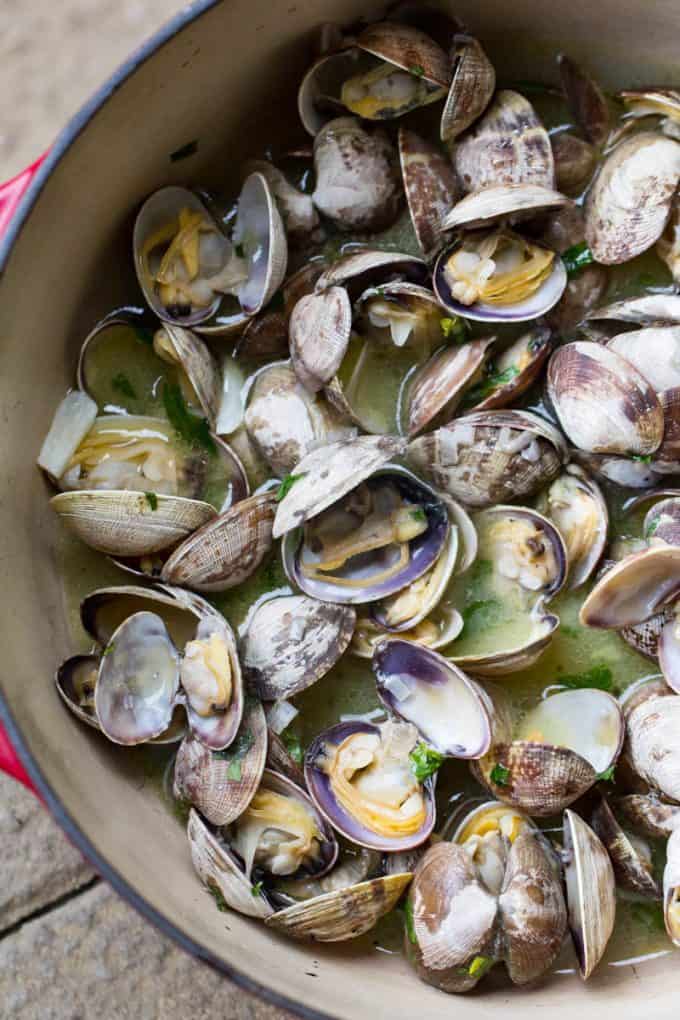 Can I Double This Traeger Clam Recipe
Absolutely! Feel free to make as many or as little as you would like of this grilled clam recipe. When we have company over I make extra. If you don't have a ton of room on your grill just cook in batches, or opt to cook some in the oven.
Can I Swap Stock for Wine
The wine is a significant factor in the flavor of these clams. But, if you are not a fan of wine, you could use beef or chicken stock to swap out the wine. It will change up the flavor, so make a note of that.
Don't be intimated to cook clams. They are so easy to cook with, and you can play with flavors to create clams that are incredible and delicious.
Craving Even More Seafood Recipes
Garlic Steamed Clams – This steamed clams recipe is similar to this one. Except I use white wine, basil, garlic, and a handful of other ingredients to give you a very savory clam recipe.
Seared Sea Scallops – Pan seared with a bacon cream sauce, that will tickle your tastebuds. Best of all this recipe is simple to make. Honestly, it practically cooks itself.
Grilled Lobster Tails – Skip going out to eat, and make restaurant-quality lobster tails in the comfort of your own home. Pair with butter dipping sauce, and dive in.
Pin for later!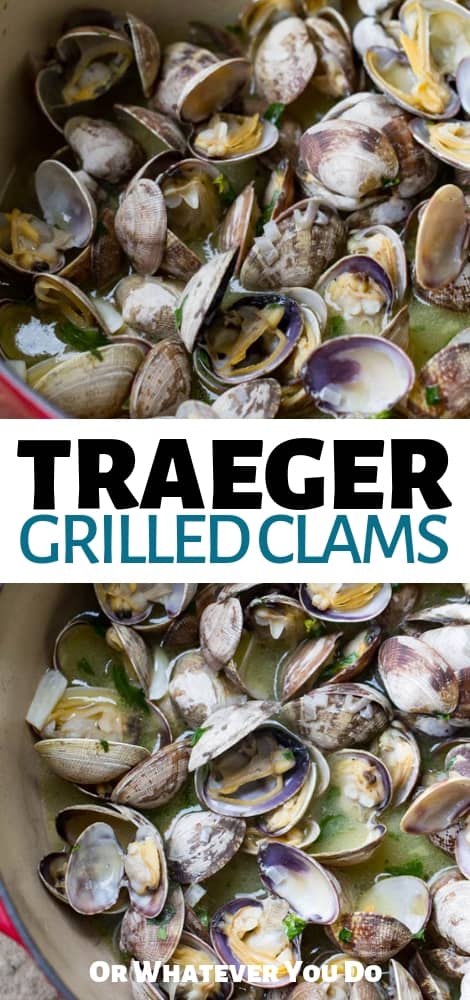 Yield: 6 servings
Traeger Grilled Clams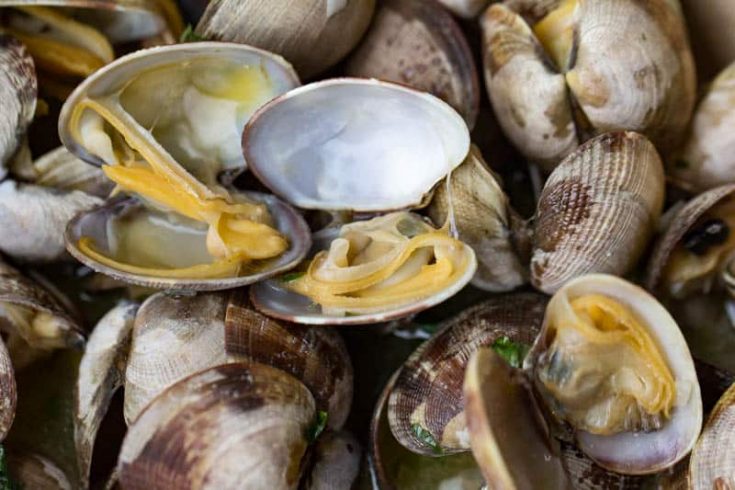 These delicious Traeger Grilled Clams are wonderful as an appetizer, or serve with some pasta or rice and make it a meal!
Ingredients
2 pounds live butter or manilla clams, washed
2 cups water
1/2 cup white wine
4 teaspoons minced garlic
1/4 cup minced shallots
1/8 cup chopped fresh parsley
1/2 teaspoon kosher salt
1 stick salted butter
Instructions
Fire up your Traeger according to factory instructions and preheat to 400° (or high).
Place everything in a large Dutch Oven, and put it on your preheated Traeger grill at 400° for 20-25 minutes, or until all of the clams are opened.
Once the clams are open, enjoy! Serve with additional melted butter if that's your thing, or just slices of toasted crusty bread to sop up the clam nectar / sauce at the bottom of the pan.
Recommended Products
As an Amazon Associate and member of other affiliate programs, I earn from qualifying purchases.
Nutrition Information:
Yield:
6
Serving Size:
1
Amount Per Serving:
Calories:

7585
Total Fat:

829g
Saturated Fat:

524g
Trans Fat:

33g
Unsaturated Fat:

246g
Cholesterol:

2250mg
Sodium:

8675mg
Carbohydrates:

19g
Fiber:

2g
Sugar:

5g
Protein:

32g