If you've never tried Mignonette Sauce for Oysters, get ready to be impressed! This classic French sauce has been served with raw oysters for years in Europe, and there is a reason it's so popular! Easy to make and delicious, I know you're going to love it as much as I do.
Mignonette Sauce for Oysters
Have you ever wanted to host a classy dinner for your friends? Oysters on the half shell are the perfect way to go! They seem super fancy, but they're actually very easy to prepare.
Don't just go with plain oysters, though. My Mignonette Sauce for Oysters will take your dinner party to the next level! It's a classic accompaniment to raw oysters, and it only has four ingredients. It's the perfect blend of oh-so-fancy and criminally easy.
This Mignonette Sauce for Oysters is red-wine-vinegar based sauce that is heavy on the shallots. There are only four ingredients here: vinegar, salt, pepper, and shallots. It's simple, delicious, and brings out the natural, fresh flavor of your raw oysters. This is definitely a classic you'll want to bring back again and again.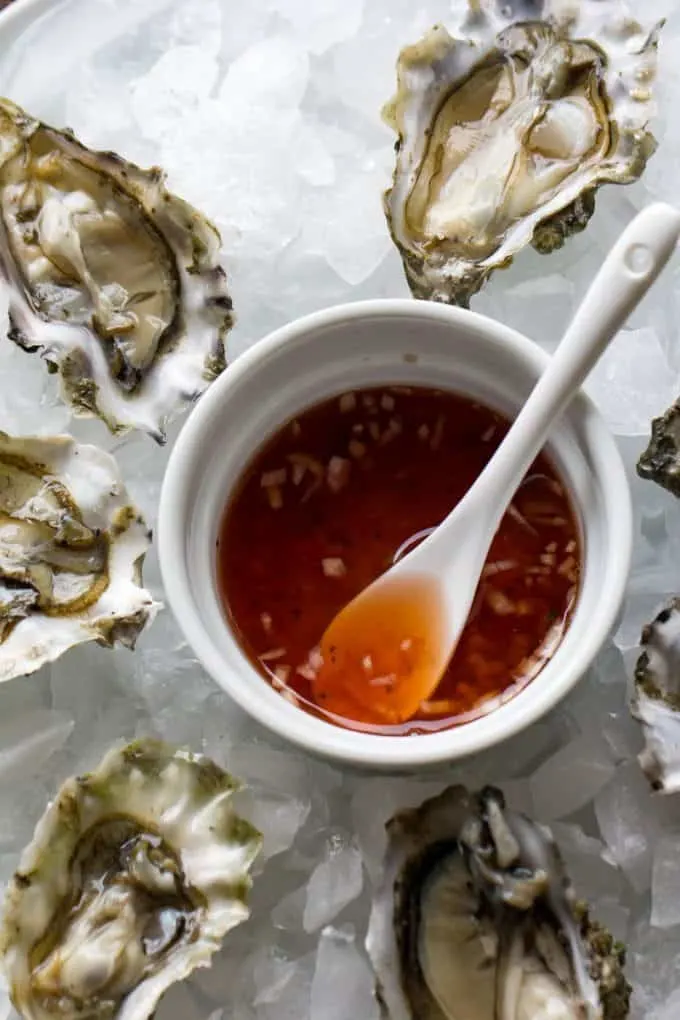 What is Mignonette Sauce?
The word "mignonette" used to refer to the small bag of spices used to flavor broths and liquids, but its meaning has changed over time. Now, it's a sauce served with raw oysters, based on vinegar and black pepper. Don't confuse it with oyster sauce, by the way! That's a sauce made out of oysters, definitely not what we want to serve with raw oysters.
Mignonette Sauce is a little spicy, a little peppery, and a little on the sour side. It's made to balance the briny, salty flavor of fresh oysters.
How to buy oysters
When you're looking for oysters, there are a few basic things to look for. You want live oysters that have been recently harvested and kept cool and wet. Try to shop at reputable seafood seller or fishmonger–that's the easiest way to ensure quality. All oysters should be labeled with harvest tags that tell you when and where they were harvested. If they don't have them, go elsewhere.
Here are a couple more things to keep in mind while you shop:
Oysters should smell fresh and briny, not fishy or rotten
Shells should be tightly closed, or snap shut when gently tapped
They should feel heavy for their size
Shells should be unbroken and undamaged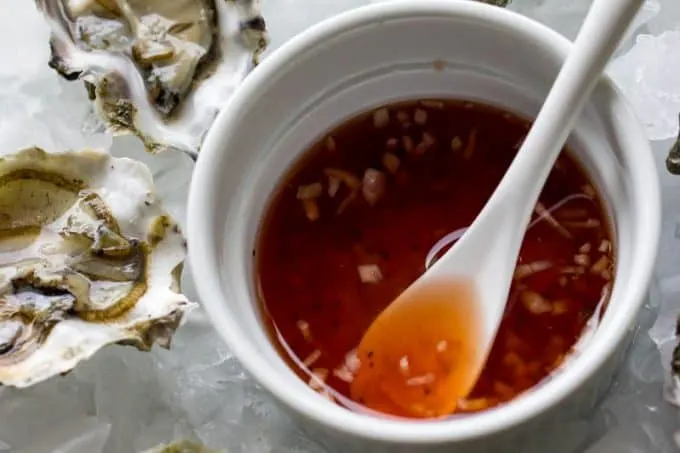 How to store raw oysters
When you've brought your oysters home, put them in the fridge right away. Double check for any open (dead) oysters and throw them out. It's important to keep oysters cool and damp when they're being stored.
A good way to do that is to put them in a bowl covered with a wet towel in the fridge. Don't put them on ice, because you don't want them to freeze. A frozen oyster will die and go bad.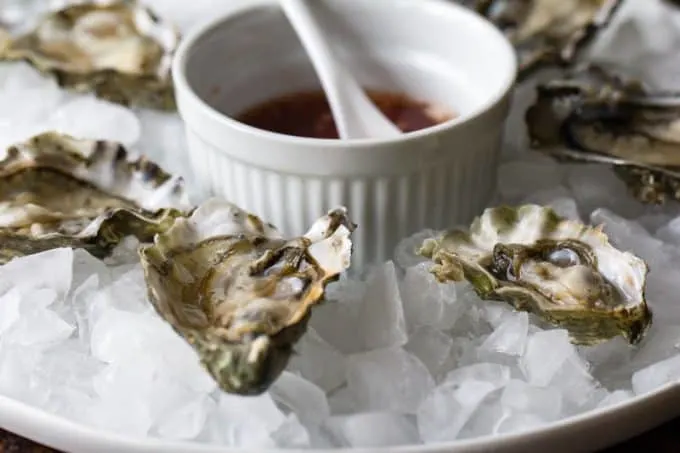 How to shuck oysters
Before you shuck your oysters, scrub the grit off the outside of the shells with a stiff brush.
To open your oysters, use an oyster knife. They're heavy enough that they won't break or snap!
Wear a heavy glove so you don't accidentally cut yourself, and hold the oyster in one hand with the back hinge facing you. Slip the knife into the hinge and twist it until you feel the hinge pop open. Run the blade along the inside of the flat side of the shell to separate to oyster meat from the shell.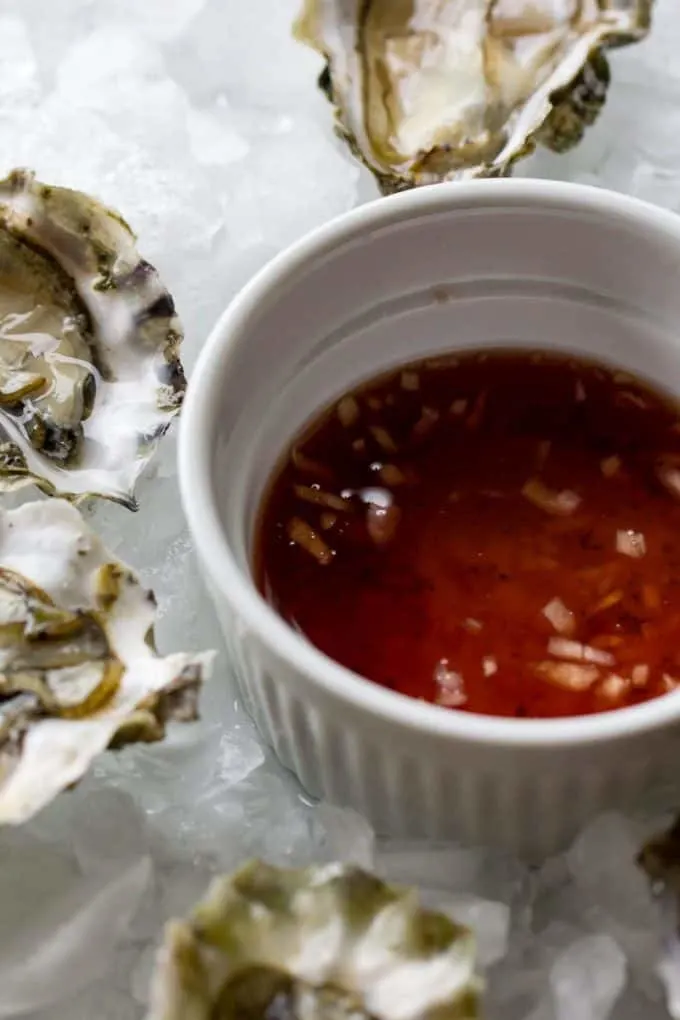 What to serve with oyster shooters
Serve your oysters in one side of the oyster shell over ice to keep them very cold. You can find lots of different trays to serve them on. One I like is shaped like a stylized shell! Serve your mignonette sauce next to the oyster tray in a small dish.
There are a few different things you can serve along with your classic Mignonette Sauce. Having a few options can be fun for your guests. They can mix and match and experiment to see what they like best!
Cocktail sauce
Bread with butter
Eggplant
Horseradish
Cheese
You might also want to include a few drink options. You can totally serve up your oysters with your favorite beer, but if you like wine here are some ideas.
Champagne
Sherry
Muscadet
Need more seafood in your life?
Try my Traeger Clams for something a little more backyard casual, or my Coconut Shrimp for the best seafood breading you'll ever make. Or check out one of my other favorites!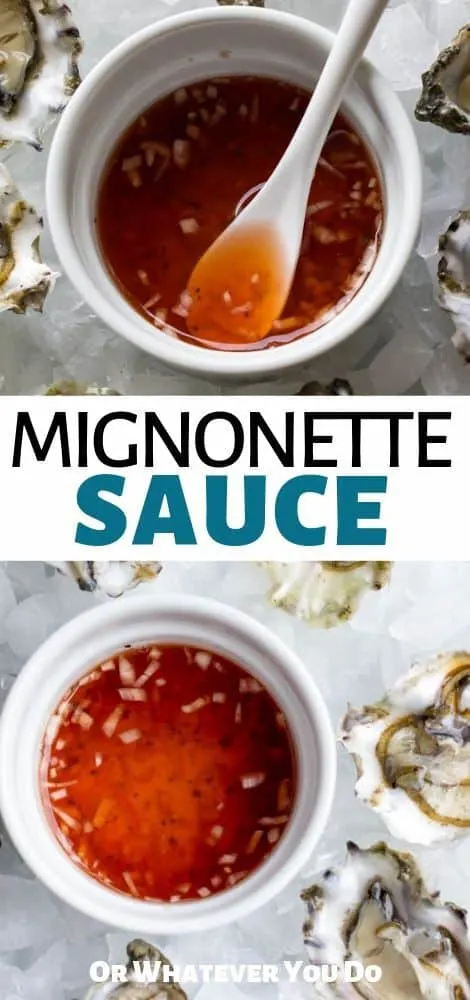 Yield: 6 servings
Mignonette Sauce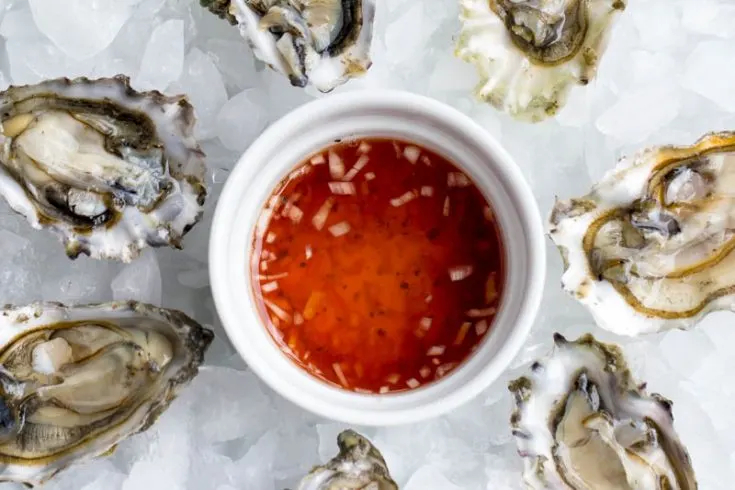 Simple and classic sauce that is made with simple ingredients. Serve with fresh oysters.
Ingredients
1/2 cup vinegar
1/4 teaspoon salt
1/4 teaspoon pepper
1/4 cup diced shallots
Instructions
Combine all ingredients and let rest for 15-20 minutes so the flavors can meld. Serve with fresh oysters!
Nutrition Information:
Yield:
6
Serving Size:
1
Amount Per Serving:
Calories:

9
Total Fat:

0g
Saturated Fat:

0g
Trans Fat:

0g
Unsaturated Fat:

0g
Cholesterol:

0mg
Sodium:

89mg
Carbohydrates:

1g
Fiber:

0g
Sugar:

1g
Protein:

0g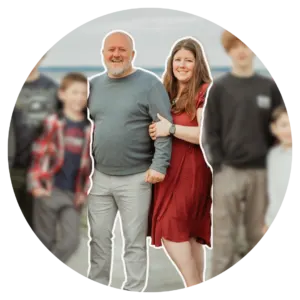 Nicole Johnson, a self-taught expert in grilling and outdoor cooking, launched Or Whatever You Do in 2010. Her blog, renowned for its comprehensive and creative outdoor cooking recipes, has garnered a vast audience of millions. Nicole's hands-on experience and passion for grilling shine through her work. Her husband, Jeremiah Johnson, also plays a pivotal role in recipe development, adding his culinary flair to the mix. Together, they form a dynamic duo, offering a rich and varied outdoor cooking experience to their followers.