Want to throw something on the Traeger that isn't beef or pork? Love seafood? This Traeger Salt & Pepper Spot Prawn Skewers recipe will for sure hit the spot! Salty, smoky, and oh-so-good! It'll be a hit at any barbecue you have this summer.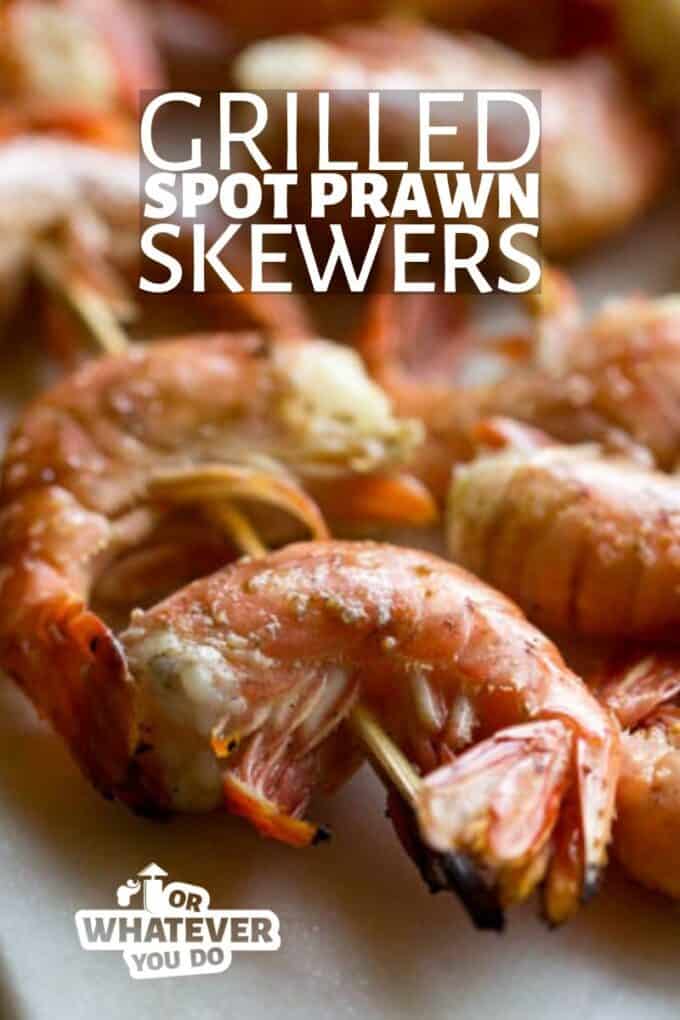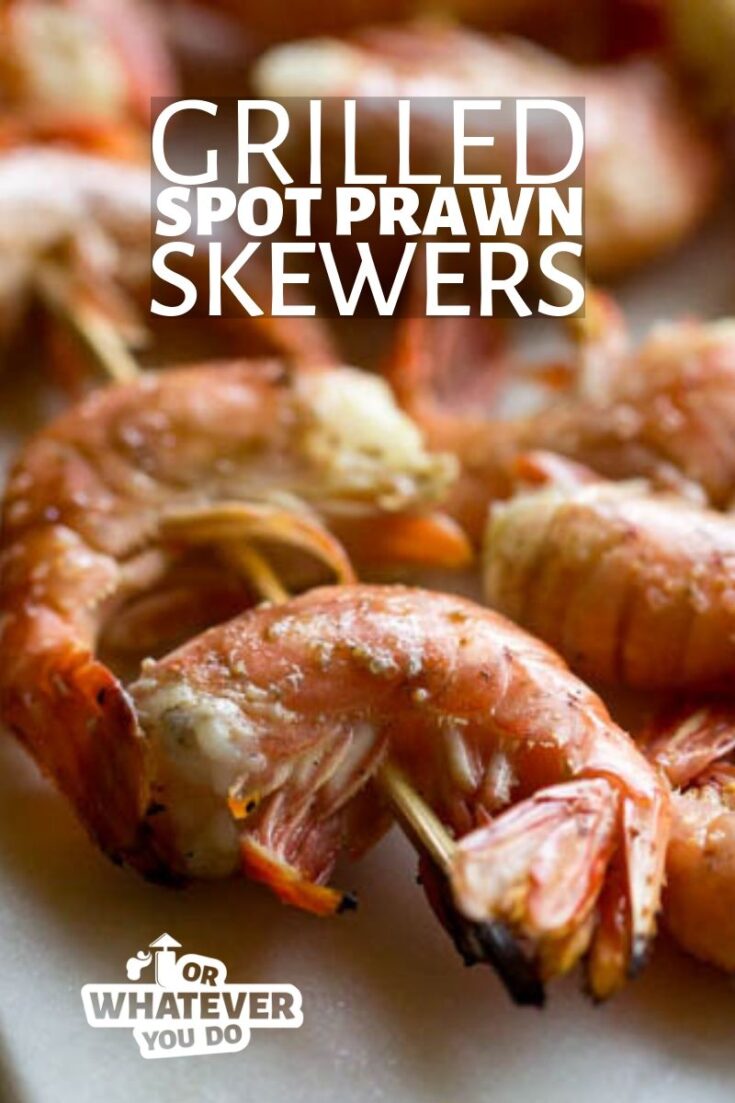 Traeger Salt & Pepper Prawn Skewers
I don't know about you guys, but grilled seafood is the BEST kind of seafood. The rich taste with the wood fire flavor is a perfect match. Plus, if you dip it in my Smoked Garlic Butter, you might need to have a moment of silence for what was your self control.
This recipe uses super simple spices that everyone has at home, but you can go ahead and add something extra if that's your thing. Some smoked cayenne pepper will add a little spiciness and would taste delicious when it's grilled.
Grilling the same old meats can be boring and it's fun to try new things, and these are the perfect way to try switching it up without going too crazy!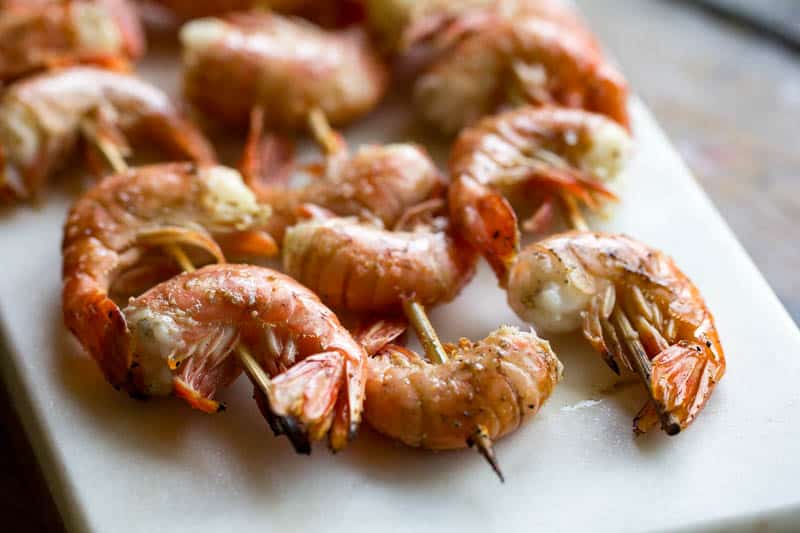 What are spot prawns and where can you get them?
Spot Prawns are a type of shellfish that is popular along the West Coast. The season is short and they aren't widely available commercially, so if you can find some you are very fortunate.
We started fishing for spot prawns this year and they were delicious! Beginner's note though, not for the squeamish. You have to remove the heads and clean the prawns right away when you catch them because if you leave the heads on after the prawns have expired it releases things into the meat that makes the meat mushy. You don't want mushy meat, so make sure that important step has been done to whatever spot prawns you get.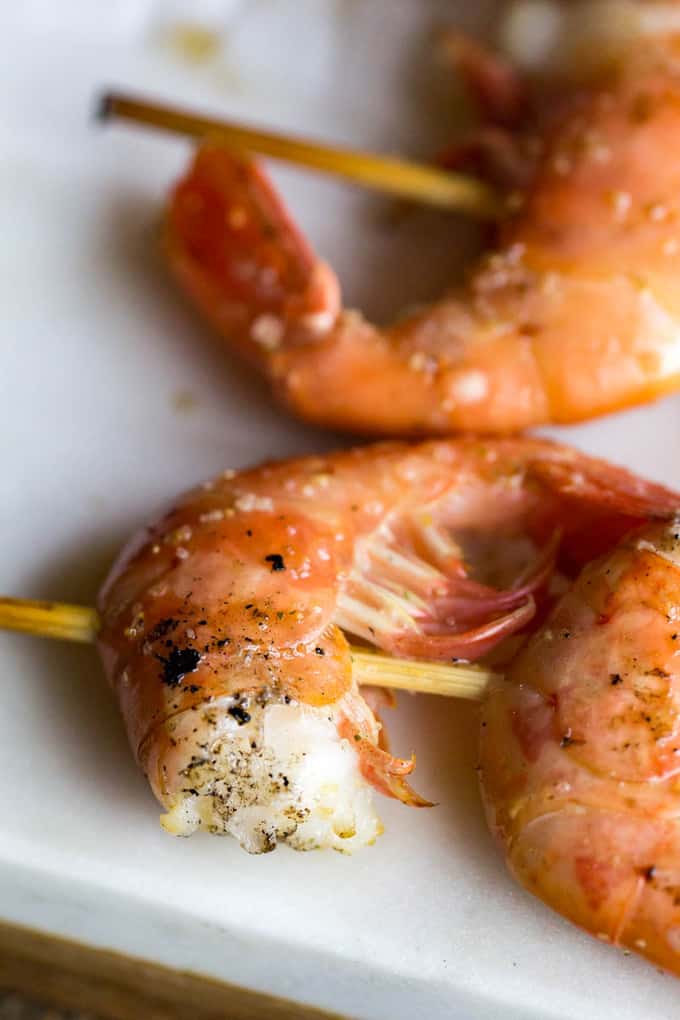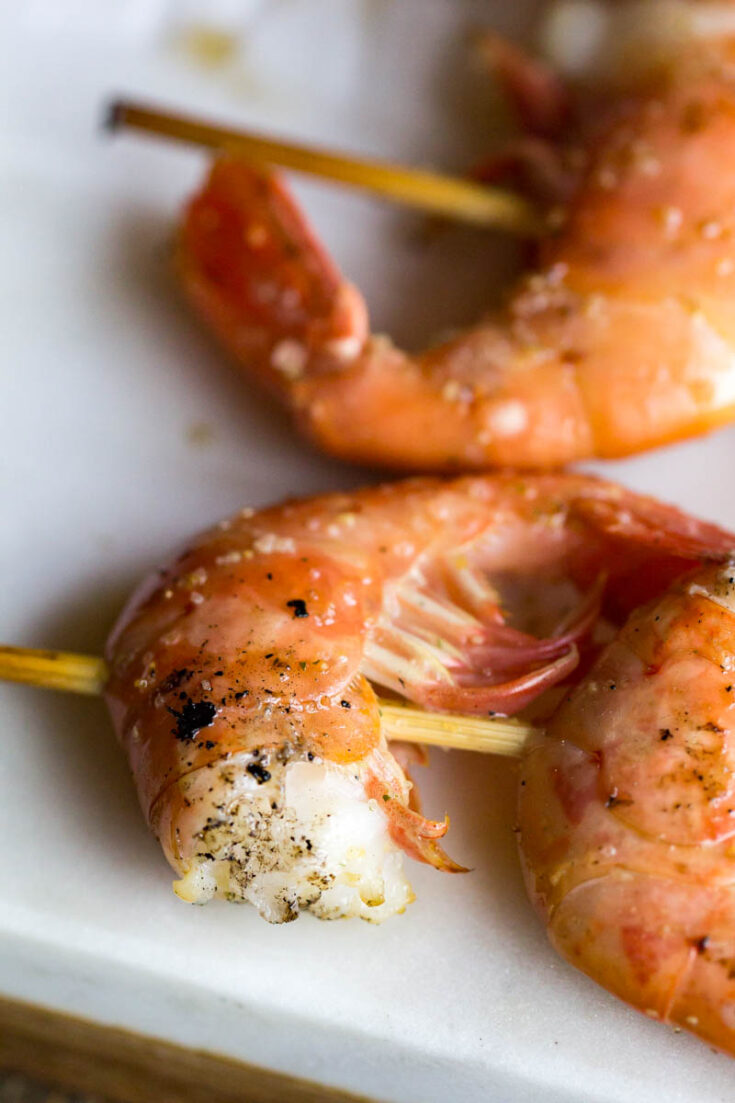 How to Cook With Skewers
A discussion we probably need to have so that everyone doesn't burn down their decks is how to prepare skewers before they go on the grill.
Trust me, it's a mistake that everyone's made at least once or twice in their lives, myself included. It really happens to the best of us!
If you're going to be cooking with skewers here are a couple of tips to make sure you don't have any unwanted fires!
Soak them

– I cannot stress this enough; if you're using wooden skewers you MUST soak them in water beforehand or it can end in disaster. By disaster, I mean burnt skewer, burnt food, and utter embarrassment. It's ideal to let them soak in water overnight, but if you're in a rush, just make sure they get at least 30 minutes.

Leave 'em be

– Let them sit on the grill and don't move them around too much once they're on. This will help with sticking and it'll also get those amazing grill marks on the prawns – you'll look like a pro! You can also apply olive oil to the grill before you start to be on the cautious side.

Make sure there aren't any splinters

– This is something that a lot of people overlook, but it's important! You don't want to be chomping down on wood. Just check the skewers for any large chunks sticking out and use a knife to shave them off.

Cook over lower heat for a longer time

– To reduce the risk of burning the skewers, it's best to cook on a lower heat, like medium, rather than a higher heat. Again, no one wants to burn down their deck!
Stick to these simple tips and everything will go smoothly! Whatever happens, just don't panic and try your best, no one's perfect!
Can I Use Shrimp Instead?
If you can't get your hands on spot prawns, you can totally substitute shrimp, just be sure not to get the little itty-bitty ones! They'll be hard to fit onto the skewers.
If they're frozen, just make sure to thaw them completely before you cook with them.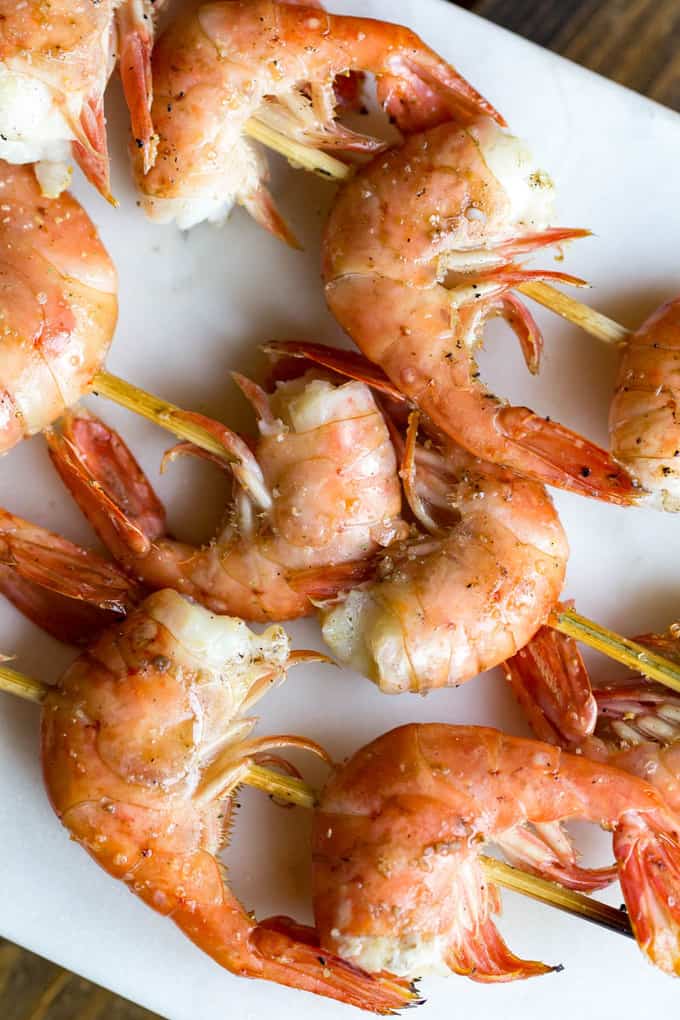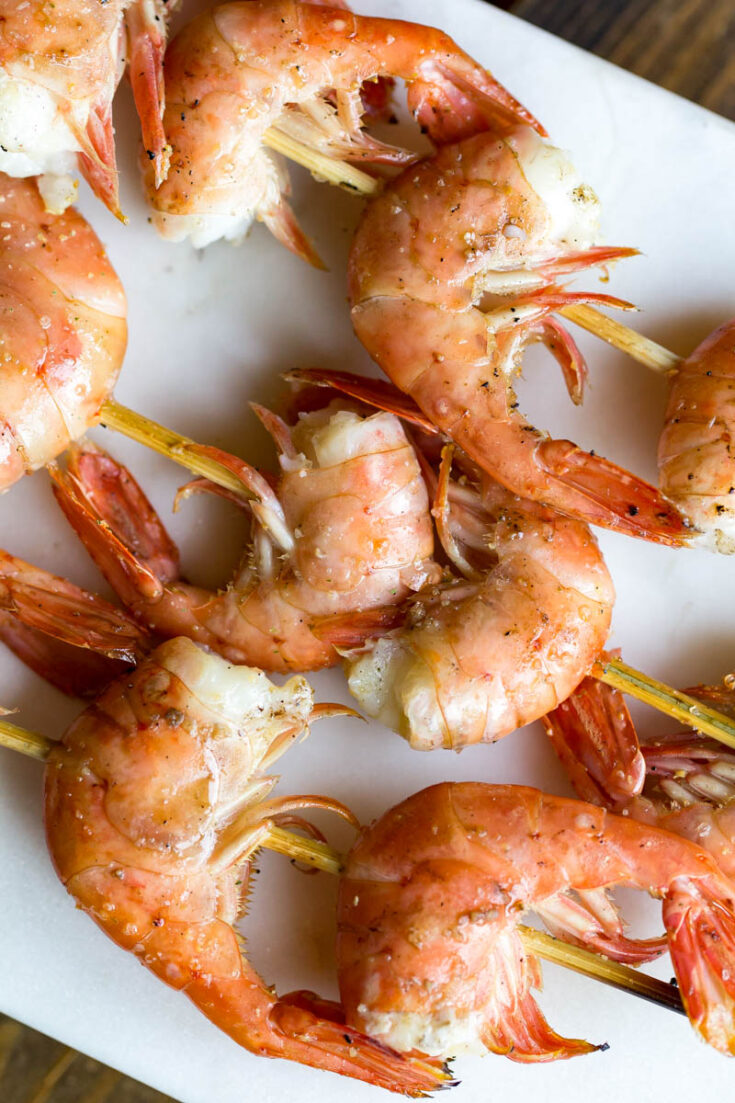 What to Serve With These Prawns
There are SO many things that you can serve with spot prawn skewers! Let me suggest a couple of my favorites for you.
No matter what you decide to have with your prawns, it'll be delicious!
Pin for later!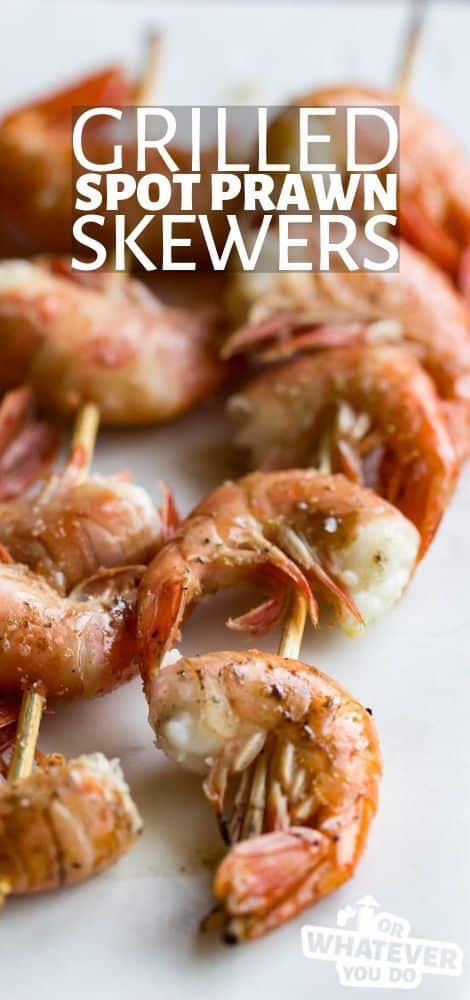 Yield: 6 servings
Traeger Grilled Spot Prawn Skewers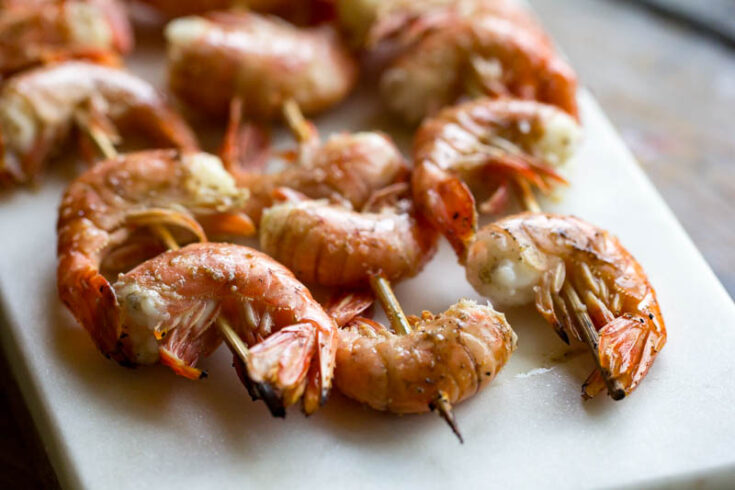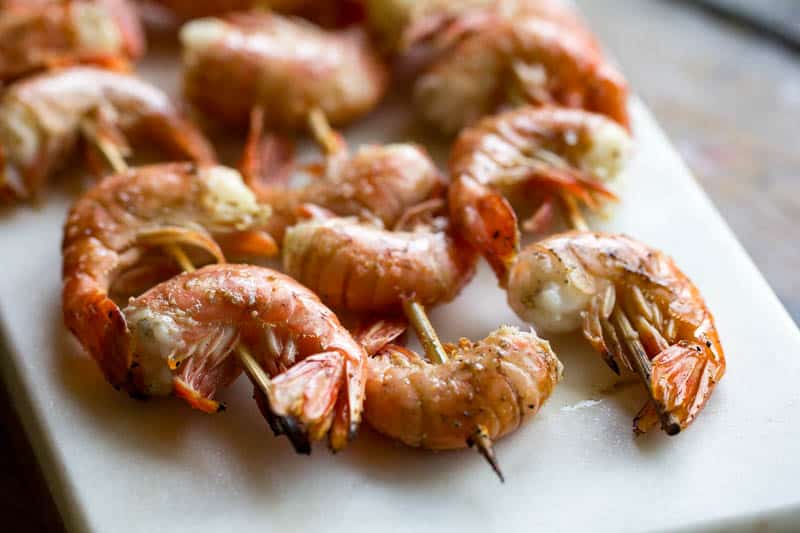 These easy Traeger Grilled Spot Prawn Skewers are grilled quickly on the pellet grill after getting brushed with oil, salt, and pepper.
Ingredients
2 pounds spot prawns, cleaned
2 tablespoons oil
generous amounts of salt and pepper
Instructions
Preheat your grill to 400°.
Skewer your shrimp with soaked skewers, brush with oil, and sprinkle liberally with salt and pepper.
Place the skewers onto the grill and close the lid. Cook for 4-5 minutes per side.
Remove and serve hot!
Recommended Products
As an Amazon Associate and member of other affiliate programs, I earn from qualifying purchases.
Nutrition Information:
Yield:
6
Serving Size:
1
Amount Per Serving:
Calories:

221
Total Fat:

7g
Saturated Fat:

1g
Trans Fat:

0g
Unsaturated Fat:

6g
Cholesterol:

319mg
Sodium:

1481mg
Carbohydrates:

2g
Fiber:

0g
Sugar:

0g
Protein:

34g
Nutrition data provided here is only an estimate. If you are tracking these things for medical purposes please consult an outside, trusted source. Thanks!