This Traeger Surf and Turf Seafood Feast is one for the books. We're talking fancy like anniversary party, big milestone birthday, intimate engagement party, or for any kind of dinner where you're really trying to impress. It is an expensive indulgence, but making it at home will be about 1/4 of the price of getting this all at a restaurant, which means you can invite 4x the people! (Or that's how the math works in my head, anyway. ;))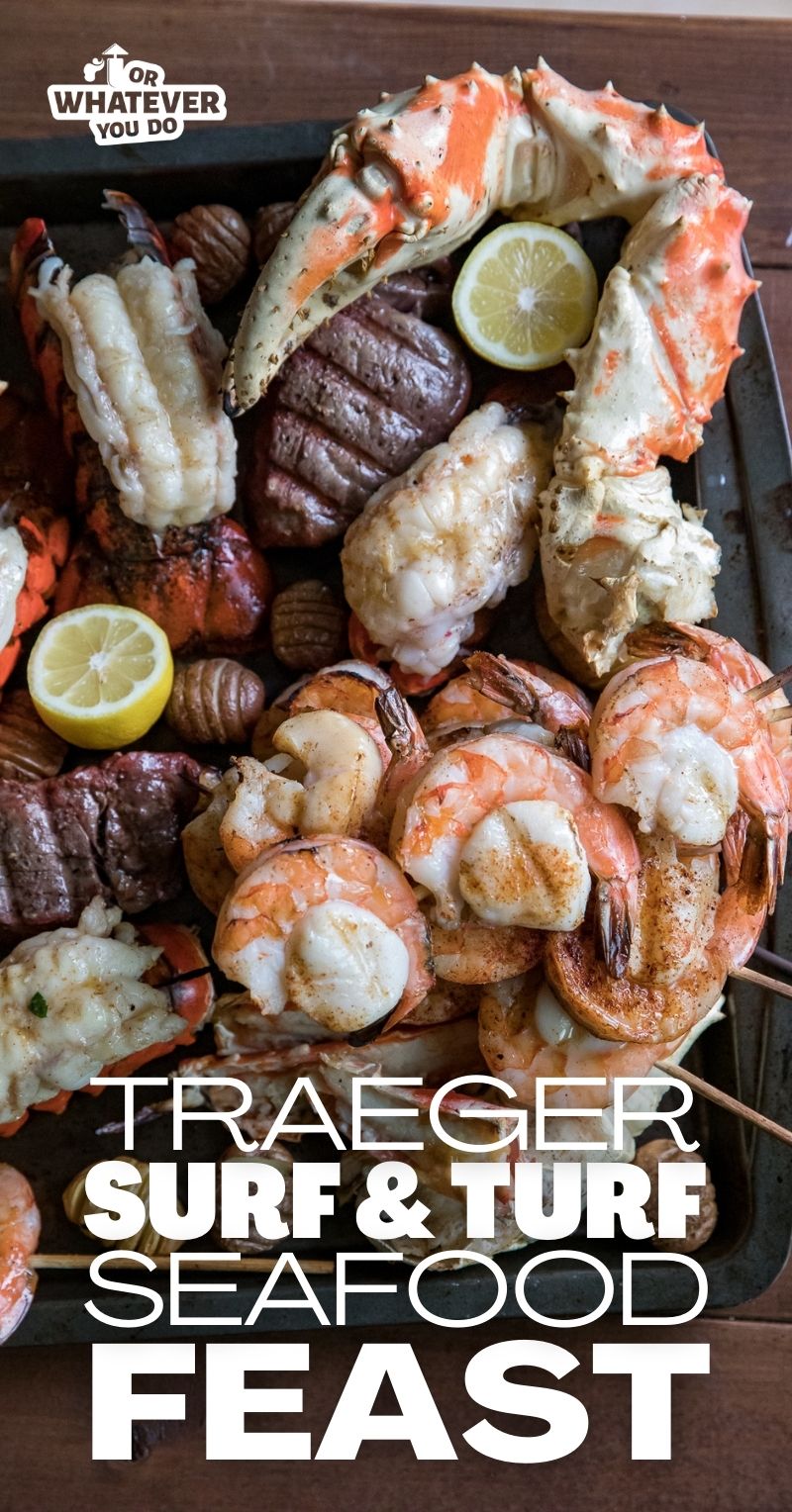 Traeger Surf and Turf Board – The ULTIMATE Ultimate Feast
When I was growing up, the only place there was to get good seafood was Red Lobster. I didn't eat there until I was a teenager, I don't think, but as soon as I figured out how to get into some crab legs, I was done for.
Now, I live in the best area in the entire country for fresh seafood (I will fight you, Maine, and every other coastal state – don't come @ me) and there are about 6 world-class seafood restaurants within an hour of me, but I still occasionally sneak away for lunch at the lob. 😉 Those Cheddar Bay Biscuits are worth it. Not sorry.
My order is always The Ultimate Feast. It has a little of every kind of awesome seafood like crab, a lobster tail, shrimp scampi, and breaded shrimp, along with a couple of sides too, but I'm here to tell you that this epic Traeger Seafood Board would blow even the fanciest seafood towers at the most expensive steak houses out.of.the.water.
Our Traeger Seafood Feast has Grilled Lobster Tails, King Crab Legs, Shrimp and Scallop Skewers, medium-rare Filet Mignon, and little mini Hasselback Potato Bites.
Serve it with drawn butter for dipping, grilled lemon for squeezing, and plenty of crab crackers and napkins at the table because you are about to get messy.
We didn't even have a board big enough to contain all of this, it was so insane.
Check out all of my Traeger Recipes!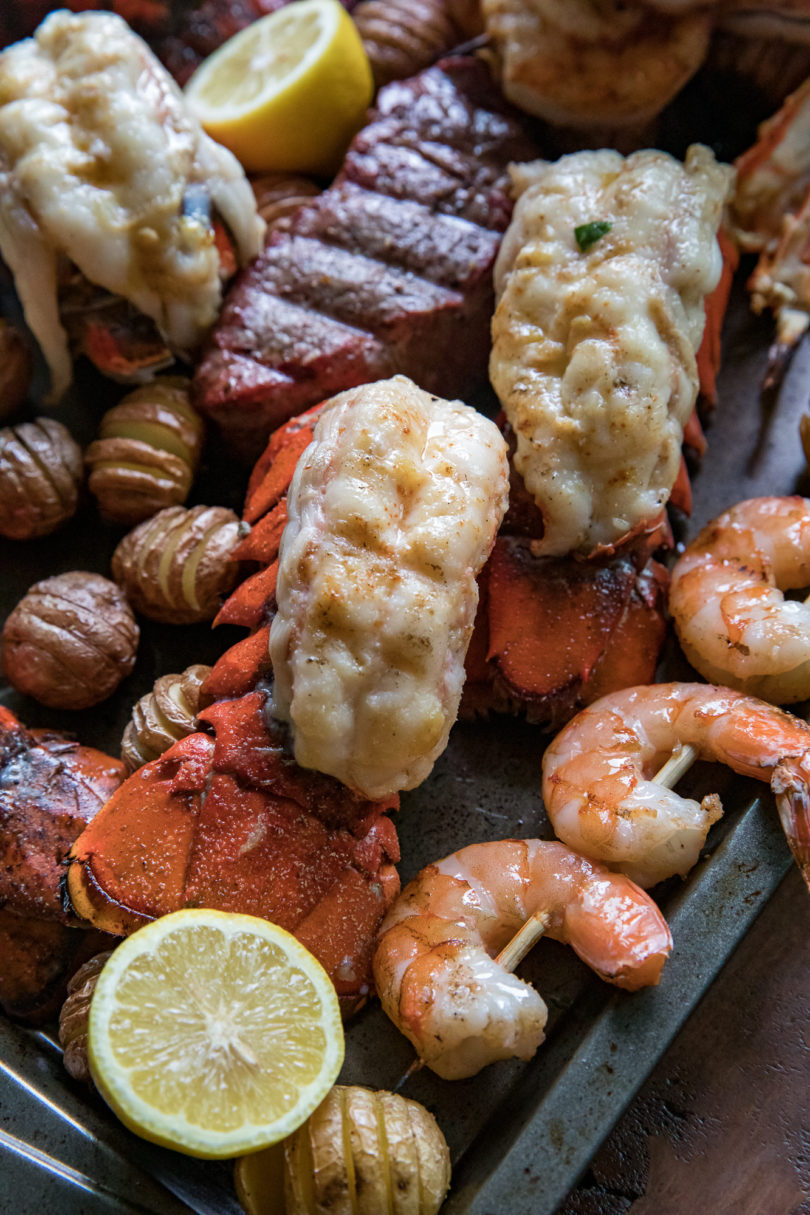 Ultimate Surf & Turf Board shopping list
Wondering if you have to hit the store? Here's the list of items you'll need to make this recipe. For specific amounts, please refer to the printable recipe card at the bottom of the post.
Remember, this is endlessly customizable! Don't like scallops? Don't get them! Have access to fresh Dungeness? Use that! What is local is ultimately going to be what is best, so use the highest quality seafood you can find, from the most local sources you can find them.
Colossal Shrimp
Sea Scallops
Lobster Tails
King Crab
Filet Mignon
Whole Lemons
Baby Potatoes
See all of my SHRIMP RECIPES here!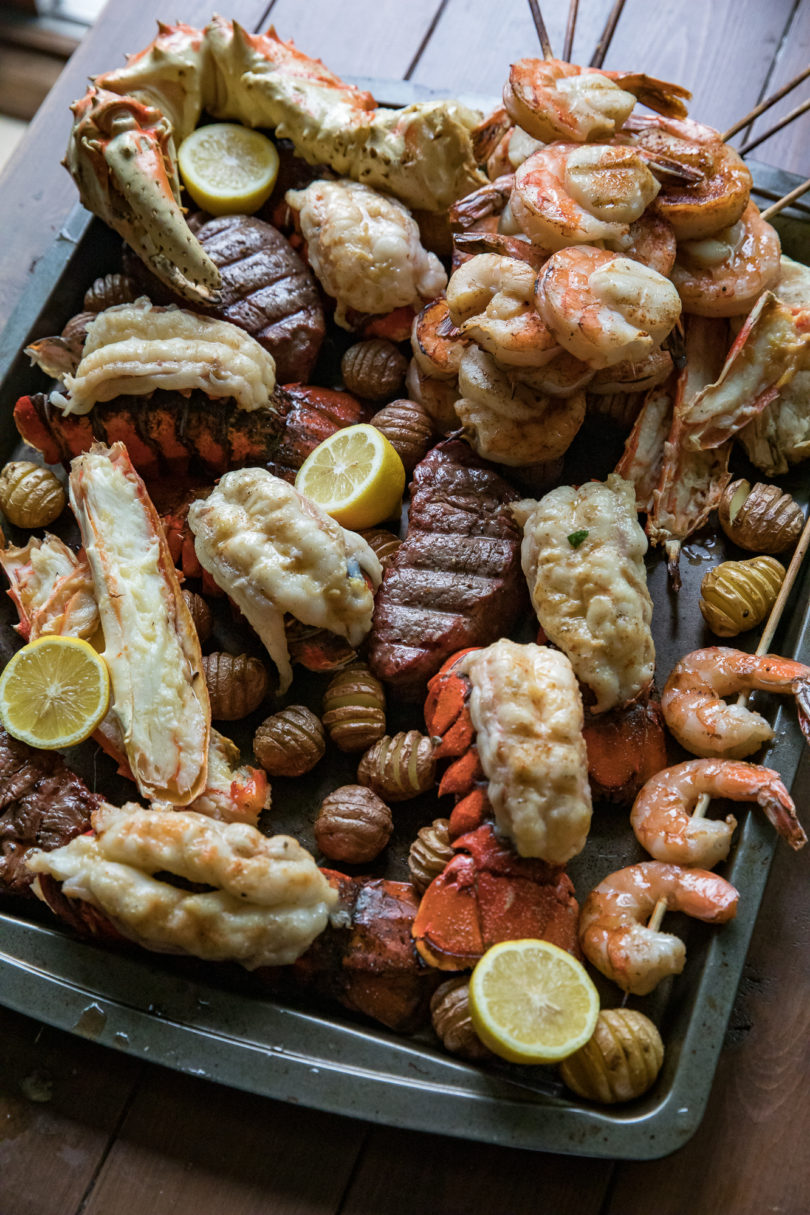 How to make a Traeger Surf and Turf Board
This is just the overview so you can see what you're actually getting into here. When you are cooking, you'll want to use the full recipe at the bottom of the page.
Preheat the pellet grill
We're going fast and hot for this whole shebang, so preheat to 450° and give the pellet grill time to get there.
Prep all the things
You'll need to butterfly your lobster tails, peel your shrimp, season your filet mignons, skewer your shrimp and scallops, and split your King Crab legs. Also half the lemons, melt some butter, and break out your seasonings and get to sprinkling.

Bonus points if you break out a jar of this homemade Confit Garlic Oil to brush over the seafood!
Timing is everything
In order to get things finished off at the same time, you're going to have to time it well. The filet mignons will take the longest, and also require a rest and a tent once they are cooked, so these go on first. Cook them to about 5° under your ideal finished temp (check out our chart below), pull them, tent them, and then put the crab, shrimp and scallop skewers, and lobster tails on the grill.

Check out the detailed recipes below that will walk you through how to grill each one of these individually, but the basic method is the same for all. Seafood cooks quickly! The crab really just needs to be heated up since it is pre-cooked, and the lobster, shrimp and scallops will be done in around 10 minutes.

Make sure to temp your food with an instant read thermometer like the ThermoWorks Thermapen One!
| | | |
| --- | --- | --- |
| STEAK TEMPERATURES | PULL | FINAL |
| RARE | 115° | 120° |
| MID-RARE | 125° | 130° |
| MEDIUM | 130° | 135° |
| MEDIUM-WELL | 135° | 140° |
| WELL | 140° | 145° |
Eat!
I hope you have your hungriest crew around along with some extra drawn butter, crab crackers, and lobster bibs! This is one for the books, so get to enjoying it while it is hot!
Follow me on Instagram!
Where is the best place to get all this seafood?
We try and catch as much seafood as we can, being near the coast in the Pacific Northwest, but none of what you see pictured here was brought in on our boat.
If I'm planning ahead, I'll throw some seafood in my monthly ButcherBox. Their scallops and lobster tails in particular are fabulous, and I love to keep some in the freezer for a last-minute seafood dinner. They also have great steaks, including filet mignons!
If it comes together at the last minute like this did, your best bet is probably going to be Costco, if you have one around you. They have reliably great seafood, and King Crab especially can be a little difficult to source in some areas.
Get all of my ButcherBox Recipes here!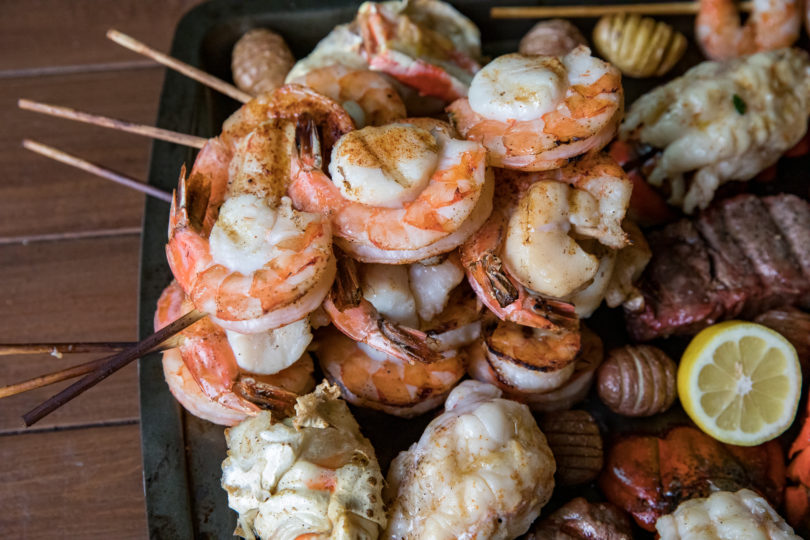 What else can you serve with your grilled seafood feast?
This is an epic meal all by itself, but if you want to throw down some side dishes I've got lots of great options for you!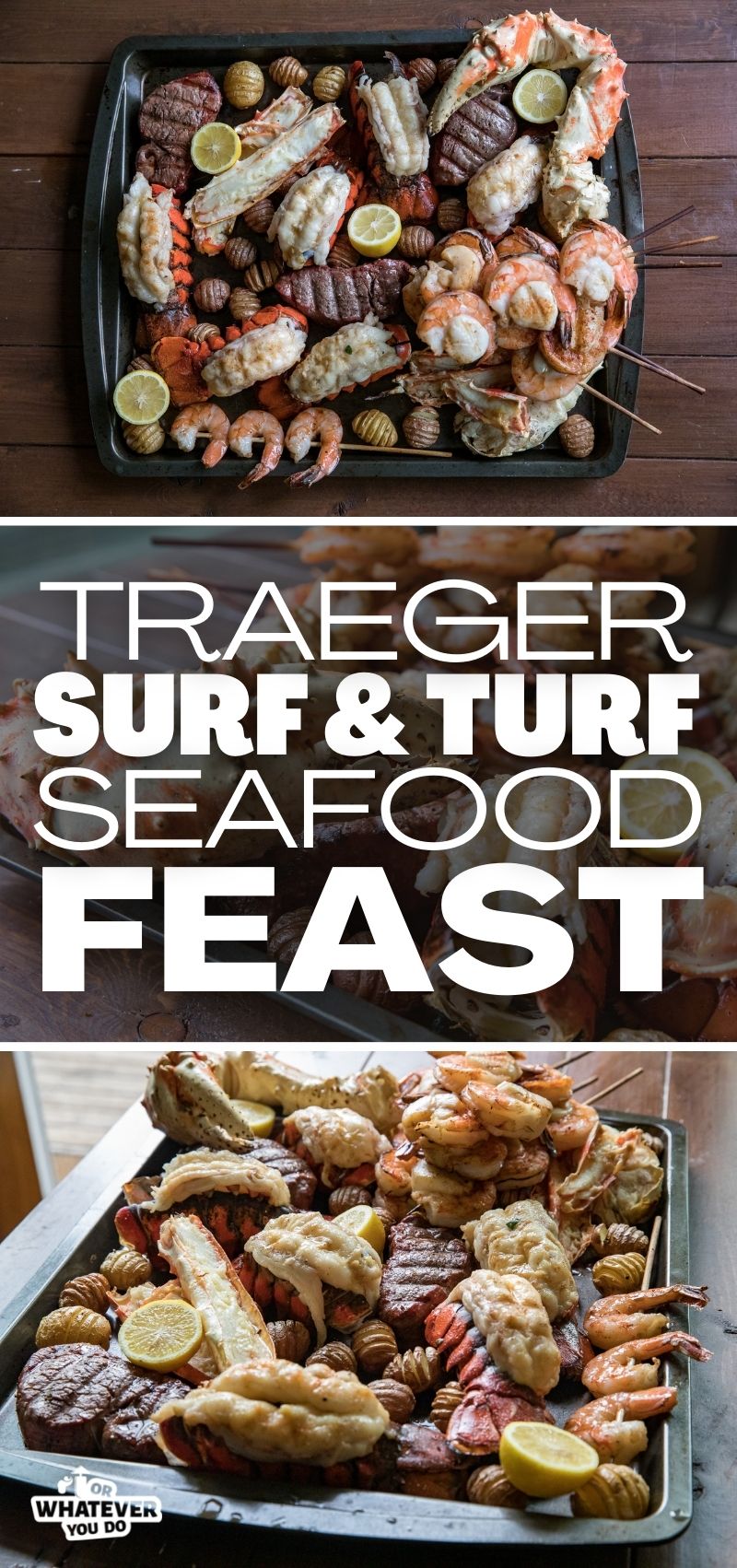 Yield: 12 servings
Traeger Surf and Turf Seafood Feast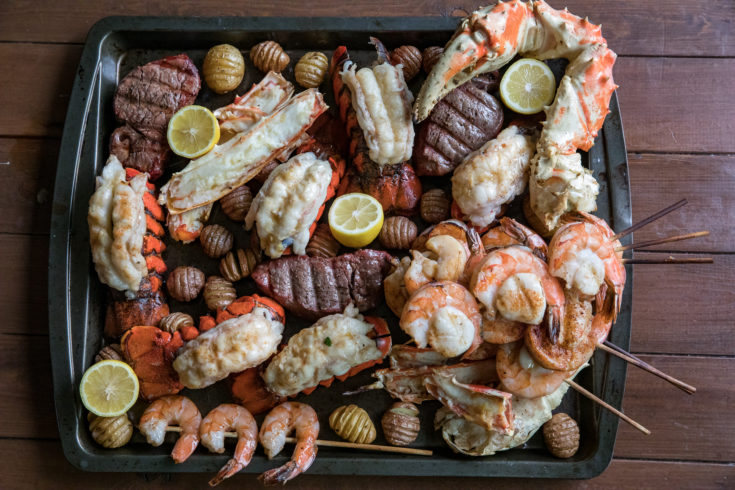 An epic seafood extravaganza, all cooked right on the pellet grill! This is special occasion food, to the extreme. Load up your favorite person's favorite mix of seafood and steak and invite some friends over for the ultimate feast of your dreams.
Ingredients
4 lobster tails
4 filet mignons
3 large King Crab Legs
12 large sea scallops
12 colossal shrimp
2 lemons, halved
salt & pepper
paprika
onion powder
garlic powder
Instructions
Preheat your pellet grill to 450°.
Prep the seafood by butterflying the lobster tails, skewering the shrimp and scallops, halving the king crab legs (if desired, this is optional), and brushing all of it on both sides lightly with olive oil before sprinkling with the seasonings.
Cook the steak first until they reach about 5° less than your desired level of doneness. Pull from the grill and tent with foil.
Put all the seafood on the grill grates and let cook for about 5 minutes. Flip the skewers and check the temp on the lobster at this point. Lobster should be removed from the grill at around 135° so the carryover cooking will bring it to the ideal temp of 140°.
Cook for another 4-5 minutes, or until the food is done. Remove as it finishes and place under the tent with the steaks.
Lay out on a big board, squeeze with lemon and serve with drawn butter.
Recommended Products
As an Amazon Associate and member of other affiliate programs, I earn from qualifying purchases.
Nutrition Information:
Yield:
12
Serving Size:
1
Amount Per Serving:
Calories:

175
Total Fat:

6g
Saturated Fat:

2g
Trans Fat:

0g
Unsaturated Fat:

3g
Cholesterol:

87mg
Sodium:

598mg
Carbohydrates:

3g
Fiber:

1g
Sugar:

0g
Protein:

26g
Nutrition data provided here is only an estimate.