This Traeger Rockfish Recipe is a simple and healthy fish dish that features rockfish, but you can use any firm white fish for this recipe! Bake it in your Traeger grill for a hint of wood-fired flavor.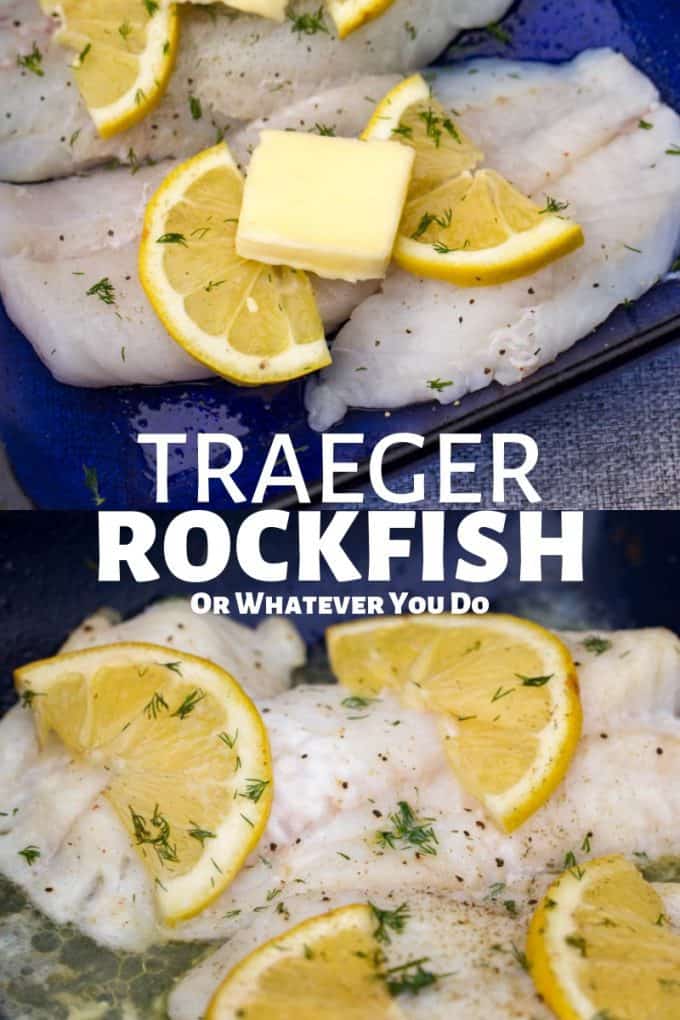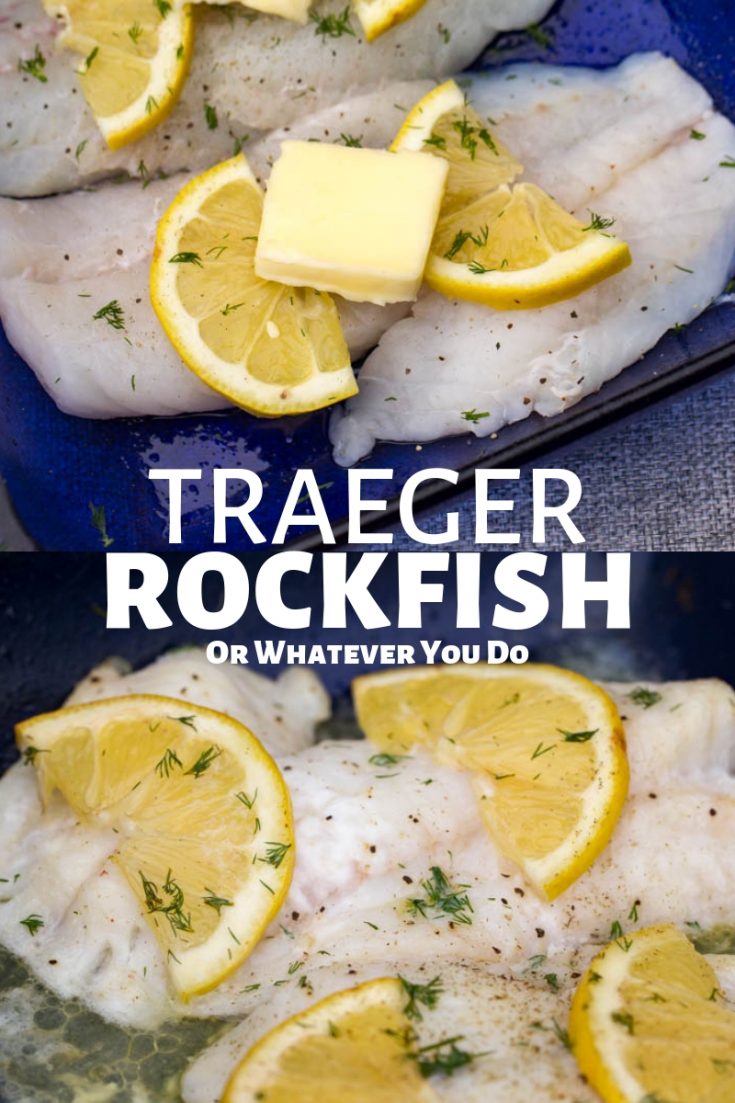 Traeger Grilled Rockfish Recipe
Spring has arrived! Along with Spring comes the uplifted feeling we all get after the long, LONG winter. Even the birds are happy! It's time to think about lightening up our menus and dusting off the grill. I start thinking about picnics, BBQs, fishing, camping and just enjoying the outdoors while we can.
Many times I find myself craving fish, vegetables, fruit, and basically ANYTHING I can throw on the grill and get a meal done so I can enjoy the weather and get the kids OUTSIDE!!!!
This Traeger Baked Rockfish is one such recipe that allows you to do just that!
Get all of my Easy Traeger Recipes here!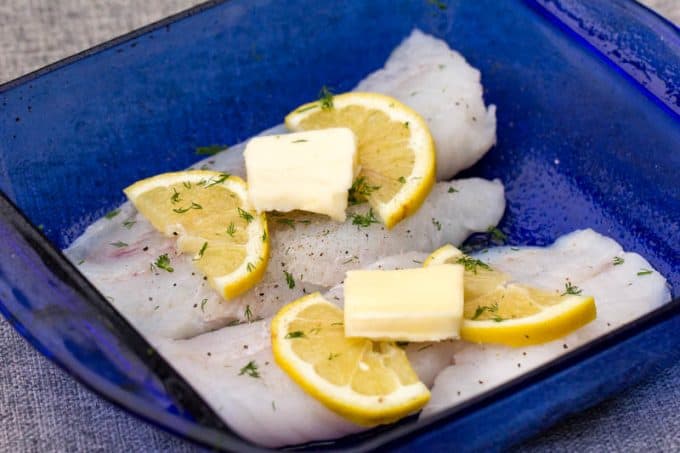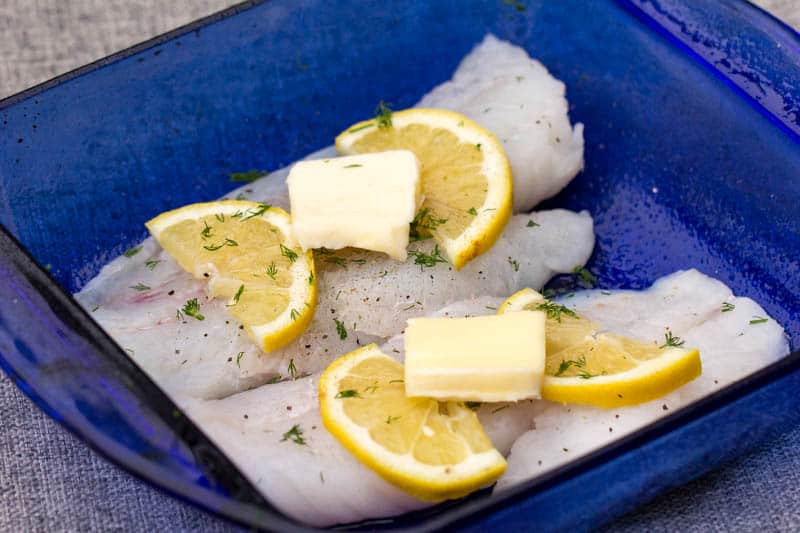 What kinds of fish work for this recipe?
I used Rockfish for this recipe, but any white fish will suffice. This fish is simply seasoned with dill, salt, and pepper. Cooked with the lemon slices on top and butter in the pan. It bakes for about 12-15 minutes at 425 degrees. Quick, easy, and delicious!
If you do choose the grilling option, it's best to use some kind of a foil or grilling pan that prevents the fish from falling through the grates on your grill and allows it to stay moist as it cooks.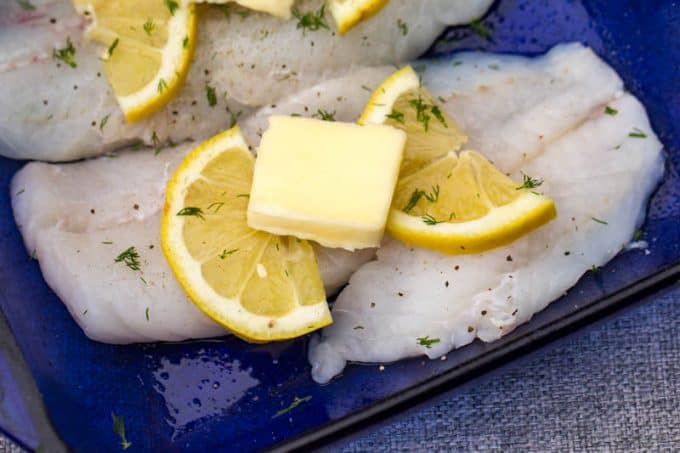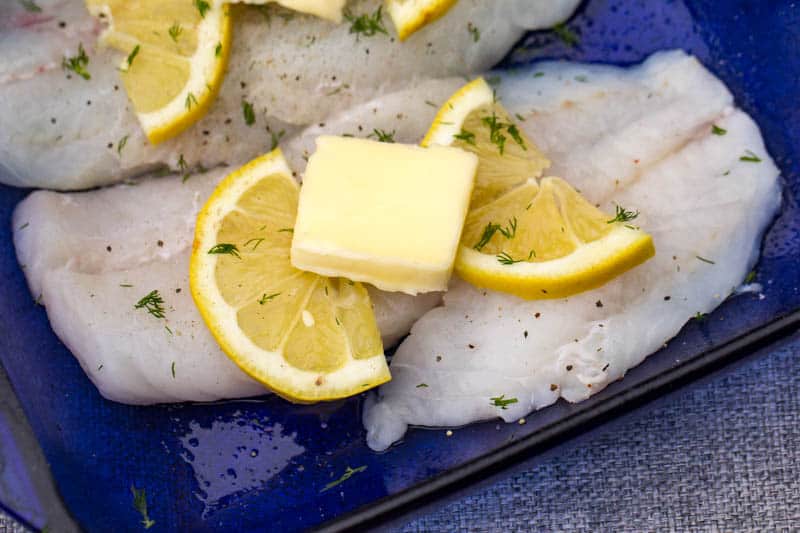 What is Rockfish?
Rockfish are lean, with a mild, sweet, and nutty flavor, and medium-firm texture. The name Rockfish is actually a broad term for a variety of over 70 varieties of fish, most species are found in the North Pacific. They get their name because they like to hide among the rocks.
These are a favorite of the local fishermen in the Pacific Northwest, and we currently have a freezer full of them, so look out for more Rockfish recipes in the not-too-distant future!
Join our Easy Traeger Recipes Facebook group!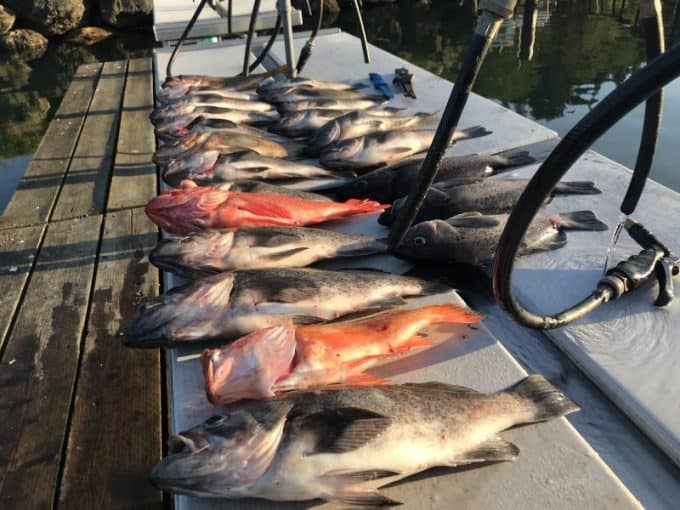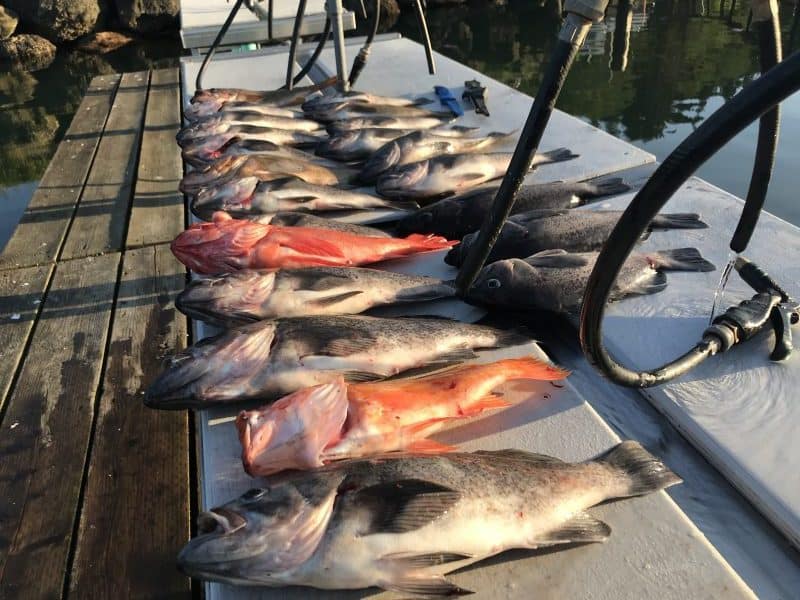 What do I look for when buying fresh fish?
Always look for clean, firm flesh without spots or discolored areas. The flesh should look almost translucent with a pinkish tint and spring back when pressed. Fish should smell "briny" clean but should never smell "fishy".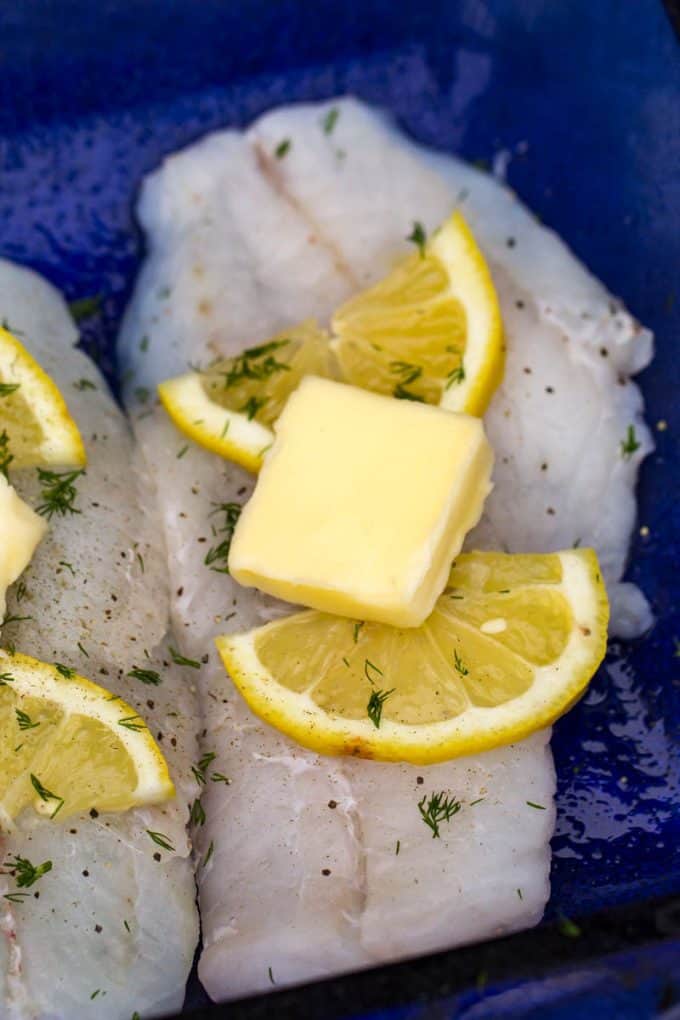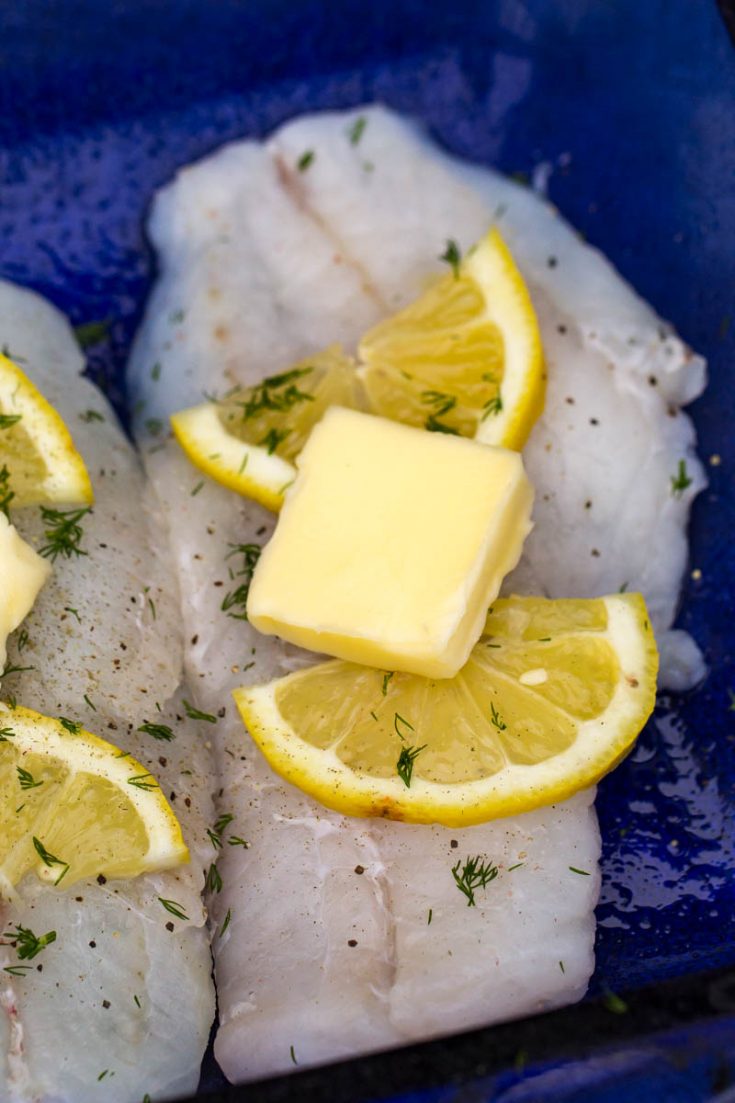 Can I cook this fish in the oven?
YES!!!!
The time it will take for your fish to cook depends on the thickness of the fish, how many times you open the grill, which direction the wind is blowing, and how warm or cold it is outside. Make sure you are always cooking to temp and/or feel as opposed to strictly time.
I baked mine for 12-15 minutes at 425 degrees on my Traeger Grill. So, adjust your baking time accordingly. If baking at 375 degrees I'd plan on 15-20 minutes.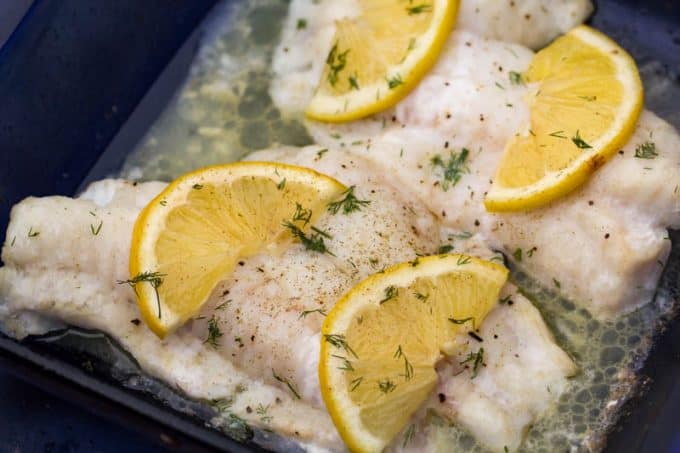 How do you know when fish is done?
Knowing the right time to pull fish off of the heat can be tricky, which is why most people overcook fish. There are a couple of no-fail tricks that'll leave you with perfectly cooked fish every time. Read on to find out more!
The fork test
Look at it, it should become opaque when it is fully cooked. Then, using a fork, insert into the thickest part of the fish at a 45-degree angle and twist, pulling up some of the fish. It should flake when it's done. If it is not quite done, it will resist flaking and still appear somewhat translucent.
Digital Meat Thermometer
The internal temperature of your fish should reach 145 degrees to be safely done.


I would use both methods until you get the hang of it. After you have cooked fish a few times, you will be able to tell very easily when it's done. But when in doubt, temp it out!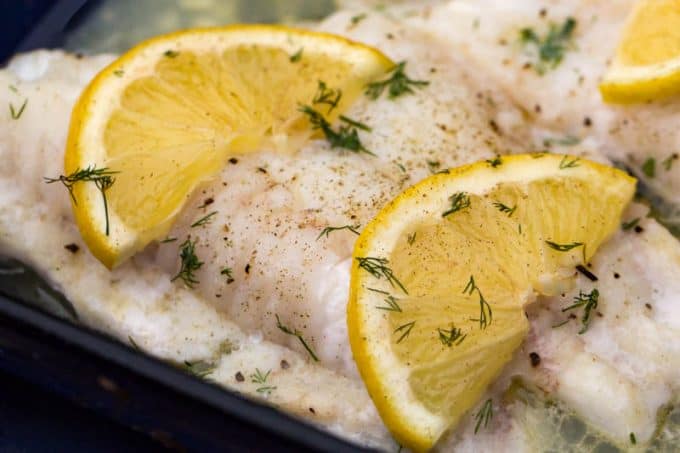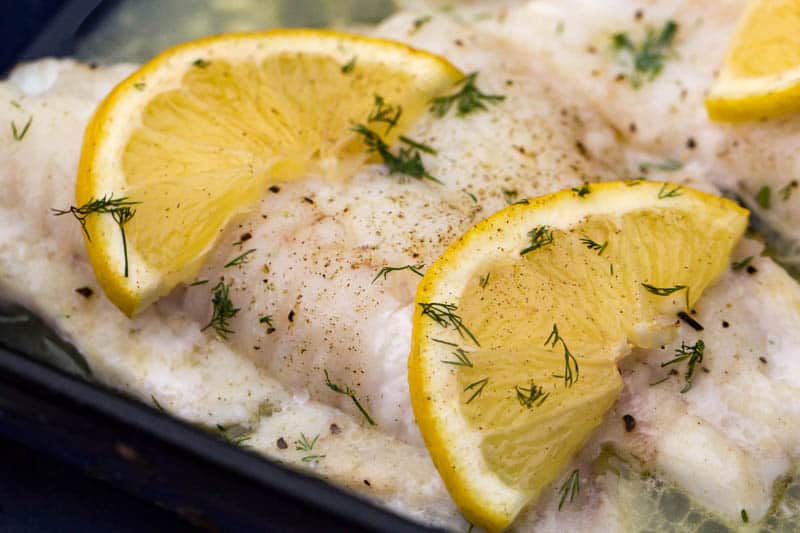 What to serve with this Rockfish?
Ok, let's talk about the NUMEROUS sides and beverages we can serve with this fish dinner!
I have several recipes for side dishes right here that will pair perfectly with your meal from the sea!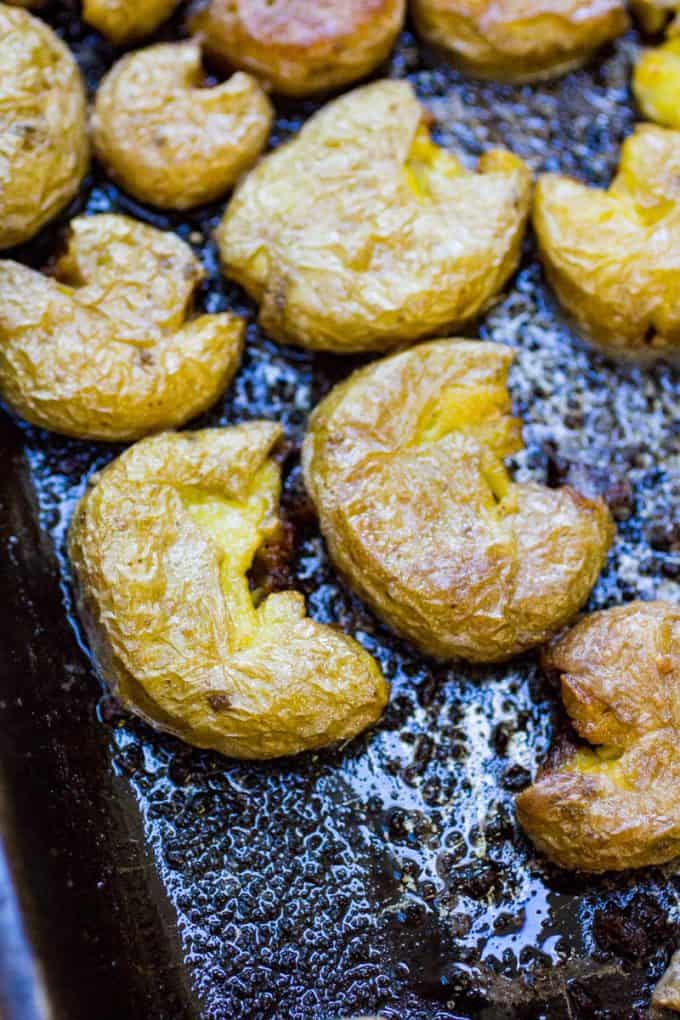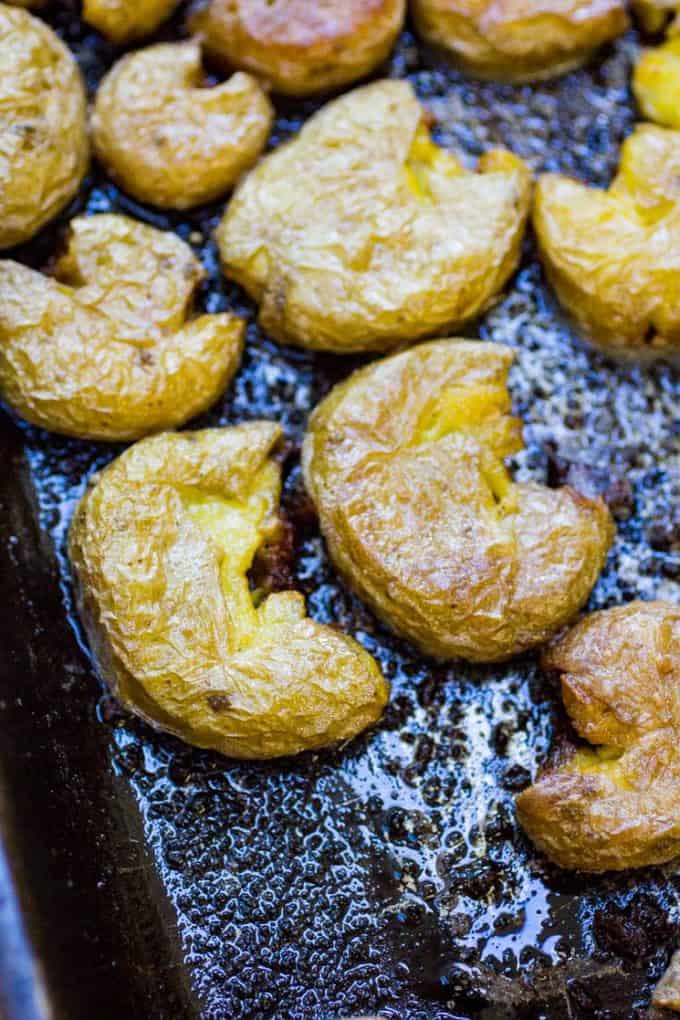 A cold relish tray is a wonderful option to sneak in the veggie servings! Find a pretty condiment serving tray (the kind with individual sections), and fill it up with a variety of pickles, olives, my Pickled Asparagus, a hot spicy mix (the kind with cauliflower, carrots, pearl onions and hot peppers), pickled string beans, and a variety of cubed cheeses and toothpicks.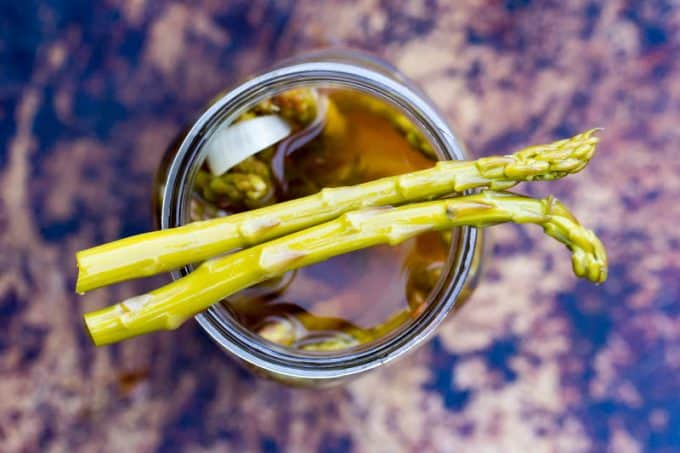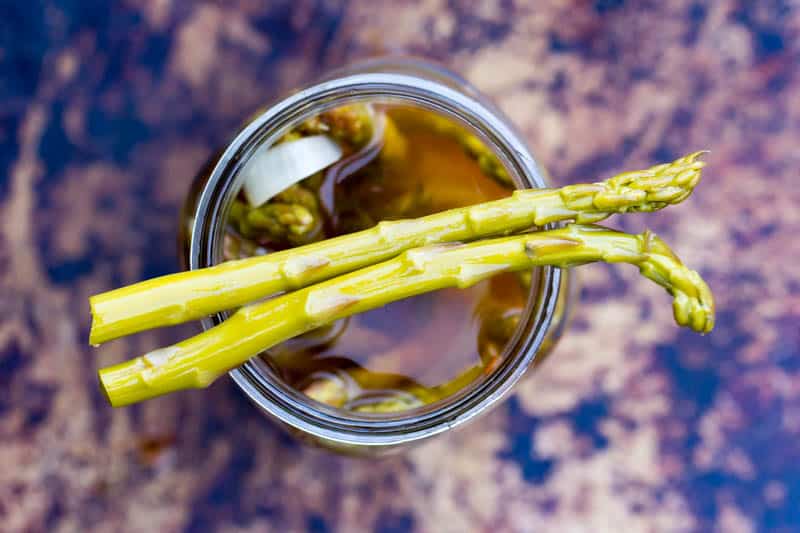 What drinks should I serve with this Rockfish Recipe?
A bottle of good white wine is always a safe option to serve with white fish. Sauvignon Blanc or Gamay pairs well.
If you'd like to serve cocktails I suggest my Classic Margarita, or perhaps my Strawberry White Wine Spritzer.
If you'd like to serve a mixed drink my recipe for Homemade Sour Mix would be a great option to mix with your preferred choice of whiskey or brandy.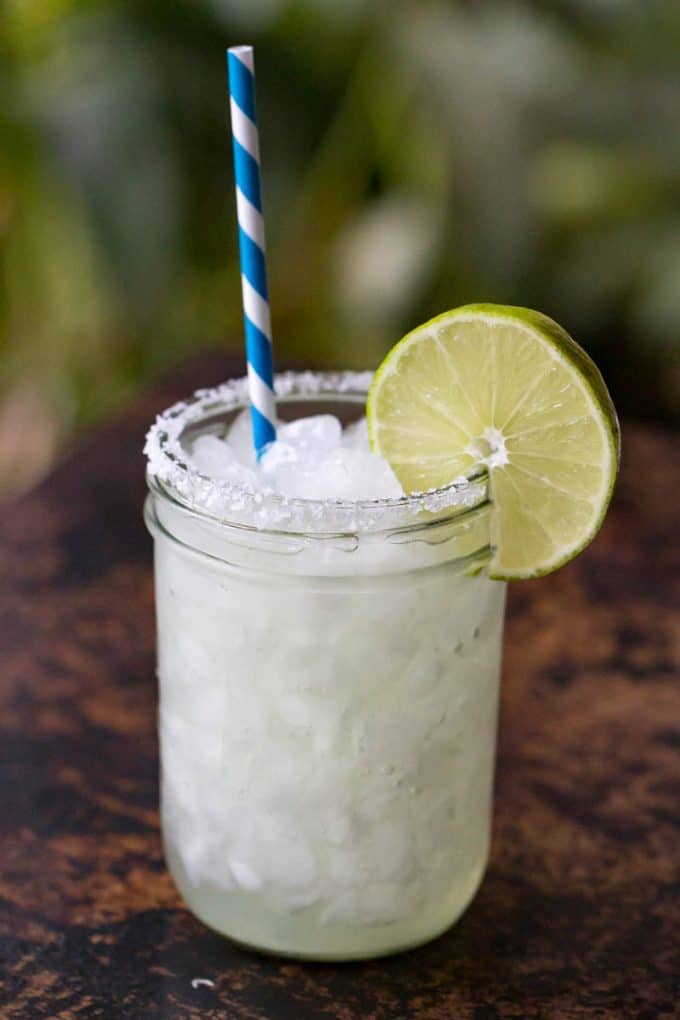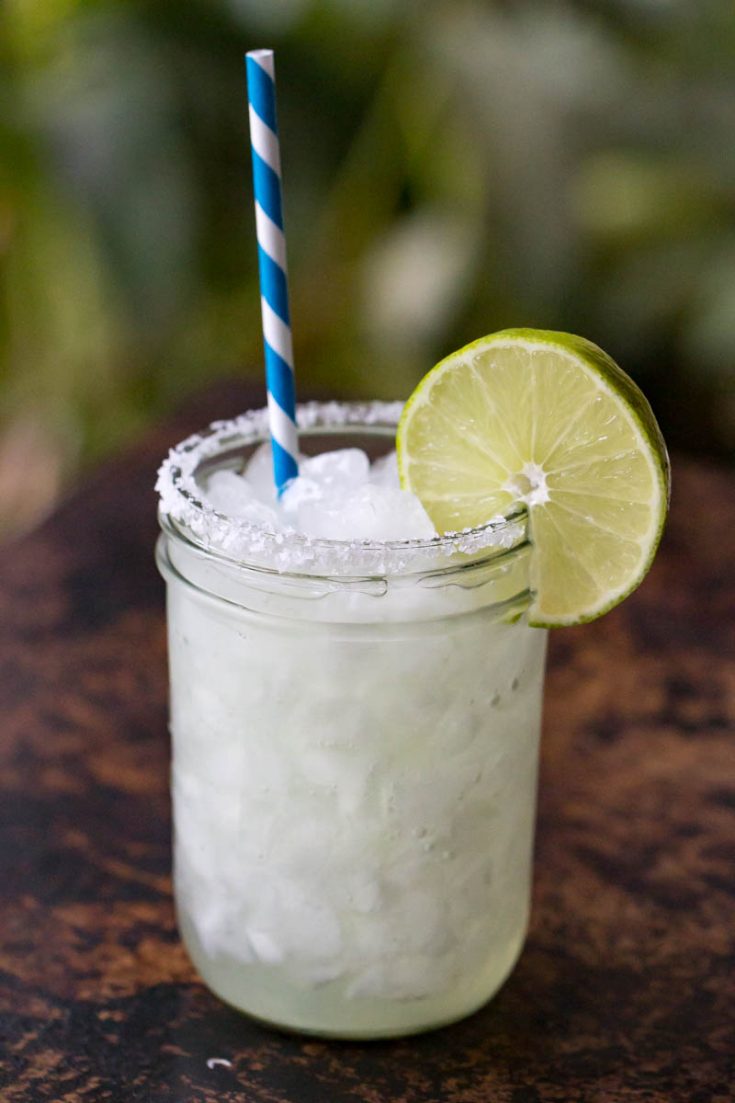 What desserts should I serve with Grilled Rockfish?
Citrus always blends well with fish, so I suggest my Meyer Lemon-Orange Meringue Pie for dessert! This is light and airy and the perfect end to a perfect meal!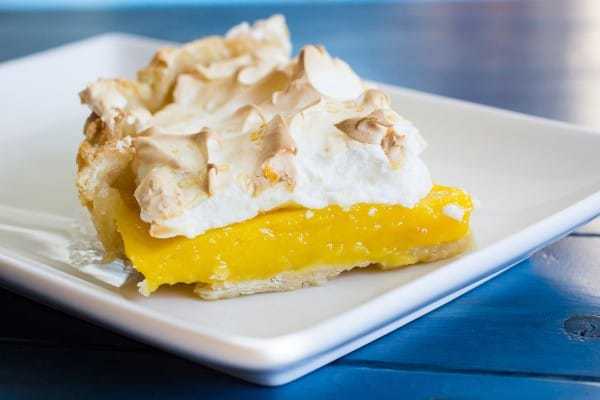 Baking not in your plan for this meal? A simple fruit sorbet or sherbet will suffice in a pinch! Fresh fruit or fruit salads are also a simple, delicious option.
Fish is healthy and light and simple to make. Your family and friends will really enjoy this meal and sharing it with you on a nice warm sunny day!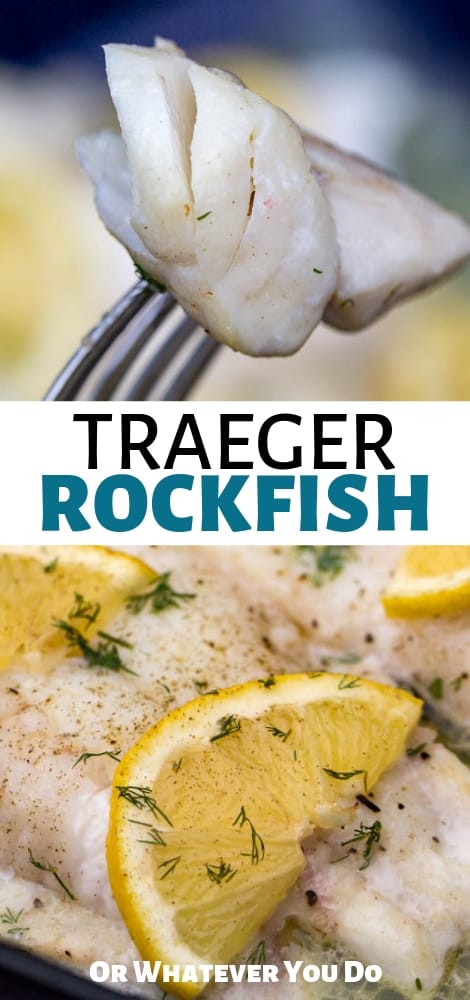 Yield: 6 servings
Traeger Rockfish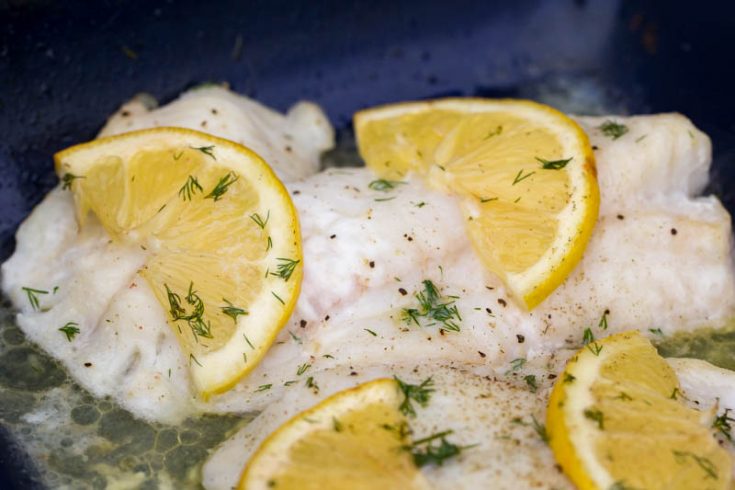 This easy Traeger grilled rockfish recipe cooks in about 20-25 minutes, and features fresh rockfish, lemon, and simple seasoning to really let the fresh fish shine.
Ingredients
6 rockfish filets
1 lemon, sliced
3/4 teaspoon Himalayan salt
2 teaspoons chopped fresh dill
1/2 teaspoon garlic power
1/2 teaspoon onion powder
6 tablespoons butter
Instructions
Preheat your Traeger grill to 375° according to factory directions.

Place the fish in a grill-safe baking dish. Place the fish inside, and season both sides with the salt, onion and garlic powder, and dill.

Place one pat of butter on top of each filet, and a couple of lemon slices.

Place the baking dish on the grill and shut the lid. Cook for 20 minutes, or until the fish is flaky and no longer translucent.

Remove from grill and let sit for 5 minutes before serving.
Nutrition Information:
Yield:
6
Serving Size:
1
Amount Per Serving:
Calories:

270
Total Fat:

17g
Saturated Fat:

9g
Trans Fat:

0g
Unsaturated Fat:

6g
Cholesterol:

98mg
Sodium:

381mg
Carbohydrates:

2g
Fiber:

0g
Sugar:

0g
Protein:

28g