My easy and delicious bacon-wrapped brats are cooked on your pellet grill, and one of the best parts of a summer barbecue. Use cheddar brats for an extra flavor boost, and top with your favorite brat toppings!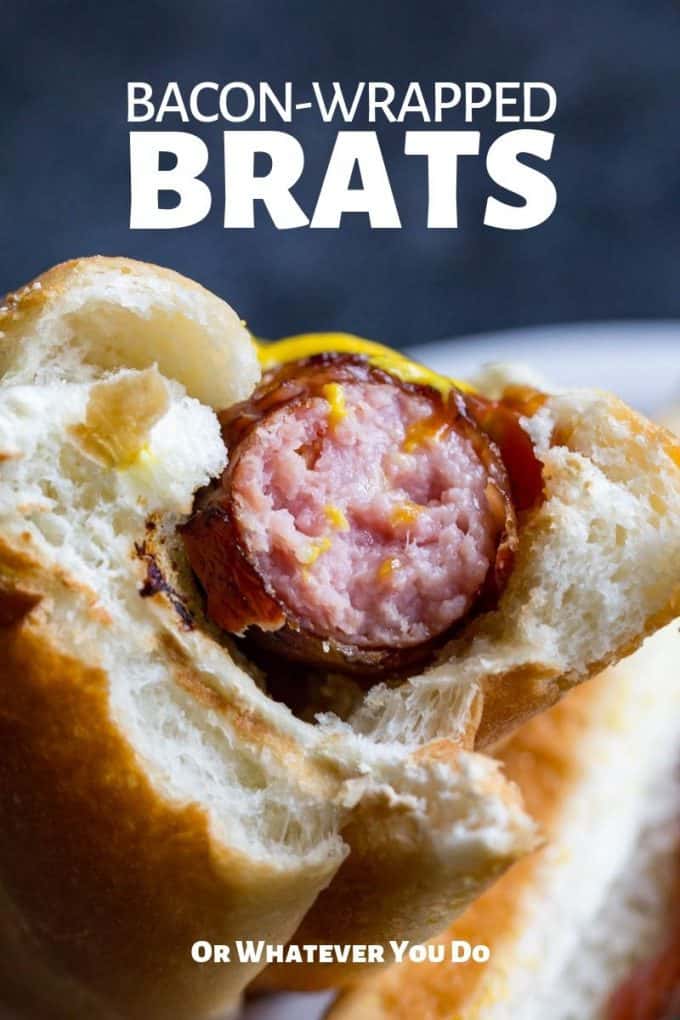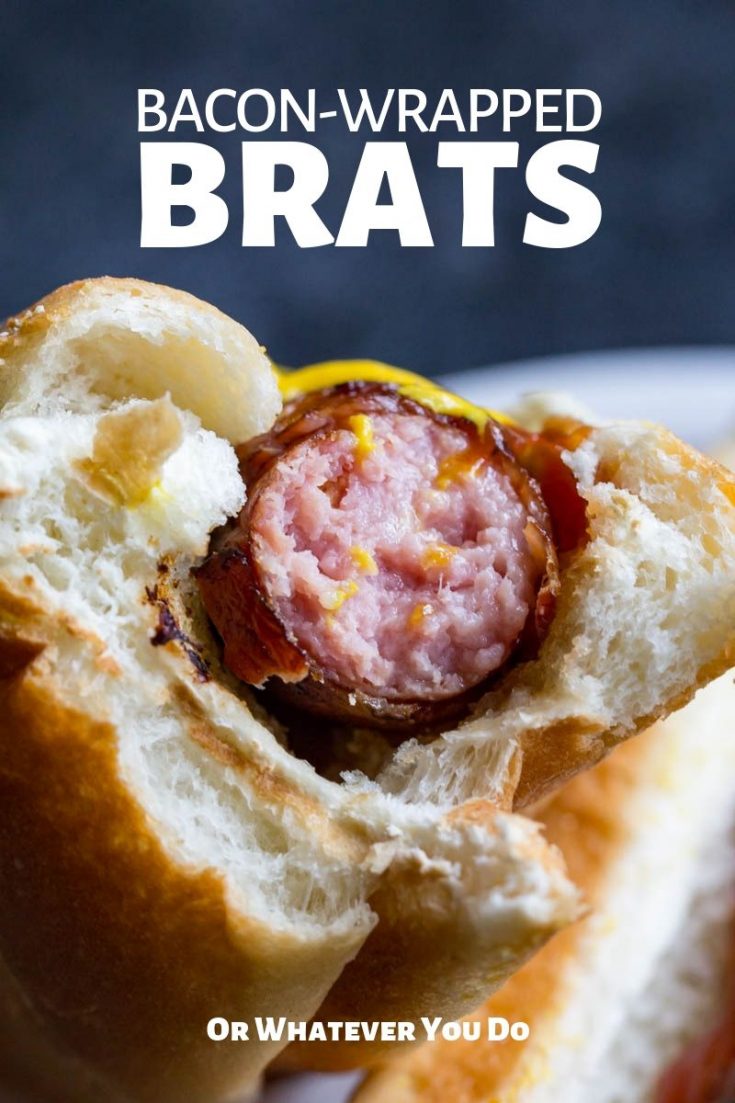 Bacon-Wrapped Brats
Barbecue doesn't always have to be fancy. There's something to be said for just being able to fire up the grill and throw something on there and be eating in under an hour. That's part of the draw.
Of course, sometimes you want the show stoppers that take all day and night, yeah I'm looking at your Traeger Brisket and Smoked Pulled Pork, and they certainly have their place, but I'd be hard pressed to name a better bite that I've had this grilling season than these bacon-wrapped cheddar brats.
The bacon gets so crisp on the outside, and the bacon flavor soaks into the already amazing brat. It also keep the brat from bursting in a lot of cases.
You can get crazy with the toppings on these and add all kinds of different combinations (I'm a big fan of my pickled red onions on brats), or you can keep it simple like I prefer to and just toss on some ketchup and mustard.
Click here to save this post for later!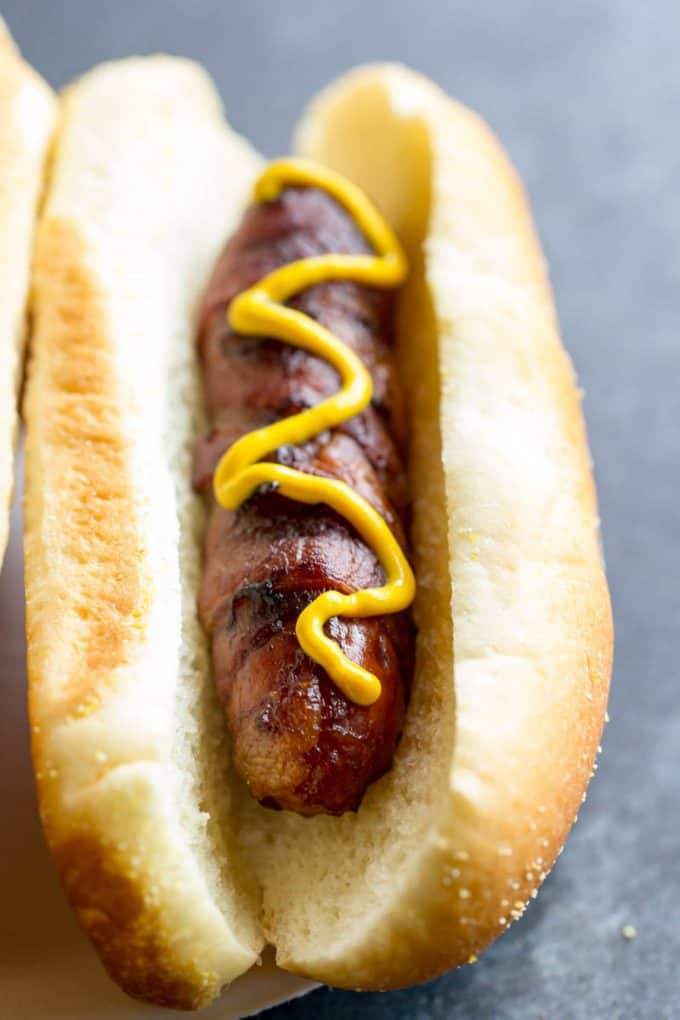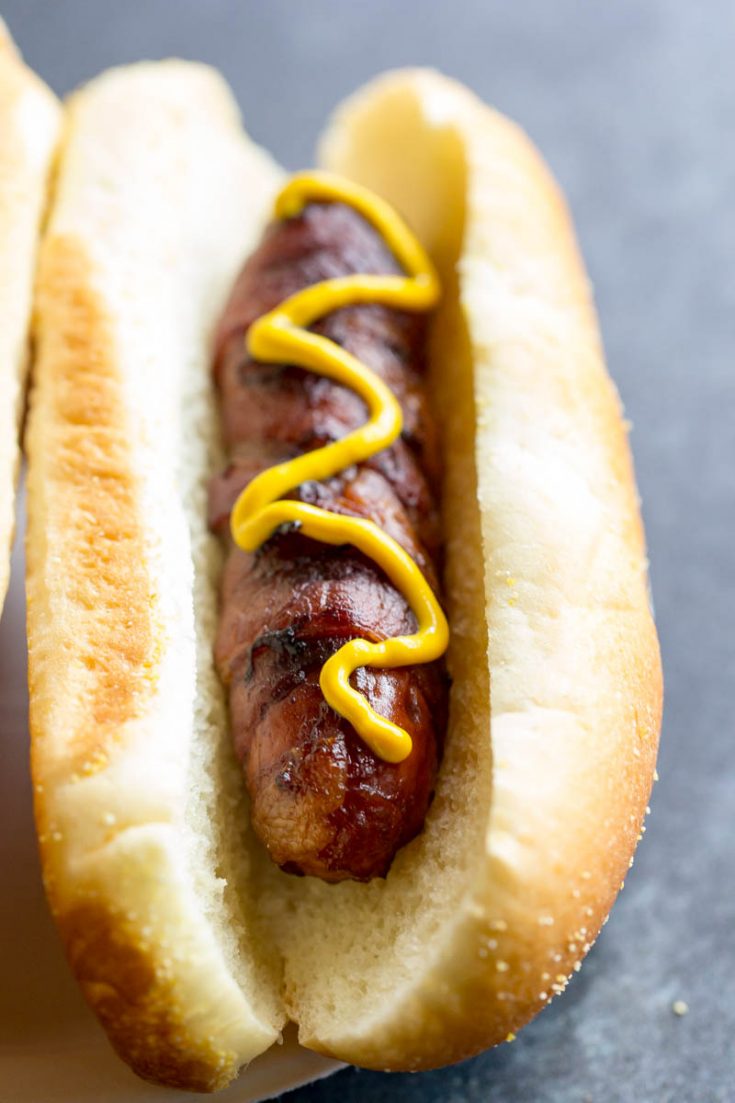 What kind of bratwurst should I use for this recipe?
What you see pictured here is a smoked cheddar brat. You can definitely substitute a regular beer brat, or whatever your favorite kind of bratwurst is. The cook time is long enough to ensure that even non-smoked varieties are fully cooked at the end.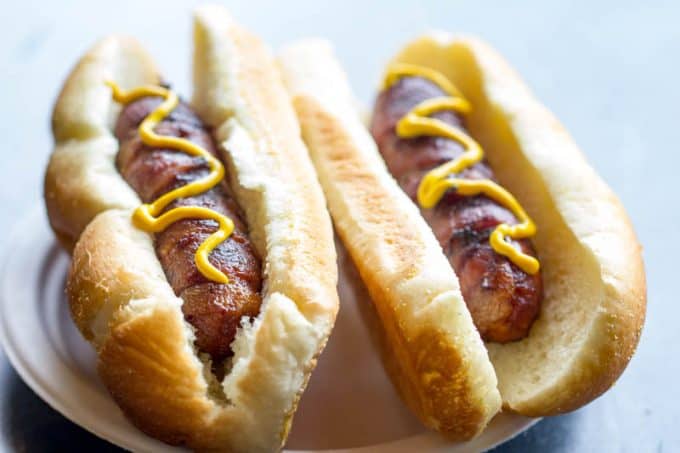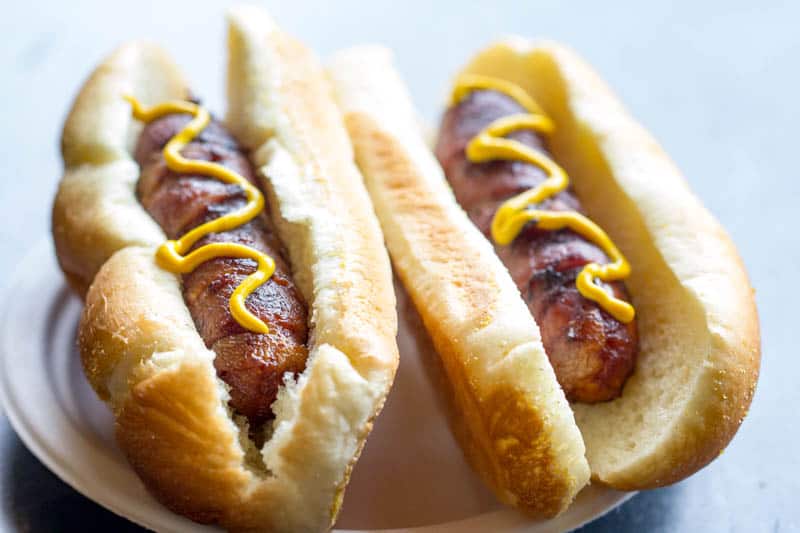 What kind of bacon should I use to wrap my bacon brat?
Thin cut bacon will be your best bet anytime you are wrapping something to grill. It is a quicker crisp than thick-cut versions, so is what I generally recommend for wrapping.
I'm a bacon-snob though and kind of detest not-properly-crisp bacon, so if you don't mind yours being a little floppy and prefer thick, you do you!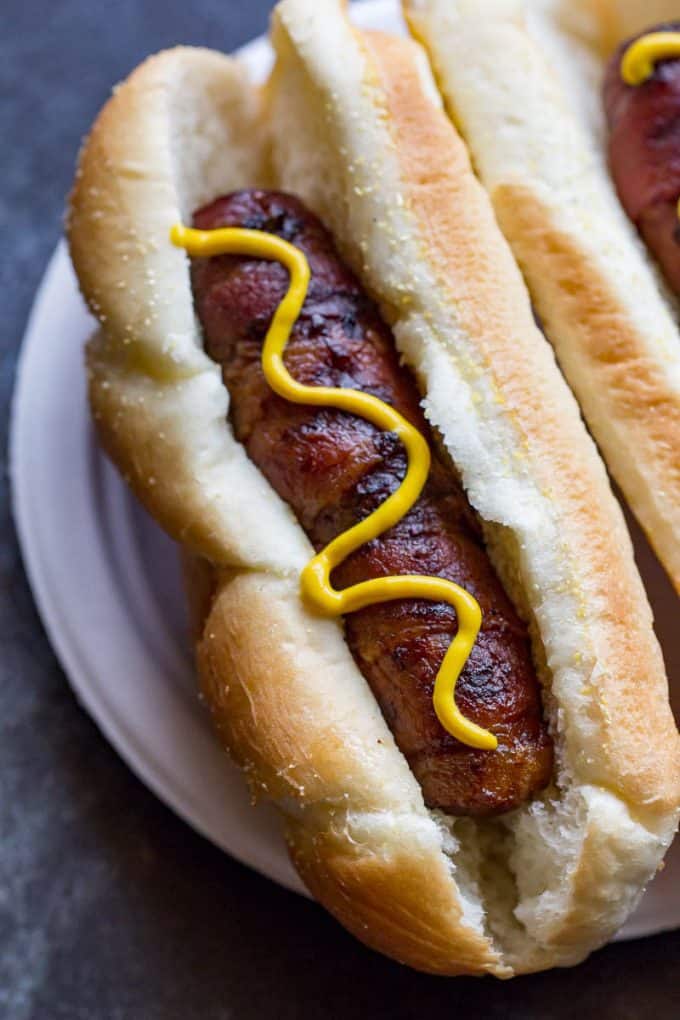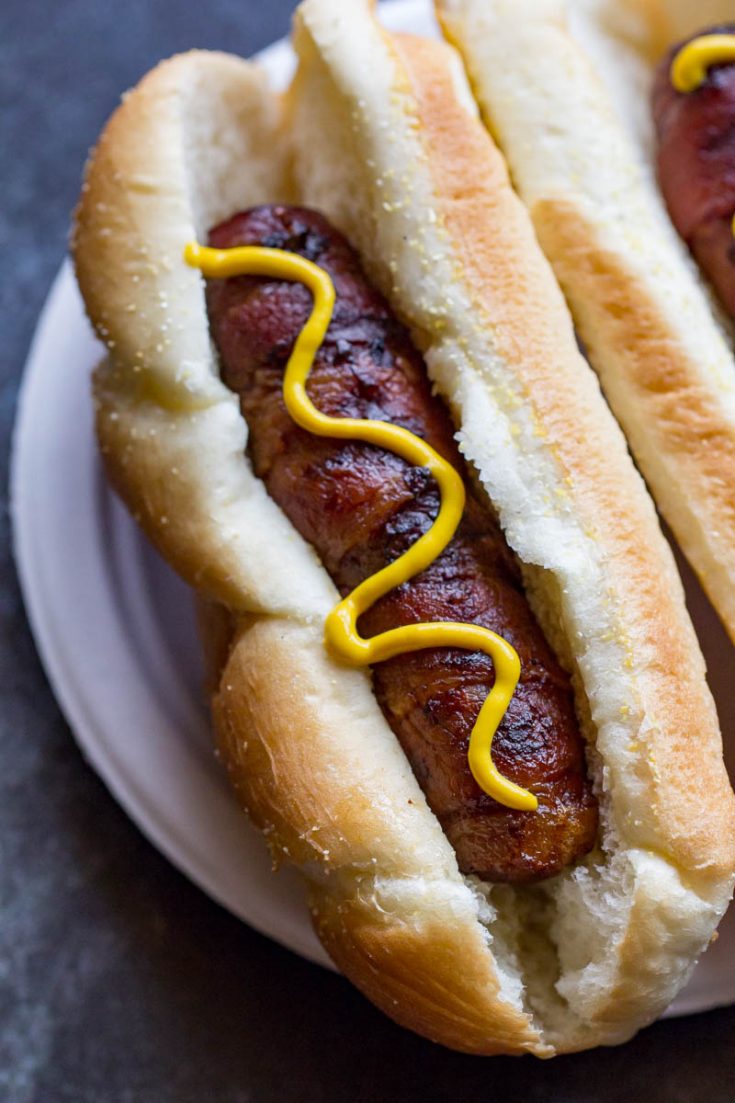 Tips for making delicious bacon-wrapped bratwurst
Thin-cut Bacon | We already addressed this above, but it is worth mentioning again. Avoid the thick cut for anything you are wrapping.
Secure with toothpicks | You can try and wrap and just cook it right on the brat, but don't feel bad if you have to use some training wheels and break out the toothpicks.
Turn often | The key to evenly cooked bacon is to make sure you roll these on the grill fairly frequently to make sure all sides cook at about the same rate.
Watch closely | Bacon goes from perfectly crisp to charred pretty quickly, so when things are getting close don't wander away from the grill.

What else can I serve with bacon brats?
Bacon brats are a great option to have at a big barbecue spread, or as an easy weeknight meal for your family. If you want to round out your cookout, I have some great options for you.
Here is my complete list of all of our Traeger Recipes, in case the below suggestions don't strike your fancy.
Main Dishes
Chicken Leg Quarters | It is always great to have a poultry option on offer at a barbecue, and this one is not only economical, but it is also totally delicious.
Surf & Turf | My Traeger Grilled Filet and Grilled Lobster Tail are both easy and pretty fancy to toss out there on a big table of food. Find a sale and treat your family to something special.
Baby Back Ribs | These are not fast, but good ribs shouldn't be. They are 100% worth the time investment.
Smoked Brisket | This serves a lot of people and is one of the most famous smoked meats you can make. Plan ahead because this is a major cook, but you can doooooo it!

Side Dishes
See our Side Dish Collection for a complete list, or check out these recommendations below.
Creamy Pasta Salad | Always a major hit at barbecues, this is simple to throw together and super versatile. Toss in whatever fresh veggies you have laying around and call it good.
Broccoli Salad | Great way to get veggies into what is typically a very meat-centric meal. This is a popular side that you'll find in most deli counters.
Brisket Baked Beans | My favorite baked beans, ever. Homemade, delicious, and full of beefy flavor from the brisket that's right in the mix. If you don't have brisket you can omit and sub in bacon or ham.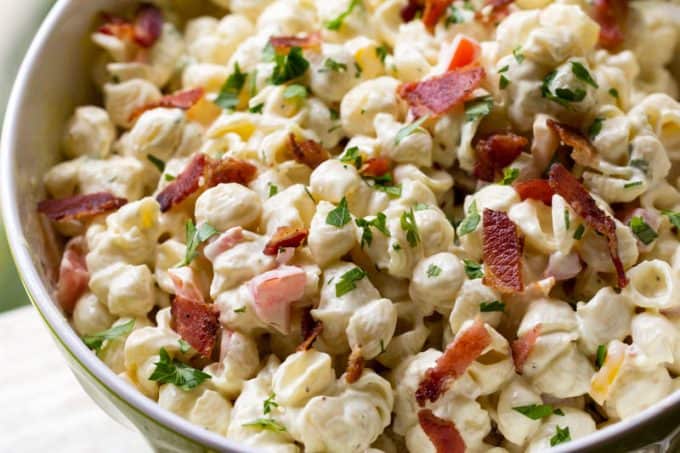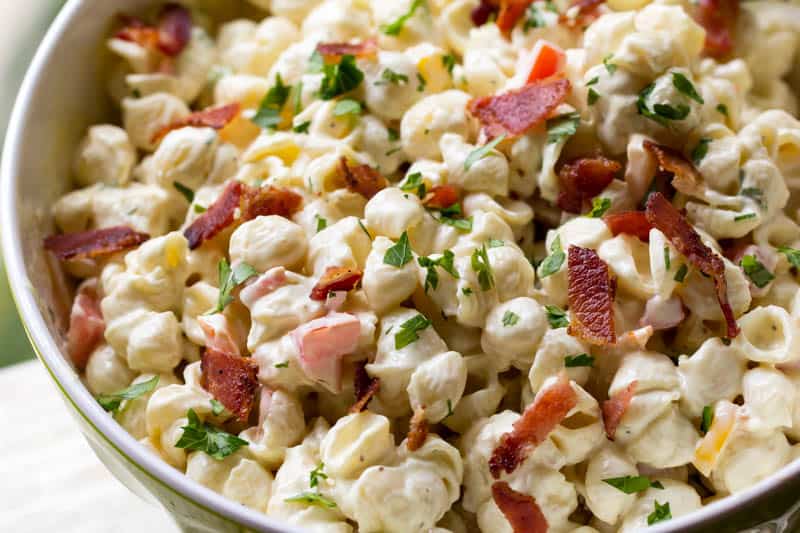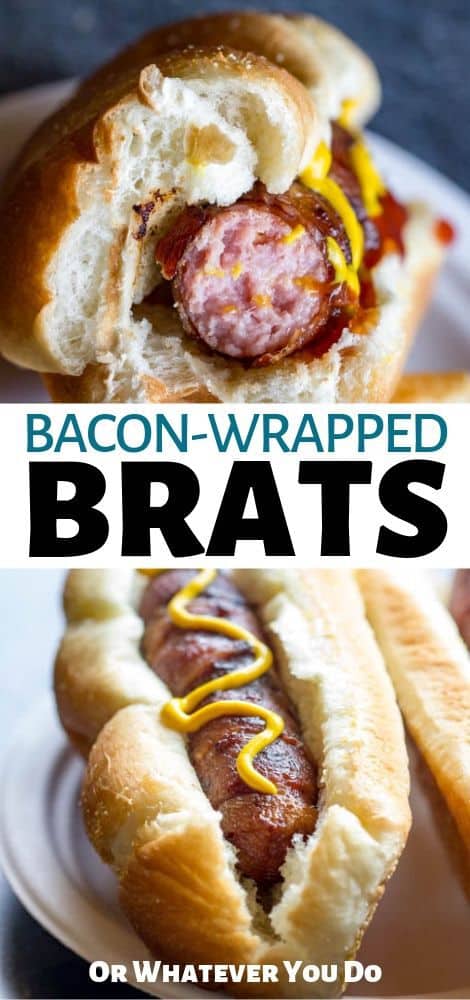 Yield: 6 servings
Bacon Wrapped Brats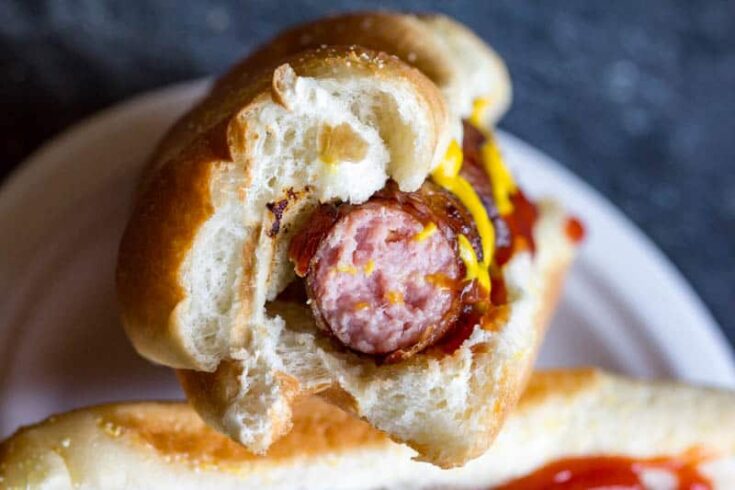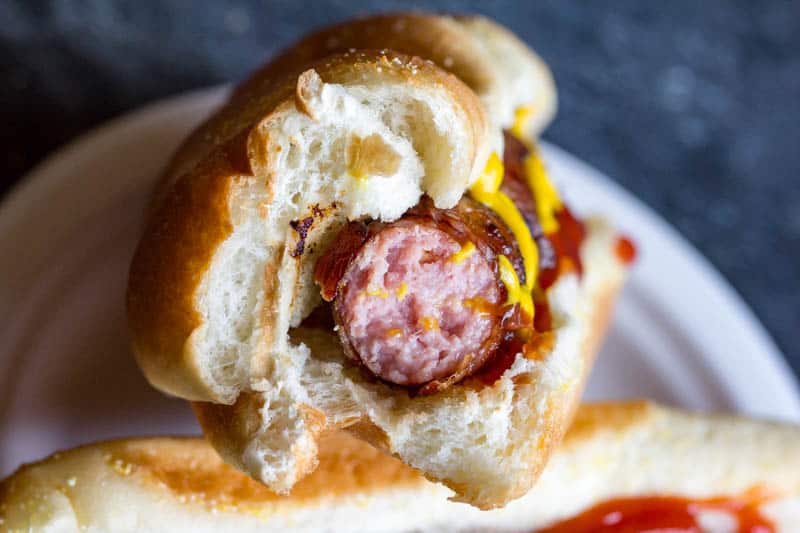 Delicious bacon-wrapped brats are a perfect main dish for any barbecue. Take brats to the next level, in this double-pork mashup.
Instructions
Preheat your pellet grill to 325° following factory instructions.
Wrap the brats with bacon and secure with toothpicks if necessary.
Place on the hot grill, and turn every 5 minutes.
Grill until the bacon is crisp.
Recommended Products
As an Amazon Associate and member of other affiliate programs, I earn from qualifying purchases.
Nutrition Information:
Yield:
6
Serving Size:
1
Amount Per Serving:
Calories:

337
Total Fat:

29g
Saturated Fat:

10g
Trans Fat:

0g
Unsaturated Fat:

17g
Cholesterol:

74mg
Sodium:

913mg
Carbohydrates:

3g
Fiber:

0g
Sugar:

0g
Protein:

16g
Nutrition data provided here is only an estimate. If you are tracking these things for medical purposes please consult an outside, trusted source. Thanks!