My easy Air Fryer Ravioli is dipped in a quick egg wash and then breaded with bread crumbs and panko before taking a trip through the air fryer to crisp up!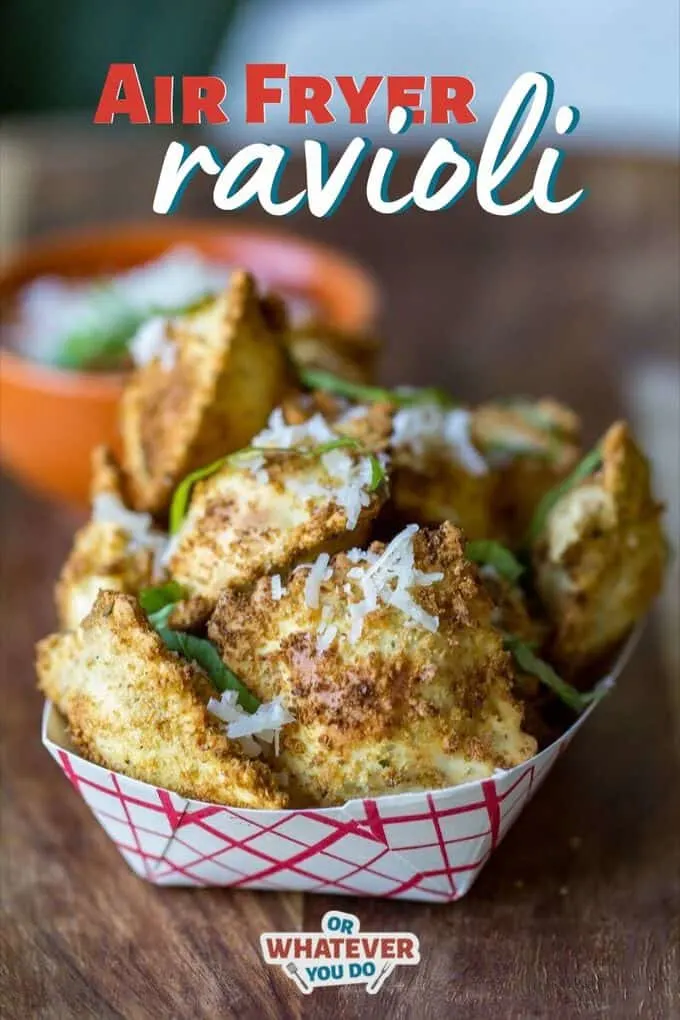 Air Fryer Ravioli
Just a few minutes in the air fryer and this easy appetizer is done in a flash! An air fryer breaded ravioli goes from prep to table almost faster than you can blink.
Ravioli never fail to please. Breading and frying them takes them to another level.
So easy. You dip in egg wash. Then dab in the crumbs and panko and from there right into the air fryer. Take them out and have the marinara sauce ready for dipping!
Also, if you enjoy ravioli like I do, then be sure to check out my beef and mushroom ravioli recipe.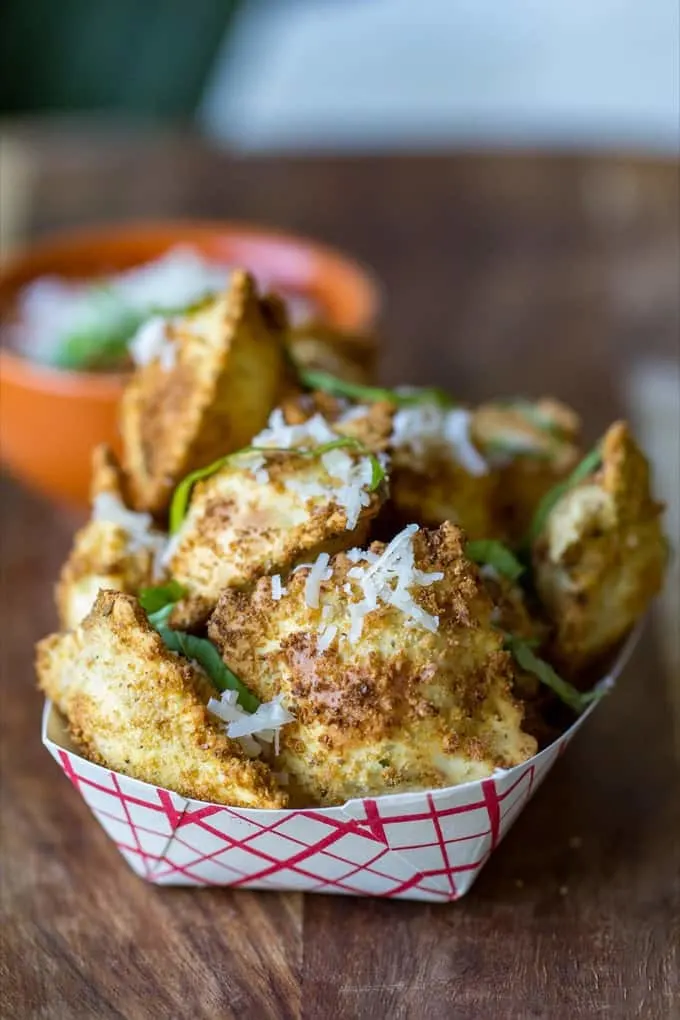 Make Air Fryer Breaded Cheese Ravioli In Minutes!
I use the air fryer more and more these days. How could I not? Eating air fried means never having to apologize to your body for enjoying fried food.
With this recipe, we are using freshly made ravioli that's available at your local market in the refrigerated section. With a bit of luck and a spot of motivation, you can make your own too.
You bread the ravioli, then toss it into the air fryer for about 5 or 6 minutes. Done! Get the marinara dipping sauce handy.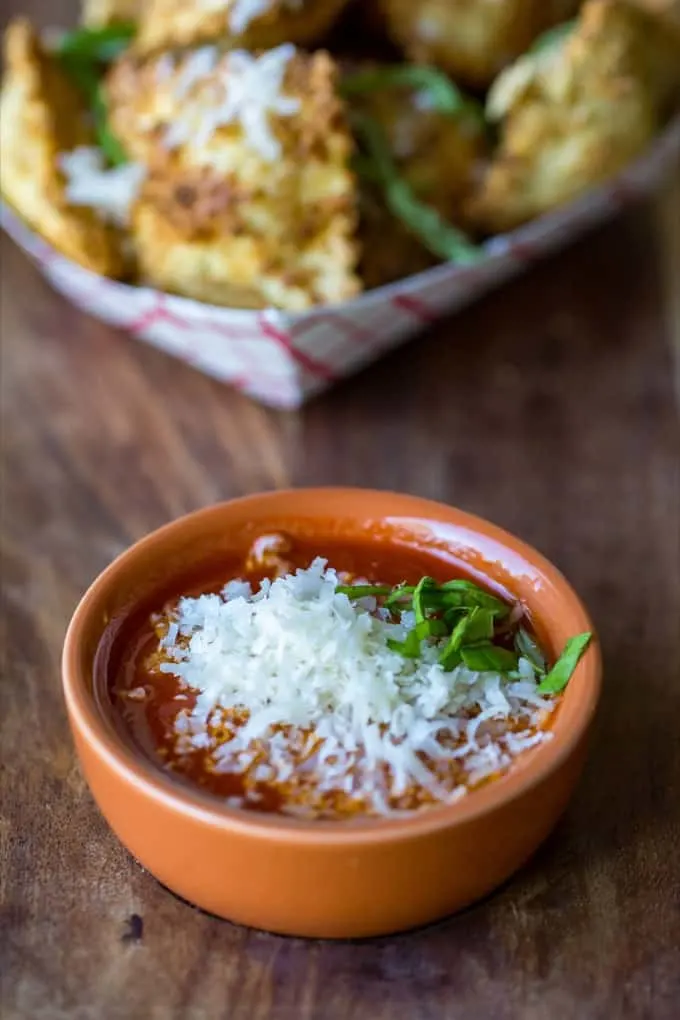 There are so many types of ravioli what type is best?
For this recipe, I recommend cheese ravioli, and for good reason. Cheese tends to have less water content than other ingredients like vegetables and meat. Water steaming out in the air fryer makes frying tougher.
You want the ravioli to get crispy and crunchy on the outside. You don't want them to end up pasty and mushy. That's also why I don't recommend frozen ravioli here. There's typically water crystals on the outside and that will not work well.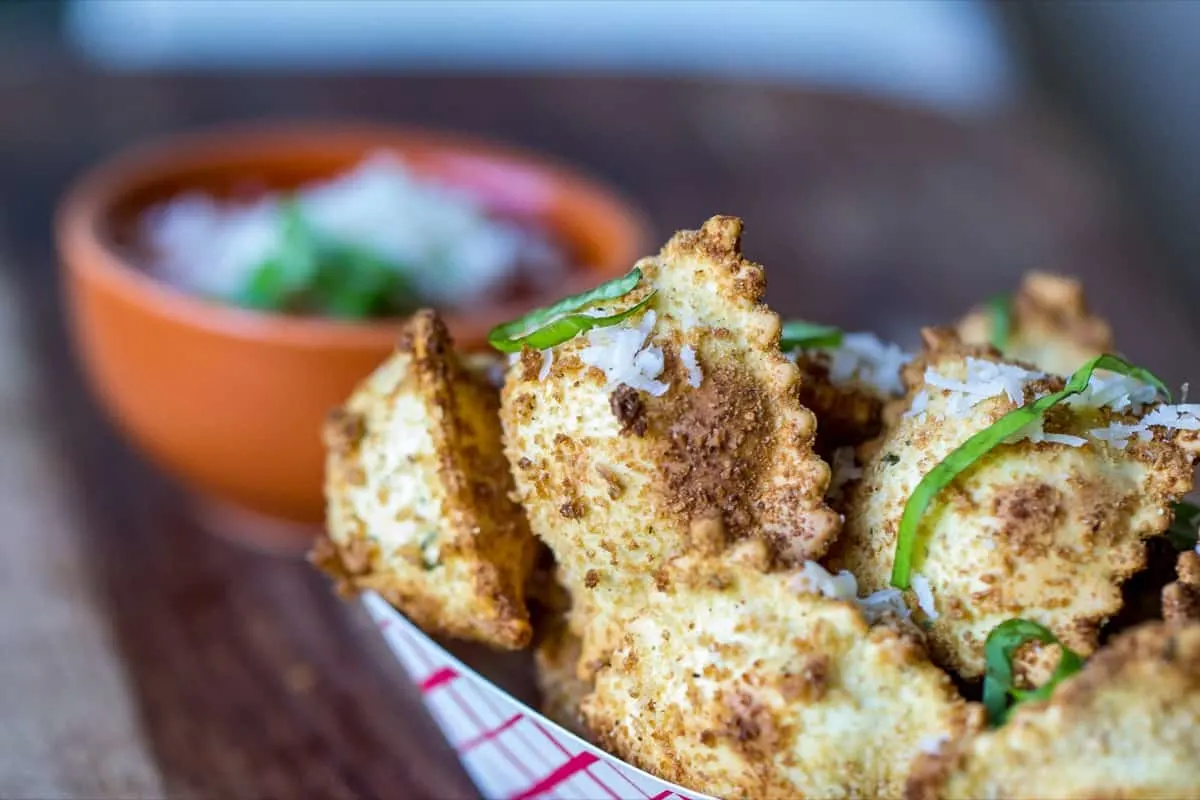 What about the marinara?
Use marinara from a jar, or make your own. Grab a few tomatoes, a can of tomato paste, chopped onions, garlic and chicken stock. You can also add black olives and or capers if you like, and then just season with Italian herbs.
It comes together just as quickly as quickly as the ravioli. Just saute your onions and garlic, then add diced tomatoes. Cook together until the onions are translucent and shiny. Finally, add the tomato paste.
Stir in the chicken stock to get everything to a nice thick consistency.
Two things to watch out for. Don't burn the chopped garlic. Add it after you get the onions close to being done. Garlic cooks and burns much quicker than onions. This is due to having less water and more fiber than onions.
You may want to add some red pepper flakes to spice things up a bit.
Even if you buy a jar of premade marinara you can always dress it up to be more interesting. Add extra garlic, red pepper flakes, or anything you like. Just make sure it is chopped up enough that you still can easily dip the ravioli in it.
I also have a recipe for a super quick homemade marinara here!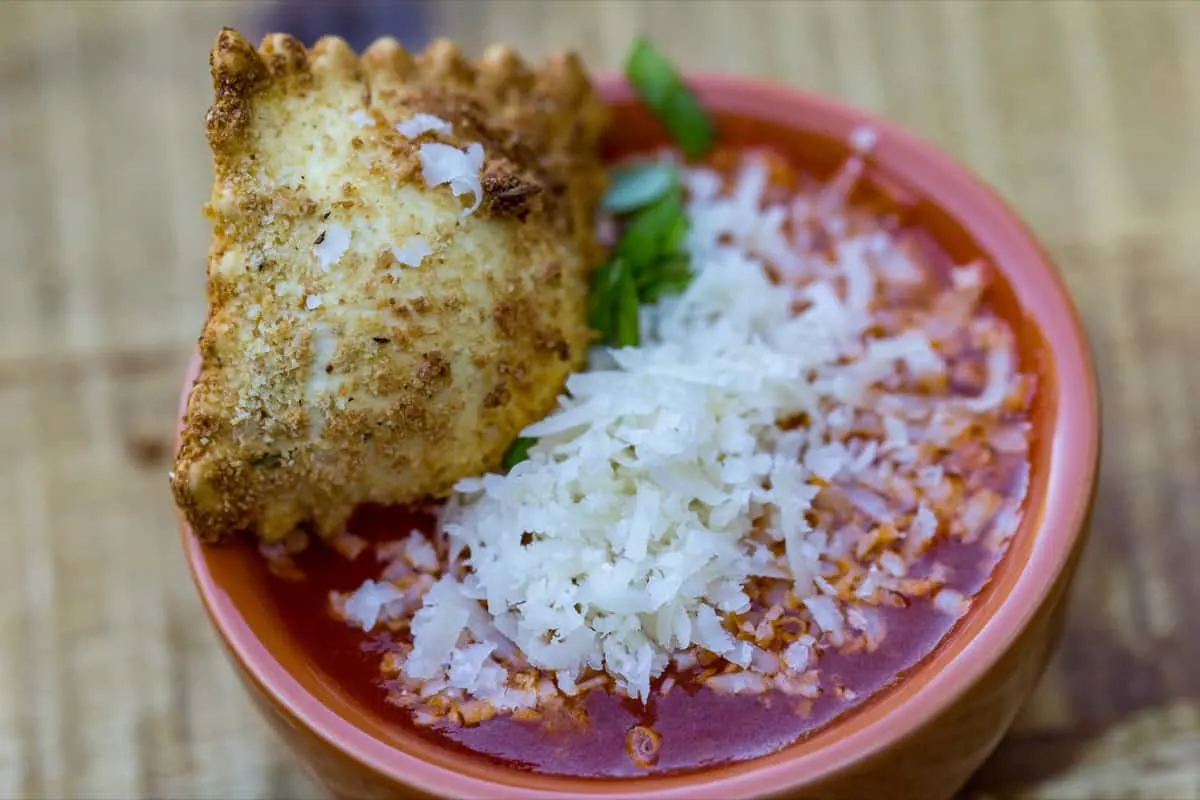 Season your bread crumbs and panko for breaded ravioli
Make sure to add some Italian seasoning to your breading mixture. Typically, this is a blend of oregano, thyme, basil, and parsley. If you don't have the mix handy, then any combination of the others works too.
Personally, I love the Spiceology brand of Italian Seasoning for this!
I like to use regular breadcrumbs and panko. For some recipes, I dip separately, but for breaded cheese ravioli you can combine them first. A ravioli doesn't have too much surface area to work with so they coat easily.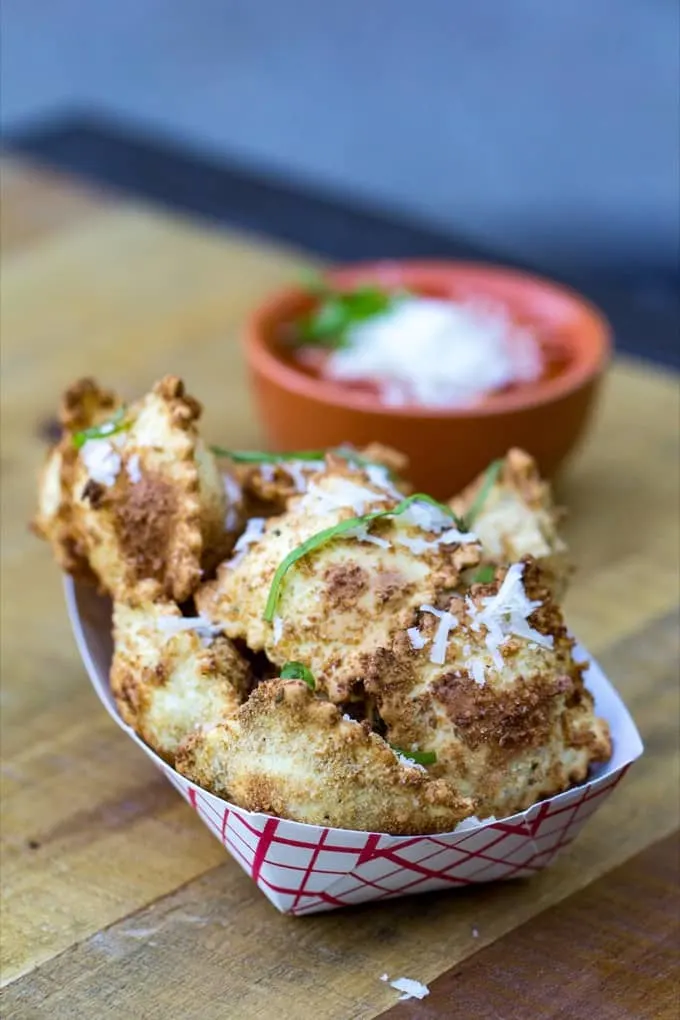 Can I make my own ravioli?
You sure can make your own ravioli! Making your own pasta dough is very easy. Mix flour, egg, and water. Stir then kneed. Keep kneading until the dough has a nice elasticity to it.
You can use a rolling pin to roll out the sheets, but a pasta maker helps. Even better, there are pasta makers that also include ravioli attachments!
You can also find my post on how to make Ravioli here. That recipe is for beef and mushroom ravioli, but you could easily substitute cheese instead.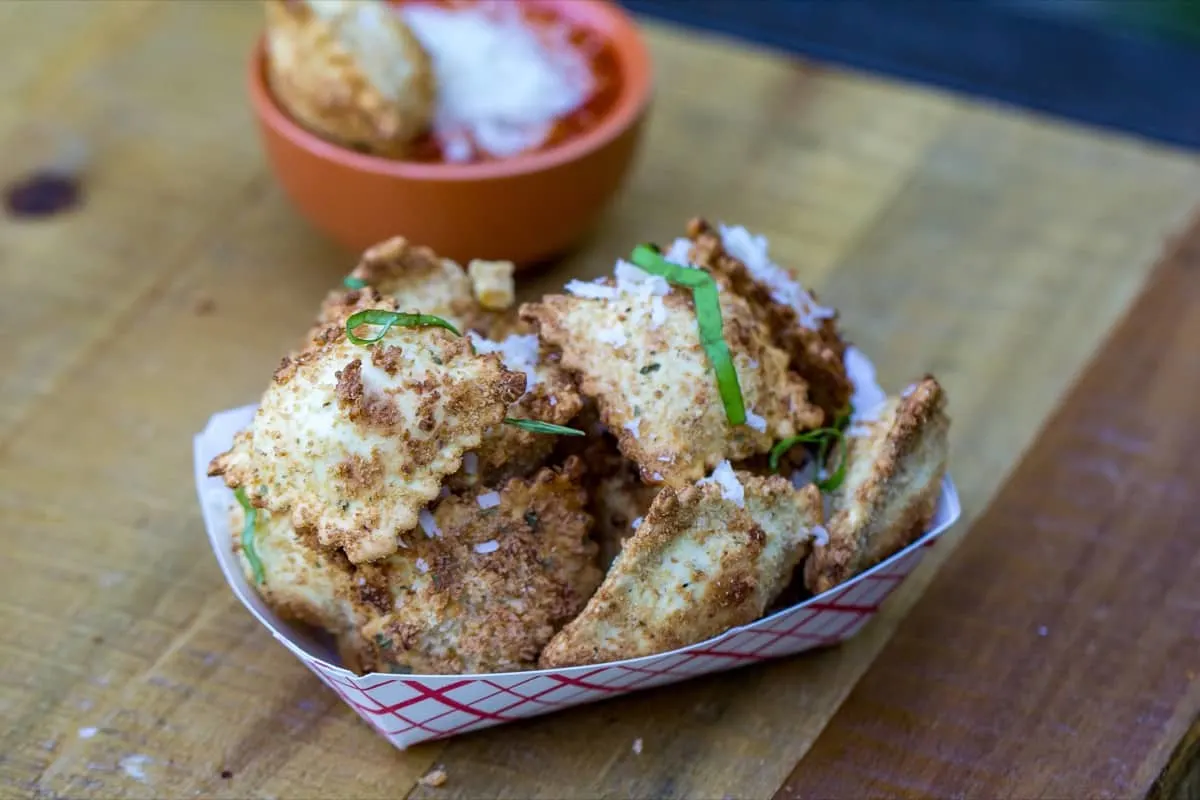 Do you have any other sauce ideas for my breaded cheese raviolis?
I sure do! Try some of these other ravioli sauces on your breaded ravioli. Also feel free to serve it as an entre and not just an appetizer.
Pin for later!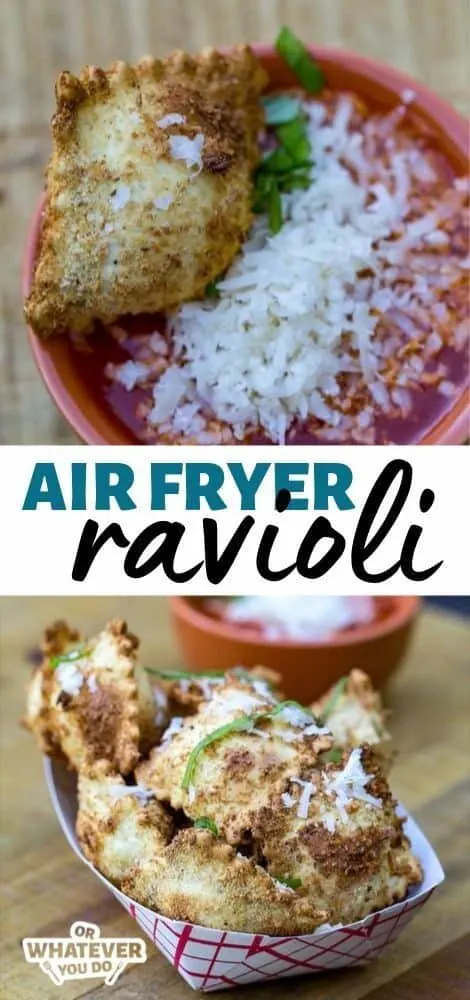 Yield: 6 servings
Air Fryer Ravioli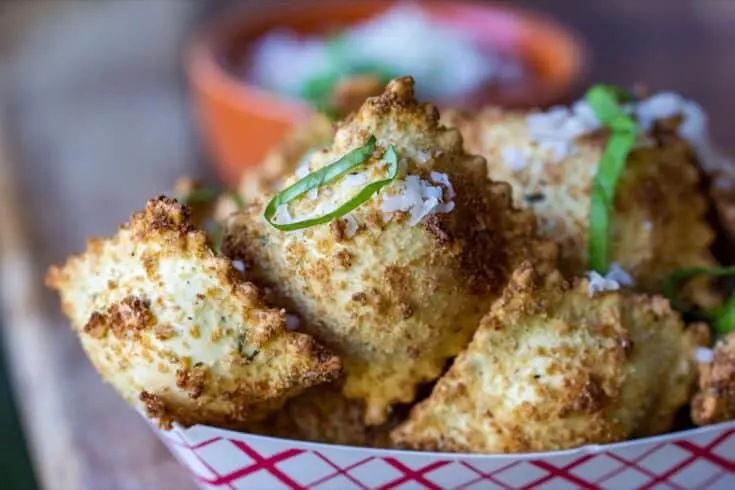 These simple breaded ravioli are cooked right in the air fryer! Fast, easy, and with way less fat that the deep-fried version.
Ingredients
36 fresh cheese-filled ravioli
1 egg
1/4 cup milk
1/2 cup panko
1/2 cup breadcrumbs
1/8 cup flour
1 teaspoon Italian seasoning
1/2 teaspoon salt
Instructions
Place the egg and milk in a bowl, and whip together until combined.
Place the panko, breadcrumbs, flour, Italian seasoning, and salt in a separate bowl.
Dip the ravioli in the egg and then toss in the breadcrumb mixture.
Place in a single layer in your air fryer. If you have a shelf, you can put another layer on top as well. If not, prepare to do this in several batches.
Run your air fryer at 375°, and cook for 6-8 minutes, or until the ravioli is puffed up and the breading is golden brown.
Recommended Products
As an Amazon Associate and member of other affiliate programs, I earn from qualifying purchases.
Nutrition Information:
Yield:
12
Serving Size:
1
Amount Per Serving:
Calories:

392
Total Fat:

29g
Saturated Fat:

16g
Trans Fat:

1g
Unsaturated Fat:

10g
Cholesterol:

100mg
Sodium:

716mg
Carbohydrates:

11g
Fiber:

0g
Sugar:

1g
Protein:

21g
Nutrition data provided here is only an estimate. If you are tracking these things for medical purposes please consult an outside, trusted source. Thanks!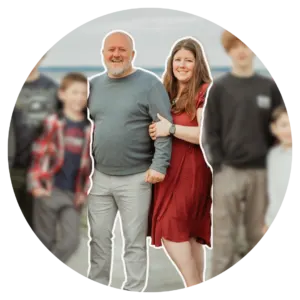 Nicole Johnson, a self-taught expert in grilling and outdoor cooking, launched Or Whatever You Do in 2010. Her blog, renowned for its comprehensive and creative outdoor cooking recipes, has garnered a vast audience of millions. Nicole's hands-on experience and passion for grilling shine through her work. Her husband, Jeremiah Johnson, also plays a pivotal role in recipe development, adding his culinary flair to the mix. Together, they form a dynamic duo, offering a rich and varied outdoor cooking experience to their followers.