Our Smoked Brisket-Style Tri-Tip takes almost everything you know and love about brisket, and puts it into a small, more affordable, and much faster tri-tip-shaped package. This versatile roast is perfect for this method of cooking!
Pellet Grill Brisket-Style Tri-Tip Recipe
We have a lot of opinions about tri-tip around here. What final temp we want it (medium-rare), what rub we're in the mood for, which bbq sauce to dunk it in once it is done, etc. But, one thing we ALL agree on is how much we love this cut of meat.
I grew up in Northern Minnesota, and maybe I just wasn't paying attention because I wasn't buying all that many steaks or cooking all that much when I last lived there, but tri-tip wasn't a thing I grew up with or knew much about at all before we dove head-first into the pellet grill and bbq world.
Typically, we make our Traeger tri-tip recipe or our smoked tri-tip recipe. Spoiler alert, they are very similar to each other. 😉 Don't come at me, traditional bbq police. I promise this is not the travesty you want to make it out to be, we actually DO know how to cook a great steak (oh hayyyy Manhattan Filet. I'm lookin' at you), no matter how "terrible" you tell me this looks on Facebook. (Those group trolls are a THING in some of those bigger bbq groups. Like whoa. Whatever you grow up to be, DON'T BE A TROLL.)
More Easy Traeger Recipes here!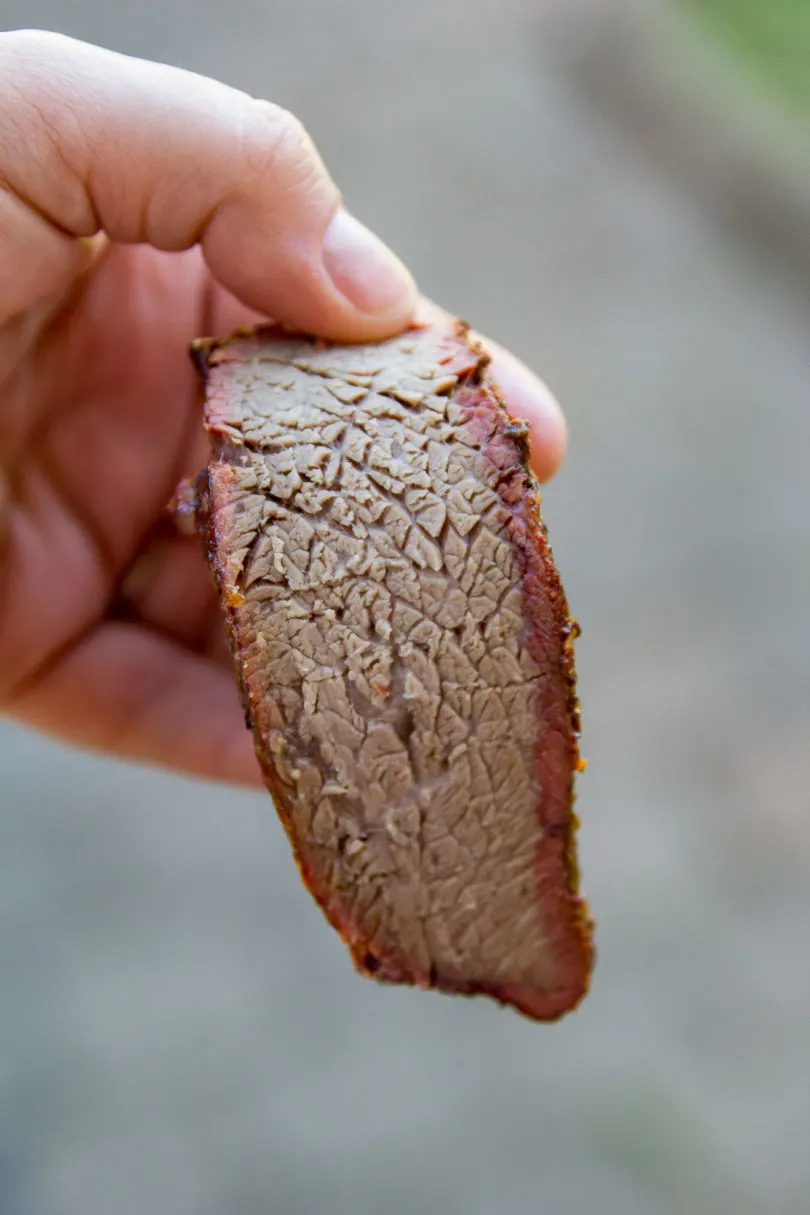 Tri-Tip shopping list
This is so easy I can barely call it a "recipe". Still though, scroll to the bottom to see the complete recipe, including the amounts. This is just a run-down so you know if you need to go to the store. One thing I love about this recipe is that you can actually just get all of it in the mail. Click below to order from my favorites!
More Traeger Beef Recipes here!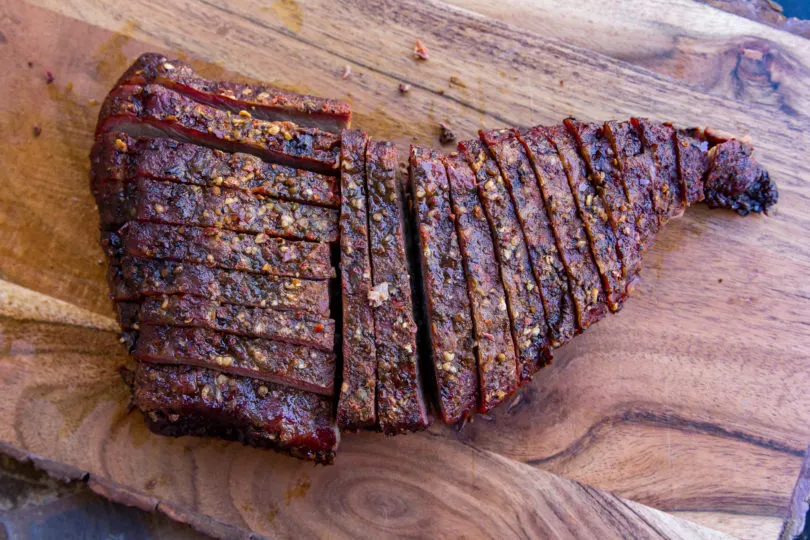 How to make Brisket-Style Tri-Tip
Here's a brief overview of what you're in for if you tackle this recipe. Spoiler alert – this is one of the easiest things you can make, so don't be skeeered.
RUB
All the rub, all over your roast. You can coat with mustard if you'd like, but we usually don't and the rub stays on just fine.
SMOKE
At 225°, that is. Put your rubbed roast on your pellet grill and let it ride. You'll want it to hit 160° and then wrap it.
KEEP SMOKING
Once it is wrapped, let it cook for another while until the internal temperature hits about 205. Use an accurate thermometer for the best results! (We love our Thermapens from ThermoWorks.)
REST
Rest that wrapped roast for 1/2 hour to an hour. Don't peek! Don't poke. Don't slice. Just let it rest. If you have a towel and a cooler you can use that, or you can just toss it on your counter and cover it with a kitchen towel and call it good.
Slice
Use the guide here to help you out. The only thing worse than no tri-tip is incorrectly sliced tri-tip.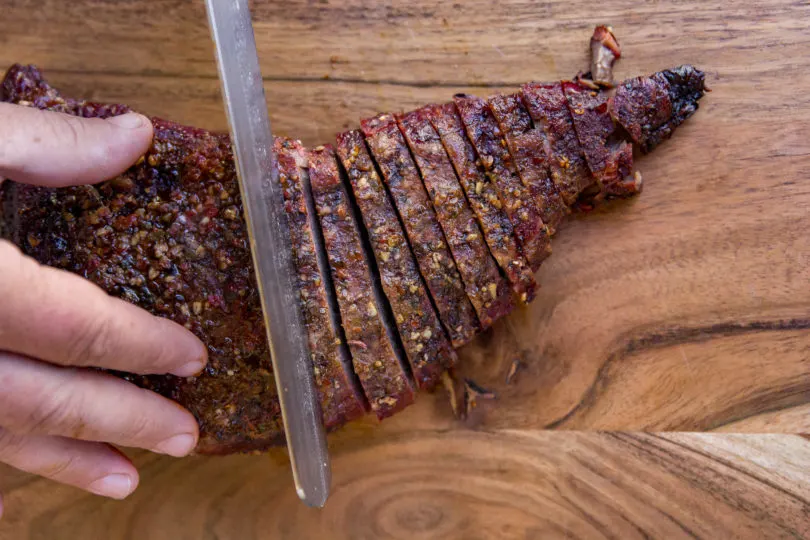 How do you slice tri-tip?
Tri-tip can be tricky to cut because the direction of the grain changes through the roast. If you follow the image below, you'll be well on your way to a properly cut roast.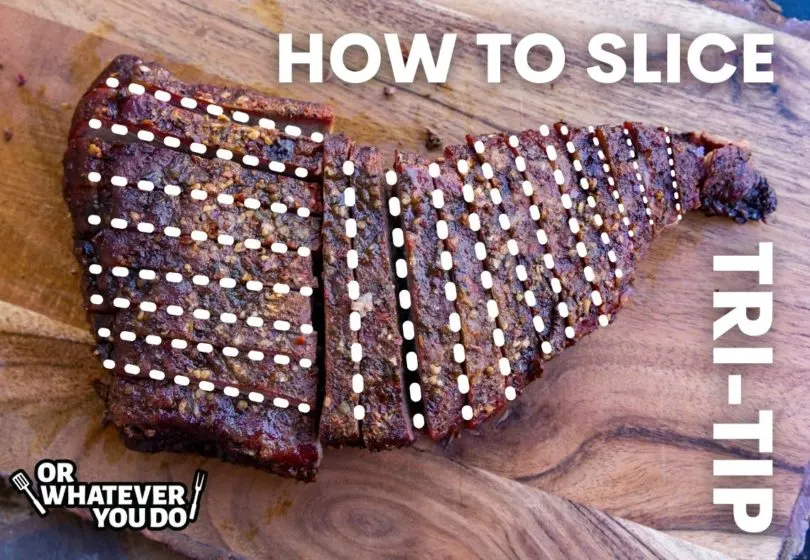 What is the best rub to use on tri-tip?
Our favorite flavor combination right now has been a combination of The Midnight Toker and Roasted Garlic Rub from The Spice Guy. It is punchy and savory and incredible. They are both amazing on their own, as well!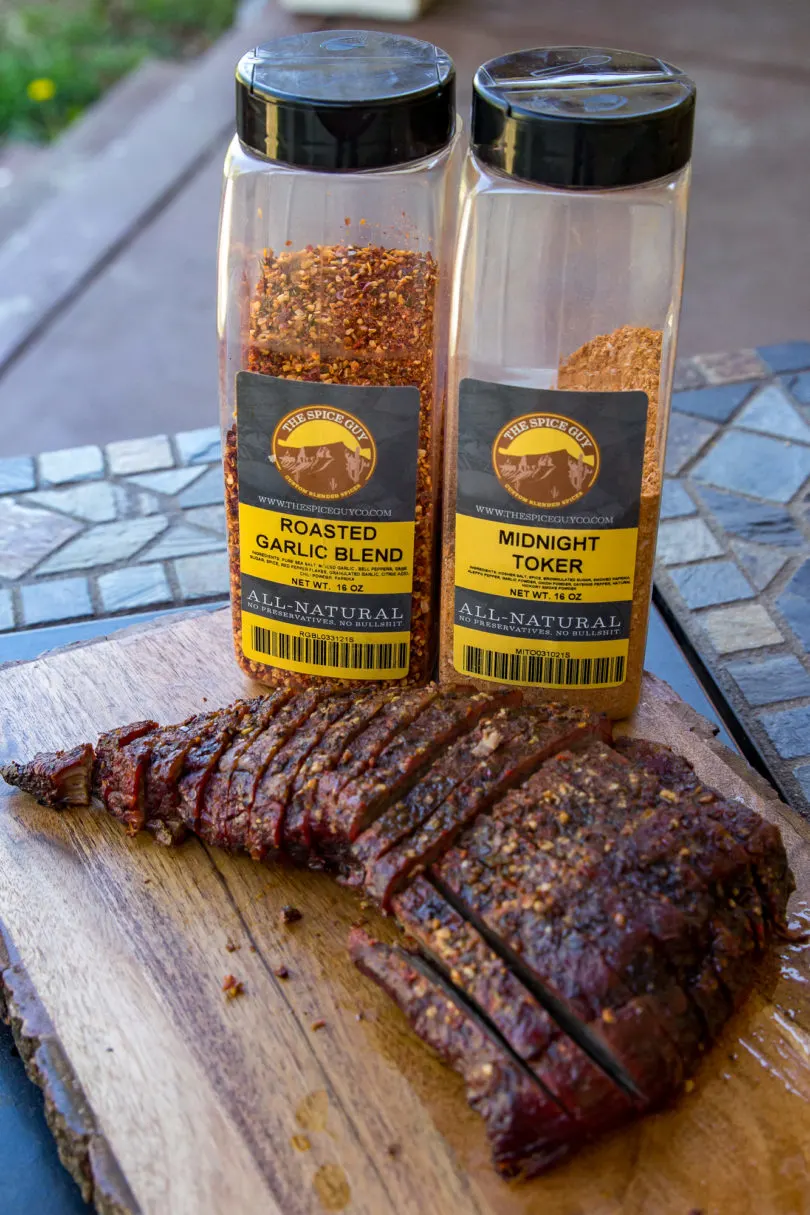 Brisket-Style Tri-Tip FAQ
What kind of smoker is best for this brisket-style tri-tip?
Whatever smoker you have is the best kind of smoker for this!
You can even use a smoke tube in a gas grill if that's what you have.
At our house, we primarily use pellet grills. We have had a few different brands over the years, like Traeger, Camp Chef, Louisiana, and ZGrills, and we have fully enjoyed them all!
Should you use peach paper to wrap with instead of tin foil?
You sure can! We used foil this time, but love our peach paper!
What if you can't find the rubs listed in the recipe?
If you can't find the suggested rubs, you can use your own favorite kind from your collection, or try our homemade dry rub!
What's the best way to store leftover tri-tip?
Store leftovers in an airtight container in the fridge for up to 2-3 days. I do not recommend freezing cooked tri-tip. Bonus points if you use those leftovers for our Brisket Chili!
How should you re-heat leftover brisket-style tri-tip?
Reheat leftovers in a sous vide water bath, if you have one and are feeling fancy. If not, heat it gently and covered on the stove with some thinner bbq sauce of your choosing.
Follow me on Instagram!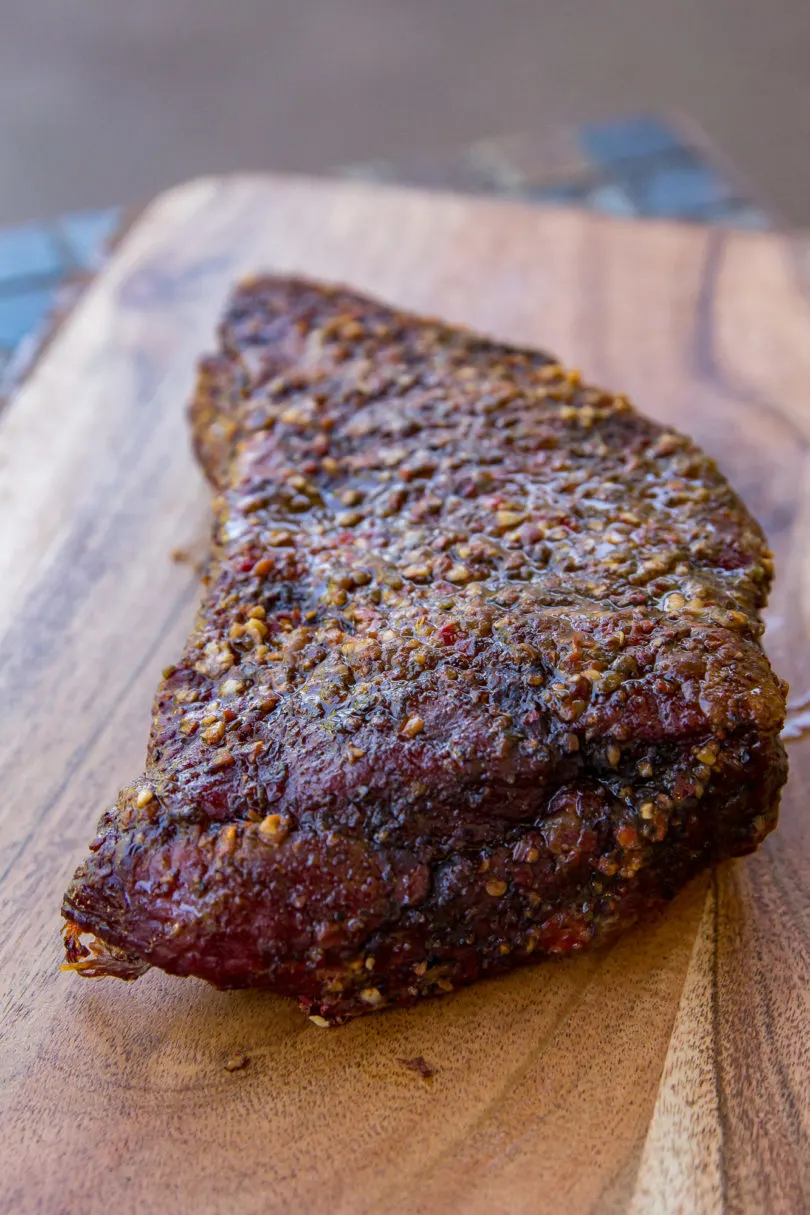 Join our Easy Traeger Recipes Facebook Group!
What should you serve with tri-tip?
We have all the great sides for you here at OWYD! Whether you want to put out a full barbecue spread including all of the fixings, or if you just want an easy dinner to serve your family, we've got you covered.
Try one of these, and let me know what you think!
Join our Easy Traeger Recipes Facebook group!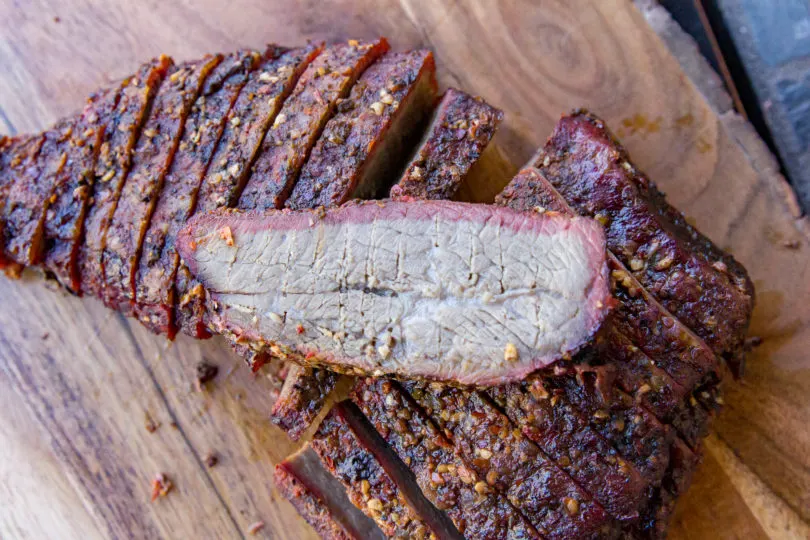 More recipes to love!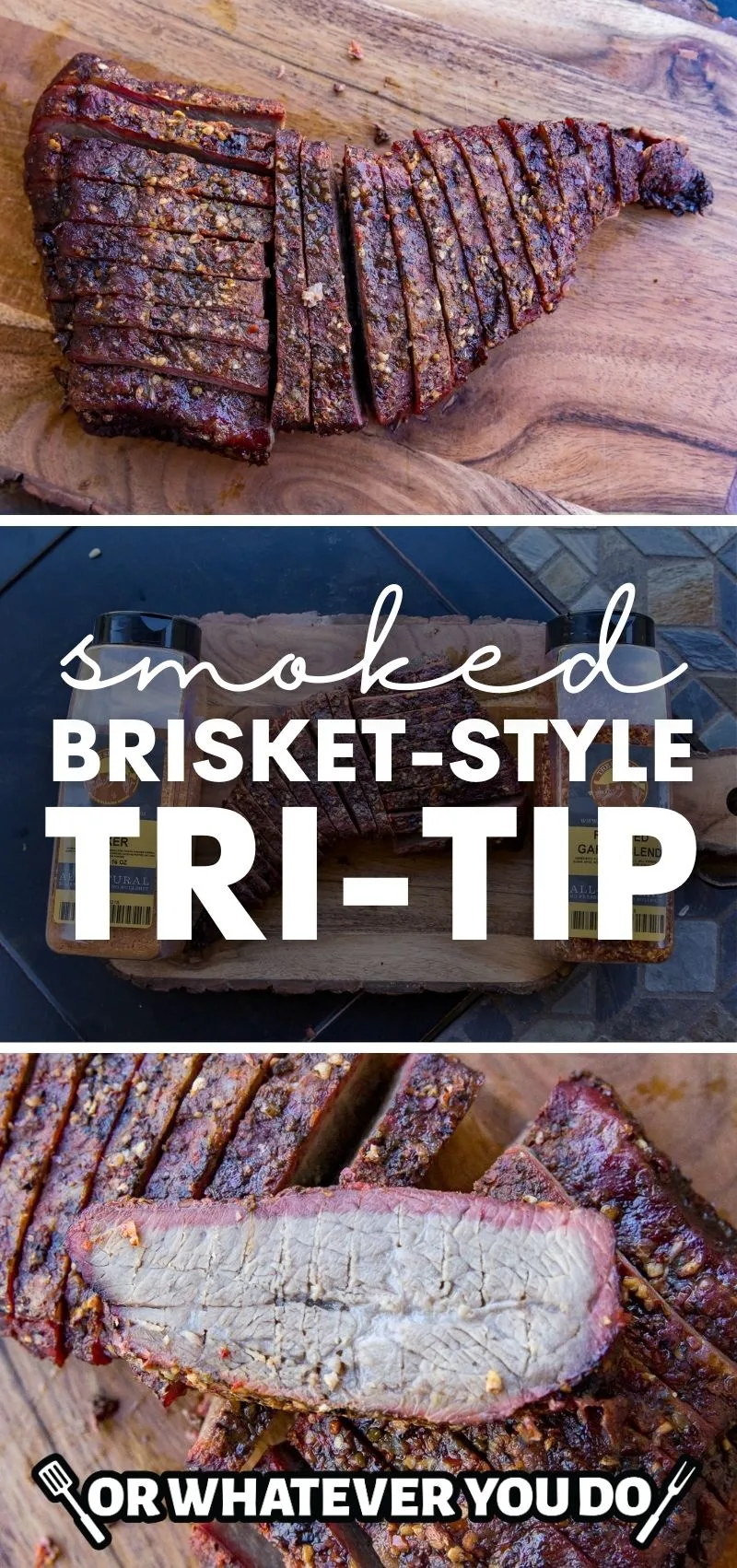 Yield: 6 servings
Tri Tip Brisket-Style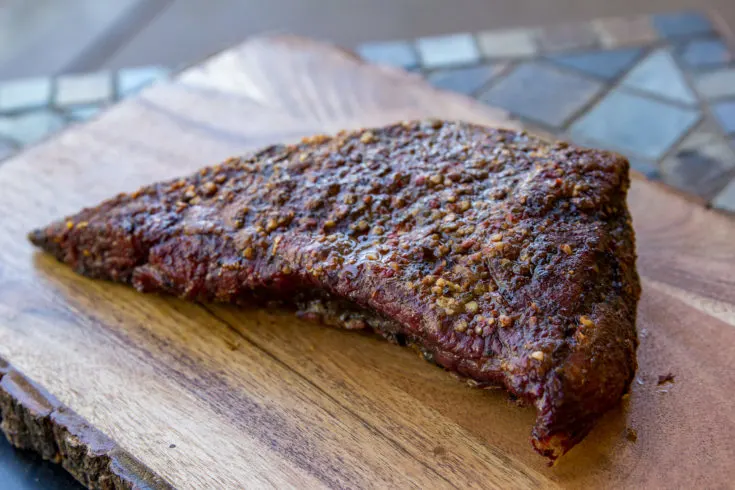 When you are craving brisket but don't have an extra 12-16 hours on your hands, fire up your pellet grill and break out the ever-versatile tri-tip roast!
Total Time
6 hours
15 minutes
Ingredients
3-pound tri-tip roast
2 tablespoons Roasted Garlic Rub
2 tablespoons Midnight Toker Rub
Instructions
Turn your smoker or pellet grill to 225°, following factory instructions.
Evenly coat the roasts with the rubs, and place on the smoker.
Smoke until the internal temperature is 160° internal temperature. Wrap the roast and place it back on the smoker and cook until it reaches 205°.
Remove from the grill and let rest, wrapped, for 30-60 minutes.
Slice, as pictured below.
Recommended Products
As an Amazon Associate and member of other affiliate programs, I earn from qualifying purchases.
Nutrition Information:
Yield:
6
Serving Size:
1
Amount Per Serving:
Calories:

483
Total Fat:

25g
Saturated Fat:

0g
Trans Fat:

0g
Unsaturated Fat:

0g
Cholesterol:

188mg
Sodium:

121mg
Carbohydrates:

1g
Fiber:

0g
Sugar:

0g
Protein:

59g
Nutrition data provided here is only an estimate.