Our Smoked and Fried Mango Chipotle Chicken Wings are smoked on our pellet grill after being coated in a Mango Chipotle Rub from The Spice Guy! After they are done on the smoker they take a quick trip through some hot oil to crisp up the skin for wings that have the best of all the worlds.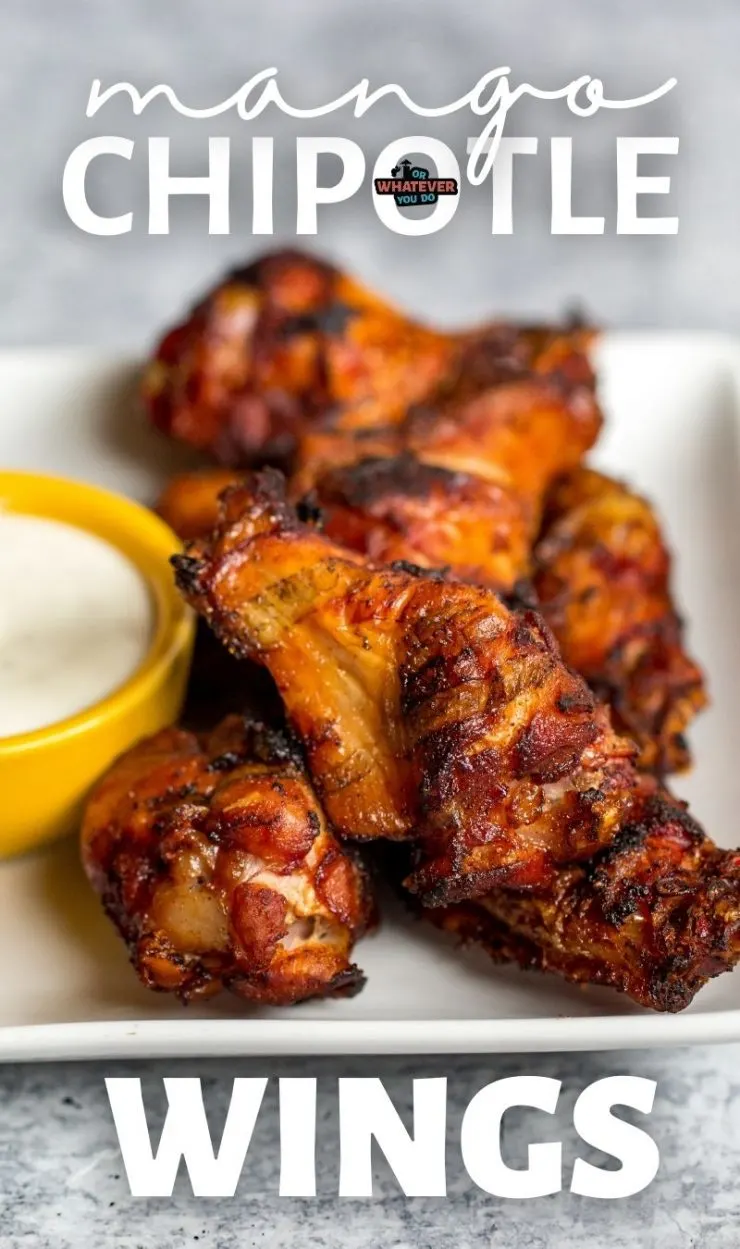 Mango Chipotle Smoked Chicken Wings
Sometimes chicken wings on the pellet grill get a bad rap. There are all kinds of "tricks" out there to get the skin crispy, and some of them even work – but none work quite as well as the old standard of hot oil.
Frying the wings after a lengthy smoke really gives you all of the good things about both wing preparations. All the smoke flavor and crispy chicken skin without the danger of overcooking to get the skin crisp but leaving the meat dry.
More Easy Traeger Recipes here!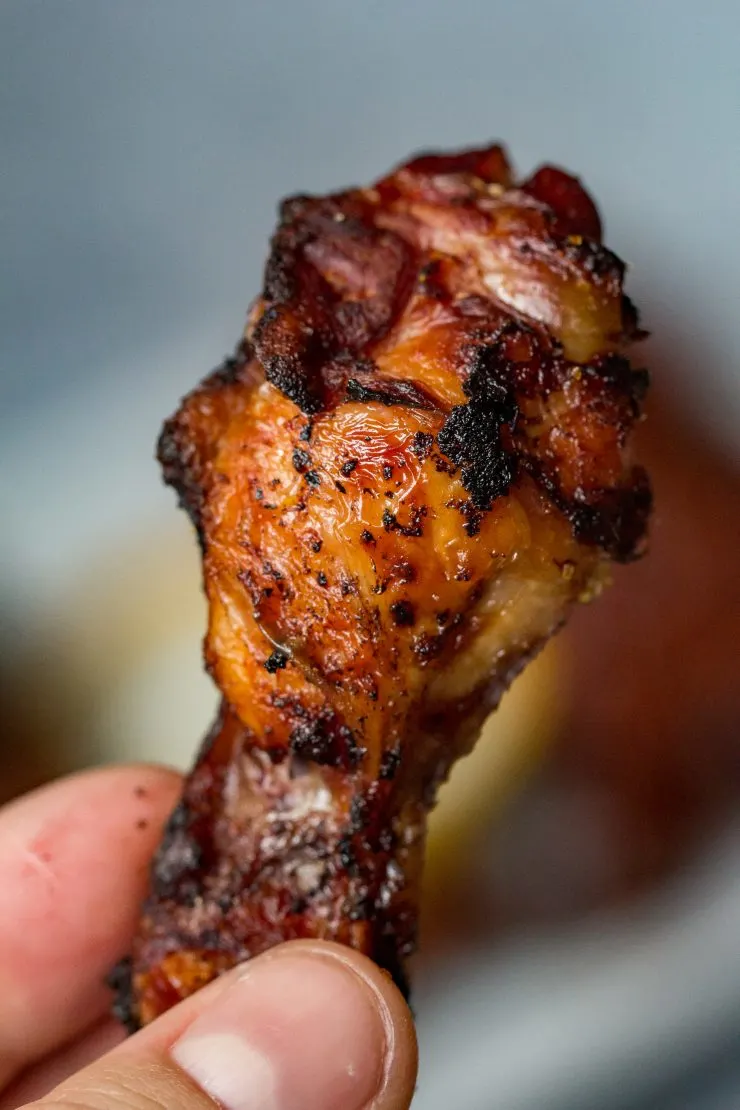 How long does it take to smoke chicken wings?
The amount of time it takes to properly smoke chicken wings depends on a couple of different factors.
What temperature they are being cooked at.
If there will be any other cooking methods involved.
I've found the sweet spot to be around 2-3 hours under relatively low-temperature smoke (180°-190°) and then hit the fryer for 3-4 minutes to crisp things up. You can go longer than that if you'd like, but 2-3 hours is a good spot to start and always leaves my wings with plenty of smoke flavor without overpowering everything.
Follow me on Instagram!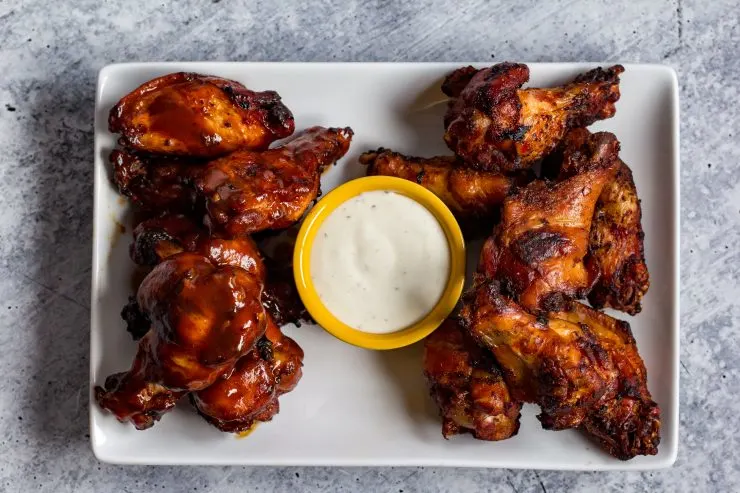 Why is the skin tough on my smoked wings?
If your chicken skin is tough, it is likely due to the wings going onto the grill wet and then being cooked too long.
Properly cooked chicken skin should be crispy and light, with almost a potato chip texture when they are done right. Crunchy and easy to bite through to get at the juicy meat.
Join our Easy Traeger Recipes Facebook Group!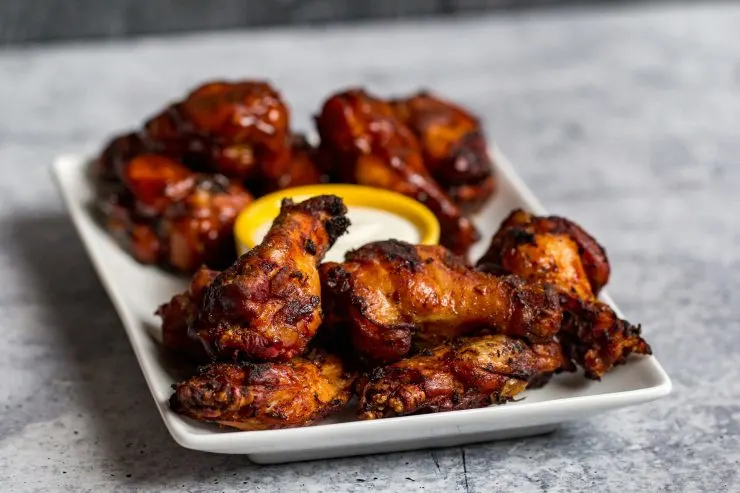 How to get crispy skin on smoked chicken wings
There are a few different ways to get to this goal. Choose your own adventure according to the time you have to devote to it and your desired results!
Dry out the skin
Some people swear by drying the wings thoroughly and then letting them site, uncovered, in the fridge for several hours or even overnight. This is a good idea for any wings you are cooking because it allows the skin to dry out.
Wet chicken skin = rubbery gross results at the end of the day.
I think that should definitely be added as a step to any wing prep if you are going for the BEST possible results you can get, but it becomes less important.
Toss with a baking powder mixture
This is a popular method not only for crispy grilled wings but for crispy baked chicken wings too.
I don't have a recipe on OWYD featuring this method because while it is popular, it isn't my favorite, and I tend to make and post what we are actually cooking and eating, and this isn't a method that I turn to when I'm throwing down on some wings.
Using this method, you toss wings with a mixture of seasonings, flour or corn starch, and baking powder. They often combine this with an extended drying period in the fridge as well.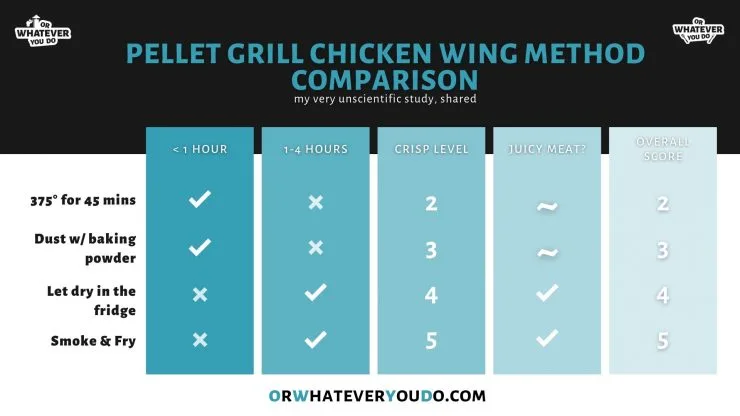 375° for 45 minutes (or until they are crispy)
I've seen people SWEAR by this method in all kinds of Facebook groups, and it is a method we've used as well, in our Spicy Grilled Wings recipe.
We used this method quite a bit back in the days when we were only using gas grills. While it put out a decent wing and is still the method that Jeremiah tends to use when he's handling the wings around here, a smoked and fried wing is the ultimate of all wings, in my book, so that's what we tend to make.
Smoked and Fried Wings
Finally – we made it. The pinnacle of all chicken wings, and I'm not sorry for saying it.
Honestly, I blame Charleston and the now-closed Smoke BBQ, formerly on King Street. They smoked their wings and then they were confit until they were crispy and perfect. I dream about those wings. Sadly, I only got to eat them twice before the restaurant shut its doors in 2019, which is a big reason why we wanted to find a way to come close in our own backyard.
My smoked and fried chicken wings are the closest I've come, but I've yet to get my hands on enough duck fat to confit in that so I guess what I'm saying is – stay tuned. We live by a fancy grocery store now and they definitely sell things like "bulk duck fat".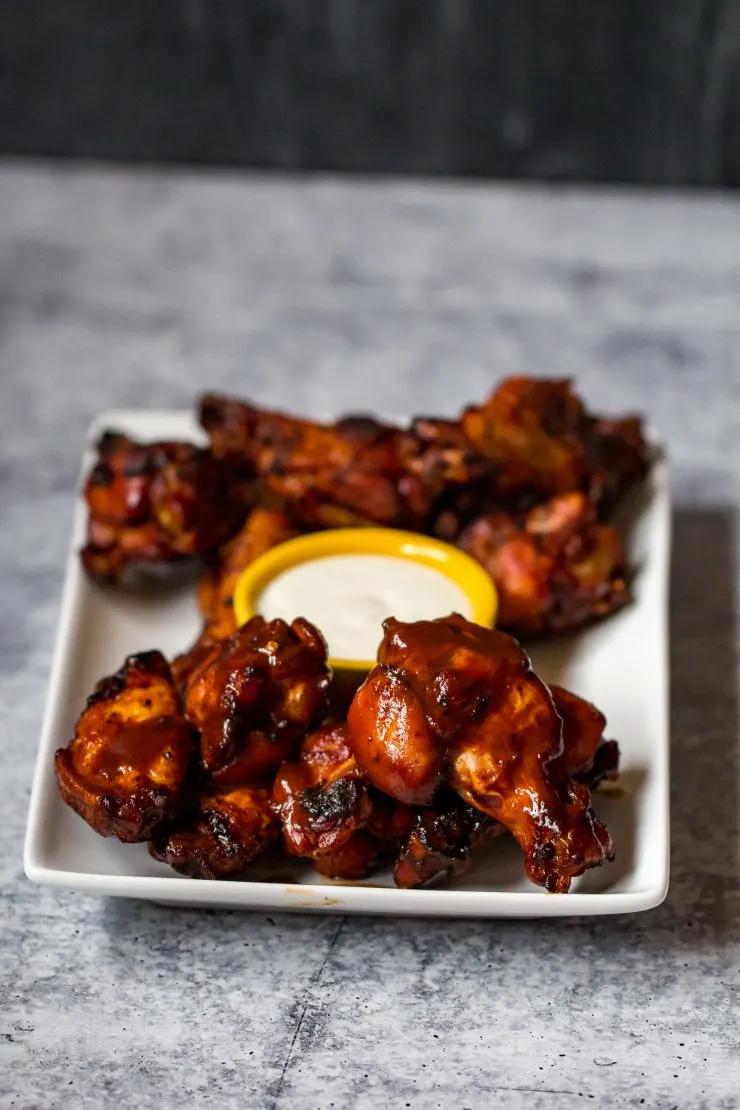 What to serve with Mango Chipotle Chicken Wings?
These are pretty fabulous all of their own or dipped into some ranch dressing. If you want to get saucy with it, your favorite barbecue sauce works perfectly.
I'd also love these tossed into some homemade Sweet Chili Sauce too.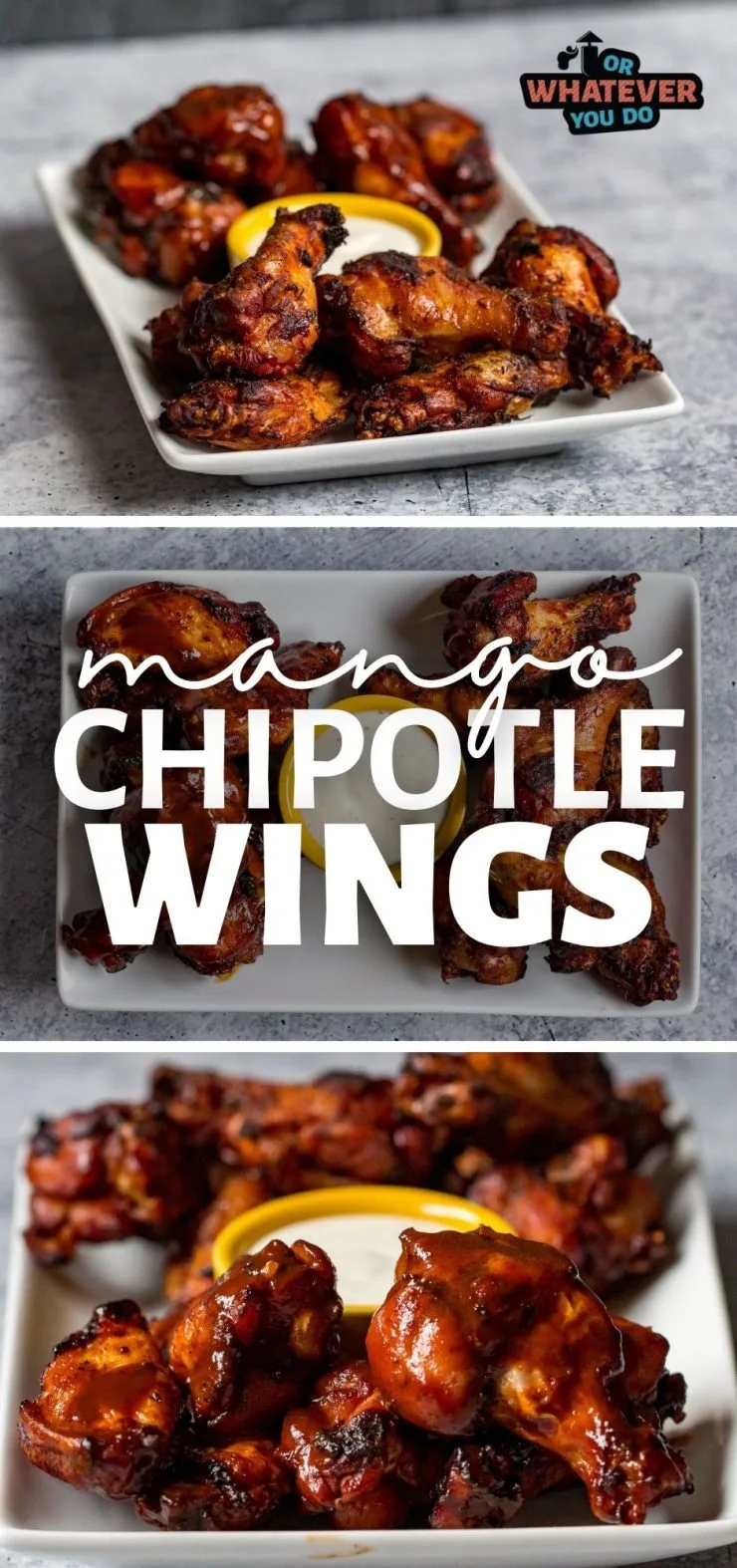 Yield: 4 servings
Mango Chipotle Smoked and Fried Chicken Wings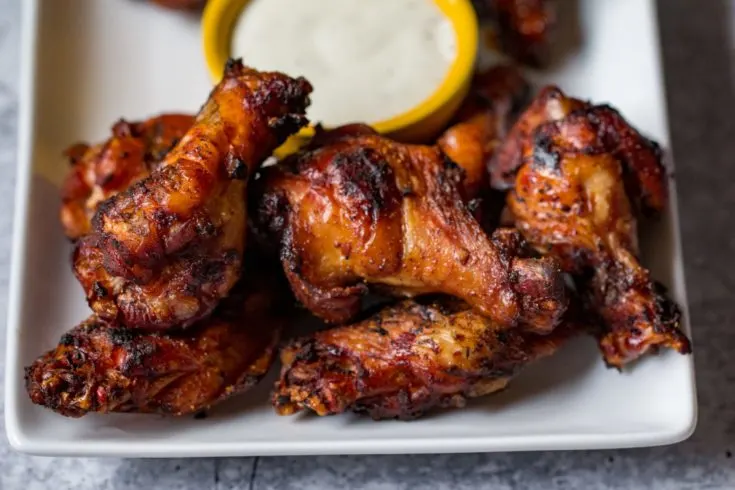 Smoked and Fried wings are already the best wings you can get, but throw on some of this amazing mango chipotle rub from The Spice Guy, and you'd better buy double of what you think you need because people will be doing battle over the last of them.
Cook Time
2 hours
30 minutes
Additional Time
4 minutes
Total Time
2 hours
44 minutes
Ingredients
3 pounds chicken wings
2 tablespoons avocado oil
3 tablespoons Mango Chipotle Rub
sauce of your choosing
Instructions
Place the wings onto a rack, in a single layer, and put them in the fridge overnight to dry.
Remove from the fridge and toss in the oil. Coat liberally with the Mango Chipotle Seasoning.
Fire up your pellet grill and set it to 180°.
Place the wings on the grill and smoke for 2 hours, turning once halfway through the smoke.
Remove the wings from the smoker, and preheat your oil to 375.
Drop the wings in small batches and fry for 4-6 minutes, or until the skin is crispy. The chicken should be cooked to about 160 - 180 degrees from the long, slow smoke, but this final fry will also ensure they are cooked through as well.
Remove from the grease, let drain, and then toss in your favorite wing sauce.
Recommended Products
As an Amazon Associate and member of other affiliate programs, I earn from qualifying purchases.
Nutrition Information:
Yield:
6
Serving Size:
1
Amount Per Serving:
Calories:

755
Total Fat:

55g
Saturated Fat:

20g
Trans Fat:

1g
Unsaturated Fat:

31g
Cholesterol:

186mg
Sodium:

1747mg
Carbohydrates:

24g
Fiber:

1g
Sugar:

2g
Protein:

39g
Nutrition data provided here is only an estimate. If you are tracking these things for medical purposes please consult an outside, trusted source. Thanks!