If I only ever made Blackstone Loaded Hash Browns with Sausage and Egg on our griddle and that was it, I would still keep it around forever and always. These are fluffy scrambled eggs, sliced breakfast sausage, and copious amounts of cheese all sandwiched in-between diner-style hash browns.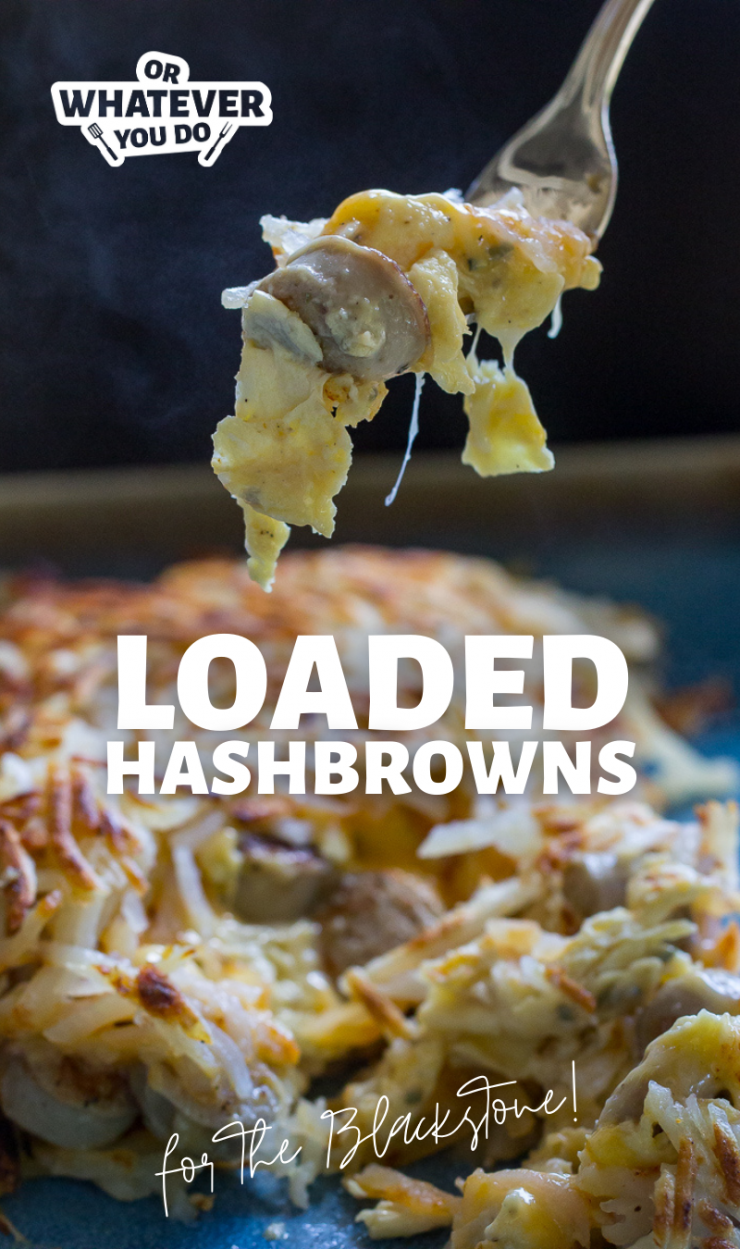 Blackstone Loaded Hash Browns with Sausage and Egg Stuffed
(and why you NEED a gas griddle for your breakfast-making.)
If you think you like breakfast and don't have a gas griddle, I'm going to go ahead and say you are doing it wrong.
A good gas griddle that you know well turns a full breakfast from a giant production involving all the dirty pans into a simple, efficient, delicious performance, of sorts.
If you've ever worked in the restaurant industry and get to see line cooks REALLY in the zone, you'll know what I mean.
The typical gas griddle isn't made of the same material that you'll find in most kitchens, but the basics are really the same.
A large, flat surface that builds its own non-stick surface, just like a cast-iron pan does, by being seasoned and scraped/wiped after use, instead of washed with soap and water.
Make sure you wipe it and oil it lightly after use. If you don't use it often, lay down some parchment paper over it as well. Otherwise, you can end up with a rusty mess.
If you DO end up with a rusty mess – don't wheel your griddle out to the road with a free sign quite yet. You can re-season it and get cooking again by following my guide to re-seasoning your Blackstone.
More Blackstone Recipes here!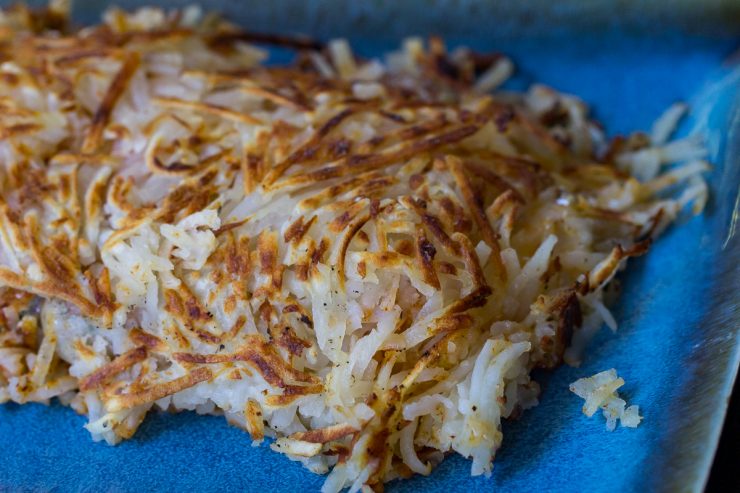 What is the best kind of potatoes to use to make hash browns on the griddle?
If you want a roadside-diner-like experience, there's only one answer to this question. It isn't frozen and it isn't fresh, either. It is dehydrated.
Crazy, I know. You wouldn't think that a dehydrated potato would make such a delicious side dish, but it really does.
Just follow the directions on the box to rehydrate, and make SURE to drain them well. No one likes soggy hash browns.
More great BREAKFAST RECIPES here!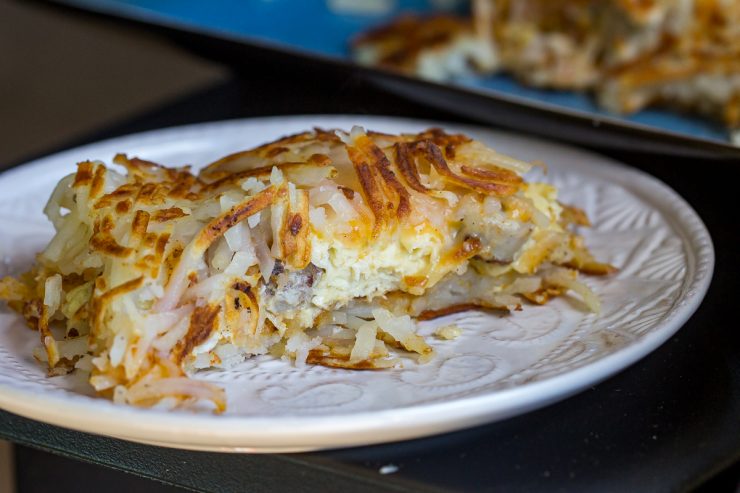 How to make great loaded hash browns on the griddle
The key to making great hash browns on the Blackstone is patience. And probably – turn down your heat.
Most people run their griddles WAY too hot, and the food suffers for it.
For hash browns, that's going to mean medium-low heat, lots of butter and oil, and then leave.them.alone. You only want to flip hashbrowns once.
That's perfect for loaded or stuffed hashbrowns because you can cook the rest of your ingredients while the hashbrowns are taking their butter bath, on the other side of your griddle.
Then, once the eggs are scrambled, the sausage is browned, and the cheese is melted you just pile them on top of one half of the hash browns, cover with the other half, and serve.
More tips for great hash browns here in my other sausage-stuffed hash browns recipe. This one is a bit different in that it has scrambled eggs instead of a fried egg, and the cheese, eggs, and sausage is all inside of these bad boys.
What else can you serve with Blackstone Loaded Hash Browns?
All of the breakfast goodies!
I recommend pancakes, blueberry muffins, or maybe a Blueberry Brioche French Toast bake!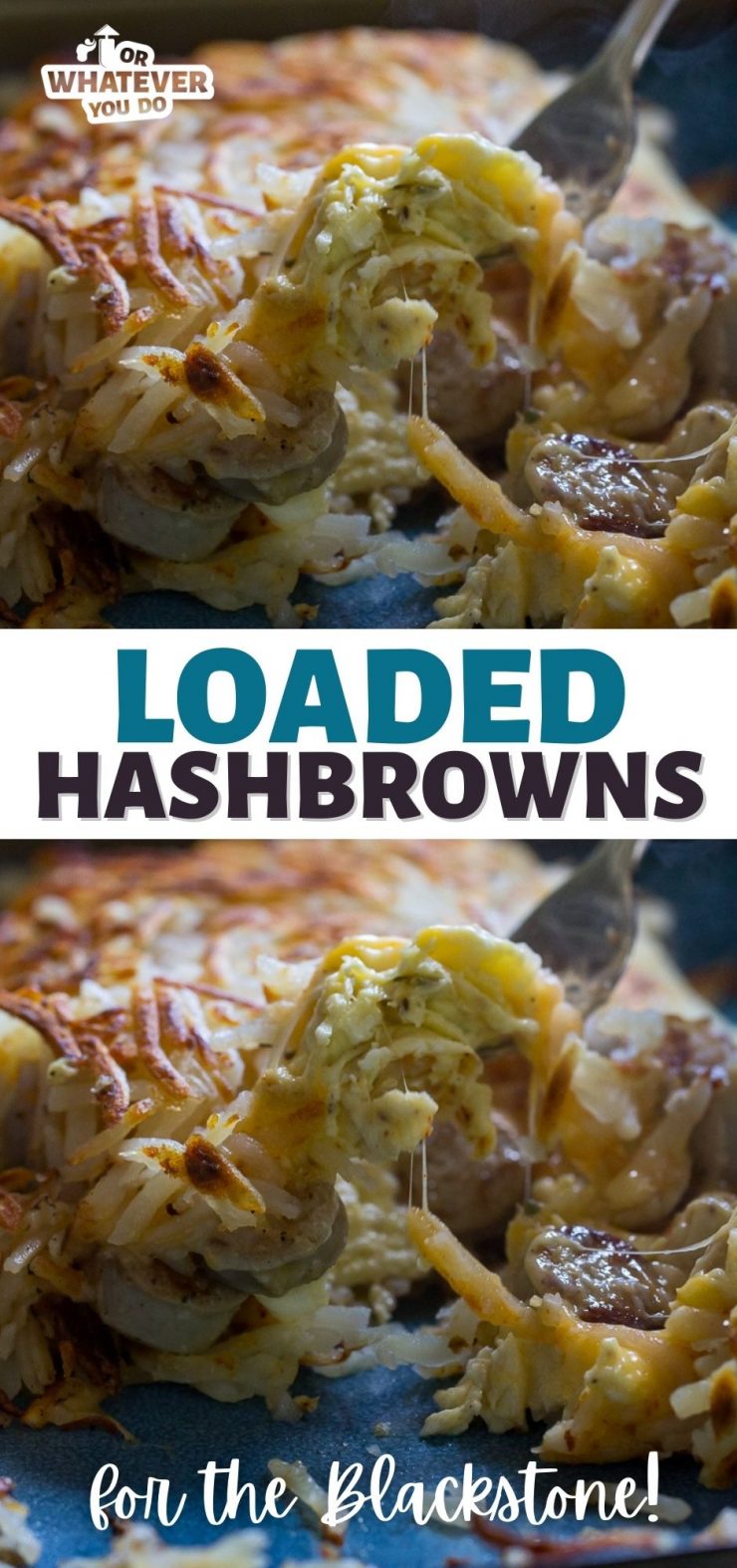 Yield: 6 servings
Blackstone Sausage and Egg Loaded Hash Browns
Sausage and Egg Loaded Hash Browns are cooked on your gas griddle, stuffed with scrambled eggs and sauteed sausage, lots of cheese, and then sandwiched with more crispy hash browns!
Ingredients
3 cups dehydrated hash browns
3 cups hot water
1/4 cup finely diced onions (optional)
1/4 cup butter
1/2 pound breakfast sausage links, sliced
6 eggs, whisked
1/4 cup whole milk
1/4 - 1/3 cup oil
Salt, pepper, and garlic
2 cups shredded cheddar cheese
Instructions
Place your hash browns and the hot water in a bowl, and let soak for about 15 minutes. Drain the excess water.
While the hash browns are soaking, preheat your gas griddle over medium-low heat. Place about a tablespoon of butter down, and cook the onions for 3-4 minutes.
Place the hash browns on the griddle, and put a tablespoon or two of oil down by drizzling it over the hash browns.
While the hashbrowns are cooking, put down some more butter and brown the sliced sausages and scramble the eggs. You can do this together if you'd like to.
Cook the hash browns for several minutes, or until the bottom has developed a golden-brown crust. DO NOT FLIP or check too often or you'll interfere with the browning process. Flip with a large spatula, and drizzle with some more oil.
Once the bottom side is browned, top half of them with the eggs and sausage and cheese. Press down lightly so it is slightly flattened. Cover with the other half of the hashbrowns.
Top with additional cheese, if desired, and turn the griddle down to low heat to melt. Cook until the cheese is melted. Serve hot!
Recommended Products
As an Amazon Associate and member of other affiliate programs, I earn from qualifying purchases.
Nutrition Information:
Yield:
6
Serving Size:
1
Amount Per Serving:
Calories:

774
Total Fat:

60g
Saturated Fat:

21g
Trans Fat:

1g
Unsaturated Fat:

35g
Cholesterol:

109mg
Sodium:

1681mg
Carbohydrates:

36g
Fiber:

3g
Sugar:

2g
Protein:

25g